9 Tips for Using Unified Communications and Collaboration Tools Efficiently
Unified communications and collaboration (UC&C) tools don't just power in-company communication. When implemented effectively, they increase team responsiveness and customer satisfaction as well. In this guide, we provide you with valuable tips, including the proper use of video conferencing for distributed teams and the utilization of task management tools to help your company adopt a powerful UC&C strategy.
Did you know? Unified communications technology is booming thanks to more remote work. Based on research done by Harvard Business Review, productivity is typically increased by as much as 22% when employees work from home (WFF). And to adequately facilitate this, you'll need the right platform.
Here are a few ways in which you can optimize the use of your UC&C platform:
1. Take Advantage of How Easy UC&C Is To Implement
While it's nice to use cloud-based solutions separately to implement video conferencing, workplace automation, and direct business calling, things are much easier when using a single unified communications as a service (UCaaS) platform.
With a solution like RingCentral MVP, which is a combination voice over internet protocol (VoIP) and UCaaS provider, you'll have a quick and easy deployment of tools like:
VoIP calling and texting
Project management and scheduling software
Video conferencing
Real-time chat and messaging
File sharing
Once you sign up with the service and install the provider's platform, you can immediately use any of the tools mentioned above. With collaboration technologies standing out as some of the most in-demand investments for most companies, quick and easy implementation is a huge boon. Want more information on RingCentral? Check out our comprehensive review or visit their website.
2. Use Video Conferencing To Bring Remote Teams Together
Almost extinct are the days of purely in-person meetings. Today, even small meetings may have at least one or two attendees videoing in on a platform like Zoom. With an increase in WFH, a solid UC&C platform helps facilitate the feeling of being in the same room, even when you're hundreds of miles away.
Fortunately, video conferencing is a must-have for many top VoIP/UCaaS providers. For example, even with providers that don't intrinsically include the technology in their plans, like Dialpad, there's usually a free or low-cost add-on service that provides this functionality.
While collaborating with a colleague, your agents are able to video meet quickly when face-to-face communication is needed. Typically, to go from text to video, there's usually only a single button press, which can be done between colleagues thousands of miles apart.
3. Use UC&C Technology To Increase Team Responsiveness
Businesses that support remote work tend to have employees who are more responsive and engaged as compared to purely in-office configurations. Based on Aruba's (a Hewlett Packard Enterprise company) research, 60% of employees cite mobile technology as a major contributor to their increased productivity. In fact, in the same study, four in 10 stated that technology that allows them to work while away from the job's physical location makes them more creative.
Additionally, when using collaboration tools to manage tasks and communications, employees can respond and complete deliverables anywhere. For example, when an agent is in the field or just performing errands, they can answer queries from UCaaS apps on their phone. Staff commuting via mass transit can even attend meetings and coordinate with colleagues while en route. While commuting, features like screen and file share are available, and if needed, the same agent can also respond to customer and partner needs quickly and easily.
4. Use the Cloud-based Nature of UC To Reduce Costs
In earlier times, businesses employed old-school PBX (private branch exchange) setups to bring all their communications in-house. Today, it's the era of the cloud, and this technology makes it much easier to create a more fully-featured communications stack without investing in a full-fledged server/IP setup.
For example, the total upfront cost of a traditional PBX system can easily cost more than $15,000. This includes hardware, setup, implementation, software licenses, and phone costs. With a hosted PBX provider, there's no need to invest in dedicated IP servers for calling, most can be used with existing employee hardware, like phones and computers, and there's minimal upfront cost.
Services like RingCentral charge a nominal per user, per month fee while providing important business communications features. While, over time, these can cost thousands, paying for so many communications features at a small monthly fee is incredibly small business-friendly.
These services are also typically georedundant. This means that should a globally-located server go down, there are usually several other servers to pick up the slack. With on-premise systems, should a server fail, this cripples your communications capabilities, which increases costs. As a result of this georedundancy, providers like RingCentral, 8×8, and Nextiva can offer 99.999% uptime guarantees that stipulate that servers cannot be down for more than five minutes per year.
5. Free Your Team From Their Computers
As we cover in our Bring Your Own Device Feature Spotlight, a BYOD policy is a viable cost-savings strategy and a great way to incorporate your teams' personal devices into your business. By its very nature, VoIP is flexible, so your agents efficiently use their own tablets, smartphones, and laptops to work without the need to provide customers with personal information. As a result of BYOD, approximately 3 billion worldwide workers engage in deskless work from mobile devices.
A mobile-first strategy of this type has a lot of advantages when properly implemented:
There's significant savings on both hardware and software since you'll need fewer computers and UC apps tend to be free with a subscription.
There's a reduced need to provide employees with work phones when their current smartphone is used for personal and work activities.
Deployment is near-instantaneous.
There's a reduced learning curve when an employee's own device is being used.
Employees aren't bound to their desks; they can quickly take their calls on the go and perform work tasks and communications as they travel.
Of course, with a BYOD policy, you'll have to ensure that your employees have a clear understanding of the rules involving personal devices. Especially considering data will have to be protected should a device be lost or stolen.
Still, based on data provided by Cisco, 7% of all networked devices are smartphones in the US, and tapping into the existing computing power of your employee's devices should be a major consideration. Known UC&C features, like call flip, make it easy for agents to seamlessly send calls to their preferred device so that they can keep the conversation moving without interruption.
6. Use UC&C To Increase Customer Satisfaction
UC&C solutions provide your agents with extra touchpoints when dealing with customers, but underlying technology will enhance their experiences. For example, many UC providers have artificial intelligence tools that can ascertain things like customer sentiment and provide agents with on-demand data as needed during contact.
UC&C providers also tend to include customer resource management (CRM) integration. This means that your solution will catalog customer data and allow you to make outbound contact from within favorites like Salesforce and Zoho CRM. With information ready to go when you make contact, your agents will seem more knowledgeable and ready to deal with customer queries/issues.
Additionally, you should always be leveraging self-service options for your customers. When a process is simple, like bill-pay and appointment scheduling, utilizing an interactive voice response (IVR) system is very useful. IVRs not only provide menu choices for customers so that they can pay their bills and schedule appointments, but you can also include customer satisfaction (CSAT) surveys at the end of each interaction.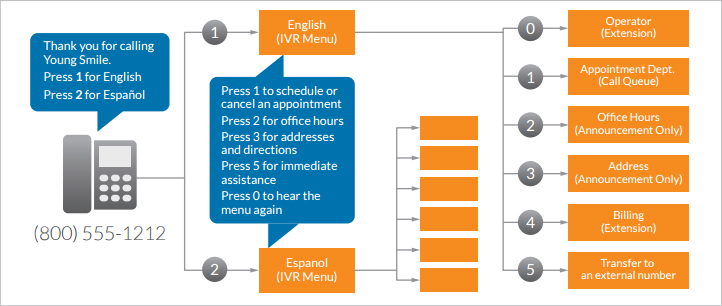 ---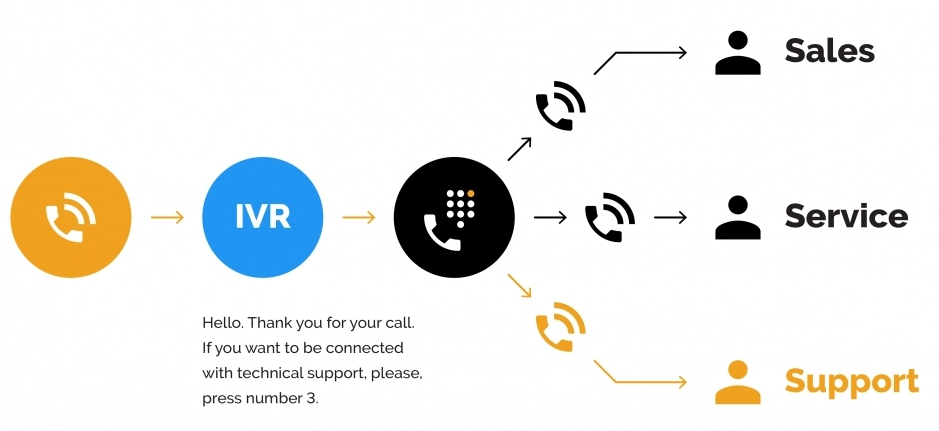 ---
Learn more about IVRs and find out how they can help you identify pain points and improve the overall customer experience.
7. Keep Data All Nice and Secure
With cloud-based technologies on a consistent rise, there are also stories of hacking and data theft. As a business owner, it's your responsibility to protect your business and customer data from fraudsters and criminals. Hence, you need to employ business communications providers with known unified communications security features.
This means protecting data at-rest and in-transit, using secure hardware, and employing technology like a VoIP virtual private network (VPN). In the past, things like Zoombombing were an issue. UC&C providers have taken numerous steps to provide end-to-end encryption, transport layer security (TLS), and secure real-time transport protocol (SRTP), so that messages sent via the provider are well-protected.
You can ensure your provider is secure by taking these steps:
Verifying their processes when there's a security breach
Find out what their uptime service level agreement (SLA) entails—this is the guarantee that a provider delivers in writing that states service expectance. Ideally, your provider should strive for a 99.999% (five nines) uptime percentage, but a 99.99% uptime guarantee is reasonable.
Verifying whether there are globally-dispersed backups in case of server issues
Determining the encryption methodology for communications that flow through the cloud-based provider's servers
Finding out the customer service channels as well as support hours
8. Utilize Task Management Tools
Did you know that 42% of global companies are using collaboration tools that can be used on mobile platforms like iOS and Android?
Task management is already one of the more critical functionalities of UC&C, and having this function available on any platform is vital to project completion. For example, both RingCentral and Nextiva have task management features that include:
Creation
Planning
Assignment
Tracking
Always utilize a single platform for task management, which is why a UC&C provider is so useful. When everyone uses the same platform, all stakeholders and team members will know which stage of a task a co-worker is working on. Tools like search, group calendars, and in-app chat make coordination easy and processes efficient.
9. Embrace the Omnichannel
Modern UC&C tools not only help you manage day-to-day communications with colleagues and customers but can also be leveraged when making high-volume contact. With on-premise PBX, call center technology gets very expensive, very fast. With a system like this, you're typically only using telephones as the primary contact platform. Today, customer touchpoints are increasing daily, so simple phone outreach will potentially ensure missed opportunities.
UC&C helps businesses make quality contact by providing these same businesses with omnichannel outreach. Rather than simple calling, an omnichannel solution helps agents reach customers on:
SMS (Short Message Service)
Social media
Video
Email
Live chat
This helps companies bridge the gap between the standard call center to the contact center, where varying customer touchpoints are leveraged for greater success. With SMS texting alone, a report by Omnisend states that campaigns are 47.7% more likely to end in conversion.
To implement a contact center with omnichannel outreach, consider a solution like RingCentral that connects everything, from live chat to text, and catalogs every interaction into a CRM solution. Once again, via a cloud-based provider, this is a straightforward change to make, and with most contact center providers, you'll also be provided tools like predictive dialers for traditional phone-based outbound contact.
How Unified Communications and Collaboration Tools Work
Unified communications and collaboration (UC&C) tools are a series of solutions that promote streamlined communications between your business, its employees, and its customers. This communication is all streamlined into a single interface, so you'll be able to listen to things like voicemail via the same software application that you'd use for video or audio conferencing.
UC "pulls it all together," so that video, voice, text-based team communication, and content sharing are all done in a cohesive, unified way. Moreover, UC collaboration tools vary. For example, there are communications APIs that help your business create or enhance channels that your customers use to reach you. Workflow automation technologies also help businesses streamline tasks and keep communications open during project lifetimes.
Bottom Line
Like any tool, unified communications technologies must be utilized correctly for the best efficiency. With its inherent ability to create and open up new communications capabilities, a good platform will consistently grow with your company.
If you're looking for a powerful provider that will deliver all of the essential UCaaS tools with scalable plans and multiple communications channels, we recommend RingCentral. RingCentral has key UC&C features aplenty, and it offers a 30-day trial for businesses to get to know the system. Try it today.