An I-9 form, verifying employee eligibility, must be completed by employers within three days after a new employee is hired. An I-9 form is not needed if you hire a contract employee paid via 1099. While the employee fills out the first page, the remainder of the form is verified and filled out by the employer.
Here are five steps you and your new hire can follow to complete an I-9 form together:
1. Determine If You Need to Complete an I-9 Form
An I-9 is needed only when you hire an employee who will be paid wages and receive a year-end W-2. You do not need an I-9 form if you're hiring a contract employee who you'll pay through your accounting system and issue a 1099-MISC at year-end. Not sure which kind of employee to hire? We provide information on both in our article on W-2 vs. 1099 employees.
The U.S. Citizenship and Immigration Services (USCIS) requires all newly-hired employees to complete an I-9 form within their first three days on the job. The form requires them to provide documentation of their identity and to prove that they're legally eligible to work in the U.S. Failure to provide the required documentation per the form's instructions makes the worker ineligible for employment.
I-9 Forms for Self-Employed Contractors
Self-employed contract workers who pay their own taxes or own their own business entity are not required to provide an I-9 form as a condition of employment. If the workers you hire are self-employed independent contractors, no I-9 form is needed. However, you may want to have an independent contractor agreement.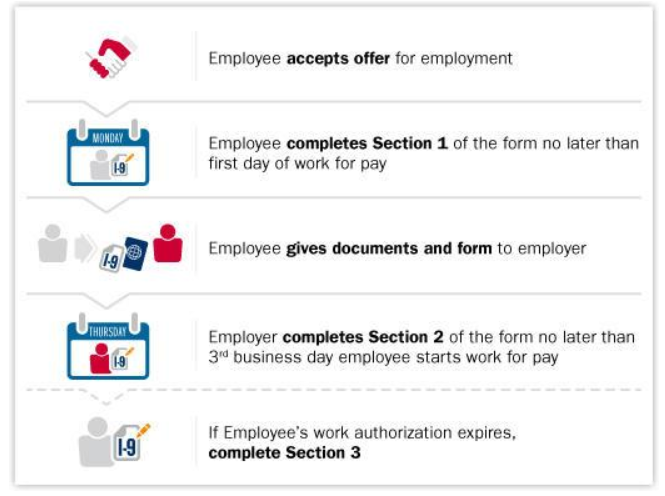 USCIS provides this flowchart showing the timing for the I-9 form to be completed.
2. Download Instructions on How to Fill Out the I-9 Form
Because the government updates forms annually, it's best to obtain the current I-9 form and instructions directly from the USCIS website. The form is free, and it can be downloaded as a fillable PDF form or a printable, fill-in-the-blanks document. However, there are many other ways to obtain the form and instructions, as well as to provide the form to your employee for completion.
Here are some of the easiest ways to obtain and fill out blank I-9 forms.
How to Fill Out an I-9 form from the Government Website
When you go to the USCIS website, you'll find several versions of the I-9 form. It's available in English and Spanish, and the instructions are provided in both languages as well. You can choose to use the fillable PDF, or print and give paper copies to your new hires. However, to complete the fillable PDF form online, you will need to have Adobe Acrobat Reader downloaded on your computer.
How to Fill Out an I-9 Form Through Your HR or Payroll Provider
One of the benefits of using an HR or payroll provider is that they'll typically provide the correct version of new hire forms for you, including the I-9 form. In addition, software like Gusto can email I-9 forms to employees with instructions on how to complete the I-9 form as well as tools to sign and submit the forms electronically.
If you're using a payroll provider, look for the I-9 and other employment forms on their website, and see if they can be completed electronically through the software.
Our Article on I-9 Forms
For businesses that want more information on I-9 forms, how they're used, why they're used, downloadable documents, instructions, and explanations, refer to our companion article on I-9 forms: I-9 Form, Definition and Requirements.
3. Request Employees Bring Documentation on Day One
In general, to complete the I-9 form, an employee must bring in two forms of identification. The list of eligible forms is long (a complete list is provided on page three of the I-9 form); however, most U.S. employees find it easy to bring the most common forms. Those are either a passport (if they have one), or a driver's license and Social Security card.
As a best practice, suggest that employees bring two forms of ID. You can share the I-9 form with them, and offer that a driver's license and Social Security card or a U.S. passport are the most common. If they have those documents, they will suffice.
Note: To prevent being accused of employment discrimination, don't make the mistake of telling the employee which documents to bring. For example, if you ask, "Do you have a Social Security card?" a non-U.S. citizen with work authorization forms may feel discriminated against. It's better to suggest what's most common, provide them with the instructions, and then ask them to bring documentation per the I-9 form to prove that they're legally eligible to work in the U.S.
4. Assist Your Employee in Completing the Form
If employees are new to the workforce, they may never have completed an I-9 form. That's where it helps to assist them. In addition, if they don't have a passport, or a driver's license and Social Security card, they may find it tricky to understand what documents to bring, or what to write down on the form.
The I-9 form has three sections. The first section is to be completed and signed by the employee. In addition, there's a box in the first section that can be used if you (or another person, such as a translator) assist in helping the employee complete the first section. The second and third sections are for the employer to complete.
Here are the details with examples of how to fill out each section.
I-9 Form Section 1: Employee Information & Attestation
This first section of the form is the easiest to complete. Have the employee input their name, address, date of birth, and other information as requested on the form. If any of the fields are not relevant (e.g., your employee has no email address), they can write "N/A" in the field as shown below.
Some employees have non-standard names, such as hyphenated last names or no middle initial. Other employees may not have received their Social Security number yet. Fortunately, instructions are provided in the Handbook for Employers to deal with each of these unique situations. Here is an example of how those would be indicated on the form.
Preparer and/or Translator Certification
The employee must indicate whether they used a translator or not. If a translator was used, then that person (which may be you, another employee, or the employee's family member) will need to compete and sign the section that looks like this.
I-9 Form Section 2: Employer or Authorized Representative Review & Verification
You, the employer, complete this section (not the employee). In a small business, the authorized representative may be your administrative assistant or accounting/payroll manager. Regardless, they'll start by copying the employee's name and citizenship status from Section 1, as shown. Under the citizenship/immigration status box, input the number (1 to 4) corresponding to their status as the employee, as indicated in Section 1.
Then, using the documents provided by the employee, the employer representative will complete the Identity and Employment Authorization sections. When an employee presents a U.S. passport as identification, the form can be completed with only that one document, which serves both to identify the employee and validate that they're authorized to work in the U.S.
The next most common type of identification that most U.S. employees present is a driver's license (as identification) and a Social Security card (as work authorization). Here's how the form would be completed to document those:
However, as an employer, you must accept any of the kinds of documents listed on the instructions that can be used to establish the person's identity (list B) or employment authorization (list C). Here's how the form would be filled out to indicate that one valid form of identification was provided for each.
It's possible the employee doesn't yet have their documentation. This can occur if, for example, an employee's driver's license, ID card, or passport hasn't yet arrived. In that case, a receipt showing that they've applied for these documents will suffice until the document arrives.
However, the employee will be required to provide the documentation, and you'll need to come back and complete Section 3 of the form once it arrives. In this case, you may want to make notes on the form as shown below.
Section 3: Reverification & Rehires
Section 3 is used only to reverify documentation that had been applied for, but not yet received, at the time of hire, or to reverify documents when an employee is rehired. Similar to Section 2, you (or your representative) will sign that you have reviewed/reverified the document once the employee brings it in. You do not need to fill out a new form. Here's what that section will look like when completed.
5. Verify Form Is Completed Correctly & File
The good news is that you don't need to send the completed form anywhere. You need only verify that it's complete and signed, and then file it. However, there are best practices for where and how you file it.
How to Verify I-9 Form Is Complete & Correct
To verify that the form is completed, make sure all required fields are filled out (or marked "unknown" or "N/A," as required), signature fields are completed, and dates are input in the correct format of mm/dd/yyyy (example: 01/01/2019).
Verify the Employee's I-9 Form Manually vs. E-Verify
Another option to verify employment eligibility is to use the E-Verify system. E-Verify is a government internet website that allows you to verify that the information the employee listed on the I-9 form is valid. Whereas completing an I-9 form is required, using E-Verify is not required for most employers. However, it can give you peace of mind if you want to ensure your employees are legally eligible to work in the U.S. You can learn more about E-Verify here.
Where to File I-9 Forms
Once documents are signed and verified, create an electronic or paper file folder called I-9s and store them by year. As a best practice, do not store signed I-9 forms in employees' personnel folders.
Instead, use a checklist within each employee's personnel file to indicate that you have a completed the I-9 form and have it on file. The reason is this: If you are audited by USCIS, they'll ask to see your I-9 forms. Do you really want them to have access to all your employees' data? The answer is no.
Instead, it's best you hand an auditor an I-9 folder with I-9s organized by year. That way, they won't have access to view the employee's entire personnel folder—it's much easier on you, and it also prevents auditors seeing employee information they have no need or right to view.
When to Delete I-9 Forms
Completed and signed I-9 forms need only be kept for three years after the time of hire. A best practice is to destroy (as in shred) I-9 documentation after three years. In fact, if a new employee is terminated, their I-9 form can be destroyed after one year. This is another reason we suggest keeping employee I-9 forms in a separate I-9 folder, dated by year.
It is easier to toss the entire folder into the shredder once the three years are up. For more on what documents to keep and how long to keep them, read our payroll records retention article.
Frequently Asked Questions (FAQs) About How to Fill Out I-9 Forms
Some employers are concerned they'll violate the law if they make mistakes on I-9 forms. Here are four questions that come up frequently, and their answers, to help clarify how to fill out I-9 forms.
Are we required to keep copies of the documents presented?
Some employers take photocopies of the documents presented, such as the employee's driver's license and passport. This is not required, and in fact, it's not even a best practice, given the potential for identity fraud.
Once you've seen the original documents yourself (and/or had your representative verify them), and you've noted the document title, issuing authority, document number, and expiration date on the I-9 form, hand the documents back to the employee. There's no need for you to keep photocopies.
What if they don't present the required documents?
If the employee is unable to present the required documents from list A, or from lists B and C combined, you will have no alternative but to rescind the employment offer and terminate their employment. It's best you make this expectation clear from day one. You can show or read them the text at the top of Section 2, which states: "Employers must sign and complete Section 2 within 3 business days of the employee's first day of employment."
Of course, you must pay the employee for any hours worked in those first three days. Then, on the fourth day, you may need to process a termination in the system.
What if I think the documents they provided are fake?
As you are not an immigration official nor an expert in document authority, it is a best practice to accept the documentation provided as long as it appears to be genuine and related to the employee. The USCIS does not expect you to be a forensic expert. However, if the document is a photocopy (not an original), or the name or image has been manipulated, you may ask the employee to provide you with an original document that has not been altered.
What happens if I don't complete the forms correctly and am audited?
Fines can cost up to about $10,000, but aren't usually levied against a business unless a pattern of violations is seen. In other words, do your best to complete the forms properly using the instructions provided on the USCIS website. A business is more likely to be ordered to pay back pay or to hire an employee discriminated against if the employer refused to accept valid forms of identification rather than if they accept forms that turn out to be incorrect.
Bottom Line
I-9 verification is one of those employer requirements that just have to be done. However, not everyone knows how to fill out an I-9 form. If you're an employer, in fact, you'll likely need to explain to new hires how to fill out an I-9 form, help them understand what documents are valid, and clarify what the rules are (such as if they don't bring the required documents by the third day, they'll need to be let go).