The I-9 form is a Department of Homeland Security (DHS) document used to verify a person's eligibility to work in the U.S. Workers provide identification such as a Social Security card and driver's license or passport. The employer then verifies these documents to confirm the employee's work eligibility. Both complete and sign the form.
How the I-9 Form Works
The I-9 form is used to verify an employee's eligibility to work in the U.S. It supports a Homeland Security procedure that ensures U.S. employers hire only those who have the proper work eligibility and identification documents. When employers are learning what an I-9 form is and how it works, it's important to point out that they are responsible for getting it completed within three days of a new hire's start date.
Here are the basic requirements to complete an I-9 form correctly:
Request ID: New employees must provide ID to complete the I-9 form within three days.
Verify ID: You confirm employee's ID as proof of eligibility and document it on the form.
File the I-9: You keep a copy of the completed and signed I-9 form in a secure folder.
The signed I-9 form is to be stored in the company's business office in case your firm is audited or a government agent from the Department of Labor (DOL), DHS, or Immigration services requests to see a copy. It should not be kept in an employee's personnel file due to the confidential information that's on it. You do not need to send or mail it to any government agency.
The complete handbook for the I-9 form, called I-9 Handbook for Employers M-274, is available from the U.S. Citizenship and Immigration Services (USCIS) website.
Who Needs to Provide an I-9 Form
U.S. employers need to have each new hire complete an I-9 form. The completed form, verified and signed, should be kept on file for up to three years for any employee currently employed and up to one year for terminated employees. You may need to show these documents to immigration officials or other government employees who may check to make sure your business is only hiring documented workers eligible to work in the U.S.
The certified HR managers at Bambee remind us that are four kinds of workers who may legally work in the U.S. with proper I-9 documentation:
U.S. citizens: Includes both native-born and naturalized citizens
Lawful permanent residents: Immigrants who live in the U.S. full time
Individuals with work authorization: Foreign workers with work permits
Non-citizen nationals: Individuals working here while remaining as citizens of another country
While all statutory employees need to demonstrate workforce eligibility, you do not need to request or complete I-9 documents for contract workers, temporary staff hired through an agency, domestic workers who work intermittently, or remote employees you hire who live and work outside the U.S. (Statutory employees are the employees whose names and information you send to the state as part of state new hire reporting.)
Downloadable & Printable I-9 Forms
The most updated I-9 form can be found on the DHS U.S. Citizenship and Immigration Services website. The I-9 form itself is three pages, and the instructions are an additional 15 pages. Both the form and the instructions are available in English and Spanish (however, only employees in Puerto Rico may complete the Spanish version of the form). There's also an electronic version.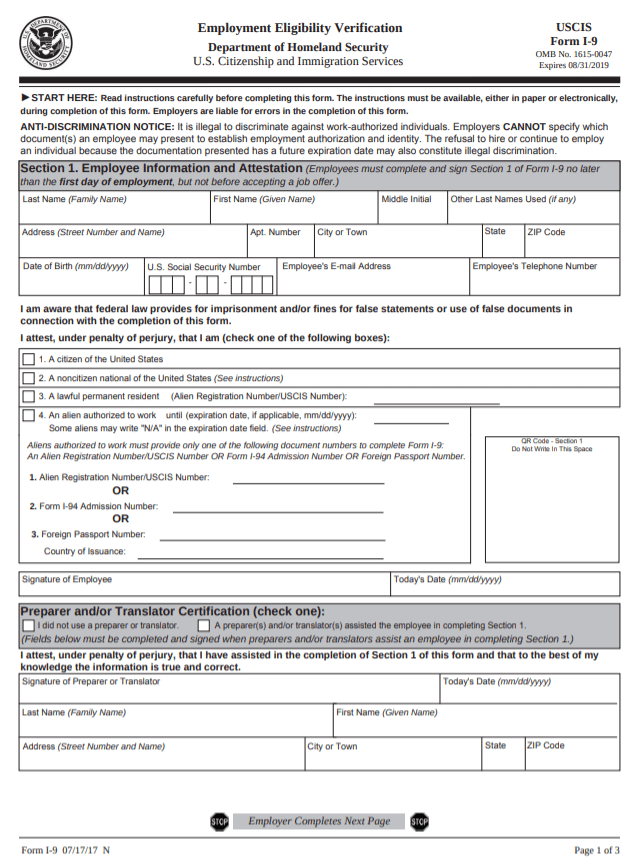 What an I-9 Form Verification Document Is
Most new hires who are U.S. citizens provide a driver's license and Social Security card as their I-9 form verification document. Some only use a U.S. passport.
Here are examples of what a driver's license and Social Security card look like:
If the employee doesn't have a U.S. passport, they must provide two forms of work authorization: one from the column on the left (below) and one from the column on the right. A driver's license and Social Security card are the most common. For those without a U.S. passport, a government-issued document, school, military, or tribal ID will often suffice along with a birth certificate or Social Security card. Non-U.S. citizens may need to provide an employment authorization or resident ID card, as they are not likely to have a valid Social Security card or a U.S. birth certificate.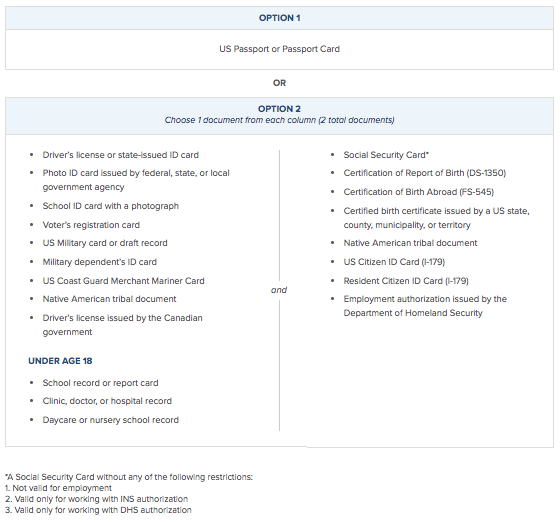 Documents that can be used to meet I-9 requirements
Sample employment authorization and resident ID cards are shown below:
In fact, the list of documents that can be used to provide identification and employment verification for the I-9 form is long. To simplify I-9 verification, U.S. Citizenship and Immigration Services (USCIS) provides a list of documents directly on page two of the I-9 form document. This helps you explain to employees what kind of documents work.
How to Complete an I-9 Form in 3 Steps
Once you and the new hire understand what the I-9 form is and what it's for, there are three steps to completing it. However, it may take you more than one day to finish these activities because some new hires aren't sure what forms to bring, or they may need to track them down.
Here are the three steps that must be followed to complete the I-9 form properly:
1. Fill Out Sections 1 & 2 on the I-9 Form
The I-9 form is completed by the employee and someone from your company in an official role (e.g., business owner, HR, payroll manager, employee's supervisor). The employer fills out Section 1 with the information provided by the employee or pulled from the employee's job application or resume. The employee then verifies their data as shown on the form on their first day of employment. Once they provide documentation, you fill out Section 2. Section 3 is not used for new hires but is there in case you need to follow up on any documentation that contains a future expiration date.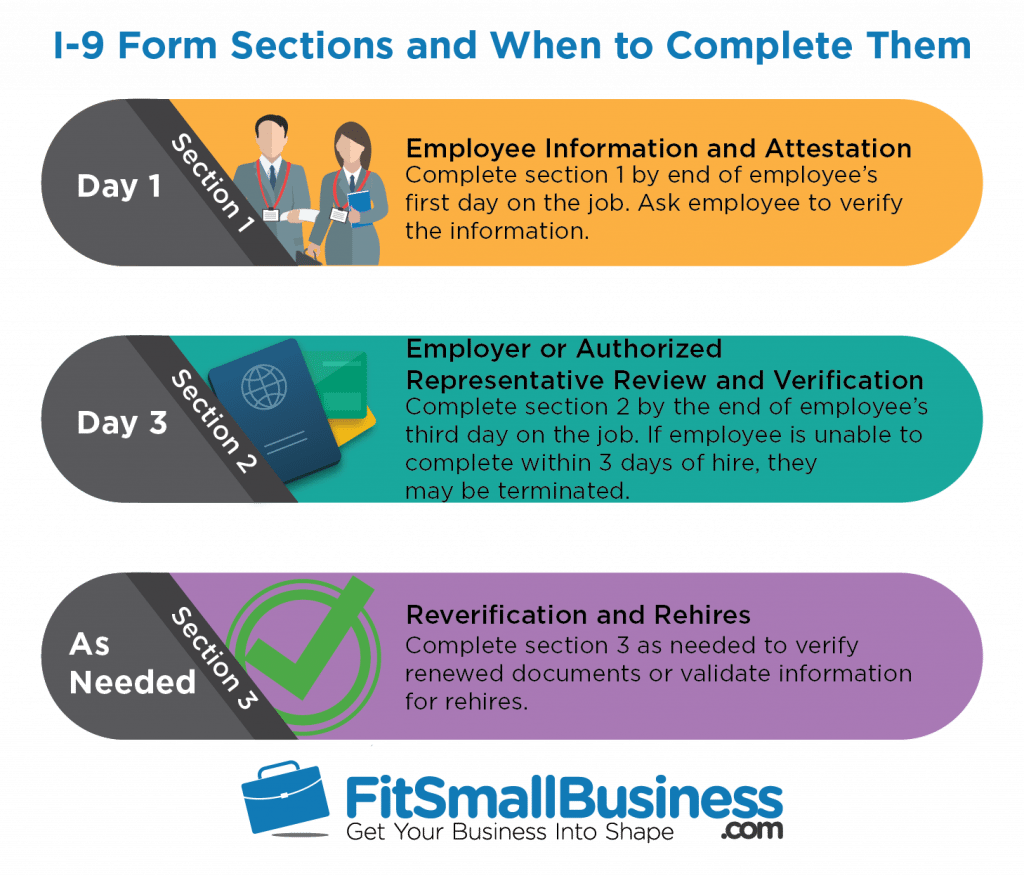 In fact, you can complete the first and second sections by gathering documentation before the new hire's first day—but not before offering the employee a job. In other words, you can't screen out employees using an I-9 form prior to a job offer.
How to Complete Section 1 of the I-9 Form
Section 1 of the I-9 form contains fields for the employee's name, address, contact information, birth date, and Social Security number. U.S. citizens check box number one, confirming that they are a citizen of the U.S. Finally, the employee signs and dates the form. Section 1 is typically completed before the end of the employee's first day.
The USCIS provides complete instructions, including details such as how to manage hyphenated last names, how to format the date, and which fields may be left blank. Each number in the image below corresponds to a section within the 15 pages of instructions. You can use the image below as an example of how to format the data.
Some employees may want the assistance of a translator or a preparer. If one is used, the translator or preparer will fill out the lower section of the document. If more than one translator or preparer is used, you can attach a supplemental form to provide names, contact information, and signatures of additional preparers.
How to Complete Section 2 of the I-9 Form
Section 2 is used to verify the employee's eligibility once the employee submits their documentation. Many employers ask new hires to bring it with them on the first day they report to work. Regardless, they must provide the documentation within three business days.
After viewing (and taking a photocopy), the employer must complete and sign this section of the form. In some cases, the employee may not yet have received their documentation, even though they have applied for it. Instead, they may have a receipt. Note that on Section 2.
For example, an employee may have a temporary driver's license or a receipt for their permanent resident or Social Security card. It's OK to use those receipts as long as you verify the actual document in Section 3 before the expiration date of the receipt.
If the employee is unable to provide acceptable documentation within the initial three-day time, they should be terminated. For example, if the employee is hired on a Monday, and by Thursday is not able to come up with required I-9 identity verification documentation, the employer may terminate the employee for "failure to provide valid work authorization documents."
When & How to Complete Section 3 of the I-9 Form
Section 3 is typically used only for non-citizens and provides a place to re-verify existing employees' documents after their current documentation expires. You may also use this section if you've rehired an employee and need to confirm that the existing documentation provided on their original I-9 form remains valid. This saves you from having to complete a new I-9 form for a rehired employee.
Here are three examples of when Section 3 of the I-9 form may need to be completed:
Example 1: Let's say your new hire presents a Social Security card and a driver's license receipt but doesn't yet have their driver's license in hand. When they receive the driver's license in a few weeks, you'll add in Section 3 that you were able to verify it as now valid.
Example 2: Imagine you have an employee that's on a work visa. You'll need to pay attention to the expiration date and request a copy of the renewed work visa to document it in Section 3.
Example 3: What if your former employee took time off after having a child or two? When originally hired, she presented employment authorization from Homeland Security. When rehired, you will verify that it's still valid and note that information in Section 3.
2. Employee Provides You With I-9 Documentation
USCIS provides an I-9 form desktop widget that makes it easy for you to request that employees complete the I-9 form online. In addition, many payroll providers like Gusto and ADP provide the I-9 form in an electronic new hire packet that is emailed to the employee. Paper I-9 forms are another option and can be downloaded from USCIS and handed or mailed to the employee for completion.
It's helpful to request the employee bring their I-9 documents on day one. A best practice would be to ask the employee over the phone or via email if they have work-eligibility documentation, as some may not know what to bring. However, you can't mandate which documents they bring. As long as they bring valid documents shown on the I-9 Documents List, they're abiding by the law.
Consider asking your new hires:
Do you have a current U.S. passport? Or,
Do you have a driver's license and Social Security card?
If the employee says yes to either, ask them to bring those documents with them on day one. Otherwise, you may need to go through the list of potential documents they can use to verify employment eligibility and see which ones they may have. Having this conversation in advance of the employee's first day gives them time to track down their identification documentation so they can bring it to the office when they start work.
3. Verify the Employee's I-9 Eligibility Documents
The employer is responsible for verifying the documents provided by employees. However, the government doesn't require you to be a forensic expert. Instead, they expect you'll use common sense and due diligence when you review documents. For example, if a document clearly appears to be photocopied or modified, ask to see the original document instead.
Employers can also use a government tool called E-Verify to verify work eligibility online and reduce their risk of hiring an ineligible worker. E-Verify is required in some states, as well as required for any business doing federal contract work. In some locations, the use of E-Verify may be a condition of obtaining a business license.
How to Identify & Report Fraud in Documents Used for I-9 Verification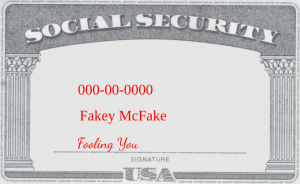 It's possible that you'll come across falsified identification. The USCIS provides complete instructions on how to examine documents. If you feel that fraud or a scam is taking place regarding immigration documentation, you can report that on the USCIS website. However, immigrants have rights, and one of those rights is not to be discriminated against. If you're concerned about discrimination, refer to the Justice Department's web page on immigrant and employee rights.
Here's what a labor law attorney suggests:
"In some instances, there are ways to work around the lack of documentation and still comply with the immigration laws. For instance, an employee may not have the required documentation because it was lost, stolen, or damaged. If the employee submits a receipt from the originating agency, verifying that he or she has applied for a replacement document that evidences existing employment authorization, the employer can provide additional time for them to submit the replacement document (up to 90 days, I believe). The employer can then write the word "receipt" and the title of the receipt in Section 2 of the I-9 form.

"If the employee has no reason why they don't have the documents and can produce a reason why they cannot verify they are authorized to work in the U.S., it is best for the employer to terminate them. The employer can explain that they have a legal obligation to verify documents authorizing that person to work. If the employee cannot produce those records, an employer cannot, by law, let him or her continue to work."

– Kimberlee Gee Esq., Attorney and Entrepreneur, Kimberlee Gee Legal
Pros & Cons of the I-9 Form Requirement
Taking the time to learn what an I-9 form is and how to complete it correctly benefits your business in several ways, especially if you're ever audited or raided by the Immigration and Naturalization Service (INS). However, not completing it correctly can wreak havoc on your business.
Pros of I-9 Forms Done Right
The benefit of having the Form I-9 completed and available are:
Labor law compliance: Your employees will respect that you play by the rules.
Reduced likelihood of losing workers: Undocumented workers may not show up for work if they fear they'll be found out and deported. That affects your operations.
Payroll accuracy: You'll be sure payroll taxes are being sent to the correct IRS account.
Lower risk of fines or penalties: You'll have proof that you applied due diligence when hiring, reducing (or eliminating) any chances you'll be fined.
Cons of Not Doing I-9 Forms
Failure to manage new hire I-9 forms correctly may cause:
Employee fraud: Workers using a Social Security number (SSN) that's not their own for payroll purposes.
INS raids: A surprise visit that causes you to lose much of your workforce.
Tax issues: Incorrect tax payments and possible tax audits.
Lower employee morale: Employees may not appreciate undocumented co-workers.
I-9 violation penalties can range from $200 to nearly $20,000. This includes document mistakes at the lower end, such as failing to complete an I-9 for a new hire, to willful mistakes at the upper end, such as knowingly hiring illegal workers or falsifying records. Fines can be applied to each I-9 form, and they increase with each offense. For example, if the same mistake is made on 75 employee forms, the fines can add up.
Providers to Help Manage I-9 Forms & Compliance
You can download and manage Form I-9 as a PDF directly from immigration services. However, software vendors, co-employers and online websites can all help streamline your new hire process when it comes to filling out the forms correctly. Some provide electronic options and e-signature.
Here are five different options to help you manage I-9 forms:
1. Federal Government
Several government agencies concern themselves with legal employment, such as DHS and DOL. As such, they've provided helpful resources to assist your business in navigating laws and obtaining documents related to verifying employment eligibility.
These websites are great for do-it-yourself businesses just wanting the docs:
2. HR & Payroll Software
HR software is designed to keep you compliant with federal and state labor laws, including I-9 forms. Some software, like Zenefits, provide forms to streamline the process of employees completing all the required new hire paperwork. Payroll software can sometimes help too. For example, small businesses that use all-in-one payroll software like Gusto find its self-onboarding function and online I-9 forms (with e-signature) to be a huge time saver.
3. Professional Employer Organizations (PEOs)
A popular small business alternative to managing I-9 forms and new hire paperwork is for a business to partner with a PEO. What these firms do is serve as the employer of record for your staff, while charging you a monthly rate per employee that can range from $49 to several hundred dollars a month. In exchange, they manage HR and payroll for your team.
Experienced PEOs like ADP Total Source provide significant value, including offering everything from employee benefits to timekeeping to management and safety training for your workers. You maintain the day-to-day management of your workers and their work, while the PEO does most everything else.
4. E-Verify
E-Verify is the government's solution to make I-9 compliance easier and more accurate. You can sign up on the website by providing basic information about your company, such as who in your company will be a point of contact and which of your business locations will be using E-Verify.
To ensure your employee files, including I-9s, are accurate, Bambee offers an affordable HR audit and well as seasoned HR consultants to ensure small businesses stay compliant with I-9 requirements and other labor regulations. You also get help with creating internal HR policies, employee onboarding, and termination, and general employer coaching and guidance starting just at $99 per month. Schedule a free consultation today.
5. Background Check Companies
In addition, some background check vendors are able to verify a new hire's employment status in advance by integrating with E-Verify and other sources as part of their pre-employment background check services. Using a background check company may save you time, as many share employee data with your HR or recruiting software.
Alternatives to the I-9 Forms
Some employers prefer to avoid the entire employee paperwork issue entirely by hiring contract workers, temporary employees, or virtual assistants. Of course, misclassifying an employee as a contract or gig worker may bring its own set of paperwork and tax problems.
Nonetheless, here are alternatives to managing employee I-9 forms:
Hire Temporary Staff
Some employers build their business (at least in the beginning) with staff provided by a temp agency. Instead of paying a wage and salary, they instead lease workers from a staffing agency that hires and pays the worker. The staffing agency (not you) manages new hire paperwork and I-9 verification. You instead pay an invoice to the staffing firm—typically a markup of about 30% more than it would cost you to hire that person directly.
Hire Gig Workers
Freelance employees and contract workers are paid by project or assignment and don't require that you complete an I-9 form. Instead, you gather data when they complete a W-9 tax withholding form. This option comes with big risks if you misclassify what should be considered an employee as a gig worker instead. For information on that, check out our piece on W2 vs 1099 workers.
Outsource to a Virtual Assistant (VA) Company
Virtual assistant (VA) firms hire workers, often overseas, to provide task-based work. As the employer of record, the VA company manages all employee compliance. You simply sign up for the kind of work you need done—from office administration to IT programming—and pay a fee based on hours, tasks, or a monthly package price.
Frequently Asked Questions (FAQs) About I-9 Forms
You may have other questions while working with new hires to complete I-9 forms correctly. Here are answers to some of the most common questions we've heard about I-9 forms.
Where can I find the current I-9 form?
Often, your payroll service will provide the current I-9 form for you. If not, you can download it from the department of homeland security (DHS) U.S. Citizenship and Immigration Services website. We've included the current I-9 form as a downloadable link above at the time of this article, but it's best to verify that you're working with the current version because the form may be updated at any time.
When should the I-9 form be completed?
Here is a sample timeline for completing each the I-9 form's three sections:
Section 1: Once a job offer has been made, and before the end of an employee's first day.
Section 2: Within three days of the employee's first day reporting to work.
Section 3: Anytime in the future if an employee's documentation, such as their permanent resident ID card, expires.
What are the most common mistakes made on I-9 forms?
If you follow the USCIS instructions and complete I-9 forms for all new hires, you're likely to be in good shape. However, some employers get lax. Below are common mistakes that anyone who processes I-9 forms should avoid:
Allowing employees to provide you with a photocopy instead of an original document
Not filling out the I-9 form completely—leaving blanks in required fields
Missing the documentation deadline of filling out the I-9 form within three days of hire
Failing to verify documentation yourself and just "taking an employee's word for it"
Failing to keep copies of the signed I-9 form in an office location onsite
Failing to store the documents in a secure place to protect confidential employee data
How are penalties calculated for I-9 form mistakes?
The formula for penalty calculation is based on several factors, including willfulness or prior violations. The Society for Human Resource Management (SHRM) provides a thorough explanation. In general, if the errors are minimal (less than 10%) and not deliberate, you're likely to receive a warning rather than a fine on your first go-round.
How long do I-9 forms need to be kept on file?
The USCIS requires you to retain I-9 documents for one year. Some states may have longer payroll document retention requirements. It's risky to keep the documents longer than they're needed since I-9 forms contain confidential employee information. If that information is used inappropriately, your business may be held liable.
How does E-Verify help with I-9 forms & compliance?
If you want to prevent undocumented workers from applying for jobs in your business, consider using an E-Verify logo that alerts job seekers that you're using the E-Verify system. Prior to using E-Verify or their logo, you must set up an employer account. E-Verify then runs a check to ensure the Social Security card data is valid, so you don't have to verify it yourself.
Is there a new I-9 form for 2020?
Yes, each year the I-9 form is likely to be updated. At the time of this article, the current I-9 form showed an expiration date of August 31, 2019. However, the INS website indicates that you may use the existing form until a new one is available.
Does a driver's license & Social Security card suffice for I-9 documentation?
Yes, a valid U.S. driver's license and a Social Security card (without restrictions) are the most common forms of documentation provided. However, the Social Security card and driver's license must be original. A photocopy or altered version is not acceptable.
Can I require a person to bring their Social Security card & driver's license on the first day of employment?
No. That's because those are only examples of what an employee might bring as proof of ID and workforce eligibility. The worker is allowed to bring any of the valid forms of ID as listed on page 2 of the I-9 form.
Why is a passport the best documentation for an I-9 form?
A U.S. passport serves as both identity verification and U.S. workforce eligibility, so it serves both purposes in one document. When a new hire presents a valid (not expired) U.S. passport as their I-9 documentation, that's all you need. No other documentation is required.
Bottom Line
Paperwork may not be your favorite part of running a business. But the I-9 form, like other required documents, can save you money by avoiding fines. Take a few minutes to familiarize yourself with what the I-9 form is all about and its requirements before your next hire. Then, consider auditing your current I-9 files to ensure existing forms were done correctly.