6 Ways to Improve Your Sales Targeting Strategy & Close Deals Faster
Sales targeting is a strategy for prioritizing the deals, leads, or prospects most likely to convert or which are most profitable for your business. The idea is to optimize the efforts, resources, and time spent on sales and marketing activities to get the best return on investment. In this article, we explore six methods, tactics, and software tools you can use to improve your sales targeting strategy, move the best leads through the sales funnel, and close deals faster.
1. Create Customer Profiles for Sales Funnel Deal Prioritization
In order to narrow in on the opportunities that will be easier to close or will produce the most revenue, you need to know what they look like. This can be done by creating customer profiles that outline the demographic, behavioral, and background information about different customer archetypes that currently purchase or ideally would purchase from you.
At a minimum, included in each profile should be a name/title, brief description, what's important to them, their preferred communication channels, and the most effective marketing sales pipeline activities for that customer type. Below are visualizations of customer profiles for sales funnel deal prioritizations for both business-to-business (B2B) and business-to-consumer (B2C) companies:
Example 1: Cybersecurity Consulting Business (B2B)
NEUROTIC BUSINESS OWNER

COMPLIANCE-ONLY CUSTOMER

FRUGAL FINANCIAL OFFICER

Description

Business owner or executive for a smaller company who constantly worries about cyberthreats and making sure controls are up-to-date. They frequently call asking new questions and get hundreds of emails a day. They spend time on LinkedIn as an industry or thought leader.

Typically an IT director or risk management officer who is very calm about security needs. They only seem to care about information-security compliance. This client is usually a more quiet type and likely has already equipped their organization with solid security controls.

CFO, financial manager, or risk management executive tasked with cybersecurity initiatives. They aren't too concerned about security, they just want to stay under budget. Most of their time is spent in their office on the computer so they are usually accessible by phone or email.

Priorities

Comprehensive security program

Being compliant with security regulations

Staying under budget and saving money

Preferred Communication Channel

Phone or LinkedIn

Email

Phone or email

Examples of Effective Outreach Tactics

Cold calling campaigns offering free, non-invasive audits
Advertising toward this group on LinkedIn about your 24/7 monitoring solutions

Cold emailing or mass email campaigns offering free compliance reviews

Cold calling or email campaigns offering free non-invasive audits
Nurturing emails offering discounted security software
Example 2: Ecommerce Clothing Business for Younger Men (B2C)
REPETITIVE PURCHASERS

HOLIDAY CONSUMER

BRAND EXPERIMENTER

Description

Men 25-35 who constantly purchase the newest items offered. They prioritize high-quality clothing and commit to one brand so the items go well with each other. Because of their consistency, they always take advantage of promos and discounts.

Men and women aged 40-70 typically purchase as a gift for someone else during the holidays. They are always looking for a good deal on clothing and usually will purchase mid- to lower-priced items. They are usually enticed by online ads offering discounts.

Men aged 25-35 who like to try different brands. They never seem to get hooked on one company and spend time on TikTok scrolling through videos and on Instagram following men's fashion pages.

Priorities

High-quality items and brand loyalty

Finding deals on clothes their friends or family might like

Keeping their wardrobe up-to-date and trying new clothing brands

Preferred Communication Channel

Email or loyalty application

Facebook or online ads

Instagram, TikTok, or online ads

Effective Outreach Tactics

Messaging through a loyalty app about a promotion where you're increasing rewards points for purchases finalized in the next month
Mass email campaigns offering a referral rewards program with discounts for referred and referrer

Facebook advertisement offering deals for the holiday season
Google ads about clearance deals

Having brand ambassadors post brief TikTok videos on how their clothing brand is unique
Instagram ads created online targeting this demographic
You can then use these customer profiles in sales targeting by defining your "ideal customer" in terms of what they like, how they behave, and what their priorities are. This in turn enables you to reach and convert various ideal customer types using the sales messaging and marketing channels most likely to appeal to them.
Check out our how-to guide on creating a customer profile to learn more. The article includes a step-by-step creation process as well as free templates you can download.
2. Automate Sales Targeting With CRM Software
Customer relationship management (CRM) software lets you organize customer data, communicate with leads and customers, and monitor any interactions your team has with them. Investing in a CRM platform enables you to streamline some of the activities involved in sales targeting as all of the data and tools are in a single centralized system.
Once your CRM system is in place, add your customer and prospect information to its database. You can either do this manually or upload a list into the system from a spreadsheet. Once your initial list has been imported, configure the automation rules so leads are automatically added into your CRM after certain actions have been completed, such as the person filling out a website form or emailing someone on your sales team.
As part of your sales targeting strategy, this automation should be taken a step further based on a lead's behavior. For example, if someone signs up to download a white paper, you may just auto-add the contact to your general email marketing list compared to someone requesting a free trial.
The person requesting a free trial is considered sales-qualified since they expressed deeper interest. They should immediately be auto-routed to a sales rep via your CRM system's rules so they can be pursued with effective sales pipeline activities.
Pipedrive is a popular CRM that lets you set rules for what happens if a lead completes an action such as submitting a web form on your site. In addition to automatically sending the lead a "thank-you" message, the prospect's data is added to your CRM as a new lead record.
Depending on the origin of the lead, you can also automate sales targeting. For example, the new contact can be automatically added to an email list, routed to a sales rep, sent a specific promotional offer, or have a specific tag or lead score assigned to the contact's record. Below, we talk more about how to use tags and lead scoring to improve your sales targeting strategy.
Want to see which CRMs are best for your small business? Check out our picks for the top CRM software for small businesses in 2022 for insights on pricing, features, usability, and best-for scenarios of each product.
3. 'Tag' CRM Records to Indicate Top Priority Leads
Once you've created your customer profiles and uploaded leads into your CRM system, begin tagging your contacts using the profiles you've developed. Tagging is a feature in CRMs where you assign traits, attributes, or other information to a record. The purpose of tagging is to be able to quickly attain information about a contact or filter a list of contacts that contain the same tags.
For example, let's say you have a customer profile for your software company that you named "The Transformational IT Director." This profile refers to newly hired IT managers looking to change the way their organization runs with up-to-date tech and make a big splash early in their role. You could make "The Transformational IT Director" a tag in your CRM in which any lead who fits the profile receives the tag.
This way, your sales reps know to prioritize this type of lead and use certain tactics when they converse, such as offering a large bulk discount or emotionally selling on "pride" as the profile wants to look good to their executives. You may also use tagging for smaller traits such as "cost-conscious," "prefers email," or "not happy with the current provider."
CRMs like Freshsales and Zoho CRM let you easily create or sort contact lists for sales targeting based on the tags you assign. Tags allow sales reps to see certain information they can focus on when conversing with leads and help marketing employees design campaigns best suited for contacts with the same profile attributes.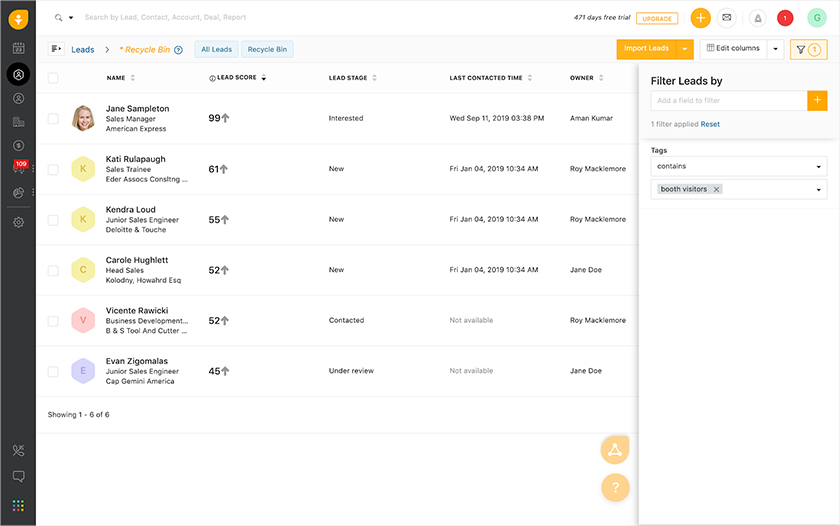 ---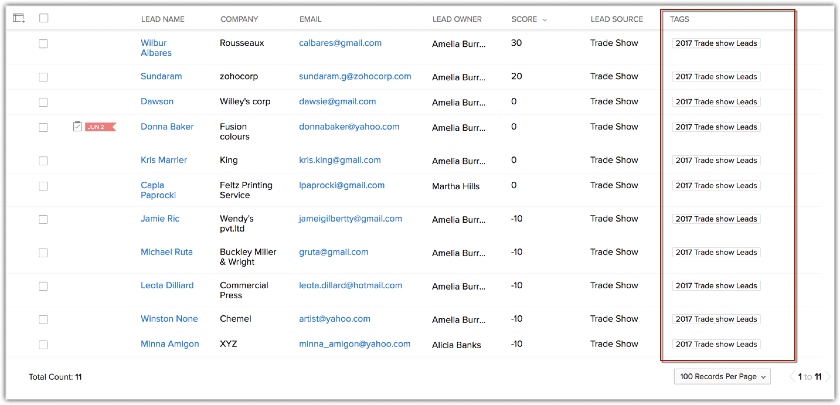 ---
4. Identify Deals Most Likely to Convert Using Lead Scoring
Like tagging, lead scoring is a feature found in most CRMs. It tells you how good of a fit a lead is for your products or services using a quantitative score. The score enables you to identify the deals most likely to convert, so lead scoring in and of itself offers a way to improve your sales targeting strategy.
Based on the parameters and scoring system you set, points are given to a lead for things like lead source, emails opened, conversations, or engagement with social media content. You can also set it up to assign points based on non-behavioral factors like industry, job position, company size, demographic information, or any other aspects typical of your ideal customer types.
Lead scoring should be used in addition to using customer profiles in your sales targeting efforts because it allows you to narrow in even further on leads that fit your profiles and those that have shown a lot of interest already. HubSpot is a popular small business CRM that lets you configure positive and negative points depending on lead engagements with your business.
Utilizing a CRM with tagging and lead scoring features is essential to the success of your sales plan. This technology is vital to keeping sales and marketing reps focused on messaging and to hone in on the proper audience to accomplish your sales targeting objectives.
5. Deploy the Most Effective Sales Targeting Campaigns
Based on customer profiles and leads you have identified for deal prioritization, establish sales and marketing campaigns to best pursue those contacts. For instance, the B2C ecommerce customer profile example above showed which communication channels are better suited for specific buyer types. This suggests the need for different types of sales targeting campaigns.
Repetitive Purchaser → Fairly loyal already and likely subscribed to email lists. This makes email and loyalty/rewards applications the best channels to use.
Holiday Consumer → In search of deals to purchase clothes as gifts and easily enticed by discount ads, making Facebook and other online advertisements the best channels for sales targeting campaigns.
Brand Experimenter → Fairly young, loves social media, and constantly looking for new brands to try, which makes TikTok and Instagram the most ideal channels.
The chart below shows sales targeting campaign examples to use across a variety of channels based on the buyer's main motivation to purchase:
Sales Targeting Methods Based on Customer Profiles
| | Name Brand/Loyalty | Good Deals/Low Prices | New Brands/Clothing |
| --- | --- | --- | --- |
| Email | Mass email campaigns promoting referral rewards program to current customers | Mass email campaigns promoting clearance sales | Mass email campaigns promoting newest clothing trends and how your brand leads the industry |
| Loyalty/Rewards App | Banner or message in loyalty app about limited-time bulk purchase deals | Banner or message in loyalty app about clearance sales | Banner or message in loyalty app about newest line of clothing |
| Online | Google ads promoting bulk order discounts | Google ads promoting limited-time discounts on certain items | Google ads with a brief comparison of the uniqueness of your clothing to traditional brands |
| Facebook | Facebook ads promoting new referral rewards program | Facebook ads promoting limited-time holiday deals | Facebook ads promoting first-time buyer deals on the newest line of clothing |
| TikTok | Video campaigns of brand ambassadors showing all articles of your same-brand clothing products in under 10 seconds | Video campaigns of brand ambassadors explaining all the seasonal deals in under 10 seconds | Video campaigns of brand ambassadors explaining the uniqueness of your products in under 10 seconds |
| Instagram | Instagram posts showing all articles of your same-brand clothing products in a multi-slide post | Instagram ads promoting limited-time holiday deals | Instagram messaging on limited-time deals for new customers |
As mentioned earlier, your CRM can be used as a central system for sales targeting—not just for the data it stores for contacts, tagging, and lead scoring, but also for deploying your campaigns. Many CRMs either have built-in tools for sales targeting campaigns or integrate with platforms that do.
For example, HubSpot has built-in email tools for designing marketing emails with premade templates and deploying them to the contacts stored in your CRM. Likewise, campaigns can be mass deployed to all of your contacts or those identified through lead scoring and tagging.
Alternatively, you can integrate a CRM like Pipedrive with an email marketing platform like Mailchimp. In this case, you can use the contact data from your CRM with the email marketing campaign design and deployment tools of Mailchimp for sales targeting activities.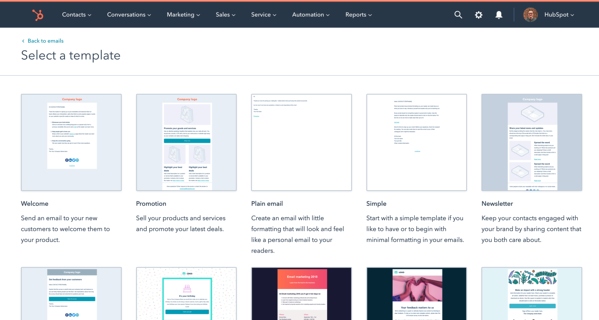 ---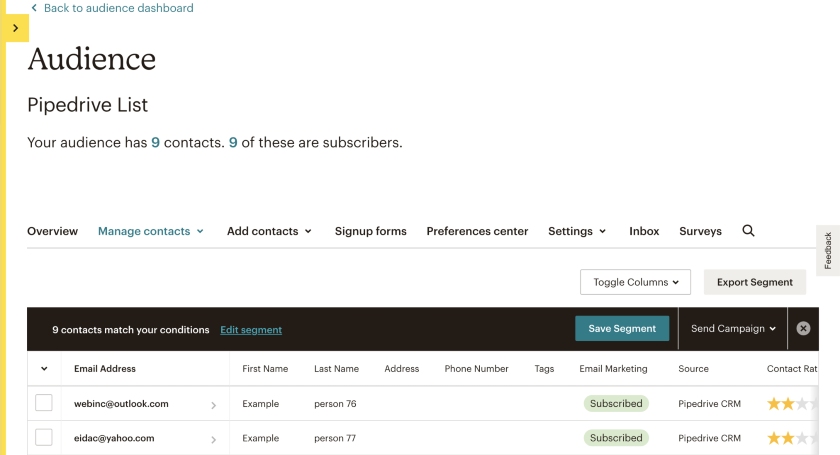 ---
When it comes to social media sales targeting campaigns, many CRMs integrate with social media platforms and some even let you manage social media activities from the CRM system. For example, Zoho CRM lets you schedule and publish content on your Instagram, Facebook, Twitter, and LinkedIn accounts, and even includes features that tell you the best time to make the post.
Another major communication channel you may find yourself using is a traditional phone to make cold or follow-up calls. The Freshsales CRM integrates with the native Freshdesk Contact Center tool so you can make calls directly from the system. Included is a power dialer that automatically dials the next phone number based on your premade calling list, which you can create based on your customer profiles, contact record tags, and lead scores.
6. Analyze Campaign Results to Improve Sales Targeting
As you would any other strategy, you need to measure and track the effectiveness of sales targeting campaigns in terms of total deals closed or conversion rates. This lets you and others in sales management positions determine whether you need to refine your customer profiles, lead tagging, lead scoring methodology, or the planning or execution of your sales targeting campaigns. Yet again, your CRM is going to be your most valuable tool.
As you deploy email campaigns to your target customer profiles in HubSpot, for instance, you can track click and open rates to see if there's any significant difference in a targeted campaign vs a generalized one. If you see higher click rates, open rates, and more purchases from your target campaigns, it means they are working properly. If there's little to no change in performance, you need to re-evaluate your sales targeting strategy.
B2B companies are likely to analyze campaign success based on sales funnel conversion rates. Let's say before you began targeting, your deal closing rate was 3% of every lead generated. You created customer profiles and used lead scoring to better target your campaigns, and after six months, your closing rate is now 7%. Based on this improvement, you can conclude that your sales targeting initiatives were a success.
Nearly all CRMs let you track performance either on a dashboard or through common CRM reports. Zoho CRM, for instance, provides a comprehensive analysis of your funnel and sales pipeline stages as part of its pipeline management features. Managers can view lead conversion to each stage and see if certain lead sources are more promising than others.
Bottom Line
Sales targeting keeps your focus on the right customers, campaigns, and overall messaging, ensuring that your sales process is as efficient as possible. By using customer profiles and a CRM with features for tagging, lead scoring, sales targeting campaigns, and performance analysis, you can improve your sales targeting strategy and increase customer conversions and revenue growth.