Newspaper advertising is one of the oldest forms of print promotion and an affordable and flexible option for businesses that want to reach potential customers on a local, regional, or national scale. According to Nielsen, nearly 170 million American adults still read a newspaper, with 51% reading print exclusively, making newspaper advertising a relatively inexpensive way to market your business to a wide audience.
If you're not ready to jump into newspaper advertising, you can still promote your business by sending postcards to your target market. Opportunity Knocks offers affordable, targeted mailing lists based on the demographics, lifestyles, personal interests, and buying habits of your potential customers. You can then print custom postcards about your businesses and mail them the same day. Get $250 off when you sign up for 3 mailing campaigns.
Cost of Print Newspaper Advertising
The cost of a newspaper ad depends on the publication's location and circulation size and the color, frequency, and day of week your ad is published. A local paper may charge $12 per inch for a black and white ad, so a 4-inch by 10-inch ad would cost $480. Major national papers may charge $10,000 or more for the same ad.
Here are some estimated prices for Sunday advertising in black and white. The cost to advertise in color varies greatly between newspapers, but you can expect to pay up to 50% more for a full color ad.
Newspaper Advertising Costs – Examples
| Newspaper | Circulation | Price for full page ad | Price for ¼ page ad | Price for ⅛ page ad |
| --- | --- | --- | --- | --- |
| Washington Post | 551,360 | $163,422 | $40,855 | $20,428 |
| Milwaukee Journal Sentinel | 153,207 | $23,688 | $5,922 | $2,961 |
| Bozeman Daily Chronicle (Bozeman, MT) | 14,069 | $2,772 | $693 | $347 |
You will notice that there is a big cost jump in price between small town and big city papers. So what determines whether advertising in the newspaper will be within your small business marketing budget?
How Newspaper Ads are Priced
There are a variety of different factors that determine how much newspaper advertising costs. A few of the main ones are:
Circulation of the newspaper – The higher the circulation, the more you will pay for an ad. Note that some newspapers will list their readership instead of circulation on the rate card. These two terms are not the same, as the readership number assumes that multiple people in a household will read the same paper. While this may be true, advertisers pay based on circulation.
Size/color of the ad – The bigger the ad the more it will cost. You will also pay more for your ad to run in color.
Number of times your ad runs – If you run your ad multiple times, you will pay more overall but less for each individual ad.
Day of the week/section of the paper – Expect to pay the most on Sunday. You will also pay more to have your ad in the main section than in the sports or travel section.
You will find the cost to advertise on the newspaper's rate card. Here's an example of a rate card from the Bozeman Daily Chronicle.
Ad Sizing & Cost
As mentioned above, the size of your ad is one of the primary factors affecting cost. There are two ways that ad sizes are priced:
1. Price per column inch
A column inch is a unit of space one column wide by one inch high. If a newspaper charges $12 per column inch, an ad measuring 4 columns wide by 10 inches deep would cost $480. This is calculated by 4 columns x 10 inches = 40 column inches x $12 per column inch = $480.
Most full page ads are measured as 6 columns x 21 inches, or 126 column inches. In this example, the cost for a full page would be $1,512. This is calculated by 126 column inches x $12 per column inch = $1,512.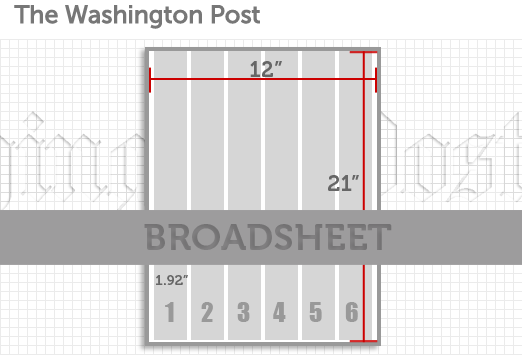 This example from the Washington Post shows the typical size of a full page newspaper ad.
2. Modular pricing
With this type of pricing, newspapers charge based on set modules, such as half page, full page, quarter page, etc.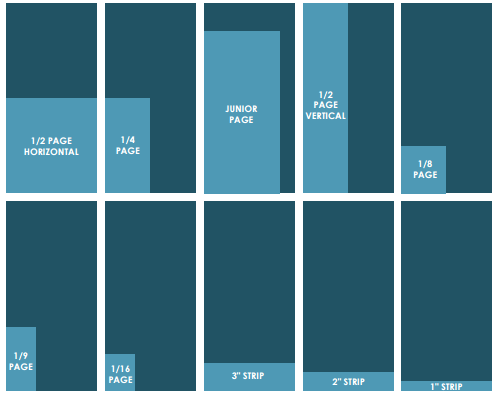 Modular specs taken from The Philadelphia Inquirer's Print Specs
How to Get a Discount on Newspaper Ads
As mentioned above, the cost of newspaper advertising will vary significantly based on which publication you choose and the type of audience you can reach. No matter which publication you chose, there are a few ways you can lower the cost of your newspaper ad:
Advertise Multiple Times
The number of times that you advertise in a newspaper–also known as frequency–will change how much you pay per column inch. These discounts should be listed in the newspaper's rate card, and can be broken down by the amount you spend or the number of column inches advertised in the newspaper annually.
Here is an example of newspaper discounting based on how much the advertiser agrees to spend on advertising during a one year period:
Ask for Special Discounts
Many times newspapers will offer introductory rates for new advertisers. You can also ask for your ad to be featured in a seasonal or special insert for lower than average rates. Sometimes, newspapers offer a remnant space rate that can be discounted up to 80% off of the list price. If you go this route, your ad will be placed in spaces that the paper was unable to fill. However, there are no guarantees that your ad will run.
---
CLICK HERE To Get A Handy Printable PDF of This Guide
---
A small business owner's advice on getting discounts:
Rebecca Harnden, CEO of Humboldt Light Dep, LLC, offers this tip to get your business in front of pre-qualified leads cheaper than regular print runs.
"Contact your local newspaper and ask if they have any
upcoming special event features. Newspapers run special inserts during the weeks of special events. The cost for printing in one of these special inserts or handouts is usually much less expensive than running an ad in the regular newspaper, since less people will see it. However, the people who do see it will be interested in your product or service."

She offers this example, "if you are a wedding planner, run an ad in a seasonal industry specific newspaper insert or in a newspaper produced program distributed at a bridal fair. You know the people who see your ad will be brides or know a bride-to-be, making your campaign much more effective for much less money!"
Go for Local Publications
If your business caters primarily to your local community, advertising in local or regional newspapers may actually yield better results for a smaller budget. Some local papers, especially neighborhood and town gazettes, charge very little for advertising space and you will be able to better target your audience since local customers will be reading them. Contact local publications in your area and compare prices to see which will provide the most impact per dollar. You can visit USNPL, which lists newspapers by state and city, to find some of the different local newspapers in your area.
Another inexpensive way to target local traffic is by advertising on Yelp. Yelp is a user review site where site visitors can read reviews about others' experiences at businesses, leave reviews about their own experiences, and find specific businesses located nearby. When you create or claim your free business profile, Yelp for Business Owners gives $300 in ad credits to spend on targeted ads for your business.
Your business's ads can appear at the top of pages of similar search results and on competitors' profiles. You'll even have access to relevant insights like profile visits, customer leads, and revenue generated from your Yelp business profile. Once you spend your credit, you can advertise for as little as $5/day. Claim your profile and ad credit.
Newspapers Attach Premiums to Popular Ad Spaces
Prime spots will carry a premium price tag and you can expect to pay extra if you want to a specific location for your ad. However, we recommend the added cost of specifying where your ad is placed to increase the likelihood of people seeing it.
Looking to advertise in your local newspaper for free? Bernice Mirrilees, PR Director at the marketing agency Red Caffeine, suggests you try to land press coverage/earned media.
"Earned media – articles written about your company or
by a company employee – can trump a paid ad by establishing credibility and authority as an expert in your given industry or field. It takes some leg work to identify the best writer at any given publication and then pitch them on an article idea that is newsworthy to their readers. But it can pay a great ROI by positioning you as a thought-leader."
For more on this strategy, check out our full guide on how to get local press for your business.
Pros & Cons of Newspaper Advertising
Pros of Newspaper Advertising
For decades, big and small businesses alike have reaped the benefits of newspaper advertising. These include the following:
Local audience
By advertising in your local paper, you are able to reach people that are in close vicinity to your business. You are also integrating your business into the local community by placing your ad among local news and events.
Reach new customers
Newspaper advertising is another venue for your message, and therefore you will reach more people than if you are focused only on online marketing, email marketing, etc.
People expect ads in the newspaper
People are less likely to be annoyed by your ad in the paper than an ad on the TV or radio. Not only do they expect to see advertisements, but the ads also don't interrupt them from reading an article.
People can look at the ad for a long time
This is a plus because you can put more information in a newspaper ad (i.e. pricing, phone number, website, etc.) and people will be able to get a good look at it. This differs from radio advertising, TV advertising, and billboard advertising, where the message flashes by quickly.
Target based on interests
If you own a business that correlates to a section of the newspaper, you can target your ad to people that read that section. For example, if you sell sports gear, you could advertise in the sports section of the paper. This is a win-win situation: it will actually cost you less than advertising in the main section, but you will get a more targeted audience.
Can offer coupons
Newspapers are the perfect medium for coupon advertising. The physical act of tearing out a coupon creates a strong level of engagement with your message, increasing the probability of people coming into your store.
Cons of Newspaper Advertising
There are some challenges to print advertising as well, including:
People don't read the whole newspaper
Even if a newspaper has a high circulation, it's unlikely that everyone who receives the paper will see your ad. Over 91% of newspaper readers read about local news, but expect a significant drop in readership for the sports section. If you want maximum exposure, you will need to place your ad in a premium spot, which will cost more.
Your ad is competing with other ads
There are likely to be other business ads surrounding yours. Ask your newspaper sales rep if your ad can stand alone or if they can make sure your competitors' ads don't appear next to yours. If budget permits, purchase a larger column to help your ad stand out among the masses.
Legal action may be taken against you
In rare cases, readers may accuse you of false advertising, or ad companies may claim copyright infringement. This can be caused by the unauthorized use of brand names or representations of individuals without their permission. Be sure you have written permission to mention brands and use specifical individuals in your ads before they run. Also, protect yourself from legal action by investing in media liability insurance.
Hard to measure results
Unlike online advertising, such as Facebook advertising or Google advertising, where you can easily track who came to your website from an advertisement, measuring your exact ROI with a newspaper ad is trickier. We will go into more detail on the best way to measure results later in the article.
Want Professional Designs For Your Newspaper Advertising? Take Our Quiz!
We've done our homework and scoured the freelance website, Fiverr, for you. Answer just 2 questions below and we'll show you someone that can complete your graphic design project.
Print vs Digital Newspaper Advertising
While most people still associate newspaper advertising with print, you may have the option to advertise in your chosen newspaper's digital counterpart. Major U.S. publications experienced a spike in digital subscriptions in 2016, with the Chicago Tribune adding about 100,000 subscribers, so putting an ad online is a viable option for your small business.
Let's see how print and digital newspaper advertising compare below:
Print is Still King, But Digital Is Growing, Particularly Among Young People
A 2016 study by Nielsen found that 81% of monthly newspaper readers still read the printed version. However, only 51 % of those readers rely exclusively on the print version. The other 49 % read at least one digital newspaper. 32 % of digital news readers come from the coveted 21-34 age demographic, so if you're trying to target Millennials, digitial may be a good option for you.
Print is Less Complex, but Digital is More Flexible
As mentioned above, ad space in a print newspaper is typically priced by column per inch or through modular pricing with some sections commanding a larger price tag than others. However, digital ads can be displayed in dozens of ways, making it more complex for the advertiser. For example, the Washington Post offers 63 different ways to show your ad to readers including banner ads and pop-up videos and options to show your ad on email newsletters or mobile optimized banners on the IOS devices, which can open up new and creative ways to advertise.
Digital Can be Cheaper Than Print
The cost of newspaper advertising both online and in print is largely dependent on the location and size of your ad. However, the cost of entry can be cheaper on the digital format. For example, you can run a 7 day online ad on the Washington Post for as low as $40. Unlike placing your ads on Facebook or Google, where you will be charged on a per-click basis, advertising on a newspaper's website will require you to purchase space for your ad similar to the print counterpart.
Digital Ads Blend Better With Editorial
With online newspapers, the line between editorial content and ad is more blurred, so your ads blend in better with regular content. For example, a video featuring your product or service may show up in the middle of an article or next to an image, or there may be links to your website in the middle of the article. This means that more readers will likely read your message rather than skip over it. Online media has another advantage: shareability. Someone who likes your ad can share it to their followers on social media, which means more eyes on your small business without added cost.
Where, When, & How Often To Advertise
You can visit USNPL, which lists newspapers by state and city, to find the different local newspapers in your area. To determine which local paper you should advertise in, ask for information on their circulation. Most newspapers will have details on the demographic of their audience.
Decide which section is best for your business
You will have several choices when you buy newspaper ads:
Run of paper
If you choose this option, the position of your ad will be determined by the publisher. If your ad has a bad position in the newspaper, there's a good chance that no one will see it, so make sure you understand exactly where your ad could show up if you go with this option.
Main news section
This is the most read section, with 80% of readers looking at the main news. Expect to pay the most if you want to advertise in this section. One downfall of advertising here is that you risk your advertisement being next to an article about a horrible human catastrophe or other negative news.
Local news section
This section sees a small decline from the main news at 75% readership. If your product has broad appeal, we suggest advertising in the local section. You are emphasizing that you're part of the community, and you will pay less than if you advertised in the main news section.
Other sections (travel, sports, health, etc.)
Readership drops off by around 20% for these sections, but placing an advertisement here is a good idea for some business. For example, if you own a health food store, you can target people that are interested in health by only advertising in that section.
If your products and services have broad appeal, we recommend choosing the main news section or local news section for maximum exposure. However, if your business fits a specific section of the newspaper, it's ideal to publish an ad in that section for a more targeted audience. For example, if you own a travel agency, placing an ad in the travel section will expose you to readers who are most interested in your services.
Where to Place Your Ad in a Newspaper
Work with a sales representative to get your ad on upper right portion of the right-hand page of the newspaper. This will increase the chance of readers seeing your ad as they flip through the pages. Make sure your ad is placed next to an article instead of other ads. It might cost you more, but it will help keep the readers focused on your message.
Best Day to Advertise in a Newspaper
The best day to run your ad in the paper depends on the type of products or services your business offers and the goal of your campaign:
Monday & Tuesday: There are fewer ads during these days, so your ads may get more attention during these days. However, circulation (the number of people receiving the paper) is usually lower.
Wednesday & Thursday: Grocery stores tend to like to advertise on these days, as this is when many people plan shopping trips.
Friday & Saturday: A good day for restaurants and entertainment providers.
Sunday: The day with the highest circulation and the most ads. The paper is full of coupons on Sundays. This is a good advertising day for retail stores.
If you're a restaurant owner, Friday and Saturday will be your best day to advertise on a newspaper. However, you may want to test the waters on Sundays when the circulation is highest or on Mondays when there is less competition.
How Often You Should Advertise
The number of times you advertise in a newspaper will depend on your budget, but you should try to run your ads at least once a week for a month. A potential customer will need to see your ad a few times before they decide do business with you. In addition, you will be able to get a frequency discount if you advertise with a newspaper multiple times.
If you determine that newspaper advertising is right for you, increase from one per week to two or three to see if it brings more business in.
In addition to running an ad multiple times, you may want to consider putting your business message out there on multiple mediums. Look at our guides to advertising online, on the radio, and on TV to get started.
Best Size for Your Newspaper Advertisement
The cost of your newspaper advertisement is directly proportional to the size of your ad, meaning the bigger your ad, the more you will pay. Even though it's been proven that the larger your newspaper advertisement, the more likely people will notice it, this doesn't mean that you should go with a full page ad.
Here is the percentage of people remembered a print advertisement from a study by Starch Research:
Full Page 42%
Three Quarter Page 38%
Half Page 34%
Quarter Page 26%
One Eighth Page 23%
As you can see, an eighth of a page is a big bargain compared to a full page ad. You get over half of the attention of a full page ad at an eighth of the cost. Plus, ⅛ of the page provides enough space for the ad to have a big headline, a couple sentences of text, and a coupon or photo. Going smaller than ⅛ of a page may impact your ability to communicate your message.
For certain businesses, there is an argument for larger size ads. If your customers are not necessarily frequent shoppers and are buying big ticket items, having more potential customers notice your advertisement may be more important than the efficiency of the spend. This point of view is well articulated in this article "How big do you need to run?".
Creating an Effective Print Ad
You can have the best ad spot in the highest read newspaper, but if your ad is not attention grabbing, people's eyes will glance right past it. We have included some tips to make sure you advertising dollars don't go to waste.
Writing the Copy
When writing your ads you should do the following:
Write an attention grabbing headline. The most important element of your ad is the headline. If those 3 to 8 words don't interest the reader, the advertisement will fail.
A clear call to action. Do you want them to visit your establishment or order from your website? Make sure the ad specifically states what you want the reader to do.
Add your business information. Include your address (or proximity to a well known local landmark), website, and phone number, so the reader knows how find you.
Add a sense of urgency. Consider including a limited time discount or coupon with an expiration date. This gives the reader motivation to act immediately after seeing your ad.
Look at ads from competitors. Though you don't want to copy their ads exactly, you want to have a feel for what's out there, and their ad might spark an idea for your next ad.
Get suggestions from your newspaper account executive. They will often come up with sample ads when trying to initially get your business.
Test different ads to see which one is most effective. You always want to improve your ads, but make sure you have a system in place to track which sales are coming from which ads.
Producing Your Ad
Work with a professional designer and the newspaper's production department to create a quality print ad. Use the technical specification from the production team and work with your designer to create the best possible layout and design for your ad. Working with a professional designer will enable you to give feedback and make changes to the ad. A quality newspaper advertisement should cost around $150 to $500 to design. You can also find high-quality designers on freelance sites, just make sure you view their past work before hiring them to create your ad.
Freelance Site Reviews - Have a Freelancer Design Your Ad
Requesting and Approving the Proof
You should always request the proof for a newspaper or magazine advertisement. From photo placement to the size of the text, your ad may look entirely different from what you envisioned. A proof will show you exactly how the ad will look in the publication and will allow you to make adjustments before it goes to print.
How to Measure Success
You will need to keep a pulse on how well your newspaper ads are performing if you want to run a successful print advertising campaign. If you are not measuring the results, you won't know if a newspaper ad is worthwhile for your small business. Here are some ways to determine if sales are coming from your newspaper ad:
Include a coupon
Coupons are great for newspaper advertising. Include a deal at the bottom of your ad for people to rip out and bring to the store. This is an easy way to track business that comes from your ad.
Use a call tracking number
A great tactic is to use a phone number on your ad that you only use for newspaper advertisements. That way, if someone calls that number, you will know they called after seeing your newspaper ad. We have an article on how to set up call tracking that will walk you through the process of setting up this number.
Use a vanity URL
Similarly to a call tracking number, a vanity URL can track which people went to your website after seeing your ad in the newspaper. An example of a vanity URL would be www.yourbusiness.com/NYT. You can purchase a vanity URL for your site here (use domain name search). The downside is that this only works to measure success of your ad if you are looking to drive traffic to your website.
Ask your customers
If you are a small business owner that interacts with your customers on a one-on-one basis, simply ask them how they heard about your business. This works well for real estate agents and doctors, but not so well for restaurant owners and clothing stores (although such stores can ask for customer surveys).
Calculate your sales
If you are running your newspaper advertisements in isolation, you may be able to determine if the ads are successful by looking at how well your business performs during the months that the ad is running. A positive fluctuation in sales is a good indicator that your newspaper ads are paying off. However, keep in mind that other external events, like a holiday, can also be responsible for driving up sales.
Bottom Line on Newspaper Advertising Costs 
Despite the move to digital media, traditional newspaper advertising is still a great way for small businesses to promote products and services to a wide audience. It is flexible, covers a wide demographic, and it can be affordable, so incorporating newspaper advertising into your marketing strategy can help give your business a boost.
Get the most out of your newspaper ads by researching local, regional, and national publications and work with a newspaper sales representative to get the best placement for your ads. Following the guidelines in this article should help bring more business in from advertising in a newspaper.