How to Use Squarespace to Build a Website (+ Video Tutorial)
Squarespace is one of the most popular all-in-one website builders, known for its sleek designs and built-in tools that help small businesses grow and succeed. Our Squarespace tutorial shows how to use Squarespace to build a website in just five easy steps. To start, create an account, select a template, customize your template, review it, and upgrade to a premium plan to publish.
Squarespace Tutorial Video
While Squarespace pricing has changed since this video was released, the steps of how to build a website with Squarespace are the same as laid out in our Squarespace tutorial video:
1. Get Started With Squarespace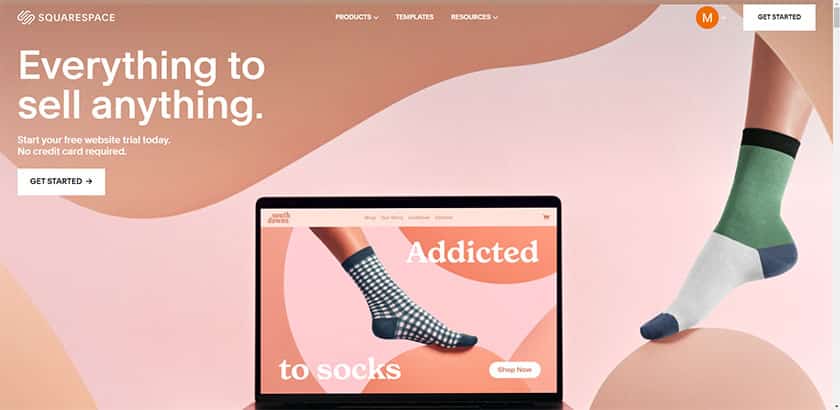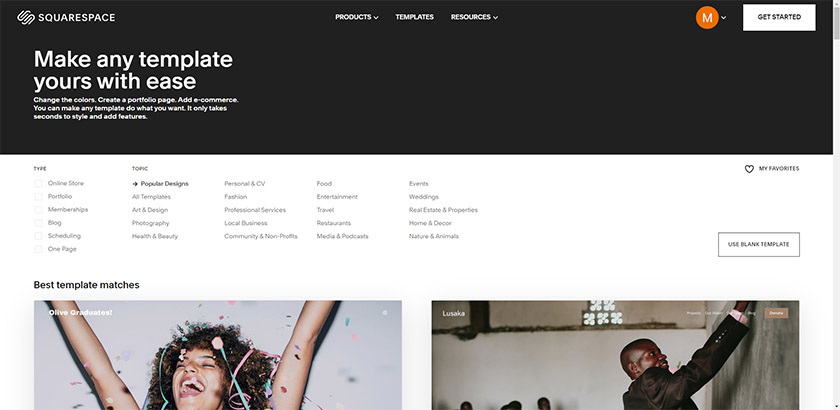 ---
Squarespace is made for beginners, and thus learning how to build a Squarespace website is extremely straightforward. First, head over to Squarespace and click on "Get Started." From there, it will take you to a page with templates you can browse or sort by type and topic (e.g., the type of website you want to build or the industry your business is in).
For example, clicking on the checkbox for Online Store and Photography will show you a different set of templates than clicking on One Page Websites or Food. You can also opt to check more than one type (e.g., Online Store as well as Memberships).
To browse all of the 100-plus Squarespace templates available, don't click on a checkbox. Instead, click on "All Templates" under "Topic." To mark a template as a "favorite," press on the heart at the bottom of the preferred template. You can view your favorites at the top right corner of the selection screen.
Alternatively, you can opt not to use a template altogether by selecting "Use Blank Template." With a blank template, you can add, delete, and edit Squarespace's premade sections to build out your website.
2. Create Your Account
Once you've chosen a template, you will need to create an account to edit it. You can choose to continue using an email address or your Google, Facebook, or Apple account. Using Squarespace to create a website is 100% free for 14 days (with no credit card required) and you can begin editing your website right after you sign up.
Squarespace also gives you a brief overview of what to do after creating your website. Choose a name for your site to proceed to the mini-tutorial. Don't worry if you can't decide on your site's name just yet as you can always click on the arrow below and name your website later.
After the "mini-tutorial," a pop-up will appear on the right-hand side of your screen. This is a step-by-step checklist of what you can do to set up your website. You can dismiss or minimize this pop-up if you deem it unnecessary.
3. Edit Your Squarespace Website
The next step in how to use Squarespace to build a website is editing your site. If you chose to start with a template, this could be as simple as replacing some of the images and the text content. If you started with a blank template, you'll build pages using Squarespace's premade content blocks.
Regardless of the template you started with, for editing, Squarespace presents a drag-and-drop editor where you can drag or click content blocks to edit. Check your sidebar to see the menu. Below we explain how to create new pages or delete pages you don't need, change your site's design elements, customize the header and footer areas, and optimize your site for online search.
Create & Delete Pages
Shortcuts:
Add a page: Main Menu > Pages > + > Blank Page/Page Layouts
Edit a page: Main Menu > Pages > Page Name > Gear Icon
Delete a page: Main Menu > Pages > Page Name > Trash Icon
Check if the default pages that came with your chosen template are enough for your website or if you need to add more (or delete any you don't want to have). Then, click on the Pages tab on the left menu bar to add or remove pages or change your website's navigation. You can also edit each individual page's settings by clicking on the gear icon beside the page.
Change the page's title, URL slug, and navigation. Make sure that it gives an accurate description of the page for optimization purposes. Pay attention as well to the search engine optimization (SEO) tab in the page settings, where you can add SEO titles and descriptions to each page. Be sure to save the changes before leaving the menu or exiting a page after editing as Squarespace does not autosave your changes in real time.
Squarespace has a wide range of options like Contact, About Me, Appointments, and Menu. Add a new page by clicking the "+" icon in the same left-hand side menu. When adding a new page, you have the option to choose from a blank page or a premade layout.
Drag your pages to organize them on your navigation bar. To create subpages—which will show as drop-down menu items on your site's navigation bar—create a folder and name it, and then drag the pages you want into the folder. To delete any page, simply hover over the page in question and press the trash icon that appears beside it.
---
Change Your Site's Design
Shortcuts:
Change your website's overall style: Main Menu > Design > Site Styles
Add a favicon: Main Menu > Design > Browser Icon
Add a 404 page: Main Menu > Design > 404 Page
Now that you're happy with your pages, you can begin designing your website as a whole. Click on the Site Styles tab under Design on the sidebar to view the different fonts, colors, and button styles you can choose for your theme. Note that these changes will be reflected sitewide.
Don't forget to add a website favicon to your Squarespace site. This is the small icon that appears on the browser next to your web address. Click on "Browser Icon" to upload one from your device. If you don't have a favicon, you can use Squarespace's free logo maker to download an icon for use on your website.
The Design tab is also home to your 404 Error / Page Not Found message. You can use the default message or create a custom 404 error redirect page for the best user experience. To create a custom error page, first create a page, design it, then drag it to the "Not Linked" section at the bottom half of the Pages menu. Then head back to the 404 Page tab and select the custom page from the drop down.
---
How to Edit Pages of Your Squarespace Website
Shortcuts:
Edit a section: Main Menu > Pages > Specific Page > Edit > Specific Section
Add a section: Pages > Specific Page > Edit > Add Section
Add a content block: Pages > Specific Page > Edit > Specific Section > +
Delete a section/block: Pages > Specific Page > Edit > Drag Section/Block to Trash
The actual editing of your website's pages is done on the editor itself. Just click on the page you want to edit, click "Edit" on the top left corner of the screen, and click on the content block you want to change. When you've finished making changes, be sure to click "Save" before navigating away or you will lose your edits.
You can also add or remove content blocks and sections by clicking on the "+" sign and the "Add Section" button, respectively, and by dragging blocks or sections to the trash icon that pops up at the bottom of the screen. Use the up and down arrows to arrange the sections on your page, and drag and drop your content blocks to where you want them to go.
After editing your page's design, save or discard the changes by hovering over "Done" at the upper right corner of your screen, and bringing down the menu. In the next step of how to use Squarespace to create a website, we show how to edit your site's header and footer areas.
---
Update Your Header & Footer
---
Optimize Your Squarespace Website for Search
Shortcut to overview: Main Menu > Marketing > SEO
Shortcut to page-level SEO settings: Pages > Gear Icon > SEO
In addition to learning how to use Squarespace to build a website, it's important to know how to optimize your site so it gets found in online search. These include search engine optimization (SEO) tactics for each page, such as keyword-optimized titles, descriptions, image alt-tags, as well as site-level settings. To add optimized page titles and descriptions to a page, click on Pages → Gear Icon → SEO.
In addition, in the SEO tab under Marketing, Squarespace also offers a checklist with several ways to improve your website's optimization, including an in-depth SEO checklist to see how to optimize your site even further. Find out more about this platform's SEO capabilities and learn why Squarespace is one of the absolute best website builders for SEO.

---
4. Review Your Site
Once you're satisfied with how your website looks, review each page to see if all the content blocks are in order and if you're not missing any important details. Click on the mobile icon at the top right corner of your screen to switch between mobile view and desktop view. Keep in mind that you can also use the editor when viewing the mobile version of your site, and any change you make will reflect on your desktop site as well.
Before you publish your website, review the following:
Business information: Your business' name, address, and contact information
SEO: Page titles and descriptions in the search engine optimization (SEO) tab as well as other items in Squarespace's SEO checklist to fully optimize your website
Header: Your logo, main navigation menu, links to important pages like applications or contact pages, an easy way for site visitors to contact you (such as a click-to-call phone number), a search bar, and so on
Footer: Your logo (hyperlinked to your site's "home" page), a short navigation menu, search bar, email sign-up form, contact information, location address(es), recent posts, etc.
Privacy page: Every website should have a privacy page (and Squarespace requires you to have one) that notifies site visitors about things like how data is stored and used when they submit a form, whether your site uses cookies, and who to contact if they want their information deleted
Custom 404 page: Adding a custom 404 error page improves the experience for the site visitor as you can personalize it and give them options of things to do, such as search for content they were looking for or contact you for help
Cookie notification banner: A cookie notification pop-up or banner is required by the European Union's General Data Protection Regulation act, and while not required for those conducting business in the U.S., it is becoming increasingly standard on all websites—you will find settings for these in → Settings → Cookies & Visitor Data
Plugins and extensions: Squarespace plugins (called extensions) add extra features and functionality to your website through third-party integrations for things like shipping, bookkeeping, marketing, and more
The last bullet is optional. One of the things that makes Squarespace unique is the amount of third-party plugins you can download. Plugins are small bits of code that you can easily download to customize your website even further.
Downloading and installing plugins on Squarespace is extremely easy: head over to Squarespace's list and find the extension that you want. Click on the plugin and hit "Connect to Site," and Squarespace will install it for you. All the extensions you've downloaded are available to view in the Extensions tab within Settings (on the main menu).
5. Choose a Plan & Publish Your Site
Now that you've completed the steps for how to use Squarespace to build a website, your site is ready to publish. Head over to Settings on your sidebar and click on "Site Availability." From here, you will be asked to choose a plan in order to publish your website.
Unlike website builders like Wix and GoDaddy, Squarespace does not have a free plan. To make your website accessible to the public, you'll need to upgrade to a paid plan, starting at $14 per month (when billed annually).
How Much Does Squarespace Cost?
Here are the plans currently offered by Squarespace on an annual billing cycle. Note that if you pay monthly (vs annually), it's more expensive.
| | Personal | Business | Commerce Basic | Commerce Advanced |
| --- | --- | --- | --- | --- |
| Price per Month* | $16 | $23 | $27 | $49 |
| Free Domain for 1 Year | ✔ | ✔ | ✔ | ✔ |
| Unlimited Storage & Bandwidth | ✔ | ✔ | ✔ | ✔ |
| SSL Certificate | ✔ | ✔ | ✔ | ✔ |
| Extensions & Plugins | ✔ | ✔ | ✔ | ✔ |
| Squarespace Video Studio | Limited | Full | Full | Full |
| 1 Year Free Google Workspace & Gmail Business Email | ✕ | ✔ | ✔ | ✔ |
| Embed Code (e.g., Google Analytics) | ✕ | ✔ | ✔ | ✔ |
| Ecommerce & Unlimited Products | ✕ | ✔ | ✔ | ✔ |
| Transaction Fees | ✕ | 3% | 0% | 0% |
| | | | | |
*Billed annually; plans range from $23 to $65 billed month to month
Frequently Asked Questions (FAQs)
What are the best Squarespace alternatives?
If Squarespace isn't for you, there are numerous beginner-friendly website builders in the market. Our top Squarespace alternatives offer various benefits, such as free plans to start with, built-in booking tools, and robust ecommerce. Wix is the most customizable and has a free plan, and GoDaddy can also be used free and has built-in appointment booking tools. Those wanting robust ecommerce in low-cost or even free website builders should start with Weebly.
Is Squarespace free?
Squarespace doesn't have a free plan, though it does have a 14-day free trial. You can build your website on Squarespace and access its features for 14 days, but to make your website visible to the public, you'll need a paid plan. To build a website for free instead, see our list of the best free website builders available.
How much does building a website cost?
Building a website can cost anywhere from only paying for web hosting ($1 to $10 per month) to over thousands of dollars should you decide to hire a web design agency. However, hiring a professional isn't as expensive as you may think. On Fiverr, you can find an experienced web designer to build a fully customized website for you for a few hundred dollars. See a comparison of website building costs and decide for yourself.
Bottom Line
Squarespace tops our list of the best website builders for small businesses. It's fairly intuitive and beginner-friendly, has premade templates to streamline the process of how to use Squarespace to build a website, and is full of features to help you create the perfect site. Take advantage of the 14-day free trial to see how easy it is to build a website with Squarespace.
You Might Also Like…