8 Job Fair Tips for Employers in 2023 [+ Free Checklist]
This article is part of a larger series on Hiring.
A job fair is a great opportunity to connect with multiple job seekers at once in a single location and can be a strategic addition to your hiring practices. Although each job fair is different, they all enable you to give information on job openings and hiring initiatives to potential candidates, casual job seekers, and HR professionals.
Download our free job fair checklist for employers to help you get the most from your next job fair participation, and review the job fair tips for employers below to make the process as effective and efficient as possible.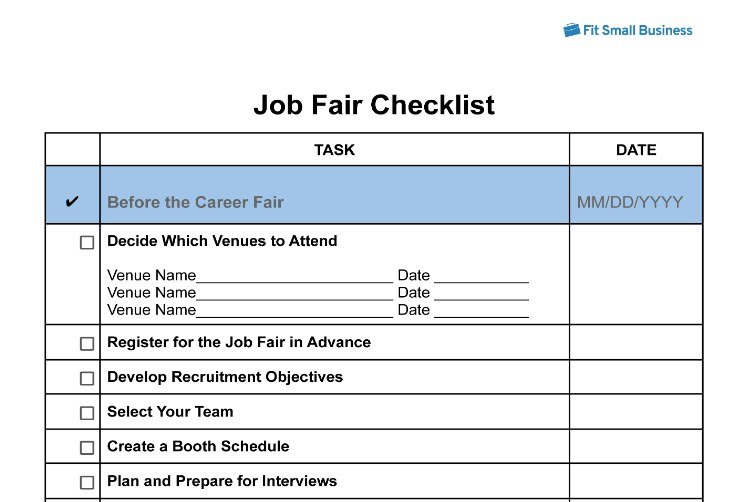 Thank you for downloading!
Need help tracking your job fair applicants? Consider using ZipRecruiter.
Screen, interview, and manage your candidates all in one place.
Visit ZipRecruiter
1. Decide Which Job Fairs to Attend
Job fairs are held in a variety of venues—within many industries and specific job categories (like healthcare or accounting)—but most commonly at universities. Since you cannot attend all job fairs, your company should decide on a few based on location. Employers, as well as job seekers, can locate local job fairs using the following resources:
| | |
| --- | --- |
| | Lists all registered job fairs on its website and is host to over 300 career fairs every year, both in over 100 cities and virtually, bringing in thousands of potential candidates. Employers can also view resumes, search job boards, post their job opportunities, and plan on dates and an overall strategy based on the career fairs that are listed. |
| | Lists job fairs and virtual career fairs in all 50 states and by region. Recruiters and employers can list their own job fairs, register as an exhibitor, and post a job to ZipRecruiter for free. Job seekers can attend virtual online job fairs and search for jobs posted through the site. |
| | Lists a job fair calendar of both in-person and virtual career fairs. It also offers live hiring events showcasing top talent where employers can collect resumes, interview multiple prospects, and prescreen talent. |
| | A top organizer of job fair and career fair events across the United States. Job seekers can meet hiring managers face-to-face and attend all career fairs for free. Employers can meet local and qualified candidates that match their open positions. This site also populates job postings listed on Indeed by filtering by job title, keyword, company name, and location. |
| Google | Employers and job seekers can search "upcoming job fairs near me" to locate events of interest. |
Career fairs are held both in person and virtually. Each event requires a bit of a different mindset, but the ultimate goal is to meet potential candidates and find employees to fill your job roles. We recommend keeping track of the career fairs you plan to attend using a career fair calendar.
In-person Career Fair
Typically, a career fair is held in person and will allow you to meet potential candidates face-to-face. It is an opportunity to showcase your company with a branded booth and learn more about the skills and experience of job seekers. You can collect resumes, hold interviews, and network throughout the fair.
The following job fair tips for employers can be helpful when planning for an in-person event:
Prepare all booth materials in advance
Set up your booth with marketing materials, giveaways, and job descriptions
Plan to conduct interviews on-site
Virtual Job Fair
A virtual job fair (sometimes called an online career fair) is an online or web-based event, which is scheduled just like a normal job fair would be. Much like today's Zoom and Teams group meetings, the job fair takes place within a virtual environment—utilizing face-to-face online meetings, chat rooms, teleconferencing, webcasts, webinars, and so on—to carry out virtual interviews and meet-and-greets.
The following job fair tips can be helpful when planning for a virtual event:
Clarify all job opportunities available
Advertise all job opportunities ahead of time
Establish an area in your office where multiple online calls can be had with candidates
2. Plan for the Career Fair
Prepping before a job fair will ensure it goes smoothly. Whether the event is in-person or virtual, we recommend appointing someone who will be in charge of everything, including event planning, hotels and airfare (if applicable), event registration, and so on.
As a first step, be sure that you are registered and have paid for all career fairs you wish to attend. Most registrations can be handled online well before the event. Be sure to check your event weeks before attending. If you have not registered, then the event organizers will not expect you, and there will be no booth location for your organization.
When registering, consider your budget for job fairs. The majority of job fairs require businesses to pay for their booth in order to attend. Additionally, a virtual job fair can cost a business in order to be featured. The prices vary and can cost well into the tens of thousands of dollars.
---
Having a game plan can do several things for your attending team and organization. It outlines how many people you will need to be successful and what to focus on during the event.
Examples of recruitment objectives may include:
Meeting 100 candidates and discussing all open positions.
Getting 20 good candidates signed up for interviews.
Making contact with 10 employees from top competitors and establishing a connection.
By outlining your goals, you can measure and keep track of how successful each job fair is for your organization.
---
Be specific with who you choose from your office to attend your career fairs. While you don't need to have someone from every department in your company present at job fairs, it is a good idea to have at least one representative from your HR department and one member that can speak about the open positions in their team. For example, if you are trying to recruit for an IT position, it would be good to have someone from your current IT department on hand to speak with interested candidates.
The number of individuals you bring to the career fair will also depend on how large the job fair is and how many days the event lasts. Large events have thousands of people attending, and multi-day job fairs, although rare, can require more staff. Remember, you are making first impressions about your business.
---
Depending on how long the career fair lasts, it may not be ideal to have every member of your job fair team in attendance at the booth at the same time. The best way to efficiently tackle a job fair is to schedule shifts for your team staffing the booth. This can help avoid burnout and allow your non-scheduled team members to walk the floor of the job fair and speak with job seekers.
Since part of developing your recruitment objectives for the event includes your schedule, you should have a good idea of what you want to accomplish during the event. Be sure to schedule time for speaking with candidates, conducting interviews, and allowing for intermittent breaks. However, be sure that your booth is not left unattended. This could result in a missed opportunity.
Most job fairs will provide vendors with a schedule of events. You can use this to schedule your team and plan. Download our free customizable booth schedule template to easily work this out.
---
Most employers, if they have the opportunity, like to schedule quick meet and greets of 5- to 10-minute interviews that initially screen the candidate. During these interviews, employers have just enough time to confirm some details on the resume (resume screening phase), ask a few follow-up questions, and answer questions from the applicant.
Try to carve out a little space to sit with the applicant and have a set of interview questions ready to go. In the fast-paced atmosphere of a job fair, preparation will be key to using your time wisely. If necessary, you can schedule interviews during specific times of the day and ask each candidate to return at their scheduled time.
---
Identifying, ordering, and collecting all needed materials for your event is essential. The process involves gathering:
Business cards
Name tags for each team member
Materials and brochures with information about your company
Giveaways
A nice cover and stand-alone signage for the job fair table setup
Pens, paper, and staplers (essential)
Water for staff
A small folding table and chairs
Note that your packing list may look different, as there may be a lot more to bring along with you. Use the provided job fair checklist for employers and customize it to fit your needs.
---
Making all the travel arrangements for the team attending the event is a big job. Even if you only have one or two people attending, it can be a lot of work. Make certain that one person (usually an HR representative) is doing the booking and planning.
Prepare to make arrangements for
Flight to/from the venue
Rental vehicle(s)
Hotel room(s)
Restaurant reservations (optional)
---
3. Brand With Job Seekers in Mind
When it comes to engaging with job fair attendees, appearance matters. With both the booth and the people staffing the booth, your company is being represented, so ensure that job seekers' first impressions are positive ones.
Looking professional, interesting, or even exciting, as well as creating an inviting booth, all go a long way. Keep in mind that your industry, company brand, and the type of job(s) you are recruiting for should influence how you present during a job fair.
For example, if you are a tech startup, be sure to display the attributes that make you unique. What is your office setting like? How is the work culture among employees? Brag about who you are and why they would want to work for your company. Remember, you are competing for talent that companies in the booths on either side of you are also targeting.
To do this, we recommend having branded materials at your booth, such as:
Company logo banner
Company logo giveaways
Photographs of your office and employees
Awards
Keep in mind that these candidates are also potential customers—and building dynamic engagement with passersby builds your brand and the emotions that make up your brand connection with the public.
4. Network, Network, Network
Companies attending career fairs should not only look to hire new employees but also network with potential candidates as well. By networking, companies can get a better understanding of what type of employee they are looking for, what skills and qualities are most desired, and who might be a good fit for the position.
Assign a point person who can walk around the job fair and direct job seekers to your booth. This person should be able to discuss your company and its attributes with a positive and upbeat attitude.
Also, keep in mind that career fairs are an excellent avenue for connecting with college graduates. These individuals are new to the workforce and bring with them current knowledge and quality education in their field.
If you are looking for an intern, a college career fair is a great place to start. Learn more about hiring interns with our guide.
5. Make It Fun
When it comes to developing a successful campaign at a job fair, part of the craft is making your booth (and, thus, your company and its brand) look cool, fun, and engaging. Although this is serious business, making it fun for all involved can ensure memorability and interest. Also, keep in mind that "fun" can also mean "helpful."
Consider the following job fair table ideas to help your booth:
Any guidance you can offer as a potential employer will be met with a warm embrace of your brand. Resume writing 101 classes, working on professionalism in interviews, and dressing for success guidance will associate your company with a learning environment that teaches skills vs just taking their skills and time from them in the workplace.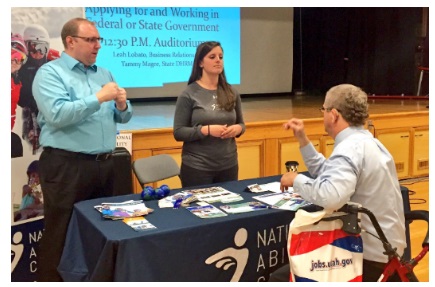 Free food draws people close to your booth. At a minimum, set out a bowl of candy and offer water to your visitors. This will get them to stop at your booth, allowing you to engage with them.
If you offer wrapped items or water bottles, try to have your logo present on the packaging. This will get your name and brand out there and make job seekers remember your booth—after all, there will be many booths vying for their attention.
Giveaways or various contests are a great way to connect with passersby and get email addresses and contact information. Many employers will exchange social media sign-ups for small rewards. At the very least, you should have marketing materials on your table that promote your brand (i.e., pens, rulers, koozies, stress balls, etc.). You can also take it one step further with a spin-to-win game, where onlookers will spin the wheel to win one of your company-branded prizes.
Demos and videos that run in the background can quickly and creatively do some of the heavy lifting for your booth staff. These demos or videos should be informative about the service or product your company offers, as well as its culture, mission, and people. You can also use these videos to showcase any open positions available at your company. Job seekers will be able to see what you offer from several booths away, and it can draw them to your table.
6. Get the Most Out of Your Job Fair Interviews
Job fairs are often loud, busy, and full of static noise, but that does not mean that you cannot or should not interview during these events. Time is of the essence, and if you can get the initial interview out of the way, you may be able to schedule a second-round interview for the following week.
As a general rule, follow these steps when conducting interviews at job fairs:
Create a conducive space: As much as possible, create a private and quiet space for the interview. This can be difficult, particularly with in-person job fairs, as they are neither private nor quiet. Do your best with what's available.
Keep it brief: In some cases, interviews will last about five minutes, and that is enough to learn about the candidate. These initial interviews are mostly about confirming details on the resume, sharing some basic facts about the job you are meeting about, and answering any initial questions the candidate has about the role or the company.
Clarify expectations: At the end of the interview, share with the candidate what your timeline is and how long the process usually takes for interviews and hiring decisions.
Parting ways: Make sure that you have a clean copy of the candidate's resume. Also, share a business card with the candidate and a brochure about the company and what it does.
To help save time and remember details after the career fair, we recommend using an applicant tracking system (ATS) like Freshteam during the event. You can use it to help applicants apply on-site and track them throughout the hiring process. On top of that, it has a free plan that's great for small businesses that only need to post three or fewer open positions at a time. Learn more about the platform in our in-depth Freshteam review.
7. Follow Up After the Job Fair
The general rule is that the employer best at post-fair follow-up gets more of the top talent who attends the fair. The earlier you reach out to candidates of interest after the event, the better the chance that the original connection made at the job fair is still fresh.
We recommend getting back to candidates of interest in three to five business days after the job fair (remember, your company is not the only attractive employer that is courting the job seeker). This shows your interest in the candidate and presents your company as proactive.
While you may have conducted a brief interview with the candidates at the job fair, it's a good idea to follow up by:
Having candidates complete an application
Conducting a follow-up phone interview
Having candidates complete skills assessments
Scheduling in-person or virtual interviews
Use an ATS like Freshteam to track candidates during the job fair. Oftentimes, you can access your ATS from your mobile device at the event and input applicant data in real time.
8. Strategize for the Next Job Fair
If your team is looking to stay up-to-date on the latest industry trends and find new opportunities, attending additional job fairs may be a good idea. Look at the schedule for the upcoming year to see where your team may want to attend, and as early as you can, select the events. With many job fairs, the earlier you register, the less money you have to pay.
Additionally, look at what worked and what didn't work at the previous job fairs. You can use this knowledge to adjust how you present your booth and evaluate candidates for the next fair.
Measuring Success After Attending Job Fairs
There are many ways to measure if a job fair was a success or not. However, companies should not simply measure success by how many new employees they have gleaned from the last job fair.
Many job seekers that attend job fairs may simply be collecting information about their favorite brands or the jobs they're interested in applying for. As such, this is the time when it's best to plant seeds, enhance your brand, and really showcase your company in the best light.
Many employers understand the concept of building a candidate pipeline, which will result in new hires down the road. The important aspects of the event to track may include:
Size of the event: The overall size of the job fair. Did it match its expected turnout?
Number of booths (or vendors): How many booths were in attendance? The more employers at a job fair, the more candidates will show up. It is good for business.
Brand building opportunities: Job fairs can be an incredible opportunity to promote your brand. Even if no direct hires come from the event, having a booth at a large job fair can have secondary and tertiary implications, including new customers, contacts that lead to new business, and connections made with other companies that are also vendors at the event.
Level of engagement during the job fair: How engaged were the attendees at your booth? During some job fairs, attendees will be scouring the landscape for the right opportunities, while at other fairs, you will witness more casual job seeking and exploration.
Post-event engagement: How engaging were the attendees after the event passed? If they are responding to your follow-up and/or are following up on their own accord, then that is a very good sign overall.
Job Fair Tips for Employers Frequently Asked Questions (FAQs)
During a career fair, it is important for employers to ask the right questions to potential candidates. This can help you learn more about the skills and experience of applicants and how they align with your job openings. Ask questions like:
What past or current career experience do you have that aligns with our job requirements?
What skills do you have that would make you successful in this role?
Have you worked closely with our products/services/technology?
---
There is more to attracting attention to your booth at a job fair than just having a good setup. Those in attendance should move about the booth and interact with candidates. Get up out of your chair, walk around and greet people, shake hands, start conversations, etc. People will remember YOU more than they will remember what your booth looked like.
---
Bottom Line
Job fairs can be useful tools for your organization and its recruitment goals. Although there are many different kinds of job fairs, taking the time to learn which ones may be right for your needs is worth the work. Remember that job fairs also help cultivate and spread the word about your company culture and brand, all worthwhile reasons to attend job fairs that cater to your industry's needs.