A job fair is an event in which employers and recruiters give information to potential candidates, casual job seekers, and HR professionals. Job fairs are a great opportunity to connect with multiple job seekers at one time in a single location and can be a strategic addition to add to your hiring practices. These types of events are productive for employers. Nowhere else will hundreds to thousands of candidates come to your location to learn more about your company and its brand.
Although each job fair is different, there are some basic tips that can really help to save money, resources, and effort. These tips offer suggestions and will point you in the direction that will be most helpful for building your team for the future. Remember, with job fairs, employers are selling or advertising their jobs to candidates ever so much as candidates are selling themselves to employers.
1. Be Strategic When Deciding on Which Job Fairs to Attend
Job fairs are held in a wide variety of venues, within many industries, specific job categories (like healthcare or accounting), and, most commonly, at universities. Career fairs are one of the most frequently provided services by college career centers.
As of 2019, 91.7% of colleges and universities reported hosting at least one career fair in 2017–2018. Clearly, employers' best bet is to attend these types of events, as long as the jobs you have to offer fit the attendees' skill sets and education.
Since you cannot attend all job fairs that look interesting and worthwhile, your company will need to decide on a plan of attack. One of the first resources to check out is National Career Fairs, which lists all of the job fairs that are planned on for the year, as long as they are registered with the website. National Career Fairs has held over 10,000 career fairs nationwide and has had more than 1 million job seekers attend job fairs over the last 19 years.
Employers can also view resumes, search job boards, post their job opportunities, and plan on dates and an overall strategy based on the career fairs that are listed.
Employers, as well as job seekers, can also locate local job fairs to partake in using these resources:
Google (Employers can search "upcoming job fairs near me" to locate events of interest)
2. Plan for the Event
There is a lot of prep work before a job fair. In order for the job fair to go smoothly, the work before the event must be meticulously managed. We recommend appointing someone who will be in charge of everything pertaining to the event, from event planning, hotels and airfare, event registration, and so on.
Do Not Forget to Register for the Event
You would be surprised how often companies forget to actually register and pay for the event ahead of time. If you have not registered, then the event organizers will not expect you, and there will be no booth location for your organization.
Develop Your Recruitment Objectives for the Event
Having a game plan can do a number of things for your attending team and organization. First, it outlines how many people you will need to be successful and what to focus on during the event.
Examples of recruitment objectives may include, "meeting 100 candidates for our open warehouse position," "getting 20 really good candidates for an IT software developer role," or "making contact with 10 employees from our top competitors and establishing a connection" (yes, a longtime honored tradition at job fairs is poaching top talent from one's competitors in the industry).
Select Your Team for the Event
The size of your team will demand how large and how many days the event lasts. Large events have thousands of people attending and multiday job fairs, although rare, can require more staff.
In addition to the size of your staff, note that there are right and wrong people for job fairs. Not everyone has the gift to hobnob with passersby for eight to 10 straight hours. It can be exhausting. Moreover, If one of your objectives is to land candidates for IT positions, then you should have one or two people from the IT department who can speak to the roles and its department culture—but also like talking to people. Remember, you are making first impressions that matter.
Create a Booth Schedule
Since part of step #2 is "developing your recruitment objectives for the event," you should have a good idea of what you want to accomplish during the event. The best way to efficiently attack a job fair is to schedule shifts for your team staffing the booth. Everyone should get a nice rest break every two hours.
Much of the time, the floors are hard, there is not a lot of seating for people tending the booth and, hopefully, your team does a lot of talking … a lot! Give your team members breaks—and scheduling them out is the best way.
If Desired, Plan and Prepare for Interviews
Most employers, if they have the opportunity, like to have quick meet and greets of five- to 10-minute interviews that initially qualify the candidate. During these interviews, employers have just enough time to confirm some details on the resume (which is also the initial resume screening phase), ask a few follow up questions, and answer questions from the applicant.
In order to pull this off smoothly, try to carve out a little space to sit with the applicant and have a set of interview questions ready to go (again, you do not need a comprehensive list of questions—five or six will do).
Order Materials
Identifying and ordering, or gathering, all needed materials for your event is essential. Always have the most experienced job fair attending team members gather this list. The process involves gathering:
Business cards with recruiters' contact details
Name tags for each team member
Lots of materials and brochures with information about your company
Giveaways
A nice table cover and stand-alone signage
Pens, paper, and staplers (essential)
Water for staff
A small folding table and chairs (which depends on the event and its facilities)
Note that your packing list may look different, as there may be a lot more to bring along with you. Every company does it a little differently.
Travel Arrangements
Making all of the travel arrangements for the team attending the event is a big job. Even if you have one or two people attending, if you have to fly or take a long drive to an event, book hotels, and plan meals, it can be a lot of work.
Make certain that one person is doing the booking and planning; otherwise, small yet important details could be dropped or unintentionally shifted to the other person to handle without them knowing.
3. Attend a Virtual Job Fair
A virtual job fair attempts to mirror the physical job fair as much as possible, but the goals are the same—match up candidates with companies looking to hire. A virtual job fair, (sometimes called an online job fair) is an online or web-based event, which is scheduled just like a normal job fair would be.
Much like today's Zoom and Teams group meetings, the job fair takes place within a virtual environment, utilizing face-to-face meetings online, chat rooms, teleconferencing, webcasts, webinars, and so on to carry out instructions, interviews, and meet-and-greets.
It goes without saying: Virtual job fairs are the wave of the future (the immediate future anyway).
Virtual job fairs can also be experienced through a one-on-one setting. Much of the time, hiring managers, while holding a virtual job fair event, can schedule a call to meet for 10 minutes to see if there may be a good fit.
Although there is the goal to achieve everything at a virtual event that a team does at a physical event, they have not yet evened out by way of value across the board.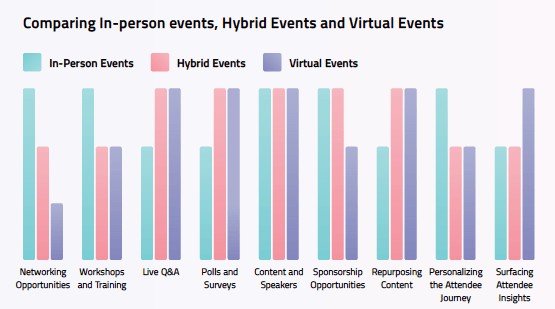 The following job fair tips can be quite helpful when planning a virtual event:
Clarify all job opportunities available.
Advertise all job opportunities ahead of time.
Ensure an area in your office where multiple online calls can be had with candidates.
Select a team of interviews and a traffic cop. This means that when there are things to be completed, interviews to be scheduled or resumes to be sorted, you need to have your traffic cop organize and assign projects to team members.
Ensure someone follows up with all candidates. Just as with physical events, virtual events leave the candidates hanging after they are over and a timely follow-up ensures that the candidate will remember your company and remain engaged.
4. Interview During Job Fairs
There is a science to conducting interviews during job fairs. Job fairs are often loud, busy, and full of static noise, but that does not mean that you cannot or should not interview during these events. Time is of the essence, and if you can get the initial interview out of the way, you may be able to schedule a second-round interview for the following week. Now that is productive and efficient.
As a general rule, follow these steps when conducting interviews at job fairs:
Create a space: As much so as possible, create a private and quiet space for the interview. This is difficult, as job fairs are neither private—they're crowded—nor quiet, but do your best. Candidates understand that peace and quiet are not part of these events.
Keep it brief: In some cases, interviews will last about five minutes, and that is about it. These initial interviews are mostly about confirming details on the resume, sharing some basic facts about the job you are meeting about, and to answer any initial questions the candidate has about the role or the company.
Clarify expectations: At the end of the interview, share with the candidate what your timeline is and how long the process usually takes place for interviews and hiring decisions.
Parting ways: Make sure that you have a clean copy of the resume, as much of the time, copies will be made, so it needs to be legible. Also, share a business card with the candidate and a brochure about the company and what it does.
One job fair tip we recommend is using an applicant tracking system (ATS) like Freshteam during the event. You can use it to help applicants apply on-site and track them throughout the hiring process. Freshteam has a free plan that's great for small businesses only needing to post three or fewer open positions at a time. Sign up to try it out for free today.
5. Brand With Job Seekers in Mind
It is hard to treat every single person you speak with as though they will be your next colleague. Job fairs are exhausting, even for people who love doing them. At the end of the day, when it comes to engaging with job fair attendees, appearance matters quite a lot. With both the booth and the people staffing the booth, your company is being represented, so ensure that job seekers' first impressions are positive ones.
Looking professional, interesting, or even exciting and creating an inviting booth all go a long way. Keep in mind that your industry, company brand, and even the type of job(s) you are recruiting for should influence how you present during a job fair.
For example, if you are a cool tech startup, be sure to display the attributes that make you "cool." What is your office setting like? If remote, what is the work culture? Brag about who you are and why they would be crazy to not want to work for your company! Remember, you are competing for talent that companies in the booths on either side of you are also targeting.
Also, clearly understanding the type of candidates you want to engage with and the jobs you are recruiting for is helpful to focus on during the job fair. You may want to highlight short videos or have certain personnel attend the booth with HR. For example, if you are hiring accountants or IT professionals, be sure to have someone from your finance or IT department present at the job fair.
6. Target New College Graduates to Fill Open Entry-level Jobs
7. Network, Network, Network. Build Brand and Plant Seeds
This step has many parts to it. Suffice to say, you are always networking when you are at a job fair. Many companies will attend certain job fairs (where it makes sense to) on an on-going basis. These employers understand the importance of constantly networking with top talent and building, or promoting, their company's brand over time. Job fairs can be an amazing platform to advertise your brand to applicants (who are also potential customers).
So, this leads us to brand your booth and overall image. Your booth, its signage, and branding materials all matter. Careerfairplus.com notes, "It's an opportunity for small businesses or startups to gain valuable exposure and feedback, helping them to grow."
Our last note here involves opportunities to brand your company in a way that can connect with anyone who is attending these events (keeping in mind that many walking the floor could be future customers). These potential candidates are also potential customers and building dynamic engagement with passersby builds brand and the emotions that make up your brand connection with the public-at-large.
8. Make It Fun
When it comes to developing a successful campaign at a job fair, part of the craft is making your booth (and, thus, your company and its brand) look cool, fun, and engaging. Although this is serious business, making it fun, for all involved, your employees and for job seekers alike, ensure memorability and interest. Also, keep in mind "fun" can also mean "fun and helpful." These following suggestions will point you in the right direction:
Career workshops: Any guidance you can offer as a potential employer will be met with a warm embrace of your brand. Resume writing 101 classes, working on professionalism in interviews, and dressing for success guidance will associate your company with a learning environment that teaches skills vs just taking their skills and time from them in the workplace.
Refreshments and treats: The fact is that free food draws people close to your booth. It's that simple.
Contests and giveaways: Giveaways or various contests are a great way to connect with passersby and to get email addresses. Many employers will exchange social media sign-ups for small rewards.
Demonstrations and videos: Demos and videos that run in the background present very professionally and can quickly and creatively do some of the heavy lifting for your booth staff. These demos or videos can be informative about the service or product your company makes, its culture, its mission, and its people (we recommend including all of the above).
9. Follow up After the Job Fair
After-fair follow up is the last cog in the wheel. If you fail to make another touchpoint, your networking related efforts will be for not and your potential prospects for open positions may fade.
If you have an ATS like Freshteam, then tracking candidates that you have come into contact with at the job fair is a great way to put your ATS to work. Oftentimes, you can access your ATS from your mobile device at the event and input applicant data in real time.
The general rule is that the employer who is best at post-fair follow up gets more of the top talent who attends the fair. This is due to the fact that people love to be courted—we all do. The earlier you reach out to candidates of interest after the event, the better the change that the original connection made at the job fair is still warm.
We recommend getting back to candidates of interest in three to five business days after the job fair (remember, your company is not the only attractive employer that is courting the employee—they met with many employers during the job fair).
10. Strategizing for Next Year's Job Fairs
After completing the job fairs for the year, which may just be one or several, take a look at the schedule for the upcoming year. Your team may have found that some events were not that productive or did not feel right for your company's needs. These are events that you can eliminate or swap out for new events that could do more for you.
As early as you can, select which events you plan to attend. With many job fairs, the earlier you register, the less money you have to pay.
Types of Job Fairs
Some job fairs are large and have many employers from multiple industries. Some are focused on placing former military personnel, while others can be held at university campuses, and so on. Here are two visuals of both large and small job fairs.
Small job fairs can be just as successful as large job fairs, depending on what vacancies you are hiring for and where in the country you are located in, as well as other factors. The people staffing employers' booths are recruiters or hiring managers. Job fairs can vary in size (from a couple of dozen employers to several hundred) and be performed in-person or online (which is the growing trend, especially in 2020, due to the COVID-19 pandemic).
What Does Success Look Like at Job Fairs?
To be sure, there are many ways to measure if the job fair was a success or not. Although challenging to be more dynamic in your thinking, companies cannot simply determine how many new employees they have gleaned from the last job fair to determine whether or not it was a successful event.
During job fairs, much of the time seeds are planted, brands are enhanced, and job seekers are simply collecting information about their favorite brands or jobs they know they want to learn more about. Many employers understand the concept of building a candidate pipeline, which will result in new hires down the road.
Generally, the aspects of the event to track may include:
Size of event: The overall size of the job fair. Did it match its expected turnout?
Number of booths (or vendors): Actually, the more booths or vendors there are, the better it is for you. The more employers at a job fair, the more candidates will show up. It is good for business.
Brand building opportunities: Job fairs can be an incredible opportunity to promote your brand. Even if no direct hires come from the event, having a booth at a large job fair can have secondary and tertiary implications, including new customers, contacts that lead to new business, and connections made with other companies who are also vendors at the event.
Number of attendees: You will hear throughout the larger events how many people attend each day. It goes without saying, but the more people who attend the fair the better.
Attendees' level of engagement: In part, the economy and labor market partially drives this, but it is always nice to see when attendees are heavily engaging with vendors. During some job fairs, attendees will be scouring the landscape for the right opportunities, while at other fairs you will witness more casual job seeking and exploration.
Attendees' level of engagement post-event: One final sign we like to point to in determining whether an event has been successful is how engaging attendees are after the event has passed. If they are responding to your follow up and/or are following up on their own accord, then that is a very good sign overall.
Bottom Line
Job fairs can be useful tools for your organization and its recruitment goals. Although there are many different kinds of job fairs, taking the time to learn which ones may be right for your needs is worth the work. Remember that job fairs also help cultivate and spread the word about your company culture and brand, also worthwhile reasons to attend job fairs that cater to your industry's needs.