How to Hire an Intern (+ Free Intern Agreement Template)
This article is part of a larger series on Hiring.
Hiring an intern is a great way to tap into talented individuals who haven't yet or have just graduated from college. The first step in this process is determining your needs and what your internship program will look like. You can then find interns by contacting your college career center or searching on job boards, like ZipRecruiter. After you've interviewed candidates and made your hire, you'll need to add them to your payroll system or otherwise arrange their pay.
Interns typically lack the experience necessary to fully perform a job. But with Toptal, you can be assured that all candidates have been vetted and qualified to have the education and experience required for any position specific to your industry. Sign up with Toptal today with a no-risk free trial!
Continue reading for more information on how to hire an intern successfully. Also, download and customize our internship agreement template to ensure that both the intern and your company agree on the particulars of the program.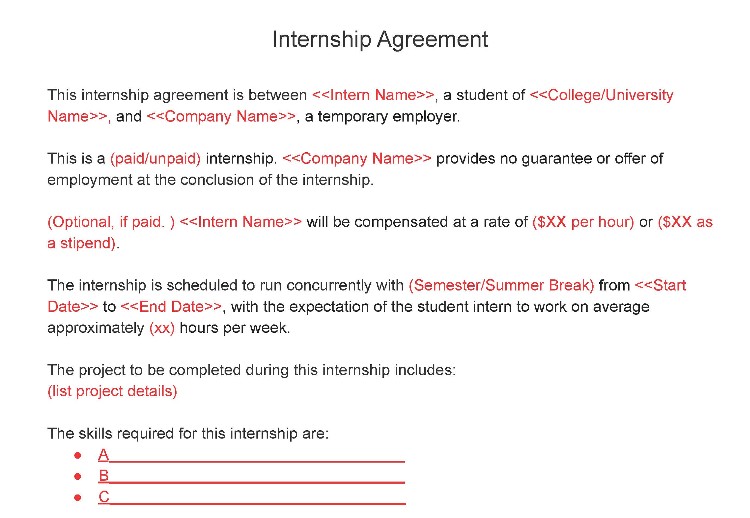 Thank you for downloading!
Step 1: Determine Your Needs
An internship is generally project-based; you decide upfront what you want an intern to do and establish how learning or developing that expertise will help them build career skills. Interns typically work on projects that require certain skills and can be time-boxed in such a way that a student can complete their assignment over the summer or by working a few hours a week during the school semester.
Whereas a traditional job position may focus on myriad job duties, an internship is typically focused on a much smaller skills-based project (similar to contract work). It's not uncommon for interns to do research-related tasks that are project-based, resulting in a deliverable—such as a report.
Below are examples of projects that interns can provide based on their academic major:
Statistical Research: Students studying international business, economics, or biomedical topics can often assist with data analytics and trend analysis.
Engineering Deliverables: Students studying engineering or architecture may be able to help you set up and launch your 3D printer or redesign your warehouse or retail store layout.
Graphic Design: Art and design students often need to build out their portfolios while in school. They can upgrade your existing website and marketing collateral with images. Marketing students learning to work with website development tools may be able to help you jumpstart or optimize your retail e-commerce site, for instance.
Streamline Business Processes: A business student could be tasked with documenting your processes to expose potential time savers or software tools. An HR or instructional design student could be tasked with creating a new hire onboarding program for new hire orientation and training.
---
There are two types of internships: paid and unpaid. Unpaid internships are for nonprofits and firms that comply with Fair Labor Standards Act (FLSA) internship guidelines, which we will discuss in more detail below. Paid internships require you to comply with federal law to pay at or above minimum wage for your state (the current federal rate is $7.25 an hour). However, some states like Michigan and Minnesota allow employers to pay a lower "training wage" that applies to students and interns; the specifics vary by state.
Offering to pay interns provides you with multiple benefits. For starters, you'll have more interest from qualified students in taking on your internship role. In addition, you'll be legally compliant, as long as you abide by the minimum wage requirements in your location.
There are two ways to pay interns:
Hourly Wage: The typical pay range for an internship is at or above minimum wage in most states. Interns generally earn anywhere from $8.7 to as high as $26.44 an hour, according to ZipRecruiter. Industries that have a high demand for certain skills, like internet security, may choose to pay more for interns that can work in those areas.
Internship Stipend: Internship stipends may be paid at the end of the project, semester, or college course. For example, a student enrolled in a Master's degree program in information technology security may be hired as a summer intern to build a software program that monitors incoming website and email traffic for spam. You may offer them $2,500 as a stipend to be paid once the software program is running in a beta test mode.
Because an internship often fulfills an academic requirement, wherein the student earns college credit, some internships require no payment. However, several states provide specific laws as to when you can substitute school credit for volunteer hours provided by an intern. For instance, if you're a nonprofit, you can offer the intern a volunteer role, unpaid. However, for-profit businesses are subject to federal rules that determine whether you must pay the intern or not.
---
Want to estimate how much you'll pay in wages if you hire an intern?
Use our free gross pay calculator:
Interns are typically part-time workers with flexible schedules. Some schools offer co-op programs that alternate school and work to allow students to obtain real-life experience while they're taking classes. In general, you'll need to consider the work hours you're looking for and the amount of supervision and training you're able to provide during those internship hours.
Related: What Is Training & Development? A Guide for SMBs
These are some common examples of internship schedules:
Part-time School-year Internship: Interns are often available for work schedules ranging from five to 20 hours a week during the school year.
Part-time Summer Internship: Some interns prefer to take on assignments during the summer, such as 20 hours a week during June and July.
Full-time Semester Internship: There may be times when your intern wants to take a break from their study schedule and embed themselves full-time in their chosen field.
In general, unpaid internships need to align closely with the academic calendar, whereas paid internships provide you with more scheduling flexibility. There are also other options, like bringing a foreign graduate student over for a year-long internship. In those cases, you'll be responsible not only to provide a living wage to the intern but also to manage housing, transportation, and other costs, such as healthcare.
The Department of Labor developed child labor laws concerning minors. Since some interns may fall under that category, read our guide to hiring minors to ensure compliance.
---
Just like with other types of employees, when you bring an intern onto your team, you need to abide by federal labor laws and state workforce requirements. This includes avoiding discrimination, preventing sexual harassment, complying with tax laws (if the intern is paid), and providing health insurance benefits depending on how large your organization is and how many hours a week the intern works.
For an internship to be unpaid and meet the strict requirements of the FLSA, it must comply with the following guidelines:
Make clear to the intern that the internship and any work they do is unpaid.
Don't promise the intern a job or imply that the internship may lead to a paid job.
Provide hands-on training and experiences to enhance what the student learns in school.
Ensure that course credit is provided or that the work closely aligns with the intern's major.
Allow the student flexibility to attend courses; accommodate their academic schedule.
Tie the internship start and end dates to the academic quarter, semester, or break.
Ensure the internship benefits the intern significantly from an academic point of view.
Don't hire interns to do the work of, or to replace, paid employees.
Workers' comp coverage applies to your interns as well—paid or unpaid. Most states (except Texas and South Dakota) mandate workers' compensation coverage to protect workers who are injured on the job.
---
Step 2: Find Interns
Once you've decided on the type of job and type of intern you need, you should begin looking for an intern. A great place to start is with academic institutions that train students on those skill sets. If you're looking for a biomed research intern, for example, you'd likely search universities with medical programs. You may also want to consider job boards.
Explore Local Schools
Universities: Many universities have structured internship programs that provide students with college credit for their internship experience. Others manage paid internship programs for students, and a few offer funds to support their learners participating in unpaid internships.
Colleges: Your local community college may have an internship program too. But even if they don't, it's a great place to find a student intern. You can contact the career center or visit the school and chat with a faculty member who teaches the kind of courses you'd like your intern to have taken, such as Accounting 101 or Electrical Engineering. Further, most local colleges have a place you can post your internship opportunity—even if it's just a note card pinned to an old-fashioned bulletin board in a cafeteria, computer lab, or student center.
Trade Schools: Local trade schools in your area may have similar programs to help match you with an intern in fields ranging from animal husbandry to welding. These schools may also have a place to post your internship opportunity.
Advertise on Job Boards
In addition to contacting relevant academic institutions, you can also find students and recent college graduates searching for internships on job boards. In fact, there are niche job boards that target student job placements, and many universities have their own job boards managed through the career center. If you have a solid social network following, you can also let students know by posting information about your internship on your website, Facebook, or Instagram accounts.
Employment Job Sites: Free job boards and paid job posting sites allow you to post your internship opportunities and track interns who apply by using their applicant tracking tools. This helps you avoid discrimination issues by being able to monitor your intern outreach.
Internship Job Board: Internships.com is an example of a job board that specifically targets employers looking for interns and students looking for career experiences. Both paid and unpaid internship seekers can be found on this website; however, you have to sign up to post jobs and view student resumes. Other intern job boards include InternJobs.com, CollegeRecruiter.com, and LinkedIn.com.
Step 3: Review Resumes & Interview
Even though the intern will not be a permanent part of your company, you should still carefully review their resume. Be sure that the intern has the skills necessary to perform the job at hand. While they may not have a lot of work experience, they can provide educational experiences on their resumes to showcase their skills.
It is also necessary to interview them before hiring. You can conduct interviews with interns in the same manner that you would interview a potential employee: by phone, video, or in person. In these interviews, you should focus on the intern's career path and skills needed to succeed in the future. Your available position may help them learn and master the skills needed to pursue a career in that field.
It's not uncommon for interns to be recommended by a faculty adviser or for there to be only one or two interns available for the exact skills you seek. In that case, you may opt not to go through a full interview process.
Step 4: Hire Your Intern
Now is the time to hire the intern you have chosen to fill the position. As we mentioned previously, it is important to have an agreement in place, just as you would with a full-time employee.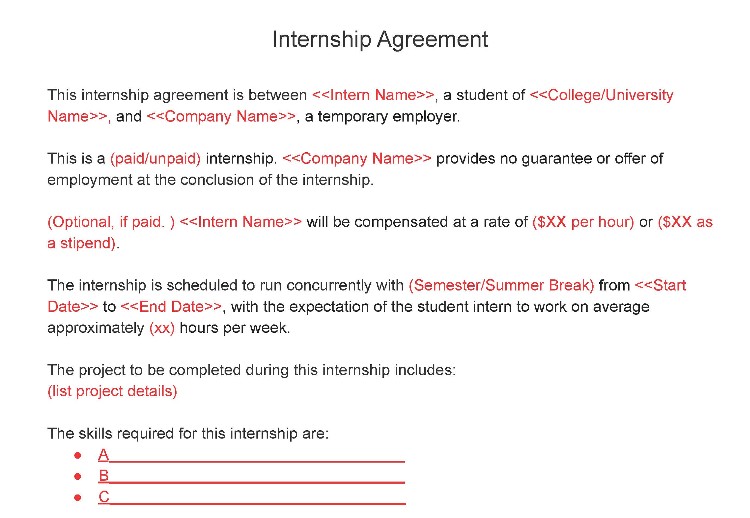 Thank you for downloading!
Typically, an internship begins with an agreement between a student and employee; this agreement may be facilitated through a university or aligned with the student's academic program. At a minimum, it should list the project or outcomes desired, such as a project deliverable (report, testing guide, training course, or data spreadsheet). It should also clearly list whether the internship is unpaid or paid and how much the stipend or pay rate will be.
Additionally, different from a standard work agreement, it's best to document the expected start and end dates of the internship (aligned to the academic calendar), along with a statement that there's no promise or guarantee of employment once the internship is over. Obtaining signatures from all parties can help ensure everyone is in agreement on the terms.
Step 5: Pay Your Intern
If it's your first time hiring an intern, you may not be sure how best to pay them. If you already have paid employees, you can simply add the intern as a temporary employee to your payroll system. We recommend easy-to-use software like Gusto, as it tracks workers' earnings, manages payroll taxes, and provides W-2 tax forms.
Another option, if you're paying a lump sum stipend, is to process the payment in your accounting software. For example, with QuickBooks, you can provide the stipend payment similar to an independent contractor and send the intern a 1099-Misc at year-end.
Related: Best Small Business Accounting Software in 2023
Academic Credit
In some cases, students can earn college credit for the work they do with your firm in lieu of pay. The school will require you to give the intern valuable work experiences that further their educational experience—and some even require you to complete a final report or evaluation on the student's work.
Pros & Cons of Hiring Interns
The benefits of hiring an intern include getting some project work done and helping you identify talent to bring into your company once they graduate from college. Best of all, it improves your employment brand, as you "give back" to your community by training future workers and leaders.
PROS

CONS

Improves Your Employment Brand: You can give back to the community, investing in local talent and shoring up your existing workforce with eager fresh faces.
Takes Time: Managing interns requires onboarding and training. While it makes sense to do this for full-time employees, it might not make sense for a two-month internship.
Creates a Talent Pipeline: You may find potential future employees who may want to work for you or can recommend smart talent within their social network to apply for jobs.
May Create Resentment: By design, interns must be provided with flexible schedules so that they can attend classes. Your current workers may not appreciate what appears to them as special treatment of the intern.
Brings in Fresh Perspectives: Interns can bring the benefits of new technology, new approaches, and research-based insights.
Must Comply with FLSA: Those wishing to structure unpaid internships must be sure not to violate the FLSA, or they risk having to provide back pay and labor law fines.
Hiring an Intern for Full-time Employment
If your internship program has employee placement in mind, you need to make sure you are hiring the right intern for the position. Also, the process is different from hiring an employee, so you need to use a different set of criteria.
Here is what you might want to consider:
Performance and Skills: Assess the intern's performance throughout their internship. Look for indicators of their ability to meet deadlines, produce quality work, and contribute to projects. Consider their technical skills, relevant experience, and willingness to learn and improve. Look for interns who have shown growth and demonstrated potential to excel in a full-time role.
Cultural Fit: Evaluate how well the intern fits within the company's culture and values. Consider their attitude, work ethic, and interpersonal skills. Assess their ability to collaborate with team members, adapt to the company's environment, and align with its mission and vision. Look for interns who have integrated well and have a positive impact on the work environment.
Professionalism and Reliability: Consider the intern's level of professionalism, including their punctuality, communication skills, and ability to handle responsibilities. Assess their reliability, accountability, and ability to work independently and as part of a team. Look for interns who demonstrate maturity and take their work seriously.
Growth Potential: Evaluate the intern's potential for growth within the company. Consider their ability and willingness to develop new skills, take on additional responsibilities, and adapt to evolving roles. Look for interns who display a desire to advance their careers and have the capacity to contribute to the organization's long-term goals.
Long-term Interest: Assess the intern's interest in joining the company as a full-time employee. Have open conversations with them about their career aspirations and their commitment to the organization. Look for interns who express genuine interest in continuing their journey with the company and have a clear understanding of its industry and future prospects.
Feedback and Recommendations: Consider the feedback provided by the intern's supervisors, mentors, and colleagues. Their observations and recommendations can offer valuable insights into the intern's performance, potential, and fit within the company. Seek input from those who have directly worked with the intern to gain a well-rounded perspective.
Team Dynamics: Assess how well the intern has integrated into the team and the impact they have made on their colleagues. Consider their ability to collaborate, communicate effectively, and build relationships within the company. Look for interns who have established positive working relationships and have contributed to a cohesive team environment.
When considering the transition of an intern into a full-time employee, assigning real projects can significantly contribute to seamless integration. Real projects provide an opportunity for interns to showcase their skills, demonstrate their ability to handle tasks similar to those of permanent employees, and foster a sense of ownership and investment in the outcomes, further solidifying their commitment to the company.
Bottom Line
The best way to hire an intern is to determine in advance how much time you're willing to spend providing rich learning experiences and what kind of skills a student might bring to your organization in the short time they're available. After that, it's all about finding the best fit and documenting an internship agreement.
Consider using ZipRecruiter to hire your next intern—it's an HR hiring solution that can help you with everything from recruiting to interviewing to hiring. Visit its website to find out more about what it can do for you.
You May Also Like…