Microsoft 365 comes with Outlook, one of the best business email tools on the market. Microsoft 365's plans stand out for high storage and attachment limits, advanced features, and Microsoft's famous productivity suite. This makes Microsoft 365 business email setup easy. All you need to do is go to Microsoft, select a business plan, and follow the prompts to set up your account, connect your domain, and create a business email address to use in Outlook.
Here's how to set up your Microsoft 365 email address for your business in five steps:
1. Go to Microsoft & Select a Microsoft 365 Plan
Shortcut: Microsoft.com > click "Buy Now" > select "For Business" tab > Select a plan
To start, navigate to Microsoft 365's website. From there, review available plans and select the one that fits your business email needs by clicking the corresponding "Buy now" button. Note that at a minimum, you need to choose the Business Standard plan, as the Business Basic plan does not include Outlook.
Follow the prompts to set up your account and complete your purchase. You'll choose whether you want an annual commitment or monthly plan, decide how to sign in, and input your business details and payment information.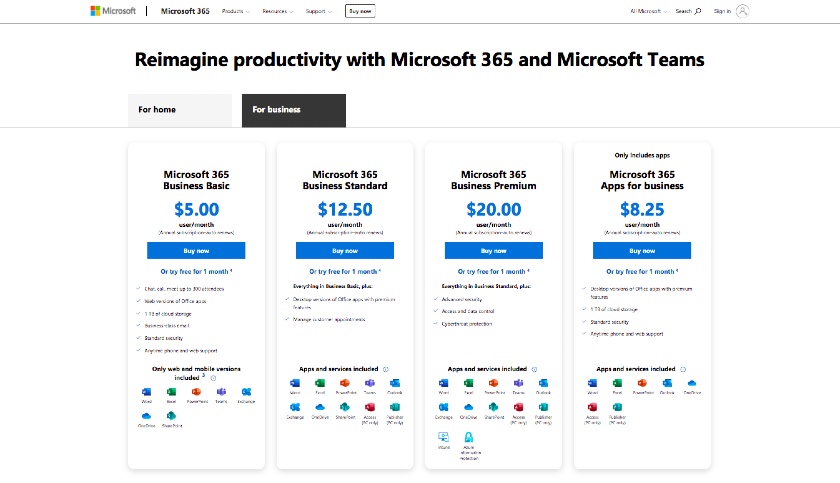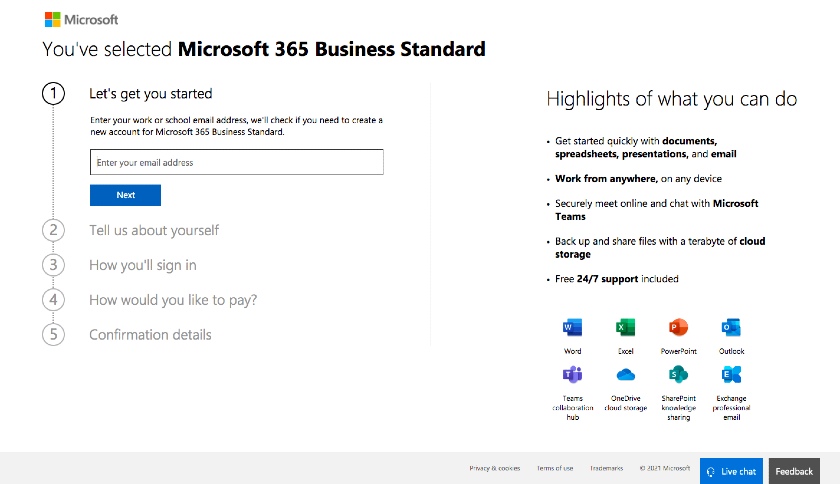 2. Connect Your Domain (or Buy One)
Next, tell Microsoft whether you are going to connect a domain you already own or buy a new one to use when you set up your business email with Outlook. If you have a domain, select "Use a domain name you already own." Then, input your domain name in the bar below and click the "Verify ownership" to begin the domain verification process.
If you don't already own a domain name, you can purchase one directly from Microsoft.
Alternatively, you can buy one from a domain name registrar such as GoDaddy for around $12 to $15 per year, or choose alternative products that include a free domain.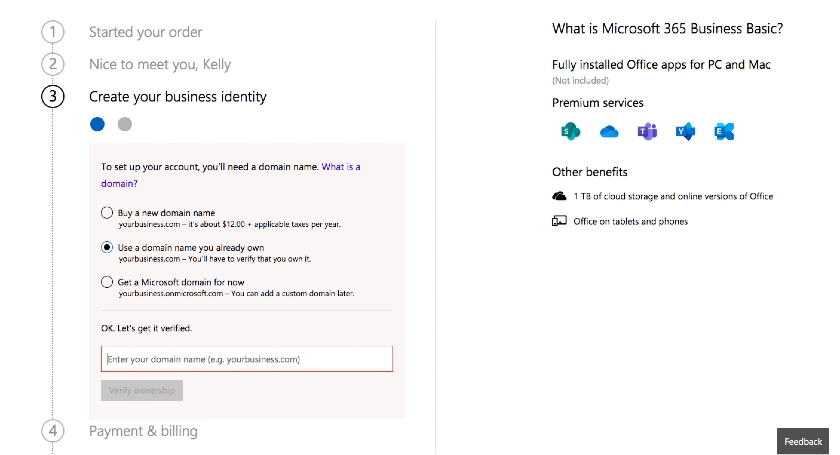 3. Verify Your Domain
After inputting your domain name, Microsoft will look up your domain and request that you verify ownership of it by adding your domain's DNS settings. This involves copying the provided TXT record information from Microsoft to your domain's corresponding settings. To do this, navigate to the domain name registrar you used to purchase your domain (e.g., GoDaddy or Namecheap).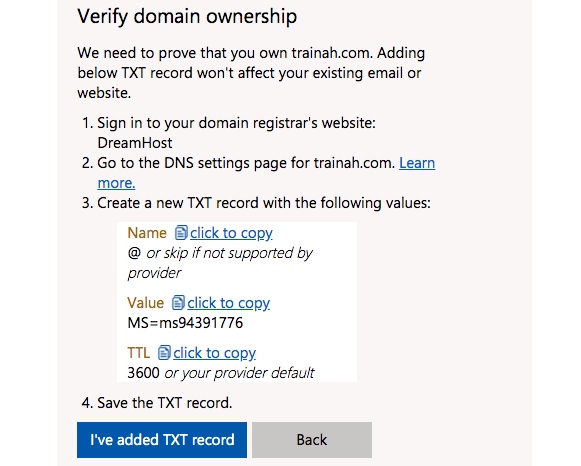 Then find your DNS settings, which will vary based on where you purchased your domain name. We included links to set up information for several popular domain registrars below. Copy the TXT value from Microsoft and paste it into your domain's TXT value so that the two match.
After updating your domain name's DNS settings with Microsoft's TXT record, navigate back to Microsoft and click the "I've added TXT record" button. Keep in mind that it can take up to 10 minutes to verify your DNS records. Once it's been verified, you will be able to move on to the next step for creating a business email with Outlook.
4. Create Your Business Email Address
Next you will be prompted to input your email ID (aka desired email address) with your verified domain name as well as a password to start using business email with Outlook. If you're not sure what to use for your email ID, learn more about choosing a professional email address format. After inputting your desired email address and password, click the "Sign up" button.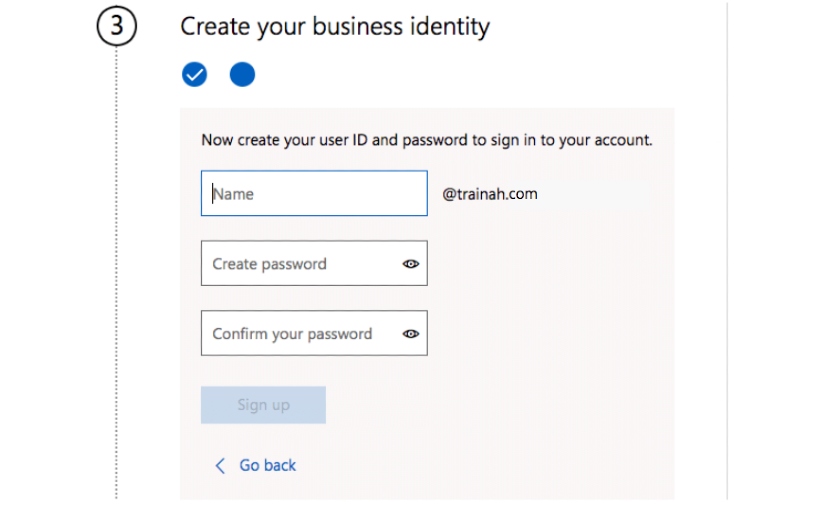 5. Complete Your Purchase
After verifying your domain and creating your email address, you'll be asked to input the number of accounts (or user seats) you want to purchase. This is where you can add additional users for your business under the same plan. After choosing the number of accounts to buy, click the "Next" button and input your billing information.
When done, click "Next" again and input your payment information. Once you've completed the payment, you will be able to access your new account and use your business email with Outlook.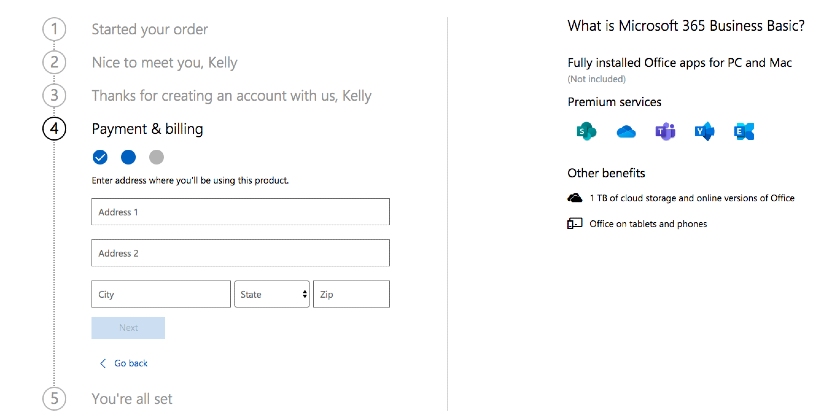 Frequently Asked Questions (FAQs)
What's the difference between Microsoft 365 Standard & Home & Business Plans?
Microsoft 365 Standard and Home & Business are two different types of plans. Aside from price, where the Standard plan costs $12.50 per user, per month and Home & Business is a one-time fee of $249.99, what really sets them apart is the availability of desktop applications and built-in security features. Learn more about the difference between the two plans by visiting Microsoft.
Which is better for business email: Microsoft 365 or Google Workspace?
Microsoft 365 and Google Workspace (formerly G Suite) are both top choices for business email. Beyond email, each provider also comes with a suite of productivity and collaboration tools.
Which is better for your business depends on your unique needs. However, Google Workspace is nearly half the price, with plans starting at $6 per user, per month, and its tools are generally regarded as more user-friendly. Get the full breakdown of Google Workspace vs Microsoft 365.
Bottom Line
Microsoft Office 365 makes it very easy to set up a business email for use in Outlook using your own domain name, especially if you buy your domain through Microsoft. However, it's not the only provider that makes getting a professional email address easy, and it's not the most affordable. If you're still on the fence, learn more about Microsoft 365 for business to see whether it's right for your business.
You Might Also Like…