G Suite and Office 365 are integrated suites of collaboration and productivity apps. G Suite offers Google apps like Gmail, Docs, and Drive, while Office 365 offers Microsoft products such as Outlook, Word, and Excel. Both options have starting prices at $5/month per user and have tiered plans for businesses with different needs.
G Suite vs. Office 365 At a Glance
| | G Suite | Office 365 |
| --- | --- | --- |
| Pricing | $5/month - $10/month | $5/month - $15/month |
| Business Email | Gmail | Outlook |
| Email Storage | 30GB - Unlimited | 50GB |
| Cloud Storage | 30GB - Unlimited | 1TB |
| Word Processing | Google Docs | MS Word |
| Spreadsheets | Google Sheets | MS Excel |
| Presentations | Google Slides | MS PowerPoint |
| Video Conferencing | Hangouts/Voice | Skype |
| Team Intranet | Teams | SharePoint |
| Administrative Tools | ✔ | ✔ |
| Calendaring | ✔ | ✔ |
| Browser-Based Versions | ✔ | ✔ |
| Mobile App Versions | ✔ | ✔ |
| Desktop Versions | | ✔ |
| More Information | | |
When to Use G Suite
G Suite is the best option for small businesses that want to take advantage of branded email using Google's Gmail service. It's also best for users who regularly collaborate on documents and want to leverage cloud apps like Google Docs and Sheets. What's more, G Suite has an endless number of integrations between Google Drive and many of the project management tools, CRMs, and other apps that small businesses already use. Prices range from $5 to $10/month per user.
Visit G Suite
When to Use Office 365
Office 365 is the best option for small businesses that rely on the advanced features of MS Excel (like conditional formatting, advanced formulas, and macros), as well as companies that regularly edit and collaborate using MS Word documents. Unlike G Suite, it's also has dedicated desktop versions for those needing to work off a native computer. Prices are between $5 and $15/month per user.
Visit Office 365
When to Use an Alternative
For those seeking a lower-priced or slightly less-robust option, check out Zoho Workplace. It's a cloud-based suite of apps similar to Google Docs, Sheets, and Slides. Workplace includes a word processor, spreadsheet, presentation, and a mail application that can be used for free with 5GB of email/storage space. Paid plans are available for $1, $4, and $6/month per user, and include up to 100GB of storage.
Visit Zoho
How We Evaluated G Suite & Office 365
G Suite and Office 365 are two of the leading productivity and collaboration suites. Most important to users are the available email options as well as the network of branded applications that help companies work together. For example, some value G Suite's cloud-based apps while others need the power of downloaded programs like Excel. When assessing the two, we took into account such things as email, cloud storage, collaboration apps, price, and more.
When evaluating G Suite vs. Office 365, we considered each of the following:
Affordability/Price – The price and value of each option and how well it fits into the budget for a small business.
Ease of Use – The best option has to be easy for most businesses to set up and intuitive to use.
Browser-based Option – We looked at the browser-based apps available versus native desktop software, and how well each works in different browsers.
Mobile Apps – The best productivity software needs to have fully-featured mobile apps so that you can get work done on the go without having to compromise on features.
Collaboration – Documents should be simple to create and share, and communication should be seamless and integrated into a company's workflow. The best option makes it easy to work on documents and projects together.
Administrative Features – We evaluated how your business is able to set up each option, including how easy it is to create new users and assign them the applications and permissions they need.
Cloud Storage – We looked at storage options, storage capacity, and how each service keeps your information synced across all of your various devices.
Customer Support – We considered how well each company provides dedicated support to their business users, including how easy it is to contact a real support agent by phone or email.
Based on our comparison, and the needs of most small businesses, G Suite is the best option for most small businesses. G Suite includes the features that matter most, and it offers the best value and combination of storage, ease of use, accessibility, and collaboration tools.
G Suite vs. Office 365: Pricing & Features
Both G Suite and Office 365 start at $5/month per user and offer tiered plans with additional storage and features depending on your business needs. Generally, the plans are comparable, but G Suite offers better value, with unlimited storage options on their $10/month per user Business plan, whereas Office 365 caps storage at 1TB. Office 365 does offer a slight discount if you pay annually.
G Suite Pricing
G Suite offers two small business plans beginning at $5/month per user for the Basic Plan and $10/month per user for the Business Plan. Both G Suite plans include business-branded email, cloud storage options, document creation software, and collaboration. The Business plan increases storage capacity and includes additional security and administrative features.
G Suite Tiered Features
| | Basic | Business |
| --- | --- | --- |
| Pricing | $5/month per user | $10/month per user |
| Storage | 30GB | Unlimited (or 1TB if less than 5 users) |
| Branded Email | ✔ | ✔ |
| Video and Voice Conferencing | ✔ | ✔ |
| Web-based Google Docs, Sheets, and Slides | ✔ | ✔ |
| Phone/Email/Online Support | ✔ | ✔ |
| iOS/Android Mobile Apps | ✔ | ✔ |
| Advanced Activity and audit reporting | | ✔ |
| Retention Policies | | ✔ |
Basic
The G Suite entry-level plan is called Basic and starts at $5/month per user. It includes all of the browser-based and mobile apps for Docs, Sheets, and Presentations, as well as Google Hangouts and Google Voice. This plan includes 30GB of cloud storage with Google Drive. With the exception of the lower storage limit, this plan is directly comparable to Office 365's Business Plan.
The Basic plan is easily the best choice for most small businesses, especially those with larger teams that don't need increased cloud storage. Although it only includes 30GB storage, shared files only count against the drive of the creator, meaning that practically speaking, you have access to as many shared files as you could possibly need.
Business
The Business plan is $10/month per user and solves the storage issue, giving each user nearly unlimited Google Drive space. However, there is a 1TB/user limit if your business has less than five users. That being said, unless you are using your Google Drive to store RAW camera files, you're probably not going to fill that up anytime soon.
Beyond the increase in storage, the Business plan does offer some advanced administrative controls like data retention and activity reporting. For most businesses, however, the real differentiator is the unlimited storage, which means the ability to store all of your files in Google Drive. If your business needs more than 30GB of storage, the Business plan is basically like upgrading to unlimited storage for only $5/month per user.
Office 365 Pricing
Office 365 offers three different Business plans, also beginning at $5/month per user. Microsoft offers a discount on the Business and Business Premium accounts ($8.25 and $12.50, respectively) if you prepay annually. However, most small businesses choose the monthly rate due to variable team sizes.
Office 365 Tiered Features
| | Business Essentials | Business | Business Premium |
| --- | --- | --- | --- |
| Pricing | $5/month per user | $10/month per user | $15/month per user |
| Business Email | Included | Not Included | Included |
| OneDrive (cloud storage) | 1TB | 1TB | 1TB |
| Web Versions of Word, Excel, PowerPoint | ✔ | ✔ | ✔ |
| Mobile Apps (iOS/Android) | ✔ | ✔ | ✔ |
| Phone/Web Support | ✔ | ✔ | ✔ |
| Desktop Versions of Word, Excel, PowerPoint, Outlook | | ✔ | ✔ |
| Outlook Customer Manager | | | ✔ |
| Microsoft Invoicing, Bookings, and Planer | | | ✔ |
Business Essentials
The Business Essentials plan is $5/month per user and provides the tools most focused on basic productivity. It includes branded business email with 50GB of dedicated email storage as well as 1TB of cloud storage. Additionally, users get access to Word, Excel, PowerPoint, and Outlook as browser-based apps.
This plan is geared primarily towards businesses and teams that need business email, document creation software, and cloud storage, as long as you are willing to forego native desktop software. It's a good choice for remote teams that still need access to the sharing features of Word and Excel, but don't need some of the advanced features of the desktop versions.
Business
The Business plan is $10/month per user, and includes the desktop versions of Word, Excel, PowerPoint, and Outlook, but does not include branded business email. It also leaves out the team-oriented conferencing features and SharePoint (intranet).
This plan is primarily focused on businesses that are looking to license desktop versions of Microsoft's Office software, including Word, Excel, PowerPoint, and Outlook. It is also best for those that don't need the additional collaboration tools surrounding SharePoint and Skype.
Business Premium
The Business Premium plan combines the other two plans, giving you branded business email, desktop, and web versions of the software, and 1TB of cloud storage for $15/month per user. It also adds a few other applications like Outlook Customer Manager, which is a CRM built into Outlook Mail. If having business-branded email and desktop versions of Word, Excel, PowerPoint, and Outlook are important to you, this is the only plan that offers both.
This plan combines the best of both of the other plans and is designed to provide businesses with access to all of the productivity tools they need. Unlike the top G Suite plan, this plan still caps your storage at 1TB per user and caps your email at 50TB. It includes business-oriented features like Customer Manager and Invoicing, which can be beneficial for companies looking to add CRM features to their Office apps without having to sign up for other services.
G Suite vs. Office 365: Business Email
Google's Gmail and Microsoft's Outlook are easily the two leading business email providers available today. Most users are primarily interested in how easily they can set up their branded business email (yourname@yourbusiness.com instead of @gmail.com), how much email storage they have, and the maximum file size limit they can attach to an email.
G Suite Business Email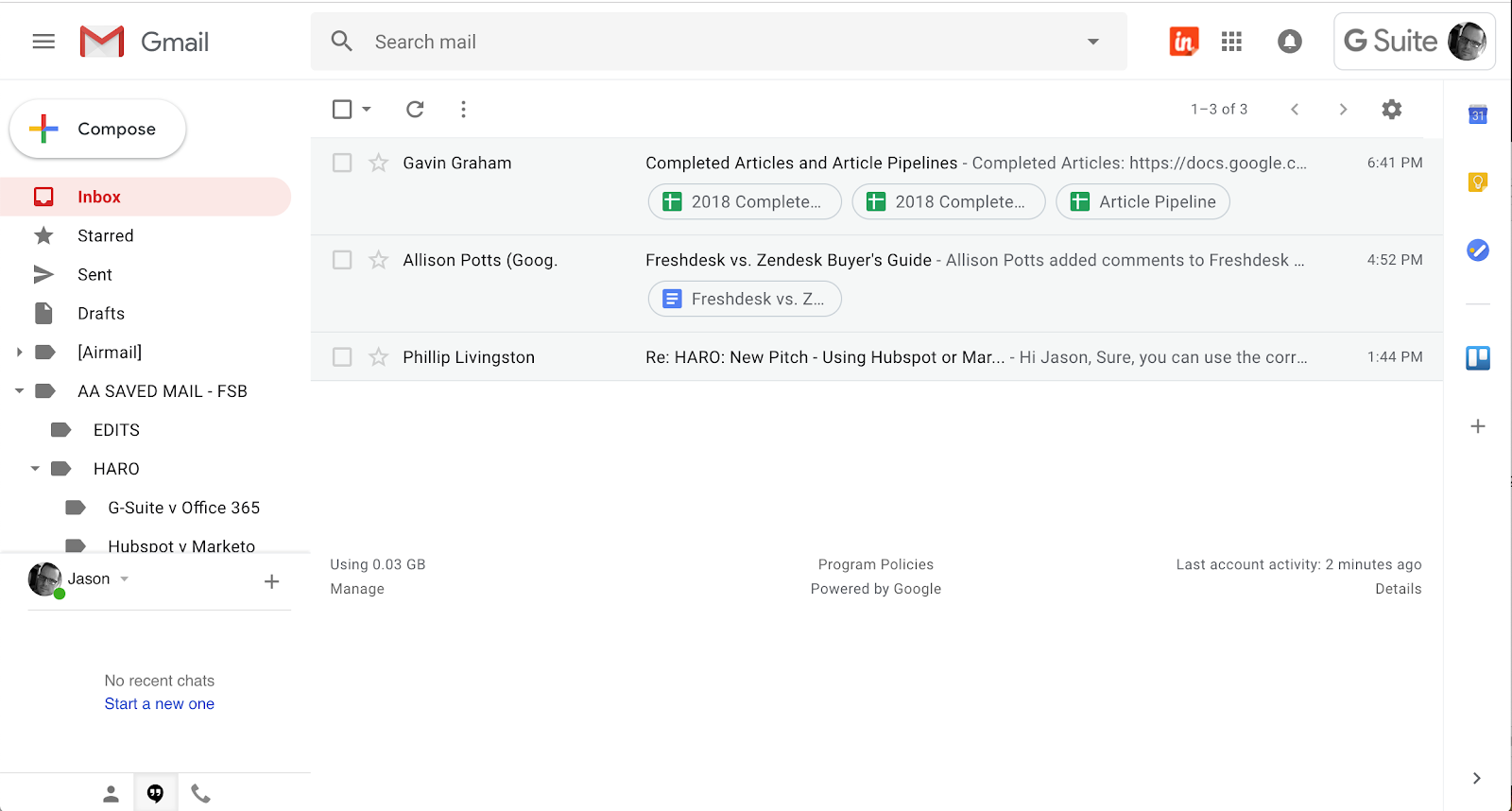 G Suite gives you 30GB of storage and allows you to easily set up your email on your business' web domain while taking advantage of all of the functionality of Gmail—the most widely used email service in the world. Your email storage is shared with your overall Google Drive storage limit, which means that for teams that regularly email large files, the Business plan is definitely a better option than Office 365, which limits your email storage to 50GB.
Gmail allows attachments up to 25MB, though you can share files larger than that directly from Google Drive. You can send to up to 500 recipients outside of your organization at one time, and up to 2,000 emails per day. You can learn more about setting up your business email with our helpful Gmail for business setup guide.
Office 365 Business Email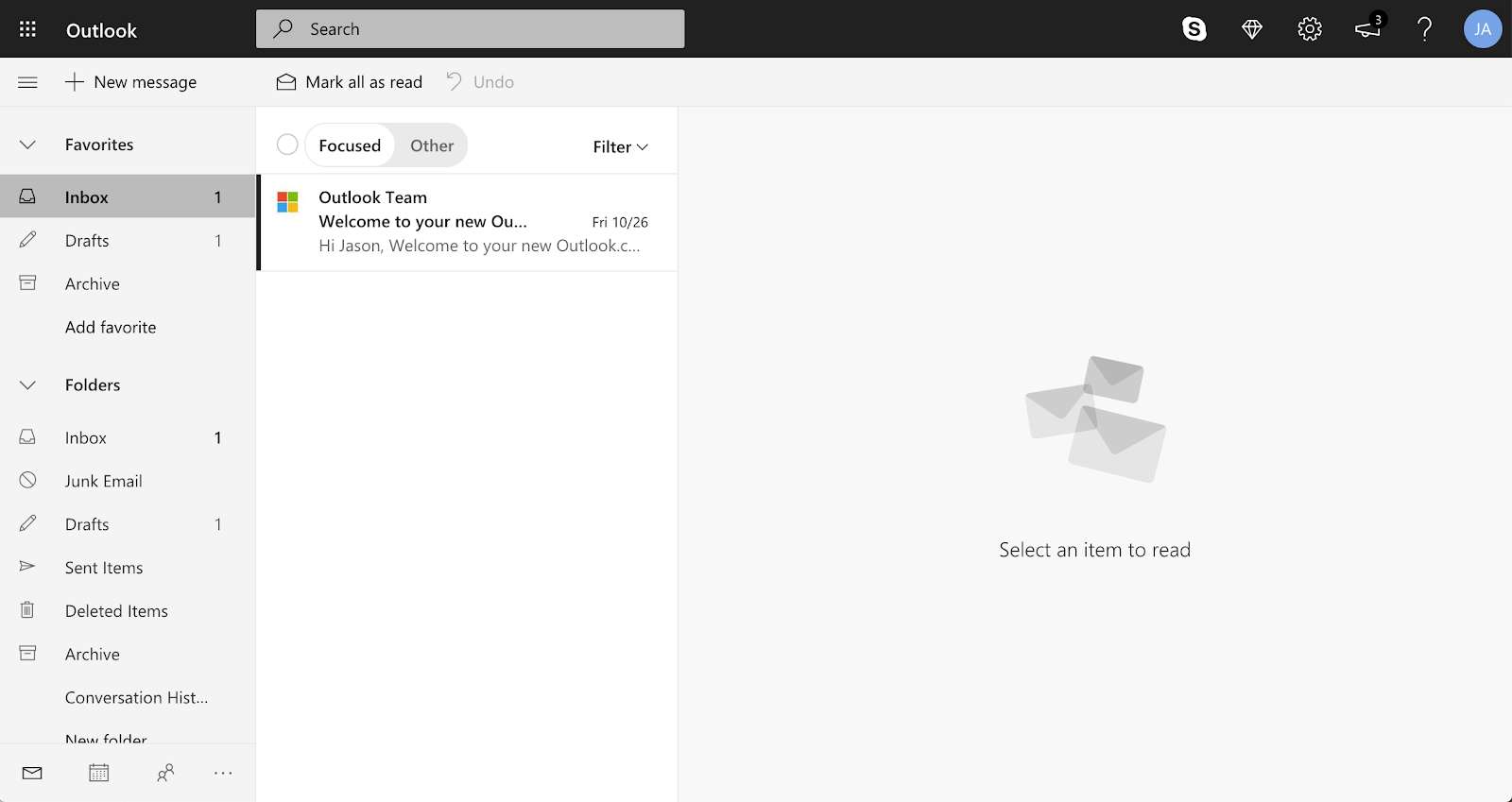 Office 365 email, also known as Outlook, has a 50GB storage limit on each of their business plans. This limit is separate from your overall cloud storage, which means your email attachments aren't taking up space in OneDrive. On the other hand, if email storage space is important, unlike G Suite, you aren't able to use your full cloud storage (1TB) for email. Outlook supports sending mail to up to 500 recipients at a time, and a maximum file size of 150MB.
As an alternative for businesses that are mainly looking for an affordable branded email service, Zoho Workplace includes free business email with a 5GB storage limit for up to five users, as well as basic productivity apps. The free service plan includes web-access email and the Zoho Mail app, while paid plans are available starting at $12/year with additional storage capacity, as well as POP/IMAP support. Visit Zoho Workplace to sign up for a free, 14-day trial today.
Visit Zoho Workplace
G Suite vs. Office 365: Cloud Storage
Both G Suite and Office 365 allow users to store, sync, and access their files whenever and wherever they are. Both include built-in sharing features as well as the ability to keep files stored locally on your computer, syncing with both the cloud and all of your devices.
G Suite Cloud Storage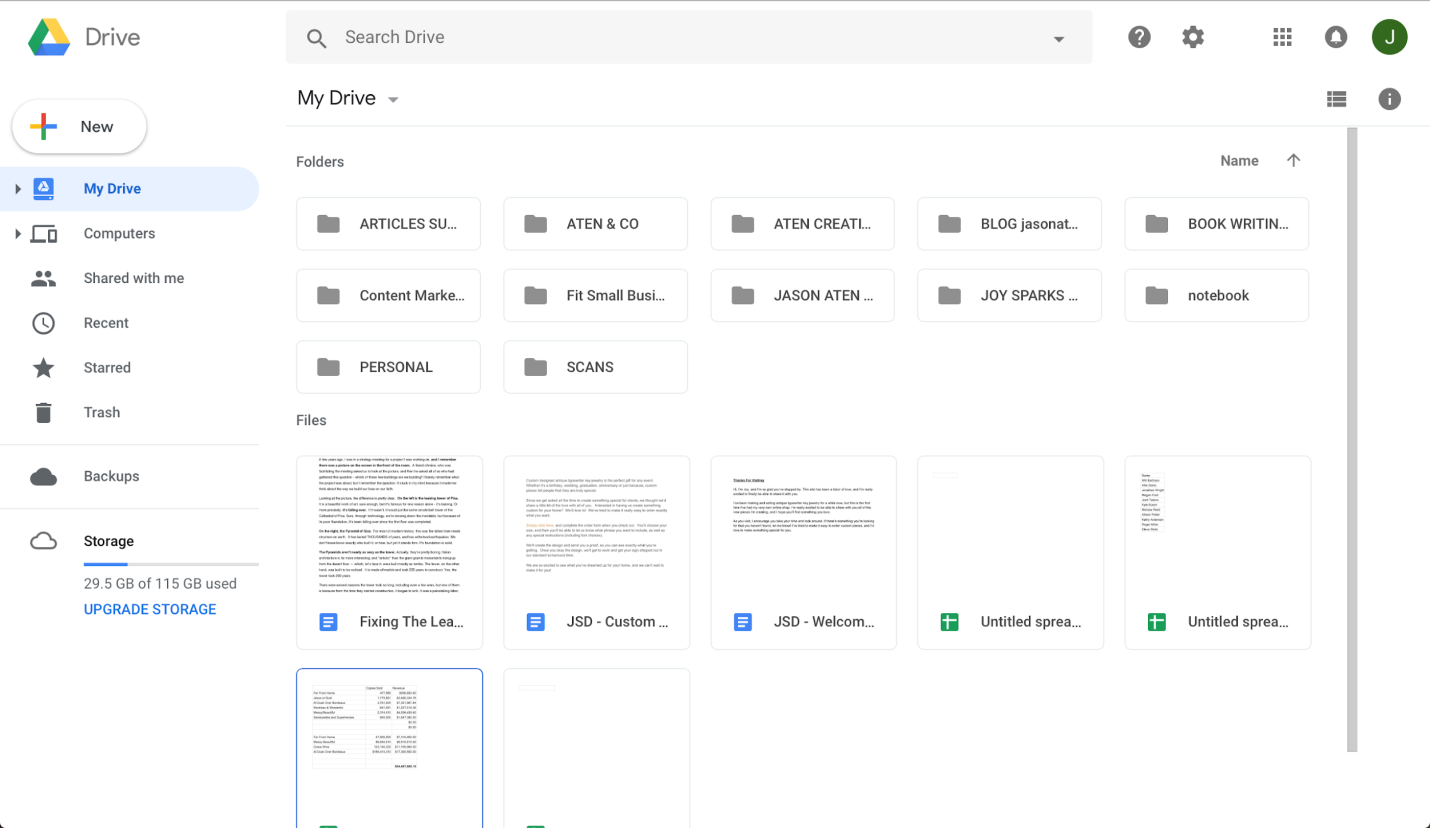 G Suite includes Google Drive with either 30GB or unlimited storage, depending on your plan. The Business plan is limited to 1TB per user if you have less than five users on your account. In addition to cloud access, Google Drive provides the Backup and Sync app to provide local access to all of your saved files on all of your computers and devices. When you make a change to a file on one device, it is automatically synced across all of your devices.
Google Drive does not use block-level sync, which syncs only the sections of a file that have been changed, allowing for faster updates. Still, uploading files and syncing changes are seamless and fast under most circumstances. In fact, Google Drive is generally faster at uploading files and syncing changes than OneDrive.
Office 365 Cloud Storage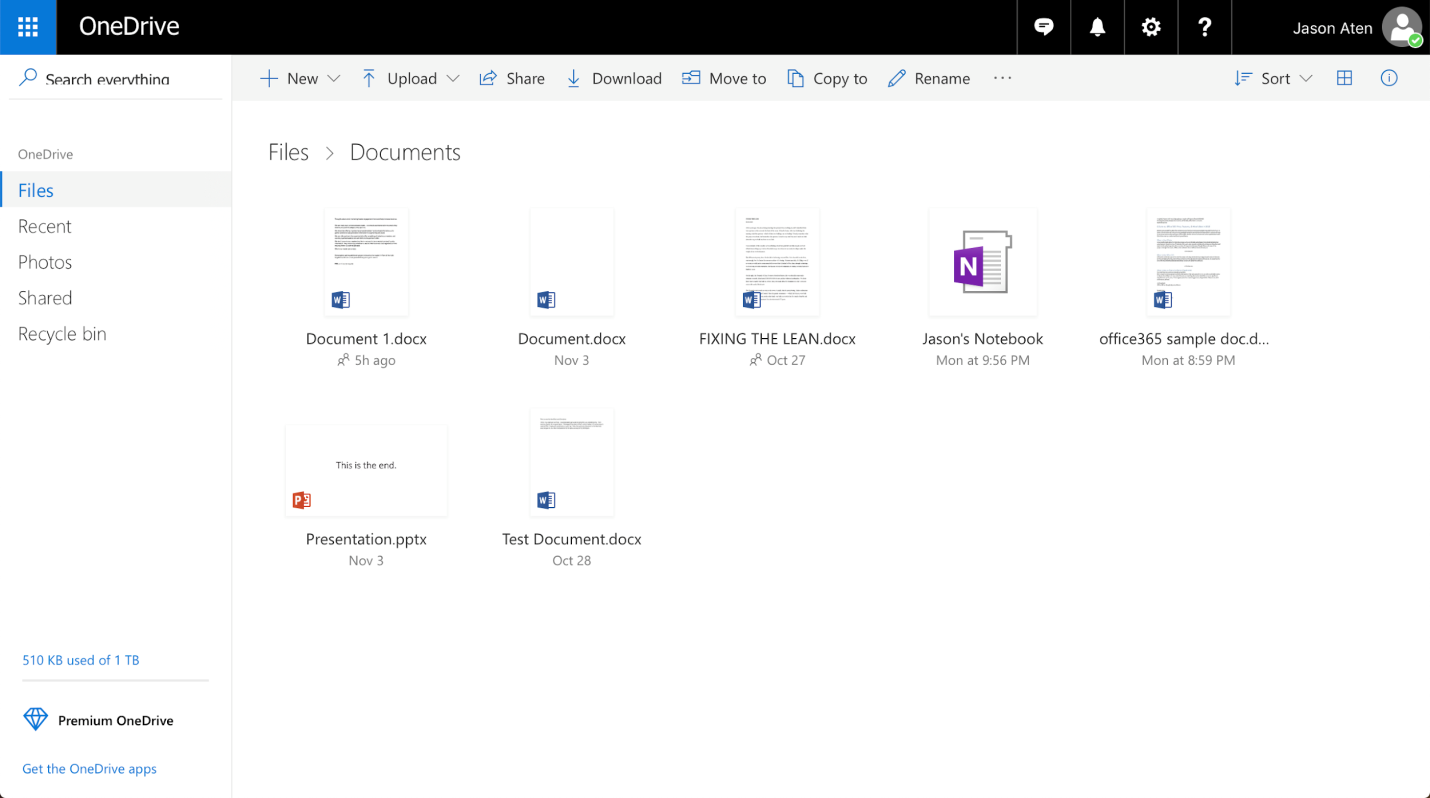 Office 365's cloud storage service is known as OneDrive, and it's used by 85 percent of Fortune 500 companies. Considering that most of them are using PCs running some version of Microsoft Windows, this is hardly surprising. If you're running Windows 10, OneDrive is already running on your computer.
OneDrive is the slower of the two when it comes to uploading files from your computer to the cloud, but not by much. OneDrive does include block-level sync for Microsoft file types, but not for other files like images, PDFs, etc., which means that the entire file is re-uploaded whenever you make changes. OneDrive does give you more control over sharing access, letting you fine-tune how files are shared and what other users can do with them.
G Suite vs. Office 365: Apps
G Suite and Office 365 both include software for creating documents, spreadsheets, and presentations. Both offer browser-based versions, as well as iOS and Android apps. However, only Office 365 offers desktop versions of its software to its Business and Business Premium customers.
G Suite Docs, Sheets, and Slides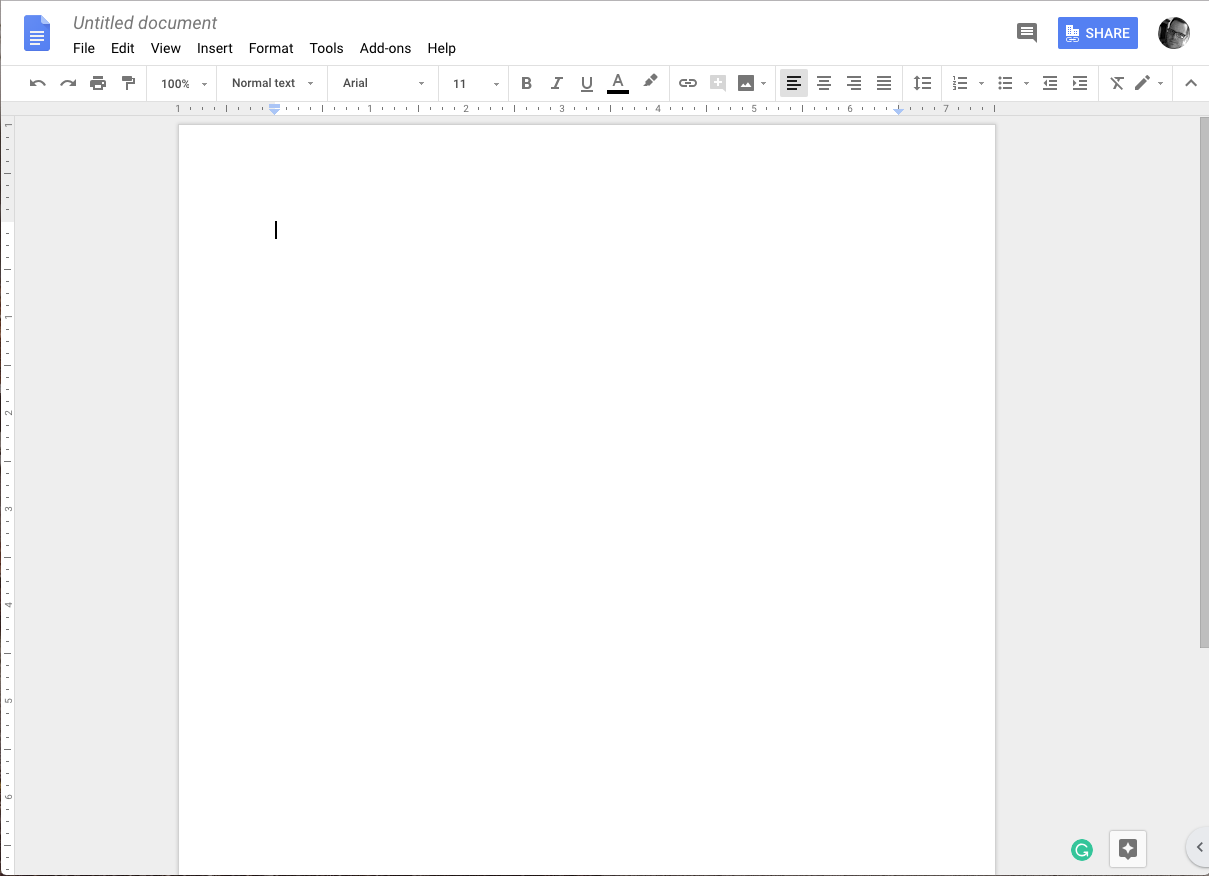 All of the G Suite apps for document creation (Docs, Sheets, and Slides) are browser-based with mobile app versions. Unfortunately, there are no desktop versions, meaning you generally need to be connected to the internet to create and edit files. However, each has the option to mark files for offline access, allowing you to continue working on a file even if you lose your internet connection, updating your changes the next time you connect to the internet.
The interface is pretty standard to Google—simple and functional. Everything is where you'd expect it, and nothing gets in the way. Every time you create a new document, it automatically saves to your Google Drive and constantly syncs any changes you make as you go.
Office 365 Word, Excel, and PowerPoint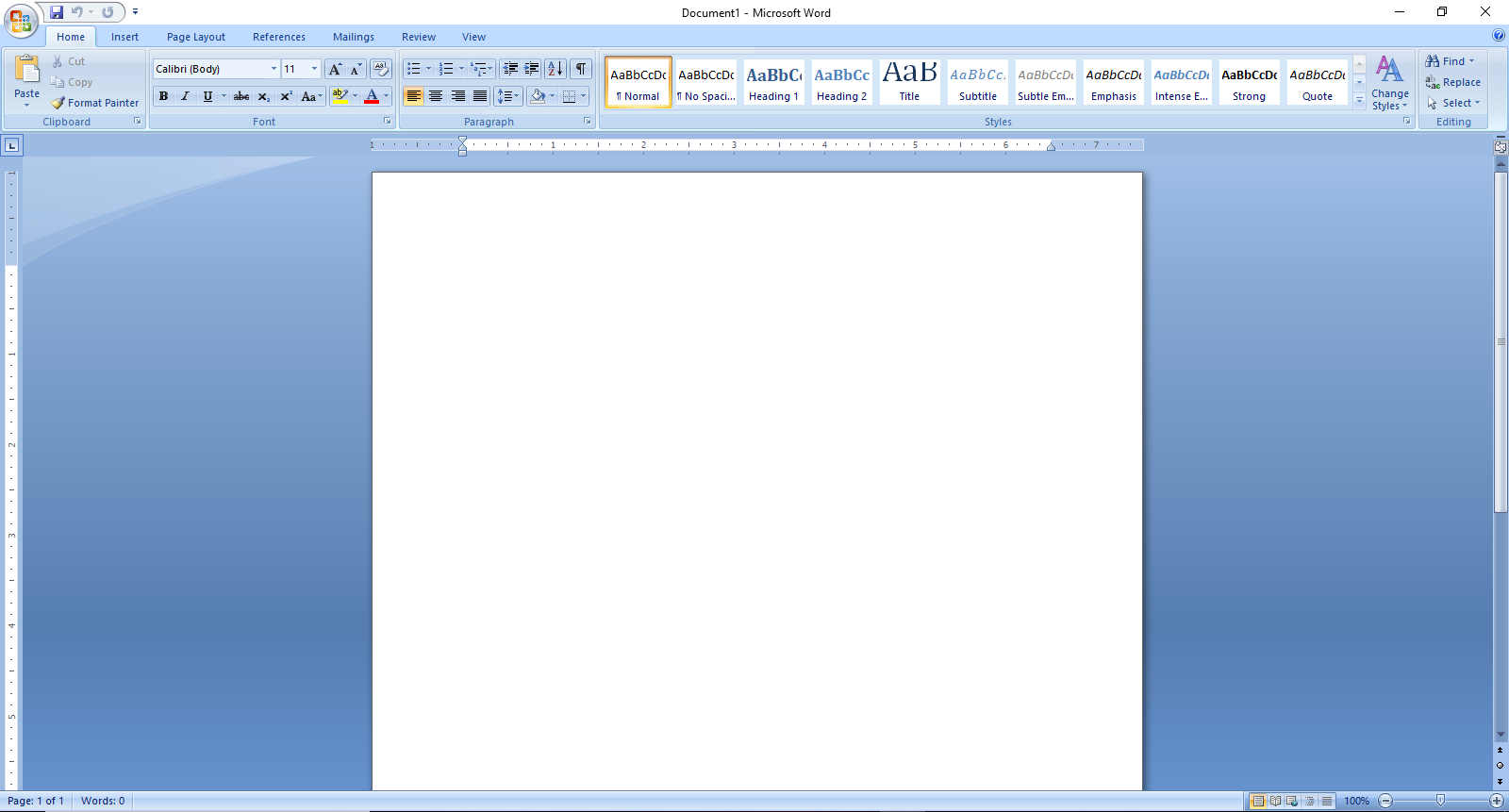 The main advantage that Office 365 has is that Microsoft Word and Excel have been around for over 30 years. Everyone uses them, and everyone is familiar with them. Office 365 makes them available as desktop software, browser-based apps, and mobile apps. The desktop versions are all fully-featured and are used by the vast majority of corporate America.
"We chose it primarily because it includes most of the applications that are widely used in businesses (especially in Finance). As an added bonus, you get mobile-friendly versions of the apps which, combined with the cloud, allows you to access your documents anywhere and anytime." Jacob Dayan, CEO and co-founder of Community Tax
G Suite vs. Office 365: Collaboration
Both G Suite and Office 365 are built around collaboration, but how they handle it is different. Google's approach is a lot like a classroom with a whiteboard. You can invite anyone in the classroom and you can all stand at the whiteboard together and work on a document. The "whiteboard" keeps track of everyone's contribution and you can edit, accept, or remove them anytime you want.
Office 365's approach is like a whiteboard, except that every time you want to share, you have to hand out a new key to the classroom, turn on the lights, make your changes, take the whiteboard off the wall, take it to the next classroom, hang it up, give your team member a marker, and let them make their contributions. Then you reverse the process to review the changes. The end result is similar, but the process is much less simple and transparent.
G Suite Collaboration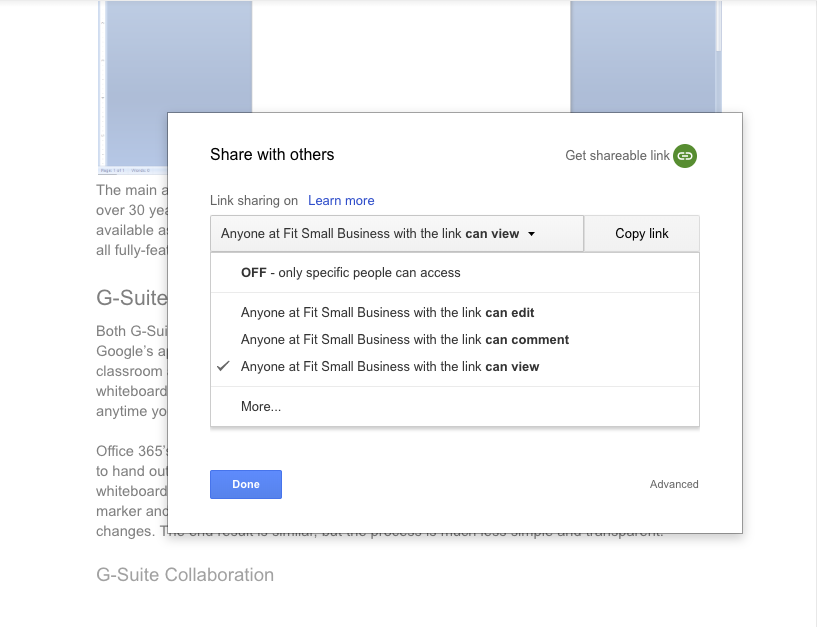 One of the things Google does really well is collaboration and sharing, and while Microsoft has built sharing tools, when comparing Office 365 vs. Google G Suite, the collaboration feature isn't nearly as intuitive. Google Docs, for example, gives you one-click access to share them with anyone in your organization or anyone else you want to collaborate with. Simply provide the link and they can open it in a web browser with Google Docs. No need to install software or have access to a specific word processor.
G Suite makes collaboration simple. In fact, one of the strongest aspects of Google's productivity software is that multiple people can work on the same document at the same time, without having to save files, email links, and keep track of versions. Revisions can happen in real-time while giving you the ability to see what changes have been made and accept or reject them.
"My favorite thing about Google Docs is how collaborative it makes working on documents. Instead of people working on separate documents and then trying to put their thoughts together afterward, I love the fact that everyone can work together and follow along in a document at the same time. Using Google Docs in this way helps our business become more streamlined—i.e., having all of our documents at one place. It also saves us a lot of communication and collaboration problems."
Jacob Dahl, CMO – TimeOn
Office 365 Collaboration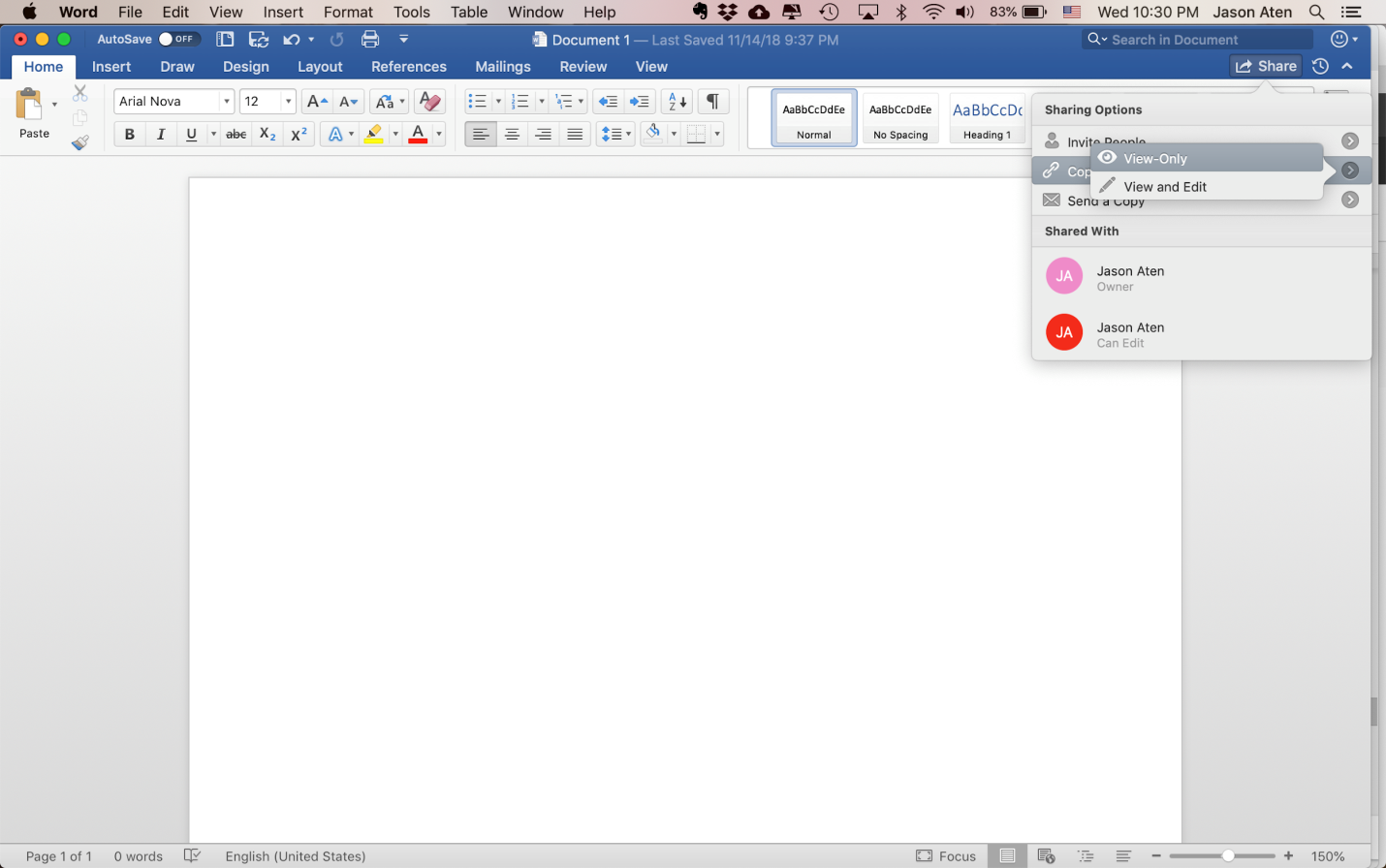 Office 365's strongest area of collaboration is that Word and Excel are used by, well, almost everyone in businesses. You can send an Excel file and be pretty confident that your accountant will be able to open it. You can email a PowerPoint and be sure that your client will be able to view it.
Both the desktop and browser-based versions of Office 365 software have sharing features built in, allowing you to send links and control what happens to them. In fact, Office 365 has more advanced features like detailed permissions and link expiration to give you control over who has access to your shared files, and for how long. Link expiration is not available in G Suite, meaning that for users who need fine-tuned control over file sharing, Office 365 offers a greater level of control.
G Suite vs. Office 365: Ease of Use
Both G Suite and Office 365 have the benefit of being familiar to most users. G Suite has the familiar look and feel of Gmail, while Office 365 builds on the software that many users have used for years. If you had never used either, G Suite is probably less intimidating and more intuitive to get started.
G Suite Ease of Use
Google almost always chooses function over form, which sometimes means that while the design isn't always as beautiful as other options, it always works. For example, when you create a new Google Docs document, it's automatically saved in your Google Drive. You don't even have to name it first. It also constantly auto-saves your work in the background to always keep your files up to date.
G Suite also tends to focus on the core features that most users need, which means it's much less cluttered and visually crowded than Office 365. It doesn't have some of the advanced features that you'll find in Word or Excel, but it more than makes up for it in a clean, simple interface that just makes sense.
Office 365 Ease of Use
Office 365 has certainly come a long way, but there's no question that it tries to be everything to everyone. Microsoft packs in every feature, even when it's at the expense of the user experience. This is especially true of the desktop versions of Word, Excel, and PowerPoint. The browser and mobile app versions, on the other hand, are far simpler in design and focus more on putting the most important tools within reach.
G Suite vs. Office 365: Customer Service
Both options offer 24/7 phone and web support to their business clients, and both offer access to robust self-help knowledge libraries and community support forums. Google and Microsoft both cater to businesses, and their customer service for these types of users is good.
G Suite Customer Service
Google offers G Suite administrators access to 24/7 phone, email, and chat support in 14 languages. For users, support is available through Google Help, their online knowledge base for self-help. Google is known for having helpful support agents and resolving issues quickly when you need a real person.
Office 365 Customer Service
Office 365 also provides live phone and email support to business customers. In addition, Microsoft has extensive training materials, including self-help guides, how-to videos, and a searchable knowledge base. Microsoft is known for paying attention to its business customers, and Office 365 support is no different.
G Suite vs. Office 365: Customer Reviews
Both G Suite and Office 365 generally have positive reviews of their offerings, especially in terms of overall value and reliability. Some customers mention that both could do better at handling situations where a user has both a personal account and one for their business.
G Suite Customer Reviews
The most commonly mentioned reason that users love G Suite is the ease of collaboration. Customers also love how intuitive the software is to use. Customers comment that they love how tightly integrated everything is, and how they are able to work anywhere and still have access to all of their files. One negative user's review is that the admin panel is less straightforward than it could be, and sometimes hard to navigate.
Office 365 Customer Reviews
Office 365 customers like that the software is so widely used, meaning that it is easy to create, share, and open documents created by other businesses or customers. They also like the advanced features in Excel and PowerPoint. One area that users reviewed negatively is the amount of space the Office 365 desktop apps take up on your computer.
Bottom Line
For small businesses that are looking for an office productivity suite that provides branded business email, cloud storage, easy collaboration and sharing, and the ability to create and access all of your documents wherever you work, G Suite is the best choice.
G Suite does not offer a free trial, but most of the apps are available for free without the business features if you have a personal Gmail account. You can sign up your business and get set up quickly by visiting the G Suite website.
Visit G Suite