This guide is for small retailers looking to find the best way to package their products. We'll go over the basic envelope/boxing options and show you a detailed comparison of packing materials, including bubble wrap, foam and peanuts.
We include cost estimates along the way, so at the end of this article you'll be able to estimate how much you need to spend on packaging materials.
If you want to see a full comparison of your options for purchasing packaging materials see our Packaging Materials Buyer's Guide.
Are you shipping more than 100 packages per month? A fulfillment company might provide greater efficiency and lower costs. Learn more about order fulfillment services and which companies we recommend in our guide. You can find a fulfillment company that matches your needs with a quote from FulfillmentCompanies.
Visit FulfillmentCompanies.net
An Introduction To Packaging Materials
As any retailer knows, getting your product safely to the customer is vital. At the same time, going overboard on packing will lead to heightened costs, which can turn customers away if you pass it onto them, or reduce your bottom line if you eat up the costs. Thus, the challenge of packaging is to find the most secure, but cost-effective method.
Shipping Containers: Boxes and Mailers
The first step is finding tight-fitting containers. Boxes that give your products a snug fit not only protect them during shipping but keep the package weight under control, thus reducing your shipping costs. You typically want a container slightly larger than your item size so you can wrap it in some shock absorbing material. Here's a rundown of the most common shipping containers:

Small Items
Example: Bubble Mailer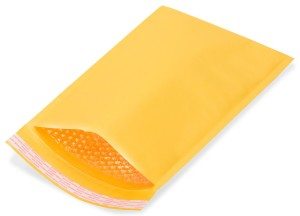 $0.15 to $0.30
Bubble mailers are the quickest, easiest and cheapest way to ship small items. They're great for small media (books, CDs DVDs) and accessories. You can use them to ship jewelry, but you'll probably want to pack them in a small, padded box first to prevent any damage.
Medium / Thin Items
Example: Fold-up Mailer
$0.35 – $0.75
Once you pass more than 1" in thickness, or just need more padding, it's time to start looking at boxes. Fold-up mailers are great for larger media, books, framed artwork and other thin rectangular items. They're usually categorized separate from standard boxes because of their unique design: Place your item on the center of the mailer and fold up the edges to 'create' the box.
You can find mailers with multiple perforations, so you can fold the box at various thicknesses: Typically between ½" and 2", but some go as thick as 4". This is ideal if you get a lot of different sized orders. Rather than purchase a bunch of boxes with various depths, you accommodate with one type. Fold-up mailers typically cost $0.35 – $0.75 a piece, depending on the size.
Large Items
Example: Standard Corrugated Box
$0.20 – $5
If your items are thicker than 4", then you'll need to go with a standard corrugated cardboard box. You can find these boxes at just about any dimension between 4" – 48". They range in price from $0.20 for the smallest and $5 or $10 for the largest boxes. A 14 x 8 x 6 standard corrugated box, which would fit an average-sized shoebox, costs around $0.50 a piece.
You can also find multi-depth boxes, which, like the mailers, have multiple perforations for you to fold the box at various depths. They cost a little bit more than a single-depth box. If your products have the same length and width but you ship them in various quantities, then this is something you may want to look into.
Oversize / Heavy Items
Example:275lb Double Wall Box
$0.90 – $9
For very large or heavy items (more than 40 lbs), you'll have to go with more heavy duty cardboard, such as double wall cardboard. They cost 2 to 3 times more than their standard weight counterparts, but are necessary to ensure your item doesn't break through it's packaging materials.
To ship wholesale orders, or items that are over 3' to 4' in size, you'll need special cargo containers, that are both strong and large in size. These can cost anywhere from $10 – $60 a piece depending on the size and strength of the cardboard.
Packing Materials
There are two reasons why you usually need to include additional packaging materials with your item(s):
Prevent the item(s) from bouncing around in transit
Absorb any shock or impact
The solution to both of these is packaging materials. Anyone who shops online will know there's a lot of packing materials out there: bubble wrap, packing peanuts, foam sheets, air pillows and more. Each of these vary in how they protect your items as well as their cost. To compare the price of various packing materials, we looked at cost of filling a 12" by 12" by 4" box:
Material

Price

Pros

Cons

DIY Bubble Wrap




$0.24

Most economical.

Fill bubbles as you pack, so they take up less space in storage


Requires air filling machine

Can be tough for irregular-shaped items

DIY Air Pillows




$0.27

Economical

Sheets arrive unfilled, so they take up less space.

Requires air filling machine.

Not good for smaller or irregular-shaped items.
Take up a lot of space in the box.

Styrofoam Peanuts




$0.30

Economical

Reusable

Can fill the 'nooks and crannies' of any space.

Not biodegradable - can produce a lot of waste.
Messy

Starch Peanuts




$0.37

All the benefits of styrofoam peanuts but biodegradable

Dissolves in water. If your package gets wet in transit, your product could be damaged.

Pre-Filled Bubbles




$1.00

A cleaner alternative to peanuts.

Good for small and large items.

Don't need air machine.

Takes up more space than unfilled bubble sheets.

Styrofoam Sheets




$1.24

Good for heavy items.

Rigid material protects well against forceful impacts.

Not good for delicate items.

Polyethylene




$2.30

Softer than styrofoam, but still rigid and can protect against forceful impacts.

Expensive
Not good for delicate items.

Polyurethane




$3.75

Gives a very high level of protection for delicate items.

Expensive
Not as great at protecting against forceful impacts.

Instapak




$6.90+

A chemical reaction creates foam that conforms to the shape of your item.

Gives a high level of protection

Most Expensive
Prices from Uline.com, Shippingsupply.com and Usafoam.com
Packing peanuts are the most economical and versatile option. Non-filled bubble wrap and air pillows are cheaper, but you have to invest in the air-filling machine, which will run you $1,500 – $3,000. Foam sheets (polyethylene or polyurethane) offer a high level of protection but are significantly more expensive. Self-filling materials like Instapak are the most expensive, costing around $7 or more per package.
Packing Peanuts
A major benefit of packing peanuts is that they can fill a package of just about any shape or size. Just pour a thin layer of peanuts, place your item, and add another layer over it. Give the package a shake to let the peanuts fill any gaps. Then top it off with another layer before sealing the package.
The downside to peanuts is that they can get messy (just think of the last time you opened a package with them inside). They can be a hassle to clean up and dispose of. Also, styrofoam peanuts are not biodegradable and can produce a lot of waste. If your customers are environmentally conscious, using peanuts could hurt your reputation. Starch peanuts are a more eco-friendly option, but they cost a little more money. Also, they decompose with contact to water, so if you live in a moist climate you'll have to take extra precaution.
Bubble Wrap
Bubble wrap is a cleaner alternative to peanuts. You can purchase pre-filled rolls if you don't want to spend the $1,500+ on an air-filling machine, though it's little more expensive than non-filled sheets. If you tend to ship rectangular items like books, then bubble wrap is your best bet. Especially if the item fits snuggly and you only need to use a single layer, the cost can be comparable or lower than peanuts. If you have to fill a lot of space, however, then peanuts or air pillows are a better option.
Foam Materials
Styrofoam and polyethylene sheets work well for heavy objects that would otherwise crush peanuts or bubble wrap. For highly delicate items, polyurethane sheets create a fitting cushion. All the foam options, however, are much more expensive ($2 – $4 vs. $0.30 for peanuts). With self-filling materials like instapak, you break a seal to cause a chemical reaction that forms a hardened foam mold around your item. This can be good for delicate or irregular-shaped items, but the cost makes it unrealistic for most small retailers.
A Note On Environmentally Conscious Options
If eco-friendly shipping is important to your customer base, you might also be interested in using starch peanuts and boxes made from recycled cardboard. Post consumer boxes cost about twice as much (a 10" x10" x 10" box is about $1.10 vs. $0.55 for virgin fibers). In addition to saving your reputation among the environmentally conscious, this can also be a good reason to shop with you instead of a competitor. Make sure to advertise that you're using environmentally friendly materials when they check out, as well as on the packaging materials.
Special Circumstances
Some scenarios call for special care and / or use of two or more packing materials. Here's some examples:
Multiple Items. If you're packing multiple items you may need to wrap items individually with a thin layer of foam or bubble wrap to prevent scratching, then fill the remaining spaces with peanuts.
Glassware, or other delicate items. You'll want to use a combination of foam, peanuts and bubble wrap: A layer of polyurethane on the bottom and sides of the box (or, for a quick DIY job, try egg cartons), a thin layer of bubble wrap taped around the items, and peanuts to fill the space.
Sharp Edges. It's important to cover any sharp, protruding edges on your item(s) with a thin layer of cardboard. Fold the cardboard over the sharp edge and tape it closed. Items as small as an earring can pose problems if sharp end comes loose in the packaging. With earrings, however, you're probably OK if you just enclose them in a jewelry box.
Rugs, fabric or wallpaper.  Roll up these items and place them in a long, thin box. These items are not meant to be folded.
Branded Shipping Materials
With so many retailers out there selling products online, some business owners have begun to distinguish themselves with custom packaging materials. While this can be a great way to reinforce your brand, it does drive up the cost of packaging materials quite a bit:
Adding a custom logo to shipping boxes costs about 4 to 8 times more. Using Custom Boxes Now as a reference, it costs about $2 to $4 for a branded 10" by 10" by 10" box, depending on the size and colors of the logo. A plain 10" by 10" by 10" box, on the other hand, costs around $0.55.
There are some lower-cost alternatives, however. Custom printed shipping tape, for example, costs around $5 to $10 per roll. Or, you can order custom tissue paper for around $60 that you can use to wrap your products within the box. Under the right circumstances, some of these cheaper methods can be far more effective than shipping a branded box. Also, never discredit the value of including a handwritten note or bonus goodies.
Now that you know what packaging materials you need it's time to purchase them.  For that see our Packaging Materials Buyer's Guide.
Clamshell packaging is seen as king in many industries. If you want to learn how to choose the best clamshell packaging take a look at our guide here.