As any retailer knows, getting your product safely to the customer is vital for fostering trust and loyalty. At the same time, going overboard on shipping supplies will lead to increased materials and shipping costs, which deter shoppers and cut into your bottom line. The challenge of packaging is to find the most secure, cost-effective method for getting your goods to your customers in one piece.
This article is for small retailers needing guidance on how to choose packaging for a product, including fragile or irregular items. We'll cover the primary things you should consider—such as budget, durability, and customizability—and take a look at the uses and costs of different shipping containers, cushioning options, and other packaging supplies.
What to Consider for Your Retail Packaging Materials
Packaging is essentially the first impression customers get regarding your physical product and brand. This "unboxing experience" has become a ritual in and of itself, so it's important to get your packaging right.
Some of the main considerations when choosing your product packaging include:
Budget: Shipping costs add up quickly, so it's important to find packaging that won't take up too much of your budget. Generally speaking, higher-quality packaging will cost more—but it will also make a better impression and protect your products more effectively.
Weight: Shipping fees are often related to the weight of your package. It's important to find shipping materials that are lightweight to keep costs down.
Durability: The main job of a shipping packing material is to keep your products safe. Products need different levels of durability from shipping containers. For example, at my store, we used simple polyethylene mailers with no additional cushioning supplies to send clothes to customers. However, if we needed to ship jewelry, we would use small tight, cushioned boxes to avoid damaging our more delicate items. It should also be appropriate for the transport method—international packages likely need more durability than local shipments.
Size: Boxes and containers have to be big enough for packaging items without causing damage. You want your merchandise to fit snugly in its container. Using the smallest box possible will help you save on ecommerce shipping and materials costs and prevent your items from getting tossed around in transit.
Sustainability: Sustainable packaging is one of the most important considerations for sustainable shoppers. As such, opting for sustainable shipping and packaging supplies will boost brand image and hopefully drive sales and loyalty.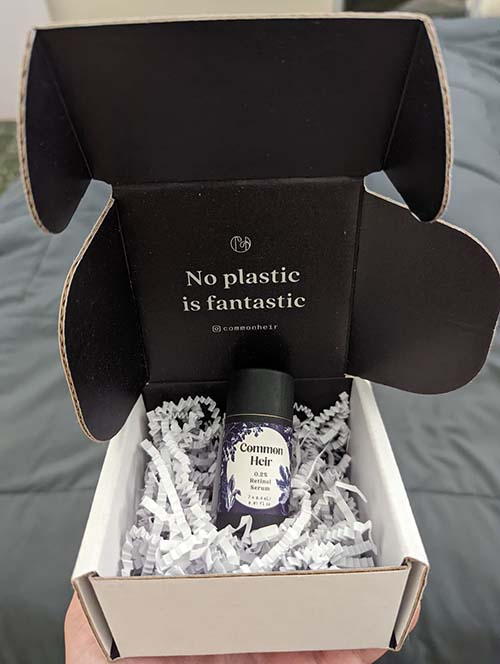 Customizability: Custom-branded packaging can make a big impact on your shoppers, reiterating your brand identity and strengthening customer relationships. Plus, beautiful branded packaging is likely to encourage a better unboxing experience and garner more social shares and user-generated content (UGC)—a great way to boost word-of-mouth marketing. However, expect to spend a bit more, anywhere from $1–$18 per box, depending on how much ink you use and the size of the container.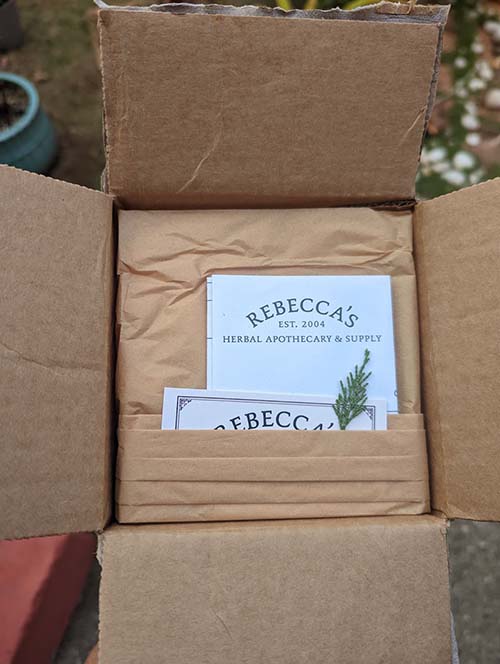 ---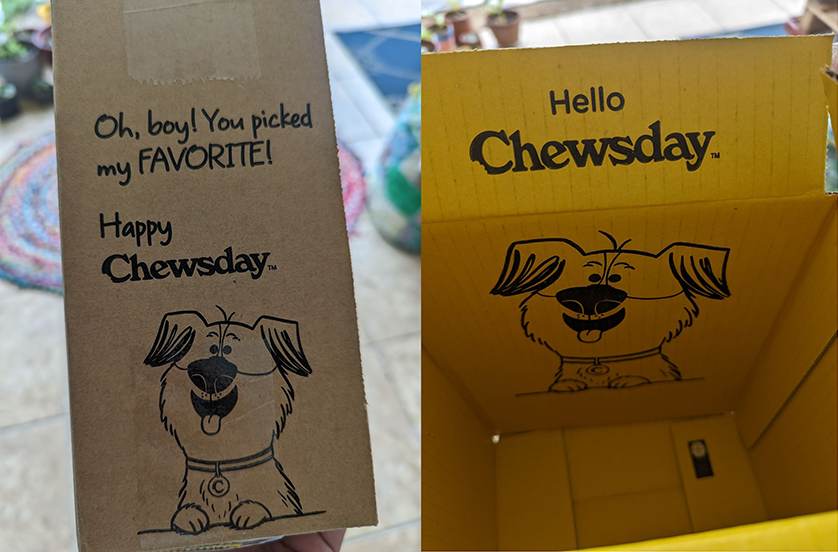 ---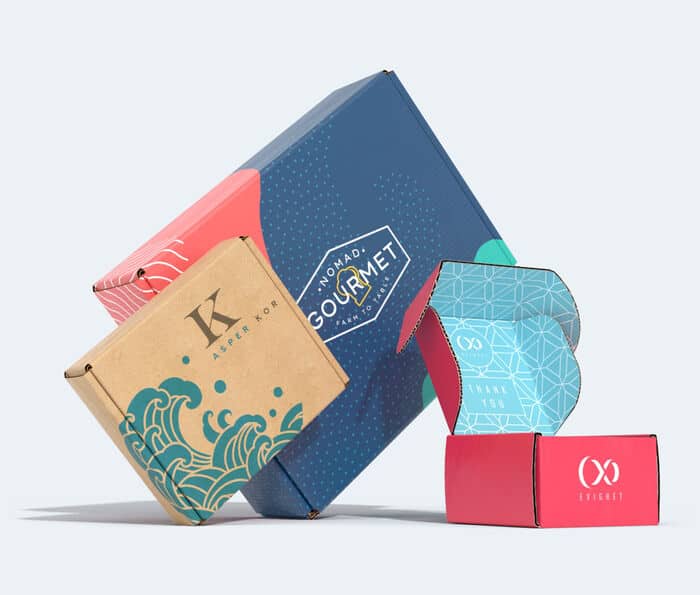 ---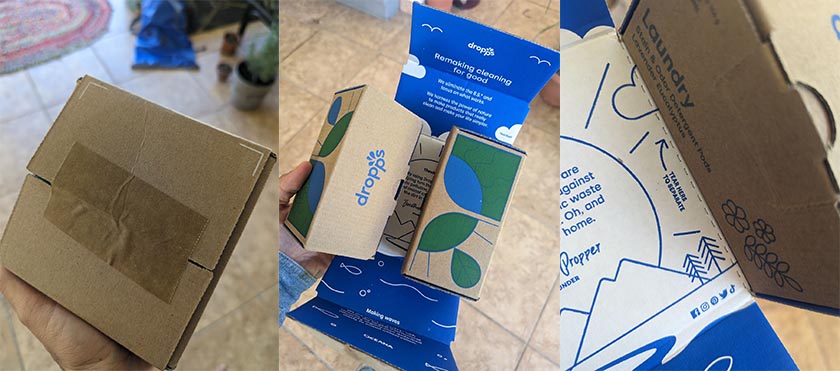 ---
Ease of use: Your packaging materials should be easy to use—both for your internal team and your customer. While it's important to protect products, it also needs to be easy to open. Consider adding microcopy with tips to help customers understand the best way to open their packages.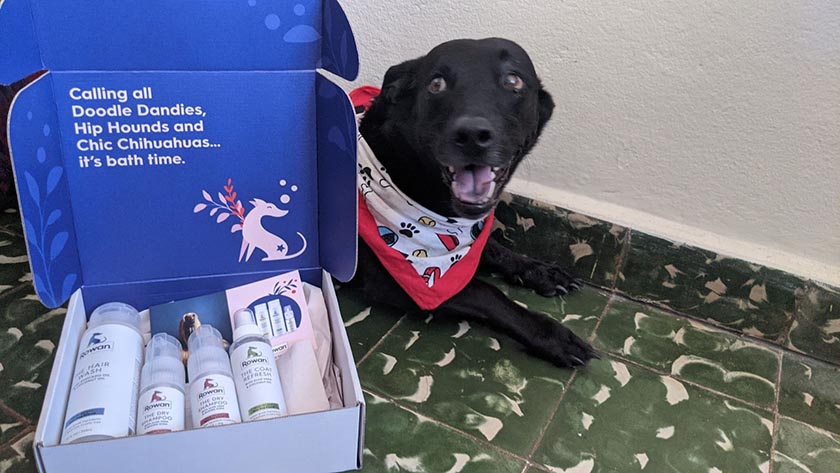 ---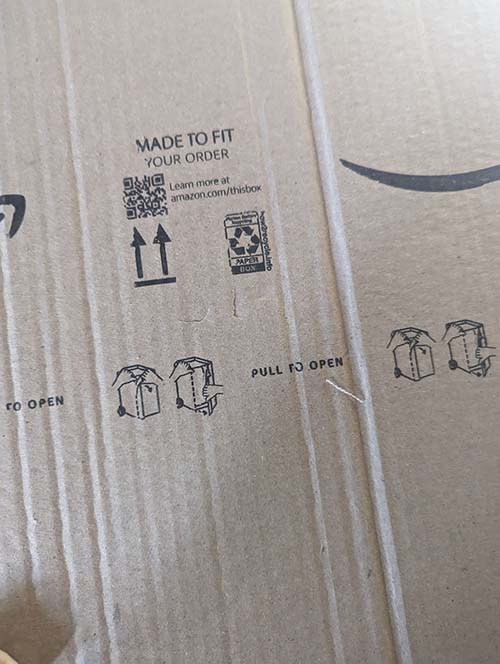 ---
Types of Shipping Containers
It's important to choose containers that will be the right size and material for your products. You'll likely have to use multiple containers as well as different types of packing materials for shipping, depending on what works best with individual products.
Here are some of your options:
Bubble mailers are waterproof bag containers that have a bubble lining to provide light protection to your goods. They come in various colors and sizes and are great if you want to add branding or labels. They're also one of the most cost-effective packaging materials.
Best for: Small items that require no additional cushioning or packaging; hard objects (books, candles, flatware), durable plastic containers with liquids (shampoo and conditioners, lotions, creams), and small boxes (jewelry boxes, batteries, nails and screws)
Sizes: 10 in. x 13 in., 9 in. x 12 in., 6 in. x 9 in.
Cost: 50 cents–$1 per unit
---
A fold-up mailer is a flat cardboard container that comes in varying thicknesses and provides no additional padding. Fold-up mailers get their name because, to assemble, you place your item in the center and fold the box up around it.
Best for: Flat items greater than 1 inch thick (textbooks, framed artwork, etc.) and flat items that need slight padding (candlesticks, plates)
Sizes: 0.5 in to 2 in. thick, 12.5 in x 12.5 in., 20 in x 16 in, 24 in. x 24 in., 18 in. x 24 in., 14.5 in x 11 in.
Cost: $1–$4.50 per unit
---
Polyethylene mailers are thin, rectangular plastic bags that provide no padding and are nearly weightless. They are an extremely cost-effective option for retailers, and some will even use these as a second layer of waterproofing on top of boxes and other shipping containers.
Because these mailers are thin, I would suggest always going with tear-proof polyethylene mailers to avoid damages or lost items in transit.
Best for: Soft, durable items (clothing, cushions), flat and durable items (books, cutting boards, etc.), and waterproofing layer to other containers
Sizes: 6 in. x 9 in. to 24 in. x 24 in.
Cost: 13 cents–17 cents per unit
---
Standard corrugated boxes are your typical cardboard boxes. They're the best packaging material for shipping if you need to send large merchandise, anything over 40 lbs., or if you need to fit a lot of protective cushioning around your product. They are more expensive than other types of shipping containers, but they are much larger and necessary to ensure items don't break through their packaging.
Best for: Items thicker than 4 inches, items that need extra packaging materials, and shipments with multiple items of various types or sizes
Sizes: 16 in. x 12 in. x 12 in. to 24 in. 20 in. x 24 in.
Cost: 20 cents–$3.50 per unit
---
Multi-depth boxes are standard corrugated boxes with multiple perforations that allow you to tear layers off and make the box into the size you need it to be. They are a great shipping container option if your products have the same length and width, but you ship them in various quantities or if there are only minimal size differences between your products.
Best for: Items thicker than 4 inches and items that need extra packaging materials (has the same utility as a standard corrugated box)
Sizes: 8 in. x 8 in. x 8 in. to 36 in. x 36 in. 36 in.
Cost: 75 cents–$10 per unit
---
Double-wall boxes are cardboard boxes that have two layers of support, making them ideal for heavier items. Again, while these boxes are costly, they are necessary to prevent the breakage or loss of heavy goods during transit.
Best for: Merchandise over 40 lbs. and products with sharp edges that might cut through weaker containers
Sizes: 16 in. x 12 in. x 12 in. to 24 in. 20 in. x 24 in.
Cost: 80 cents–$27 per unit
---
Bulk cargo containers are your largest shipping container option and are typically used when sending bulk or wholesale orders. They also feature double-wall cardboard and are hard enough for heavy, bulky loads.
Best for: Bulk orders, multi-box shipments, and extra-large items
Sizes: 36 in. x 36 in. x 36 in. to 48 in x 40 in. x 60 in
Cost: $9–$80 per unit
---
Types of Cushioning & Void Fill
Once you've chosen the containers, you'll then select your cushioning materials. Void fill or cushioning is designed to keep your products safe and prevent them from getting damaged in transit.
Most items will need some sort of additional packaging materials, and more delicate products will need a lot of cushioning to stay secure. Consider the fragility of your products and the space that extra padding will take up when selecting your shipping containers.
Here are some of your options when it comes to retail packaging materials to protect your products and fill empty space:
Bubble Wrap is a plastic sheet with aerated pockets that provide a cushioning layer to parcels. It is great because it comes in a variety of sizes, is flexible, and can be wrapped around irregularly shaped objects. Additionally, Bubble Wrap is lightweight, but it does create a bulky layer and takes up a lot of space in boxes and around objects.
Another option you can look into is DIY Bubble Wrap. In this case, you have an air filling machine that you can use to make your own bubble sheets. If you process lots of orders that need bubble wrapping, this is a good option that will save you money over time. The air filling machine does run a high ticket at ~$1,500, but for the right company, it is a cost saver.
Best for: Wrapping highly fragile things (glass, ceramics, etc.)
Cost: $20–$200 (depending on roll size)
---
Air pillows are larger aerated pockets that you can use to create sheets of cushioning around objects. Unlike Bubble Wrap, air pillows are not particularly flexible and are better suited for regular-shaped objects or irregular items that don't require tight wrapping. They also take up a lot of space in packages but are very light.
They are unique because you do not receive them filled; rather, you receive large sheets of plastic rolls that you fill yourself using an air cushion machine. While the actual sheets of air pillows are extremely economical, unless this cost-saving can offset a $1,500 filling machine, this might not be your best option.
Best for: Extra padding on the outside of fragile parcel (glassware, ceramics)
Cost: $95–$125 (depending on quantity)
---
Paper packaging, like tissue paper or paper confetti, is a filler packaging material businesses use to fill extra space in their parcels. This material is not the best for providing maximum cushion and protection and is rather used as a decorative element to make the unboxing experience more memorable.
Best for: Filling space and adding decorative flare to non-fragile items
Cost: $15–$50 (depending on quantity)
---
Packing peanuts are Styrofoam pieces used to fill open space and nooks and crannies in parcels. They're extremely lightweight and provide a good layer of protection around irregularly shaped items. Additionally, they're cost-effective and even reusable.
The biggest drawback to packing peanuts is they're an environmental hazard. In recent years, however, new biodegradable packing peanuts have been introduced. These options are made of starch and dissolve in water for easy disposal, and they provide the same benefits as regular packing peanuts. They do have a slightly higher price point, but prices have been dropping as biodegradable peanuts become more and more commonplace.
Best for: Filling empty spaces for moderately fragile items or very fragile items that are already wrapped
Cost: $2 per cubic foot (Styrofoam); $3.50 per cubic foot (biodegradable)
---
Styrofoam sheets are just as they sound—sheets of Styrofoam that you can use to line packages, like in the picture above.
They are great because they offer a lot of protection, making them perfect for fragile items. At the same time, they weigh next to nothing, keeping your shipping costs down. However, due to the level of security they provide, Styrofoam sheets tend to run a high ticket price.
Best for: Creating a tight fit for a very fragile item
Cost: 34 cents–$80
---
Foam rolls are large sheets of polyethylene that you can use to wrap delicate objects. You will frequently find this kind of cushioning with ceramic and glass pieces. They are flexible and lightweight and can easily be cut down to any size. They are an expensive option, however, and can be bulky, requiring larger shipping containers.
Best for: Wrapping moderately fragile things (art, jewelry boxes, etc.)
Cost: $20–$200
---
Instapak® is a type of foam packing material for shipping that expands and forms to the shape of the object it's touching. It's extremely durable, making it perfect for your most delicate products. It's also lightweight and won't take up unnecessary space—it will fit perfectly into whatever you put it in. While it's a great product, Instapak foam is the most expensive option on the list.
Best for: Tightly packing irregularly shaped, fragile items
Cost: ~$5 per unit
---
Tape & Labels
Once your product is packed away, it's time to seal and label your package before shipping.
Acquire the right kind of tape based on the material of your shipping container. For cardboard, there is a variety of packing tapes specifically designed to seal cardboard boxes. If you use lots of cardboard, you might also invest in a tape gun to expedite and simplify your process. Otherwise, mailer options typically have self-adhesive strips, making your life easy.
Once your package is sealed, you can begin to label and brand your parcel. Most importantly, add postage or a stamp to a visible spot on the top of your package.
Stamps.com is a convenient service that lets you buy postage online, print shipping labels, and schedule free package pickups through USPS and UPS integrations. Learn more about how Stamps.com works.
Packaging Inserts
A packaging insert is an additional slip of paper or printout you can include within the package. The packaging insert is essentially another opportunity to strengthen your brand identity and customer relationship.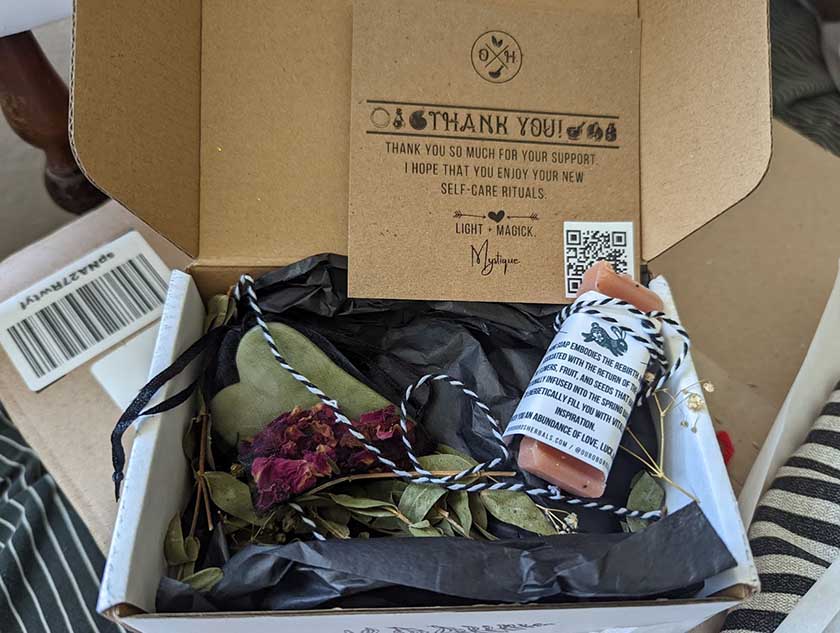 ---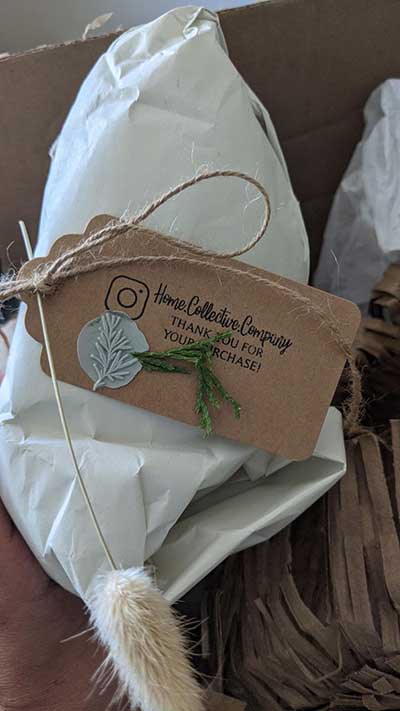 ---
Packaging & Shipping Fragile or Irregular Items
Some items require special care to arrive at their destination safely. If you're packing multiple items, for example, you may need to wrap items individually with a thin layer of foam or bubble wrap to prevent scratching, then fill the remaining spaces with peanuts.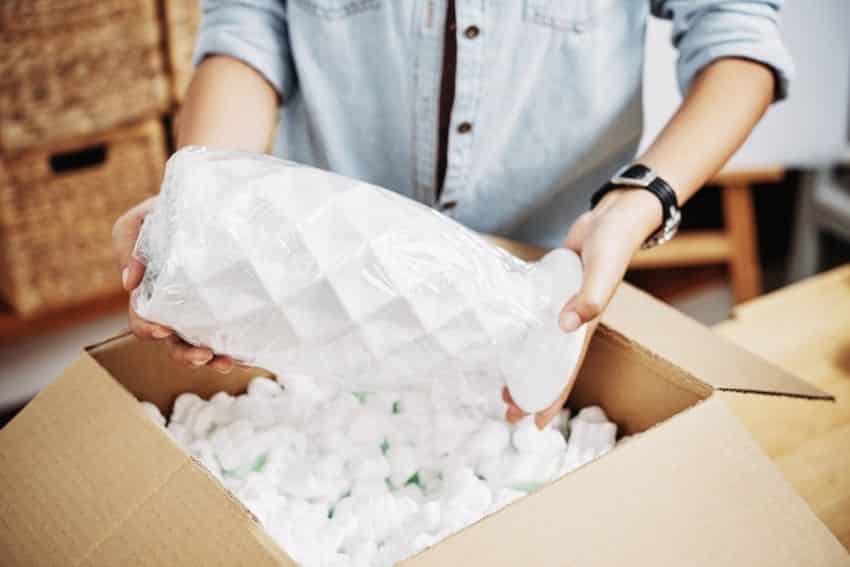 ---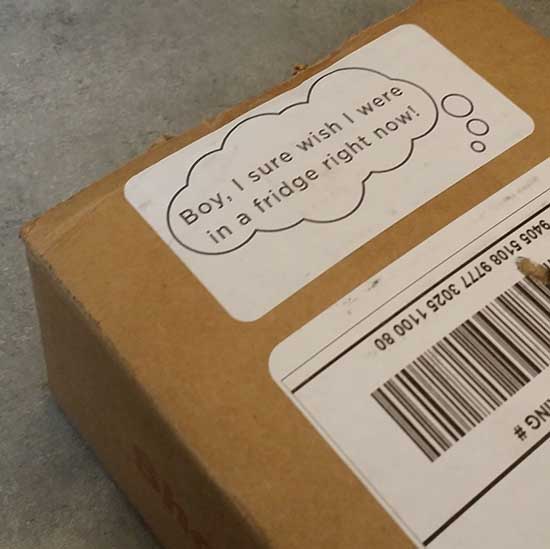 ---
Delicate items: Use a combination of Styrofoam sheets, Bubble Wrap, and peanuts. Line the perimeter with the Styrofoam sheets to create a buffer, then bubble wrap on the actual product and peanuts to fill the rest of the space.
Sharp edges: Cover any sharp, protruding edges on your item(s) by putting them in another box within the container, folding a thin layer of cardboard over the edge, or using double wall boxes.
Rugs, fabric, or wallpaper: Avoid folding items that could crease. Rather, roll them up and use long tubular or rectangular boxes to ship.
Cold items: If you're shipping something perishable that needs to be kept cold, include insulating materials. You might also add a note on the outside of the box, suggesting the recipient refrigerate as soon as possible.
Bottom Line
There are a slew of options when it comes to shipping materials, and learning how to choose packaging for a product most effectively will ensure that your parcels arrive in a cost-effective and safe manner. From the container you choose to put your items in and the cushioning materials to the labels and branding, doing shipping effectively takes time and consideration. Using this guide, you can learn more about the best shipping material options on the market and to choose the best methods for your business.