Stamps.com, available via desktop app and cloud-based platform, lets businesses buy postage online and print postage and shipping labels through its integrations with the United States Postal Service (USPS) and United Parcel Service (UPS). Users can save even more time by scheduling package pickup straight from their place of business.
Monthly plans start at $17.99, and postage costs are discounted over standard USPS and UPS prices. Currently, you can test Stamps.com with a four-week free trial, which comes with $5 in free postage.
How to Use Stamps.com
Stamps.com can also be used to print packing slips, purchase shipping insurance, and update customers on their order status.
Not only does printing labels through Stamps.com make order fulfillment easier, but it can help business owners save on shipping with its reduced postage rates. USPS postal rates are discounted for certain types of mail and packages, and users can save up to 77% on shipping via UPS.
To get started using Stamps.com for your business, follow these steps.
Step 1: Sign Up for a Free Trial
Getting started with a Stamps.com account is easy. You'll need to fill out a short form with your email address, username, and password. The form will also ask how you heard about Stamps.com and what you plan to use the service for—business mail, packages, or home use.
After entering login information, input your address and credit card details to begin your free four-week trial. If you do not wish to continue using Stamps.com, cancel your trial within the first four weeks.
Stamps.com will send you a free Welcome Kit after you've created your account, which includes a set of label sheets for printing stamps or shipping labels. As a new user, you can customize your Welcome Kit by adding a free shipping scale or other shipping supplies.
Step 2: Integrate Your Sales Platform
If your business uses an ecommerce platform or online marketplace (like Shopify, BigCommerce, Etsy, or eBay), you can integrate the tools with Stamps.com to import orders, customer names, and addresses for seamless shipping.
Stamps.com integrates with over 70 platforms, and businesses can register for a developer account to create additional custom integrations. Most of these direct integrations are two-way compatible—so once a label is printed through Stamps.com, the order status automatically updates in your sales platform.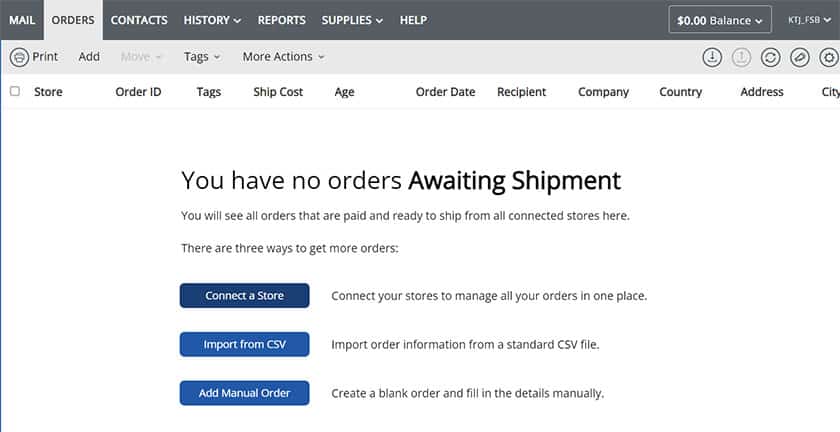 ---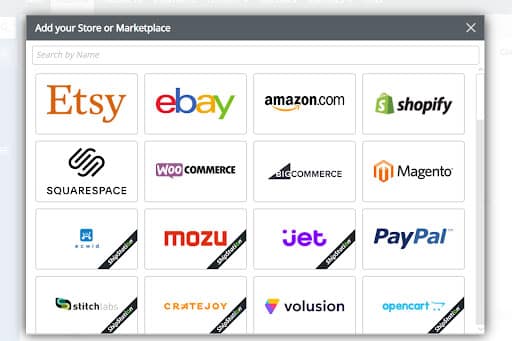 ---
Step 3: Print Postage or Shipping Labels
When sending a package, input the weight and dimensions of your letter or package. You'll also include the shipping destination and how soon you need your package to arrive. The process is fairly automated, as Stamps.com will choose the most affordable and fastest shipping option based on the information you entered.
Businesses can use any laser, inkjet, or high-speed thermal printer to print postage and shipping, so no special equipment is required. You can print on plain paper, envelopes, labels, or Stamps.com's NetStamps labels (which are used like a traditional postage stamp). You can also generate return shipping labels and print them to send with the package or send to customers digitally upon request.
Step 4: Schedule Free Package Pickup
Through the Stamps.com dashboard, you can schedule a free package pickup to ship out your orders. Alternatively, you can drop off your packages at any post office.
Step 5: Let Customers Track Their Orders
Once you print a shipping label for a customer order, you can set Stamps.com to send an emailed Shipment Notification that includes an expected delivery date, a link to the tracking number, and an optional customizable personal note.
Stamps.com Pricing
Apart from offering a four-week free trial, Stamps.com charges subscribers a membership fee and shipping costs. Click through the headings below for its free trial and pricing details.
Pro

Premier

Enterprise

Best for

One user

One location

Multiple users

One location

Multiple users

Multiple locations

Monthly fees

 $17.99

$24.99

Custom pricing

Numbers of Users

1

3

Unlimited

Printable certified mail forms

✕

✓

✓

Supported locations

1

1

Multiple

Reference codes*

10

50

1,000

Customer service

Mon–Fri, 6 a.m.–6 p.m. Pacific time

Toll-free phone and email
*Also known as "Cost Codes" or "Reason Codes," they allow you to assign a category to items you ship.
Stamps.com's free trial offers new users access to the platform for four weeks. This includes a five-pound digital scale, a supplies kit, $5 in postage to use during the trial, and $40 in postage coupons redeemable after your first membership payment. You can also opt-in to a 60-day free trial of ShipStation, the advanced version of Stamps.com.
Users who cancel before the trial ends won't be charged; those who cancel after the trial ends are charged up to one additional service fee, plus applicable taxes. Customers who continue to use Stamps.com after the trial period must pay for the trial month, plus future months of service.
In addition to paying monthly fees, Stamps.com users pay for actual shipping costs. Postage is calculated based on what's being shipped, where it's going, and how much it weighs. However, Stamps.com users typically save on costs over using USPS' online postage tool.
For example, a regular First-Class Mail letter costs 63 cents (for one ounce) through USPS; if you use Stamps.com, you'll pay 60 cents. Customers can also take advantage of discounts up to 77% when shipping UPS packages through Stamps.com.
Examples of Stamps.com Postage Rates for 2023
| Mail/Package | Stamps.com Rate | Post Office/Retail Rates |
| --- | --- | --- |
| First-Class Mail letter (1 oz.) | 60 cents | 63 cents |
| First-Class Mail Flat/Large Envelope (1 oz.) | $1.26 | $1.26 |
| Priority Mail Padded Flat Rate Envelope | $8.45 | $9.65 |
| Priority Mail Medium Flat Rate Box | $14.25 | $16.10 |
| Priority Mail Express Packages (0.5 lb.) | $23.50 and up | $26.95 and up |
| Priority Mail Express Flat Rate Envelope | $23.95 | $27.50 |
Who Stamps.com Is Best For
Stamps.com is typically best for businesses that ship anywhere from 50 to 500 orders per month. It's primarily used by ecommerce businesses but also appeals to brick-and-mortar retailers and non-retail offices.
If your business relies heavily on metered mail, you're more likely to benefit from the savings available through Stamps.com. That said, lower-volume businesses may be better suited by shipping providers with a lower monthly fee or free plan, such as ShippingEasy or OrderCup.
Shipping using Stamps.com works best for:
Ecommerce retailers seeking a simple solution: If your online store ships a moderate-to-large volume of parcels, Stamps.com may be a good fit to save time and money. The software doesn't offer inventory management, order management, automations, or other ecommerce features—so it's best for simple shipping needs.
Brick-and-mortar stores: Consider Stamps.com if your retail business frequently ships between multiple storefronts, sends orders to out-of-state customers who can't make it into your shop, or is transitioning to a multichannel platform.
Offices that mail client invoices: If your office sends out a large volume of mail for billing or other business purposes, you can print shipping labels and postage in-house rather than waiting in line at the post office and paying full price.
Pros & Cons of Stamps.com
While Stamps.com is a smart option for many business owners, it may not be the best fit for everyone. Before committing to a paid plan, consider the advantages and disadvantages of using Stamps.com for postage.
PROS

CONS

Free postage scale provided
Monthly subscription starting at $17.99
Convenient to print labels at home and schedule package pickups
If you cancel your Stamps.com membership, you'll lose all shipping records for the account
Significant postage discounts
Stamps.com's desktop app is not compatible with macOS; Mac users must use the web-based version
Using Stamps.com can save some businesses time and money. That said, you should pay close attention to monthly shipping needs and profit margins to determine whether the Stamps.com subscription fee is worth it.
Stamps.com Features
Beyond just printing postage and shipping labels, Stamps.com makes it easy to schedule USPS and UPS pickups, print packing slips, track expenses with the platform's reporting tools, and more.
Stamps.com features include:
Packing slips: Stamps.com lets business owners easily customize and print packing slips with their company logos.
Shipping labels: Users can pay for postage from their home or office and print shipping labels from any printer. Stamps.com even makes it easy to print postage and labels directly on the envelope.
Bulk printing: If using a Windows-based computer, Stamps.com customers can use the desktop app to print shipping labels in bulk. Mac users must use Stamps.com Online to print postage from any web browser.
SCAN forms: When sending multiple boxes in a group shipment, customers can use a SCAN form to create a master barcode. This way, each box is tracked in a shipment.
Hidden postage cost: Users can further customize their shipping experience by printing labels that don't disclose the cost of postage. This is important for business owners who don't want recipients to see how much shipping costs.
Shipping insurance: In addition to paying for basic postage, users can add insurance coverage to individual packages.
Customer notifications: Users can customize their settings so that Stamps.com automatically sends customers an email when their package ships. Customers can then subscribe to receive tracking updates.
Reporting: Business owners can use the Stamps.com reporting tools to track postage costs, expenses, and claims.
Pickup scheduling: Stamps.com lets users schedule free USPS pickup without having to visit a post office.
Return labels: If a customer initiates a return, Stamps.com users can email a return label the customer can print out and use to send back the product.
Shipping supplies: The integrated Stamps.com Store lets you buy and re-stock labels, hardware, boxes, mailers, and other supplies. It also provides a convenient place to order free USPS supplies—like priority mail boxes.
Alternatives to Stamps.com
There are alternatives to Stamps.com that may offer different solutions to better fit your business model. We researched the following providers and recommend them as alternatives based on specific business needs, equipment, and overall functionality.
| Alternative | Best For | Equipment | Functionality |
| --- | --- | --- | --- |
| Pitney Bowes | Businesses that want out-of-the-box hardware solutions | Provides mailing equipment, such as online postage, postage meters, and the necessary ink | Lets you integrate USPS and other carrier services into your shipping platform |
| ShippingEasy | Ecommerce businesses that need to optimize inventory, order management, and fulfillment | Is totally web-based; no need to manage hardware | Allows you to mix-and-match carriers to get the best rate, plus marketing and extra ecommerce features |
| OrderCup | Online merchants looking for a budget-friendly shipping solution | Connects with dozens of store platforms; does not require any specialized hardware | Is easy to use and has excellent customer support and a price comparison tool with discounted rates |
| ShipBob | Ecommerce businesses seeking a hand-off solution for order fulfillment & shipping | Provides 15 specialized fulfillment center warehouses; no personal hardware needed | Has third-party fulfillment that handles your stock and ships orders for you with discounted rates |
Stamps.com Frequently Asked Questions (FAQs)
Stamps.com's negotiated USPS and UPS discounts typically help ecommerce businesses shipping 50 to 500 orders per month cut down on their shipping spend—which can easily make up for the monthly subscription fee.
Plus, by taking advantage of the service's free trial and new-user perks, you can score free shipping supplies and a total of $45 in free postage for just one month's subscription costs (starting at $17.99).
---
On the Stamps.com Website
From your Stamps.com dashboard, navigate to your username at the top right of the page and click 'Manage Account' on the drop-down menu that appears. From here, click 'Change/Cancel Plan' on the left-hand menu, then hit the gray 'Close Account' button at the bottom of the page.
On the Stamps.com Desktop App
Click 'Account' on the left-hand menu, then navigate to the 'Change/Cancel Plan' on the Account Settings menu that appears. Hit the gray 'Close Account' button at the bottom of the page and follow the instructions to cancel your subscription.
---
Bottom Line
Stamps.com is a convenient service that offers great value for small businesses and online sellers—particularly those operating out of their homes or small workspaces.
Significant UPS and USPS postage discounts (along with automated shipment notifications and free package pickups) can save independent operators a lot of time. Plus, as your business grows, Stamps.com has the ShipStation integration upgrade to scale with your needs.