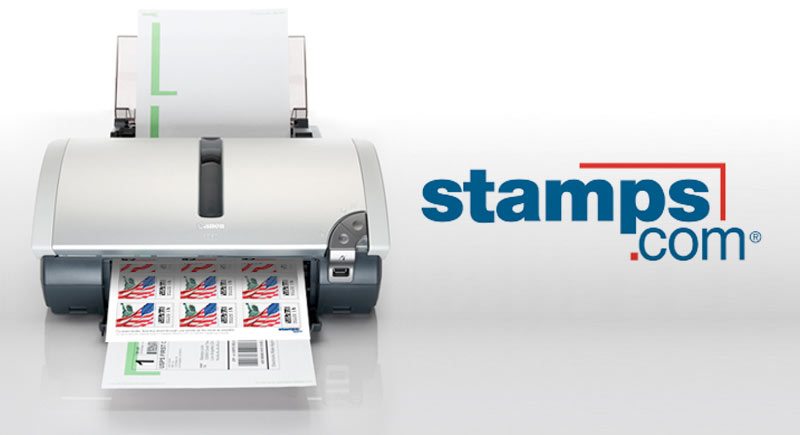 Interested in saving 20-50% on shipping and taking multiple steps out of your shipping process?  If so, then maybe Stamps.com is right for you. In this guide, we tell you what Stamps.com is, who it's right for, how much it costs, and how it all works.
What is Stamps.com?
Stamps.com enables you to buy postage at discounted rates, print mailing labels using a normal printer, and automatically calculates the most cost effective shipping option. Using Stamps.com you can also schedule free USPS package pickups from your computer, avoiding trips to the post office.  Particularly important to ecommerce companies, Stamps.com enables you to seamlessly import name and address information from other systems like Amazon, eBay, Shopify, and Etsy.
Click Here to get our FREE Google advertising guide and discover the 6 steps you can use to show up #1 in Google search
How Does This Differ From Using A Postage Meter?
There are 3 big differences:
With Stamps.com you do not have to buy or rent an expensive postal meter which can cost hundreds of dollars per year.
Many postal meters don't integrate with third party systems like Amazon or calculate the most cost effective shipping option.
You cannot schedule free pickups online using a postage meter.
How Does This Differ From Using USPS.com To Print Postage?
You can print postage online using a normal printer at USPS.com as well, BUT only for priority mail products.  With Stamps.com you get the same savings on priority mail products and can also get discounts on other types of mail which are not available from USPS.com.
USPS.com is also much clunkier to use than Stamps.com and you have to enter your shipping information manually for each package.
Who Is Stamps.com Right For?
If you are going to the post office more than once a week, or spending more than $100 a month on postage, then Stamps.com is likely a good product for you.
How Much Does it Cost?
All plans come with a free Stamps.com postal scale that automatically sends information to your stamps.com profile for each package/item weighed.  The pro plan should suffice for most small businesses.
Pro – $15.99/Month
1 user, unlimited packages, up to 10% discount on USPS insurance rates, customizable labels, maximum postage balance of $500, 10 cost reference codes, and much more.
Premier – $24.99/Month
Pro + 3 users, printable certified mail forms, options to increase monthly postage balance at no additional cost, 50 cost reference codes
Pro Shipper – $24.99/Month
Premier + up to 40% discount on USPS insurance rates, customized shipping profiles, commercial scale and scanner support, ODBC handheld scanner capability, technical integration support, 1,000 cost reference codes, and a $34.99 service fee voucher for each month your postage expenses exceed $500 (basically getting service for free)
For a full comparison of plans, prices, and features, check out Stamps.com's plan comparison page.
How It Works
Step 1: Import Package Info/Address Information
Go to Stamps.com and input in the item type (letter,box, etc), item dimensions, item weight, preferred delivery speed, ,ship-to address, and insurance needs (if not already imported from online store).
If you are using a Stamps.com scale and have already boxed the item, you can weigh the package and have the information sent directly to your stamps.com account/profile.
Step 2: Select Shipping Method
Based on the item data you input, Stamps.com will automatically select the cheapest shipping method that meets all your specifications and apply the online discount. If you would prefer a different method, or already have an item boxed, you can of course select the appropriate method and override their recommendation.
Step 3: Add shipping total to your account and Customize Label
Once you have selected a shipping method, the balance will be added to your account. Then, an email will be automatically sent to the customer with tracking number and shipping information for their package. You can then view your label and customize it, adding your logo and business slogan if you want.
Step 4: Print off label
Now you need to print off the label, which you can do using a standard printer and ink or a specialized label printer.
Step 5: Attach label to package and send
Lastly, you attach the label to the package using standard packing tape. Just be sure not to cover up the actual shipping barcode with tape, that needs to be clear so that your mailman/post office can scan it.
You can schedule a pickup that occurs during your regular mail route, as long as you schedule the pickup the day before via USPS.Com's Schedule a Pickup page. Or, you can also take packages down to your local post office and just drop them off.
Click Here to get our FREE Google advertising guide and discover the 6 steps you can use to show up #1 in Google search
Conclusion
If your company does a lot of shipping, it may be well worth paying the $15-$40 per month to use a service such as Stamps.com. If you do over $500 in monthly shipping expenses, you can even basically get the service for free with your $34.99 voucher. Whatever the case, you now have the important information you need to determine whether or not Stamps.com is a good solution for your business shipping needs.
Both PayPal and Stamps.com give you the USPS Commercial Base Pricing (CBP) rates, which are…
Hi Diane, Laser printers set the toner using heat and that's why your window is…
Ask the Experts