Ecommerce Shipping & Handling Guide [+ Free Checklists]
Ecommerce shipping and handling is the process of managing inventory, accurately picking ordered products, checking and packing orders, labeling shipments, and coordinating parcel pickup or dropoff to carriers.
This guide covers everything you need to know about shipping and handling for an ecommerce store, including shipping methods, carriers, software, costs, and more. We also show you how to send out your customers' orders in six simple steps and offer tips on using standard operating procedures, or SOPs (along with free SOP checklists).
Ecommerce Shipping Methods
Ecommerce stores use a variety of methods and strategies to send their orders. The best shipping method for your business depends on your products, target customers, location(s), and budget. Additionally, consider similar stores' shipping strategies to make sure your site stays competitive.
Delivery speed and shipping cost carry huge importance to the customer, so equipping your store with attractive shipping offers can help make conversions and avoid shopping cart abandonment.
Here's a rundown of the most common and popular ecommerce shipping methods:
Offering local delivery is a great way for small businesses to stand out from the competition—and even win sales over ecommerce giants like Amazon. It creates a simple and reliable way for customers in your area to get next- or same-day delivery, and reduces the chances of shipping errors by focusing on last mile delivery only.
Sellers can set up a delivery area within a geographic radius or a list of zip codes. Shoppers located within the delivery area can then select an option for local delivery at checkout. If you're an ecommerce startup with time on your hands, you can make these deliveries yourself to maximize profits.
---
Speedy delivery has become the norm for many shoppers, largely due to Amazon Prime. Amazon's vast network of strategically placed warehouses enables its two-day shipping.
By storing goods close to each customer base, shipping is made fast and affordable.
Small businesses can use the same strategy to offer two-day shipping by fulfilling their orders with a widespread 3PL like ShipBob. ShipBob has 40+ warehouses around the world that allow sellers to distribute their inventory and achieve inexpensive and fast shipping through zone skipping.
---
Same-day delivery promises to get products to the customer's doorstep on the same day they were ordered.
This shipping method is only possible when merchandise is stored locally in warehouses, distribution centers, or fulfillment centers near the customer. For ecommerce stores to offer same-day delivery on a large scale it requires large amounts of resources, often including a proprietary logistics service.
---
Overnight shipping guarantees the customer will receive their order on the next business day.
This method is often done cost-effectively by distributing inventory throughout a wide network of warehouses, but overnight shipping can be possible from nearly anywhere through FedEx, UPS, and USPS.
Overnighting a package depends on the order's weight, destination, and carrier, but most overnight deliveries cost between $27 and $70 to ship. For some products (especially gifts), customers are occasionally willing to pay for this shipping speed—so it can be a helpful option to offer.
---
Expedited shipping simply refers to any shipping service faster than standard ground. It's available at a variety of speeds and price points, which determine the exact turnaround time for each order.
With consumer expectations at an all-time high, it's wise to offer some level of expedited shipping. This can help reduce shopping cart abandonment, build customer loyalty, and increase overall satisfaction.
---
Eco-friendly shipping is a method retailers can use to reduce their environmental impact and attract eco-conscious customers.
It relies on recyclable or biodegradable packaging materials and typically uses ground shipping to minimize fuel usage and carbon emissions. Some retailers take eco-friendly shipping a step further by operating out of zero-waste warehouses.
---
To reach customer bases in other countries, sellers must find efficient and cost-effective ways to ship internationally. International shipping is more complicated, expensive, and time-consuming than sending orders within your country. It can be difficult to achieve at a speed and price point that doesn't deter customers.
Because of this, retailers can either carve out an effective cross-border international shipping strategy or use localized fulfillment in their target countries. Fulfillment partners with a global warehouse network—like ShipBob—are key to helping small businesses reach international markets.
To learn more, read our guide to international fulfillment and cross-border shipping.
---
Freight shipping refers to the transportation of goods, commodities, and cargo in bulk by land, air, or sea. Freight shipments can be transported domestically or internationally via ship, aircraft, truck, or train.
Direct-to-consumer (DTC) ecommerce stores usually use freight shipping to receive inventory from their suppliers or to send their goods to third-party fulfillment centers.
Read about how to get a freight quote to learn more.
---
Ecommerce Shipping Carriers
US retailers typically use four major carriers to ship their orders. Each shipping carrier has its own strengths and weaknesses, so it's helpful to be familiar with them as you shape your shipping strategy.
With carriers you use frequently, it can save time and money to set up a business account. Having a shipping business account usually gives you access to discounted pricing, expense tracking features, and a range of online tools to bolster your shipping operation.
To explore rates, reliability, and detailed info about some of the carriers below, read our rundown of FedEx vs UPS vs USPS.
Should I purchase shipping insurance?
Shipping insurance is an add-on service that can reimburse you if your parcels are lost, stolen, or damaged in transit.
All major shipping carriers provide free coverage up to a certain amount—but for high-value items, it's worth considering additional insurance.
Insurance can increase shipping costs significantly, so you should weigh general risk factors like item type, durability, packaging, destination, and shipping method to determine how to proceed. In some cases, the choice to insure and the associated cost can be passed along to the customer during checkout.
Ecommerce Shipping Software
Shipping software helps ecommerce businesses by organizing orders, comparing shipping rates, automating tasks, and generating reports. Best of all, these platforms allow you to skip the post office by purchasing and printing labels from your computer.
If you plan to perform shipping and handling in-house, shipping software can help your ecommerce store save a great deal of time and money. Check out our shipping software buyer's guide to learn more about how these platforms work.
Ecommerce Packaging
As an ecommerce business, your packaging choices make a big impact on your shipping spend as well as your customer experience. It's important to choose the right materials to ensure that your parcels arrive safely and align with your brand, but going overboard can drive up the cost of shipping for you and your customers alike. Finding the right balance takes time, consideration, and research—and, in some cases, creating custom packing elements.
The basics of ecommerce packaging are:
Primary container (boxes or mailers)
Cushioning or void fill
Considerations for fragile or irregular items

Tape and labels

Ecommerce Handling
The 'handling' component of shipping and handling refers to the tasks involved in preparing orders for shipment. This includes processing incoming orders, picking products from storage, packing orders, and handing them off to the carrier. These duties—along with shipping—are often called order fulfillment.
As an ecommerce business, your order fulfillment strategy mostly depends on your available resources and your sales volume. Here are the most common ecommerce fulfillment methods:
In-house order fulfillment is when businesses perform their own inventory storage and order handling—typically with their own facility, equipment, and staff.
Ecommerce startups often run an in-house fulfillment operation out of a spare bedroom, garage, or rented storage unit. As the business develops and sales increase, the operation can be moved into a larger warehouse facility or outsourced to a specialized provider.
In-house fulfillment is best for:
Small businesses processing fewer than 10 orders per day
Well-funded, established operations seeking end-to-end control
Businesses experimenting with different product offerings, sources, and processes
Full-time store owners
Businesses can outsource the tasks involved in shipping and handling by using order fulfillment companies or larger third-party logistics companies.
Third-party fulfillment companies specialize in inventory management, order processing, and shipping. They manage all of these tasks on your behalf with advanced infrastructure and guaranteed accuracy.
Third-party order fulfillment is best for:
Growing small businesses processing 10+ orders per day
Solopreneurs busy managing their own marketing, product sourcing, and development
Multipreneurs needing to dedicate time to other ventures
Part-time store owners who work a separate job
Dropshipping is a type of third-party fulfillment that operates differently. In the dropshipping business model, the seller doesn't keep any inventory in stock but rather forwards each order to the supplier as the orders come in. The supplier then performs shipping and handling to get the merchandise out to the customer.
Read our dropshipping guide to learn more.
A hybrid approach to order fulfillment combines some (or both) of the above order fulfillment methods. This is a popular solution for growing businesses because it offers a lot of flexibility.
This option is best for:
Retailers experimenting with new processes, products, channels, and concepts
Full-time sellers with the available resources to manage multiple fulfillment methods
Brick-and-mortar stores expanding into online sales
Ecommerce Shipping & Handling Costs
Shipping costs typically account for the largest portion of a retailer's fulfillment spend, so it's important to plan your shipping policy wisely. Without careful research and consideration, these expenses can easily take a bite out of your bottom line.
Retailers can use a variety of strategies to offset shipping costs while keeping customers happy. These typically involve absorbing shipping costs into your margins or incorporating shipping costs into your prices.
Interested in learning how to offer free shipping on your products without losing money? Read our complete guide to free shipping.
To maintain profitability, factor in the costs of shipping and handling—along with other standard expenses—when pricing your products. Here's an example of what that may look like:
| | |
| --- | --- |
| Product Cost | $15 |
| Shipping Cost | $5.50 |
| Packaging Cost | $0.50 |
| Payment Processing | $1.50 |
| Total Cost | $22.50 |
| Profit Margin | 35% |
| Total Price (rounded) | $30.50 |
How to Perform Ecommerce Shipping & Handling
Whether you're operating from your home, a rented storage unit, or a dedicated warehouse, your storage and packing areas must support efficient shipping and handling. So, your first step is coming up with a facility plan that provides the following:
Efficient inventory storage: Your entire ecommerce shipping and handling practices will fall apart if you can't quickly locate ordered items in your warehouse. A sound inventory management system and the handling procedures we cover below will ensure that you know what you have—and where it is—at all times.
Room to pick products and pack orders: Setting aside sufficient space to stage, check, and pack orders prevents costly packing and shipping errors (which keeps your customers happy).
Defined shipping and receiving areas: If your space allows for it, distinctly separating the inbound shipments from the outbound shipments encourages better accuracy, faster pickups and dropoffs, and simpler organization.
How you set this up depends on your space, the items you sell, the size of your staff, and how often you'll need to pack and ship orders. You can find ways to maximize the space you have and see a sample ecommerce warehouse blueprint in our warehouse layout guide.
Once your space is set up, you can tailor the SOPs we explore below to match your specific operation.
---
Sound SOPs for inventory management are a key feature of any shipping and handling plan. Without a constant grip on your inventory, the entire operation is subject to errors and losses.
Here are three sets of procedures that can help you efficiently manage inventory as it comes into and moves throughout your warehouse:
Inventory Storage & Tracking Procedures
Organized inventory storage areas promote efficiency and prevent wasted time searching for misplaced items.
How you store and track your products depends on many factors—like the size of your operation and facility, how many different products you stock, and the inventory management technology you use. Small operations can usually get away with simple shelf labels on warehouse aisles, but larger operations often benefit from barcode-tracked stock.
Whatever your system, consistency is the key, and most operations can benefit from inventory procedures that follow a basic methodology like this:
Sample Inventory Storage Area Management Best Practices
Set up warehouse storage areas with clearly labeled storage and/or pick locations, such as labeled shelves, bins, or sectioned or whole pallets.
If applicable, designate overstock storage areas and cross-reference these spots to your pick locations for quick access when pick locations run low.
Shelf, bin, and pallet labels should include product SKU, product name, any variations (color/size), and a barcode (if using scanners).
Sample Inventory Tracking SOP
Step 1: Enter the warehouse location (aisle/shelf/bin) of each product into the inventory management system to print stock locations on pick lists and inventory count sheets.
Step 2: If using internal barcode labels on all products, affix barcode stickers to goods upon receiving them, before moving stock to storage or pick locations.
Step 3: Always store received stock in its prescribed location.
Step 4: If the prescribed space is full, store overstock in prescribed overstock locations.
Step 5: If storing overstock in a new location, be sure to note the alternate location on or near the main location label and report this up the management chain if needed.
Step 6: For a new product, ensure that the storage location is noted or entered into the inventory management system before the product is shelved or stored.
Inventory Receiving Procedures
The inventory receiving process is pretty straightforward: receive shipments, count items, and update quantities in your inventory management system.
However, two things can derail your efforts: vendor shipping errors and sloppy counting of received items. Both create stock discrepancies that lead to unexplained inventory shortages, unshippable orders, and angry customers. To avoid these costly headaches, follow the inventory receiving best practices detailed below.
Sample Inventory Receiving SOP
Step 1: Upon delivery, count all received boxes, pallets, or shipped units against the shipping label, and note any discrepancies between the number of units expected and number of units delivered.
Step 2: Store received shipments together in a designated receiving area until the time to unpack.
Step 3: Unpack units (if needed) and organize items by type.
Step 4: Count received items against your purchase order—not the vendor packing slip.
Step 5: If received items match your purchase order, update the received item counts in your inventory tracking system.
Step 6: If there are discrepancies, contact the vendor to resolve and update/adjust counts accordingly in your inventory tracking system.
Step 7: Stock received items per product shelving or storage procedures.
Inventory Counting Procedures
Inventory counts are a critical inventory management tool. Two types of inventory counts help keep your numbers on track:
Annual counts are comprehensive assessments of stock for tax purposes. These involve physically counting every product in your inventory system-wide. Businesses generally do it once to twice a year because it's time-consuming, labor-intensive, and must be done while sales are suspended (usually during a temporary shutdown).
Cycle counts are partial assessments of stock for ongoing accuracy—periodic counts of a line, category, or section that can fit into weekly workflows. They're what keep inventory-based ecommerce companies on track, so you should build these into your usual procedures.
These periodic counts help you identify receiving, storage, and picking mistakes before they
become major problems. Plus, they keep your stock areas organized and counts up to date, making annual counts a breeze. Here's how you can fit cycle counts into your usual procedures:
Sample Inventory Cycle Count SOP
Step 1: Choose a portion of inventory to count by product line, category, or storage location.
Step 2: Print inventory count sheets from your inventory management system or create your own using our free inventory count templates.
Step 3: Identify a time and assign two staff members to count the selected stock without interruption.
Step 4: Have one staff member count stock, including any overstock, and the other note the counts on the inventory sheet.
Step 5: Once complete, confirm that numbers match on-hand numbers
Step 6: If counts don't match inventory records, follow up to identify and resolve any receiving, storage, or picking errors.
A good inventory software works in tandem with established best practices and SOPs for inventory management. It allows you to create purchase orders, instantly record received goods, track items by size and color, and make adjustments as needed, plus tie stock numbers to every sale you make. Read our rankings of the top inventory management software.
---
"Picking" is the process of retrieving specific inventory from your stock needed to fulfill an order. You can pick products in two ways:
In batches using pick lists
Per-order using packing slips
The best method for you depends on the technology you use, your order volume, and the range of products you sell.
Whichever picking procedure you use, accurate picks with thorough quality checks are essential to prevent order mistakes, costly corrections, and customer service headaches. Here's a look at each pick method with SOPs that you can use or tailor to your operations:
Batch Picking Procedures
If you sell just a few different items, you can easily pick stock for orders in batches and simply sort them into individual orders during the packing step. This is a quick way to handle volume-picking for orders that contain a small number of like items. A pick list that aggregates the stock needs for a batch of orders is the tool you'll use with this picking method.
Sample Batch Picking SOP
Step 1: Print (or create) a pick list that includes all of the items needed to fill a range of orders. Specify items by SKU or product name and include total quantities of each item.
Step 2: Assign pick lists to pickers based on line or warehouse location.
Step 3: Have pickers pull the total quantity of each product per the pick list.
Step 4: Designate a space near the packing area to stage picked items for sorting.
Step 5: Use printed order packing lists to sort or group picked items into individual orders for final checks prior to packing.
Per-order Picking Procedures
Per-order picking uses a single order packing slip or invoice as the pick list. Each order is picked in its entirety and moved straight to packing. This eliminates the extra sorting step that batch picking entails.
Per-order picking takes pickers all over the warehouse to fill one order, so it's not the most efficient way for large operations to pick. But, it often works well in smaller warehouses.
Sample Per-order Picking SOP
Step 1: Print order paperwork (packing slips or invoices.)
Step 2: Divide order paperwork into groupings by warehouse location, line, or category, and organize by complexity.
Step 3: Provide pickers with a series of orders as well as crates, bins, or boxes to sort ordered items into as they pick. For large warehouses, rolling carts or trolleys speed up the process.
Step 4: Have pickers bring pull items for each order and bring picked orders to designated staging spots near the packing area for final checks prior to packing.
---
The packing stage is your last chance to make an impression on your customer, and the only physical touchpoint you have, so make it count.
Sloppy and careless packing reflects badly on your brand, so it's essential to design packing procedures with your customer's unboxing experience in mind. You don't have to create stunning customized packaging (though it's a nice touch), but you do need to show customers that you care by ensuring that their order is both correct and adequately packaged to protect items en route. Use the following packing SOPs:
Final Checks & Error Resolution Procedures
Picked orders must be checked before they're shipped to the customer. If possible, have staff check other employees' orders prior to packing. Having the same staffer pick and check orders leads to mistakes shipping out the door (even when barcode scanners are used), and setting up order checking as a standalone task encourages 100% accuracy.
Since mistakes do sneak through, you also need to include a procedure to flag these without interrupting workflow, like this:
Sample Final Check & Error Resolution SOP
Step 1: Have staff members perform final checks on picked orders using barcode scanners or visual checks against order paperwork.
Step 2: Examine for variables like size or color.
Step 3: Have staff physically mark line items with a checkmark if needed to ensure accuracy.
Step 4: If an error is found, move that order to a designated spot to be corrected without interrupting the checkers' progress.
Another option is to combine the order checking phase with the packing step. That procedure is listed below.
Order Packing Procedures
You can tailor your order packing procedure to fit the size of your workspace and team—as well as the different options for packaging materials you use.
Whatever your order packing method, it needs to be handled systematically to ensure accuracy every time. Here's an example:
Sample Order Packing SOP
Step 1: Assemble all applicable shipping boxes or mailers for the group of orders to be packed.
Step 2: Move one or a small group of checked orders from the staging area to the packing area (or pack checked orders where they sit if working in a small space).
Step 3: Have packing staff do a final check (visually or via barcode scan) that the items to be packed match the order's paperwork.
Step 4: Pack items as needed using appropriate, prescribed packing materials.
Step 5: Insert or attach the order paperwork to the box and move it to the shipping area for labeling.
Get your package's billable weight by using our dimensional weight calculator.
---
Some sellers (like subscription box services and businesses that sell just a few items) have consistent, predictable box sizes and weights that make labeling very easy. Others sell a mix of products, so orders ship in a wide variety of boxes and require parcel-specific labeling procedures.
The checklists below involve functions provided by shipping software platforms. As mentioned above, shipping software is an invaluable tool for ecommerce merchants to simplify their fulfillment process—and it's available for free.
Here's how to tackle shipping labels for each scenario:
Batch or Same-box Labeling Procedures
If your shipments use just one or a few box sizes with predictable weights, your labeling procedure is fast.
Your shipping software can be configured so that the proper labels print in a batch, or even on each order's packing slip. Simply affix the order label to the correct packed box.
Sample Batch Labeling SOP
Step 1: Cross-check the shipping label to the order packing slip or other paperwork included in the packed box.
Step 2: Insert order paperwork, close and seal box, and affix label.
Step 3: Move the parcel to the designated shipping cart or pickup area.
Single Parcel Labeling Procedures
If you ship using a variety of box sizes, you'll need to weigh and measure your box and enter this information into your shipping label-printing software.
Most ecommerce shipping software programs let you enter a variety of box sizes and select a box when labeling—which is a handy shortcut. But, you likely still need to weigh each packed parcel, compare rates, and then print labels.
Here's the procedure for this type of labeling:
Sample Single Parcel Labeling SOP
Step 1: Place the packed parcel on the shipping scale.
Step 2: Enter or barcode scan the order number into your shipping system to populate the label information.
Step 3: Select or enter the box size of the package.
Step 4: Enter the weight and size of the package manually, or (if the scale is integrated into your system) double-check that the weight is correct.
Step 5: Compare rates among carriers and various shipping methods in your shipping software program.
Step 6: Select and purchase the appropriate carrier and shipping method.
Step 7: Print label.
Step 8: Insert order paperwork, close and seal box, and affix label.
Step 9: Move the parcel to the designated shipping cart or pickup area.
---
You can schedule daily or specific-day carrier pickups with UPS, FedEx, and USPS. Pickups typically occur at the same time each day, so you can plan your packing schedule to align with your pickup times.
Alternatively, you can drop off packages to carriers as needed. Here are ways to make both processes run smoothly:
Daily or Scheduled Carrier Pickup Procedures
Carrier drivers are always in a rush, so it's vitally important that you separate your receiving and shipping areas and avoid mixing inbound and outbound parcels.
If you have different carriers making pickups, you need to separate your parcels by carrier, as well. If this step is missed, carriers may mistakenly pick up the wrong packages—including those that they dropped off earlier in the day. To prevent these errors, stick with a simple set of shipping SOPs, like these:
Sample Shipment Pickup SOP
Step 1: Sort parcels by carrier.
Step 2: Print carrier end-of-day paperwork and shipment barcode labels.
Step 3: Place end-of-day paperwork with the appropriate parcel stack.
Step 4: Have staff meet the carrier driver and present end-of-day paperwork to be scanned.
Parcel Drop-off Procedures
Dropping off parcels regularly (or occasionally for a special shipping need) follows the same basic procedure as above— except that you load parcels into a vehicle to drop off at a carrier facility.
Carrier locations have varying drop-off methods. Some, like UPS and FedEx, have storefronts that allow you to carry prelabeled packages in and place them in a designated area. Others, like the USPS, have bulk shipment drop-off bays that you can access with approval from the station postmaster.
Once you know how the locations you use accept drop-off shipments, you can tailor a standard procedure to match, like this:
Sample Shipment Drop-off SOP
Step 1: Sort parcels by carrier and load them into bags or bins (to ease transport).
Step 2: Print carrier end-of-day paperwork and shipment barcode labels.
Step 3: Place end-of-day paperwork with the appropriate parcel stack, bin, or bag.
Step 4: Load parcels into the vehicle, making sure to keep groupings separate if dropping off to multiple carriers.
Step 5: Drop off parcels at carrier facility.
Step 6: Present end-of-day paperwork to be scanned by carrier staff.
---
Tips for Using SOPs
SOPs are sets of instructions that clearly describe all relevant steps and activities involved in work-related processes to reduce error, promote efficiency, and simplify training. The shipping and packing SOPs provided in this article can be used as guidelines to create your own tailored checklists, or downloaded as a PDF to print right away.
Whether you're a solopreneur or managing a large team, creating and conveying a solid set of standard operating procedures should be one of the first things you do when establishing a shipping and handling strategy.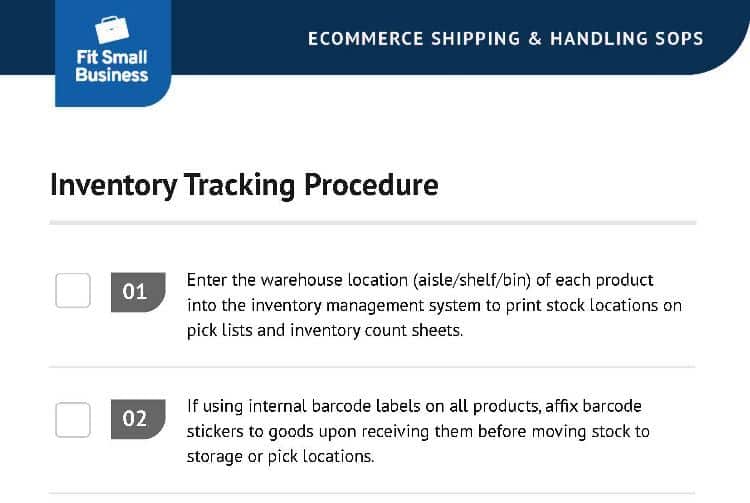 Thank you for downloading!
Quick Tip:
If managing a facility and process takes you away from important business-building tasks, try using our recommended fulfillment company, ShipBob.
With ShipBob, it has low startup costs and gives you access to its web-based software that integrates with top sales channels for seamless order fulfillment.
Click here to get started.
Here are some tips for creating and using SOPs:
Develop operating procedures in the language, style, and format best suited for your workspace.
Write instructions in clear, concise wording.
Include as much detail as necessary to provide adequate information without becoming impractical or distracting.
Include diagrams when necessary.
Keep written SOPs in a known location on-site, or hang them visibly in their applicable working areas.
The more complex the operation, the more SOPs are required.
Bottom Line
Ecommerce shipping and handling practices can be broken down into six basic steps that cover inventory receiving, parcel drop-off, and everything in between.
How you design shipping and handling practices to support your operation all depends on your unique business. The space you work in, your staffing, the products you sell, your packaging needs, your operating technology, and your chosen shipping methods all dictate which shipping and handling practices are best for you.
The standard operating procedure samples we outlined above are typical of a small ecommerce operation that ships daily using a dedicated warehouse and a two- or three-person staff. But, the logic behind the procedures easily scales up or down and can be modified to match specific operations.
You can use our guidelines to set up your own shipping and packing SOPs to make staff training easy, define a standard of performance expectation, and help streamline your daily workflow.
Meanwhile, if you prefer to outsource your shipping and handling, we recommend ShipBob. It takes care of fulfillment with fast two-day shipping and no monthly minimums, letting you focus your time and resources on growing your business.