Purchasing, managing, and printing postage online is a great way to save your business time and money. We take a step-by-step look at how to buy online postage for small businesses, reviewing several vendor options and the tools you will need to print your postage at home.
Step 1: Choose an Online Postage Vendor
First, you want to choose your online postage vendor. Depending on the available features, pricing, and courier restrictions, you should consider different providers. Let's look at USPS, Stamps.com, and ShipStation and the postage services they offer for your small business.
| | | | |
| --- | --- | --- | --- |
| | | | |
| Best for | Those wanting a free service | Those looking for discounted USPS rates | Those using any carrier |
| Compatible carriers | USPS | USPS, UPS | |
| Monthly fee | $0 | $17.99–$24.99 | $9.99–$159.99 |
| Package tracking | ✓ | ✓ | ✓ |
| Package protection | ✓ | ✓ | ✓ |
| Marketplace order integration | ✕ | ✓ | ✓ |
| Marketplace order integration | ✓ | ✓ | ✓ |
| | | | |
USPS
The United States Postal Service (USPS) is a great option for small businesses that want to buy and manage their postage and packaging online, completely for free. With USPS, you sign up for one of its three shipping programs—Click n' Ship, Click n' Ship Business Pro, and Business Customer Gateway—depending on your reporting needs and monthly order volume (we take a more detailed look at the programs below). From there, you can start to utilize USPS' shipping features and purchase and print your postage online.
USPS offers a lot of features through its online postage service. You can read more below or check out our video on how to buy postage and packaging materials through USPS.
USPS offers a tiered membership structure that lets you choose a program depending on the quantity of parcels you are shipping out each month and the reporting tools you want/need. The best part is all USPS services are free, so no matter what you choose, you won't have a subscription fee.
In this program, you create a free USPS account, through which you can print domestic and international labels at home, get access to tracking and delivery status, print up to 20 bulk labels, and earn rewards credit when you purchase priority mail and priority mail express postage. This program is ideal for sending up to 30 packages per month.
If you are shipping more than 10 packages per month, you are eligible for the Click n' Ship Business Pro Program. With this, you get free downloadable desktop software that lets you pay postage via an electronic manifest file, ship domestically and internationally, and manage shipments with reporting and integration tools.
This is USPS's central hub for businesses that send out mass quantities of mail and want an effective way to track it and manage high volumes of mailers.
BCG features and tools include:
PostalOne!® system: With BCG, you can manage your invoices and postage fees, schedule deliveries, and track your mail from your dashboard.
Every Door Direct Mail: This allows you to target an area, print postage, and send mail to every house in the targeted zone.
Intelligent Mail Small Business Tool: If you ship under 250,000 pieces of mail annually, you can use this tool to do Full-Service mailing with Intelligent Mail barcodes. This means you can print a single barcode on your mail that will act as postage. The barcode also lets you sort and track letters and flats and manage individual mail pieces.
Discounts and Rewards: Get discounts for mail bundles, flats, units, and containers and earn rewards with automated mailing discounts.
Electronic Verification System (eVS®): The eVS® enables parcel mailers to submit documentation and pay postage by transmitting electronic manifest files to the eVS® database.
---
USPS offers various shipping speeds, international and domestic services, and discounts for volume and lightweight, oversized packages. Also, remember that USPS memberships are free, so all you will ever have to pay for with the USPS is your postage.
International Shipping: USPS provides international shipping with tracking. You can also print international postage at home, so USPS would still work for you even if your business works globally.
Delivery Times: USPS lets you print three different shipping labels from home: Priority Mail Express, Priority Mail, and First-Class Package Service. This means you get to choose the shipping time you offer to your customers, depending on how much you want to spend or charge your shoppers for shipping.

First-class Package Service: This program offers two- to three-day delivery for packages under 16 oz. and 22″ length x 18″ width x 15″ height. Prices start at $3.03 and depend on size, weight, and distance to travel.
Priority Mail: This program offers one- to three-day shipping with tracking. Prices start at $7.70 and depend on size, weight, and distance to travel.
Priority Mail Express: This program offers next-day to two-day delivery from any USPS location, with a money-back guarantee and tracking. Prices start at $26.39 and depend on size, weight, and distance to travel.

Volume Discounts: If your shipments meet the following volume criteria, you are eligible for a volume discount through your Click n' Ship account.

Presorted and automation First-Class Mail: 500 pieces
USPS Marketing Mail: 200 pieces or 50 lbs.
Destination entry Parcel Select Ground: 50-piece minimum per mailing
Presorted and carrier route sorted Bound Printed Matter: 300 pieces
Commercial Library Mail: 300 pieces
Commercial Media Mail: 300 pieces

Pre-calculate Postage: USPS lets you pre-calculate your postage rates online and compare different delivery method prices.
Lightweight Postage Option: USPS offers an affordable shipping option for large packages under 1 lb. through Parcel Select Lightweight shipping.
In addition to postage, you will also need shipping containers and supplies. USPS offers free priority flat-rate mail shipping supplies that you can order in limited quantities. If you are just starting out or operate a microbusiness that sends out a minimal number of orders each month, you might be able to get all your shipping supplies for free.
---
USPS also offers other features that you can utilize to streamline your shipping operations.
USPS Web Tools: USPS will provide a developer to integrate USPS Web Tools into your website or shipping operation free of charge, so you and customers can see live USPS shipping rates in your shopping cart.
Approved Shipping and Returns Consolidators: This is a service where USPS Shipping consolidators pick up packages from multiple locations and combine them into one large load that gets shipped to a local USPS facility. From there, the packages enter the local mail stream and are delivered to their final destination. This service can help you get discounts and save on postage. Just use USPS's "Find a Consolidator" tool to get started.
---
Stamps.com
Stamps.com is a USPS affiliate program that offers discounted domestic and international USPS postage rates through a Stamps.com membership. Through this, you will pay $17.99 per month for unlimited discounted shipments. While this used to mean that USPS had to be your carrier, Stamps.com now offers UPS postage as well if you need one-day or overnight shipping.
The real steal with Stamps.com, however, is its discounted USPS rates. Stamps.com gives you access to some of the most competitive prices available anywhere.
Domestic: Up to 40% off USPS and up to 66% for UPS Daily Rates
International: Up to 7% off for USPS and up to 76% off for UPS Daily Rates
Package Protection: Save up to 40% on package insurance and coverage
Best Shipping Rate Available: Stamps.com automatically selects the best USPS delivery option based on price, package size, weight, and required delivery date
With your subscription, Stamps.com also offers a great list of features that you can utilize:
Marketplace order processing: This feature allows you to import orders from across selling platforms. In other words, if someone placed an order on your website, that order and its postage would be automatically loaded onto your Stamps.com account.
Postage and user reporting: Stamps.com will track all your postage history and contact information, so you can get insights into your shipping and keep track of your customers.
Customized customer communication: You can send branded shipping notification emails through Stamps.com. This ensures that you get your customers all the information they need while never breaking with your brand voice.
Print stamps: Buy and print stamps directly onto your mail from your home printer.
Live support: Stamps.com offers live phone support so that trained experts can answer your questions without having to wait around for an email.
Live package tracking: You and your customers can view live parcel tracking, and Stamps.com will send automatic package updates to your customer at different points in its journey.
ShipStation
ShipStation is another membership-based service where you can print and manage your postage online. However, ShipStation allows you to print discounted postage for USPS, Amazon, eBay, FedEx, UPS, Magento, and DHL—it searches all these providers to find you the best rates and ship times for your orders.
Depending on the number of orders you send, ShipStation offers various membership options—starting at $9/month for 50 monthly shipments and going up to $159/month for 10,000. In addition to order volume, ShipStation's membership options also get richer in customization features as they get more expensive and allow for more users per account. Otherwise, their features are the same in each membership tier.
Speaking of features, ShipStation offers an impressive list of features through its program:
Order Management: Manage all your orders from one platform by integrating ShipStation into your storefronts. This integration allows you to track all your shipping history, keep an address book, manage all incoming orders, and track orders from multiple carriers from one platform.
Browse Shipping Rates: It finds you the lowest rates from a variety of carriers so that you can find the postage that works best for your business.
Scan to Verify: ShipStation creates a barcode label for each of your orders. Scanning these barcodes allows you to detect packing errors and confirm that the contents of every order are correct.
Branded Shipping Notifications: Send your customers custom shipping notifications at set points in their package's journey. You can even send custom SMS notifications.
Branded shipping labels: Add your logo or other branding elements to your shipping labels so that even the outside of your package aligns with your overall brand experience. This is an especially good option if you use custom boxes.
Leave a message: ShipStation sends a packing slip that lists the items inside, but you can leave a custom message or thank-you note on the slip as well.
Package tracking: It provides you and your customer real-time parcel tracking via its carrier.
Step 2: Select a Printer
To print your postage at home, you will need a printer. There are two different types of printers that you can use: inkjet and thermal. Each requires different paper and settings to make it compatible with your labels.
Inkjet Printer
You can use your standard inkjet printer to print your labels at home. To do this, begin with configuring your printer settings. If printing a PDF format, you will want to ensure that the "Fit to Scale" button is unchecked. Then, enter your advanced setting, where you can change your paper type to labels. If you do not have labels as an option, use a premium print setting instead.
Once your printer settings are ready to go, print a test page to ensure that everything is aligned correctly and your paper is facing the correct direction. From there, you are ready to print with confidence.
Inkjet printers are typically priced between $50–$200, although professional models can come in closer to $1,000. Inkjet printers come in a variety of sizes, including portable options for on-the-go operations.
Consider using a slightly higher-priced thermal printer if you print large volumes of postage for your business as you must keep in mind the ongoing price of ink.
If you don't know where to start with choosing a printer for your business, you can check out our article on the best barcode label printers.
Thermal Printer
Another tool that you can use to print your postage is a thermal printer. It does not use ink and instead uses heated pins that form pictures and characters on heat-sensitive paper—so, unlike inkjet printers, you will never need to worry about your ink level. Additionally, thermal printers use rolls of labels rather than sheets.
To print labels with a thermal printer, you will need to adjust your printer settings. First, see to it that your paper size is correct and matches your label sheets. Then, you will have to set your margins to zero and play with the scaling. Adjust your label so that it is just on the edge of the paper, leaving little space. From there, print a test sheet to ensure alignment, and you are good to go!
Thermal printers can run anywhere from $80 to $1,000, depending on the size and capacity. They also come in all shapes and sizes—even offering portable Bluetooth options for on-the-go operations.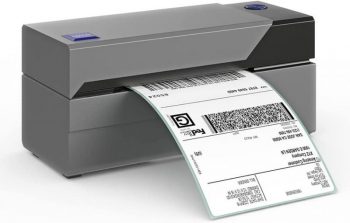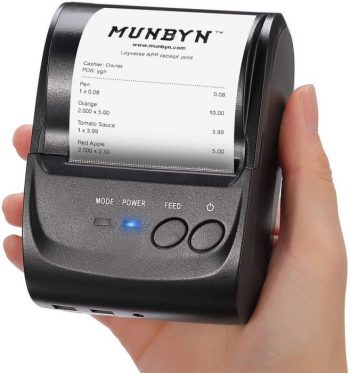 Step 3: Purchase Shipping Label Sheets
For printing labels on either printer, you will want to purchase adhesive shipping label sheets either online or at your local office supply store. Depending on the retailer you choose, you can pick your paper based on either the label size or your carrier.
For example, ULINE sells different labels specifically sized for USPS, UPS, and FedEx postage. This means that you won't have to adjust margins or mess with sizing when printing. However, if you can't find carrier-specific label paper, you can always change your printer settings to make your postage into your desired size.
When choosing your label paper, ensure that you select paper that's compatible with your specific printer. Inkjet versus portable label printers take different kinds and sizes of paper and are not interchangeable. In general, thermal printers take rolls of label paper, whereas inkjet printers use sheets, so be sure to check your specific model for compatibility. Choosing the right paper ensures that your labels will print onto your sheets correctly.
Tip: You can also use regular paper to print your postage, but you will have to cut and adhere each label, which takes time and resources.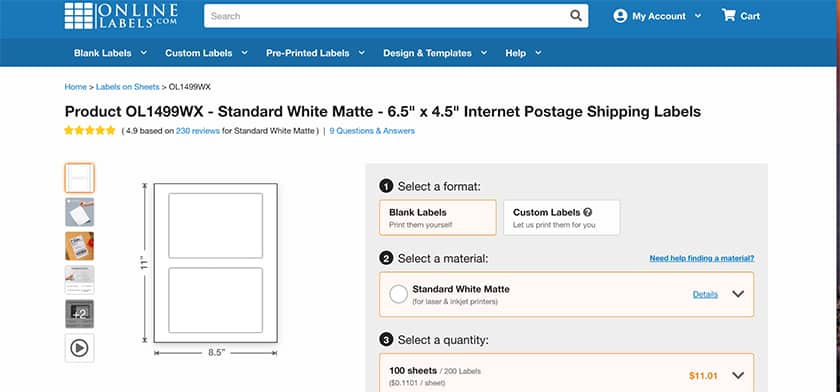 ---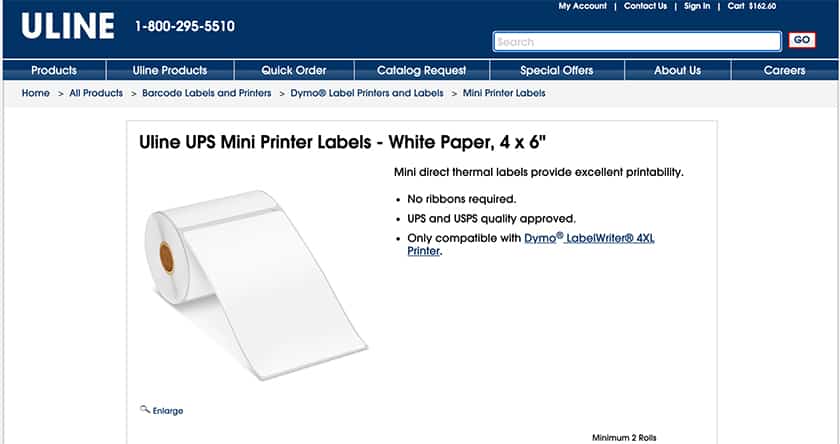 ---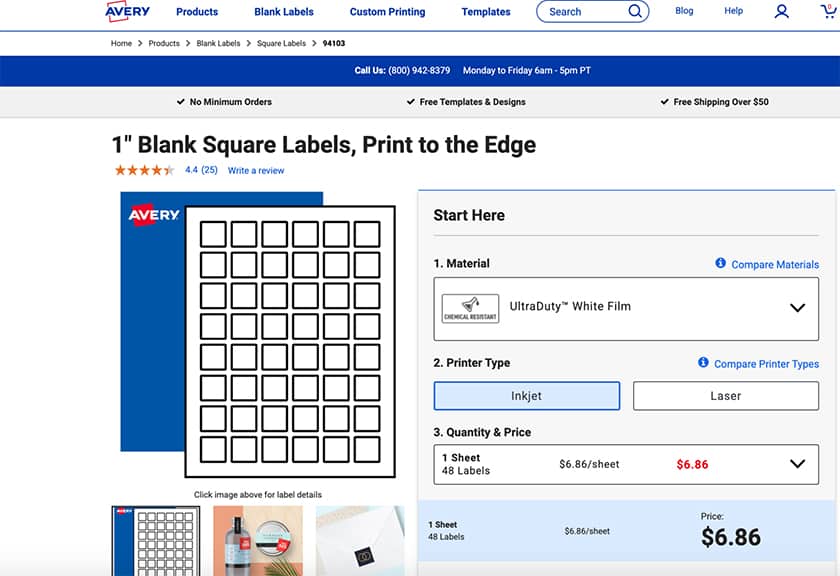 ---
Bottom Line
Purchasing your postage online and printing it at home is a great way to save yourself time and help streamline your shipping process. With this guide, you are equipped with the tools to choose the best online postage vendor and printing option for your business.
The process of getting your packages to your customers, or fulfillment, is the next step in your shipping journey. You can learn more about how to do order fulfillment with our article on order fulfillment processes and strategies.
You May Also Like…