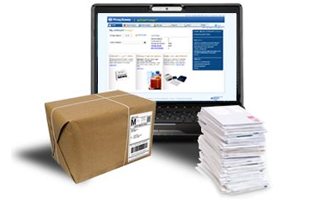 If you mail packages more than once per week, there are significant benefits to using online postage instead of going to the post office.
The USPS enables you to buy and print postage from your computer. Those that use online postage are able to receive the same discounted postal rates as companies which have postal meters, without the expense of leasing expensive hardware. In addition to getting great rates, you will no longer need to go to the post office when your company has packages to send!
Why does the post office offer discounts for buying and using online postage?
Staffing a post office is very expensive. If you have waited in line at the post office, you know that dealing with customers sending packages is time consuming. The post office wants to transfer the job of weighing packages, figuring out the cheapest sending option, and applying postage from a clerk to their customers. To encourage this, they are willing to provide discounts.
The post office offers the ability to print postage from its website. Additionally, online postage can be purchased with the exact same online discounts through a number of companies including Stamps.com, Endicia.com, and ShipStation.  We recommend using Stamps.com because of their easy to use software.  Stamps.com is much more intuitive than the post office's offering.
The Cost Savings Of Online Postage
If your company is primarily sending normal size letters, the savings is not very significant. By printing your own postage, you will be saving one cent per letter on postage. The real savings are realized when shipping packages by priority mail. In the comparison table below, we found the savings to be between 11% – 15% when using a service like stamps.com instead of mailing from the post office.
While using online postage does not save money when sending packages by standard post, it can make sending a package by priority mail similar in cost to sending by standard post. Also, if you are sending items which are heavy but relatively small (thick consumer electronics, collectibles like comic books, binded presentations), the combination of the priority mail flat rate box program and online postage can lead to big savings over even standard mail.
Savings Comparison Chart For Online Postage
Package Sent From New York City (11215) to Fort Lauderdale, FL (33345)
Description

Normal Price

Online Price

Savings

3 LB Package Standard Post
With Delivery Taking Up To 8 Days

$10.01

$10.01

0%

3 LB Package
Priority Mail
With 2 Day Delivery

$12.20

$10.72

12%

3 LB Package
Priority Mail - Small Flat Rate Box With 2 Day Delivery

$5.95

$5.25

12%

10 LB Package Standard Post
With Delivery Taking Up To 8 Days

$20.23

$20.23

0%

10 LB Package
Priority Mail
With 2 Day Delivery

$28.55

$24.33

12%

10 LB Package
Priority Mail - Large Flat Rate Box With 2 Day Delivery

$12.65

$11.30

11%
What you need to qualify for online postage?
Using online postage printing is extremely widespread and popular. Stamps.com has over 400,000 customers using its online postage product. To sign up only takes a few minutes and to encourage new customers, Stamps.com provides the following package:
$25 in free postage – $5 upfront, plus $20 during the first two months of being a paying customer.
a free scale for weighing packages – you have to pay for shipping (under $10)
free sheets for printing out stamps.
Get Free Package
Here is how online postage works:
First you weigh the package. Stamps.com provides a free 5LB pound scale.
You enter the information about the delivery into your computer, pick the shipping option you want, and use your printer to print out the label and postage. You will need "special" paper which is relatively cheap to purchase. However, any normal printer will work.
You give the packages to your mail person when they do their normal pickup and delivery for your business. If they typically do not check for packages (like you're in a large office complex with central mail), you can go online to schedule a pick up. This is completely free if you want them to come by during their normal mail pickup time, or $20 to schedule a special pickup.
To learn  more about how to save on online postage see our article "How Stamps.com Works".