6 Best Business Cellphone Plans for 2023
This article is part of a larger series on VoIP.
The best business cellphone plans support flexible and remote work, are affordable, and offer unlimited calls, texts, and data for maximum productivity. Choose a business phone plan that caters to your specific needs, whether that's mobility, mobile security, or productivity. It should also be cost-effective, reliable, and easy to use, especially when traveling.
To help you in this decision, we assessed dozens of providers to find the best phone plans for different business functions:
Best Business Cellphone Plans at a Glance
Business Cell Phone Plan Providers

Starting Price

(per Line or User)

Key Features

Free Trial

FSB Rating

$75

Unlimited talk, text, and data
Unlimited mobile hot spot
Call filter spam blocker

30 days*

4.26 out of 5

$30

Advanced call routing capabilities
Team messaging
Video meetings

14 days

4.18 out of 5

$30.95

Modern user interface
Unlimited voice and video calling
Custom third-party integrations

Seven days

4.18 out of 5

$65

5G and 5G+ access
Unlimited text to over 200 countries
High-definition (HD) and 4K video streaming

N/A

4.14 out of 5

$60

Unlimited hot spot with up to 200GB of high-speed data
International texting and data
Unlimited video and streaming

30 days

4.06 out of 5

$10

Multi-level auto attendant
Unlimited domestic calls and text messaging in the US
Google Workspace integration

N/A, Free personal plan

4.04 out of 5
Verizon: Best Overall Business Cellphone Plans

What We Liked
Video streaming up to 4K with 5G Ultra Wideband
All plans come with 4G LTE and 5G data
Up to 100GB Premium Network Access
Where It Falls Behind
Mobile hot spot speeds are reduced after the monthly data threshold is reached
Tablet pro plan discounts only available for Pro 2.0 plans
All internet plans require the use of Verizon-specific or 5G-compatible equipment
Verizon Monthly Pricing (per Line)*
Business Unlimited Start 2.0: $75 for unlimited talk, text, and data, 4G LTE and 5G data, hotspot, and call filter spam blocker
Business Unlimited Plus 2.0: $80 for 5G Ultra wideband, 100GB premium network access, 5GB premium mobile hot spot, and enhanced security
Business Unlimited Pro 2.0: $95 for unlimited premium network access, 100GB premium mobile hot spot, and 50% off on tablet pro plans
*Verizon offers auto pay and paper-free billing discounts of $5 per month, per line. Plans are available with a month-to-month or device payment agreement.
Verizon is our top business cellphone choice because of its network reliability, which is crucial for small teams with remote and hybrid employees. It offers the most extensive coverage around major metropolitan areas and those outside communities. Small businesses operating in suburban areas or those with locations in rural areas can rely on Verizon's consistent coverage and high call and network service quality.
According to an OpenSignal report, Verizon wins when it comes to 4G coverage. This level of reliability bodes well for subscribers looking at availing of its unlimited plan. While its plans are slightly more expensive than the others on this list, its unlimited mobile hot spot allows you to share data between one or more devices. Opt for its 30-day free trial to try the network's voice, data, and text services using your current smartphone and phone number.
In addition, Verizon has an intuitive device management system where users can easily manage all the different mobile devices connected to the network. Verizon offers 24/7 customer support for clients registered to business cellphone plans. Contact the service team via phone, email, and live chat, or request an in-store appointment for face-to-face support.
Verizon is excellent for businesses operating in several locations or frequent travelers on the team. Its plans come with unlimited talk, text, and data, which is helpful if you're always on the road. Unfortunately, Verizon has limited entertainment perks, which frequent travelers will appreciate. For freebies, check out T-Mobile. Ultimate users get up to two Microsoft 365 licenses with their plan.
Verizon Features
Call filter spam blocker: Avoid unwanted calls with this call filter feature that screens and automatically blocks incoming spam calls and those from unwanted numbers. You can upgrade to call filter plus with caller ID for robocall control and total spam protection.
Business Mobile Secure: This tool helps you manage and protect your devices. This feature includes Wi-Fi protection that notifies you when a device tries to connect to unsecured Wi-Fi. It protects your phone against phishing and other online risks.
Bring your own device (BYOD): Verizon allows users to keep their compatible smartphones and number when switching to the provider. Simply check your eligibility, bring your smartphone and number, and activate them with one of Verizon's unlimited business plans.
RingCentral: Best for Essential Calling Features

What We Liked
HD video and audio conferencing
Unlimited file sharing
Includes analytics for IT administrators
Where It Falls Behind
Maximum of five users for trials
Only offers long-term desk phone rentals
Extensive features can be more than what solopreneurs and small teams need
RingCentral Monthly Pricing (per User)*
Core: $30 for core phone solutions with unlimited domestic calling, messaging, and HD conferencing
Advanced: $35 for advanced phone systems with auto-call recording, call management and handling, and internet fax
Ultra: $45 for or unlimited video, whiteboards, messaging, file sharing, and file and recording storage
RingCentral is your best bet if you're looking for business cellphone plans packed with call management features, such as incoming caller identification (ID), call queues, and call recording. Whether at your desk or on the road, its calling features offer various phone number options and come with crucial tools, such as call forwarding, call flip, and enhanced business short message service (SMS). This is why it's our top-ranked VoIP for small business needs.
RingCentral provides access to enterprise-grade security features, which benefits small businesses that cannot afford to run in-house IT teams. While RingCentral is one of the best business phone systems, its features may be too much for solopreneurs. If you want a simpler system, consider Google Voice. Its free personal plan includes essential phone features, including call forwarding and unlimited calling.
RingCentral Features
Team huddle: Boost productivity and collaboration with the team huddle feature, letting colleagues hold spontaneous virtual meetings. Easily host audio and video conferences where participants can come and go as they please.
Visual voicemail: Access and manage your voicemail through RingCentral's admin portal; this feature lets you read the messages instead of listening to audio files. Users can listen, preview, delete, and forward voicemail messages.
Team coordination: RingCentral offers a centralized workspace for file sharing, project management, video conferencing, and instant messaging. You can jump from chat messages to an instant meeting with a button click.
Read our in-depth RingCentral review that outlines its VoIP capabilities, pricing, and use cases to determine if it's the right solution for your business.
Nextiva: Best for Team Collaboration & Productivity Tools

What We Liked
Supports Bring Your Own Device (BYOD)
All plans come with a free local and toll-free number
99.999% uptime service level agreement (SLA)
Where It Falls Behind
No unlimited international calling option
Does not offer vanity or international phone numbers
Limited meeting duration, up to 45 minutes per meeting only
Nextiva Monthly Pricing (per User)*
Essential: $30.95 for unlimited voice and video calling, voicemail, unlimited internet fax, and up to 1,500 minutes
Professional: $35.95 for unlimited conference calls for up to 40 participants, multi-level auto-attendant, unmetered video conferencing, and up to 3,000 minutes
Enterprise: $45.95 for unlimited participants on voice and video conferencing and video recording, voicemail transcriptions, call recording, and up to 12,500 minutes
*Pricing is based on one to four users with monthly payments. Per-user fees decrease as more users register and annual billing discounts are available.
Nextiva offers business cellphone plans with powerful productivity tools, thanks to its Cospace app. Nextiva's Cospace application is designed for team messaging and collaboration with features like video conferencing, unlimited group chat, screen sharing, and task management. Nextiva's apps let users quickly transfer calls, add contacts, and screen share during virtual meetings—all from their mobile devices.
Nextiva is also on our list of best call management software because of its generous toll-free minute allowance. Depending on your plan, users have up to 12,500 toll-free minutes that contribute to reducing long-distance call expenses. It also offers video conferencing as part of its productivity tools but has a 45-meeting limit per session. If you need to host large group meetings, consider RingCentral. Its video conferencing sessions can go up to 24 hours.
Nextiva Features
Call flow builder: Create and manage your call menus and routing rules based on your operational hours or shift schedules. An effective inbound call flow and design ensures your customers are routed efficiently, leading to better client experiences.
Team chat: Nextiva's Cospace app and team messaging tools ensure your team can communicate easily. It lets colleagues share files, thread conversations, and create rooms that work as private workspaces for multiple people.
Conversational artificial intelligence (AI): This AI feature helps manage queue callbacks, reservations, and scheduling. It determines your caller's purpose based on their responses to menu prompts and guides them toward the correct extension, menu, or information.
Explore this cloud-based service provider's capabilities before getting a subscription. Read our comprehensive Nextiva review to decide if this is the best option for your business.
AT&T: Best Business Plan for Enhanced Mobile Security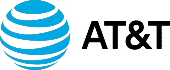 What We Liked
Has international data plans
Offers up to 100GB mobile hotspot data
Unlimited talk, text, and data within the US, Canada, and Mexico
Where It Falls Behind
Internet service quality declines due to data caps
Pricey monthly add-ons (international day pass priced at $10 per day)
Unlimited international calling has no texting inclusions
Theft alerts are not available in the free version of ActiveArmor (mobile security tool)
AT&T Monthly Pricing (per Line)*
Starter: $65 for unlimited talk, text, and data, 5G/5G+ access, 5GB mobile hot spot data, mobile security, and standard-definition video streaming
Performance: $75 for 40GB mobile hot spot data, HD 1080p video streaming, and unlimited text to over 200 countries
Elite: $85 for 100GB mobile hot spot data, HD and 4K UHD video streaming, and roaming services for Latin America
AT&T is the best business cell phone provider on this list for mobile security because all plans are equipped with ActiveArmor. This mobile security tool comes with auto fraud and spam call blocking, data breach alerts, and sends unknown calls to voicemail. Users who opt for ActiveArmor Advanced ($3.99 per month) get additional features, such as public Wi-Fi protection with VPN to protect their data on public Wi-Fi networks.
Although AT&T is one of the leading carriers in the industry with a strong 4G LTE footprint and growing 5G access, it's best for customers interested in maximizing 5G coverage in metropolitan areas. However, if you don't live in a 5G-enabled area or don't have a 5G-capable phone, you're better off with Verizon. It's higher ranked as the most reliable network in the US, with the fewest network quality issues per 100 connections.
AT&T Features
Reverse Number Lookup: This feature provides you with details on who called you when you enter a US phone number. It displays the name and address associated with phone numbers under the long-distance call details of your online bill.
Android Theft Alerts: AT&T helps locate your smartphone if and when it gets lost. Unfortunately, this feature is only available for Android devices.
Business Fast Track: This enterprise solution lets you identify business-critical apps when using mobile data. Reduce the impact of data surges and prioritize business data during network congestion or limited bandwidth.
T-Mobile: Best Plans for Unlimited Premium & Hot Spot Data

What We Liked
Full-flight texting and Wi-Fi with streaming
High data caps
Anti-scam feature
Where It Falls Behind
Most valuable features, such as 4K UHD (ultra-high definition), are locked in high-tier plans
Flat rate for international calls are more expensive than other providers
Coverage inferior to other providers, such as Verizon
T-Mobile Monthly Pricing (per Line)*
Select: $60 for unlimited call and text, unlimited 5G and 4G LTE data, 5GB of high-speed hot spot data, 50GB premium data, and scam shield
Advanced: $70 for 50GB of high-speed hot spot data, 100GB premium data, one Microsoft 365 basic license, and Apple TV+
Ultimate: $85 for 100GB of high-speed hot spot data, unlimited premium data, up to 4K UHD, scam shield premium, unlimited full-flight sessions, and unlimited text with 5GB of international data
Ultimate+ for iPhone: $95 for 200GB high-speed hot spot data, Apple Business Essentials, and AppleCare+
*Pricing is for one line with AutoPay, plus taxes and fees for the base plan. Pricing for all subscriptions, except the Business Unlimited Select plan, includes taxes and fees.
Frequent travelers or those with multiple devices will appreciate T-Mobile's unlimited hot spot feature—enabling you to connect other devices to your cellphone data even when on the go. Its base business phone plan provides 50GB of premium data and unlimited hotspots with a 5GB high-speed data cap. Higher plans have unlimited premium data, and hot spot-connected devices get unlimited 3G hotspots with up to 200GB of high-speed hotspot data.
All plan subscribers get unlimited talk and text plus 5G and 4G LTE data. This is useful for business owners and teams who need considerable bandwidth for frequent video meetings or digital collaboration. Further, T-Mobile's plans also feature unlimited text and talk in Mexico and Canada. In terms of security, its scam shield feature is great for identifying and blocking scam callers, keeping your line safe and secure.
While T-Mobile's unlimited plans come with very high-data caps and fast 4G data speed, compared to the other providers on this list, T-Mobile sits at the more expensive end of the spectrum. If you're looking for a cheap business phone plan for your business, it's worth considering Google Voice instead. It has a free personal plan with basic telephony features, such as a free virtual number and simultaneous call handling.
T-Mobile Features
Microsoft 365 access: Higher T-Mobile plans like the Advanced and Ultimate packages come with a single Microsoft Office license. This gives you access to popular productivity tools like Word, Excel, PowerPoint, and collaboration features, such as Microsoft Teams and OneDrive (1TB cloud storage).
Scam Shield Premium: With T-Mobile's enhanced call-blocking features, regain your privacy and minimize unwanted calls. Block robocalls and spam messages and identify unknown numbers. Unfortunately, this is only available for the Ultimate plan.
Internet on board: Remote workers and frequent travelers enjoy T-Mobile's in-flight Wi-Fi with streaming on Alaska Airlines and select American, Delta, and United flights. Simply enable Wi-Fi Calling on your phone, connect to the airline's Wi-Fi network, and enter your phone number on the Gogo inflight page, and you're good to go.
Google Voice: Best Simple & Straightforward Phone System

What We Liked
Offers spam filtering
Low-cost, entry-level plan
Comes with call transfer and call forwarding
Where It Falls Behind
Productivity features are not built-in, but through other Google Workspace applications
No team messaging feature
Global coverage is limited to 14 countries
Google Voice Monthly Pricing
Personal use: Free for one user, one phone number, call forwarding, voicemail transcription, and mobile app
Starter: $10 for 10 users, unlimited domestic calls and texts, voicemail transcription, call forwarding, and usage and activity reporting
Standard: $20 for unlimited users, multi-level auto-attendant, ring group, and on-demand call recording
Premier: $30 for unlimited international locations, advanced reporting, and automatic call recording
Google Voice offers the best phone plans for a business looking for simple and affordable packages. It's a suitable option for budget-conscious businesses looking for basic phone management features like SMS, voicemail, and unlimited domestic calling. Google Voice is great because it seamlessly integrates with Google Workspace apps like Google Calendar and Gmail and offers video conferencing access through Google Meet.
Google Voice offers a free business phone number without a monthly subscription. It is an excellent solution for professionals needing a virtual phone number to separate their business and personal calls. It's best for small to medium-sized businesses already using the Google Workspace ecosystem.
However, if a growing business needs advanced calling and call management phone solutions, consider Nextiva or RingCentral. These VoIP providers are on our list of the best VoIP apps for small businesses. Both offer a free phone number, toll-free minutes, business and team messaging, and video conferencing.
Google Voice Features
Usage and Activity Reporting: This feature includes all Google Voice plans and monitors employees' call activity. It also helps generate key insights regarding your operations. Voice Audit Logs include the event name, date, destination, and source. Add filters to export information, display required data, and create email notifications of filtered reports.
Call recording: Document essential conversations and use agent call recordings to evaluate staff performance and identify areas of improvement and best practices. This helps minimize miscommunications and reduces the risk of legal disputes.
Multi-level auto-attendant: Improve your customer's call journey with automated menus that guide callers to the right people or departments. You can create multiple submenus depending on how you want to handle specific calls.
Our comprehensive Google Voice review is used as a guide by small businesses when deciding if Google Voice suits their teams' needs.
How We Evaluated the Best Business Cellphone Plans
To assess the best business cellphone plans, we considered pricing, general and advanced features, ease of use, and customer support. We added our expert opinion on its value for money and popularity in the evaluation.
Learn how we evaluated the best business cellphone plans by clicking on the tabs below:
20% of Overall Score
To determine the affordability of a business cell phone service, we checked if it offers a monthly subscription and discounts for annual billing and bulk purchases. Providers with free trials earned more points.
25% of Overall Score
The general features we looked at were unlimited calling, call forwarding, and call routing. Since businesses want to maximize productivity, we looked at each provider's available third-party integrations.
20% of Overall Score
The best business cellphone plans offer useful security and productivity features, such as spam blockers and international calls. We focused on providers that offer niche features like in-flight texting and video meeting capabilities.
10% of Overall Score
We evaluated ease of use by determining the expertise required to set up and operate the phone system. We took time to test each provider's web interface and applications to determine if providers have an intuitive design.
10% of Overall Score
The variety of customer communication channels is part of our evaluation. Higher points are given to providers with email, phone, and live chat support. We also considered the hours these channels are active and operational.
15% of Overall Score
Our expert score is based on the results of our review of different plans, customer feedback, and comparing providers against similar platforms. We also relied on verified reviews to see what customers had to say about its features, ease of use, cost-effectiveness, and popularity.
*Percentages of overall score
Frequently Asked Questions (FAQs)
Cellphone packages vary per provider, but on average, they cost between $30 and $80 per user, monthly. Most providers offer volume-based discounts where the per-user price lowers as you add more users.
---
The major difference between a prepaid and a postpaid plan is billing. Postpaid plans come with a monthly bill, while prepaid plans are paid upfront. Generally, prepaid plans are cheaper because they are often bare-bones plans with no extra features. If you're on a budget and don't need niche features, you're better off with a prepaid plan. Postpaid plans are ideal if you want the convenience of not worrying that you'll run out of credits but always monitoring your usage.
---
Most experts have reported that the top cellphones for 2023 are the iPhone 14 Pro Max, Samsung Galaxy S23 Ultra, and the Google Pixel 7 Pro. These devices are their brands' flagship cellphones, thus offering top-of-the-line capabilities. These three common features include a sizable screen, excellent battery life, fast processors, and capable cameras.
---
Bottom Line
Business cellphone plans vary greatly, and the choice of which cell phone plan is based on your phone habits, your existing business system, travel, and location. The best providers offer affordable packages, unlimited calling, and essential features like call forwarding and call routing. They should be reliable, offer robust mobile security, and have different phone devices to choose from.
Our evaluation shows Verizon is the best business cell phone provider with extensive nationwide coverage. It offers several subscription packages allowing small to large businesses to choose a plan that works best for their company. Check out Verizon's website and choose a plan today.