A business cell phone plan can be a number that forwards business calls to a personal phone, an app extending office phone functionality, or a traditional device and carrier solution. To determine the best, we considered several options based on cost, features, and overall benefits to arrive at the top six plans for small businesses.
Top 6 Business Cell Phone Plans 2020
| Business Cell Phone PlansBest For | Best For |
| --- | --- |
| | (Best Overall) Businesses that want a robust VoIP phone service with mobile phone functionality |
| | Solopreneurs wanting a no-frills mobile business number for use on a personal phone |
| | Businesses that want a free VPN included with their plan |
| | Organizations that want the flexibility to choose from a wide range of supported phones |
| | Companies that want a business cell phone with affordable international calling |
| | Teams that share devices and want access to multiple lines on a single phone |
How We Evaluated Mobile Business Phone Plans
Business cell phone plans are offered by traditional wireless carriers as well as voice-over-internet-protocol (VoIP) service and virtual phone providers. The latter two options give people a way to place and accept business calls without the need for another handheld device, making them great options for businesses with bring-your-own-device policies. However, the service still needs to be affordable, reliable, and of the highest quality to be considered a good option.
The criteria we used to evaluate the best include:
Pricing: Business cell phone plans should be affordable enough for most small businesses.
Hardware choices: A good business phone plan should offer business owners or their staff a wide range of smartphone choices, or allow you to bring-your-own-device (BYOD).
Data allotments: Business plans should be generous with the amount of data they offer users; however, unlimited is best.
Mobile hot spot: We checked to see if a plan offered the ability to use your phone as a wireless hot spot via tethering to a laptop or tablet.
Security measures: Cell phone plans for businesses should offer virtual private networks (VPNs), encryption, and other measures to keep your organization's information secure.
International features: We compared each plan's ability to make and receive calls and texts outside of the U.S.
Customer service: The help offered by a provider in case an issue arises was considered as part of our evaluation.
Network coverage and reliability: The sound quality, data speeds, coverage, and overall dependability of a carrier.
After researching the options, we determined RingCentral is the best choice for small businesses. While it is not a traditional cell phone service, it's a complete business phone system with a mobile app that extends office phone numbers to mobile devices while also doing things like integrating phone data with business applications. Best of all, it comes at a fraction of the cost of the major wireless carriers.
RingCentral: Best Overall Business Cell Phone Plan

RingCentral is a highly rated VoIP service starting at $24.99 per user, per month. It offers mobile functionality at all tiers, giving businesses a more affordable and all-in-one choice than signing up for a wireless plan and dealing with the cost of both desk and mobile numbers. It also offers functions like chat and video conferencing. If you're looking for a complete business phone system to power desk and mobile phones, this is the one for you. Additionally, for all healthcare providers, schools (K-12), and non-profit organizations who have been impacted by COVID-19, Ringcentral is offering free access to their Ringcentral Office suite for new customers.
RingCentral Pricing
RingCentral pricing plans are divided into three tiers ranging from $24.99 to $49.99 per user, per month, including mobile access to robust features found in their complete business phone system. However, as RingCentral does not provide mobile hardware, the use of the mobile app does require users to have a separate contract for devices.
RingCentral Tiered Features
| | Office Standard | Office Premium | Office Ultimate |
| --- | --- | --- | --- |
| Pricing | $24.99 per user, per month* | $34.99 per user, per month* | $49.99 per user, per month* |
| International Calling | Available for an additional fee | Available for an additional fee | Available for an additional fee |
| Toll-free Minutes | 1,000 | 2,500 | 10,000 |
| Unlimited Calls | ✔ | ✔ | ✔ |
| Unlimited SMS | ✔ | ✔ | ✔ |
| Mobile Apps | ✔ | ✔ | ✔ |
| Multi-level Auto-attendant | ✔ | ✔ | ✔ |
| Internet Fax | ✔ | ✔ | ✔ |
| Call Logs & Reports | ✔ | ✔ | ✔ |
| Automatic Call Recording | N/A | ✔ | ✔ |
| Salesforce Integration | N/A | ✔ | ✔ |
| Voicemail-to-Text Transcription | N/A | ✔ | ✔ |
*Pricing is on an annual basis
Office Standard
The Standard version of this small business phone system offers a virtual receptionist, internet faxing, and call logs that you can access via the mobile app. It starts at just $24.99 a month, but this per-user rate goes down when the number of users signed up for service increases. In this way, RingCentral is similar to how wireless providers price their plans.
However, none of the major traditional cell carriers offers a virtual attendant with their plans, and if you want virtual faxing or instant messaging on your traditional cell phone plan, you and the rest of your team will have to download third-party apps. Therefore, if you want to guide callers through a voice menu or send faxes, RingCentral standard is a perfect option.
Office Premium
The Premium plan is RingCentral's best-selling package and allows for conference calls of up to 100 users. It also offers automatic calling and integration with popular CRM systems like Zendesk and Salesforce at a starting price of $34.99 per user, per month.
Usually, your sales team has no way of connecting their traditional wireless phone data with their office's customer relationship management (CRM) platform unless you buy a separate app capable of bridging the two services. Being able to have contact information automatically added to those CRMs is immensely beneficial, and the Premium version is a great fit for sales teams seeking mobile-to-CRM integrations.
Office Ultimate
There are only two key differences between the Ultimate and Premium versions. You get up to 10,000 toll-free minutes per month as opposed to the 2,500 included with the Premium tier. RingCentral Ultimate also supports up to 200 users in conference calls at a starting price of $49.99 per user, per month.
This version is meant for larger companies, but it's still cheaper per employee than most of the unlimited small business plans. RingCentral also allows you to buy international numbers for an additional fee, so you can have a professional phone presence in multiple countries. This simply isn't possible with the traditional carriers.
What RingCentral Is Missing
For the vast majority of businesses, having employees log in to a mobile app on their personal device will take care of all of their business needs. With that said, RingCentral is not a wireless service provider, so they don't offer cell phones with any plans and rely on existing infrastructure for data coverage. If you really want your staff to have a separate work phone you provide and maintain as part of your plan, then you're better off with AT&T, Verizon, Sprint, or T-Mobile.
What Users Think About RingCentral
Customers find RingCentral to be extremely easy to use and effective in handling their day-to-day telephony needs. The volume discounts available for adding more users also make the solution even cheaper than their mobile counterparts. For more impressions, check out our RingCentral customer reviews page.
Grasshopper: Best No-frills Business Cell Phone Number for Solopreneurs

Grasshopper is not a wireless service provider in the traditional sense. Instead, it is known as a virtual phone service. It essentially gives your business unique numbers and extensions that can be used via an employee's personal device with a desktop or mobile app. Grasshopper is ideal for solopreneurs and very small teams that are looking for a professional phone number they can use on their personal devices regardless of cell phone carrier.
Grasshopper Pricing
Grasshopper has simple pricing. Solo ($26 per month) gives you one number and three extensions, Partner ($44 per month) comes with three numbers and six extensions, and Small Business ($80 per month) boasts five numbers and unlimited extensions. All tiers of service are priced on an annual basis and have the same features.
Grasshopper Features
Grasshopper boasts all the basic phone features you'd want, like unlimited domestic calling and texting, call routing, voicemail, and conferencing, which is why we also rate it highly as one of the best overall business phone services. Download the app onto your smartphone, and you basically have your work phone and your personal phone on one device.
Some of Grasshopper's features include:
Unlimited Domestic Calling & Text
Just like plans from Verizon, T-Mobile, AT&T, and Sprint, Grasshopper offers unlimited calling and texting within the U.S. However, it doesn't offer unlimited calling in Canada and Mexico like T-Mobile does, but it's also much cheaper than going with a traditional wireless carrier. If you don't plan on working from other places in North America, Grasshopper will meet your basic telephony needs.
Phone Numbers
When you add a new number in Grasshopper, you have the choice to either get a new local phone number or a toll-free number. Having a 1-800 or 1-888 number that your customers can call can make your company look more professional, but there is no way to make a mobile number toll-free with the major U.S. carriers. RingCentral, in contrast, offers toll-free numbers, but they cost extra.
Integrations
Grasshopper allows you to connect your phone data to outside business apps. With Zapier connectivity, you can configure your own integrations and connect Grasshopper with more than 1,000 different apps. There is no way to connect your AT&T, Sprint, or other mainstream carrier phone service data with most other software without buying extra applications.
What Grasshopper Is Missing
Grasshopper does not offer instant messaging or video conferencing like RingCentral does. This makes it harder to recommend as an all-in-one communications tool for your company. It also relies on existing cell phone infrastructure. Therefore, if you want a conventional service and coverage plan, then you'll want to consider the major carrier plans.
What Users Think About Grasshopper
Our readers give Grasshopper a 2.9 out of a possible 5-star rating. Customers find the service to be extremely easy to use and reliable. There are some complaints about customer service response times, but users are ultimately satisfied with the platform. To see more reviews, visit our Grasshopper user review page.
AT&T: Best Business Cell Phone Plan With Free VPN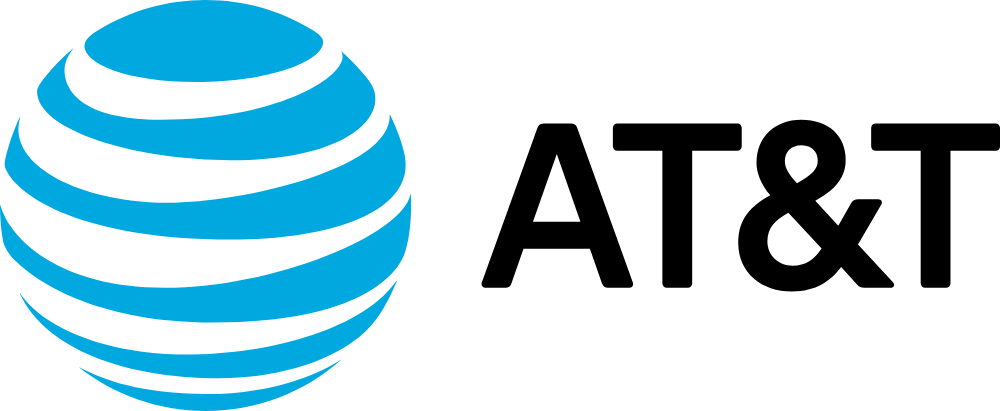 AT&T is nearly equal with Verizon as the most popular wireless carrier in the United States. Its least expensive option at $50 per line forces you to share data with your teammates, but all tiers of service come with free domestic roaming, unlimited talk and text, and free texting outside of the U.S. It offers a free virtual private network (VPN) with its unlimited plan, making it the best traditional business phone plan for companies that place importance on privacy.
AT&T Pricing
AT&T offers shared and unlimited plans. The Mobile Share has a low starting price of $50 per line, but most teams will want to look at the Business Unlimited plans for unlimited data. Prices for Business Unlimited plans range from $70 to $90 per line. This puts it in line with other carriers.
AT&T Tiered Features
| | Mobile Share | Business Unlimited Starter | Business Unlimited Performance | Business Unlimited Elite |
| --- | --- | --- | --- | --- |
| Starting Price per Line | $50 | $60 | $75 | $85 |
| Monthly Data | 3-120GB (shared) | Unlimited | Unlimited | Unlimited |
| International Calling | Unlimited in Mexico and Canada; priced per minute elsewhere | Unlimited in Mexico and Canada; priced per minute elsewhere | Unlimited in Mexico and Canada; priced per minute elsewhere | Unlimited in Mexico and Canada; priced per minute elsewhere |
| Data Slowdown Cap | N/A | When network is busy | After 50GB, monthly | Never |
| Video Streaming | N/A | Unlimited | Unlimited | Unlimited |
| Unlimited International Texting | ✔ | ✔ | ✔ | ✔ |
| Unlimited Domestic Calling and Text | ✔ | ✔ | ✔ | ✔ |
| Free Domestic Roaming | ✔ | ✔ | ✔ | ✔ |
| Private Wi-Fi | N/A | ✔ | ✔ | ✔ |
| AT&T Business Fast Track | N/A | N/A | N/A | ✔ |
Mobile Share
AT&T's Mobile Share Plan is its cheapest tier of business service and starts at just $50 per line, but it is fairly basic. Data is shared among all the lines in your plan. While the starting data pool is 3GB, you and your team can share up to 120GB depending on what plan you choose. Another nice bonus of this tier of service is that you will not suffer data overage fees because AT&T will simply cut off your data once you reach your cap.
This low-tier option is far more expensive than Sprint's entry-level plan, which offers almost all of the same features except for free domestic roaming. This means that you can make calls on networks outside of AT&T's coverage without paying any additional fees. Still, the Mobile Share Advantage plan is a great cell phone option for companies that only need talk and text.
Business Unlimited Starter
AT&T's Business Unlimited Starter plan gives your employees the ability to use business apps on their smartphones in addition to talk and text. This plan starts at $60 per line and comes with unlimited data at LTE speeds so you can browse the web and run apps without worrying about running out of data. However, your wireless data speeds will slow down when the network is busy.
In addition, the Business Unlimited Basic includes the Private Wi-Fi feature, which gives you a VPN when you connect to an unencrypted Wi-Fi network at public places like at a coffee shop or airport. Protecting your company's data is important, and AT&T is the only provider we looked at that offers a VPN in all unlimited plans. It's a great option for any small business that handles sensitive information and wants to keep it safe.
Business Unlimited Performance
For $80 per line, the Business Unlimited performance plan comes with unlimited data. Not only that, but each plan will allow you to have the fastest possible speeds afforded by the network for up to 50GB. After that, your speeds will slow down for the remainder of the month. This is good if your team uses a moderate amount of wireless data.
If you want unlimited data with no restrictions on speeds, you will have to upgrade to the Business Unlimited Elite plan. This is also one of the more expensive intermediate packages we looked at. Still, no other provider offers free Private Wi-Fi, which makes Business Unlimited Performance the perfect fit for security-conscious companies that are fine with having slower internet after 50GB.
Business Unlimited Elite
There are two key differences between the Business Unlimited Plus and Elite plans. The first is that there are no speed limitations placed on your unlimited plan; you will not experience any slowdown after 50GB like with the Performance plan. Not only that, but you also get what AT&T calls its Business Fast Track feature. This means that, if you are in a spot where there is a lot of activity, the transmission of your data will take priority over other business and personal users.
With a starting price of $85 per line, this tier has the highest starting price out of any cell phone plan we looked at. However, if you want Private Wi-Fi and you need to use email, your web browser, and other apps often, then it could be well worth the investment. It's an attractive choice, especially for remote teams that are constantly using data-heavy apps like Zoom and Dropbox.
What AT&T Is Missing
The unlimited data in AT&T's Business Unlimited plans does not extend to hot spot data. It's also worth noting that they have a higher starting price per line than the competition. Therefore, unless Private Wi-Fi is important to you, you might want to consider options from Verizon, which are far less expensive.
What Users Think About AT&T
There are some complaints about the lack of unlimited hot spot data for AT&T's business plans. Customers are also dissatisfied with the company's premium pricing. Still, businesses are happy with the wireless plans available from AT&T. They find coverage to be reliable, and features like Private Wi-Fi are appreciated.
Verizon: Best Business Cell Phone Plan for Available Handset Selection

Verizon is America's most popular wireless carrier in terms of active users, with plans starting at $175 per month for 25 lines. It also has the widest range of available phones out of any company we looked at. This makes Verizon a great choice for companies that want to give staff the ability to choose from nearly 100 iPhones and Android devices supported by a reliable business cell phone service.
Verizon Pricing
Verizon offers both a shared plan and a competitively priced unlimited plan for businesses. The shared Plan for Business has a high starting price at $175 per month, but it is meant for larger teams. The Business Unlimited plan is more flexible in terms of the number of lines, however, at $35 per line.
Verizon Tiered Features
| | Plan for Business | Business Unlimited |
| --- | --- | --- |
| Starting Price | $175 for up to 25 lines | $35 per line |
| Monthly Data | 35-200GB | Unlimited |
| Device Options | 100 and growing, with options for iPhones, Android handsets, and tablets | 100 and growing, with options for iPhones, Android handsets, and tablets |
| International Calling | Per-minute, with unlimited packages available | Per-minute, with unlimited packages available |
| Line Restriction | 25-line limit | 4-line minimum |
| Unlimited Calling and Text in Mexico and Canada | ✔ | ✔ |
| Unlimited International Texting | ✔ | ✔ |
| Unlimited Domestic Calling and Text | ✔ | ✔ |
| Unlimited Mobile Hot Spot | N/A | ✔ |
Plan for Business
Verizon's Plan for Business starts at $175 per month, but that high price is somewhat easier to swallow by the fact that it can be shared by up to 25 lines. Your monthly data, which can be anywhere from 35GB to 200GB, is shared among all users in your plan. All plans come with unlimited domestic calling and text, as well as unlimited international texting, which can then be used with any one of over 100 mobile devices.
If you have a large enough team, the Verizon Plan for Business could be an ideal choice for companies that mainly plan on making domestic calls and texts. Bear in mind, however, that you'll also have to pay a monthly fee for each phone on your plan. Therefore, smaller teams will want to look at AT&T's Mobile Share Advantage plan.
Business Unlimited
As its name implies, Verizon's Business Unlimited package includes unlimited data for all users on your plan and costs $35 per line. You have to have at least four lines signed up, but with that, you get infinite mobile hot spot usage for when your employees want to use the mobile network to connect their laptops.
Verizon Business Unlimited has a lower starting price per line than AT&T, but it does not offer a free virtual private network (VPN) to protect company data when devices are connected to an unencrypted Wi-Fi network. As such, Business Unlimited is best suited for companies that already have a mobile VPN in place that they can add to company devices.
What Verizon Is Missing
Verizon forces you to sign up for at least four lines. If you are looking to save money, Sprint offers a shared plan starting at just $17 per line for two lines. It might be a better fit for smaller teams on a budget.
What Users Think About Verizon
Verizon offers almost 100 different phones with its business plans, and users enjoy being able to pick and choose the right phones for their needs. Several of those phones even come at no cost when you sign up. Verizon often tops lists of the best coverage in the U.S., so it's a no-brainer for companies that want to minimize bad reception, no matter where they are located.
Sprint: Best Cell Phone Carrier for International Calling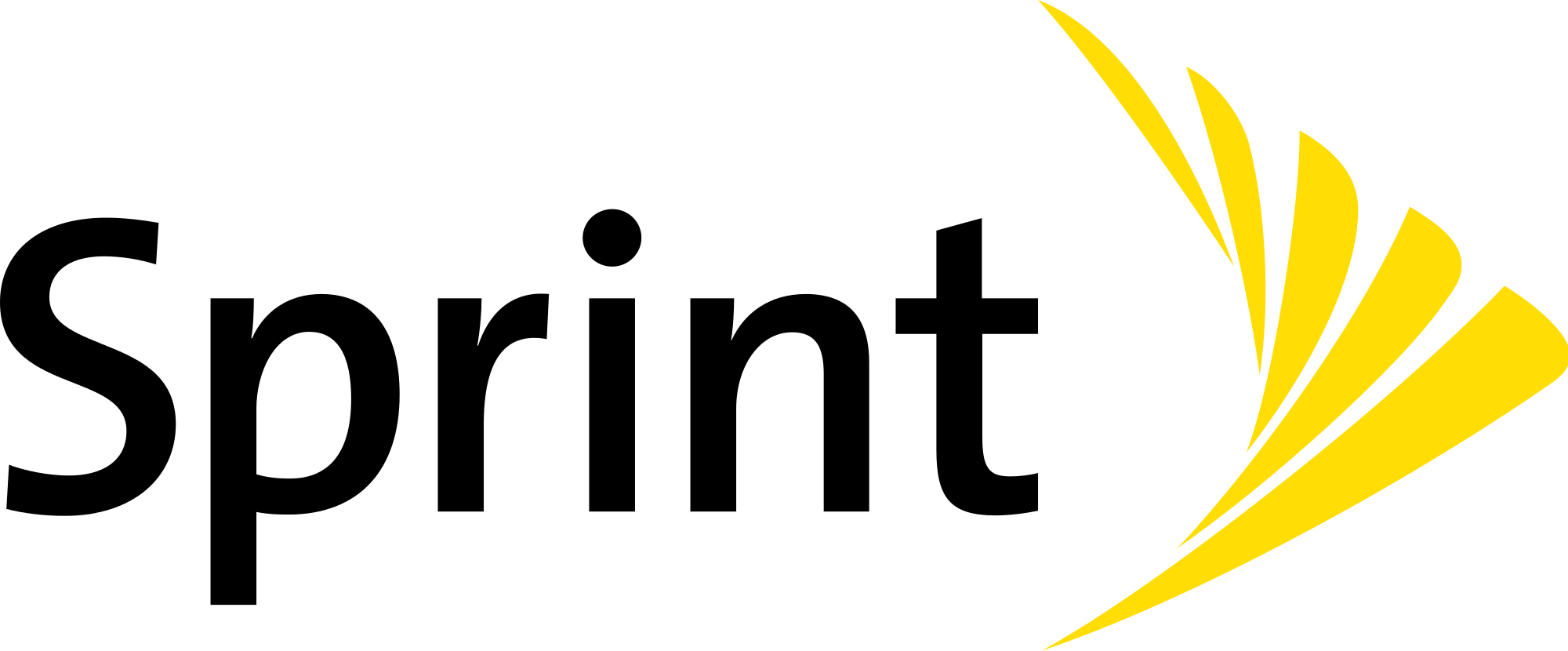 Sprint is an affordable cell phone carrier offering basic phone features like call forwarding, conferencing, and wireless data. Plans are available starting at $17 per line. Sprint also offers its International Connect plan free for six months, which includes unlimited calling for 70 different countries and only costs $15 per month after that. This makes Sprint a good option for businesses that need to make international calls on their mobile phones.
Sprint Pricing
Like the other major carriers, business plans come in shared and unlimited varieties. At $17 per line, Sprint boasts an extremely low starting price per line for basic phone needs, as well as affordable prices for its unlimited plans that range between $60 and $65 per line.
Sprint Tiered Features
| | Shared | Unlimited Basic | Unlimited Premium |
| --- | --- | --- | --- |
| Starting Price per Line | $17 | $60 | $70 |
| Line Restriction | None | 10-line limit | None |
| Monthly Data | 2-4GB | Unlimited | Unlimited |
| Mobile Hot Spot | Not included | 500MB | 100GB |
| Sprint International Connect Free for Six Months | ✔ | ✔ | ✔ |
| Unlimited Domestic Calling and Text | ✔ | ✔ | ✔ |
| Unlimited Calling and Text in Mexico and Canada | N/A | ✔ | ✔ |
| VPN | N/A | ✔ | ✔ |
| Free Shipping With Amazon Prime | N/A | N/A | ✔ |
Shared
With a starting price of just $17 per line, the Shared plan is all about affordability. You can add as few or as many lines to this plan as you want, and you can choose to share a data pool between 2GB and 4GB for your team. Like all of the other major plans we looked at, you get unlimited talk and text domestically. You can also sign up for Sprint's International Connect program for unlimited calling to 70 countries.
While this is a very affordable plan, it's worth noting that Sprint does not offer nearly as much data as similar packages offered by Verizon, which allows you to upgrade your shared plan to a whopping 120GB of data. As such, the Sprint Shared plan is better for companies with minimal data needs that just want to call and text each other.
Unlimited Basic
Unlimited Basic offers unlimited 4G LTE data for $60 per line, per month, so your staff can use their favorite work apps and you don't need to worry about data caps. It also comes with 500MB of mobile hot spot tethering per line. You can only have 10 lines on this plan. Those who need more lines will need to sign up for the Unlimited Plus tier of service.
It comes with a VPN similar to what AT&T offers, but it lacks the data capabilities compared to AT&T, as it gives you top speeds of up to 50GB. However, Sprint's Unlimited Basic Plan is best for teams that don't travel often and will almost always have access to a wireless network for their laptops and tablets.
Unlimited Premium
Unlimited Plus costs $70 per line and offers 100GB of mobile hot spot use for every line signed up. It also has no restrictions as to how many lines you can have on this plan. For the extra money, you also get Amazon Prime, which grants you free two-day shipping on most items. This can be especially helpful if you order many office items online.
Unlimited plans from AT&T and Sprint are the only plans in our roundup that offer a free VPN. Your company phones are used to send and receive sensitive information on a daily basis. Businesses that want an affordable plan that comes standard with a VPN should consider the Unlimited Plus plan.
What Sprint Is Missing
Sprint only comes with native support for using one number on a handset. This will probably be fine for most users, but it could be a hindrance to those who want to port a personal number into their work phone and use both lines. For those people, we suggest looking at T-Mobile, which offers multinumber support on every handset.
What Users Think About Sprint
Customers find everyday use on Sprint's network to be fine, if not as good as the ubiquitous coverage offered by T-Mobile and Verizon. With that in mind, many users have found Sprint's customer service to be lacking, as they say representatives can be slow in answering requests for help.
T-Mobile: Best Business Cell Phone Plan With Multinumber Support

T-Mobile is a wireless carrier known for not having contracts on any of its plans. T-Mobile offers two solid shared and unlimited business plans. T-Mobile, which starts at $50, also offers the DIGITS feature, which allows you to use up to five numbers on one device or have one number that rings on multiple phones. This makes it a good option for groups of business users who use shared devices as well as for those who don't want to be tied to a cell phone contract.
T-Mobile Pricing
T-Mobile has shared limited data plans as well as an unlimited plan ranging in price from $50 for a single line to $120 for two. Additional virtual numbers, or DIGITS lines, can be added for an extra $10 per month. While this pricing is higher than the competition, there are no contracts.
T-Mobile Tiered Features
| | Simple Choice for Business | Magenta for Business |
| --- | --- | --- |
| Starting Price per Line | $50 | $60 |
| Line Restriction | none | 2-line minimum |
| Monthly Data | 2-10GB | Unlimited |
| Mobile Hot Spot | none | Unlimited |
| International Calling | Unlimited in Mexico and Canada; priced per minute elsewhere | Unlimited in Mexico and Canada; priced per minute elsewhere |
| Unlimited Domestic Calling and Text | ✔ | ✔ |
| Unlimited International Texting and Data | N/A | ✔ |
| DIGITS | N/A | ✔ |
| Gogo Inflight Texting and Data | N/A | ✔ |
Simple Choice for Business
The Simple Choice for Business plan starts at $50 per line for one line, but you can add as many lines as you want. Your team has the option of sharing anywhere from 2GB to 10GB each month and can make as many calls and send as many texts as you like in the U.S., Mexico, and Canada.
T-Mobile offers far more data in its shared plan than Sprint, though you do not get any free period for calling to other countries outside of North America. However, the Simple Choice for Business Plan does come standard with unlimited calling and text in Mexico and Canada, which is a benefit only offered by Verizon as part of their shared data plan.
Magenta for Business
T-Mobile's Magenta for Business plan is its unlimited option, which starts at $120 for two lines. This is more expensive than the other plans we compared, but you get unlimited mobile hot spot usage as well as DIGITS, a unique T-Mobile feature that allows you to use several numbers on a single phone and even send and receive calls from a computer. You also get one free hour a day of in-flight texting and data on planes equipped with the Gogo online service.
In addition to offering affordable pricing and unlimited mobile hot spot use, T-Mobile offers something truly unique in the case of DIGITS and its Gogo partnership. DIGITS allows you to take your phone number anywhere with you on a tablet or computer, which makes it a great option for just about any business user, but especially for teams that share devices.
What T-Mobile Is Missing
Neither of T-Mobile's business plans comes with a free virtual private network (VPN). If you want one to come with your plan, you should look into AT&T's Unlimited options or the Unlimited Plus plan from Sprint. You should also look at Sprint if you want six months of free international calls across all seven continents.
What Users Think About T-Mobile
Out of all the other wireless providers, T-Mobile had the highest-rated customer service. Customers are very happy with the company's response times and ability to handle problems. One criticism is that while the reception is great in cities, users in less populated areas report running into dead zones often.
Frequently Asked Questions (FAQ)
Can I bring my own device to a wireless plan?
Yes. All carrier plans allow you to use phones you already have. Representatives from the wireless carrier should be able to help you activate your phones to work with your new number. You can also lease new phones at an extra cost. VoIP and virtual phone service providers allow you to use their mobile app on any smartphone as well.
Are there volume discounts available for wireless plans?
Yes. Prices per line for wireless plans decrease for each line you add to the plan, and there are also discounts for military veterans. Sales representatives will inform you of any applicable discounts when you are deciding on a plan.
Are there any other discounts I can receive?
Wireless sales representatives have a certain amount of agency when setting prices for new business phone plans. The prices listed in this article could change for any reason. When speaking with a sales representative, be sure to ask about any current promotions going on that might not be advertised by the vendor.
Bottom Line
For many years, getting a "business cell phone plan" entailed subscribing to a plan from a major carrier and getting a cell phone for each employee. While those options are still available, advancements in technology have paved the way for VoIP and virtual phone services to let businesses take their work phones anywhere while also giving them the ability to pick the device and data plan that works best for their needs.
For most small businesses, it's hard to make the case of investing in an expensive conventional cell phone plan when RingCentral offers users more features at a much lower price and doesn't require the purchase of any additional hardware. Unless you really need your employees to have company-provided cell phones, RingCentral is the most logical choice. RingCentral even offers a free trial. Check it out by clicking below.