Business cell phone plans can refer to the traditional device and carrier combination offered by cellular service providers, however, the term can also apply to mobile apps that extend the functionality of an office's phone system to personal smartphones for organizations that prefer the flexibility of a bring your own device (BYOD) policy. Therefore, to determine the best options, we considered both definitions and evaluated plans based on price, features, and usability for small businesses.

| Business Cell Phone Plans | Best For |
| --- | --- |
| | (Best Overall) Teams that want a powerful VoIP system with mobile app functionality |
| | Small companies wanting a streamlined virtual service for use on a personal device |
| | Businesses that want a standard cell phone plan with a free VPN |
| | Organizations that want a wide range of smartphones to choose from |
| | Teams that share devices and need access to multiple lines on a single smartphone |
| | Solo workers and freelancers who want a free dedicated business line |
How We Evaluated Mobile Business Phone Plans & Services
Business cell phone plans should make it easy to make and receive work calls on an iOS or Android device. This can be done either by downloading and using the mobile app provided by the office's business phone system on a personal cell phone, or by signing up for dedicated cellular service from a major wireless carrier. In any case, systems should be affordable, intuitive, and have standard features like calling, texting, and voicemail. Advanced features include automated attendants, video calling, and desktop apps.
We evaluated business cell phone plans based on the following.
Pricing
Hardware choices
Data allotments
Mobile hotspot
Security measures
International features
Customer service
Network coverage and reliability
Based on the above, we find that RingCentral is the best option for most small businesses. This voice-over-internet-protocol (VoIP) platform can work on both desktop and on mobile devices via an app. Small business workers can install the app on their personal devices and effectively have a work phone with them regardless of their location. This provides a huge cost savings over subscribing to a service plan from a wireless carrier.
RingCentral: Best Overall Business Cell Phone Plan

What it is: RingCentral is one of the best small business phone systems, with a mobile app designed for business users and plans starting as low as $19.99 per user, per month on an annual basis for two to 20 users.
Why it is great for businesses: RingCentral is a software-based system that can be used on a desktop computer, tablet, or smartphone. Not only is it more affordable than most traditional cell phone plans, but it also comes with powerful features such as video conferencing and team chat.

| RingCentral Strengths | RingCentral Weaknesses |
| --- | --- |
| Can be used on phones, tablets, and computers | Can be overkill for smaller teams |
| More affordable than traditional carriers | Certain features locked behind more expensive packages |
| Standard video conferencing for up to 200 people | Requires staff to use their personal devices |
RingCentral Pricing
Essentials: $19.99 per user, per month for up to 20 users, unlimited calling, and unlimited texting*
Standard: $24.99 per user, per month with unlimited audio conferencing and video meetings for up to 100 participants*
Premium: $34.99 per user, per month with unlimited call recording, analytics, and integrations with outside business software*
Ultimate: $49.99 per user, per month with device status reports and unlimited storage*
*Pricing is on an annual basis for two to 20 users. Pricing goes down as you add more users, and monthly plans are available as well.
From now through December 31st, RingCentral is offering 25% off on all new subscription plans, as well as two months of free service. Check out RingCentral's website today for more information.
RingCentral Features
Software apps: Unlike a service plan from one of the major carriers, you can use RingCentral on a computer or tablet if you'd like. This is in line with what other small business VoIP services offer.
Video conferencing: RingCentral lets you hold face-to-face virtual meetings with your team members. This is a standard feature that wireless carriers do not offer. While many smartphones offer native video chat apps, they lack the functionality of RingCentral.
Automated attendant: RingCentral comes standard with an automated attendant that can greet and route incoming callers without human intervention. This works in a similar fashion to many of its alternatives.
Check out our RingCentral user reviews page for more information.
Grasshopper: Best No-frills Business Cell Phone Number for Solopreneurs

What it is: Grasshopper is a virtual phone service, which means that it needs an existing number, such as a personal cell phone number, to forward calls from. Pricing starts at $26 per month for one number and three extensions.
Why it is great for businesses: If your staff is comfortable with doing so, they can download the app onto their personal phones and use their work phones via the app. Grasshopper offers toll-free and local phone numbers for small businesses, and also comes with features like auto-attendants and visual voicemail. It's best for smaller teams looking for a capable, yet affordable, business cell phone plan.

| Grasshopper Strengths | Grasshopper Weaknesses |
| --- | --- |
| Affordable | No video conferencing |
| Mobile and desktop apps | Doesn't scale well for larger teams |
| Voicemail transcriptions | Could be expensive for freelancers |
Grasshopper Pricing
Solo: $26 per month for one number and three extensions
Partner: $44 per month for three phone numbers and six extensions
Small Business: $80 per month for five numbers and unlimited extensions
Grasshopper Features
Phone numbers: Grasshopper offers the choice of a local or toll-free number with each new account.
Automated attendant: None of the traditional wireless carriers offers an automated attendant like Grasshopper does.
Voicemail transcription: Grasshopper will automatically transcribe your voicemail messages so that you can read them. This works in a very similar fashion to the default voicemail apps found on iPhones and many Android devices.
For more details on Grasshopper and how it can help your business, go to our Grasshopper user reviews page.
AT&T: Best Business Cell Phone Plan With Free VPN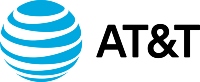 What it is: AT&T is one of the largest wireless service providers in the United States. They offer business plans starting at around $50 per month.
Why it is great for businesses: If you want every one of your team members to have their own business cell phone and dedicated service, then AT&T is a solid choice. This is mostly because the company offers a free virtual private network (VPN) with its unlimited plans. This can give you some peace of mind when it comes to protecting your data.

| AT&T Strengths | AT&T Weaknesses |
| --- | --- |
| Free VPN with unlimited plans | Can get expensive |
| Large nationwide cellular coverage | Service plan pricing doesn't factor device costs |
| Wide range of plans | Limited hardware selection |
AT&T Pricing
AT&T Mobile Share Plus: Share data across up to 10 devices at once starting at $50 per month*
AT&T Mobile Select Priority-Pooled: Provides individual employees with a shared data allowance starting at $55 per month*
AT&T Business Unlimited: Unlimited data, talk, and text for up to 10 devices starting at $85 per line, per month*
*These are starting prices, and do not include the price of cell phone hardware. Pricing can be changed based on negotiations and specifics of your service plan. Ask your salesperson if they can offer you deals or discounts that best suit your company's needs and budget.
AT&T Features
Large nationwide coverage: AT&T is neck-and-neck with Verizon as the two largest wireless providers in the United States. As such, you will enjoy better coverage than most other competitors.
Flexible plans: AT&T offers plans with both unlimited and limited data. This flexibility lets you choose the right plan for your team.
Mobile VPN: Unlimited plans come with AT&T's mobile VPN, which helps keep your team's web activity private. This is especially helpful in securing your sensitive company data.
Verizon: Best Business Cell Phone Plan for Available Handset Selection

What it is: Verizon is a popular wireless carrier in the U.S. with plans starting at $175 for up to 25 lines.
Why it is great for businesses: Verizon is a leading wireless provider, which means they are backed by a large national network, helpful customer service, and guaranteed reliability. They also offer a great range of devices with business plans. If you want to be picky about whether your workers have budget handsets or top-of-the-line flagship phones, Verizon is worth considering.

| Verizon Strengths | Verizon Weaknesses |
| --- | --- |
| Large national wireless infrastructure | Could be overkill for solo workers |
| Limited and unlimited plans available | Device selection can be overwhelming |
| Unlimited calling and text in Mexico and Canada | International calling adds up quickly |
Verizon Pricing
Plan for Business: Up to 25 lines sharing data; unlimited talk and text, with options of over 100 devices starting at $175 per month
Business Unlimited: Unlimited data, four-line minimum, and unlimited mobile hotspot; starting price of $35 per line, per month
Verizon Features
Device selection: When you are setting up your account, you can choose from over 100 devices, including phones, tablets, and mobile hotspots. This is especially helpful for people who feel strongly in favor of a certain platform or phone manufacturer.
International options: All Verizon business plans come with unlimited calling and texting in Mexico and Canada. This is helpful if you need to travel throughout North America on a regular basis.
Unlimited mobile hotspot: Verizon's business unlimited plans come with unlimited mobile hotspot capabilities. This means that you can use your smartphone as a portable Wi-Fi station for a laptop or other connected data.
T-Mobile: Best Business Cell Phone Plan With Multinumber Support

What it is: T-Mobile is a popular nationwide service carrier that got a coverage boost from its acquisition of Sprint. It has business plans starting at $50 per line, per month.
Why it is great for businesses: One of T-Mobile's most notable features is that it comes with the DIGITS feature, which lets you host up to five numbers on one device or have one number ring on multiple phones. This makes it a good fit for business users who share devices or those who don't want to be tied to a contract.

| T-Mobile Strengths | T-Mobile Weaknesses |
| --- | --- |
| Host multiple lines on one device | Easy to exhaust data with limited plans |
| In-flight texting and data with select airlines | No mobile hotspot with entry-level plans |
| Recent acquisition of Sprint means better coverage | Unlimited international texting and data locked behind Magenta for Business tier |
T-Mobile Pricing
Simple Choice for Business: Unlimited talk and text, with anywhere from 2GB to 10GB of mobile data depending on what version you choose; starts at $50 per line, per month
Magenta for Business: Unlimited talk, text, and data with unlimited mobile hotspot usage; comes with the DIGITS feature and in-flight data on select airlines via Gogo; 2-line minimum; starts at $60 per line, per month
T-Mobile Features
DIGITS: T-Mobile lets you host multiple numbers on one device. It can also be configured to ring multiple devices at once if they are hooked up to one number. This can be a perfect match if you plan on having team members share devices.
Gogo in-flight data: If you fly with airlines such as American Airlines, Delta, or Alaska Airlines, your T-Mobile service grants you free in-flight data on your devices. No other wireless carrier offers this.
Rollover data: You can carry up to 20GB of unused mobile data to the next month. This provides a great value to businesses with low monthly data needs.
Google Voice: Best Free, No-frills Option

What it is: Google Voice is a free virtual phone provider that is popular with consumers and small business users alike.
Why it is great for businesses: Solo workers, freelancers, and very small teams can enjoy a free local phone number from Google Voice that they can then use on a mobile device. At this time, there is no cheaper, easier way to set up a dedicated business line. If a standard wireless plan or paid internet phone solution is out of your budget, then Google Voice may be the best choice for you.

| Google Voice Strengths | Google Voice Weaknesses |
| --- | --- |
| Free | Limited feature set |
| Unlimited domestic calling and text | Requires existing line |
| Can be used on a smartphone or computer | Requires workers to use their personal devices |
Google Voice Pricing
Google Voice: Free with any free Google account
Google Voice Features
Free business line: Google Voice offers free local numbers for nearly anywhere in the United States.
Unlimited calling and texting: The system offers free calls to most numbers within the U.S. This about matches paid competitors.
Free call recording: Google Voice can be configured to automatically record all of your calls. This is something many paid solutions do not have.
Frequently Asked Questions (FAQ)
Can I bring my own device to a wireless plan?
In most cases, yes. This will largely depend on whether your device is "unlocked" or compatible with SIM cards from different wireless providers. Ask your salesperson for more details.
Are there volume discounts available for wireless plans?
Yes. Most plans are flexible, and it's very likely that a sales rep can lower the monthly cost of service, especially if you are going to be signing on a lot of lines to the plan.
Are there any other discounts I can receive?
The country's major wireless carriers often hold seasonal promotions or limited-time incentives, such as throwing in free phone hardware or cutting the cost of lines for new customers. Check with your prospective service to see if they are offering any incentives.
Bottom Line
For many years, a "business cell phone plan" was a strict definition—it meant going to a wireless carrier and paying a great deal of money for monthly service and phone hardware. While those options still have a place in the current market, it's important to note that VoIP and virtual phone services let businesses take their work phones wherever they want in the form of mobile apps.
For today's small business, it's hard to make a strong case for spending money on a traditional cell phone plan. As such, we recommend going with RingCentral and having employees download the app on their personal device. This will let your team stay in touch just as effectively as a cell phone, but at a much lower cost. Click the button below to learn more.