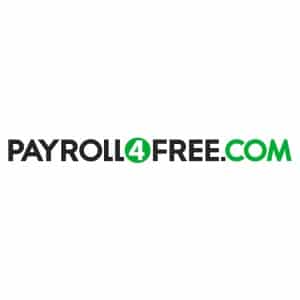 Payroll4Free provides a full range of payroll solutions that are optimal for small businesses (with up to 25 employees). It offers a free basic payroll service that includes vacation time tracking, detailed reporting, and access to payroll tax calculations and forms. You also get an employee portal, enabling your staff to view their pay slips, W-2s, and accrued vacation time credits online. For an extra fee, Payroll4Free can even handle payroll tax payments and filings, plus direct deposit.
What We Recommend Payroll4Free For
With Payroll4Free, you get access to payroll tools that are free to use. It can handle both employee and contractor payments, plus you can pay your staff either through checks or direct deposits. Getting its system up and running is also fairly easy given its guided account setup wizard. While its free payroll solution doesn't include tax payments and filings, you can opt to add that service for an extra fee. If you also prefer to use Payroll4Free's bank account for your direct deposit transactions, you can select it as an add-on.
In short, Payroll4Free is best for:
Entrepreneurs and small business owners (with up to 25 employees): Payroll4Free's basic services will remain free, provided that your business size doesn't exceed 25 employees. Its tax filing and direct deposit add-on services are also reasonably-priced (each service costs $15 per month), helping you keep payroll processing costs at a minimum.
Small companies that employ contractors: With Payroll4Free, you don't need to find another payroll software to handle contractor payments. The provider's platform can process salaries for contractors, compute the applicable taxes, and create year-end 1099 forms. What's great is that these services are all free.
When Payroll4free Would Not Be a Good Fit
Midsize to large businesses: Payroll4Free is designed specifically for small businesses. If you have more than 25 employees, then you may want to consider other payroll providers like Gusto or QuickBooks Payroll. Check out our guide on best payroll software for more options.
Mac computer users: The provider doesn't have a software version for Mac since Payroll4Free is only compatible with Windows-based computers. However, a workaround to this is choosing to run Windows on your Mac instead of Apple's macOS. You can also opt to use one of our picks for top Mac payroll software to ensure you don't run into any problems.
Payroll4Free Overview

PROS

CONS

Free-forever payroll services with essential online tools (including an employee portal)
Free only for 25 or fewer employees, monthly fee after that
Integrates with QuickBooks
Limited system compatibility (Windows only)
Calculates federal, state, and local payroll taxes
Interface looks old-fashioned
Tax filings and direct deposits (not using own bank) are affordable add-ons
No mobile app; payroll software comes with ads
Payroll4Free Pricing and Features
Payroll4Free's basic services are free for small businesses with up to 25 employees. If you want the provider to deposit and file payroll taxes on your behalf or deposit funds to your employees' accounts, you'll have to pay extra ($15 for each).
System implementation-wise, Payroll4Free has a step-by-step wizard to assist you with the initial set up. If you have a third-party time clock for tracking employee clock-ins/outs, Payroll4Free can help configure time data imports from the said device—provided that the time clock supports file transfers.
However, be prepared to see in-app ads while using Payroll4Free's platform. Apart from the paid add-on services, this is another way that the provider earns money, since its software is free to use.
Payroll Processing
With Payroll4Free, you can process salary payments for both employees and contractors. Its platform also supports various types of earnings, deductions, and contributions. This enables you to set up simple rates and complicated computations, from 401(k) deductions to garnishments that are based on the employees' net-pay. Once you have completed setting up how earnings and deductions should be calculated, Payroll4Free's software will automatically calculate it every pay run.
Paper Checks and Direct Deposits
Paying employees and contractors through paper checks is possible given Payroll4Free's check printing capability. Its platform also supports direct deposits, wherein the said service comes at no cost if the transactions are made via your own bank account. The provider will even provide an automated clearing house (ACH) file that you can submit to your bank.
If you prefer to use Payroll4Free's direct deposit service, the provider will impound your staff's net pay amount from your bank to its bank account and then disburse the salary payments to your employees' accounts on pay dates. Note, however, that you are required to submit a security deposit in which the amount matches your highest estimated payroll for a seven day pay period.
Payroll Tax Calculations and Forms
Aside from calculating federal, state, and local payroll taxes, the provider offers access to filled-out forms that you can use to file taxes. For $15 per month, you can even ask Payroll4Free to handle your payroll tax payments and filings, including year-end processing of W-2s and 1099s. It also comes with a guarantee, wherein Payroll4Free will be responsible for paying any penalties in case they make a mistake in filing your payroll taxes.
Vacation Time Tracking
With Payroll4Free, you can set up employee vacation, sick, and paid time-off (PTO) leaves. Once you have added the rules for calculating the credits for each leave type, the system will accrue and track the number of vacation, sick, and PTO hours that each employee should earn based either on their tenure, actual hours worked, or your company's PTO policies.
Detailed Reporting
Payroll journals, tax reports, and detailed earning summaries are just some of the reporting options available on Payroll4Free. While you are provided access to a good selection of reports, these options have limited customizability. This means you won't be able to build any elaborate reports; if your needs can be met with basic canned payroll reports, this should work for you.
Employee Portal
Apart from accessing pay information online, Payroll4Free's employee portal lets your staff check accrued PTO credits, print paystubs and W-2s, and update their personal information.
Third-Party Integrations
Payroll4Free supports data exports that allow you to connect your payroll data with third-party companies, such as banks and benefits providers. It can also integrate with time clocks and accounting systems like QuickBooks.
Payroll4Free Ease of Use
Easy and guided account setup
Email and phone support with access to payroll and tax experts
Supports data imports from time clock devices
Data exports to banks, benefits providers, and accounting solutions
While Payroll4Free is generally easy to use, the software isn't as intuitive as popular payroll solutions, like QuickBooks Payroll and Gusto. It has an outdated looking platform, and you sometimes need to take additional steps in order to complete what other payroll systems can do in a single click.
However, it is easy to set up and provides you with all the essential tools you need to process employee and contractor payments. Moreover, if you need assistance or have payroll-related questions, Payroll4Free has a team of payroll and tax professionals who are ready to give you expert advice.
Top Payroll4Free Alternatives
| Gusto | QuickBooks Payroll | ADP |
| --- | --- | --- |
| Best for: Small businesses (with up to 100 employees) wanting easy software | Best for: QuickBooks accounting small business customers | Best for: Growing businesses planning to scale |
| Base monthly fee from: $19 | Base monthly fee from: $45 | Base monthly fee from: $59 (DIY payroll option) |
| Per-employee monthly fee from: $6 | Per-employee fee from: $4 | Per-employee fee from: $4 |
| | | |
What Users Think About Payroll4Free
There are very few up-to-date Payroll4Free reviews online as of this writing (Jan. 26, 2021). Those who left positive feedback like that it is free and has all the basic yet essential tools they need to process payroll. Others, on the other hand, said that its platform isn't intuitive, contains ads, and has limited customization options.
At the time of publication, Payroll4Free reviews earned the following scores on popular user review sites:
When reading through user reviews, here are some of the trends that I noticed:
| Users Like: | Users Don't Like: |
| --- | --- |
| Access to no- and low-cost basic payroll tools | Reports aren't customizable |
| Simple setup | In-app ads |
Bottom Line
If you want basic payroll services (for up to 25 employees) that are free, then Payroll4Free is a good option. Its online payroll software is designed specifically for small businesses and comes with an easy-to-setup platform that's equipped with all the tools you need to process employee and contractor salary payments. However, you have to contend with in-app ads and limited customization options. The provider's tax payment and filing service is also a paid add-on, but the additional $15 monthly fee is a small price to pay compared to handling payroll tax deposits and submitting tax forms to various government agencies by yourself.