Employee Evaluation Forms: How They Work & Free Templates
Every successful business needs an adequate way to evaluate the performance of its employees. One of the best ways to accomplish this is by having an employee evaluation form (or performance review template) that allows you to record conversations about an employee's performance. To assist, we created a generic template for you to use and adjust based on what is best for your business.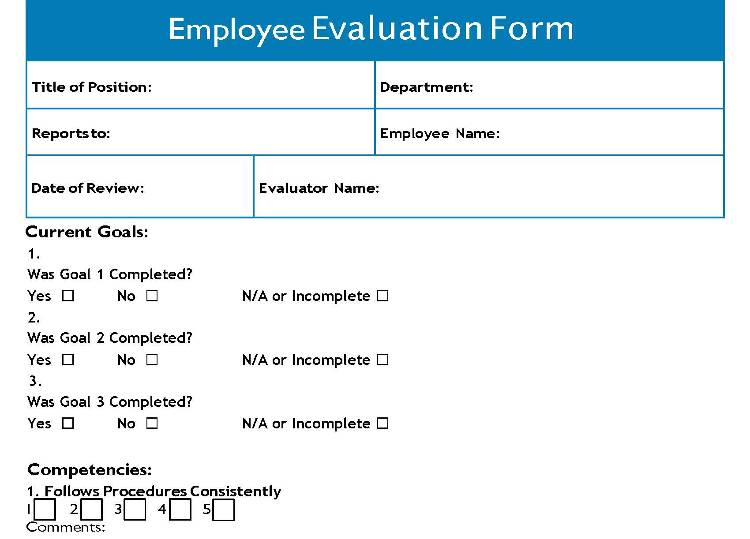 Thank you for downloading!
Expand the sections below for access to templates created for specific positions.
Employee Evaluation Forms for Hourly Staff
Reviews for hourly employees should focus on items that specifically relate to their job. Some examples may include punctuality, attendance, customer service success, and percent of tasks completed.
Listed below are three different performance review templates that are designed for hourly employees.
---
Employee Evaluation Forms for Salaried Staff
Performance reviews for salaried employees can differ from hourly employees reviews. You may want to include more open-ended questions and answers as well as additional categories, as their work may be more nuanced than some hourly employees. You may also want to relate the employee's performance to the organization's key performance indicators.
---
Employee Evaluation Forms for Management
Performance reviews for managers should primarily focus on the success of the manager's direct reports with a secondary focus on individual and company goals. Certain traits, such as leadership, development, coaching, and communication, should be measured as well as tangible items such as issues resolved or project completion percentage. Many of these reviews may also include spaces for peer comments.
Specific examples of performance traits can include:
Overall Team Performance: This can be measured across industry standards or against other departments or work groups within the company.
Development of Team Members: Have employees grown in their jobs or been promoted to new jobs under the manager's leadership?
Communication: How well does the staff respond to the manager's communication style? Is it easy to understand, allowing the team to move quickly to make decisions?
Company Values: Are the values of the company easily on display with the manager's behavior?
Leadership: Do employees follow the manager because of their job title or because of their management skills? Do subordinates trust the manager has their and the company's best interests at heart?
Performance review templates for different management positions are listed below:
---
Employee Evaluation Forms for Executives
Executives are typically measured by the key performance indicators of the company. These indicators can include items such as company growth, profitability, and customer retention rates. In addition to key performance indicators, another good evaluation process is 360-degree feedback.
360-degree feedback is a performance management tool that allows a person to review feedback from many levels of the organization, including subordinates, peers, and managers. This type of tool can be used for all employees, but is especially beneficial for employees at the highest levels of the organization to get feedback on their interpersonal and leadership skills.
Here's a performance review template that can be used for a 360-degree review.
---
How Employee Evaluation Forms Work?
Employee evaluation forms should begin with goal setting. Each employee should have goals they pursue on a periodic basis, which should be aligned with the overall company's goals. Then you can check in at certain points throughout the year to measure the employee's performance against their goals. These check-ins should be recorded on an employee evaluation form. If you need more information, please check out our article on performance management.
When deciding what items should be on your evaluation form, you should ask the following questions:
Who is performing the review? Depending on the relationship between the employee and evaluator, different questions or attributes may be measured. Some options for evaluator includes managers, subordinates, and peers
What skills are you evaluating? Your company may be interested in a straight evaluation of goals or a broader evaluation of values or competencies. What you are evaluating will determine much of the content in your form.
What kind of rating skills do you want to use? Many companies use a number system to quickly compute overall ratings. Common scales are three-point and five-point ratings but other ratings such as yes or no are used as well.
Important Sections for Your Performance Review Forms
There are some key areas that should be covered on all performance review forms. They include:
Personal Information
While the employee and manager's name is essential for every evaluation form, you may also consider another unique identifier. Examples include badge number, employee id, and file number. Having another piece of personal information on the form not only allows you to account for employee name change but it will also help you to input this information into your performance management system. Other personal information you should include is the date of review and job title.
Current Goals/Objectives
If you are not currently using a performance management system, you should include the employee's goals and objectives for the time period that you are evaluating.
A performance management system is a tool that tracks the performance of employees over time. If you are interested in learning more about performance management systems, check out our article on the best performance management systems.
Ratings
There are multiple ways to tangibly rate an employee's performance. Some options are listed below.
Scales: Scales have you judge a worker's performance from low to high based on numbers. Most common scales are comprised of three, four, or five points.
3-Point Scale:

4-Point Scale:

5-Point Scale:

1 - Below expectations

2 - Meets expectations

3 - Exceed expectations

1 - Poor

2 - Below average

3 - Above average

4 - Excellent

1 - Does not meet expectations

2 - Meets expectations sometimes

3 - Meets expectations

4 - Exceed expectations sometimes

5 - Exceed expectations consistently
Free Form: Some employers may prefer to have reviews written in longform where the employee and manager may answer a list of questions or provide a written response to how well they believe they or their employee have performed throughout the year. These performance forms may make it harder to compare employees, but it does allow the opportunity to get more in-depth responses.
Note that signatures are important to document on both sides that the conversation has been had to avoid any issues or confusion in the future. The signatures do not indicate agreement with what was written about an employee but an acknowledgement but the conversations took place on the listed date of the review.
Optional Sections for Your Performance Review Form
The following sections are deemed to be optional because either:
They do not apply for every business, or
Your company only wants to review one of these items at a time
Job-Related Skills
This section would be used to rate employees on how well they can perform the direct responsibilities of their job. For example, this would include leadership for line managers and team leads and job order accuracy for technicians.
Company Values
If your company has a list of core values, you can ask a list of questions to rate how well your employees are exhibiting those traits. Some examples of core values include accountability, customer-focus, and open communication.
Areas of Improvement
You may also want to mention the ways in which an employee can improve their performance. This may result in stronger output and open the conversation on what the employee needs from the manager or the company in general to be successful.
Next Steps
Next steps can include goals for the next review period, future meetings, or actions that are a result of the performance review such as recognition, training, or an improvement plan.
Bottom Line
Employee evaluations can be an integral part of employee management and a company's overall success. Evaluations can help tie an employee's performance to the company's success. Using employee evaluation forms and performance review templates can help track company goals and employees' performances over time.