How to Write a New Hire Press Release in 10 Steps (+ Free Template)
A new hire press release is a public announcement sharing the details of a new team member, typically in C-level positions. A new hire press release follows the same standard format as other press release types, so using a template or understanding this structure is a good first step. Then include information about your new hire such as skills, experience, expected contribution to your business, and why it matters to the public—all in around 400 to 600 words.
It is worth noting that writing your press release is only the first step to landing press. To get your press release in the hands of journalists and into the news, you'll need to distribute it. This can be challenging for those who don't have existing press contacts. For this reason, it's smart to use a press release distribution service like Newswire, which will get your release to the right people in your areas of interest. Visit Newswire today to get 10% off.
1. Download the Free New Hire Press Release Template (Optional)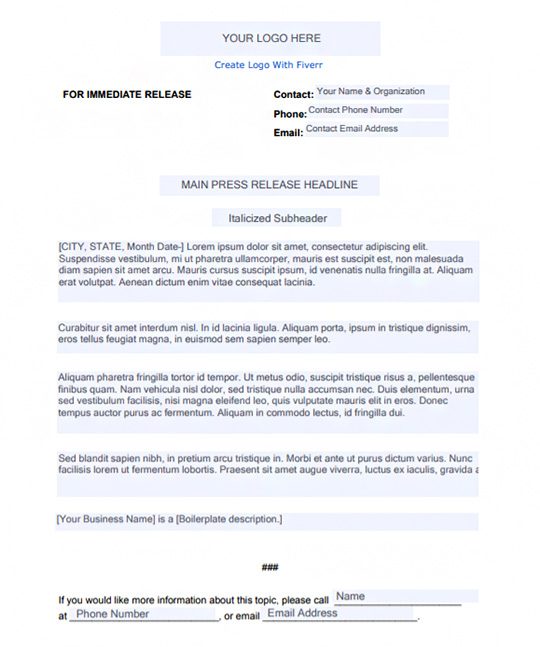 We've created a template to help you write a new hire press release and save time. This template includes each of the required sections required in the standard press release format and tips for optimizing your message for a new hire media announcement. Use this template along with the steps below to create an engaging new hire press release. Download the new hire press release template as a DOCX or PDF file.
2. Follow the Standard Press Release Format
Like any other press release type, new hire announcements should follow the standard press release format and include the release date, headline, location, the body of the press release, and the boilerplate. While its content will be specific to your new hire, following the standard format layout ensures that your press release can be effectively reviewed by journalists and syndicated by media agencies.
Not looking for a new hire press release? Check out the standard press release template.
Here are each of the elements in a new hire press release:
Company logo: Add your company logo in the header area
Release date information: Usually "FOR IMMEDIATE RELEASE"
Headline: This is the subject of your press release
Subheadline: This line develops the headline further
City, State: The location of your business
Date: The actual date you send the press release
Summary paragraph: A full description of the story in brief
Body: Develop the details in the body
Quote: Add a quote to enhance the article
Boilerplate company information: A description of the business affixed to the end
Three pound signs: ### to signify the conclusion of the press release
Contact information: Add information for further inquiry—name, email, phone
3. Craft Your New Hire Headline
The new hire headline, consisting of 10 to 20 words, should include your business name, the new hire's name, and their position. By including all three of these, you ensure that readers and journalists know immediately what is under discussion. If you're not sure where to start, follow this headline convention: [Business Name] Hires [New Hire Name] for/as [Job Title or Role].
Examples of new hire headlines include:
Petco Appoints Omnichannel Veteran R. Michael Mohan as Lead Independent Director
Fortune 500 Company PRZen Welcomes Daniel Borne as Chief PR Industry Guide
W. Chad Murray Named Human Resources Director at Allison Marine Holdings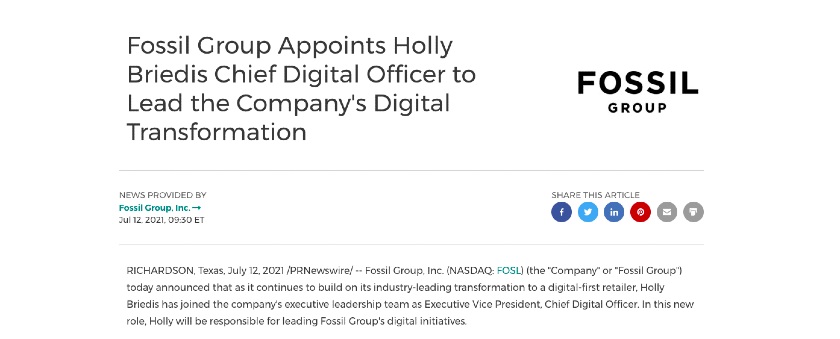 ---

4. Develop Your Lead Paragraph
The lead paragraph is the first paragraph of a press release body and should answer five specific questions—who, what the position is, where they previously worked, when they start, why this is of interest to the public—in 50 to 70 words. This is the most important paragraph since it's your chance to entice the reader and communicate everything they need to know about the new employee, their responsibilities, and how it will benefit the business and community.
The specific questions you need to answer include:
Who: The new hire's name
What: What the new hire will be doing, their position and/or title
Where: Where the new hire is from, their background and/or education
When: The new hire's first day on the job
Why: The positive impact the new hire will have on the business and in the community
5. Discuss the New Hire's Background & Qualifications
The next section of the body comprises the bulk of the press release, and should be anywhere from 50 to 200 words. A new hire press release sheds a positive light on the new team member by describing their expertise and accomplishments. Additionally, reference your company and how the new hire expands or strengthens your business.
Here are some features of the new employee that could be useful to include this section:
Previous company or companies
Previous position(s) held
Years of experience
Degree or advanced degree(s)
Recognition (Forbes lists, 40 under 40, and so on)
Certifications (e.g., P.E., PMI-ACP®)
Veteran status
Minority status
Notable accomplishments
Type of role (e.g., executive, management)
Scope of role (e.g., oversaw a merger, managed a $29 million budget)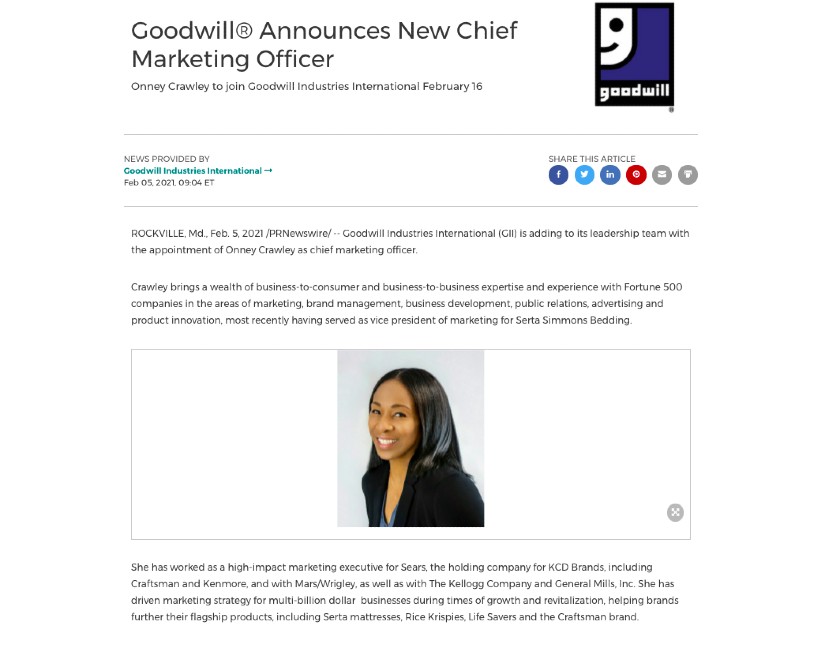 ---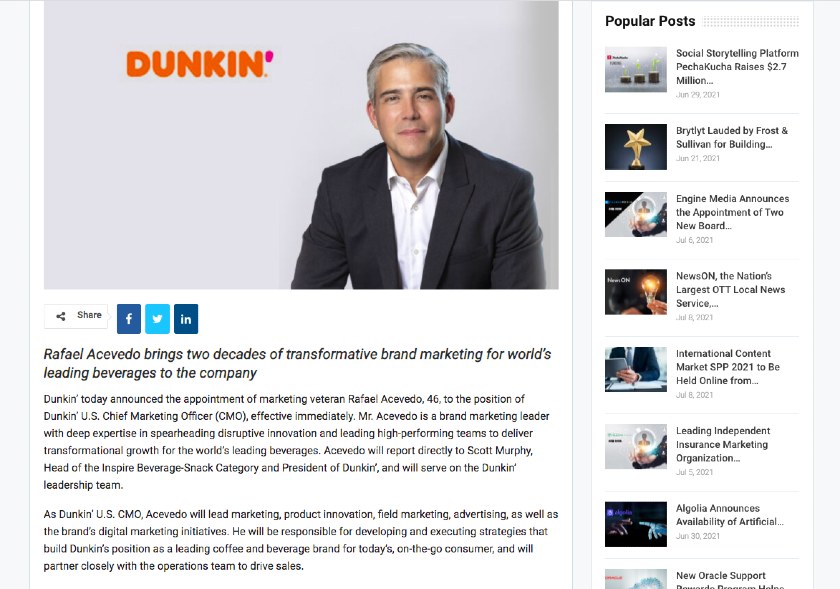 Pro tip: Keep it short. Brief press releases are easier and faster to read than long ones. The shorter your new hire press release, the better. Aim for 250 to 300 words. In a later step, you'll add your boilerplate, and with that, a link to your website, so keeping it concise can pique interest and generate traffic for your website.
6. Add a Quote
To make the press release as effective and interesting as possible, include a quote from a company representative, such as the CEO or the new hire, in the second or third paragraph. Quotes can range in length from 50 words to 150 words. With a quote, you add vibrancy to the release and convey more of the new hire's personality.
These are some quote examples, along with the source for each:
Quote by a company CEO: "We are very excited to welcome Stacy to our team at NLE. He brings a tighter focus on customer relationship quality to our sales team and will be a great role model for our employees and vendors who come into contact with him."
Quote by the new hire: "I am thrilled to be part of the NLE team. My entire career has been spent in the technology industry, and I look forward to continuing that tradition by providing 'best of breed' network solutions to NLE's current and future customers."
Quote by the new hire: "I intend to apply my green building project experience and communication skills to teaching and developing curriculum that will help Everblue's students get jobs, change the economy, and improve the environment," she said.
Pro tip: Keep in mind that you can add more than one quote, which can make your press release more interesting to readers and give journalists more to work with.
7. Describe the Impact of the New Hire's Role
The final paragraph should explain what the team member will be doing, their goals, and how the hire contributes to the business' objectives. Since this is the concluding paragraph, it's a good idea to broaden the press release to indicate that the new hire is a positive step forward not only for the company, but for the community as a whole.
Here are a couple of concluding paragraphs for a new hire press release:
"Mark joins ABC as National Account Manager to continue ABC's recent success providing business services to many of the top companies in America and Europe. Mark comments, 'I am excited to start a new challenge within ABC Company and look forward to working with the team to further develop their already extensive product and service suite. I am fortunate to be joining such a respected company that prides itself on top quality service.'"
"Goldman will be developing and implementing an overall corporate marketing strategy, directly engaging and managing the marketing team, and translating the company's business objectives into marketing strategies that drive revenue. In addition, he will determine and administer the marketing budget, identify and track key metrics, and establish pricing and positioning for a wide range of Windward products."
Pro tip: Ask yourself if you have effectively managed to explain why the new hire matters to the journalist and their audience. Remember, the press release isn't about why this new hire matters to you and your organization, but why it would matter to the public.
8. Add a Headshot
It's ideal to include a headshot of the new hire in your press release in order to add personality and visual interest. Although not all press releases are syndicated with photos, most local news agencies will be able to include the picture in a write-up or a new hire section. Consider using a more editorial or candid photo than the classic yearbook-style headshot—ideally, one that aligns with your brand.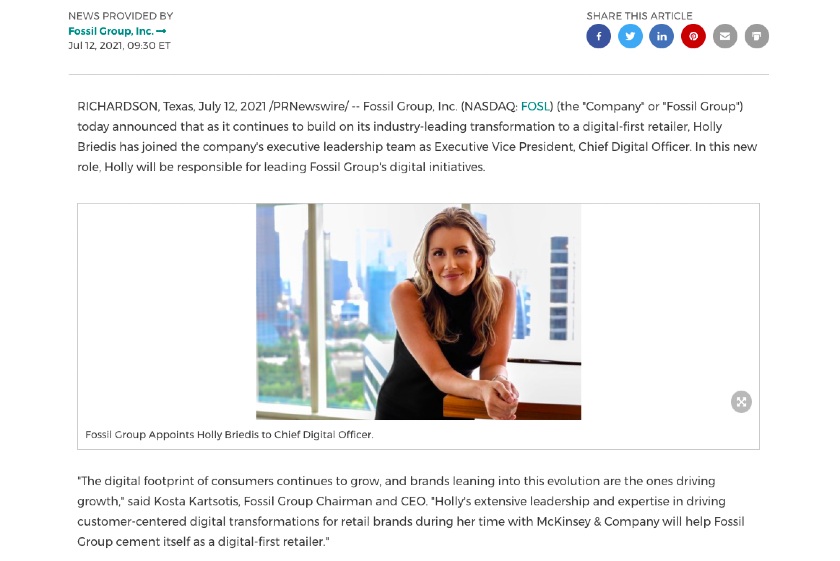 ---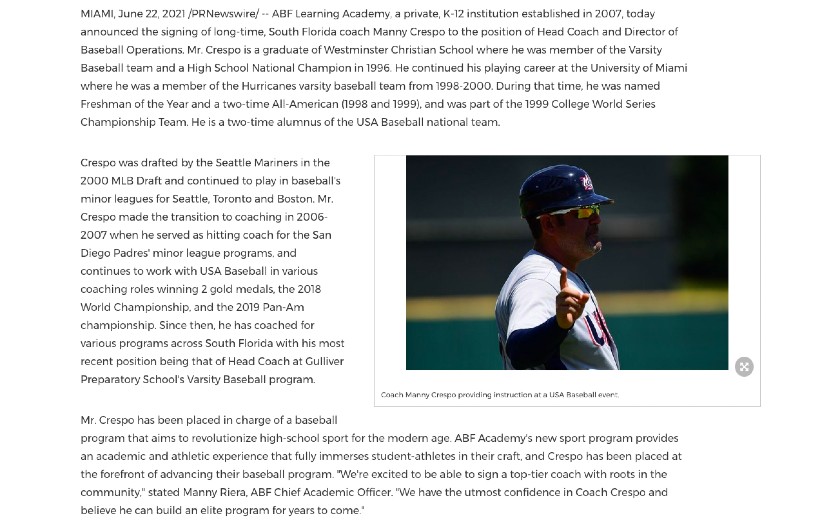 9. Conclude With Your Company's Boilerplate
The final section of the press release is the boilerplate, which is a 30- to 100-word description of your business. This is a standard section included with any press release and should describe the nature of your business, key products or services, and biographical information, such as years in business or names of founders. For more information, check out our article on how to write a boilerplate.
10. Distribute Your New Hire Press Release
After writing your new hire press release, it's time to send it out to as many local news agencies as possible, including industry-specific organizations, your local Better Business Bureau or Chamber of Commerce office, and other civic and business organizations. Additionally, you should syndicate your release using a press release distribution service like Newswire to ensure that your news reaches the widest audience possible and lands the most publicity and backlinks.
For step-by-step instructions, learn how to send a press release.
After distributing your press release, be sure to monitor and track its performance to gauge its effectiveness and to estimate its return on investment (ROI).
Frequently Asked Questions (FAQs)
Are there any free press release distribution services?
Yes, there are a number of free press release distribution service providers. While you won't necessarily get the same results with free distribution as you will with paid services, free services do provide budget-strapped businesses with another way to share their press release. Some of the top free services include PRLog, 1888PressRelease.com, and PR.com. Get the complete list of the best free press release distribution services.
Where can I get help with writing & editing my press release?
There are a number of ways to get assistance with writing and editing your press release, from asking a colleague or friend to hiring a professional editor on Fiverr to edit your press release. It's also worth noting that many of the top press release services offer expert press release writing services, and some include free press release editing with every distribution plan, such as with Newswire. Learn more about the top press release writing services.
What makes for a good press release?
The best press releases—the ones that land the most press coverage and media attention—are those with the most interesting and newsworthy announcements. Remember that the media is looking to cover compelling stories that will capture the attention of their audiences and entertain them. Of course, this is just the tip of the iceberg, so check out all of the details on what makes a good press release.
Bottom Line
A new hire press release is an excellent way to gain favorable press for your business, curate goodwill toward your company, and boost employee morale. When you prepare a press release, be sure to follow the customary format, craft an enticing story around your new hire, and hone in on why that matters to the general public. If you're still struggling to write a compelling new hire press release, leave it to the experts at Send2Press, which offers an expert rewriting service for as little as $89.
You Might Also Like…