20+ Best Punch Card Templates for Small Businesses
Punch cards are a popular loyalty and marketing tactic that encourages your customers to continue buying your products or using your service. Design your punch cards with your brand elements so that it helps your customers quickly remember your product, service, or business—keeping it front of mind and better encouraging its use.
Lucky for you, there are tons of punch card templates available online, so you don't need a graphic designer to create one for your business. We curated some of these loyalty card templates below. Download the template you like and customize it to match your brand.
Looking for a low-cost, high-impact rewards program? Square offers a digital punch card loyalty program that allows customers to easily enroll at checkout, with no extra hardware or easily-lost paper required. Visit Square Loyalty for a free trial.
General Punch Cards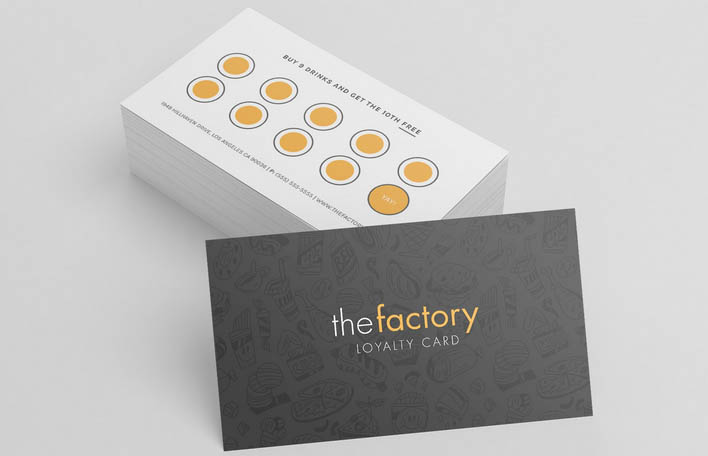 This template from RestaurantSpider is a simple 3.5 x 2 inches punch card design that can fit any type of business. The smart use of font type and color over a chalkboard background gives it an edgy feel that you can easily customize to match your brand's colors.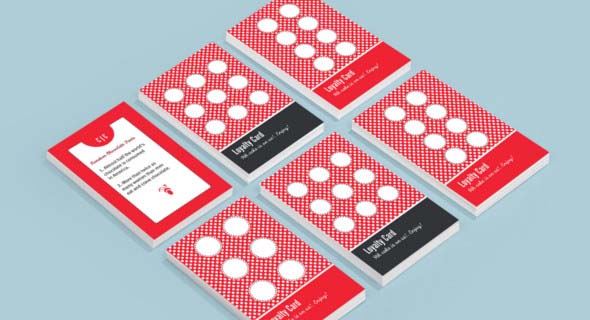 This pinafore design from Moo is generic yet stylish enough for a number of businesses. The red and white color theme is eye-catching, but you can change it to better fit your brand. Include a friendly message to get your customers coming back for more.
Retail Punch Cards
Simple and photo-based, this loyalty card template example from MyCreativeShop is from a clothing shop. You can use a photo of your shop's signage, signature clothing, bestsellers, or even a clothing rack like in this example. Be sure to customize the text so that it's not only on-brand but also legible against the photo background.
Related: How to Start a Clothing Line in 11 Steps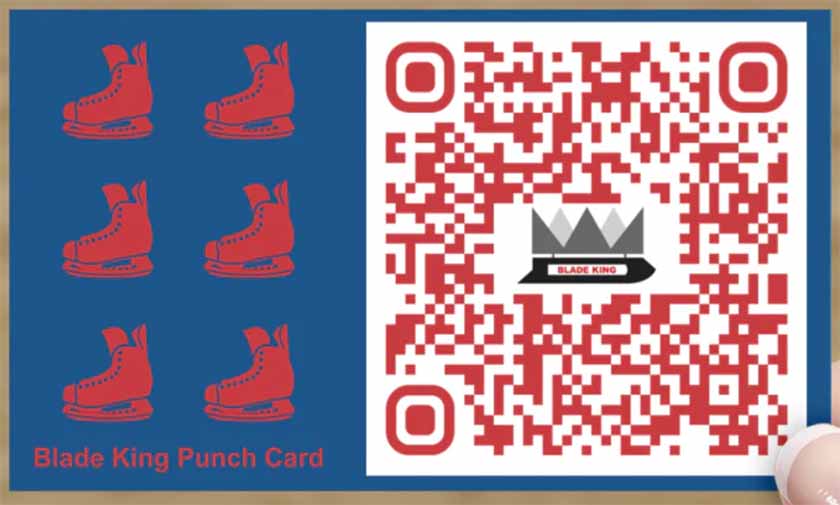 This design is specific to an ice skate blade cleaning business, but the design can work for all sporting goods and athletics businesses. Simply change out the icons for a sport that's related to your business, and swap for your brand colors. We like how the card includes space for a QR code, which you can use to link to information like your website, shop, or social media accounts.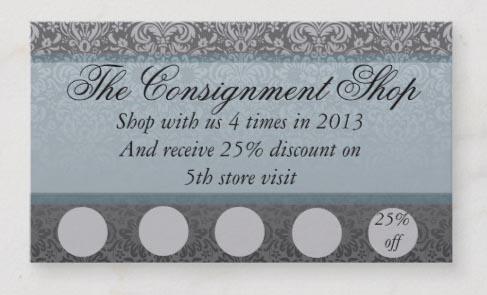 If you have a consignment shop, this elegant loyalty card template could be a great option. Keep it simple with the colors and use beautiful fonts. You also have the option to use textured paper to complete the one-of-a-kind look that matches your products.
Related: How to Start a Consignment Shop in 9 Steps
Service Industry Punch Cards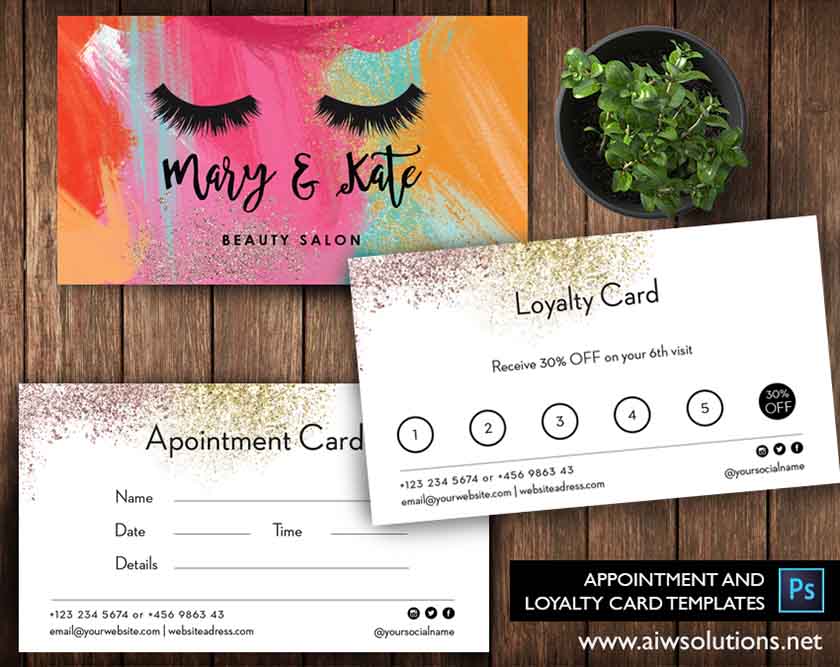 We love how this template from AIW Solutions can be both an appointment card and punch card with the right layout. Use one side to colorfully display your brand colors and logo, and use the other on a simple white background.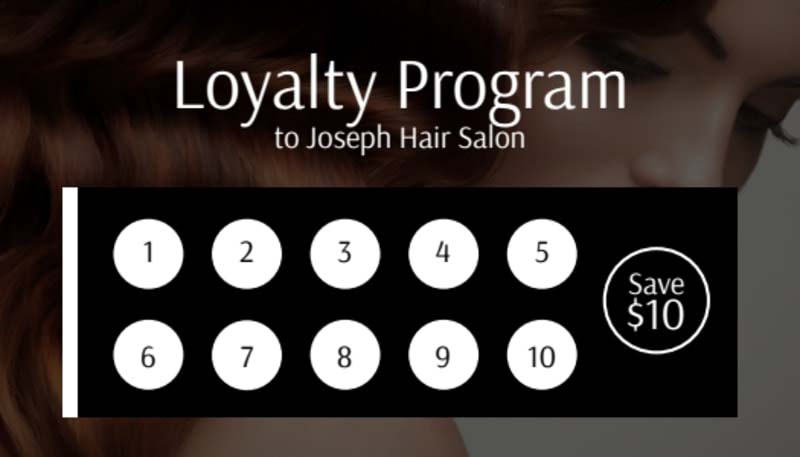 The template's black gradient overlay adds a touch of sophistication to a loyalty punch card. Replace the photo with one of your own—perhaps of your salon's facade—for customization. If you're a hairstylist, add your name to build better relationships with your clients.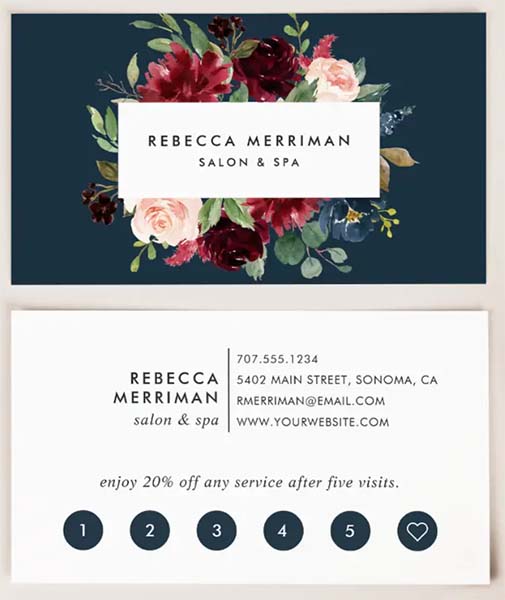 Make sure to choose photos that fit your brand identity, like how the color theme for this design matches the colors on the flower image. This template from Zazzle is targeted toward salon and spa owners, with the double-sided business card giving the punch card another use case.
This is a very straightforward design for a tanning salon loyalty card. Notice how the template makes use of the color brown with an appropriate stock image to help emphasize what the card is for. Be creative with the image and have the text printed in your brand's color.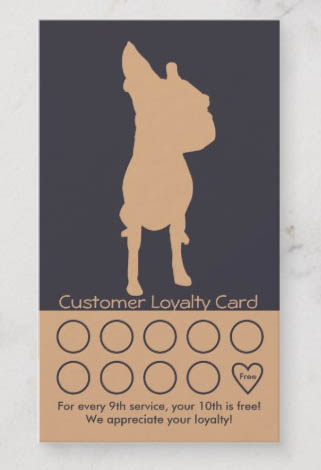 This punch card's earthy colors, simple image, and handwriting font give off a personal touch that works best for any service-based business brand, such as a dog grooming business. Think pet sitters, house sitters, and child carers, where clients look for a more personal approach to their service.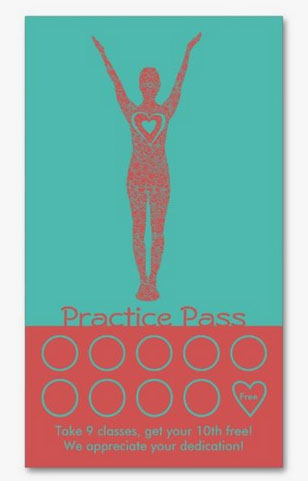 This Zazzle template uses a grunge texture for an earthy look. Combined with muted colors and handwritten fonts, it has an organic feel that's very appropriate for a yoga business. Replace the image with your logo's silhouette and apply the same muted tones to your brand color and find out if this loyalty card design works for you.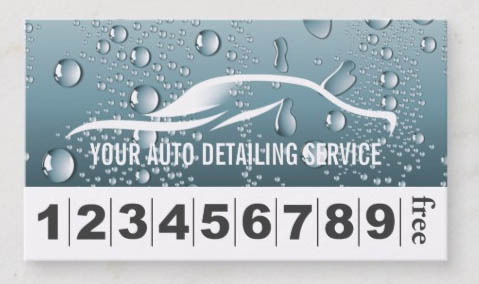 As an auto detailing business, you'll have clients who will frequently visit your shop. A simple design for your loyalty card will do, but having a standout design makes it easier for customers to pick your card out anywhere. This template from Zazzle uses large fonts and a simple car silhouette, but the lifelike water droplets make it a unique design.
Food and Beverage Punch Cards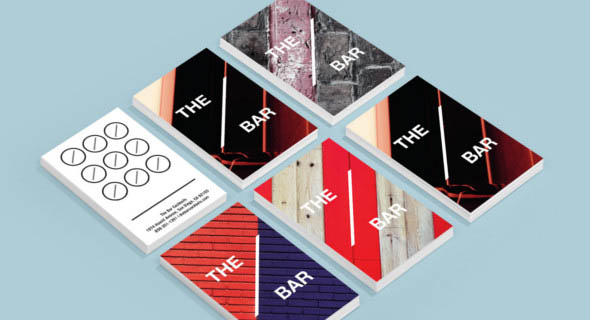 This modern design combines both business and loyalty cards in its layout. The images and colors suggest a hint of exclusivity that loyal customers are looking for in these types of establishments. Achieve this look by keeping the paper texture glossy and words minimal.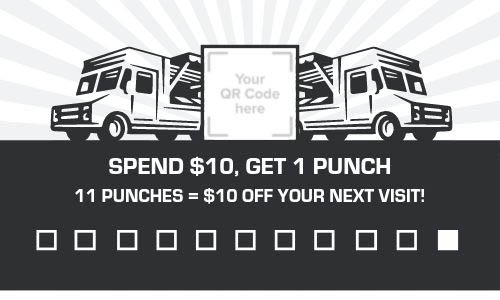 As a food truck owner, it can be tempting to add photos of your entire menu on all your marketing materials. But you don't want the purpose of your loyalty card lost in a noisy design. Choose the bestselling food on your menu, pair it with large fonts for the details, and make the colors bright and attractive. This template also allows space for a QR code.
Related: How to Start a Food Truck Business in 9 Steps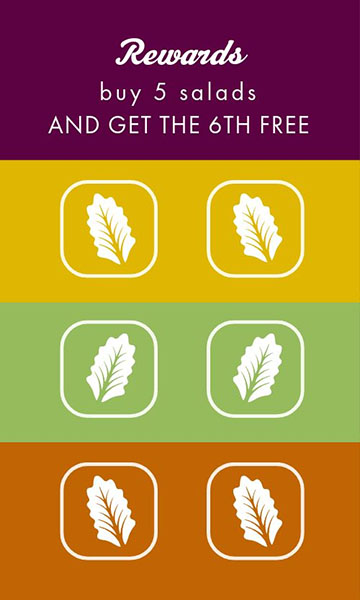 This template's vertical design uses white text and graphics on a vibrant color background to emphasize the straightforward rewards program.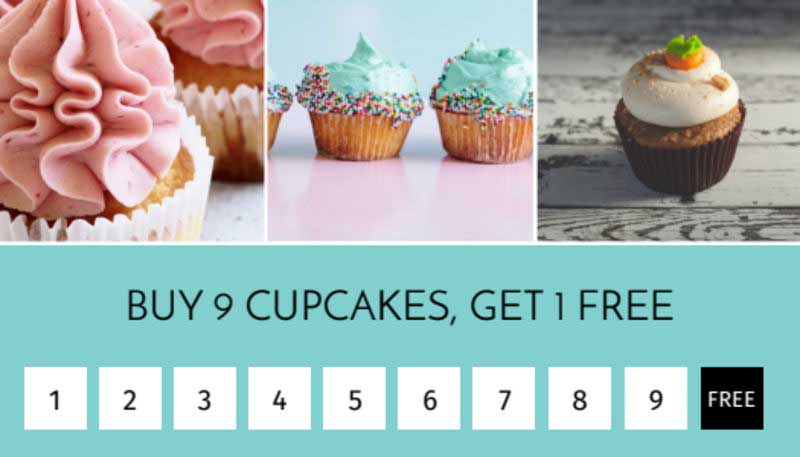 There are enough cupcake varieties to cater to all kinds of demographics, so your loyalty card must be designed in the same way. This template provides a generic example where you can simply swap out the photos for your own to showcase the types of cupcakes you offer. Consider customizing the background as well as the fonts.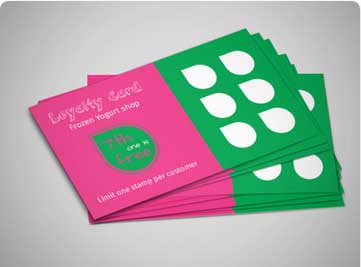 This yogurt shop loyalty card template combines a simple layout with fun shapes, colors, and fonts to stand out. When customizing the design to reflect your brand, make sure to keep the design neat and stick to your brand's color scheme.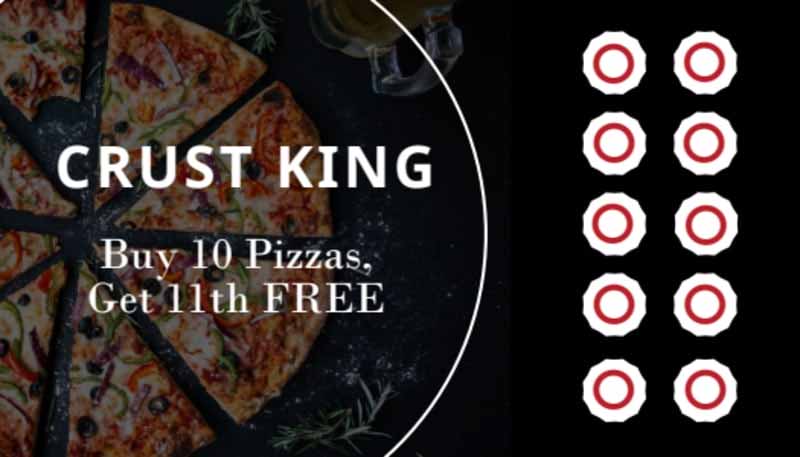 When designing punch card templates, ensure your text doesn't get lost in the images and overall layout. Use contrasting colors to help the text stand out, such as this pizza shop punch card example. Notice how it keeps the hole punches on one side so that the business name has enough space to be legible on the other.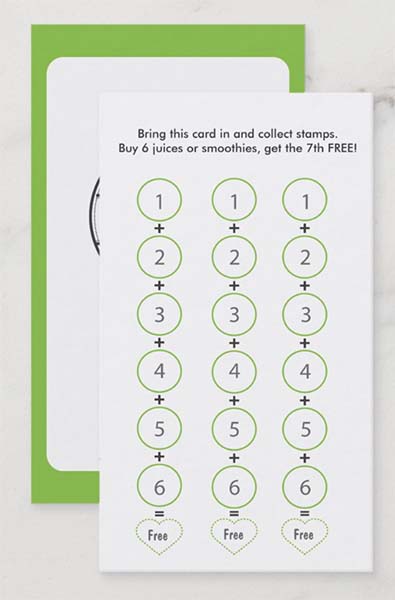 If you have a smoothie or juice bar, consider this template from Zazzle. Rather than a single-use approach, it offers three rows for hole punches, each with its own free product after the sixth purchase. This design makes your punch cards go further.
Related: How to Open a Juice Bar in 11 Steps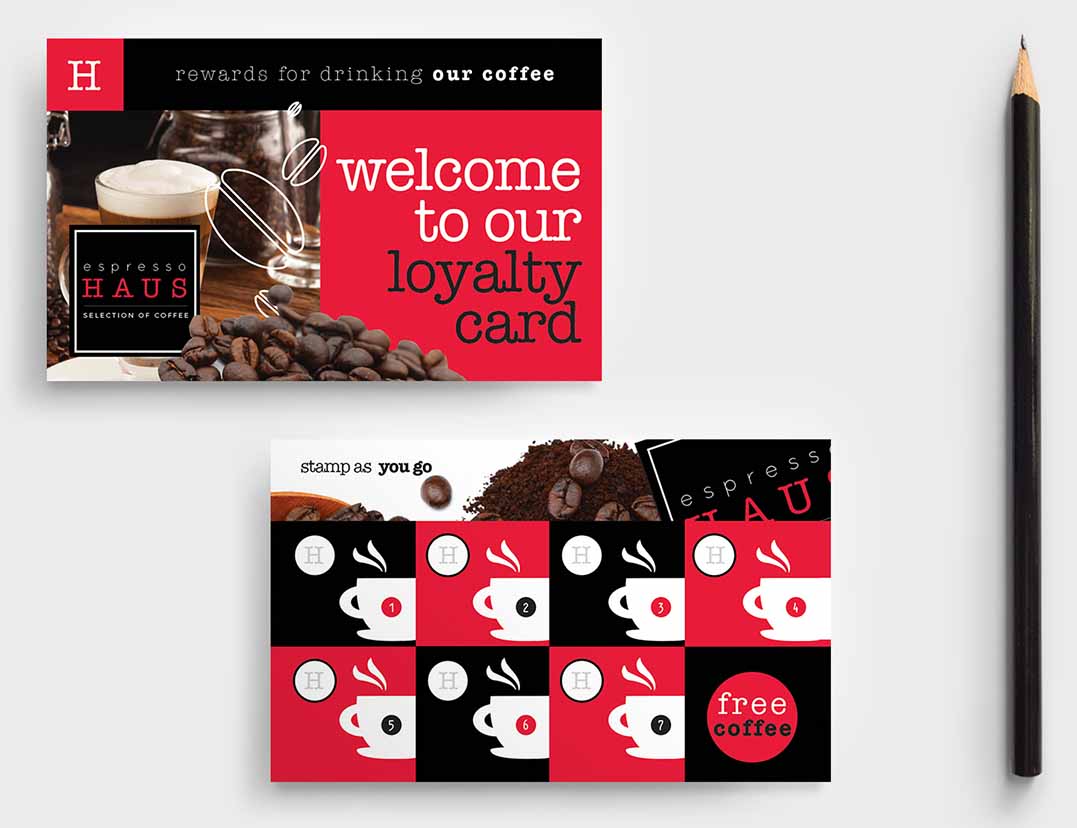 Large coffee shop businesses are famous for their well-crafted marketing materials, including ones for their loyalty programs. This template shows how it can be done with enough creativity at a minimum cost. However, ensure that important details don't get lost in the layout by using shapes and colors that stand out.
Related: How to Start a Coffee Shop in 11 Steps
Miscellaneous Punch Cards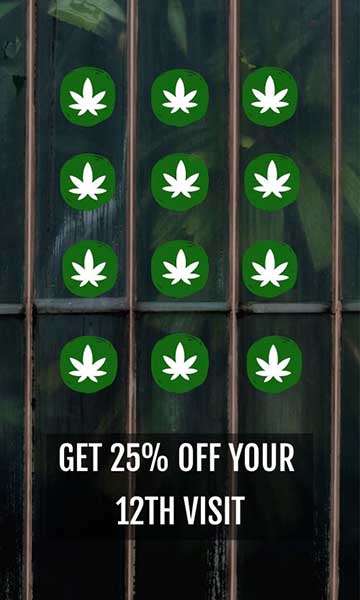 Cannabis marketing materials are quick to embrace the marijuana leaf and the color green. The double-sided business card also gives the punch card another use case.
How to Create Your Own Punch Cards
You can use a tool like Canva to create your own punch cards. If doing it yourself isn't your preferred option, consider hiring a freelance designer.
However, starting with a punch card template like the examples above should make it easier to do this yourself. To create your own loyalty punch card template, follow the steps below:
Step 1: Determine How Your Punch Card Will Work
You first need to determine the structure of your punch card loyalty program. Think about the incentive and what people need to fulfill before they earn the incentive. For example, you might offer a 10% discount—or maybe offer a free pair of shoelaces or cleaning materials—after they've made 10 purchases at your shoe store.
Step 2: Design Your Punch Cards
You can start from scratch or use a template like the options listed above. When designing your business's punch cards, ensure the following:
The colors and fonts match your brand identity
Your business name is included
The text on the punch card is legible
It's easy to punch holes in the appropriate location on the punch card
The punch card maintains its shape when it's been fully punched
Step 3: Print Your Punch Cards
Once you have your design, it's time to get your cards printed. This involves choosing the printing materials, which impact cost, as well as a professional printer. You can use a service like Vistaprint or MOO to print your designs. Many printing sites also offer customizable punch card templates of their own, which you can use.
Step 4: Combine Your Punch Card Program With Your POS
Consider a POS integration for your punch card offering. This way, you can easily customize rewards, track customers, and analyze the data.
Square, our top pick for best POS for small businesses, covers all the features you're likely to need, including setting up a rewards program that allows you to provide your customers with digital punch cards to incentivize them to purchase more frequently. Best of all, Square is completely free and comes with no fixed monthly cost for credit card payments. Learn more about it in our Square POS review.
Bottom Line
An effective punch card approach could make all the difference in your customer retention strategy, driving repeat purchases and boosting customer lifetime value. How your punch card looks is as important as the rewards you offer to your customers. These designs will help ensure your business continues to impress and provide the best customer experience.