A retail point-of-sale (POS) system does more than simply ring up purchases. Today's POS technology is equipped with additional features that give retailers complete insight into and control over their business. Each time someone uses your POS, it collects data. It then summarizes that data in reports so you can see where your challenges and successes are. And the features go even further than that, especially when you explore add-ons and integrations.
1. Payment Processing
When it comes to payment processing, your POS will either have it built in or offer a third-party integration (or both, like Vend POS). If payment processing doesn't come with the POS, or if it has high processing fees, you'll need to consider a payment processing POS integration.
Payment processing allows you to administer credit and debit card transactions as well as other forms of payment. When choosing the integration for your retail business, you'll want to consider those other payment methods, including:
Mobile pay
Contactless pay
Buy now, pay later
Buy online, pick up in store (BOPIS)
Payment installments
Recurring/subscription payments
Gift cards
Loyalty and referral program rewards
Saved payments
Cryptocurrency
Payment processing features make daily POS reconciliations quick and easy. Rather than matching tickets to sales from your charge report, your POS will match the data for you.
Our top recommended payment processors are Square for new and small businesses, and Payment Depot or Fattmerchant for established businesses.
Here are more resources to help you choose a payment processing integration:
2. Accounting
Though accounting is important to ensure you stay profitable, more than a quarter of small businesses don't even separate business and personal accounts. Today's POS systems include basic accounting features so even independent merchants can engage in basic bookkeeping for their business. Accounting data from your POS might include sales, labor and payroll information, daily reconciliations, Economic Order Quantity (EOQ), and even your profit and loss (P&L) statement.
An accounting integration for your POS takes your bookkeeping and accounting up a notch. The two tools can sync and share information like taxes, tender totals, cash drawer activity, gift card sales, advanced profitability reports, and more. You can also use some accounting integrations to send and manage invoices.
Accounting POS integrations to try:
QuickBooks: Create and send invoices, cash flow tracking, reports, income and expense management, inventory tracking, and business analytics and insights
Xero: Automated financials, cash flow, and expense reporting; send online invoices; automated bank reconciliation; manage transactions; and create expense claims
ZipBooks: Automated bookkeeping, invoice tracking, bank reconciliation, and intelligent reporting
FreshBooks: Organize expenses, time tracking, automated payment collection, double-entry accounting, and project management
More resources to help you choose an accounting integration:
3. Inventory Management
Many POS systems come with built-in inventory management features, most allowing you to create SKU numbers and bar codes as well as store important product data and monitor stock levels. For many small businesses, choosing a POS system that has strong inventory management tools built-in is all you need. Lightspeed Retail and ShopKeep, for example, have strong inventory control capabilities, so brick and mortar shops using these systems may not need an additional software integration.
An inventory management integration expands on your POS system's native stock-tracking features—specifics vary depending on the integration and your specific needs. Inventory software connects to your POS to allow for a comprehensive look at your inventory across all channels, store locations, and warehouses. This is important to ensuring you optimize stock levels to mitigate stockouts and dead stock.
An inventory management integration is helpful for large or enterprise-level retailers, businesses with multiple warehouses, or businesses that have a lot of online sales, especially if those sales are coming from multiple channels such as Amazon, Walmart, and your own website.
Some features to look for in an inventory management POS integration include the ability to manage online orders, create shipping labels, track orders for curbside and in-store pickup, and set customized stock alerts. Advanced tools might also forecast demand using artificial intelligence.
More resources to help you choose an inventory management POS integration:
4. Payroll
It's important to handle payroll accurately for a few reasons: You need to pay employees the correct amount, there are labor laws and taxes to consider, and it also determines shareholder payouts. Some POS systems have payroll features baked in. Others offer their own integration, like Square Payroll which connects to Square POS to help you manage and process payroll with just a few clicks.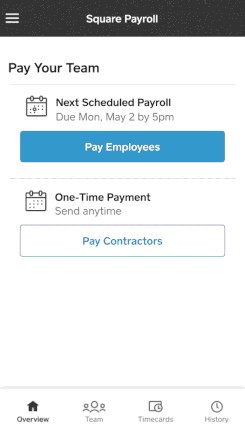 Not all POS systems offer their own payroll integration, or you might need something more robust. That's where a third-party payroll integration comes in handy. With payroll software, you can manage schedules and track time, attendance, sales, and commissions. An integration makes it easy to import/export work hours and calculate and issue paychecks.
Payroll POS integrations to try:
More resources to help you choose a payroll POS integration:
5. Employee Scheduling
In a similar vein, employee scheduling integrations give you more control over managing your staff, and it empowers staff to be in control of their own schedules too. This is important because staff turnover in retail is 81%—one of the highest turnover rates of any business. While POS systems might include basic employee scheduling features, a dedicated integration makes it more seamless.
In your POS, you can probably see who's working when and where, how much they're selling, and the commissions they've earned. Many also allow you to create employee accounts with limited permissions so employees can log in to and use the POS themselves.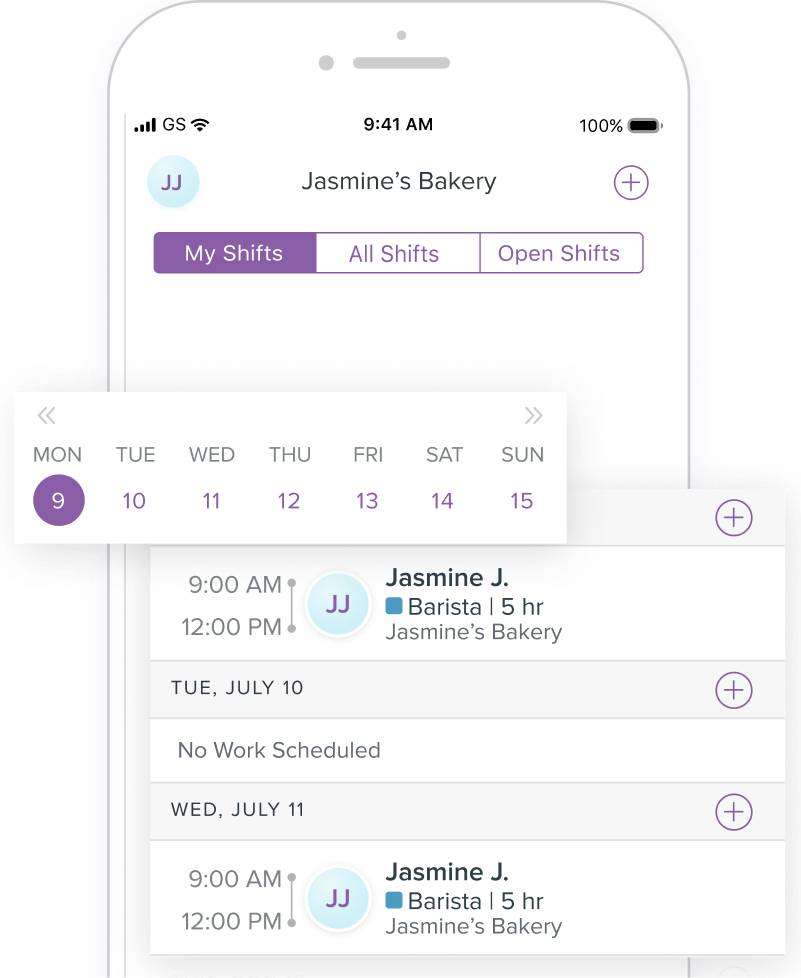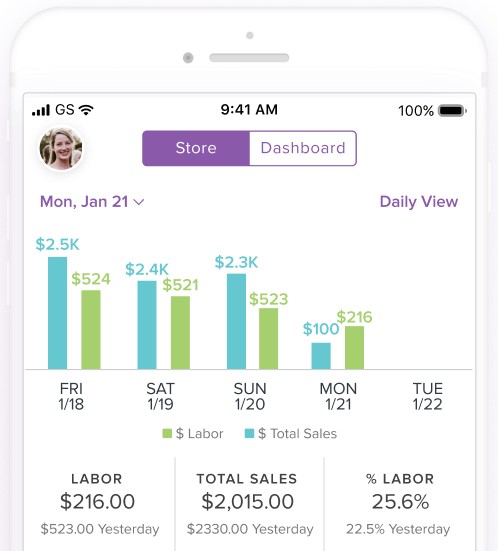 With an employee scheduling POS integration, time tracking and shift scheduling are centralized in an automated system. Employees can see their schedules, trade shifts, and submit time off requests. These integrations also typically come with advanced labor tracking to help ensure compliance with laws and regulations.
Employee scheduling POS integrations to try:
Homebase: Hour tracking, schedule creator, online time sheet, and built-in messenger; ideal for managing a single retail location
When I Work: Time clock, applicant tracking, schedule templates, team messaging, overtime visibility, labor forecasting, shift trading and bidding, and applicant sourcing
7shifts: Better suited for restaurants; time tracking, workforce management, employee engagement, labor compliance, and manager logbooks
More resources to help you choose an employee scheduling POS integration:
6. Shipping and Order Fulfillment
Shipping and order fulfillment are no longer functions just for ecommerce businesses—many brick-and-mortar businesses are now multi-channel operations. This year, many storefronts opened up online shops and/or started offering pickup options. Plus, some customers will come to your store and ask you to deliver it to them, especially if you sell bulky items like furniture or outdoor equipment.
When you add an ecommerce component to your retail store, you need to find a shipping and order fulfillment solution to help you manage these additional sales. Shipping and order fulfillment POS integrations sync all of your orders in a centralized database so you can manage all in-store and online orders (and even customers) in one place. Features might include order tracking, supplier management, shipment tracking and updates, label creation, and more.
Shipping and order fulfillment POS integrations to try:
Stamps.com: Print USPS postage and shipping labels, save up to 46% on rates
ShipBob: Outsourced 3PL, order management, stock level tracking, and receiving inventory reorder notifications
ShipStation: Manage all orders from a mobile app, find the best shipping rates, and generate discounted shipping labels
FedEx Fulfillment: Order fulfillment services, packaging, warehousing, reverse logistics, and product storage in warehouses across the US and Canada
More resources to help you choose a Shipping and order fulfillment POS integration:
7. Ecommerce and Online Ordering
Given that ecommerce is an extension of your brick-and-mortar stores, you need a POS that can handle multichannel sales—or a POS integration that can fill in those gaps. This centralizes all your data so you can run your business as a whole, not as two separate entities.
Many POS systems integrate with online store platforms so you can sync online and offline sales, payments, customers, and inventory. Some POS systems offer dedicated ecommerce solutions. An ecommerce-first platform, Shopify POS has strong multichannel capabilities.
There are also integrations you can use to connect an existing online store or ordering system to your brick-and-mortar business. This is helpful for buy online pickup in-store, curbside pickup, and other multichannel buying behaviors that have surged during 2020.
Ecommerce and online ordering POS integrations to try:
More resources to help you choose an ecommerce and online ordering POS integration:
8. Reservation and Appointment Management
Appointments have traditionally been reserved for service-based and restaurant businesses. However, retailers also use appointment scheduling tools to manage custom fittings, styling services, and personal shopping. This year, many businesses are also using appointments to manage the number of people inside at any given time, to help allow for social distancing.
Whether it's a service/retail hybrid or appointment-only shopping due to the COVID-19 pandemic, some POS systems can handle basic reservation and appointment management themselves. Square Appointments, for example, does a great job of this.
For something more robust, you'll want to consider a dedicated reservation and appointment management integration. This will get you the basic features, like appointment reminders and notifications, the ability to view a calendar, and the option to change/edit appointments.
You can also sync information with your POS's customer profiles for richer insights. Beyond that, these POS integrations can also save and process credit card payments.
Reservation and appointment management POS integrations to try:
Acuity Scheduling: Real-time notifications and reminders, gift certificates and subscriptions, advanced reporting, and credit card vaulting
Bookeo Appointments: Online payments, integrated marketing tools, calendar sync, and client database
Setmore: Online payments, class bookings, staff scheduling, and automated reminders
Fresha: Analytics, instant booking confirmation, payment processing, inventory management, and a live calendar
Appointlet: Customizable booking confirmations, booking dashboard, reporting, multiple timezone support, Google Calendar, and Microsoft 365 integration
Calendly: Calendar integrations, multiple meeting types, automated notifications, centralized billing, and metrics and reporting
More resources to help you choose a reservation and appointment management POS integration:
9. Email Marketing
Email marketing is a powerful tool for retailers because your email list is an audience you own, and an audience who has actively opted in to receiving messages from you. Your retail POS makes it even easier to grow your email list because associates can ask customers if they want to subscribe while they make a purchase.
Plus, email marketing with your POS allows you to send digital receipts, product recommendations, and promotions for in-store events. ShopKeep is known for having powerful built-in email marketing POS integrations.
If you're looking for a third-party POS integration to amplify your email marketing efforts, you'll want to consider things like automated emails, drip campaigns, split testing, advanced tracking, and personalization features. It's also a good idea to look for list management features, like the ability to segment and group your subscribers based on commonalities.
Email marketing POS integrations to try:
Constant Contact: Automated welcome emails, trigger email series, segmentation, and list-building tools
Mailchimp: Remarketing ads, landing pages, audience segmentation, website builder, split testing, and campaign builder
ActiveCampaign: Personalized email marketing, contact management, audience segmentation, and website messaging
10. Loyalty Programs
Customer loyalty programs reward shoppers for repeat purchases and word-of-mouth referrals. This is valuable for retailers because it gives customers a reason to keep coming back. Plus, shoppers who belong to a loyalty program spend about 37% more than those who don't.
Vend POS and Lightspeed Loyalty are both known POS integrations that boast top-notch customer loyalty program features. With a loyalty program POS integration, you can enroll shoppers, track spending, and reward your best customers.
With a third-party integration, you can do much the same—and then some. Know who shops at which locations, who your most frequent shoppers are, and who the biggest spenders are. You can drill down to see exactly which items each customer purchased, how much they paid for each item, the payment method they used, the time of day they visit your store, and if the items were returned. An integrated POS arms your associates with this information so they can act accordingly on the floor, offering informed customer service.
Loyalty program POS integrations to try:
CandyBar: Unlimited stamps, program performance metrics, customizable rewards, and messaging
Loyalty Gator: Digital punch card program, no transaction fees, and customizable rewards
More resources to help you choose a loyalty program POS integration:
11. Online Listing and Reputation Management
Online listing and reputation management integrations are important because they allow businesses to read and respond to reviews and update store hours from a centralized location, instead of having to check Yelp, Google, Facebook, and more individually.
It's important to read and respond to online reviews promptly, and keep business information up to date to provide a good customer experience. Reputation management software gives retailers an overview of how they're represented online, as well as insights on how to improve. This includes customer impressions of the in-store and online experience.
ShopKeep, for example, has a tool called ShopKeep Spotlight, which shows all your online listings right in your ShopKeep POS dashboard, and checks to see how accurate they are. Having online listing and reputation management aggregated into your POS system can save busy store owners lots of time managing their online profile.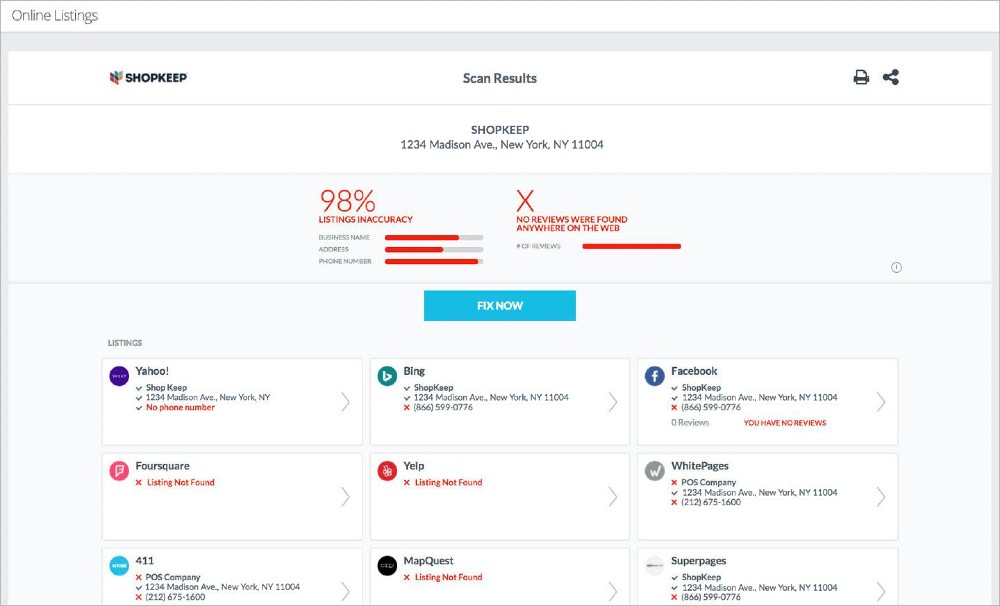 Online listing and reputation management POS integrations to try:
Yext: Bulk uploading, listings management, analytics, data management, automatic geolocation, revenue reporting, and voice search optimization
Hibu: Listings management, online reviews, social marketing, display advertising, and SEO services
Bottom Line
Your POS is a powerful tool for every retail business, and it's made even more powerful when all of your business tools work together to give you complete control. When adding integrations and apps to your retail POS, consider the following:
Payment processing: Process credit and debit cards, cash, gift cards, check, mobile pay, and other payment methods
Accounting: Simplify accounting with streamlined integrations and processes
Inventory management: Stay on top of stock levels across all your channels and locations
Payroll: Stay compliant, offer benefits, and accurately pay staff on time
Employee scheduling: Manage and empower employees
Shipping and order fulfillment: Sync backend operations for seamless customer service
Ecommerce and online ordering: Integrate your online store and commerce channels with your physical locations
Reservation and appointment management: Combine service-based business with retail or offer appointment scheduling to ensure health and safety
Email marketing: Stay top of mind for your customers
Loyalty programs: Boost customer retention with personalized promotions
Online listing and reputation management: Your online presence influences the success of your brick-and-mortar stores
Ready to get started using a POS? Choose the best POS system for your business, then follow our guide on how to set up your POS system.