41 Retail Statistics for 2022: The State of In-store Shopping
In 2022, worldwide retail sales are projected to grow 5%, exceeding $27 trillion in sales. Amid this acceleration in growth, the retail world is also changing. Understanding this change is vital for the success of your business.
Let's look at some of the most recent trends around retail sales, brick-and-mortar operations, and consumer preferences that can help your business get ahead, whether you're well-established or newly launched.
General Retail Sales Statistics
1. Global retail sales grew to $26 trillion in 2021
Worldwide retail sales in 2021 rose by nearly 10%, bringing in $26 trillion. This strong rebound from a slight decline in 2020 (unsurprising, considering the COVID-19 pandemic) indicates a lot of momentum, particularly with brick-and-mortar stores, and that we can expect to see the industry continue to grow in coming years.
2. US retail sales hit nearly $6.6 trillion in 2021
Up by some $1 billion over 2020, 2021 was a great year for US retailers, with sales totals hitting nearly $6.6 trillion for the year.
3. By 2025, global retail sales are projected to hit $31.3 trillion
With 2021 showing signs of retail's initial revival and growth, the next few years are looking positive as well. According to an analysis by Insider Intelligence, retail sales are anticipated to grow between 4% and 5% each year through 2025, ultimately landing at just over $31 trillion.
4. For every store closure, two new stores open
While the pandemic certainly brought hard times to many retailers, there is hope. As highlighted above, sales are projected to reach record highs in the coming years and consumers are ready to get back out there. Not only that, but a report from the National Retail Federation (NRF) found that there have been twice as many store openings as closings throughout the pandemic.
In-store Shopping Statistics
5. US consumers spent 11% more time and money in-store in 2021 compared to 2020
A study from Mood Media looking at consumer sentiment found that US consumers spent 11% more time and money in brick-and-mortar stores in 2021 than in 2020. This increase is huge—the largest uptick when compared globally—and speaks to US consumers' readiness to return to pre-pandemic shopping habits.
6. In 2022, the ecommerce share of retail sales is decreasing
In 2021, ecommerce sales accounted for 17% of all retail sales. While analysts expected the share of ecommerce sales to continue increasing, ecommerce sales have only accounted for 14.3% of retail sales through mid-2022. This indicates two things—shoppers are ready to get back to in-person shopping and ecommerce's rise to supremacy is going to take longer than we thought.
7. 80% of global consumers feel comfortable or very comfortable shopping in stores
The majority of global consumers were comfortable returning to in-store shopping in 2021. About a third (32%) say they are somewhat comfortable, and only 16% are uncomfortable. This, paired with Mood Media's finding that 29% of consumers report spending more per in-store shopping visit, is a hopeful sign for the future of brick-and-mortar stores.
8. In-store sales are up 13.7% compared to pre-pandemic levels
In 2021, we saw in-store shopping surpass 2019, pre-pandemic levels, and this trend only continued into 2022. In fact, from 2019 through mid-2022, in-store sales are up 13.7%.
9. Gen Z and Gen X are the only groups to shop more in-store than online
According to a survey from Sponsorpulse, Gen Z and Gen X are the only generations that shop in-store more than they do online. Boomers, surprisingly, and millennials had a higher portion of online versus in-store purchases, largely due to shopping behaviors adopted during the pandemic.
10. 20% of consumers say that they shop exclusively in-store
According to new research from McKinsey, shopping patterns are moving back toward the pre-pandemic status quo. In fact, 20% of consumers say that they are now doing all their shopping in-store, and only 5% shop exclusively online.
Small Business Retail Statistics
11. Over 60% of small businesses expect their revenues to grow over the next 12 months
In 2020, business owners were facing the pandemic and only 34% of them expected their revenues to grow. In 2022, however, the outlook is much more hopeful with the majority of small businesses, some 64%, anticipating revenue growth over the coming 12 months.
12. 68% of small business owners admit that they have had to increase their prices due to inflation
Inflation is hitting Americans hard, and business owners are being faced with the hard decision of sacrificing their bottom line or raising their prices. With energy and food costs rising weekly, 68% of small businesses have had to raise their prices to stay afloat.
13. 57% of small business owners say they've taken steps to create better risk mitigation in the future, based on the pandemic
Small businesses felt the COVID-19 pandemic, and many owners faced uncertainty about their business's survival. In response, 57% of small business owners are taking steps to better mitigate against potential economic and global threats.
In fact…
37% are focusing more on digital sales
36% are adopting new technologies
31% are focusing on diversified revenue streams
14. From 2016 to 2021, small retailers had average revenue growth of 51.33%
While it can be easy to get stuck in day-to-day numbers, it is helpful to know that across the country for the last five years, small business retail revenue has been growing at a steady pace. Small businesses, in general, have seen a 53.05% increase in revenue from 2016 to 2021, with retailers specifically not far behind at 51.33%.
15. 70% of small businesses have adopted new digital tools over the past 12 months
With consumers becoming more and more technically savvy and demanding, 70% of small businesses have decided to make the investment and adopt new technology to enhance their business.
16. 95% of retailers say they plan to increase their investment in digital capabilities in 2022
To compete in an increasingly digital world, 95% of retailers are looking to boost their technology to enhance their brand's in-store and online shopping experiences. The goal is to offer a cohesive omnichannel experience that is immersive and personalized to each customer.
17. Artificial intelligence in the retail market is supposed to surpass $36 billion by 2030
Artificial intelligence (AI) is an increasingly important part of the retail landscape and roughly scaling with annual revenue. In fact, the AI market value within retail is supposed to hit $36.46 billion by 2030 as retailers continue to invest in the technology.
Retail Consumer & Generational Preferences
18. For modern consumers, quality is more important than the price
The NRF found that despite the economic downturn of 2020, quality was more important than price in purchasing decisions. Of the survey respondents, 32% reported that quality mattered most, while 30% responded that price was their top consideration while shopping.
19. 40% of consumers identify as "purpose-driven"
A 2020 report from the NRF found that most consumers fall into two buckets. They are either purpose-driven (40%), meaning that they prioritize the company's values in making purchasing decisions, or they are value-driven (41%), meaning they want good quality for the price.
20. 57% of consumers are willing to change their shopping habits to reduce negative environmental impact
In addition to a desire for convenience and quality, modern consumers also want the companies that they patronize to be environmentally conscious. This is especially true of younger generations and businesses that sell food products. However, with over 50% of consumers willing to change their shopping habits for environmental reasons, there is good reason to adopt environmentally conscious practices.
21. A third of US shoppers hope to continue ordering online and collecting items in-store after pandemic restrictions lift
Some habits that came from the pandemic aren't going away, including consumers' desire to use click-and-collect services. While click-and-collect was initially adopted as a safety precaution during the pandemic, it has become a preferable and convenient way for shoppers to buy from brick-and-mortar businesses.
22. About 30% of consumers said that in-location customer service has improved in 2021
One of the things that Raydiant found in its State of Human Behavior Report was that consumers are experiencing better customer service at brick-and-mortar retail locations than they were before the pandemic. This positive experience is increasingly getting people back in stores.
In addition to convenience offerings like click-and-collect or curbside pickup, retailers should work to improve their customer service. Good interaction with an employee is a great way to foster loyalty and get customers to visit your storefront rather than shopping solo online.
23. 34% of consumers say they don't trust internet-only businesses
While ecommerce is certainly growing, there is still a third of consumers who don't trust internet-only businesses to act in their best interests. Trust is a major factor in fostering loyalty and subsequently driving your sales.
24. 59% of consumers say the ability to feel, touch, and try the product is key for shopping in-store vs online
When asked what factor drives them to choose to shop in stores vs online, 59% of consumers said that the ability to experience the product in person was important. Just over 50% of respondents cited convenience, and 45% answered the ability to browse.
25. Masks are the biggest deterrent to in-store shopping across the globe
While consumers do like some of the hygiene and convenience services that the pandemic inspired, they do not like wearing masks while shopping. A substantial 46% of respondents to the Mood Media 2021 consumer sentiments report said having to wear masks was the biggest deterrent to in-store shopping.
26. Over 90% of consumers are more likely to choose a retailer based on convenience than any other factor
In a 2020 consumer behaviors report, the NRF found that convenience is increasingly important to the modern consumer. As the world was forced to shift almost completely to online shopping during the pandemic, people became accustomed to the convenience of shopping from home, and now prioritize that ease over other aspects of shopping. In fact, 83% of consumers say that convenience is a greater factor than it was five years ago.
In the report, the NRF found that convenience was primarily a time issue. Many consumers feel like they have less free time than they did five years ago, and do not want to dedicate as much energy or as many hours to shopping.
27. Convenience is a top priority for shoppers, especially at checkout
Convenience is a top priority for most shoppers, so you should prioritize creating an easy and streamlined experience anywhere you can. To maximize your efforts, you should start with creating a convenient checkout system. This NRF study found that the greatest share of in-store shoppers—40%—think that checkout is the most important area to prioritize convenience.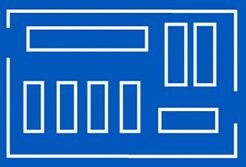 28. Convenience is most important for grocery purchases
Whether convenience is a major factor in a consumer's purchasing decisions depends on the industry. NRF's survey found that consumers were more likely to make everyday purchases (like for food and gas) based on convenience. They also found that consumers were willing to pay more for convenience for those same purchases.
The graphs below break down the percentage of consumers that rate convenience as "very important" in their purchasing decision as well as the percent of consumers willing to pay more for convenience.
29. 52% of shoppers say that more than half of their purchases are influenced by convenience
A major follow-up question in the matter of convenience is, what types of purchases does convenience impact? The answer is—most of them. The majority of consumers (52%) say that convenience impacts more than half of their purchasing decisions.
30. 97% of consumers have backed out of purchases due to inconvenience
Convenience not only makes a purchase, but it can also break it. The 2020 NRF report found that nearly every consumer (97%) has backed out of purchases due to inconvenience. Even when consumers cited other factors like product quality and price as important factors in purchasing decisions, inconvenience was the overwhelming factor in making consumers back out of a purchase.
Retail Job & Employment Statistics
31. 41% of business owners say labor shortages are currently impacting their business
In addition to problems with the supply chain (which we will cover below), there have also been major labor shortages impacting small businesses. Some 41% of business owners admit to facing labor shortages. Of that group,
57% have been forced to work more hours
29% have had to reduce their product/service offerings
29% have had to raise wages to attract talent
21% have lost customers due to staffing
32. 26% of small businesses plan to hire in the next 12 months
In 2022, 26% of businesses are planning to hire new staff in the next 12 months. This is up from 21% in 2021 and 13% in 2020.
33. More than half of US retail workers left their jobs in 2021
The retail labor market is a hard place to be right now, with turnover at an all-time high. In fact, 7.5 million people left their retail jobs in 2021, amounting to an overturn of over half of the retail workforce.
An analysis by Text Kernel explains the upheaval.
"Retail workers have left their jobs for a variety of reasons, including low pay, poor working conditions, health concerns related to the pandemic, and burnout. Understandably, resignations rose heading into the holiday season, with the added stress of increased crowds convincing more workers to leave their retail jobs."
34. Wages are up 5.2% from 2021
To attract talent and compete with inflation, wages across all industries have increased by an average of 5.2% over 2021. While this is in line with predictions, it appears that the wage increases are slowing as we move into the second half of 2022.
35. Retail's workforce continues to shrink, down more than 60,000 from April to May 2022
Where other industries have begun to gain more employees than they lose month over month, retail's labor force continues to shrink. In fact, in May 2022, retail lost 61,000 employees compared to April of the same year. All other industries in the report saw an increase in the labor force between 1,000 to 84,000 people.
Retail Supply Chain Statistics
36. Supply chain issues of the past two years are expected to continue through 2022
While ports in Los Angeles and Long Beach have begun operating 24/7, they are still facing labor shortages and bottlenecks. According to a report from 3PL Central, retailers can expect the supply chain to continue to cause problems and maybe even get worse in 2022.
37. Manufacturers fear not being able to get raw materials from their suppliers
The biggest issue in the supply chain in 2020 was not supply but rather logistical labor. That is no longer the case. In 2022, 64% of manufacturers think that securing raw materials is going to be a moderate to major risk to the supply chain, and 68% point to supplier operational issues.
38. Empty shelves cost US retailers $82 billion in lost sales in 2021
Having the right amount of inventory in stock at all times is the cornerstone of good inventory management. However, even the best inventory management can't circumvent shortages brought on by the supply chain. In 2021, retailers in the US saw $82 billion in sales disappear due to stock shortages brought on by supply chain issues.
39. In efforts to make the supply chain more resilient, 58.6% of retailers are making investments in omnichannel fulfillment
In an effort to combat such high lost sales, retailers are fortifying their supply chain networks. In fact, 58.6% of retailers say they are going to invest in omnichannel fulfillment. View the graph below to see where else retailers are investing and how they are protecting themselves against supply chain turmoil.
40. 64% of retailers use a cloud system to run key supply chain processes
About two-thirds of retailers have begun the process of migrating at least some key supply chain systems to the cloud. Of these cloud adopters, 50% have migrated some applications, 9% have migrated many, and 5% have migrated most.
According to RetailWire, of the 36% of retailers with no cloud system for managing their supply chain operations, most anticipate having "some" or "many" systems running on the cloud within the next year. Further, about 10% say they will have "most" applications in the cloud in 18 months' time.
41. The global supply chain management market is growing at a CAGR of 11.2% from 2020 to 2027
The global supply chain management market size was valued at $15.85 billion in 2019, and is projected to reach $37.41 billion by 2027. This means that the supply chain management market is growing at a compound annual growth rate of 11.2% from 2020 to 2027 and was not permanently affected by the pandemic.
Bottom Line
Retail is a fluid and ever-changing industry that evolves with our culture and can change in an instant. Over the past couple of years, especially, retail has seen new trends and shopping behaviors emerge in the wake of the COVID-19 pandemic.
This piece took a look at some of these emerging patterns, examining retail sales, brick-and-mortar trends, consumer behaviors, and the future of retail. Using the retailer statistics above, you will be more prepared to combat the changing retail market and allow your business to adapt and thrive as the industry evolves.
You May Also Like…