Omnichannel vs Multichannel Retailing: Which Is Right for You?
Omnichannel retailing is when a retailer's sales channels—such as storefront and online store—work together to form a cohesive customer experience (customer-first approach to building a brand). Multichannel retailing, on the other hand, is when a retailer has multiple sales channels—such as an online store and wholesaling to major retailers—that are siloed (product-first approach that focuses on sales and exposure).
When comparing omnichannel vs multichannel retailing, consider whether it's more important to your business to offer the best possible customer experience or get your product in front of the widest audience possible.
Omnichannel: Best for most independent retailers that have a brick-and-mortar shop and online store
Multichannel: Best for direct-to-consumer (DTC) brands, startups with single product lines, consumer packaged goods (CPG) brands, and health and beauty products
To offer an omnichannel shopping experience, you'll need an ecommerce platform that supports the tools and strategies in this guide. BigCommerce is an ecommerce website builder that makes omnichannel selling easy by managing all of your listings and promotional efforts in one central location. Seamlessly list your products on Amazon, eBay, Facebook, and Pinterest, and automatically create Facebook and Google Shopping ads using your inventory. Try it free for 15 days.
Omnichannel vs Multichannel Retailing: Quick Comparison
Omnichannel Retailing

Multichannel Retailing

What is it?

A cohesive strategy through all channels and revolves around a customer

A sales-first strategy that involves many channels and revolves around a product

Key differences

Customer-centric;

Integration of sales channels for a holistic customer journey (customer-based)

Product-centric;

Addition of sales channels (channel-based)

Who is it right for?

Local businesses with ecommerce stores;

Businesses with a loyalty program;

Retailers and companies with complete control over all of their sales channels

Companies with a single product or product line;

Retailers with custom or legacy POS systems;

Companies wanting exposure by wholesaling to larger retailers

Recommended solutions
When to Use Omnichannel Retailing vs Multichannel Retailing
If your retail business has a brick-and-mortar component, sells products online, sees large profit margins, and has built-in marketing tools with your platform—or has the resources to invest in them (such as a loyalty program and mailing list)—then doing an omnichannel retail approach makes sense. You already have the margins to make the customer buying experience more seamless.
Overall, taking an omnichannel retail approach results in a better customer experience. For example, a shopper who makes a purchase online and has the ability to return the product in-store can appreciate the flexibility offered by omnichannel retailers. They also get to use coupons and track loyalty programs across channels.
An omnichannel approach also gives better business insights since customer behavior dictates the strategies used next. Each experience is not random because it is in response to the customer's behavior within and between channels.
While omnichannel seems like a logical choice for businesses because of its advantages, it requires significant resources—logistics, technology, and human effort. So while omnichannel may be the optimal model, businesses that have limited operating costs might be better served to start with a multichannel experience before tying them all together.
PROS

CONS

Better customer experience
Complex
Improved analytics
Cost-prohibitive
More control over your branding, presentation, and customer experience
Logistically challenging
If you are a business where cost-efficient solutions are a priority, sticking with a multichannel retail approach means no integration expenses. Similarly, those with custom POS systems might be better off sticking with multichannel since the complexity of integrating well-established, customized POS systems with other channels can come at an enormous expense that outweighs the return on investment (ROI).
Another thing to consider is if you are selling a branded line of products or even individual products—such as consumer packaged goods (CPG), health or beauty items, household supplies, or similar goods—you will likely want to get them on the shelves of major retailers like Target and Walmart.
Taking a multichannel approach helps you reach more customers since you are adding more sales channels for customers to interact with. However, since it doesn't integrate sales channels with one another, you need to be mindful that your messaging stays consistent throughout and that you exert the same amount of effort across all channels to reap the benefits.
PROS

CONS

Increased customer reach
Inconsistent messaging
Easy implementation
Lacks personalization
Cost-efficient
Needs to have the same amount of marketing effort across multiple sales channels for it to work
Omnichannel vs Multichannel Retailing: How Each Works
Omnichannel retailing delivers a seamless experience from the customer's perspective. Every experience they have in interacting with a brand—online, in-store, mobile app, and email—connects.
Using the Six Spokes Theory, the omnichannel approach pulls the customer into the center of the wheel (instead of the product), and the spokes are sales channels that the customer engages with—websites, emails, retargeted ads, social media marketing, and physical locations. Instead of having it separate, these channels overlap and communicate with one another so their messages adapt to each customer encounter. It is interactive and personalized, which isn't possible through a multichannel retail approach.
To deliver this seamless experience, sellers tie sales and marketing activities in a central data hub, shift to a customer-centric approach in all areas, and employ analytics at all levels.
Let's explain this approach further:
A customer visits a website, adds a product to their cart, and leaves without purchasing. Then, they receive an email containing a discount offer but they ignore it.
At the same time, they see ads for the product with the same discount offer across social media platforms they frequent—Facebook, Pinterest, Instagram, and YouTube—but these are all distributed through one week, so it's not annoying.
After a week of non-engagement, the seller changes their strategy and uses a cause marketing approach (social or charitable campaigns). It features ads highlighting its social responsibility efforts with calls to action (CTAs) to check out its donation page. When the shopper sees a YouTube ad of the seller's supported cause, they finally engage.
Did You Know?
The National Retail Federation reports that 40% of consumers identify as "purpose-driven"—a company's values have an influence in their purchasing decisions.
They end up going back to the seller's website and instead of adding the original product they were interested in, they add a new one of bigger value.
In response to their new interest, a new round of ads appear along with an email that offers the new product. Instead of a direct offer, a new product is featured and the discount is higher.
The customer clicks a Facebook ad and enters their shipping information, but decides that they want to see it in person before purchasing; therefore, they abandon their cart again.
An automation is anticipating another abandoned cart, so it detects the customer's address. A few days later, the shopper gets a mailer with an invite to the seller's showroom near their location.
This offer closes the deal. The customer drops by the showroom and purchases the item; their details are captured by a POS system that automatically updates their account.
They received a "Thank You" email a day after purchase and, a week later, an invitation to review the product. These emails are ignored.
The seller then tries to engage the shopper via a Facebook Messenger invitation to submit a review.
The customer leaves the seller a five-star review, interacting exclusively through Facebook Messenger.
Because of the five-star review, the seller's automation prompts a direct mailer and a Messenger message to tell the shopper about the referral/rewards program.
In the meantime, all of the social media ads of the purchased product stop—and ads for a complementary new product start.
As you will notice, interactions aren't categorized by channel but by customer behavior. The shopper response triggers a new set of interactions—whether by email, chat, or ads. Each interaction changes the experience.
The seller's behavior isn't random. It's a well thought out automation that engages with what the shopper wants and needs. It's aligned with the customer's behavior within and between channels. It is personalized and customized.
Multichannel retailing is selling products using multiple sales channels. The approach for the customer buying experience is the same and just allows consumers to choose which channel they prefer. It's flexible, but in reality, takes a single-channel approach since shoppers expect brands to behave within the confines of the channel.
The Six Spokes Theory's application here has your product at the center of the wheel—with the goal of closing a sale. The spokes are different sales channels where your customers are and offer an independent opportunity to purchase.
According to Shopify's Enterprise Guide to Multi-Channel Ecommerce, a multichannel retail approach increases revenue by 38%, 120%, and 190% with each additional channel. It's definitely worth getting into.
Let's walk you through how the multichannel retail approach works:
Channel 1: Website
A customer visits a website to browse, with some intention to purchase. They get a coupon for $50 off from a pop-up window.
They use the coupon and add to their cart, but abandon it after much thought.
Before exiting the website, an exit intent pop-up appears, enticing them further with a coupon to be sent if they join the mailing list. They subscribe.
They get an abandoned cart recovery email and the same offer afterward.
Customer still doesn't purchase.
When a customer visits a website, it can retarget them to other channels such as Facebook, Pinterest, or Amazon.
Channel 2: Amazon
Customer sees the product in the related or recommended products sections.
Once they click on the product, it will take them to the same product details page seen on the website, but on Amazon. It has the same information—video, description, images, and social proof.
Channel 3: Social media channels
By investing in Facebook and Pinterest ads, the customer can see ads on those platforms that can drive them to a brand's site or buy directly from its social media channels.
On Facebook, the approach is to have customers purchase directly through a Facebook Shop or Buy Button.
On Pinterest, the customer can buy products through a Buyable Pin.
As you will notice, a business just offers the same product with the same messaging—without added incentive to buy—across all channels with no other trigger than the customer's initial purchase intent (on its website). It employs the same strategy and messaging with the end goal of closing a sale. Its approach is to make the product more visible so that it stays top of mind, but it doesn't actively engage the customer to buy.
In multichannel retailing, when you find out which channels resonate best with your target buyers, you can optimize marketing on those channels to maximize sales.
Omnichannel vs Multichannel Retailing: Features
Since omnichannel and multichannel retailing are similar, they share many features but approach them differently. Aside from sales channels, features such as customer loyalty programs, email marketing, and flexible fulfillment and returns are included in these retail approaches. We explore them more in detail below.
Email Marketing
Email marketing should be a key part of any online marketing program. Top ecommerce platforms let you deliver the omnichannel experience by integrating your sales data with top email systems or even built-in mobile-friendly email marketing like you get with Square POS.
Connecting your email list to buyer history lets you target emails to customers who have previously purchased certain products or similar items. Using purchase history to target marketing efforts is omnichannel thinking in action and leads to far more sales conversions than a one-size-fits-all approach.
Similar to omnichannel retail, email marketing strategies in a multichannel retail experience allow businesses to see which pages a shopper visits, which links they click, and how they engage with each email. However, it's not integrated with every channel.
---
Customer Loyalty Programs
Loyalty programs are an essential feature in omnichannel retailing. Let's take Starbucks's loyalty program for example. It delivers rewards points and reloadable payments across whatever media the customer prefers: physical cards or mobile app. Now, small businesses can tap the power of fully integrated loyalty programs using POS systems with built-in programs, such as Square Loyalty.
A multichannel loyalty program example is providing customers with a physical coupon at checkout for their next in-store visit. They can't use this coupon online or over the phone and must present the physical coupon during their next purchase.
Some loyalty programs can have both omnichannel and multichannel elements. To continue the Starbucks example, consumers are unable to use or earn reward points when ordering through a delivery service, like DoorDash or UberEats. By adding the additional sales channels of online delivery apps, Starbucks is sacrificing its omnichannel loyalty strategy in that case in exchange for more sales and exposure.
---
Customer Service
Cross-training staff helps deliver an omnichannel experience to customers. Store clerks and anyone servicing customers need to understand all of the ways customers connect with the company—they may connect through Amazon first, and then find your website or store.
Having quick access to weekly email specials, knowing how the mobile app works, and being able to look up items and shopper buying history is a start. Familiarity with all sales channels and marketing engagement points allow service staff to assist consumers every step of the way.
If we take a multichannel approach on this, some businesses do not have its support team integrated—phone agents cannot access customer conversations done by email or vice-versa. Each channel maintains its own communication, which can frustrate customers.
---
Flexible Order Fulfillment & Returns
An omnichannel fulfillment strategy involves using multiple selling channels to fulfill and distribute customer orders, no matter which channel the customer used. Meanwhile, a multichannel fulfillment approach has siloed inventory per channel and orders are only fulfilled from the channel (or branch) it is assigned to.
Say for example, a customer places an order online. In a multichannel fulfillment approach, they would have to wait for their order to be dispatched from the store's warehouse for delivery.
However, an omnichannel system can identify a store location that carries the necessary inventory close to the customer's delivery address. This way, it can offer multiple options for the customer—deliver it the next day or give a BOPIS (buy online, pick up in store) option. This results in a better customer buying experience.
---
Omnichannel Retail Examples
Creating an effective omnichannel retail experience can take time and skills. With the right strategy, a small business may see its profits and customer satisfaction increase. See how these brands implemented great omnichannel retail strategies.
1. Sephora
Knowing your customer's birthdate allows you to send them a birthday email with a discount or coupon code that can be used online or in stores. Sephora does this really well—offering customers their choice between a variety of birthday coupons. Most of these coupons indicate they must be used during the buyer's birth month.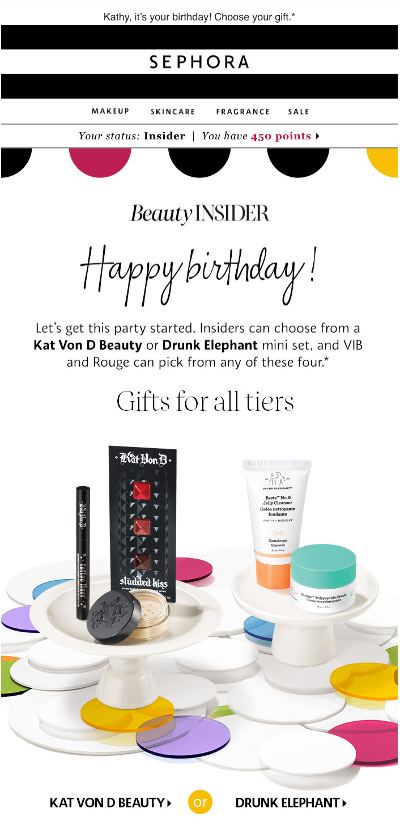 ---
2. Target
Target, through a Pinterest partnership, integrated Pinterest's Lens into its app so people can use their smartphones to take a picture of something they like and have their mobile app show them a similar item available for purchase.
This provides a seamless experience for a shopper who sees something they want to buy and can immediately find out whether or not Target sells something similar—and buy it right then and there.
---
3. Disney
Disney is the standard when it comes to omnichannel retailing. Its omnichannel experience starts with its website, then goes to the My Disney Experience tool so that people can plan every detail of their trip. A visitor can then use the app to figure out schedules of the rides and attractions and even see the wait times for popular rides once in the park. Disney even provides a MagicBands wristband that lets you unlock hotel rooms, download photos taken by guest members, order food, and more.
---
4. Apple
Apple is one of the greatest examples of omnichannel retailing done right. It only operates from its physical stores and online website but does wholesale arrangement with big retailers such as Target, Best Buy, and Costco. Even with different sales channels, the consistency of branding within its channels trickles down even to its services and apps. You can also purchase an Apple product from any store in the world and it can still be serviced at its repair center, the Genius Bar.
It is very clear on its focus, with its physical branches designed to promote its ecommerce channel. Its brick-and-mortar stores' mission is to promote brand awareness and support overall customer experience, encouraging customers to go to its online store to buy products if one is out of stock from a branch, for example.
---
Multichannel Retail Examples
Implementing a multichannel retail approach to your business is easy with the right platforms. Go with a POS system and ecommerce platform that provide native integrations so that adding sales channels is quick and easy. Explore how these companies execute excellent multichannel retail strategies.
1. Murad
Murad is a skincare company with an online store. It does not have storefronts, and its products are sold through other retailers, such as Sephora and Ulta, and salon and spa businesses, like Massage Envy. This means any issues with products need to be resolved with the retailer they were purchased from. Murad's loyalty program is also exclusive to purchases made directly on its website.
And while Murad has virtual consultations and quizzes for product recommendations available on its site, those would not transfer over if you were to receive a skincare service at an authorized third-party spa that uses Murad.
---
2. Warby Parker
Warby Parker sells prescription and nonprescription glasses and sunglasses via its online and local stores. However, its sales channels don't integrate, so it uses a multichannel approach.
---
Bottom Line
Omnichannel vs multichannel retailing are very similar in that they allow you to make purchases and interact with a company in multiple ways. In multichannel retailing, channels don't integrate; in omnichannel retailing, they do. You can track everything under one roof, cross-train staff, dissolve data barriers, and retrieve detailed analytics with omnichannel, and this customer-focused approach isn't reserved for enormous companies either. A product with healthy profit margins has room for an omnichannel retail approach.
If you decide to give your customers an omnichannel retail experience, go with an ecommerce platform like BigCommerce that makes it easy for you to integrate and monitor all your sales channels from one dashboard, and gives you features that allow you to track customer behavior and automate sales funnels.