Omnichannel retail is a multichannel approach that integrates the customer experience across all sales and marketing channels from ecommerce, in-store and mobile apps to social media, email, loyalty marketing, and more. The strategies behind these terms aren't reserved for big-budget players either. In fact, there's a good chance you're already putting some into action.
To offer a truly omnichannel shopping experience, you'll need an ecommerce platform that supports the tools and strategies in this guide. BigCommerce is an ecommerce website builder that makes omnichannel selling easy by managing all of your listings in one central location. Seamlessly list your products on Amazon, eBay, Facebook, and Pinterest, and automatically create ads on Facebook and Google Shopping using your BigCommerce inventory. Try it free for 15 days.
In this guide, we define what the terms omnichannel retail and multichannel selling mean and look at how these concepts impact everyday business. Then we show you ways that small retailers, online sellers, and startups can deliver an omnichannel customer experience on a budget.
Omnichannel Retail vs. Multichannel Sales: The Differences
Let's start by defining both terms.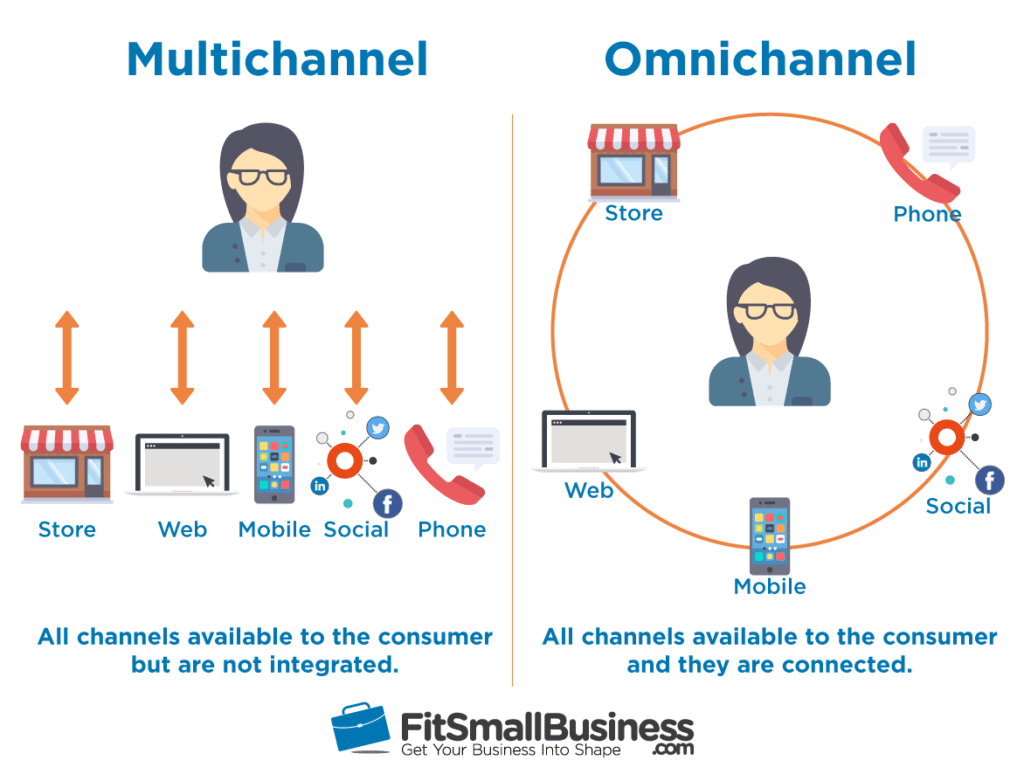 What is Omnichannel Retail?
Omnichannel retail is an overall business strategy that delivers a seamless experience from the customer's perspective. Every way a buyer interacts with a company — online, in-store, mobile app, email, and more — their user experience (UX) is connected. To deliver this seamless UX, sellers tie sales and marketing activities in a central data hub, shift to a customer-centric approach in all areas, and employ analytics at all levels. So, we can say that omnichannel retail is customer-centric and connects all activities to create a seamless buyer experience.
What is Multichannel Selling?
Multichannel selling is simply selling products using multiple sales channels. Do you sell on just one website? If so, you're not a multichannel seller. But, if you sell on your website, a mobile-enabled site, a Facebook Shop, and Amazon, you're a multichannel seller. So, we can say that multichannel selling is reaching buyers on two or more sales channels and these can be connected or not.
How Do These Concepts Differ and Why?
Multichannel selling is always part of an omnichannel strategy. But, simply selling products on multiple channels doesn't create an omnichannel experience. To do that, your sales channels, payment methods, and other aspects of your business must connect so that no matter how your buyer interacts with your company, it's seamless to them.
For example, let's say you run a natural foods specialty store and you sell through your:
Retail store
Online store
Facebook Shop
Selected products listed on Amazon
Mobile app with a customer shopping list feature
Plus, you market to customers using:
Weekly Specials email
Facebook posts featuring items in your Facebook Shop and healthy recipes
Printed coupon inserts in all shipped orders and in-store purchases
A loyalty program
Congratulations! You're already a multichannel seller since you sell to customers in four ways: a store, website, mobile app, and even a Facebook Shop. Plus, you have a nice email and social marketing strategy that keeps your customers engaged, updated and coming back.
But does that make you an omnichannel retailer? That depends. Do your sales channels and other marketing engagement points all work together? If you're not sure, here are five questions to ask:
Can your shoppers place an online order and select in-store pickup?
Can shoppers click on a sale item in an email to add it to their mobile app shopping list?
Can your store clerk look up a customer's mobile app shopping list in-store for them?
Can shoppers log in to your website and see past purchases, whether made in-store, online, or via your Facebook Shop?
Does your loyalty program update points and rewards to your customer's mobile app?
An omnichannel retailer can answer yes to each of these questions. All of their sales and marketing engagement points are interconnected. This creates a seamless customer experience that is the heart of an omnichannel strategy.
"When it comes to an omnichannel retail approach, Starbucks is a company that clearly gets it. Starbucks has physical rewards cards for those people who like carrying plastic when getting their coffee fix. The plastic rewards cards are integrated with the Starbucks app, which also keeps track of an individual customer's loyalty points. Cards can be reloaded in the app, on the website, via phone call or in the store. Promotional messages seen in the app are the same as the point-of-purchase messages that can be seen in the store. Starbucks is omnichannel across its entire marketing strategy." — Bob Bentz, President, Purplegator
In contrast, a multichannel seller who answers no to the questions above is not delivering an omnichannel experience. In fact, they're actually creating roadblocks to sales. While it's great to reach customers on several channels, let's see what your customer experiences when these engagement points aren't connected:
Shoppers can order online but there's no in-store pickup option. Boo! Now, they have to pay for shipping and wait for their order. Alternatively, they have to spend time searching your store shelves on their way home from work.
Shoppers love your weekly sales emails, but they have to get out of the email, open their app shopping list and add items manually, flipping between screens.
Dang! Your customer's phone battery died and they're in the store with a full shopping list saved in their app. However, your store clerk can't help because your store's point-of-sale and online systems aren't connected. So, your customer shops from memory and forgets three items. They're unhappy and you miss three sales.
A shopper bought something in-store that they loved but can't remember what it was when ordering online. Since your online and in-store sales aren't connected, they can't see it in order history and you lose a sale.
Now, managing sales across several channels is a great start, so let's not be too hard on our multichannel sellers out there. But, the fact is, shoppers increasingly expect a seamless UX experience from all companies — large and small. When they don't get it, there's a competitor out there to fill that spot.
Now, you know what these terms mean and how they apply in real-life situations. Next, let's see how you can connect the multichannel dots to create an omnichannel experience that keeps buyers coming back.
Integrate Sales Channels for an Omnichannel Experience
As discussed above, omnichannel retail is a customer-centric approach to your entire business. To deliver that connected UX, you need to connect as many engagement channels as possible under one roof. The easiest way to start is by connecting your prime engagement points: your sales channels. For this, you'll be amazed at what an ecommerce platform can do for you.
There are many software tools that can help connect multiple sales channels in a centralized location. BigCommerce is an ecommerce platform that makes it easy to sell on your website, in-store, and on Amazon, eBay, Facebook, Pinterest, Instagram, and more—all through a central dashboard. Although BigCommerce doesn't come with a built-in POS, it seamlessly integrates with multiple payment processors and POS systems, including Square, PayPal, Apple Pay, and Stripe. Click here for a free trial.
Integrate Marketing, Customer Service & Fulfillment
Delivering a seamless UX starts behind the scenes. The first step is bringing your multichannel sales data under one roof, as discussed above. But, omnichannel retail requires that your entire operational mindset shifts to a connected customer-centric approach, too. So, you need to apply omnichannel thinking across all operations
From key partners to warehouse staff, everyone needs to understand what omnichannel retail means, how it impacts your customer experience and how it can help you grow. If you're a small, one- or two-person shop, this is a snap to communicate. However, if you run a larger shop with staff or teams focused on certain aspects like marketing, website work, and customer service, you need to dissolve communication and data barriers between these groups.
"I actually think omnichannel consistency is easier for very small businesses. We have a few five-figure ecommerce clients. The owner of each manages every channel, publishing content and responding to inquiries. They have no need to manage across teams or people because they are the voice of the business. Where possible, slightly larger companies might be able to emulate this by making one person or a single team in charge of consistency across channels." — Eagan Heath, Founder, Get Found Madison
Following our natural foods example above, here are three ways omnichannel thinking impacts operating activities, and there are some things you can do to get the ball rolling.
Omnichannel Marketing
Omnichannel retailers need to shift marketing efforts toward connected experiences as in our example above where a customer clicks on a sale item in his or her email to add it to an app shopping list automatically. Connecting your marketing efforts to customer sales data and online tools like apps creates a seamless experience from the customer's perspective. That's the goal of the omnichannel seller.
"The single biggest difference between omnichannel retail and multichannel sales is how you, as a business, approach customers philosophically. With omnichannel, the focus of your marketing strategy is solely on your customers, creating a marketing mix that caters to their needs across channels — digital and physical — and ensuring consistency anywhere they experience your brand. With multichannel selling, the focus is more on maximizing results within each distinct channel, not necessarily having a cohesive approach. In our experience working with 17 million small and micro businesses around the world, developing a solid customer relationship using an omnichannel approach creates more loyalty and, in turn, long-term success." — Sarah Matista, Marketing Communications Manager, Vistaprint Digital
There are many things to explore in the world connected marketing: social, video, and paid ads, are just a start. However, good old email is still one of the most effective ways small businesses can market on a budget, so let's look at that first.
Email Marketing
Email marketing should be a key part of any online marketing program. Here, again, top ecommerce platforms let you deliver the omnichannel experience by integrating your sales data with top email systems or even built-in mobile-friendly email marketing like you get with Square POS.
Using our weekly specials email example above, connecting your email list to buyer history lets you target emails to customers who have previously purchased certain products or similar items. Using purchase history to target marketing efforts is omnichannel thinking in action and leads to far more sales conversions than a one-size-fits-all approach.
Along with email, other marketing methods can be integrated into an omnichannel experience, such as customer loyalty programs, interactive video ads, and retargeting ad campaigns.
Customer Loyalty Programs
Starbucks's loyalty program delivers rewards points and reloadable payments across whatever media the customer prefers: physical cards or mobile app. Now, small businesses can tap the power of fully integrated loyalty programs using POS systems with built-in loyalty programs like Square Loyalty.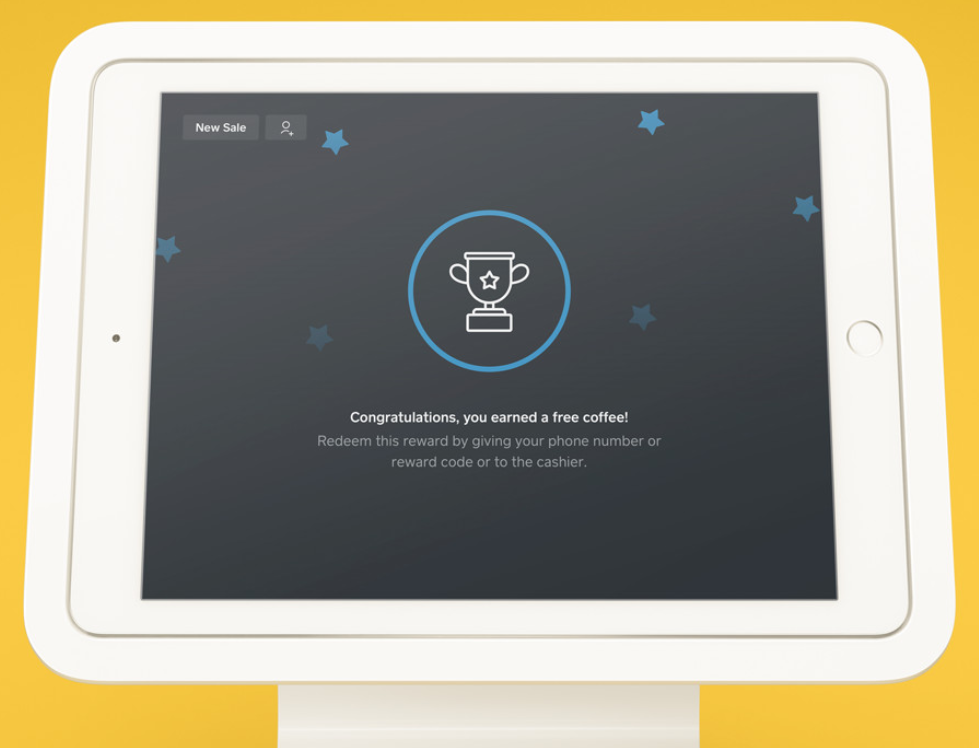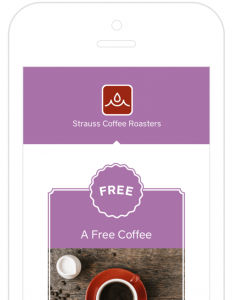 Square Loyalty lets customers track and redeem perks via a mobile app.
Like Starbucks's industry-leading program, even small business loyalty perks can be tracked online, via a mobile device and in-store, to deliver a complete omnichannel experience. The success of your rewards program is tracked in your back-end dashboard easily.
Interactive Video Ads
Engagement is key when it comes to omnichannel marketing and cutting-edge groups like PK4 Media bring an interactive omnichannel experience to everyday video. Its XPS platform supports various omnichannel marketing methods, including interactive video ads like this one for Honda:
Interactive online video ads drive campaigns for many large brands but can also be tailored to fit small budgets and local businesses.
"Interactive video ads capture the viewer's attention, are more memorable and allow real-time targeting of marketing efforts toward the devices and media that drive maximum engagement. The interactive and instantly adjustable nature of engagement-based advertising has proven to increase purchase intent by more than 450 percent." — Tom Alexander, Founder, PK4 Media
Retargeting Ad Campaigns
Have you ever left a website and later notice ads for that site appearing on other websites you visit? This is retargeting in action. Retargeting ads keep whatever potential buyers viewed on your website front and center as they visit others. Some highly effective retargeting ads offer buy-it-now coupons or a free gift to increase instant engagement and conversions.
Omnichannel Customer Service
Here, cross-training staff helps deliver an omnichannel experience to customers. Using our natural foods store example above, store clerks and anyone servicing customers need to understand all of the ways customers connect with the company.
"I recently researched multichannel and omnichannel marketing strategies. During my research, I learned that companies with an omnichannel strategy had a 91 percent higher customer retention rate year on year, compared to multichannel strategies. Some of the most effective ways to support an omnichannel strategy were to use a live chat system on business websites and to make social media responses fast." — Ali Newton, Strategy & Marketing Manager, The Display Centre
Having quick access to weekly email specials, knowing how the mobile app works and being able to look up items and shopper buying history is a start. Being able to respond to social media comments and chat requests is key too.
In addition, service representatives need to know which sales channels are used since customers may connect through Amazon first, then find your website or store. Familiarity with all sales channels and marketing engagement points allows service staff to assist customers every step of the way.
Omnichannel Order Fulfillment
Warehouse staff needs to understand that they play a major role in the customer experience. Each shipped order is a key customer engagement point, and this is often is the only physical contact you'll ever have with a customer. Fancy or plain, packaging must be tidy, accurate, and deliver the brand experience. Even if that just means adding coupon inserts, it should be done with care. There are many ways you can craft a branded packaging experience, even on a tiny budget.
Use Customer Analytics to Know & Grow
Understanding how and where customer engagement points become sales is the backbone of a successful omnichannel strategy. As such, your data needs to deliver more than just basic sales information. You need a total picture that tracks the many routes, or engagement funnels, that customers take to complete a sale. The best ways a small business can get this information are Google Analytics and your sales system.
In Google Analytics, be sure to use audience segmentation for deep channel insights. There are very basic audience segments that everyone should be tracking: new vs. returning, mobile vs. desktop, and source channel segments.
"You can use these segments to analyze visitors who engaged with specific types of content on your website and how they behaved. You can do this in two steps. First, you segment visitors who view key pages such as blog content, your About Us page or support pages; whatever is important to you. Which visitors were on site longer or viewed more pages? Which had higher conversion rates? Are there differences in average order value? Your second step is to take the same visitors and see which traffic sources brought them to your site. This shows you the quality of your different traffic sources, and which bring in engaged, buying customers". — Khalid Saleh, Co-founder and CEO, Invesp
As with everything else omnichannel, your reporting system needs to track all of your multichannel sales and other engagement points under one roof. An added plus is a system that also lets you track engagement from marketing email campaigns, mobile apps, and social channels. Here is another place that top ecommerce platforms deliver.
WooCommerce connects to a variety of free and low-cost analytics systems, including the free Google Analytics plug-in for WooCommerce:
The Bottom Line
Tracking multichannel and multi-marketplace sales and marketing efforts under one roof, cross-training staff, dissolving data barriers and detailed analytics help small businesses deliver an omnichannel experience.
Set yourself up for success with BigCommerce, an ecommerce platform that lets you manage and advertise to all of your marketing channels from one location. You can easily connect to existing online channels or add new ones and fulfill and track sales from your dashboard no matter where they come from. Start your free 15-day trial.
Have you made the shift toward omnichannel sales and delivering a unified customer experience? Please share your thoughts on the processes, platforms, and tools work for you in the comments below.