Merchandising is the activity of presenting and promoting retail goods for sale. The term merchandising commonly refers to store displays and designing store layouts. Retailers use merchandising strategies to encourage customers to buy more products, which results in larger profits.
Merchandising involves all of the non-verbal tactics retailers employ in-store to promote product sales. Retailers merchandise their stores to increase sales by creating an effective store layout, choosing the best products to sell, arranging those products attractively, and pricing them competitively.
Why Is Merchandising Important?
In addition to promoting sales and influencing customer spending habits, merchandising is also important for building brand recognition and consistency. For example, even when a retailer has multiple store locations, they all have a similar look and feel.
Elements of retail merchandising include:
Product selection: To motivate shoppers to buy, retailers need to have attractive products and items that complement each other.
Pricing: Product pricing needs to be high enough to make a good profit, but competitive enough to appeal to shoppers.
Promotions and advertising strategy: Retailers offer promotions and create in-store signage to encourage spending.
Store design and layout: The layout of the store acts as a tour guide directing shoppers through all the products the retailer has to offer.
Visual merchandising: Products need to be displayed in a way that is appealing and accessible to shoppers.
Benefits of Merchandising
If a retailer puts time, effort, and planning into store merchandising, it can have a huge positive impact through increased sales. Great merchandising also leads to satisfied customers. A well-merchandised store is clean, neat, and easy to navigate.
Specific benefits of merchandising include:
Increased foot traffic: An eye-catching window display helps draw in passersby and encourages people to enter the store.
Higher sales: Well-stocked shelves, clear pricing, and tidy displays lead to higher sales.
Faster inventory turnover: When products are easy to find, accessible to customers, displayed attractively, and priced well, they sell faster.
Better use of floor space: Effective merchandising promotes higher sales, creating the highest possible revenue per square foot.
Higher customer return rate: Changing up your retail display keeps the shopping experience exciting for customers. If your store is different every time they come in, they will visit more often to look for new items.
Retail Merchandising Strategies
There are countless tactics retailers can use to promote products in-store. The biggest step is choosing an overall store layout including fitting rooms, permanent shelving, and placing the checkout counter. From there, retailers design temporary displays to entice customers and set promotional pricing to motivate customers to purchase.
Effective Store Designs
Planning an effective store layout is the first step in building a merchandising strategy to maximize sales in brick and mortar retail stores. Creating a deliberate store layout can strategically direct shoppers to high-priority products and drive impulse sales. A thoughtfully designed layout also creates an organized shopping space that is easy to navigate and provides a good experience for the shopper.
Choose a Store Layout Structure
Most retail stores fall under one of three basic store layout categories: grid, loop, and free-flow. The type best suited for your store depends on the type of products you sell. For example, grocery stores usually use grid layouts because they are predictable and efficient to navigate. Boutiques typically use more creative layouts that allow businesses to highlight different products.
Types of store layouts include:
Grid: Easy-to-navigate layout typically found in grocery stores, big-box stores, and convenience retailers.
Loop: Maximizes wall space and guides shoppers around a specific path; found commonly in jewelry, kitchen, and electronic stores.
Free-flow: Creative layouts that don't follow a specific pattern; typically found in boutiques, fashion retailers, and specialty shops.
Outfit Your Store With Fixtures
Once your basic store layout is designed, the space needs to be outfitted with shelving and a checkout counter. For most small stores, the best place for a checkout counter is the front left. Shoppers naturally drift to the right when they enter a store, loop around, and exit on the left side. A checkout at the front left of your store puts it your customers' natural exit path.
Placing the checkout counter in the front right section takes away from valuable product space. Positioning the checkout at the back of the store can work for some retailers, but only if you have enough employees working at a time to keep someone positioned by the door to greet and assist customers. For most small stores with limited staff, placing the checkout counter at the rear of the store leaves the front unattended.
Create Temporary Displays
Once the layout and permanent store fixtures are set, you'll need to design your temporary product displays. These consist of tables, clothing racks, and other temporary fixtures that you will use to showcase merchandise. Temporary displays tend to focus on seasonal, new, best-selling, and holiday products.
When creating temporary displays, use these three guidelines as a general framework:
Place traffic-driving products toward the back: Place your best-selling items or sales racks at the back of the store so customers need to walk past and see all of your other merchandise.
Display new and seasonal products at the entrance: Entice passersby with seasonal or holiday displays and trending products; keeping the front of your store fresh also gives regular shoppers something new to browse.
Showcase impulse buys at the checkout: Stock small, low-cost items like candy, toys, makeup, or electronic accessories by the checkout counter so customers can add them to their basket while waiting to check out.
Consider Your Customers
Another aspect of creating an effective store design is considering the needs of your customers. For example, make sure aisles are spacious enough to accommodate wheelchairs. If you are an apparel store, make sure to have a comfortable fitting area. Many retailers also have seating areas for waiting family members. Some independent stores also cater to busy parents by having a dedicated children's space.
"Consider how creating a space in your store that caters to kids may benefit your shoppers and sales alike. Without compromising too much valuable inventory space, kid areas can help engage your littlest customers so that their parents or care-takers can shop with more ease and thus, spend more in your store."

— Nicole Leinbach Reyhle, Founder, Retail Minded
Compelling Product Selection
Even the best store design in the world will not increase sales if you are not stocking your shelves with the right products. Building a great product selection is part research and part testing. Knowing your audience and researching competitor businesses will give you a good starting point for product purchasing. After that, it's a matter of testing products in small batches and examining their performance.
Here's how to build a compelling product selection in five steps:
1. Know Your Audience
The purpose of your retail store is to connect with your audience and convert them into paying customers. In order to do this, you need to clearly define who your audience is, whether it's the people in a particular geographic area or people that have a specific specialty interest. Keeping your ideal buyer in mind will help you stay on track when purchasing products intended for them.
A few ways to gauge customer interest in products is to:
Send out surveys: If you have an existing store, send out email surveys to your regular customers asking them to rank their interest in specific products on a scale from 1 – 5.
Use tools like GoogleTrends and Amazon Best Sellers: Online tools can help you pick up on larger trends and spot decreasing demand.
Conduct focus groups or consumer panels: Gather a small group of potential customers in your area to get feedback on different products and product categories in exchange for cash or a gift card compensation.
2. Research Competitors
Take a trip to competing stores to see what products they are stocking. Be sure to pay attention to what products seem popular, as well as what products are being marked down. Also visit retail websites to see what products they have available online. Read reviews to see what kinds of products customers are most satisfied with. Also check out social media sites to see which products other retailers are actively promoting.
3. Buy Outside of Personal Taste
A common mistake many retailers make is only purchasing products that they personally would wear or use. Be sure to try stocking products outside of your personal comfort zone, as they may be popular with shoppers.
4. Test in Small Batches
Even if you think a certain product is guaranteed to be a best-seller, don't purchase 1,000 of them upfront, even if you get a great discount. You truly never know exactly how a product will perform until it is in your store. Buy a smaller quantity first to test the waters. When testing a new product, feature it front and center in your store so customers can't miss it.
5. Use Retail Data Analytics
Constantly track how each product is performing in your store. Track how quickly each item is selling, but also look at profit margins, sell-through rates, and category sales to determine which products and general product categories are bringing in the most revenue.
Powerful Product Displays
Your product displays should change at least weekly so that your store always looks new and exciting for returning customers. However, changing your product displays does not mean re-doing your entire store design. You can keep your general store layout, especially if you have products sorted by category or department, so that shoppers can find their way around.
"Treat your product like an art piece. For brands that want to stand out and create an impactful in-store experience, it's important that you don't throw as much merchandise on the sales floor as possible. Instead, it's all about the experience, and visual merchandising is part of creating that. You want something that's memorable and shareable."

— Alexandra Sheehan, B2B copywriter and content strategist
To keep your store fresh, retailers should focus on changing these three display areas:
1. Decompression Zone
This is what experts call the area directly inside your retail store. When customers enter your store, they need to mentally shift from the world outside your store, into your store environment. Customers typically pause at the front of your store to take in displays, get a sense of your brand, and make an initial judgement of your store.
This area should be clean, open, inviting, and void of clutter. Right outside the decompression zone is also your most valuable promotional space, and the first displays that customers will see. Use this area to showcase new products, holiday, and seasonal items such as back-to-school products, Halloween themed-items, or Valentine's Day gifts. This is the area of your store that should be changed over most regularly.
2. Speed Bumps
Merchandising experts Kizer & Bender have coined the term "speed bumps" in retail merchandising to refer to larger temporary displays that are placed along the store's main traffic flow. Speed Bumps slow customers down within your store and encourage them to examine the products within the display. Speed bumps are another great area for showcasing seasonal products, specialty collections, or sale price stock.
3. Window Displays
Window displays are the eyes into your retail store. Your window displays are what grab the attention of passersby, and create a first impression for new customers. It's essential for every retail store to take careful care with their displays, keeping them clean and rotating them regularly.
To craft an effective display, follow these guidelines:
Determine street eye level: Know exactly where the eye level of potential viewers falls in the window; this can be higher or lower than the inside of your store.
Set a specific message: Every window display should have a specific theme and message; the first step in crafting an effective one is figuring out what you would like to say.
Create a color palette: Once you know what you want to say, figure out what colors will best express your message; if you're not sure where to start, bold colors are a good option if most of your passersby are in moving vehicles, whereas lighter colors are good for attracting foot traffic.
Build depth: Create depth in your display by having items of different heights, facing different directions, and at varying depths within the window display; also consider what kind of lighting you have to create spotlights and other dramatic elements.
Less is more: When crafting your window display, it's tempting to showcase all of your products at once but stick to a few items at a time that fall within your designated theme for maximum impact; highlighting a few products at a time also makes it easier to regularly rotate your display.
"When it comes to in-store merchandising, your display windows are everything. Not only is it often the first point of interaction with your brand offline, but it also presents a huge opportunity for storytelling. Utilize the full space (including height) to spark imagination, focus on themes that represent the core values of your company, and don't forget to have fun! The display windows which end up getting talked about the most are usually the most entertaining."

— Elijah-Blue Vieau, SEO Manager, Looka
Strategic Product Pricing
The way a product is priced can also have a huge impact on a customer's decision to purchase. Your pricing needs to be attractive and competitive enough to motivate shoppers to buy. However, it also needs to be high enough that you are making a decent profit margin.
Psychological Pricing
Psychological product pricing is a commonly used strategy that encourages shoppers to think items are priced lower than they actually are. For example, have you ever walked into a store or viewed an infomercial and noticed that all of the prices end in 99 cents? That is psychological pricing at work. Psychological pricing is when a store prices a product at $199 instead of $200 or $4.99 instead of $5. The theory is that customers put more emphasis on the first digit of a product price, so $199 seems like a much better value than $200, even though the actual price difference is very small.
Targeted Product Promotions
In addition to everyday pricing strategies, retailers also use promotional pricing and sales tactics to drive purchases. There are countless types of promotional pricing. Popular strategies include dollar-amount discounts, percentage discounts, gift with purchase sales, and bundle pricing.
Promotional Pricing
The most common forms of promotional pricing are percent discounts. For example, a store having a 20% off sale. Or, certain items marked down to 40% off regular price. These types of promotions are used when retailers need to move products at the end of a season to make room for new merchandise, or to draw in shoppers around a holiday or other special shopping occasion.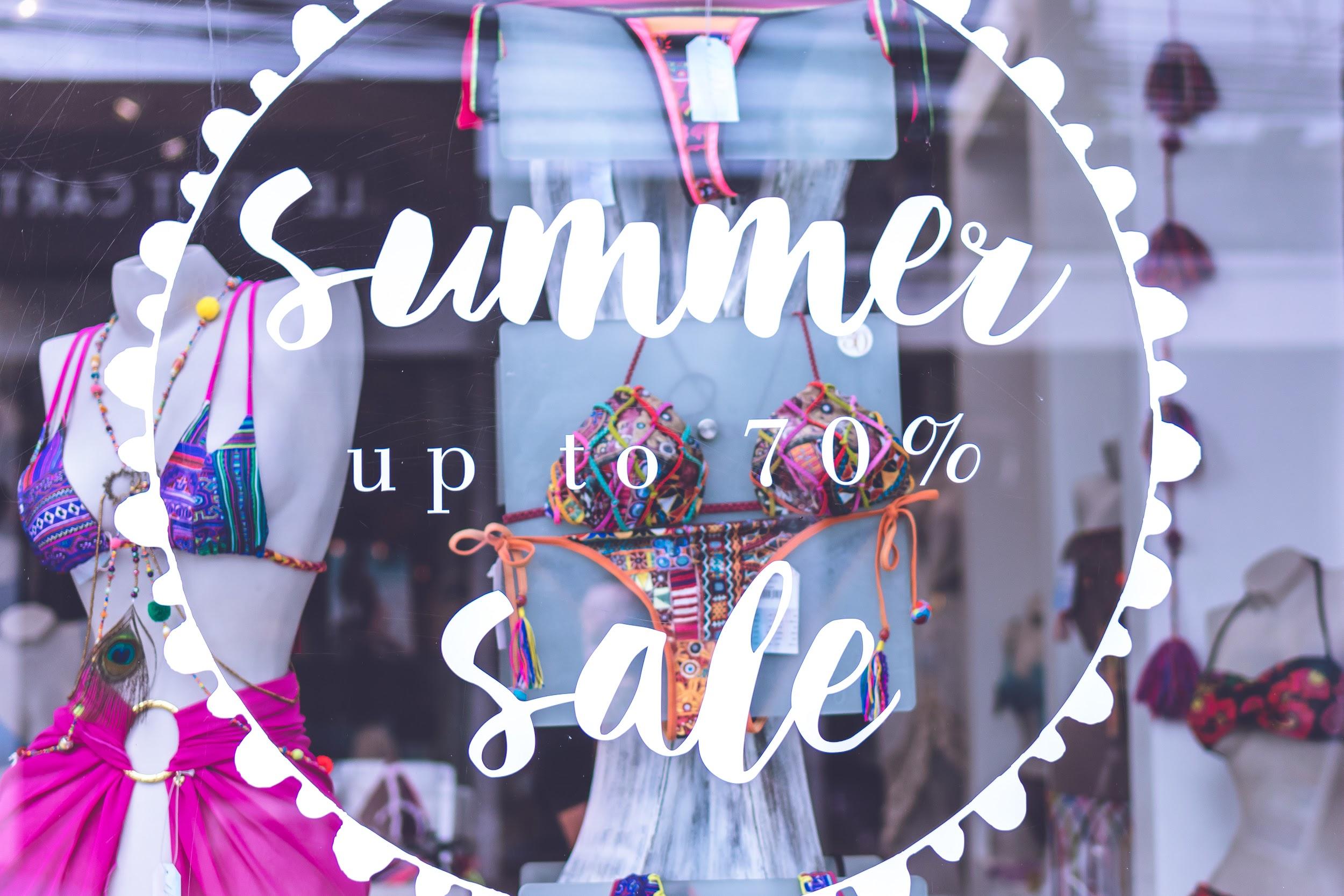 A similar type of promotion is a flat-dollar amount discount. For example, $50 off purchases of $200 or more. These types of sales are meant to drive up customer's average transaction value. They encourage shoppers to spend more to get a better value. Dollar-amount discounts are also effective strategies for temporarily increasing sales and moving merchandise.
Gift With Purchase Promotions
Gift with purchase (GWP) promotions involve giving the customer a free item with either a minimum dollar purchase or purchase of a specific (usually high-ticket) product. These promotions are popular around holidays such as Mother's Day and Valentine's Day. Retailers also use them around the beginning or end of a season to help sell through seasonal items.
Sometimes the gift with GWP promotions is a retail product. However, an effective strategy is to give a store gift card as a gift with GWP promotions that is to be used at a later date. Gift cards encourage shoppers to return, and likely spend more at your store. Using a POS system that has built-in gift card features makes running a GWP promotion easy to execute and track. Vend comes pre-set with gift card and customer management features that makes running promotions a breeze. Visit Vend for a free trial.
Buy-one Get-one Free Pricing
Buy-one get-one (BOGO) promotions involve shoppers receiving a second product for free or at a deep discount with the purchase of one product. This strategy cuts deeper into your profit margins than other types of promotional pricing, so it should be used sparingly to increase store traffic and to clear out merchandise.
Bundle Pricing
Bundle pricing is a promotional tool that lumps together multiple products to sell as a single unit. For best results, include an expensive but slow-moving inventory item along with a popular item you can discount. The final package looks like a great deal for shoppers, and helps retailers move more products.
Loss Prevention in Retail Merchandising
When designing your store layout and displays, keep in mind how you will deter shoplifters and other loss prevention. If you have a small staff, placing the checkout counter by the front door will give you maximum visibility into who is coming and going. If you sell any type of apparel or accessories, mirrors are a great addition to your store. They provide customers the opportunity to test products, and help improve your visibility throughout the store.
The best step you can take toward preventing merchandise theft is installing a security system. Cameras and attentive staff usually go a long way in deterring would-be shoplifters. Using a system like SimpliSafe offers that plus the extra security of 24/7 live monitoring. SimpliSafe is also an affordable solution with prices designed for small businesses. Visit SimpliSafe for a free quote.
Store Upkeep and Cleanliness
It may sound obvious, but keeping your store as neat and tidy as possible is important for encouraging sales. Of course, you are staying on top of straightening up merchandise, folding apparel, and organizing products. It's also important to have a set cleaning schedule with delegated tasks to all employees. Things like dust in the corner, worn-out entrance mats, and scuffs on the floor can appear quickly. Even if you do not notice them right away, your customers certainly will.
Being attentive to details like sparkling floors and clutter-free checkout counters shows customers that you take pride in your business, and also indicates that you will show them equal attention and respect. Whereas a scuffed floor and dusty corners show a lack of attention, and shoppers will assume that your level of service is equally inattentive.
eCommerce Merchandising Strategies
Merchandising is typically associated with brick and mortar stores. However, there are display tips online retailers can use to help promote sales. eCommerce merchandising is crucial, as there are no store associates to guide customers when shopping online. So, your website must do all of the talking for you.
Effective ecommerce merchandising strategies include:
Clear design: Just like the displays in your store should be thematic and uncluttered, your website should be streamlined with minimal side bars, flashing text, or moving parts so that customers can just focus on the products.
Simplified path to purchase: Having too many steps during the checkout process leads to abandoned carts, similar to how shoppers in-store might leave if the checkout line is too long; simplify this process as much as possible and have a status bar at the top indicating how many steps shoppers should expect during checkout.
Easy navigation: Great in-store merchandising makes it easy for shoppers to find what they are looking for; online shoppers should also be able to find products easily with menu bars showing different product categories and a search function with the ability to sort and filter items.
Powerful product descriptions: Instead of simply describing each product, your online product description should act as a virtual store associate and detail benefits of every product.
Merchandising Frequently Asked Questions (FAQs)
There are a lot of different elements that go into designing a beautiful and profitable retail store.
What are the benefits of merchandising?
Clear and effective merchandising can directly lead to increased sales through well-designed and well-stocked product displays, clear pricing, and creating an overall comfortable shopping experience.
What is the difference between merchandising and sales?
Sales and merchandising are very similar. However, merchandising is a tactic used to encourage customer purchases in-store. Sales refers to the actual act of customers making a purchase.
What does a merchandiser do?
A merchandiser makes sure that products appear in-store or online at the right place, at the right time, and in the correct quantities. Merchandisers also monitor product sales to forecast customer demand and help create visually compelling product displays.
Who merchandises retail stores?
Chain stores typically have merchandising operations centralized, and distribute planograms down to the store level to be executed by managers and staff. However, it is also common for district or central operations employees to visit individual retail locations to help execute product displays. For small retailers, the store owner and/or manager will merchandise retail stores.
What is the difference between merchandising and marketing?
The two are very similar in that retail merchandising and marketing both promote product sales. Merchandising refers to product promotion that happens within the retail store, whereas marketing typically refers to promotional efforts that bring customers into the retail store.
Bottom Line
Merchandising includes everything retailers do to promote product sales in-store. Typically, merchandising refers to product displays and store design, but it also includes things like pricing and promotion strategies and keeping products in stock.