What Is Merchandising? Definition, Benefits & Cost (+ Video Guide)
Merchandising includes all the non-verbal tactics retailers use for presenting and promoting their goods in-store. This includes your store layout, the products you choose to sell, how you arrange them, and even your pricing strategy. Retailers use merchandising in their stores to cultivate their brand image, improve customer experience, and drive sales.
Watch our video below for an overview of merchandising, and continue reading for more details:
Elements of Merchandising
Retail merchandising includes different elements that are layered to create a complete merchandising picture in your storefront. These elements include:
Store layout: The layout of your store acts as a tour guide directing shoppers through all the products you have to offer.
Product displays: Create temporary or permanent displays so that you can showcase key products to your customers.
Product selection: To motivate shoppers to buy, retailers need to have attractive products that complement each other and create a cohesive brand image.
Pricing strategy: Product pricing needs to be high enough to make a good profit, but competitive enough to appeal to shoppers. Retailers also offer promotions to strategically encourage spending.
Ecommerce merchandising: Your business's online store should also utilize merchandising strategies to create a compelling online presence.
Loss prevention: Use smart product placement and theft prevention merchandising to avoid lost inventory.
Store upkeep and cleanliness: Merchandising will require constant upkeep and rotation to keep your visuals fresh and your best products at the forefront.
Did you know?
Sales and merchandising are very similar; however, they are not the same thing. Merchandising is a tactic used to encourage customer purchases in-store, whereas sales refers to the actual act of making a purchase.
Benefits of Merchandising
Well-stocked shelves, clear pricing, tidy displays, and smart merchandising strategies promote more customer engagement and product visibility, which will help drive sales. Here are some specific ways merchandising benefits your bottom line.
While ecommerce is still growing in its market share, Adentro's National Foot Traffic Report found that between January and August of 2021, foot traffic was up an average of 53% across industries. One of the best ways to capitalize on this potential and increase your foot traffic is through smart merchandising. Use effective merchandising in your window displays or outside of your store to catch the eyes of passersby and entice them to come inside.
For example, at my boutique, we had a folding sign that we put out front to let passersby know that we were there and open for business. On rainy or snowy days, however, we would pull the sign inside to avoid damage. In bad weather, a significantly higher percentage of people would walk by our shop without a second glance or would even knock on our unlocked door to see if we were open. Having effective merchandising outside our storefront significantly improved our foot traffic.
Additionally, promoting specials or sales will draw customers into your space by enticing them with the possibilities of deals. Promotional events create a sense of urgency among buyers, causing them to want to make immediate purchases to capitalize on limited-time deals.
When products are easy to find, accessible to customers, displayed attractively, and priced well, they sell faster. I cannot tell you how many times I would move a slow-selling item in my shop to its own display area or feature it in a more appropriate spot and it would be gone within the week. Making products visible and displaying them in an appealing manner increases their appeal and the number of customers that see them, ultimately helping sell them.
Additionally, promotions and competitive pricing will make your products more appealing to customers and will help you turn over your stock faster. For example, a study from Valassis found that 88% of customers used coupons on purchases in 2020. If you want to drive those sales and get people shopping, smart pricing and promotional strategies are the way to go.
Effective merchandising ensures that you are getting maximum utility from every square foot of your store and no space is going unused. This will increase customer exposure to your products and promote visual stimulation and product interaction throughout your store.
Say you were visiting a grocery store, and when you entered, many of the shelves were empty or minimally filled (image on the left below), and much of the floor space was vacant. This would be an example of a poorly merchandised store that did not effectively utilize its space, and thus became an unattractive grocery option for customers.
Now imagine you visited the grocer next door, and its store was filled to the brim with merchandise and produce (image on the right). This is a store that has been merchandised well and is utilizing its space effectively. Not to mention, you are more likely to stay and make a purchase.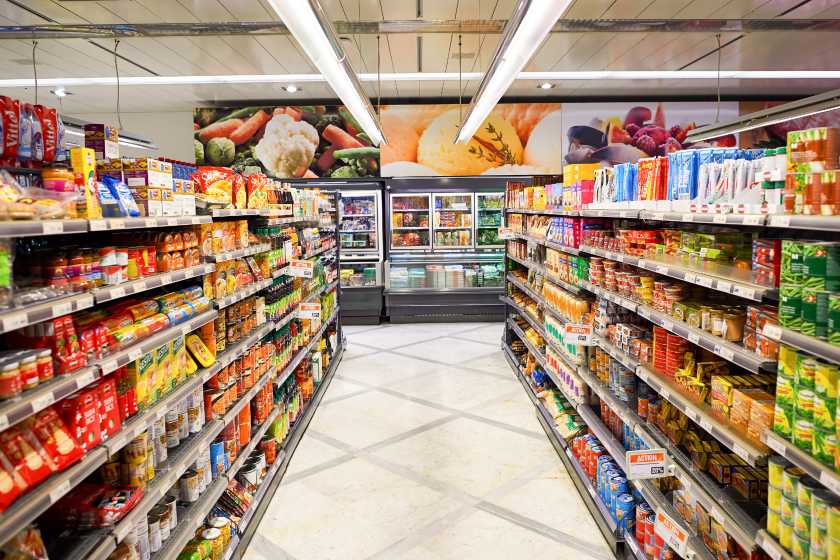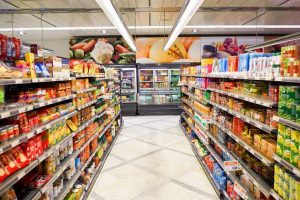 There are a few ways that merchandising can increase customer return rates. First, changing up your retail display will keep your shopping experience exciting for customers. If your store is different every time they come in, they will visit more often to look for new items. Don't worry, we will look at upkeep best practices further down in this article.
Second, if your merchandising is consistent and gives people a good sense of your brand, merchandising can help foster brand loyalty among customers. When customers know what to expect from you and feel like they have a sense of your brand, they will be more likely to form a bond with your business and more incentivized to spend money with you as opposed to your competitors. In fact, a commonly cited customer loyalty statistic is that an average of 65% of retail revenue comes from existing, loyal customers as opposed to new ones.
Finally, if you effectively merchandise your store around holidays or seasonal changes, customers will be more inclined to visit your store for time-sensitive shopping. For example, if a clothing boutique merchandises its store for springtime, customers will be more inclined to do their spring shopping there and then return in the winter, when the space has taken on a more wintry feel.
Merchandising Resourcing & Cost Considerations
When starting a retail business or maintaining your existing store, your budget is central to all your decisions, including merchandising. The costs associated with merchandising can vary widely but, rest assured, you do not have to break the bank to create a beautifully merchandised storefront.
Before you begin merchandising, you will need to determine your budget. Start with a static budget or the "goal number" that you would like to spend. In addition to this goal figure, give yourself a little space to accommodate unforeseen issues by adding a "flex number" or the maximum you would spend to make things work.
There is no set answer for how much your merchandising budget should be; it will largely depend on how much revenue you bring in. The US Small Business Administration has historically recommended spending 7%–8% of your total revenue on all marketing initiatives, including merchandising. The 2021 CMO Survey suggests marketing budgets for business-to-consumer (B2C) firms of 8%–14% and business-to-business (B2B) firms of 6%–8%.
Did you know?
Merchandising is a type of marketing. Marketing refers to all promotional efforts inside and outside of a store, whereas merchandising refers to promotional efforts that happen within a retail store or website.
Here is a list of things you should consider and tips to help you stick to a budget.
Consider your materials: You can often achieve the same look using different, more cost-effective materials. Some of the least expensive materials you can work with include plexiglass, cardboard, veneer wood, and certain plastic—so get creative and use cost-effective materials within your space. More often than not, if customers can see the look you were going for, they are not going to care whether you are using real mahogany or mahogany veneer.
DIY: Not everything has to be done by a professional. Use resources like Pinterest or the HGTV website to find DIY projects that will get your hands in the game while saving you money.
Save your supplies: Keep track of your decor and fixtures, as you can often reuse them season after season without needing to invest in anything new.
Order in bulk: Order things like lightbulbs, hardware, and cleaning supplies in bulk to save money and avoid paying shipping fees.
Stay cohesive: If everything you use for merchandising is on-brand and fits together, you can reuse products over and over again in new ways without having to invest in something new every time.
Identify investment areas: Be considerate about where you are putting your money. You should spend the most money on the entrance and window displays as these areas will yield the greatest return. The back of your store should have the most minimal merchandising—it benefits the least from flashy displays and decor.
Hire a professional merchandiser: If it fits in your budget, companies like Retail Merchandising Services are a great resource to help you find the most cost-effective supplies and teach you about economical merchandising solutions from merchandising experts.
Work with your suppliers: Reach out to your suppliers. They will often offer free temporary POP displays in exchange for featuring their products.
Store Upkeep & Cleanliness
It may sound obvious, but keeping your store neat and tidy is important for encouraging sales and creating a good impression on shoppers. Being attentive to details like sparkling floors and clutter-free checkout counters shows customers that you take pride in your business and also indicates that you will show them equal attention and respect. A scuffed floor and dusty corners, on the other hand, show a lack of attention and shoppers will assume that your level of service is equally inattentive.
The best way to maintain a clean store is to adopt a cleaning schedule. To do this, you will want to break your store into zones and assign a different zone for cleaning each day. Keep in mind that some areas—like the entrance and exit, bathrooms, and checkout areas—will need to be cleaned more frequently than others. This resource from Dill Cleaning Service offers a comprehensive downloadable cleaning zone checklist.
In addition to keeping your store clean, updating your merchandising is another important part of store upkeep. But how often should you be updating?
Here is a list of best practices and tips for updating your store merchandising.
Practice the six-month rule: As a general rule of thumb, redo your store's space and category allocations every six months. This will encourage regular customers to re-explore your space and be exposed to new products in their normal shopping path.
Merchandise outside of store hours: Merchandising is a big project that often involves ladders and messes. You want to be sure your store is set up to go once you are open, so keep your merchandising projects to before or after your store is open.
Update window displays at least monthly: Your window displays are the most visible part of your store and should be changed frequently to attract customers and keep your regular traffic interested.
Remember the seasons: Most retail stores benefit from incorporating seasonal decor and merchandising into their storefronts, so update your store with the seasons.
Rotate entrance displays as much as possible: The displays right outside the decompression zones should be rotated frequently and feature your newest products so that even regular customers are hooked as soon as they step foot in your store.
Decompression zone: This is the area directly inside your retail store where customers mentally shift from the world outside to your store environment. It gives customers time to pause, take in displays, get a sense of your brand, and make an initial judgment about your store.
Weekly refresh: Update things like mannequins, table displays, rack organization, or shelving displays weekly to keep your store fresh. This is a great task to delegate to store associates during their shifts on slower days.
Observational and analytical inputs: Use an integrated POS system like Lightspeed or observational data to determine what merchandising tactics are working best so that you can implement more effective tactics as you make your updates.
Ecommerce Merchandising
Ecommerce merchandising is the practice of displaying and promoting products on your online store. All the basics of in-store merchandising—layout, design, pricing, and displays—apply to your ecommerce website. And, just like with merchandising your storefront, your online presence should speak to your brand voice and align with your products and customer base.
Here are some effective ecommerce merchandising strategies.
Clear design: Just like the displays in your store should be thematic and uncluttered, your online presence should be streamlined with minimal sidebars, flashing text, and moving parts so that customers can focus on the products.
Homepage storytelling: Just like the window display in your storefront, your homepage will be where customers make their initial judgment about your business. Be sure yours tells your brand story and entices visitors to keep exploring your site.
Tip: Display an offer on your homepage. This will help get people interested enough to enter your site and start exploring.
Simplified path to purchase: Having too many steps during the checkout process leads to abandoned carts, similar to how in-store shoppers might leave if the checkout line is too long. Simplify this process as much as possible and have a status bar at the top indicating how many steps shoppers should expect during checkout.
Easy navigation: Great in-store merchandising makes it easy for shoppers to find what they are looking for; online shoppers should also be able to find products easily with menu bars showing different product categories and a search function with the ability to sort and filter items.
Powerful product descriptions: Instead of simply describing each product, your online product description should act as a virtual store associate and detail the benefits of every product.
Offer lots of product photos: Give customers peace of mind by offering lots of pictures of the products you are selling. This will help shoppers feel more assured of their purchases and boost buying confidence.
Integrated membership options: Allow customers to make an account with you to encourage their loyalty, streamline their purchase history, and maintain an ongoing line of communication.
Use banners to display offers: Adding a banner to the top of your website will allow you to flash deals and messages to your customers no matter what page of your website they are on. This makes it so all your offers are visible when customers are on product pages or making purchasing decisions.
Bottom Line
Merchandising will determine how you use your space, pricing strategies, display techniques, product selection, and much more. Not only that, but smart merchandising choices will help define your brand and customer experience and drive sales. Merchandising is at the heart of your physical space and your customer impressions, and understanding how it works will set you up to create a beautiful store that will keep customers spending and coming back again and again.