In Shopify's latest feature release, artificial intelligence (AI) took center stage. So much so that Shopify rolled out a whole suite of free AI-enabled features that are integrated across Shopify's products and workflows. Known as Shopify Magic, these AI-enabled features are designed to make it easier for the small business owner to start, run, and grow their online business.
Shopify Magic includes several new features, mainly dealing with generative AI. While most of them are still in beta, we took the features that are available now among Shopify subscribers on a test drive. This article shows you how the Shopify Magic AI tool kit can help with your Shopify store.
Don't have a Shopify store yet? Sign up for a three-day free trial and extend it for just $1 a month for three months. You can get a full Shopify store up and running and test all of its features in that span of time.
What Is Shopify Magic?
Shopify Magic is a productivity tool kit of free AI-enabled features that work across Shopify's products and workflows to make it easier for merchants to start, run, and grow their businesses. These new features include:
Shopify Sidekick
Instantly generated blog posts
Instantly generated emails for ecommerce
Instantly generated product descriptions
FAQ/response recommendations
App review summaries
+ more to come
Shopify Magic can provide personalized and contextually relevant support for a variety of tasks including store building, marketing, customer support, and back office management.
How to Use the Shopify Magic AI Tool Kit
Learn how to leverage the power of these productivity tools to help you save time and money so you more efficiently run your online store.
1. Automatic Text Generation
Generative AI has been a huge game changer for businesses (think ChatGPT). This is the baseline from where Shopify created Shopify Magic to help merchants speed up their writing process.
Of course, Shopify Magic can't create content out of the blue (like magic)—you'll need to feed information into it for it to generate suggestions for content.
But the possibilities are endless when it comes to content production. I can definitely see Shopify Magic helping online merchants, especially small business owners who are a one-man team or only have a handful of employees, save time and money.
Here are some ways you can use Shopify Magic for content production:
Write Product Descriptions
Product descriptions take time, especially ones that are designed to convert customers into buying. Shopify Magic speeds up the process by providing prompts, choosing a tone, suggesting tips, and providing feedback.
To generate a product description, go to your Shopify Admin and click on Add Product. You will see the Shopify Magic icon in your toolbar, as seen below.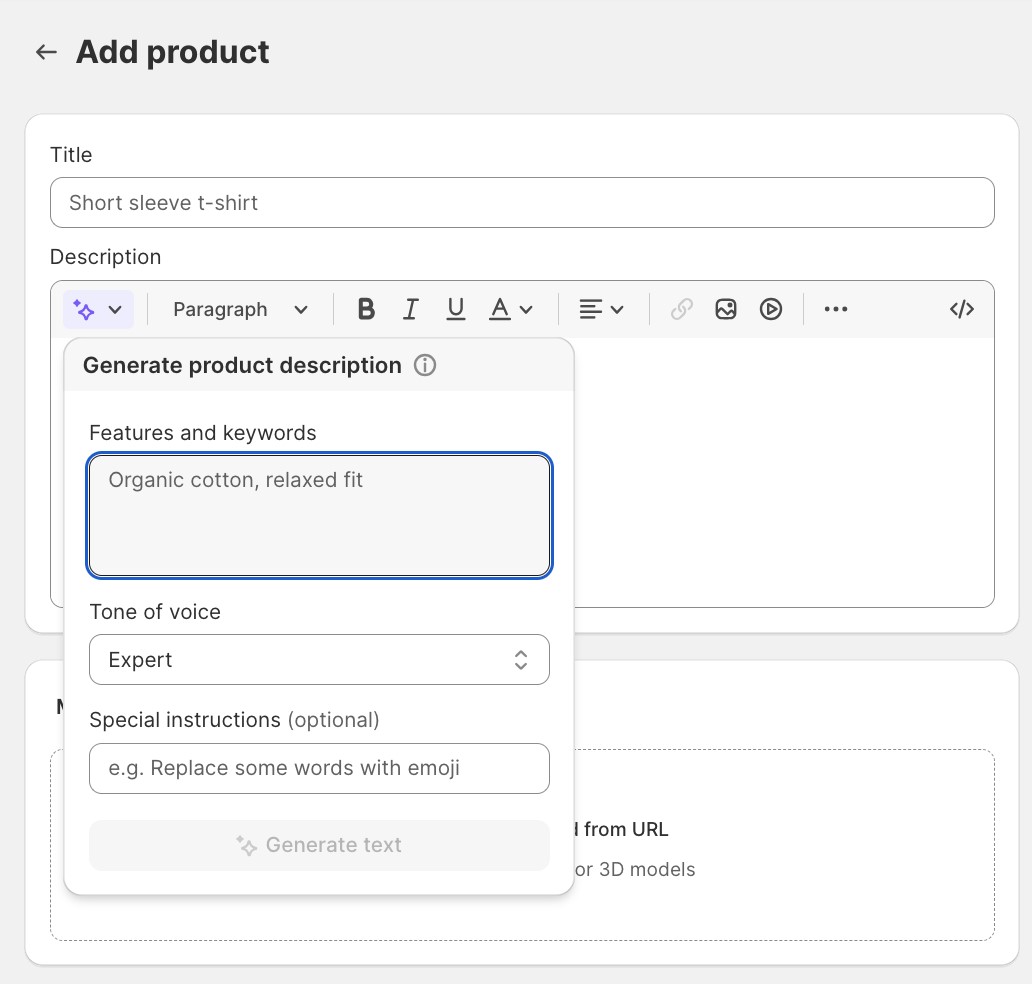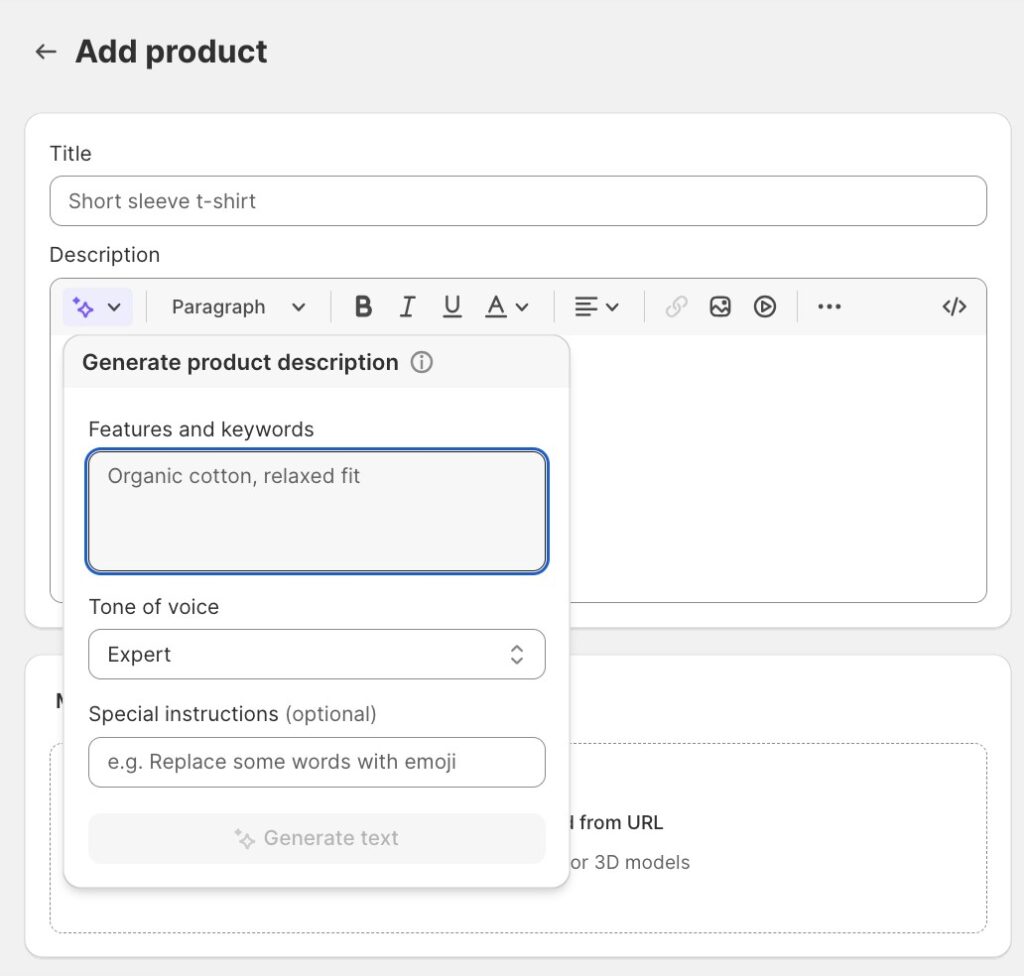 As I mentioned before, Shopify Magic will still need your input like your product title, a few words to describe it, and keywords associated with your product. You can also set the writing tone. Expert, supportive, persuasive, playful, daring, and sophisticated are the predefined tones. You can create a custom tone such as witty and sarcastic by selecting Custom in the tone voice dropdown menu.
It even lets you include special instructions, such as "use an emoji" or "keep description under 500 words or less."
Once you are ready, just click on Generate text and Shopify Magic generates a few descriptions you can use. If you are unsatisfied with the output, just click on the Generate text button again or alter your instructions.
Take a look at how I tested the Shopify Magic tool below. I entered a product title, "Christmas stocking for babies," and typed in a few keywords. I wanted the tone to be playful, reflective of my brand, and it was able to generate the description below.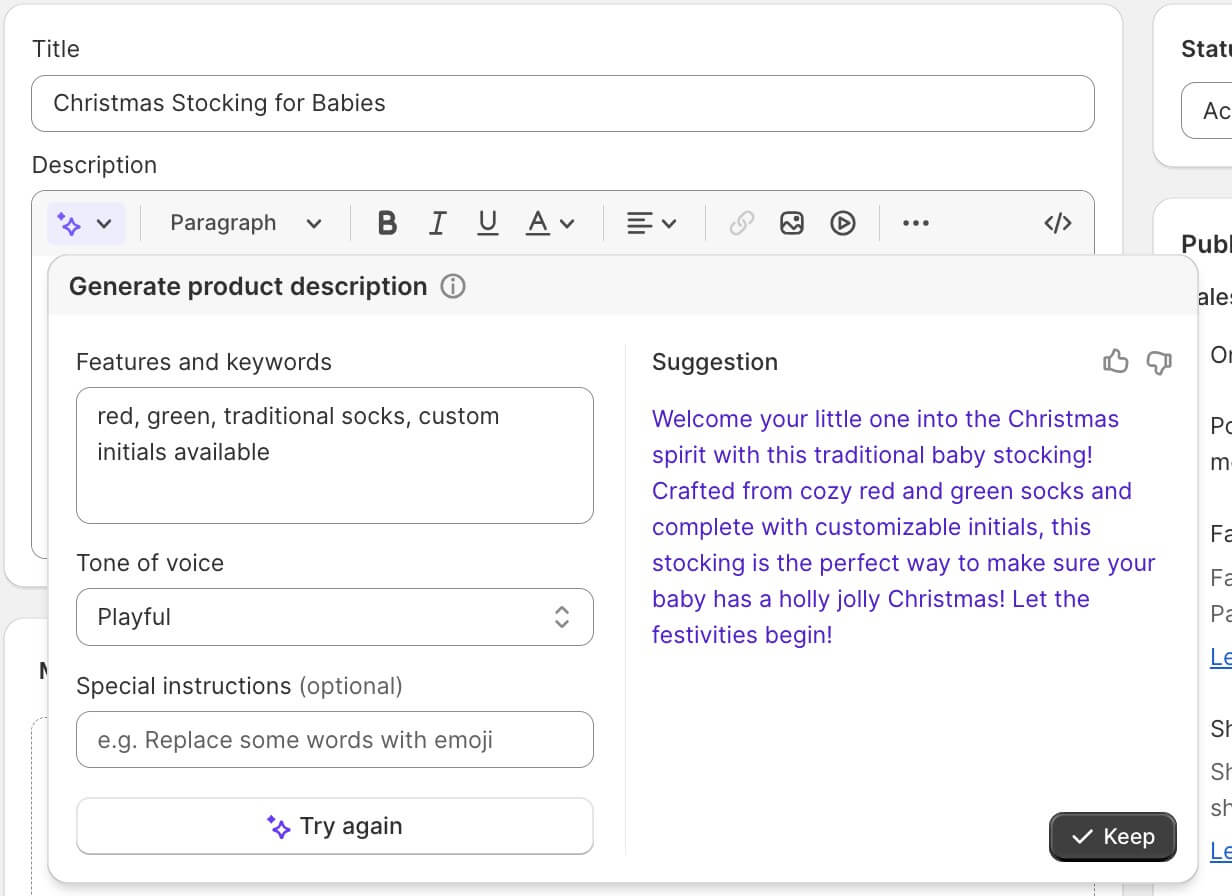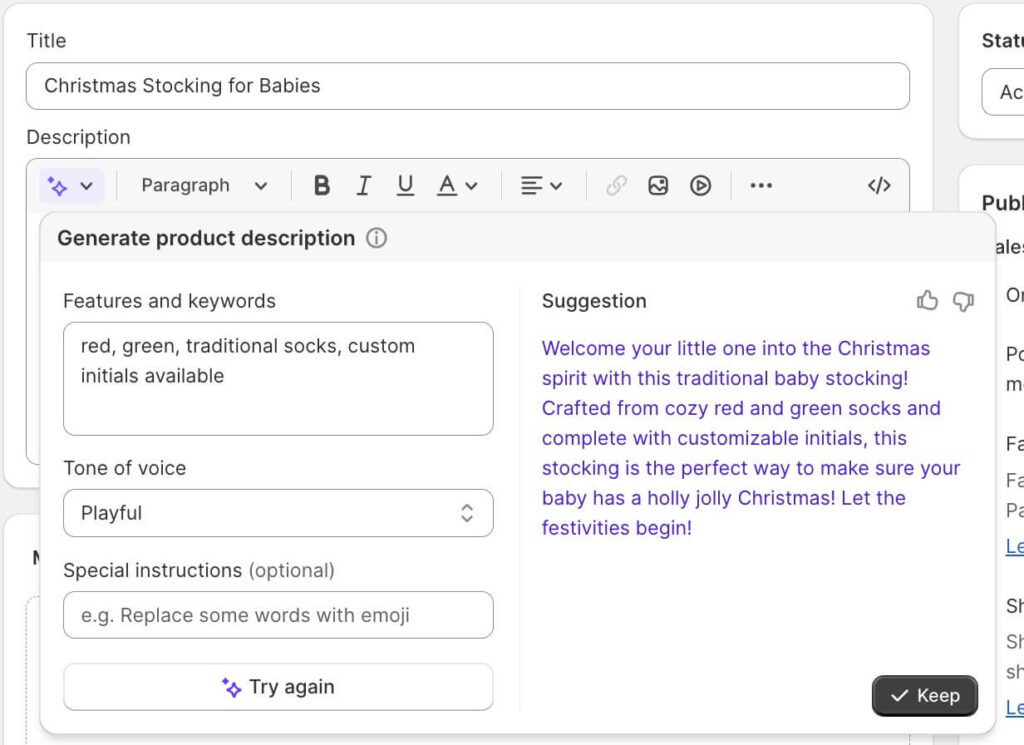 It can also re-write existing product descriptions. Simply open an existing product listing from your Shopify admin, highlight the text you want to re-write, and click on the Shopify Magic icon on the toolbar. Choose whether to rephrase, extend, or simplify the description and the Shopify Magic toolbox opens (same as above)—only with the text provided. You can now set the tone and add additional instructions, like "mention to subscribe to the memberships for more exclusive perks."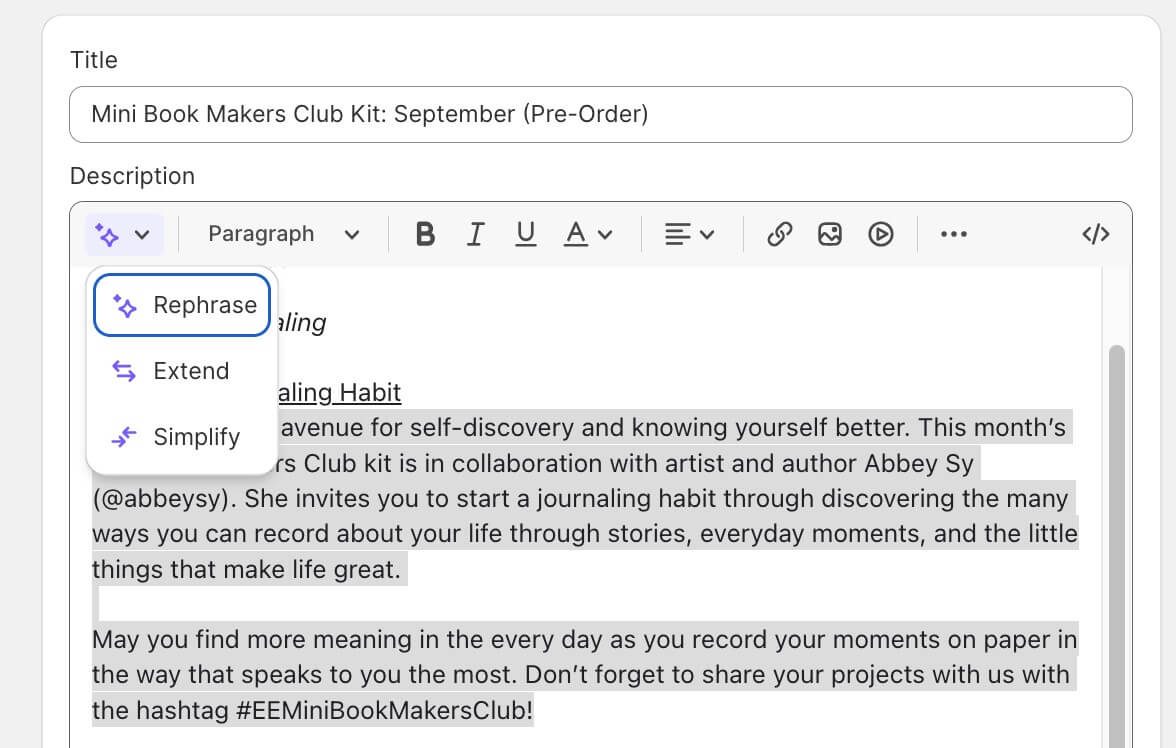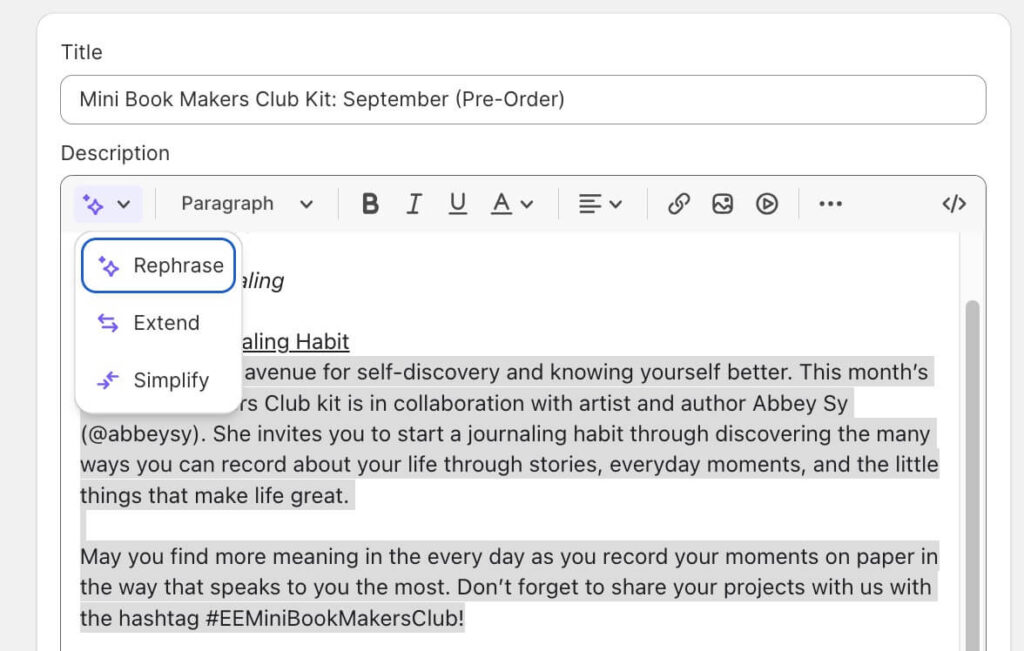 When writing instructions for generating product descriptions, remember these tips:
Be specific with your product type keywords: For example, if you are selling lipstick and your product title is Summer Eloise, chances are you might get lower quality results. I suggest you enter a keyword for the title first to indicate the type of product in the title, like lipstick. You can edit this out after generating your product description.
Include information about your customer: Include some keywords about who the product would be great for, such as a demographic (teens) or their preferences or values (athletic, girly, outdoorsy, eco-friendly, etc.)
Specific details about your product's materials, production method, and intended use: These specifications will greatly help amp up your product descriptions.
Include brand keywords: If your brand uses specific words as part of your brand or product culture, include them. For example, if you use lip-mazing or lip-tactic a lot as part of your marketing promotion, include that. Generated suggestions will often include those terms as well.
Remember Shopify Magic isn't all magic. Its magic will also depend on the information you will feed into it.
Write Emails to Your Customers
Email marketing is considered a challenge for most small business owners. They see it as a necessary marketing tool, but few really double down and make it work for their business. If you use Shopify Email, you can enlist the help of Shopify Magic to generate emails for your customers.
It works the same way as when you generate product descriptions. Simply look for the Shopify Magic icon, put in keywords, set the tone, and click Generate text.
In the image below, you can see how Shopify Magic suggests plenty of titles for an email header.
To improve the content suggestions you receive, provide the Shopify Magic AI tool with this information:
Email campaign type: Specify your email campaign. Is it a sale announcement, product launch, or birthday discount?
Product keywords: Mention specific details about your product campaign. If you are announcing new products, mention keywords like new arrivals, sale price, and limited time only.
Generate Instant Answers
Shopify Magic's AI tool can also help generate answers for customers' frequently asked questions. If you use Shopify Inbox, Shopify's "mailbox" that lets customers message you from your online store and in the Shop app, you can generate instant answers that help customers. This can also be turned into an FAQ.
To do this, go to Shopify Inbox in the Apps section of your Shopify admin. You will see a section called Get more out of Inbox. Click on Manage Instant answers. From there, you will get Instant answers and even suggestions for common questions like the one below. Simply click on the Shopify Magic icon, and proceed as usual to generate instant responses.
Don't forget to click on Save and turn on your Instant Answer for it to be included in your Inbox message replies.
Shopify Magic's generated suggestions for instant answers will heavily rely on your store policies and conversation history with customers. If there's not enough information, then the suggested answers are based on common questions that most stores receive. You can choose those questions and add an appropriate answer for your online store.
Manage Incoming Chats With AI-generated Responses
Aside from managing instant answers for Shopify Inbox, you can also quickly reply to live chat inquiries with AI-generated responses from Shopify Magic. You can review the suggested text, edit, and respond to chats this way.
As of this writing, this feature is available for early access. You can sign up here to get early access.
Generate Content for Blog Posts, Pages, and Theme Editor
You can also generate content for your blog posts, website pages, and theme editor. It works the same way as creating product descriptions and emails. Every time you see the Shopify Magic icon, it means you can generate content for that space.
For the theme editor, the content box should be set to Text to be able to generate the Shopify Magic icon.
You can see the Shopify Magic icon on the Blog post page below. Similar to how writing product descriptions and emails works, be as specific as possible to be able to generate content that will exceed your expectations.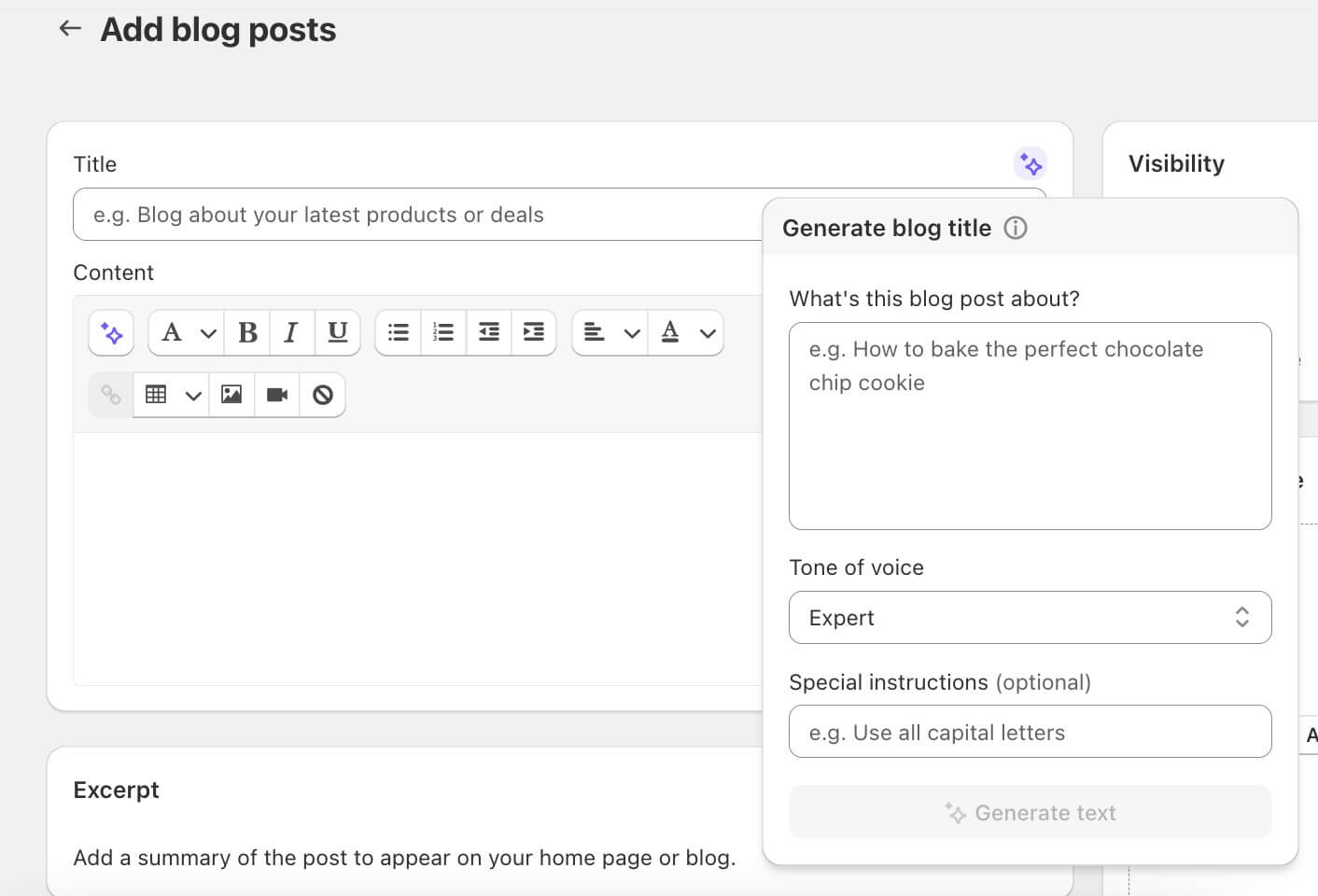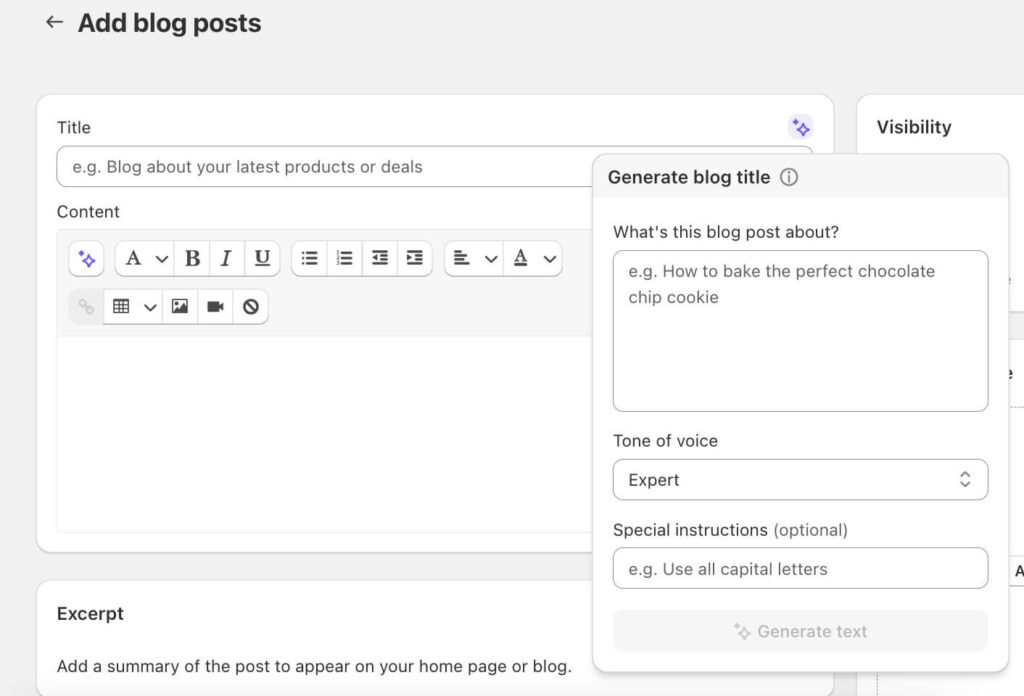 2. Check App Review Summaries
On my latest Shopify review, Shopify's third-party integrations, or apps, are more than 7,000 already. This can be a lot to go through. It can involve a lot of trial and error and plenty of reading through user reviews.
With Shopify Magic, you can easily filter which Shopify Apps to add to your online store by reading app review summaries powered by AI. This is available to select apps in the App Store for now.
App review summaries are called "What Merchants Think" on the app's landing page and are displayed on top of user reviews. You can also see the Shopify Magic icon beside the heading, as shown below.
3. Have an AI-enabled Virtual Assistant
What if you could have your very own assistant-slash-mentor to help you navigate, set up, manage, and scale your store? Shopify definitely hit the jackpot by developing an AI-enabled commerce assistant purpose-built to make it easier for you to start, run, and grow your business.
This AI assistant, named Sidekick, takes front and center in Shopify Magic's suite of tools. It has not rolled out to every Shopify merchant just yet, but like all of Shopify Magic's features, Sidekick will be available for free across all subscription plans.
Sidekick is developed and trained to know all of Shopify and access the context, data, and expertise to generate highly personalized support for a range of tasks. You don't even have to use formal language (or type properly) for Sidekick to understand what you mean.
I haven't tried out Sidekick yet, but pre-release videos to our team show that you can use everyday language to jump-start any process you want to get done. For example, you can prompt Sidekick to create a new product for you—not just a product description, mind you—and it will do it, based on your instructions. A video I watched even had the instructions with typographic errors and the price marked without a dollar sign, but when Sidekick completed the task, everything was on point—even the pricing information was filled out.
It's safe to say I was really impressed. You can ask Sidekick to set up discounts, ask for your current bestselling items, and even redesign your store.
Sidekick is not constrained to do assistant tasks. It can also teach you how to set up things in your Shopify store. For example, if you want to know how to use Shopify Flow, Shopify's automation tool, with Shopify Email, Shopify's email marketing feature, you can simply ask Sidekick to walk you through the process.
Sidekick functions like a chatbot and can be seen on the bottom side of your Shopify admin. Simply launch the window and do everything from there.
Shopify Magic Frequently Asked Questions (FAQs)
Click through the questions below to get answers to some of your most frequently asked Shopify Magic questions.
Shopify Magic is developed on AI models created and trained through a combination of Shopify's proprietary data and OpenAI's ChatGPT APIs. The data is kept safe on Shopify's security architecture and privacy policy.
---
Yes, Shopify Magic tools are available for free to all Shopify merchants, regardless of their subscription plan. For now, access and availability of specific features may vary.
---
Not all features powered by Shopify Magic are optimized for mobile at this time.
---
Shopify Magic's language support varies by feature. Most features support Northern American English but there are features that support additional languages like German, Spanish, French, Italian, Japanese, Portuguese (Brazilian), and Chinese (Simplified).
---
Bottom Line
Shopify is definitely leading the pack of all things AI in ecommerce. Shopify Magic is just the tip of the iceberg, as the platform has several Shopify AI tools. Aside from the amazing and incredible things Shopify Magic can do for small businesses, what we love most about it is that Shopify has made it free across all subscription plans.
Shopify has definitely made their tagline for Shopify Magic come true—"Because every hero deserves a sidekick."
Sign up for Shopify's three-day free trial to see how Shopify Magic works.