Writing a good product description that both sells and ranks in search doesn't require a master's in creative writing. But you do need to know your audience, have a creative direction, and define your style.
Before we dive in, remember that a product description is just part of the puzzle. Images and product videos are powerful online selling tools that work in harmony with your product description, and they're not hard to create. See how to use your cell phone to take professional-quality product photos.
Once you have quality photos and great product descriptions, make sure your online store is just as snazzy. We recommend using Square's Online Store. Square is a free POS system that can also set you up with a professional eCommerce website for a small monthly fee. Click here for a free trial.
Step 1: Define your target audience and talk to them directly in your product description
The first thing you need to do is define your buyer. Do you sell to busy stay-at-home moms or to business executives? Are trend-seeking 20-somethings your target crowd? Or perhaps you cater to a gamer fandom? Whoever your potential customer is, that's the person you need to talk to in your product description.
To do this, first create an image of your target buyer in your mind. Picture who they are, what they do, where they hang out. Need some help with this step? Learn how to identify your target customer and create a customer profile here. It's helpful to jot down some details about your buyer so you can picture them you write, use our free customer profile templates to do this.
Having a solid image of your ideal customer makes it much easier to create a connection and converse with them through your writing. This step is key to a good product description because it turns product-centered copy into a vibrant customer-centered conversation. And that's what sells.
For example, here is a literal (and boring) description of a horse-themed mug:
But by rewriting the product description with our buyer (horse lovers) in mind, we create a connection that draws the reader in:
Now that you've seen the difference in a ho-hum product description versus one that targets buyers, let's look at the different ways you can converse with your audience through your writing.
Step 2: Define the tone for your product description
This step goes hand-in-hand with your customer profile. Tone is a writer's tool that you can easily define by asking this question:
How, and where, would you talk to your target buyer in-person?
Would you meet them in a professional setting, like an office or business conference? Maybe a kickin' coffee joint or craft beer bar? Or during your kid's playdate?
Knowing where in-person conversations would take place helps you define your tone: business, technical, casual, cheeky, sassy, instructive, etc. Heck, this is a helpful tool for writing your blog posts, marketing emails, and other site content, too.
For example, this service description clearly targets a commercial customer using a professional tone along with industry-specific phrases and terms: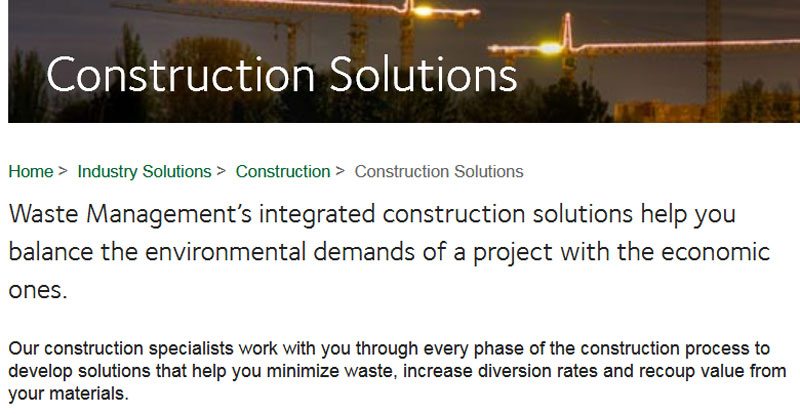 In contrast, this product description uses a tone that appeals to style-seeking, on-the-go women:
See the difference?
Once you have your customer profile in mind and set the tone for your conversation, it's finally time to talk about your product.
Step 3: Turn item features into must-buy benefits in a product description
Many entrepreneurs focus on features, specs, and key details in a product description, and that's all important information. But the true goal of an effective product description is conveying the idea that your product will make the buyer's life better. Sure, you want to make your product's high points shine, but your real focus is creating the perfect excuse for the buyer to snap it up.
To do this, you'll want to list the important facts about your product: its construction, intended use, special features, material, specs, and so on. Then turn these product facts into user benefits, like this shining example from Amazon:
In their Kindle description above, Amazon does a terrific job of turning product facts into benefits that describe how each feature enhances the buyer's experience.
For example, a fact-turned-benefit can be:
| | |
| --- | --- |
| An improvement >> | Next-generation reading experience |
| A solution to a problem >> | No glare in bright sunlight |
| Something that's better for you >> | Won't tire your eyes in the dark |
| Leading the competition >> | Highest resolution e-reader display |
Now you have your buyer in mind, have set the tone of your conversation, and know how to turn product facts into user benefits. Next you're ready to write your product description. Here's how to tackle this.
Step 4: Decide on the format & length of your product description
You have just moments to catch a shoppers attention, so don't present them with a mountain of prose in your product description. I promise you, they won't read it. Instead, create a quick-scan format that puts your product's benefits front-and-center in the form of bullets and/or subheadings, like this:
| Product description element: | Try writing this: |
| --- | --- |
| Intro | Brief lead-in, one to two sentences |
| Benefits | Bulleted list or section with headers and short captions |
| Body | 1-2 paragraphs; or more broken up with subheads |
| Close | Purchase call to action |
The quick-scan format works because shoppers love fast facts. After a brief intro, use bullet points or bold headers to deliver key benefits in an eye-catching format. Then write your complete description in the body. If it's long, say more than 300 words, break it into bite-sized bits with subheads followed by one to three sentences. Then close with a statement to seal the deal, like: one click makes it yours, or even limited availability for seasonal items.
When tackling the task of writing product descriptions, try to stick with a format like our example above. It's far more efficient that just winging it, especially if you have many descriptions to write. In fact, this is how experienced copywriting pros crank out product descriptions in volume, so it can make your job simpler, too.
So with your buyer and tone in mind, benefits listed, and format set, it's now time to write.
Step 5: Writing and editing your product description
For your first draft, quickly write a product description. Don't ponder phrases and edit sentences as you go, all of that comes later. For now, just envision a conversation about your product with your target buyer and write it down.
In your first draft, do this:
Be persuasive and enthusiastic
Write directly to your buyer, using the word you
Use simple language, not marketing-speak catchphrases
Keep sentences short and to the point
But don't worry about this:
Spelling and grammar errors
Keywords and search engine optimization
Sentences that start with And, But, Because and So
Once you have the first draft written, read it aloud:
Does it sound like a conversation you would have with your buyer?
Does it flow, or are there long sentences, big words, or other stumbling blocks?
Does it sound enthusiastic and persuasive?
Did you include all of your product features in the form of benefits?
Once you can answer yes to the questions above, it's time for the last step.
Step 6: Final editing and optimizing your description for the search engines
The final edit is where you clean up any spelling and grammar mistakes. If using a word processing program like MS Word, these are highlighted for you, so that job is easy.
After your spelling and grammar check, it's time to make your copy search engine-friendly.
This is the last step in our guide because too many sellers write a product description with search engines, not buyers, in mind. This leads to keyword-dense, dragging copy that shoppers have to fight through. Don't do this.
Instead, write product descriptions for your buyer, then identify your target keyword or phrase and incorporate it into your description if not already there. This helps you avoid the trap of keyword-focused copy.
To do this, first identify your target keyword or phrase
This can be the product's name, part of the product's name, or a collective term that the product falls under. For example, if you're selling plastic wine glasses, target the key phrase plastic wine glasses:
Sonata Clear Unbreakable Plastic Wine Glasses – Set/4
Then work your keyword or phrase into your copy
Place your keyword or phrase in your item heading, in a few subheads, and sparingly throughout your body copy. Three to four times in a 200-300 word description is plenty. Chances are, you already included your keyword or phrase when you wrote your copy. If not, you can filter it into a few spots.
And last, remember to use your target keyword or phrase in your product image's filename and in your image alt tag and caption if your online store system allows.
The Bottom Line
Have you run across a snazzy website site with great imagery, but when you click to a product page the description falls flat? From keyword-packed paragraphs to lengthy spec lists, far too often product descriptions are written for anyone but the buyer. And that's unfortunate since a good product description can make or break a sale.
Crafting a product description that sells and ranks in search isn't hard to do if you keep these key elements in mind: your buyer, your tone, and your product features delivered as benefits.
First, create a customer profile and keep it in mind. Your goal is to create a conversation in writing with this person. Use a tone that builds the relationship: professional, personal, casual, cheeky, whatever fits. Then be sure to turn your product's facts and features into benefits that your buyer will recognize and want to snap up.
With these basics in place, the writing comes easy; especially if you adopt a consistent format. And remember to write first, edit later, and address any keyword worries to the end.
Don't forget to check out Square's Online Store once you have your product photos and descriptions. Click here for a free trial.
Do you write product descriptions for your own website? If so, what method works for you? Please share any tips and tricks in the comments below.