Artificial intelligence (AI) is taking every industry by storm, and ecommerce is no exception. With the latest technology advancements, Shopify has come up with its own AI tools to help Shopify merchants manage their online stores better, save time and money, and increase their sales.
In this article, we list 10 totally free Shopify AI tools that you can leverage for your online store. Some of these tools were just recently released and they were featured in the latest Shopify Editions Summer rollout. Get your own AI-powered virtual assistant, make copy easily with AI productivity tools, get help with online marketing, and much more with Shopify AI.
1. Virtual Help Center Assistant
If you haven't noticed yet, Shopify's Help Center has an AI-driven chatbot. I tested it and found that it gives very relevant answers, with corresponding links to articles within the Help Center. With this AI help center assistant, you can easily find answers to questions and get the help you need.
In the image below, I asked a question about Shopify AI tools I can use for my online store. A link populated to 10 suggested resources; I clicked it and the page refreshed with individual links to those resources (seen reflected below).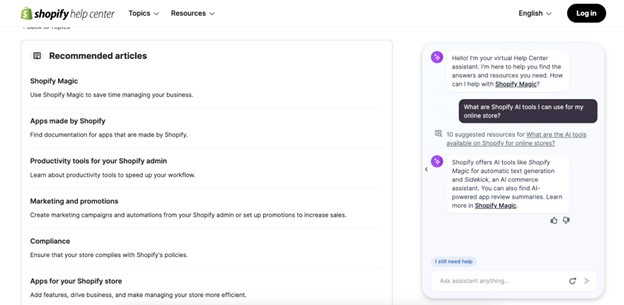 2. AI-driven Productivity Tools
This AI-powered productivity suite, aptly called Shopify Magic, is a new Shopify feature that provides personalized and contextually relevant support for a variety of tasks, including store building, marketing, customer support, and back office management.
Shopify Magic heavily uses generative AI (think ChatGPT) across all Shopify workflows. For example, it can generate product descriptions, email campaigns, and blog posts with just a few prompts from you. When you get the hang of using prompts, you can maximize productivity and save tons of time on manual tasks with this AI tool.
Here's an example of how Shopify Magic can be used to write product descriptions for your listings. Simply add keywords, set the tone, and add special instructions (such as use an emoji or keep it under 500 words) to generate text.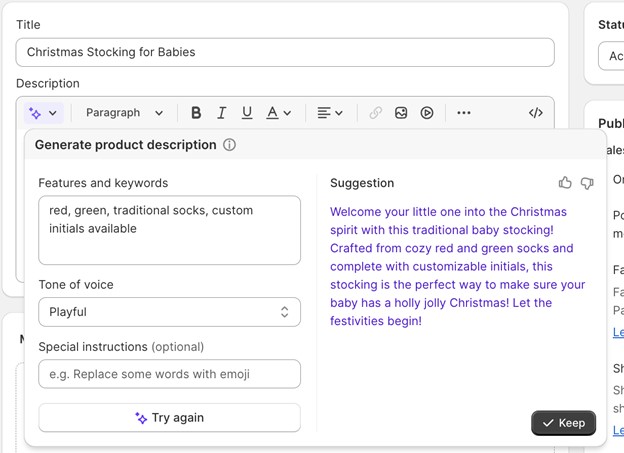 Worth mentioning as well is Shopify AI Sidekick, your own virtual AI-enabled assistant. I write more about this AI tool in my Shopify Magic article, where you can see more use cases of this productivity suite.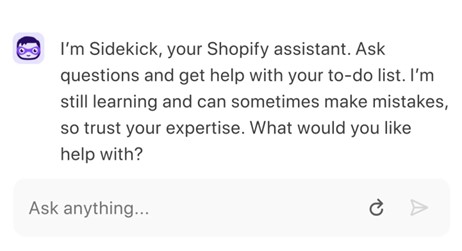 3. AI-driven Product Recommendations
Product recommendations are an effective cross-selling strategy even for online retailers. With Shopify as an ecommerce platform, you can manually set this up using metafields in your product listings or let Shopify's AI make the recommendations for you.
For example, Shopify's Shop app gives AI-driven product recommendations to reach more customers. It has a built-in AI chatbot that generates product suggestions when prompted. Alternatively, you can also enable related products in your product and checkout pages.
4. Blog Post Generator
Not only does AI for Shopify help in generating product descriptions for your store, but it can also help you generate long-form blog content. Similar to how text generation in product descriptions works, you just enter a few keywords and phrases, set the tone, and generate text.
Content marketing is a tried and tested ecommerce marketing strategy, but few small businesses have the time and resources to dedicate their efforts to it because of the lack of manpower. With Shopify's AI tool, merchants can stand a chance of rolling out an effective content marketing program without paying for additional resources or software.
Related Reading:
5. AI-generated Responses for Incoming Chats
If you haven't enabled Shopify Inbox yet, it is the best time to do so with AI-generated responses for incoming chats now available for subscribers. Shopify Inbox lets you chat with customers from your online store or the Shopify app. You can respond to messages and share product links, discount codes, and images. It is completely free to use.
Here's an example of how Shopify's artificial intelligence tool generates human-like and highly contextual responses in a Shopify Inbox store chat.
I have yet to try it on an actual Shopify store, but I have experienced setting it up and seeing where Shopify derives its answers from. From what I've learned, Shopify's AI tool won't let you down as long as you have a hefty history of customer interactions in your Inbox already.
I suggest you build out customer conversations first so AI can study your tone, way of responding, and answers, and then activate AI on Shopify Inbox. As it is, you can still review the suggested text, edit, and respond to chats—think of it as an autocomplete feature similar to SMS messaging and composing email.
As of this writing, this feature is available for early access. Sign up here to get early access.
6. Personalized Instant Answers for Online Store
Along with AI-powered responses for incoming chat, you can also harness AI's massive data bank to generate personalized instant answers for your store. Think of it as creating your FAQs—only that they are also prominently displayed in your Shopify Inbox.
You can set this up manually (write the answers yourself) or let AI generate answers for you.
As mentioned, similar to AI-generated answers, these generated instant answers are based on your store policies and conversation history. But if there's not enough information, Shopify's AI will base it on common questions most merchants receive. You can select those questions and then add an appropriate answer for your store.
Either way, you need to go to Shopify Inbox from your Shopify admin to activate or turn it on for visibility. Simply put, you have the ability to revise those instant answers.
7. AI-powered Review Summaries for Apps
There is no need to go through hundreds of user reviews to find out how a Shopify app performs. You can now easily filter which Shopify Apps to add to your online store by reading app review summaries powered by AI. This is available to select apps in the App Store for now.
Simply skim through the app's landing page to see a header that reads "What Merchants Think"—these are usually displayed on top of user reviews. The Shopify Magic icon is also prominently displayed alongside the title header, as shown below.
8. AI-generated Email Campaigns
Shopify really put out all the stops to help you with your marketing efforts in its latest updates. If you are using Shopify Email (a built-in email marketing tool you can use for free for 10,000 email sends a month), you can let AI help you generate catchy, witty, "guaranteed-opened" subject lines for your email campaigns.

It can even help compose your email and suggest an optimal time for sending.
9. AI for the Online Store Editor
Writing web copy from scratch is challenging, especially for merchants who have no experience in copywriting but need to create their online store on their own due to budget constraints. With AI, Shopify's store builder can also be a place where text generation is possible. For AI to generate text, you need to have a text box editor inside your column or section layout.
You can see an example of how it works below.
10. AI for Rich Product Imagery
Google recently released the Product Studio that will help merchants create visually rich product imagery with AI. Think great product photos that look like it was shot by a professional photographer in a studio.
Shopify recently released an early access sign-up form in its latest Shopify Editions' Summer update, and it seems you can work in Google and YouTube apps with AI for your Shopify store. Right now, Shopify says it is available to select businesses and has an opt-in form to learn more.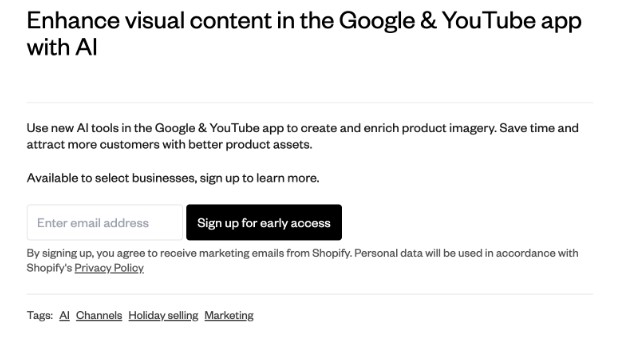 Related: How to Take Quality Product Photos at Home in 7 Easy Steps
Shopify AI Tools Frequently Asked Questions (FAQs)
Click through the questions below to get answers to some of your most frequently asked Shopify AI tools questions.
Yes, there is. Shopify has plenty of AI tools. It recently released a full AI suite of productivity tools called Shopify Magic that integrates with most workflows and areas in the Shopify platform. Shopify Magic lets you generate product descriptions, blog posts, email campaigns, and website copy for your Shopify store.
---
Shopify's AI tools are built-in and free to use. You will find available tools across different Shopify workflows by searching for the Shopify Magic icon which is a purple sparkler or star icon.
---
Shopify's latest AI feature is Sidekick, an AI-enabled virtual assistant that helps the online merchant manage their Shopify store. Sidekick is developed and trained to know all of Shopify and access the context, data, and expertise to generate highly personalized support for a range of tasks. Sidekick is part of Shopify's suite of AI-enabled features in its recent new features rollout.
---
Shopify Magic is free and available for Shopify merchants across all subscription plans.
---
Bottom Line
AI in ecommerce has several possibilities, and Shopify is very aggressive in leveraging AI in its platform. The Shopify AI tools I mentioned are going to be huge timesavers and sales converters for online stores, if used right.
See how AI works on the Shopify platform by signing up for a three-day free trial, and extend it for just $1 a month for three months. You can get a full Shopify store up and running and test all of the AI tools in that span of time.