Shopify Starter Plan: Review of Shopify's $5/month Plan
Shopify Starter is the social selling option of Shopify, replacing its previous entry tier, Shopify Lite, which lets you embed Buy Now buttons on existing sites. At $5 a month, Shopify Starter is an excellent option for content creators and influencers who already have an established audience on their respective platforms.
My Shopify Starter review takes you through its fees and included features. I also show you how to set up your Shopify products through Linkpop, Shopify's link-in-bio tool.
Shopify Starter Plan At-a-Glance
PROS

CONS

Sell anywhere—in-person and online
No standalone store
Full suite of product and management, shipping, and reporting tools
Higher transaction fees than other Shopify plans—5%
Unlimited products
No marketing features—discounts, coupons, abandoned cart saver
Standout Features

Sell on social media
Sell via Messenger, Whatsapp, and other chat platforms
Linkpop, which lets you monetize link in social bios
Full suite of Shopify tools, including analytics, to process orders

Monthly Fees

$5 for social media checkout links (no standalone online store)

3-day free trial, and $1 per month for three months

Payment Processing Options

Shopify Payments and more than 100 payment processors

Payment Processing Fees

Online credit card rates: 5% + 30 cents

In-person credit card fees: 5%

Contract Length

Month to month

No discounts for annual subscriptions

Customer Support

Excellent

24/7 live chat, email, and phone
Who the Shopify Starter Plan Is Right for
Sellers who have previously built websites and sell sporadically and in limited quantities: If you already have a website and offer new products every now and then, Shopify Starter lets you link directly to checkout pages without the need for a full ecommerce store setup.
Sellers who have their audience primarily on social platforms, such as creators or influencers: Bloggers, vloggers, and influencers can monetize their link in bios by directly linking to product pages under the Shopify Starter plan using Linkpop. Customers also checkout directly from Linkpop.
Aspiring businesses who want to test products and markets first: Those who want to have a feel of their market can test products by offering them on social platforms, through direct messaging with friends and colleagues, and in person using Shopify Starter.
Test Shopify's Starter Plan for Free
When to Use an Alternative
Businesses that need a full standalone store: Those that need an ecommerce platform complete with website pages are better off subscribing to any of Shopify's higher-paid tiers. Alternatively, there are other free ecommerce website builders like Square Online and Big Cartel that let you have a website and store under a free plan.
Businesses that want lower transaction costs: Again, upgrading to Shopify's paid plans lowers transaction costs to the standard rate (2.9% + 30 cents per transaction) if you are using Shopify Payments.
Shopify Starter Plan Pricing
Shopify Starter costs $5 a month—no hidden fees and fixed. You get no discount if subscribing for a year ($60). It is a straightforward, no-fuss plan to get selling online right away. Similar to other Shopify plans, you can get a free three-day trial and extend it for three months for just $1/month.
Its transaction fees are the following:
Online credit card rates: 5% + $0.30 USD
In-person credit card fees: 5%
It is important to note that Shopify Starter's transaction fee is at 5%—higher than fees in Shopify's standalone site plans.
The transaction fees might be a dealbreaker for those that have a good-enough online sales volume, so upgrading to any of Shopify's plans (Basic at $39/month, Shopify at $105/month, and Advanced at $299/month) is a better decision. You can calculate fees and pricing on our ultimate guide to Shopify pricing.
Shopify Starter Plan Features
I signed up for a free trial to explore and test the platform features for my Shopify Starter plan review. During my review, I found that one has access to the following features under the plan:
Unlimited products for selling, which equates to unlimited product and checkout pages
Shopify order management and integrated fulfillment networker
A very basic set of website pages—homepage, contact page, 404 page–on top of product and shopping cart pages
Ability to directly link product pages to Linkpop (a link-in-bio tool that helps you sell products with shoppable links)
Ability to sell products via Shopify Inbox (chat)
Full backend tools—product and inventory management, tax rates, and more (similar to other Shopify plans, except for marketing features)
Ability to use the Shopify's full suite of order management tools—Shopify Shipping and Shopify Fulfillment network for all product storage (an incredible value)
Reports and analytics
You cannot build a full standalone store under the Shopify Starter plan, but you can brand your pages. To do so, go to your Shopify dashboard > Settings > Brand. You can set up the following:
Your logo and brand colors (primary and secondary)
A cover image (a key image that shows off your brand in profile pages and apps)
Your slogan or brand statement (up to 80 characters)
A short description of your business often used in bios and listings (up to 150 characters)
Social links (Facebook, Twitter, Pinterest, Instagram, TikTok, Tumblr, Snapchat, YouTube, Vimeo)
The only theme you can work with under the plan is the Spotlight theme. You won't be able to do anything with the theme save for setting up your branding options (which you already have under Brand settings).
Under the Shopify Starter plan, your store address will be under a Shopify subdomain (myshop.myshopify.com). Whenever someone visits the URL, they will see your online storefront like below.
I compare it to Ecwid's Instant Site, a single landing page for customers to look over your products in one go.
Sell Anywhere—In-person & Online
Shopify Starter lets you share product links that take people directly to checkout pages (as in the image below). Use these links to share on direct messages, such as WhatsApp, Instagram, Messenger, and everywhere else.
When someone clicks through your shared product link, they're redirected to the product page where they can check out, add more products (by browsing your storefront), and make a payment for the item using Shopify Checkout.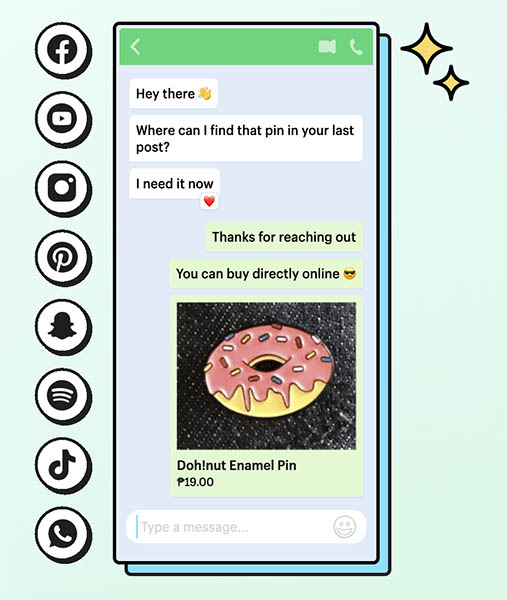 You can also sell in-person too, using Shopify's basic point of sale, POS Lite. Just download the Shopify POS app on your smartphone or tablet to sell products in person. You can instantly accept payments using Tap to Pay on an iPhone or buy any of the available card readers from Shopify.
Related:
Monetized Links Through Linkpop
Social media bios are limited to just one link, which is extremely limiting for most users. Enter Linkpop, a free Shopify tool that lets you make a shoppable landing page accessible through social media apps. You can use Linkpop to link to your other profiles on social media, share links to your sale items, new blog posts, or opt-in forms, and sell products using shoppable links.
Under Shopify Starter, you can add Linkpop as a sales channel from your Shopify dashboard and directly link your products to it. You set up Linkpop directly inside your Shopify dashboard, too.
When I tested the feature, I found it easy to add to my Shopify dashboard. The setup for my Linkpop bio was quick. I can also brand my Linkpop to my shop's colors, customize my bio, and—as shown in the image below—add products from my Shopify store as well as add a lot of other links.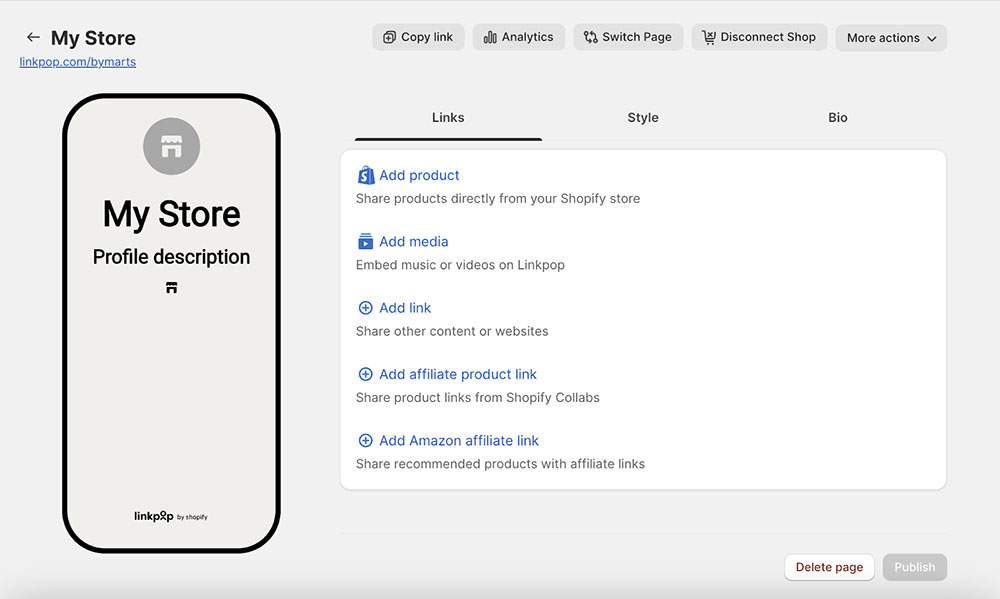 I set up my Linkpop to test checking out product links and found I can check out straight from Linkpop, which I found impressive as a shopper.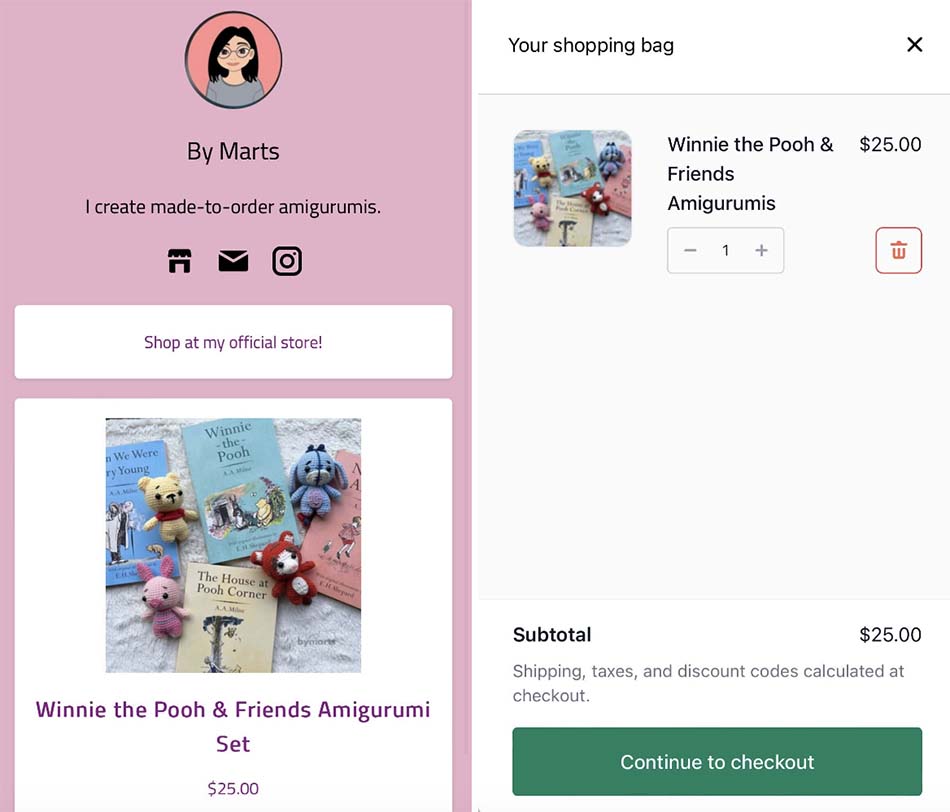 Order Management
While Shopify Starter's features are limited on the front end, Shopify still gives you full access to ecommerce tools on the back end, such as product management, inventory, and order fulfillment.
Your dashboard is the same as those under the higher Shopify plans, save from other marketing features. You can easily set up your products, track inventory, and fulfill orders.
What really is impressive is that even under this plan, you can use the Shopify Fulfillment Program. Just pay a monthly fee to have Shopify store, pick, pack, and ship products for you. Note that this is just one way of fulfillment—you can send the order to a warehouse, dropshipper, or print-on-demand location or package and ship the product yourself.
Sales Reports & Analytics
You can also track your business performance using reports. The Starter plan includes an analytics page, financial reports, product analytics, Live View, acquisition reports, inventory reports, behavior reports, and marketing reports. You don't get as many advanced reports compared to Shopify's higher plans, but these reports are enough to notice trends for you to strategize your marketing.
Note that your Linkpop comes with analytics reports, too, such as how many clicks each of your links got.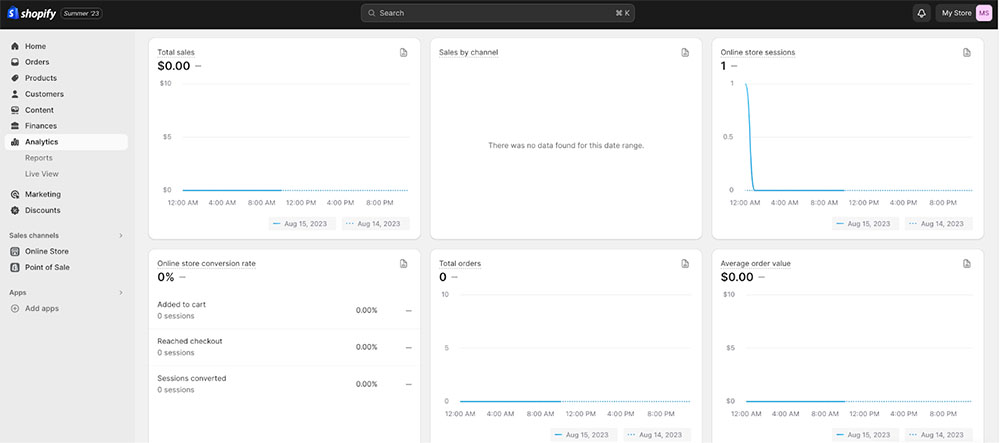 Bottom Line
If you are serious about online selling, Shopify Starter isn't the best option for you. I'd recommend going with Shopify's Basic plan. At $39 a month, you get a full standalone store and built-in marketing tools that can help set up your online store for success.
I would recommend the Starter plan for influencers, content creators, bloggers, YouTubers, and those wanting to get their feet wet in online selling. For $5/month, you can sell products without much overhead costs and promote them anywhere—via DM, social media, and other websites. Once sales grow, consider upgrading to a Shopify Basic plan. It will be worth more than your initial investment.
Sign up for a three-day Shopify free trial, and extend your trial for three months for just $1/month today.