Ecwid Review: Is It Right for Your Business?
Ecwid is an ecommerce solution that lets you add an online store to an existing website. It provides tools that help you sell online, in person, and on social media. It offers a forever free plan, which allows for selling up to 10 products, and paid packages starting at $15 per month.
Though Shopify is our top-recommended ecommerce platform, Ecwid provides good value for small sellers with only a few products needing a simple solution or businesses wanting to add shopping cart functionality to their existing sites.

What We Like
Forever free plan
Easy to use
No ads, even on free sites
Works on Wix, Squarespace, Blogger, Tumblr, WordPress, and more
What's Missing
Limitations on customer support, customization options
Basic standalone builder is limited to a single page
Weak search engine optimization (SEO) features
Deciding Factors
Software Fees: $0–$99 per month; has product limits on most plans
Transaction Fees: None
Credit Card Payment Processing Fees: Depends on payment provider
Payment Gateway Options: Over 80
Standout Features:
Add ecommerce checkout to any existing website
Unlimited product variants
Real-time USPS, UPS, and FedEx shipping calculator included on every plan
Multilingual store capability
Robust marketing features (Facebook Messenger live chat, gift cards, coupons, and more)
What We Recommend Ecwid For
Ecwid is one of our top picks for the best ecommerce platforms, scoring a 4.31 out of 5 on our evaluation. Its free plan also made it to our list of the leading free ecommerce website builders because of its free shipping calculator for UPS, USPS, and FedEx—this feature is usually only available with pricey ecommerce plans.
We recommend Ecwid particularly for:
Businesses that already have an existing website: Although Ecwid can be used as a standalone ecommerce platform, it's best suited and most commonly used as a plugin to add ecommerce functionality to an existing site. Wix, Weebly, and Squarespace users have the added advantage of native Ecwid integrations. Though it's not as customizable as other shopping cart plugins like WooCommerce, no code is required to set up Ecwid, making it much easier to use.
Sellers that have a narrow inventory of products: If you have 10 or fewer products to sell, using Ecwid's free plan is more cost-effective than signing up for Shopify's basic tier (Shopify is our top-recommended standalone ecommerce platform), which costs $29 per month.
Hobbyists and those who sell as a side business: Ecwid's basic plan ($15 per month) lets you sell on Facebook and Instagram and provides you with inventory tracking, marketing tools, and a mobile app. This is less expensive than Shopify's basic package, which offers similar features.
When Ecwid Would Not Be a Good Fit
If you want a full-blown ecommerce website and to be ready for growth, Shopify is what you need. Its platform caters to new businesses but has room for growth and scalability. The provider also allows you to build a full website.
If you run a brick-and-mortar store and would like to add an online component for pickup or local delivery sales, then Square Online is your best option. It lets you build a full website or a simple one-page site for free.
If you have a high-revenue business or an extensive product catalog, BigCommerce is a better fit. It offers zero transaction fees and can host an unlimited number of products and services—physical or digital.
If selling is not the main focus of your site, and you just need a small business website, Squarespace is our recommended website builder for a user-friendly, all-in-one solution.
If you need a fully customized website and online store on your own servers, WooCommerce or PrestaShop is a better option. These are open-source platforms geared toward developers.
Looking for something different? Read our guide to the best ecommerce platforms for small businesses to find a system that fits your needs.
Ecwid Store Examples
Ecwid is best for businesses wanting to add a shopping cart functionality to an existing site and the aspiring entrepreneur or hobbyist who is just starting out and has limited inventory. The brands we showcase below are perfect examples of those that have utilized Ecwid's standout features for their businesses.
Original Melting Pops by Betsy Enzensberger
Betsy Enzensberger is a pop artist known for her realistic, larger-than-life sculptures of dripping, frozen treats. She chose Ecwid for her online store and activated multichannel shopping, connecting her Ecwid store to Facebook, Instagram, TikTok Shopping, and Google Shopping. This strategy boosted sales and raised brand awareness.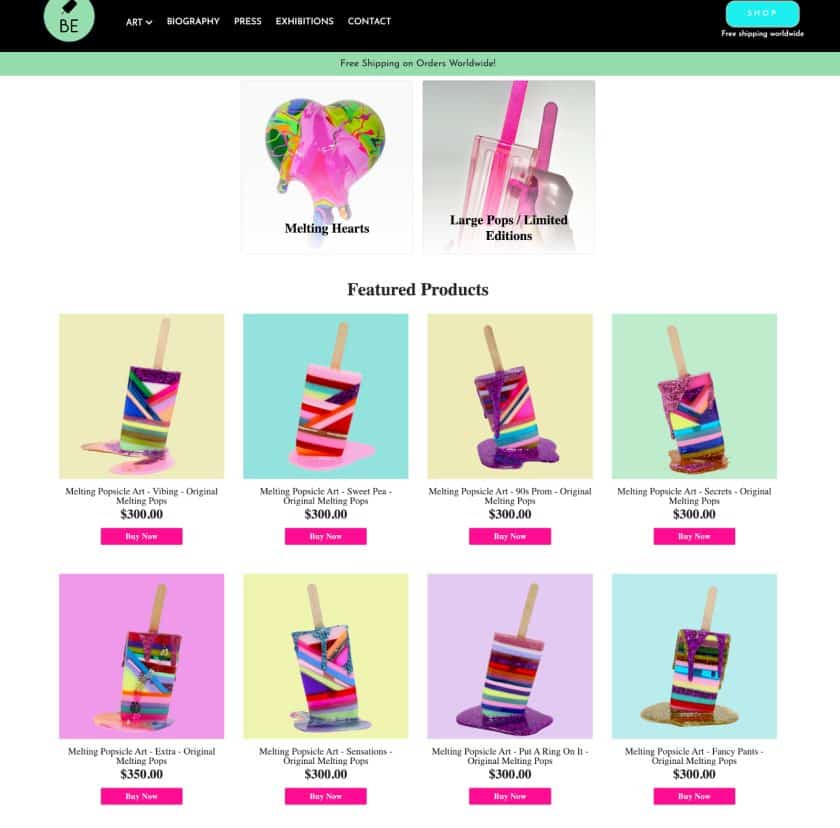 ---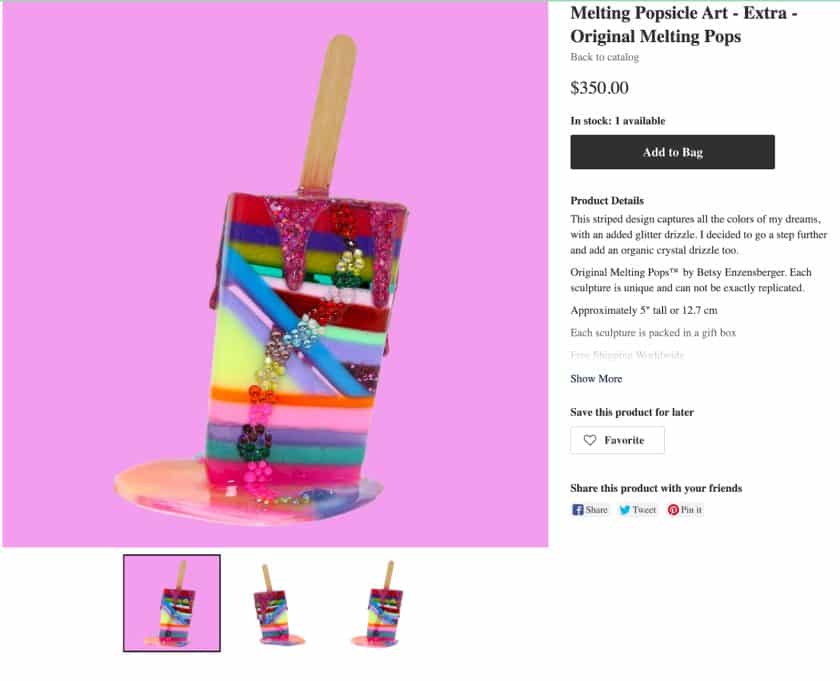 ---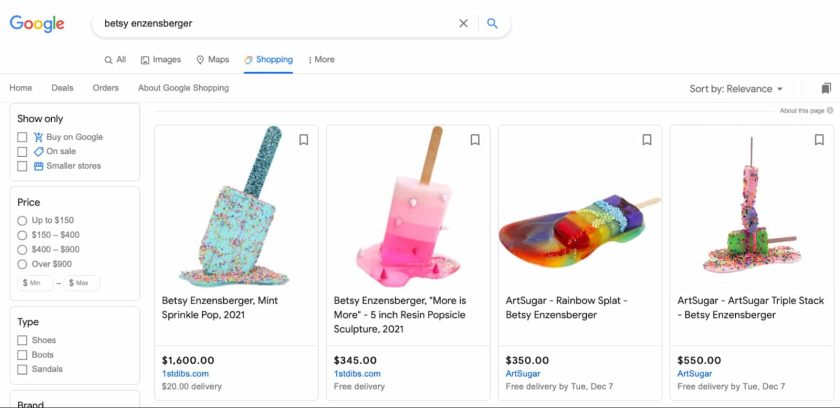 ---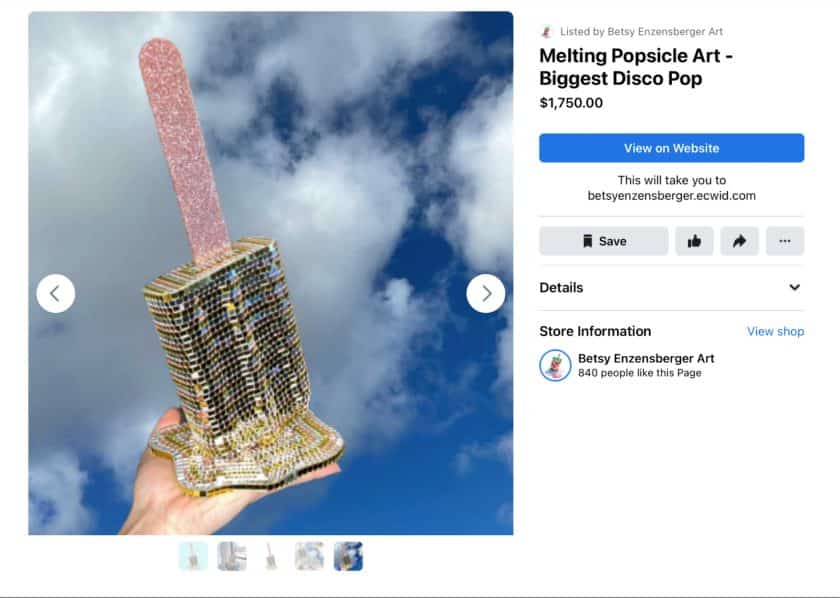 ---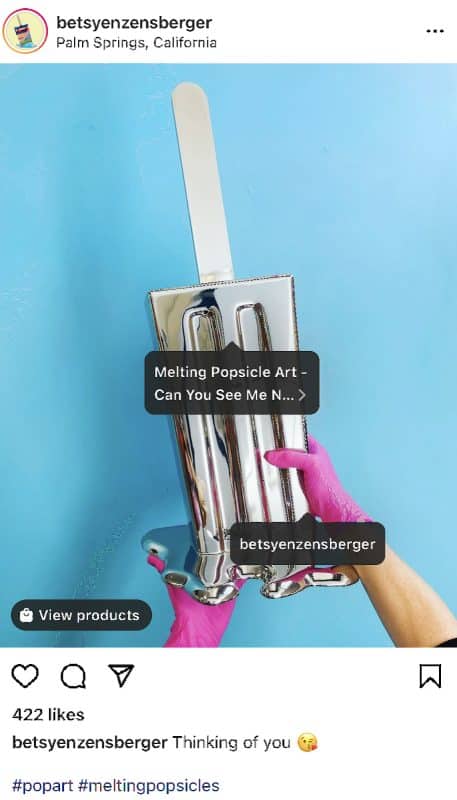 ---
Kissed by a Bee
Third-generation herbalist Akilah Nisa started Kissed By a Bee as a side hustle, selling homemade cosmetics and skin care products. She leveraged the advantage of online selling, choosing to go with Ecwid for her ecommerce platform.
She shared that since Ecwid integrates with Square, she can do in-person selling as well—which has contributed to 15% of her business revenue. The solopreneur also finds the Ecwid mobile app helpful because it lets her upload the images she takes on her smartphone directly to her product catalog.
L'Coule
L'Coule, which sells handmade designer sunglasses, is run by 10-year-old Wilhelmina Lillrud and her parents. Wilhelmina crafts all the products herself and, since she is still a minor, her father runs the business and maintains the online store. She shared that her father went with Ecwid because they needed something budget-friendly—and Ecwid's plans (even its free plan) were perfect for launching her online store.
Ecwid Pricing
Ecwid has a free plan and three paid subscriptions, which start at $15 per month. All packages allow you to build your own online store, add it to any website, and sell on multiple sites simultaneously. (Your store comes with a mobile-responsive shopping cart and the Apple Pay one-tap checkout feature.) The main differences between the plans include the allowed number of products, sales channels, priority support, and integrations.
Free

Venture

Business

Unlimited

Monthly Software Fee

(monthly billing)

$0

$15

$35

$99

Monthly Software Fee

(annual billing)

$0

$12.50

$29.17

$82.50

Transaction Fees

$0

$0

$0

$0

Numbers of Products

Up to 10

Up to 100

Up to 2,500

Unlimited

Social Media Channel Integration

N/A

✔

✔

✔

Access to App Market (extensions)

N/A

✔

✔

✔

Inventory Tracking

N/A

✔

✔

✔

Advanced SEO Tools

N/A

✔

✔

✔

Sell on Amazon and eBay

N/A

N/A

✔

✔

Abandoned Cart Email Recovery

N/A

N/A

✔

✔

Square POS Integration

N/A

N/A

N/A

✔
Ecwid's Free plan lets you feature 10 products and create your online store or add products to an existing site. Social media sharing buttons can be enabled within the product page, making promotion easier for you. You can add this storefront to as many websites as you like, and the compatible platforms include WordPress, Wix, Squarespace, Blogger, and Tumblr. However, you won't get access to the two biggest social selling giants: Facebook and Instagram.
The free option is great for learning the ins and outs of Ecwid before you commit to paying for it. We like that it's perpetually free, as opposed to Shopify's 15-day trial period, because it sometimes takes longer to truly understand what the service can do for you. Plus, it's a great option for sellers with a very narrow inventory.
Venture, Ecwid's cheapest paid plan, allows you to feature 100 physical products and connect your store to other sales channels, such as Facebook, Instagram, and Etsy. You can also sell digital goods—with a 25GB per file limit. Android and iOS apps, chat support, and store management features (such as discount coupons, gift cards, inventory tracking, and advanced SEO tools) are included.
Simply getting access to Facebook and Instagram selling platforms is worth the $15 per month you'll pay for the Venture package. It is a good fit for hobbyists and creatives in online retail as a side hustle.
The Business tier includes all of Venture's features, except you can now sell up to 2,500 products and connect to Amazon and eBay. Moreover, advanced store management features (e.g., abandoned cart emails, product filters, wholesale pricing groups, and a multilingual storefront) are added to your dashboard.
Support is provided by phone and chat and, for those under annual plans, website customization is free for up to two hours. If you plan on doing more than just casual, low-volume sales, then this package is for you. Simply put, you get the tools necessary to run a high-level online retail operation.
Ecwid's highest subscription, Unlimited, has provisions for an unlimited number of products, priority support, and all the features included in the aforementioned plans. Moreover, those under annual plans are entitled to up to 12 hours of free customization. The most notable and useful of these tools is the branded mobile app version of your store, which is an invaluable tool for retaining your best customers and getting new ones. This package also provides integration with Square POS, unlimited staff accounts, prioritized customer support, and other advanced features.
Ecwid Features
Ecwid makes it easy for you to sell products online. If you have an existing website on Squarespace, WordPress, Wix, Weebly, and GoDaddy, it is easy to integrate Ecwid without the need for technical know-how.
Since our last update:
Ecwid has made many changes to its platform, including:
Instant Site upgrades (add CSS code, show navigation and categories menu)
No limits on subscriptions
More payment options (Alipay, Ayden, and more)
Sell on TikTok
In-app checkout with Facebook and Instagram shops
New templates (beta, scheduled for full release in 2022)
Take a look at some of Ecwid's most notable features below:
Buy Now Button
---
Instant Site Builder
Ecwid was actually made to be an ecommerce widget (hence its name) added to an existing website, but it now also allows you to set up a standalone store called Ecwid Instant Site.
It isn't a full-blown website compared to Squarespace or Shopify as it only provides a single page, functioning more like a landing page than a website. Although limiting, it can be an advantage for businesses needing to get an online store up and running right away.
Its website builder is intuitive, although there are only a handful of sections you can add to your Instant Site—you can remove some, but you can't add any more than what's available.
Aside from your landing page, you can also customize product pages and include as many details as you want.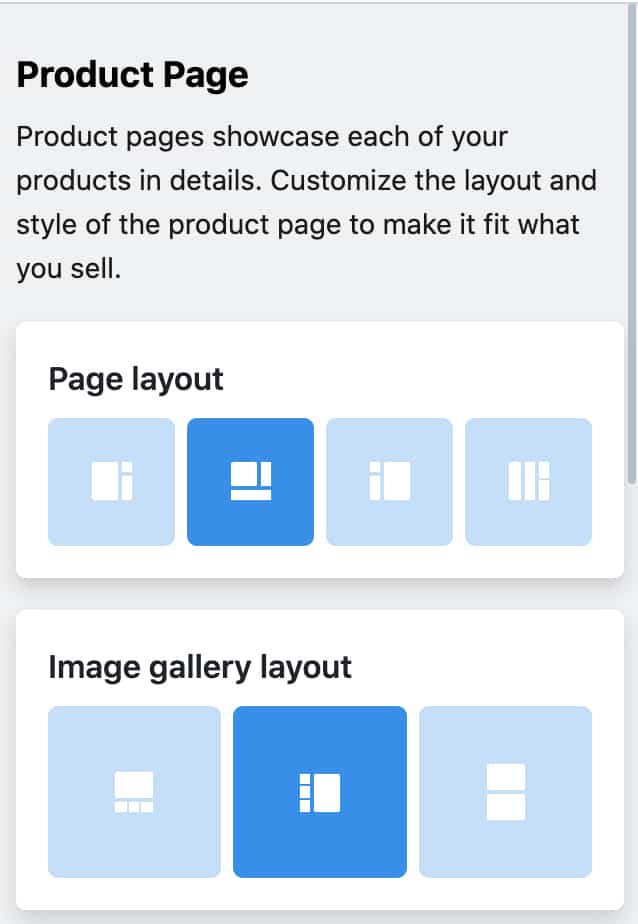 Choose how to display your product photos and layout and be as detailed as you want to provide as much information as you can to your customers.
---
Ecwid Themes
Ecwid offers more than 70 free site themes to build your online store. All of its themes are mobile-responsive but provide limited customization.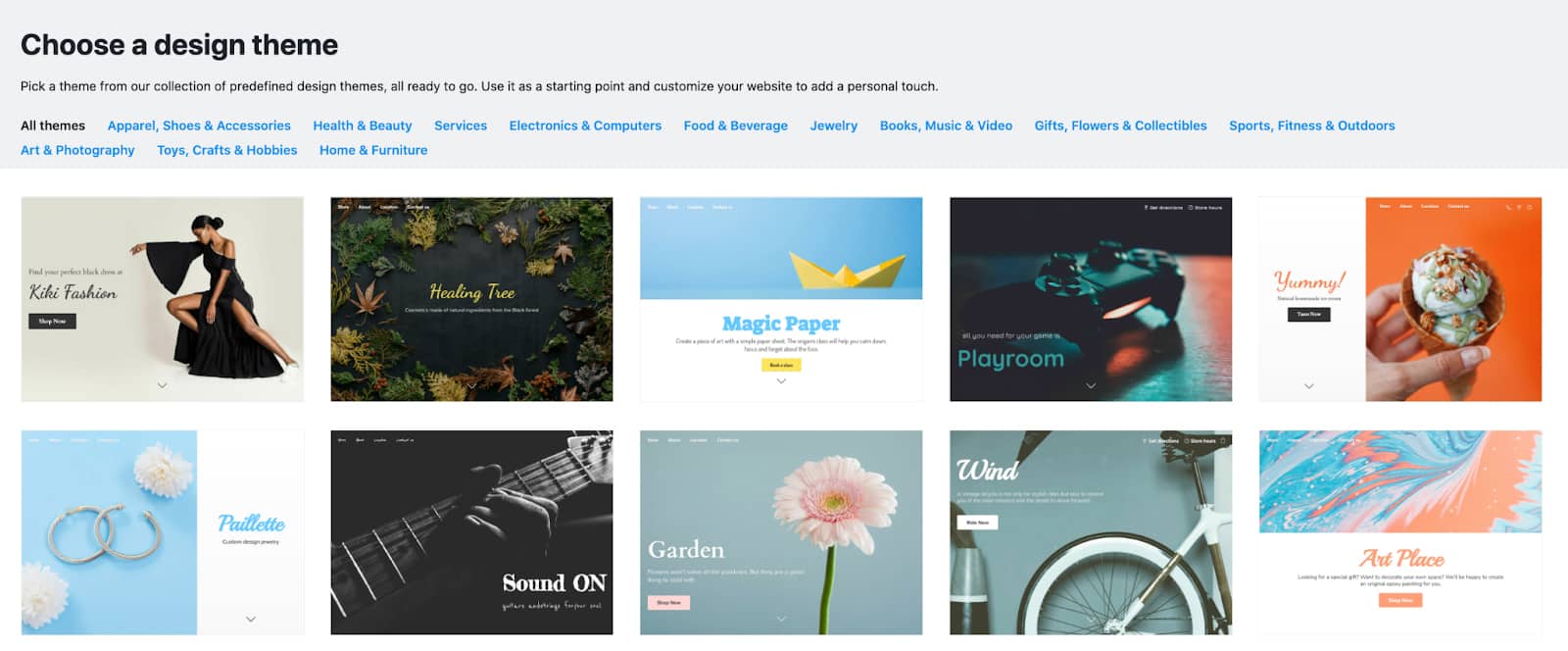 ---
Add to an Existing Site
What gives Ecwid an edge over other ecommerce platforms is its ability to let you add a store to your existing website—even going as far as to give your store the exact look and feel of your current site; customers will not even notice that your store is from another platform.
To add Ecwid to your existing website, go to your dashboard and customize your store page and product page design layout. After saving changes, your Ecwid store will automatically get updated (after you have embedded or added its widget).

---
Product Management
Product limits are enforced on each plan; however, there's no limit on product variants. You can also enable shopper-facing customizations when ordering, such as attaching images as files. However, inventory tracking for variants is only available on the Business and Unlimited plans.
---
Product Categories
Setting up product categories involves a hierarchical setup. You need to set up categories in a different section of the dashboard—instead of right inside the product setup pages.
---
Payment Processing
Ecwid does not have built-in payment processing and instead connects with more than 80 payment gateways, including PayPal and Stripe. Even if it doesn't have a native payment provider, it does not charge transaction fees or markups on top of the payment provider's processing fees.
---
Point-of-Sale (POS) Integration
Ecwid doesn't offer a native POS system, but you can integrate Vend, Clover, and Square among others, if you are on its highest plan. At $99 a month, this option is pricey. If you need an integrated POS and online store system, we recommend choosing one of our recommended multichannel POS systems like Shopify.
---
Third-party Integration
Ecwid's app marketplace, App Market, is not as extensive as those of Shopify and BigCommerce. As of this writing, it offers just over 100 integrations.
---
Multilingual & Multicurrency Capabilities
Ecwid storefronts supports over 50 languages and can automatically translate based on a site visitor's IP address (note that it translates default store elements such as the buy button and social media shares, but you need to take care of the product description). There's no extra app, or cost, needed to enable this. A native multicurrency feature is unavailable but can be done with the help of a third-party integration.
---
SEO
This is one of Ecwid's weaknesses and is even unavailable in the Free tier. SEO features include the ability to change page titles and meta descriptions—but Ecwid automatically generates URLs for product pages based on your product title. This is not ideal, as it can get confusing if you want to change product titles to reflect better SEO
Ecwid also adds random numbers to the end of URLs, as seen in the image below.
Another area where the platform doesn't perform quite so well when it comes to SEO involves AMP (Accelerated Mobile Pages). Unlike competing products, such as BigCommerce and Shopify, Ecwid doesn't let you create AMP for your products.
---
Marketing Tools
Ecwid has robust marketing features that help attract customers and encourage more sales. It has the following on-site marketing tools:
Facebook Messenger live chat (add a live chat option to your Instant Site)
Discount coupons (create discount codes for customers and marketing campaigns)
Gift cards
Abandoned cart recovery emails (automatically send emails to customers who have abandoned their shopping carts)
The highlight of Ecwid's marketing tools is the inclusion of the Facebook Messenger live chat option across all of its paid plans. This feature is usually a paid add-on or app with other ecommerce platforms. You can also create newsletters to send to your customer, but an integration with Mailchimp is needed.
In addition, you can leverage the power of multichannel selling.
Sell on multiple websites (WordPress, Wix, Squarespace, and more)
Sell on Amazon and eBay
Sell on TikTok
Facebook Shop
Instagram Shopping
---
Shipping Tools
Like most competitors, Ecwid offers different shipping options (flat fee, based on weight, free shipping, etc.). However, its advantage is its built-in integration that allows for real-time shipping rates for UPS, USPS, and FedEx among others—and making it available on all plans.
---
Reporting
Ecwid doesn't have native reporting at all, a clear disadvantage compared to Shopify and other platforms. However, you can install reporting analytics apps like MonkeyData for free. Ecommerce tracking can also be enabled via Google Analytics.
---
Mobile App
Ecwid provides a store management app (iOS and Android) for paid subscribers through ShopApp. You can also manage your store through the app by updating inventory, managing orders, and receiving notifications. Images, prices, availability, and any changes that you make online automatically sync with the mobile app.
---
Ecwid Ease of Use
Intuitive user interface
Guided prompts in dashboard
Help center, guides, and videos
Customer support: live chat, email, and phone
Priority support for those under Unlimited Plan
Free customization on higher tiers (paid annually)
Based on experience, signing up for Ecwid's free plan is easy. The dashboard's navigation is intuitive, with the prelaunch tips displayed prominently on the homepage upon logging in. It outlines the steps that you need to launch your store.
The downside of being on a free plan is that you are not entitled to customer support and have to rely on its help center. However, its knowledge base is comprehensive—you can find everything from community posts to how-to-guides and videos.
Customer support is offered through 24/7 live chat, 24/5 (weekday) email, and phone. Priority support is also extended to those under the Unlimited plan and free customization of up to two hours and 12 hours is available for those on annual Business and Unlimited plans, respectively.
Top Ecwid Alternatives
| | | |
| --- | --- | --- |
| | | |
| | | |
| Best for: Small storefronts wanting to add an online store | Best for: Small businesses with ecommerce as their backbone | Best for: Artists and creators wanting top-rated templates |
| Monthly fee from: $0 | Monthly fee from: $5 | Monthly fee from: $18 (for ecommerce functionality) |
| | | |
If you're unsure Ecwid is right for you, see how it compares with our top ecommerce platforms.
What Users Think About Ecwid
Most Ecwid users rave about how easy it is to use and how its free plan is a game-changer. They said it's good enough to start selling products online without the hassle of setting up an online store. Most negative feedback, however, centers on frustration that it is not as customizable as they need it to be.
At the time of publication, Ecwid reviews earned the following scores on popular user review sites:
Capterra: 4.6 out of 5 based on about 500 reviews
G2: 4.8 out of 5 based on more than 250 reviews
TrustRadius: 9.1 out of 10 based on about 20 reviews
When reading through Ecwid reviews, I noticed these trends:
| Users Like | Users Don't Like |
| --- | --- |
| Affordable pricing plans; comparatively cheaper than competitors | Limited customizations |
| Free plan is good enough to sell products | Integrations are not as extensive compared to other platforms |
| Easy to use | Basic paid tier doesn't have as many inclusions/features compared to Shopify |
Bottom Line
Ecwid is a surprisingly robust ecommerce platform that can compete with ecommerce giants like Shopify in terms of features. Its plans are affordable and offer some advanced features, such as a shipping calculator, multilingual site capabilities, and custom fields in product orders.
In our opinion, Ecwid is a perfect option if you already have an existing website that generates a decent amount of traffic. It offers a free plan, so sign up today; no credit card required.
You May Also Like …