Shopify POS is one of the best small business point-of-sale (POS) systems on the market. It comes free with every Shopify ecommerce account, is user-friendly, includes inventory and customer management tools, and makes omnichannel selling simple.
This article looks at how to set up Shopify POS and use it to run your store—from choosing your hardware and setting up your sales channels to adding a payment processor and integrating marketing campaigns.
Step 1: Sign Up for Shopify
To begin using Shopify's POS, the first thing you will want to do is sign up for Shopify. While Shopify is primarily an ecommerce platform, the company expanded its services, adding a brick-and-mortar POS platform to every one of its ecommerce plans.
With Shopify's structure, you have to subscribe to an ecommerce plan to access the POS system: Basic ($39/month), Shopify ($105/month), or Advanced ($399/month).
Free Trial Update: Shopify offers a completely free three-day trial, but now also offers your first two months for only $1 each. However, ecommerce plans have increased from $29–$299/month to $39–$399/month.
Once you choose a Shopify plan, you will also have the option to upgrade your POS to the Pro plan, which costs $89/month. The POS plans are:
Shopify POS Lite (included): This tier is offered in all Shopify ecommerce plans and provides all the basic features—including accepting payments, running transactions, inventory tracking, omnichannel selling, staff management, reporting, and customer management.
Shopify POS Pro ($89/month): This is the paid Shopify POS plan you can add to any Shopify ecommerce plan. It has all the features from POS Lite, plus custom reporting, advanced checkout features, additional staff management, and granular inventory management capabilities.
Once you have signed up for your Shopify plan and decided whether to upgrade your POS option, you must download the Shopify POS app. While Shopify POS's back-office and management features are all desktop-based, the selling interface is only on an app. This is great because it allows for sales on the go and gives you tons of mobility; however, it does mean you will want to invest in a tablet to conduct sales in your store.
If you do not need a full ecommerce plan to accompany your POS system, check out our evaluation of the best retail POS systems for an option that would better suit your needs.
Step 2: Choose Your Hardware
Once you have successfully signed up for your Shopify account, you will need to get hardware to host your POS. Shopify POS is an app compatible with iOS and Android devices, so you will need to supply your own tablet and pair it with a scanner (or your device camera) and a card reader (or just tap to pay on iPhone!).
Shopify Introduces Tap to Pay on iPhone: Customers can tap their payment method on your iPhone, and Shopify's POS app will be able to process the transaction—no card reader required.
You can opt for compatible third-party accessories; however, Shopify also has affordable and highly rated POS terminal and accessory options.
Retail Kit

Shopify Go

Shopify Dock for Tap & Chip Reader

Barcode Scanners

$219

Shopify Tap & Chip Card Reader + dock, Shopify Retail Stand (iPad and Android models), Shopify Mounting Kit)

$429

Shopify POS Go + case, USB-C to USB-A charging cable, Marketing Kit

$39

$229 - $329
Shopify has other auxiliary hardware accessories like cash drawers, receipt printers, and gift card sleeves on its site. Shop additional Shopify POS accessories here.
Step 3: Log In to Your Shopify Account
Now that you are signed up for your Shopify account and have your hardware, it's time to start setting up your Shopify POS account from the inside. You can log in to your account on any web browser via Shopify.com and configure your overhead settings, view reports, and handle your inventory.
Our video below walks you through the Shopify POS Dashboard and how you can configure your account. Or, continue reading for step-by-step account setup and management instructions.
Step 4: Set Up Your Sales Channels & Locations
Once you are logged in to your Shopify POS account, the first thing you want to do is set up your sales channels. With Shopify, you can seamlessly integrate your products with an array of platforms—including Facebook, Instagram, TikTok, Google, eBay, and Walmart.
With the Buy Button feature, you can even add a shopping button to your personal blog or website. From there, Shopify POS will track sales and inventory across all of your locations and run reports for all of your storefronts.
To add sales channels to your POS account so you can start tracking their sales and performance, head to the home screen of your Shopify account and scroll over to "Sales Channels" on your sidebar menu.
To start, you will only have your online store listed. To add more, hit the "plus" button, as pictured below, and a menu will come up. You can then select and add the sales channels of your choice.
Once your sales channels are added, Shopify will prompt you through the login process to get everything synced. Then, sales, inventory changes, and customer information across all of your sales channels will appear on your Shopify account so you can manage them all from one place.
Warning: Shopify has recently received some complaints from small business owners that the Instagram integration does not always work, and orders made on the social platform sometimes never show up on the POS account for owners to manage.
Step 5: Add Your Inventory
With your sales channels integrated into your POS system, it is time to add your inventory. Note that it is important that you add your sales channels before your inventory, as you assign inventory to specific locations or channels when adding products. Shopify makes it easy to add inventory—all you need to do is head over to your account and select the "Products" option from the sidebar menu.
Then, you will come to your inventory list, where you can view all the products you have in stock and add new ones. In the top right corner of your list, you will see three options. You can 1) import products in bulk ("Import"); 2) export your current products into an Excel list ("Export"); or 3) add products individually with the "Add Products" option.
If you need to import in bulk, select the "Import" button and then download the CSV template where you add your products and all the relevant information in a format that Shopify will be able to read. If, instead, you want to add products individually, select the "Add Products" button, which will take you to a form where you can add tons of product information, including:
Product title and descriptions
Product images
Price and cost
SKU and barcode information
Assign which sales channels your product will be available on
Shipping and customs information
Weight
Product tags
Product variants (color, size, etc.)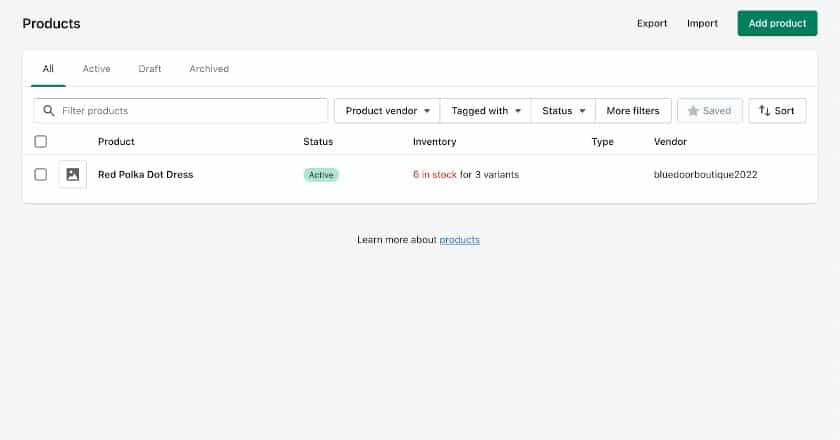 ---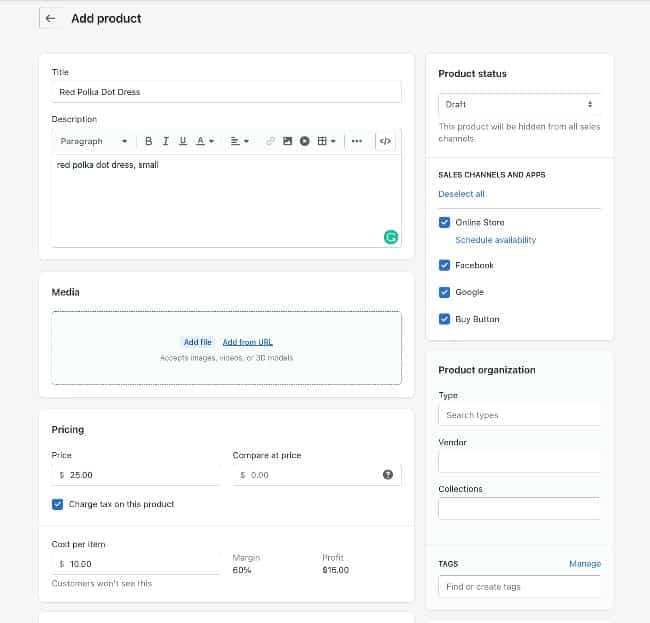 ---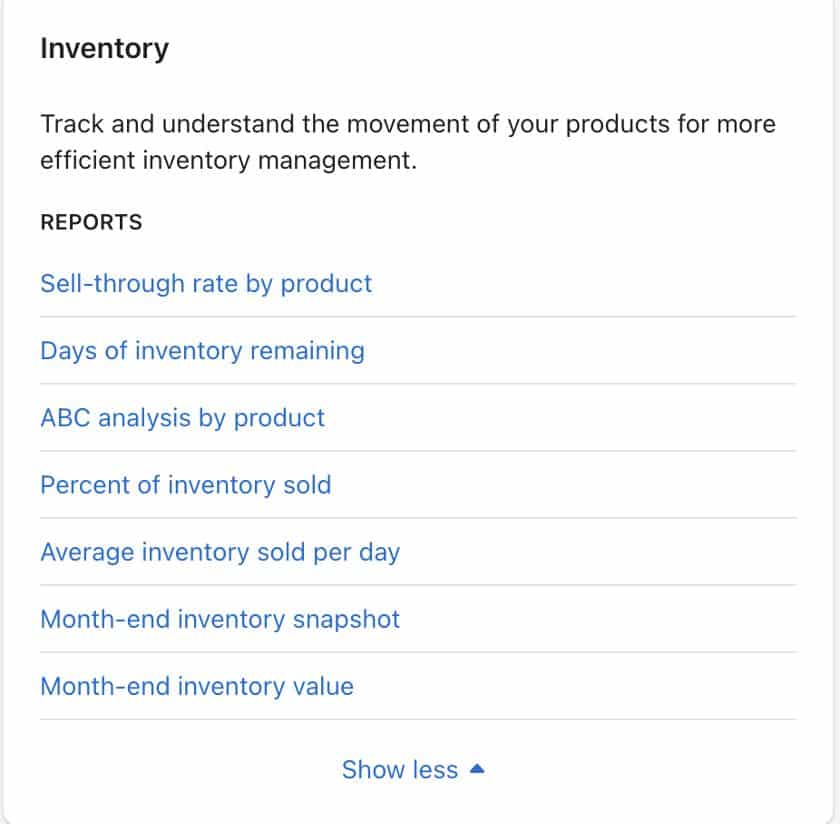 ---
Inventory Management Features
Once you have added products to your POS system, Shopify will manage them with its built-in inventory management tools.
Excellent inventory management is one of the top criteria for retail POS systems. Read more about our top POS inventory management systems—where Shopify takes the No. 2 spot.
Shopify's inventory management tools include the following:
Demand forecasting: Shopify analyzes the performance of your products to help you anticipate demand and better stock your shelves.
Transfers: Request transfers from other locations and facilitate a transfer through your POS system.
Sale item suggestions: Based on sell-through time and holding costs, get suggestions about what items should move to a discounted price.
Inventory analysis: Decide which products are worth reordering and which are taking up valuable storage space based on stock performance.
Stock levels: Monitor your stock levels live across all your locations and watch as levels update with every sale.
Inventory counts: Use a barcode scanner to perform inventory counts and compare your projected and actual quantities.
Receive inventory: Use your barcode scanner to count inventory shipments to check that they match your purchase orders.
Purchase orders: With the Stocky app, create and manage your purchase orders and watch as they seamlessly integrate into your POS system.
Detailed inventory reports: Find an array of inventory reports in the Analytics section of your Shopify account that will help you make better product decisions.
Low stock alerts: When creating products, indicate at what level each will need to be reordered. Then, when you reach this level, Shopify will send you an email that it's time to restock.
For additional tools and features, you can integrate third-party inventory management apps into your Shopify account via the Shopify App Store—no programming required. Compatible apps include ShipBob, Katana, and QuickBooks.
Step 6: Import Customers
With your inventory uploaded and ready to go, it's time to start adding your customers. Shopify allows you to keep a detailed customer database full of client information and run customer reports so that you can understand your shoppers better. Whether you have a list of clients you need to input or not, Shopify has a solution for you.
The first thing that you will want to do is head over to the "Customers" option on your home screen sidebar. From there, you will come to a page where you have options for adding customers. You can either "Import Customers" in bulk or "Add Customers" individually.
For the bulk upload option, you will click the "import customers" button, which will lead you to a page where you can download a CSV file. This file is where you can input bulk customer information in a format Shopify can read and then create customer profiles in mass.
If you need to add customers individually, select the "Add Customer" button, and you will come to a customer form that you can fill out. With these customer forms, you can include detailed information—including contact information, notes, marketing material preferences, tags, and tax information.
You can also add new customers to your customer database from the checkout page on the Shopify App without ever having to leave a transaction.
Once you have input your customers and their information, each one will have its own profile where you can see transactions, contact information, marketing preferences, and any notes other associates may have included. Also, in the Analytics section of your Shopify account, you can view a plethora of customer reports that will help you better understand and target your customers, like:
Customers over time
First-time vs returning customer sales
Customers by location
Returning customers
One-time customers
At-risk customers
Loyalty customers
Add a customer loyalty program by integrating one of many loyalty program apps in the Shopify App Store.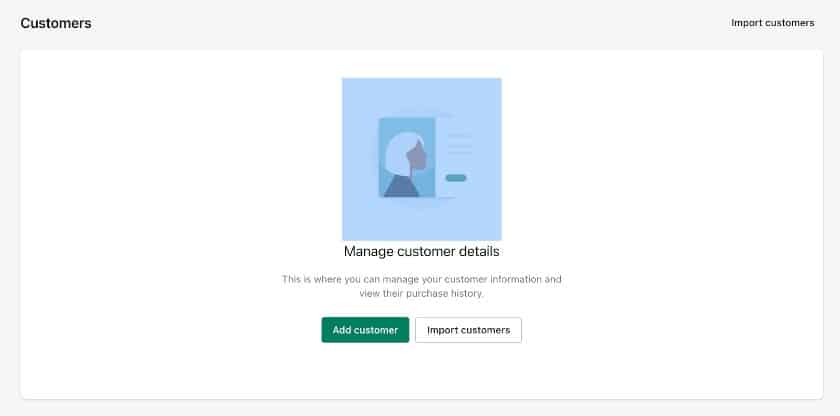 ---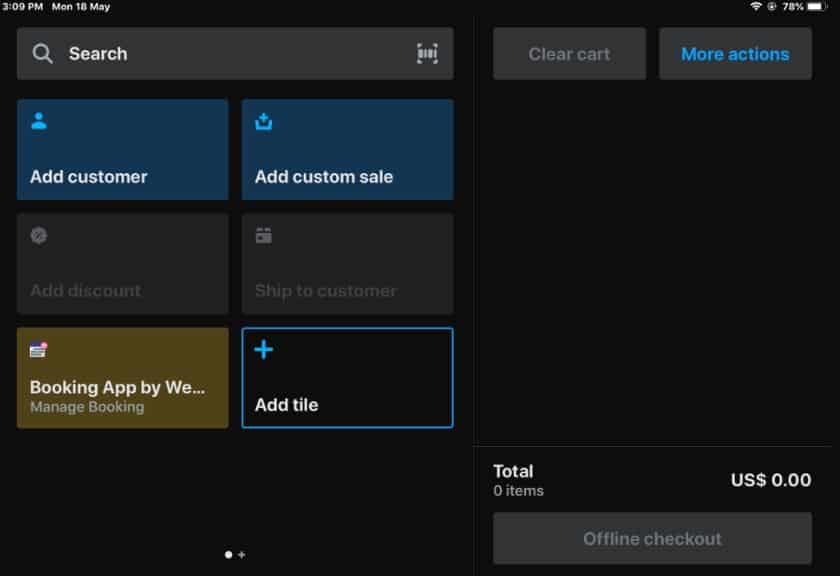 ---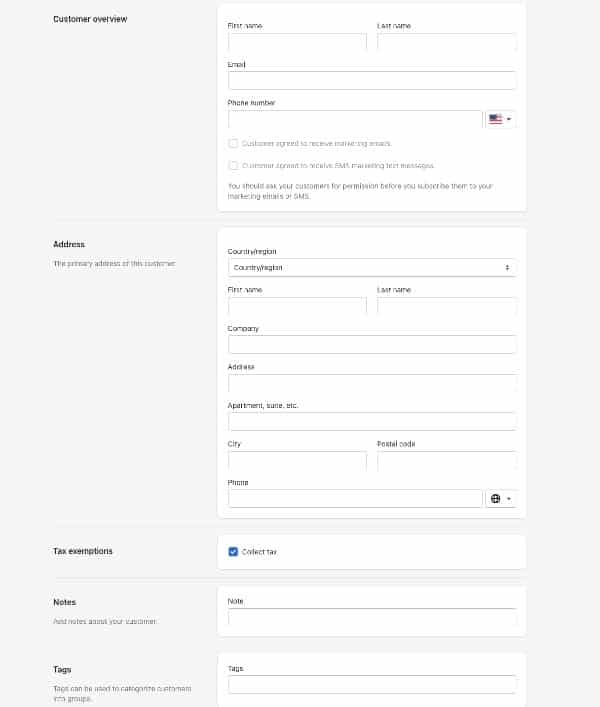 ---
Step 7: Create Staff Profiles & Set Permissions
Another key feature you should set up on your Shopify POS account is staff profiles. With this feature, you can create a profile for each of your staff members where you can set access permissions, create employee pins, track individual performances, and create "manager approval actions" for things like adding discounts and editing taxes.
To get started, navigate to the sidebar of your Shopify POS account and select the "Point of Sale" option from your sales channels. From there, a dropdown menu will appear; select "Staff." This will take you to a new screen with your complete employee list with an "Add Staff" button on the top right. If you select that button, you will be taken to a staff form where you can start inputting employee information and permissions and set their login PIN.
Every employee will have an individual PIN that they will use to log in to the Shopify POS app to complete transactions. This PIN corresponds with their employee profile and its permissions and will ensure you can track individual employee performances.
Staff Permissions
With the way that Shopify does permissions, each type of staff role (associate, manager, assistant manager, etc.) comes with a designated permission set. Then, you assign those roles to your staff, and the corresponding permission set comes with it.
To get you started, Shopify includes three default roles with set permissions: Associate, Limited Permissions, and Full Permissions. These options are great; however, you can also create a new role with a custom permissions set if needed.
Simply select "Manage POS Roles" from the new employee form to be taken to a page where you can see your full list of existing roles and a button to "Create POS Role." If you select this, you will then be taken to a form where you can set permissions for actions and access, including:
Manager approval: Set whether the person in this role can offer manager approval.
Checkout actions: Permissions for adding a custom sale discount, applying discounts, shipping to customers, and editing taxes.
Orders: Permissions for managing orders at all locations and returning/exchanging orders
Customers: Permissions for adding a new customer and editing customer profiles
Access: Access to analytics and reports, staff management, and POS settings
Step 8: Configure Your Account Settings
With all the most important information input into your POS system, it's time to start selecting your account settings. To begin, click the "Settings" option at the bottom left of your Shopify account. We will be focusing on your checkout, shipping and delivery, and taxes settings.
The first setting you will want to explore from the settings menu is "Checkout Settings." Here, you can customize all the following areas:
Customer accounts: Decide whether you want your transactions to be associated with a customer or not and whether or not adding a customer profile to a purchase is required.
Customer contact method and information: Decide how you want to stay in touch with customers and what information is required for creating a client account.
Tipping: Decide whether you want to display a tipping option at checkout.
Order processing: Set how you want orders to be processed and when and where they should be dispatched.
Consent for marketing: Decide the default marketing consent settings that new customers will be enrolled in when they create an account.
Order status page script: Write a custom script to appear at the bottom of order status correspondences.
Language settings: Decide what language your checkout page and POS appear in.
In addition to the checkout settings listed here, there is one more area where you can add an important customization setting—your receipt settings. To get there, navigate to your "Point of Sale" option on your sidebar and select "Settings" from the dropdown menu. This will take you to the page (pictured below) where you can upload a logo to appear on your receipts.
Additionally, if you click the "customize receipts" button beneath the upload logo area, you will access another set of customization options. These include adding a header and footer text box and choosing what customer and purchase information is displayed.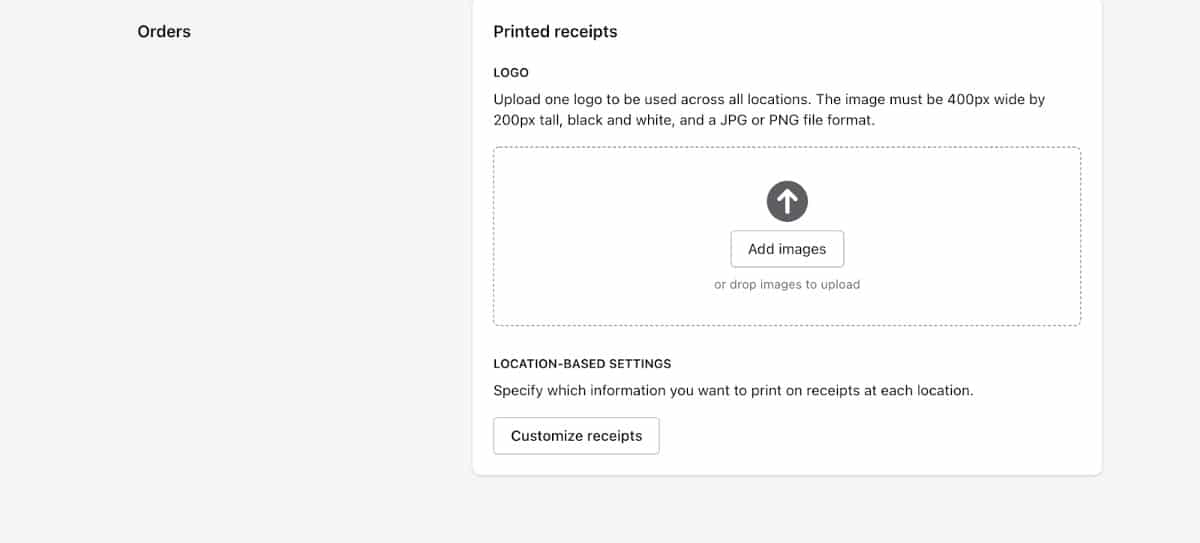 ---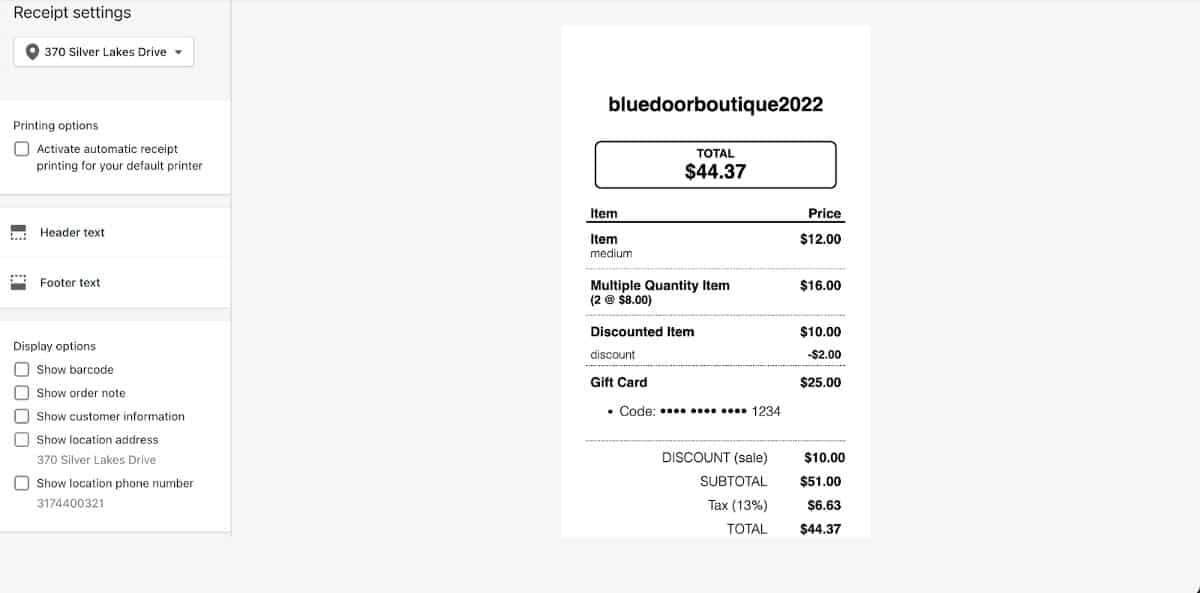 ---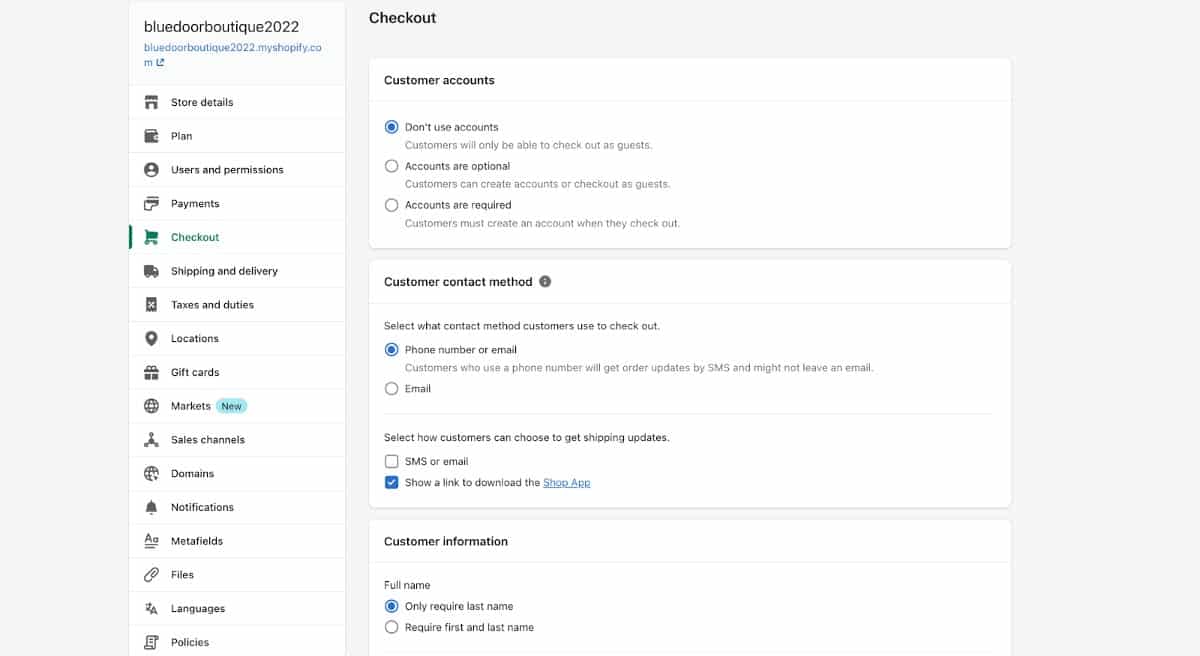 ---
---
The next area you should set up in your Shopify account settings is your shipping and delivery preferences. This is where you decide on things like your carrier preferences, shipping rates, and payment terms. To do this, return to your settings menu and select "Shipping and Delivery." Then, you will come to a page where you can set your preferences for:
Shipping: Decide whether you want to ship domestically or internationally and set your shipping rate. You can also set custom rates for specific products or destinations.
Local deliveries and pickups: Set where you are able to do local deliveries and accept pickups based on your store's location.
Add packages: Add different package sizes that you can select when fulfilling orders so that you can get an accurate shipping label and rate. If you would rather skip this step, Shopify will use a default sample package to provide an approximated rate.
Packing slips: Customize your packing slip's verbiage and appearance so that it is ready to go when you are fulfilling orders.
Carrier accounts: If you do not want to use one of Shopify's discounted shipping partners to fulfill your orders, you can opt to upgrade your account to see rates from non-partner carriers and ensure you always get the best rate.
Custom order fulfillment: Add an email for a custom fulfillment service that fulfills orders for you.
---
Moving to the last important part of your checkout settings, head over to your settings menu and then select "Taxes and Duties." Select where you collect taxes and duties both for inventory and customer orders.
In this section, you can create settings for:
Countries and regions: Create shipping zones for where you collect taxes and duties and where you don't. If you are stuck on what to do here, Shopify has a tax information form to help you.
Duties and import tax: Upgrade to Advanced Shopify to collect duties and import taxes at checkout for countries/regions you ship to.
Tax calculations: Manage how your store calculates and shows tax.
---
Step 9: Add a Payment Processor
To start making sales, you will need to add a payment processor to your Shopify account—and Shopify makes it super easy. Simply head over to your settings and select "Payments" from the menu.
You will then be able to adjust your payment settings. By default, Shopify will automatically have Shopify Payments as your processor. All you need to do to get it up and running is click "Complete Account Setup," where you will fill out the rest of your business's information, like your business ID, bank account information, and taxes.
While you can continue using Shopify Payments, you also have the option to integrate with dozens of other merchant accounts, including buy-now-pay-later (BNPL) apps like Affirm, Afterpay, Zip, and Klarna. This means you can offer different payment options to your customers at checkout, and have the option to find a processor with the best rates or that can handle high-risk transactions with no additional integration fee.
To get started, simply select the "Add payment methods" button at the bottom of the Payments screen.
Step 10: Integrate Marketing Campaigns
Another notable Shopify POS tool at your disposal is its marketing campaigns, which will let you continue to reach customers even when they are outside of your store.
To start using Shopify's marketing tools, return to your Shopify account home screen and select "Marketing" from your sidebar menu. You will be taken to a page where you can view how your marketing campaigns are performing and whether they are inspiring store visits and sales.
On this same page, you will also notice the "Create Campaign" button in the top right corner. Select that, and you will get a form that will prompt you to select the type of campaign you want to create. You can create SMS, email, online ad, or social post campaigns that your Shopify account will track and analyze.
From there, all you need to do is select the campaign you want to run, and Shopify will take you to different forms where you can customize how they appear and what they say. Many of the campaign options even have templates you can work from, so no specialized knowledge is required to create something great.
Once your campaigns are created and ready to go, you can release them at your discretion and track their individual performances to learn what resonates with your customer base.
Step 11: Set Up the Shopify POS App
Once you have things set up on the back end, it's time to open your Shopify POS mobile app. To get started, either head over to the Google's Play store or the App Store and search for the Shopify POS app (not Shopify ecommerce). Once you find the app and download it to your device, you will then want to sign in using the same sign-in information you used for your Shopify account to connect the app to your store.
Once logged in, select your store and give Shopify access permissions. Then, set your individual 4-digit PIN, and you are in!
Customizing Your Checkout
Once you are in the Shopify POS app, you will see your home screen, which is also your checkout. Here, you will want to start by selecting the "add tile" icon to begin customizing your checkout screen.
You can add tiles for things like your most popular items, frequent actions (like adding discounts or customers), and even third-party apps (like a loyalty program). Simply select the items you want to use as tiles, and Shopify will add them to your checkout screen. Best of all? Each employee with their own PIN can customize their checkout tiles however they like.
Once set up, checkout is a breeze. Simply add items to the order either by scanning their barcodes or searching for the items and adding them manually via the search bar. Once you have added the items you need, select "Go to cart." In your cart, select the "more actions" button to add a customer or a gift card purchase to the sale. Then select "Checkout" at the bottom of the screen and process your customer's payment.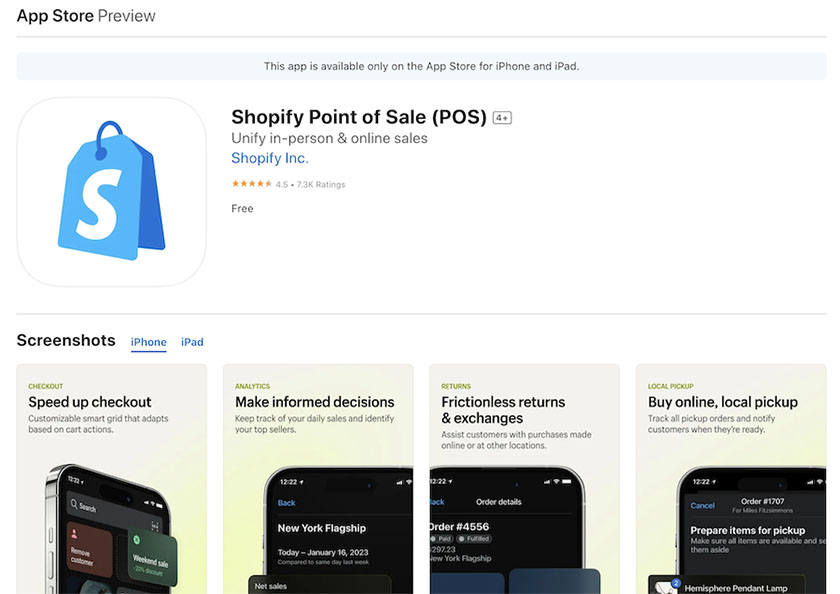 ---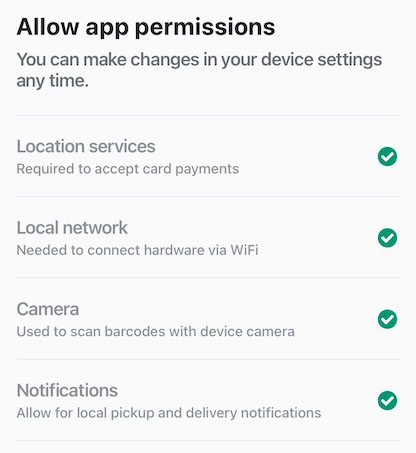 ---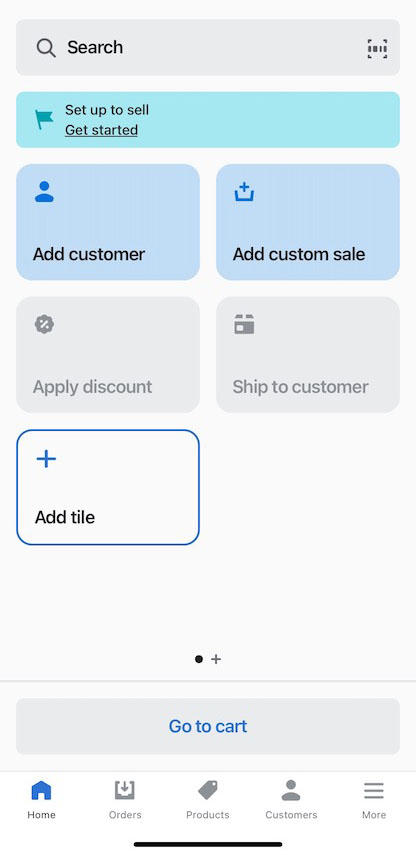 ---
---
Step 12: Start Managing Your Register
As with your checkout, all your cash register management will occur on the Shopify POS app. Note, however, that register management is only available with the upgraded Shopify POS Pro subscription ($89/month). Here, we will take a look at a few key register features.
One of the main things you will do with your register each day is record opening and closing cash counts. To do this, simply enter your Shopify checkout screen, click the "More" option in the lower right hand corner, and you will come to a menu screen where you can select "register."
Select the register button and you will see the Payment Tracking menu with your register(s) listed beneath. Select the register you want to open and select "Start Tracking Session." Then, fill in the amount of cash you have at the beginning of the day and begin tracking, recording any added or removed cash throughout the day.
Then, when the day is done and it's time to close out, simply return to your open tracking session, click "end tracking session," and enter your end-of-day cash totals.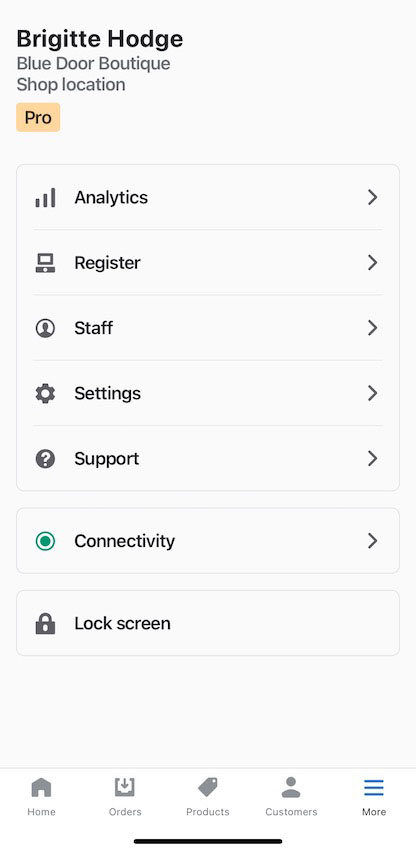 ---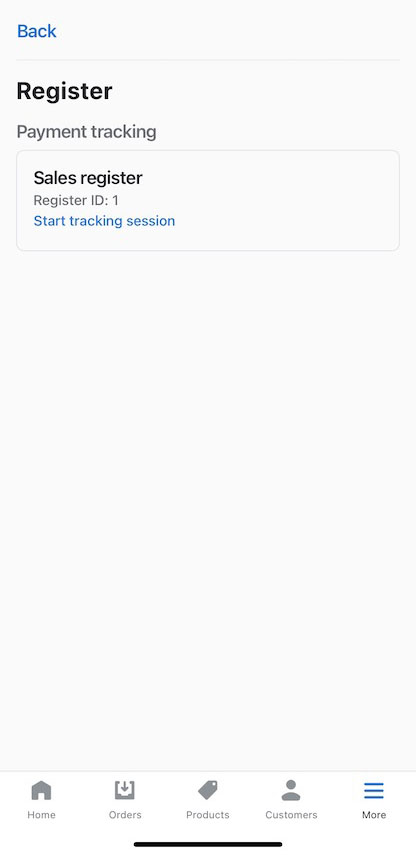 ---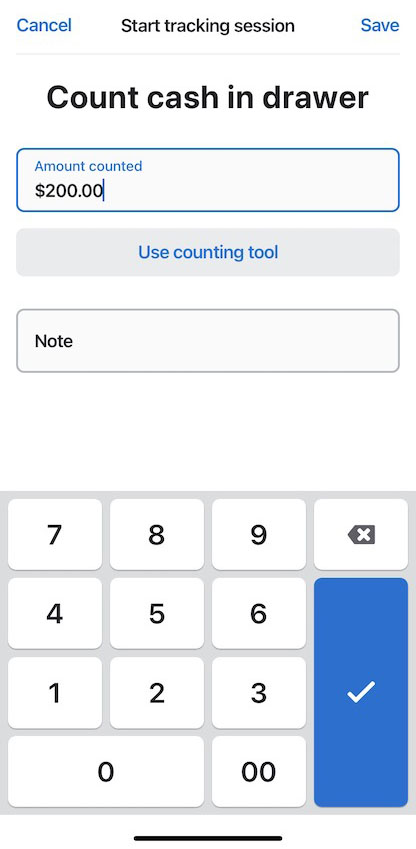 ---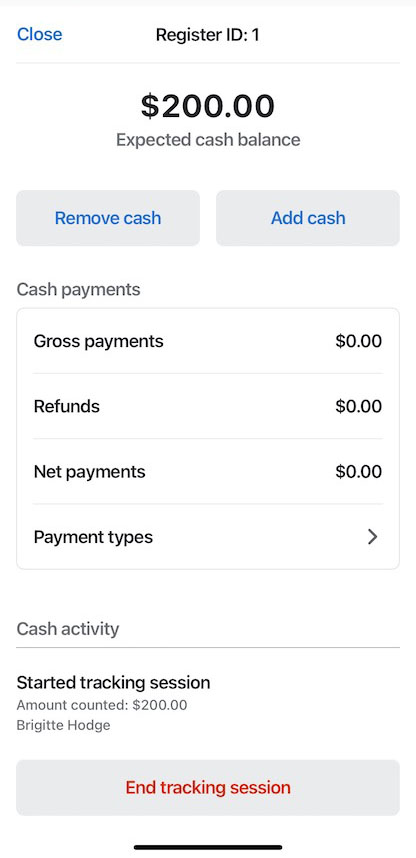 ---
---
For many businesses, you will want to give your customers the option to tip you and your staff. Shopify makes it easy to collect tips by giving you the option to add a customer-facing tipping page to your checkout so that customers have the option to add gratuity during every transaction.
Customers are only able to add tips with credit card transactions processed on The Tap & Chip reader, The Swipe (audio-jack) reader, The Chip & Swipe reader, or the Chipper 2X BT reader.
To set up your tipping page, head to your Shopify POS app > select the "more" icon in the bottom right, select "Settings," and then "tips." Then, toggle the Enable Tips option to ON and you can set your tip percentage options.
Here, you can also allow customers to leave custom tips by toggling the "Custom tip amount" option and setting a minimum tip amount. Once you have added your tipping settings, a tipping page will appear during every transaction so you can present it to your customers.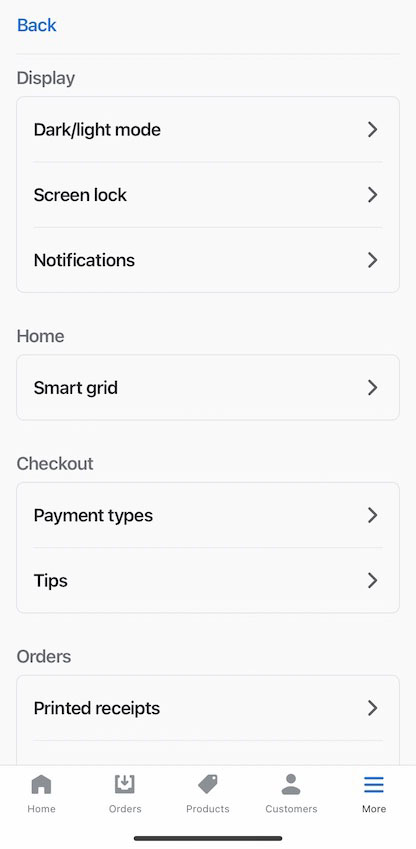 ---
---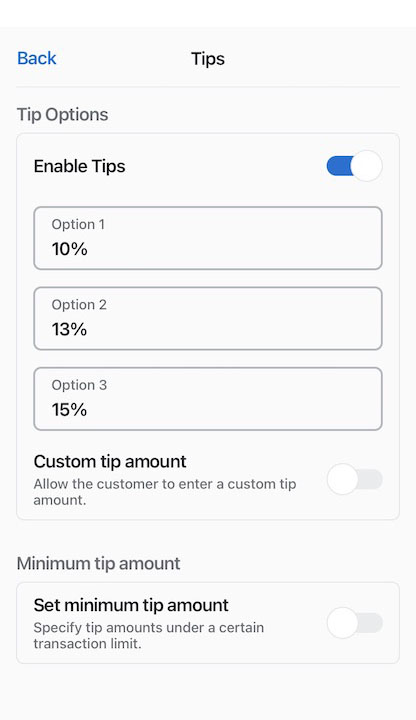 ---
---
Bottom Line
Shopify is the best POS option for many small businesses, especially those with a Shopify online store. With its rich inventory management tools, user-friendly checkout app, and tons of management features, it's no wonder it is consistently one of our best retail POS systems.
With this guide, you are equipped with all the knowledge you need for setting up Shopify POS and continue to reap the rewards of your Shopify account.