In this guide we'll go over all the main steps of starting a franchise business. We start with the assumption that you've narrowed your choice down to 1 or 2 franchisors. If you still need help searching, however, you can first use our guide to choosing a franchise.
Another resource to consider is Joel Libava's Ultimate Online Franchise Course. Joel is known as "The Franchise King." Fit Small Business reviews the course here.
If you have questions about financing options for a new franchise, read our guide to startup business loans. Or, if you have $50K or more in a retirement account, you can use that money to fund your business without paying any early withdrawal penalties or taxes by doing a ROBS (rollover for business startups). Click here to learn more or speak with the ROBS pros at Guidant.
1. Initial Research
When you first start researching, you'll probably come across many brochures and info packets. These are mostly fluff pieces, designed to get you excited about the franchisor without sharing too much detail. This all changes, however, when you tell a franchisor you're serious and they send a Franchise Disclosure Document.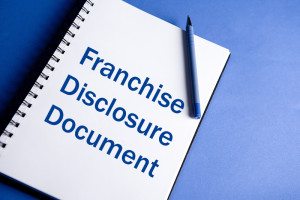 The disclosure document, which is also called a "Uniform Franchise Offering Circular" or UFOC, is a 50+ page document that outlines your responsibilities as a franchisee, the fees you'll need to and the rules you'll need to follow. It also includes information about the franchisor, such as their financial and legal history.
It's required by law for franchisors to send you the disclosure document in the early stages of your relationship. It's also required to wait at least 10 days after you've received it before you can move onto the next document, The Franchise Agreement, which is the main contract that formalizes your relationship.
Although the document can be dry and cumbersome, it's important to give it a thorough read. These documents all follow the same 23-step format, so you can use this guide on how to read a franchise disclosure document  to help you understand each section and learn what red flags to look out for.
If you need bank financing or will be seeking investors or partners, they will ask to see the FDD. Additionally, the FDD will inform a many aspects of your business plan.
Research Franchise Opportunities By Cost, Location and Industry: Here
2. Discovery Day
The franchisor will also invite you to meet face-to-face, usually at the corporate headquarters. Known as "Discovery Day," this day-long event is your chance to get a feel for the franchisor's style – their corporate culture, policies and individual personalities. It's also the franchisor's chance to size you up as a potential business partner and decide whether or not they want to give you the offer. As such, you should treat it as both a job interview and a critical sales pitch.
What exactly the franchisor is looking for varies from business to business. Besides specific qualifications (i.e. college degree, business experience, trade certifications, etc.) and the fact that you need to prove you have enough capital to invest, a franchisor will want to know that you're committed, enthusiastic about their product/service and willing to follow all their policies. In fact, coming off as too knowledgeable or too creative can sometimes be a mistake, as the franchisor may peg you as the type who will undermine their policies.
A typical agenda involves group presentations, one-on-one meetings and visits to existing franchises. Through all the bustle and activities make sure you get your remaining questions answered. After discovery day, franchisors expect a decision to be made fairly quickly.
Check out these articles on How to Prepare for Discovery Day and How to Get the Most Out of Discovery Day.
3. Review The Franchise Agreement
If all goes well on your visit, the franchisor will next present you with the franchise agreement. This is the formal contract that gives you the legal rights to open a franchise, conditional on a long list of rules and regulations. At this point, it's usually wise to hire an attorney with franchise experience to review the contract and discuss it with you.
What you want to do is match any promises made by the franchisor during your meetings to passages in the contract. For example, if the franchisor promises legal support in the event of a lawsuit, make sure this is clearly outlined in the contract. The same goes for rules on suppliers, pricing, transfer of ownership, protection of territory, royalty fees, hiring staff, training, etc. If you do find any discrepancies, bring them up with the franchisor. More often than not, they'll tell you the promise was made in error and the wording in the contract are the actual terms. But in less-common situations, you may be able to negotiate.
Check out this article on how to find legal help with your franchise agreement.
4. Acquire Funding
Once the terms of the contract are all hashed out it's time to sign, right? Not so fast. Franchisors usually expect a check with your franchise fee payment to be sent along with the contract. Unless you're paying the initial investment completely out-of-pocket, you'll want to make sure your finances are in order first.
Depending on the franchisor, there's several different ways you might go about this:
ROBS (Rollover for Business Startups) – If you have over $50,000 in a retirement account you can use that money to fund your startup franchise. Unlike simply withdrawing the funds, which would likely expose you to early withdrawal penalties and taxes, a ROBS has none of those penalties. Plus, they are faster to obtain than almost any other start up loan. You can learn more about ROBS here or speak with the ROBS provider, Guidant.
SBA Loan – Getting a Small Business Administration (SBA) backed loan is one of the best ways you can fund your business. Because these loans are guaranteed by the government, they have some of the lowest interest rates (5% to 9%). The downside is it's tough for new businesses to get funding. If the SBA has previously approved loans to the brand, however, the review process may be streamlined. You can can check the franchise registry here.
Bank Loan – The next best option is to get a traditional bank business loan. This is, again, not always a reliable option since banks turn down so many startups. To increase your odds, however, come in with a strong business plan. There's many business plan writing services out there who specialize in franchises.
Financing directly from Franchisor or Franchisor Partner – Some franchisors can actually loan you the money directly. Or, they partner with a bank to provide loans. The benefit here is the bank will already be familiar with the business model, and you might get help filling out the application. Meineke and the UPS Store are examples of franchisors who partner with a financial institution.
If you are not able to get a loan from one of these sources, there's still many other options available. There's microloans, crowdfunding, angel investors, credit card funding and more. Check out our full guide to franchise financing for more information.
Note: Obtaining financing to buy or open a franchise typically requires a credit score above 680. Check your credit score for free here.
5. Choose a Location
With your funding in place, you can now go ahead and sign your franchise agreement. As an official franchisee, it's time for you to start creating your business. Assuming you're not a mobile or work-from-home business, one of the first steps now will be choosing a location.
You may have received (or will soon be receiving) some guidelines from the franchisor to help you narrow things down. By analyzing their most successful locations, franchisors can build a profile of an ideal location. While this would be more of a recommendation, there may also be strict requirements about your location – you may need to be a certain distance from other franchises, find a location with a minimum square footage, with a certain number of parking spots, etc.
Most franchisors have some territory requirements. For a restaurant or storefront, it might mean opening within a certain distance of other locations. For a mobile or B2B business, the territory will determine where you can advertise and/or sign on new clients. The general rule of thumb is the larger the franchise the smaller the protected territory. For example, Buffalo Wild Wings, with just over 1,000 units, tends to reserve whole cities to single franchisees. Pizza Hut, on the other hand, with over 15,000 units, only guarantees an exclusive territory within a radius of 500 yards.
For more on choosing a location read our full guide here. It's written from the perspective of a restaurant owner, but can apply to any type of business.
Buying vs. Leasing Your Location
Most franchise owners will lease property, at least at first, since there's lower risk and it requires less money upfront. If you have the cash on hand, however, and are confident you'll remain at the location for at least 7 years, you may want to consider purchasing instead. Check out our analysis of buying vs. leasing commercial property for more information.
For those looking to lease property, here is some advice:
For Retail Spaces
Pay close attention to the 5 location criteria (is the area safe, accessible, near your target customers, near competitors and near compatible businesses?)
Try estimate the square footage you need as closely as possible
Negotiate your rent without extending the lease for longer than you're comfortable
Check out our full guide to leasing retail space
For Office Spaces
Only pay for the quality you need. B-Class and C-Class buildings are less glamorous, but can function all the same
Pay attention to the location of employees, clients and other specific business needs
Negotiate your rent without extending the lease for longer than you're comfortable
Check out our full guide to leasing office space
For both retail and office spaces, you can search a property aggregator like LoopNet.com. With the advanced search menu (pictured below) you can filter by many different criteria and property types.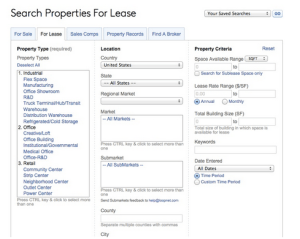 6. Head Back for Training
So you have a location. Before you can fill it with equipment, merchandise and employees, however, you'll have to head back to the headquarters for an extra dose of training. Depending on the franchisor, this may actually occur before you sign a lease, or while you're in the process of finding locations.
Not only will you be taught everything you need to know about the product or service, but a good program should also train you in marketing, negotiating with suppliers, hiring and managing employees, filing permits, bookkeeping, creating reports and more. It should be a combination of classroom work and on-site training with equipment. Training usually lasts 1 to 2 weeks and, with the exception of franchisors who utilize online courses, you'll need to cover your own travel and lodging.
This guide gives you a good overview of franchise training programs.
7. Prepare for Opening Day
With training out of the way, a location to use and a budget to spend, the last step is to get your business prepared for… well… business.
With tasks remaining like remodeling the interior, leasing or purchasing equipment, filling inventory and hiring and training your staff, this normally wouldn't fit into one step. However, because all of these tasks should be clearly laid out in your operations manual, it should be significantly easier than if you were on your own. You'll still want to dedicate some time, however, to finding good deals on painters and contractors, as needed.
If you need to hire low skilled workers, then Craigslist is your best bet. At $25 per listing, you'll be able to reach a much wider audience than on a professional job posting website. For skilled jobs, on the other hand, we found Indeed.com to give you the most qualified candidates for the money. (see our comparison here) You can also try more niche websites, like Dice.com for IT talent and Allretailjobs.com for retail positions.
Planning a Grand Opening
As for the opening ceremony itself, we recommend spending up to 20% of your first year marketing budget. Why so much? Because the novelty of the grand opening makes these advertising dollars go much further than they do later in the year. Ask your franchisor what other successful locations have done for their opening ceremonies, but don't be afraid to get creative and try out some ideas of your own (as long as they're permitted in your contract, of course.) Check out our Grand Opening Guide for tips and budget estimates on flyers, balloons, banners, sign spinning and more.
The Bottom Line
Owning a franchise does not take the risk out of starting a business. It does, however, give you a proven model to follow – from your products and services, to your branding and daily operations. While this lifts some of the burden, it also leave you pretty limited. Once you sign a contract agreement, you may as well frame it and put it on your mantelpiece – those words will determine your day-to-day for the next 10 or 20 years. It can't be stated enough to give your disclosure document and franchise agreement the attention they deserve, and that often means seeking help from a franchise lawyer.
If you're ready to secure the financing you need to start your franchise, read our article. If you want to avoid taking out unnecessary debt and have $50K or more in a retirement account then you probably want to look into ROBS (rollover for business startups). Read more here or speak with the pros at Guidant.