A successful grand opening evokes excitement and curiosity and is a great opportunity to showcase your business to potential customers and network with local businesses. In this guide, we cover everything you need to know about planning your grand opening, from budgeting to promotion, invitations and more.
Step 1: Set Your Goals
Create Awareness. The grand opening is your first big marketing push. You not only want to reach attendees, but through advertisements, promotions, local press coverage and word-of-mouth, you want to whole town knowing about you. Fortunately, the words "Grand Opening" themselves carry a lot of buzz. You just have to make sure they reach a big audience! Skip ahead to newspaper, radio & internet advertising.
Create Excitement. Your event needs to be enticing enough to win over the skeptics. If you're bringing something new to town – say, opening the first frozen yogurt shop – then the product itself may be enough to draw a crowd. Consider giving out free samples on the sidewalk. Otherwise, consider some additional activities to brew excitement in the air, such as giveaways, food & drink, demonstrations, celebrity appearances, etc.
Build Relationships. Potential customers are not the only people you want to attract. Grand openings are the perfect opportunity to build relationships with local business people, press and local politicians. Not only do you get started on the right foot with your neighbors, but you can build strategic relationships, too. Say you're opening a nail salon – making a good impression on local hair salon owners can mean more referrals for your business.
Create a Memorable and Positive Experience. No matter how engaging the event is, crowdedness, a lack of parking and/or long wait times can make visitors leave feeling bitter. Be sure to prepare in advance with an appropriate amount of space and staff members. On the flipside, if the crowd is small compared to your space, the event can seem like a flop. So curb this by inviting friends and relatives to come early and bring the spirit up!
Step 2: Set Your Budget
Think about dedicating 20% of your store's first year marketing budget towards the grand opening, with a minimum of $6,000.
Why 20%?
Frequency and repetition will help your advertisements get noticed. You want to have a big enough budget that your target customers will be exposed to your ads multiple times in a short period (two weeks) prior to the grand opening.
Your dollars should go farther when marketing a grand opening vs. a typical promotion because of the content of the ads. The "newness" of the business and special offers related to the grand opening should increase the responsiveness of potential customers.
Why only 20%?
You don't want to spend so much on your grand opening that it significantly reduces your ability to advertise during the rest of the year. There is also a very real chance that your advertisements might not be effective. Before you know what messaging and advertising mediums work, it is very risky to spend a big chunk of one's annual advertising budget.
Why Should $6,000 be the Minimum Budget?
For $4,500, your business should be able to buy some advertising in two places. For example, ads in the local newspaper and one radio station (See our Radio Advertising and Newspaper Advertising guides). This is very close to the minimum amount that you will be able to spend on advertising to get some degree of frequency or exposure for your ads. This would leave $1,500 for expenses related to the event itself.
If your budget is below $6,000 fear not. There's still plenty of other, low-cost marketing options, such as flyers, postcards, Facebook advertising and more. If you want to learn more about these options and their associated costs, you can skip down here.
Don't Forget Business Insurance!
A successful grand opening will generate two things: 1) growing interest in your business, and 2) a sudden increase in foot traffic. Combined, those will create a lot more risk for your business almost overnight. As more customers visit, the odds of a minor accident like a slip and fall will grow. That can lead to a lawsuit that could sink a promising startup if the business isn't properly insured.
Before the attention and foot traffic arrive, we recommend talking with a reputable insurance professional like the experts at The Hartford. Make sure you have the right coverage for your business and so that you can focus on executing the grand opening plans, not worrying about a personal injury defense. Getting a free, no-obligation quote online takes just a few minutes.
Step 3: Book a Date for Your Grand Opening
This may seem like a fairly simple step, but it's important to choose your grand opening date carefully. In order to maximize the number of people that attend, pay attention to these 3 tips:
Tap Into Existing Behavioral Patterns. When do people normally shop for your company's product or service? What day of the week? Is it during the day or night?
Be Aware of Holidays and other events. Most people want to avoid having a grand opening the same day as a major holiday, sporting event, religious celebration, etc. The exception is if you make it a themed event, like a Halloween party, 4th of July fireworks show, or an Easter egg hunt. Just make sure you're not competing with an already-established event on the same date.
Be Open for at Least 1-2 Weeks. When you first open your doors for new business, there is bound to be some problems. Being open for a couple weeks will give a business some time to discover and fix issues before a big crowd arrives.
Step 4: Promote your Event
Online Coupon Advertising
Estimated Cost: $100 per month
Coupons are time tested form of advertising which both generates awareness for your new business and sales! Even better, coupons are low-cost form of advertising, when you distribute coupons online and via mobile apps.  For example, you can get your coupons submitted on Coupons.com, LocalSaver, and Coupon Suzy, plus 11 more popular sites / apps for less than $100 per month with LocalSavers premium service. Try LocalSaver Premium for 1-month Free.
Radio Advertising
Estimated Cost: $1000 to $5000, depending on local market
Despite the recent surge in online radio and podcasts, traditional AM/FM radio is still the fastest way to reach a local audience. 91% of Americans (ages 12 and up) listen to radio each week, according to 2015 Nielsen study. More impressively, that number is roughly the same for all ages and racial/ethnic groups. Baby Boomers listen to the most radio (at 15 hrs/week on average) but Millennials are not far behind at 11.5 hrs of radio per week.
The cost of radio advertising varies alot depending on the size of the audience you're trying to reach, the time of day you want to advertise and the size of your local market. For more information, including pricing estimates, check out our Guide to Radio Advertising.
Newspaper Advertising
Estimated Cost: $500 to $1500, depending on size and local market
Newspaper ads are another great to reach a wide local audience, although most daily papers have primarily an older audience. 52% of seniors (ages 65+) read a daily newspaper compared to only 17% of 18 to 24 year olds, according to a 2014 Pew Research study. Middle-aged adults fall in between at 40% (for ages 55-64) and 32% (for ages 45-54).
One benefit of newspaper ads is you get a lot of flexibility in pricing. Depending on the size of the ad and the circulation of the paper, you could pay anywhere from a few hundred to a few thousand dollars. For more on newspaper advertising, check out our guide.
Facebook Advertising
Estimated Cost: Free to $50
Should I make a Facebook event for my grand opening event?
The answer is yes, absolutely. A Facebook event is a free advertisement that has a lot of potential to spread and grow organically. This is especially true if you and/or your employees have friends to invite that will give the event page an initial push.
That said, a Facebook event is not something to undermine. Your company's Facebook page has to be well-crafted. Choose some high quality photos and write a fun-but-detailed itinerary of the day's events, including contests, giveaways and other attractions. Also, consider putting in some money to promote the event. Just $50 can give the page an additional 5,000 to 10,000 impressions over the course of a week, and these ads can be highly targeted. For example, you could show the ad only to be people who "like" a competing business.
If you're ready to create a Facebook event but aren't sure how to get started, check out Hibu. This team of digital marketing experts can help create Facebook event listings and Facebook ads to attract new customers to your grand opening.
Grand Opening Flyers
Estimated Cost: $100 to $300 for printing and labor
If your business is located near a destination with a high degree of pedestrian traffic, like the downtown areas of a city or a mall, you might want to consider having a couple people hand out business flyers. Check out PsPrint's Event Flyers: you can get 1,000 for less than $100! If you go this route, you should keep in mind that people handing out flyers are going to be seen as representatives of your business. The person should be wearing a company "uniform" and look presentable. In the case of the nail salon, you might want to hire young women and give them a great manicure to show off to potential customers.
Direct Mail Postcards
Estimated Cost: $735 for printing and sending 1,500 postcards, plus labor for addressing and stamping
This approach is particularly useful if you expect your customers to come from a specific geographic area. You can use the phone book to find addresses or your local chamber of commerce might be able to help you get your hands on a good list. PostcardMania is a great choice for companies running their first direct mail campaign. They have marketing specialists that can help you choose the right list to mail and design your card. Best of all, they are friendly to marketers with smaller budgets!
Sign Spinning
Estimated Cost: $180 to $220 ($60 for the sign and $40 per hour for the spinner)
If your business is located near a major traffic area (pedestrian or car), you might want to employ a sign spinner. The risk of hiring a sign spinner is that their acrobatics are the center of attention and not the business. AArrow Sign Spinners has been providing businesses, large (like Ford) and small, with sign spinners for over a decade across the United States.
Sidewalk/Chalk Advertising
Estimated Cost: $100 and up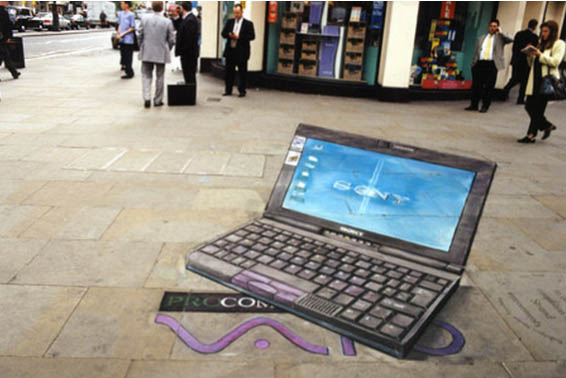 This guerrilla marketing tactic is popular on college campuses and cities with lots of foot traffic. They only last a few days, but can attract a lot of attention in that time span. The legality of sidewalk ads varies from city to city. A good rule of thumb is if you see a lot of these ads in a particular area, it's probably safe to chalk up there. You can always check with your local chamber of commerce, however, for the specific rules.
Given the semi-legal nature of this business, you may have trouble finding a sidewalk ad agency online. Instead, try asking other businesses who have used sidewalk ads in your area.
Balloons, Banners and Signs
Estimated Cost: Under $100
You can make your business look festive and attract attention. Where should you buy grand opening signs? Golden Openings has a nice selection of promotional items.
Step 5: Preparing for the Day-Of
While you may have the main event of the grand opening planned to a T, you don't want to forget about these basic concerns:
The Arrival: Who will be greeting visitors? What options or information should you be providing visitors when they arrive?
The Visit: Do you expect everyone to arrive at once or sporadically? Do you have smaller events or activities planned for visitors who arrive early?
The Departure: Are you giving visitors parting gifts (for example: free t-shirts, key chain, or a gift bag)? Are you going to try to get visitors to join your mailing list or become a Facebook fan before they leave?
Also let your anxiety run loose for a couple minutes and think of any "worst case" scenarios to prepare for: Do you have additional parking set aside? Is there room for the event to spill-out onto the sidewalk? Have all the permits you need been filed? Do you have security and/or extra staff on the books?
Need a coat rack, corner shelving, or an extra display case for your store opening? Check out Wayfair Supply for a great selection of items.
Contact Press
Also indulge in some best cases. In particular, are there any local newspapers and press outlets you could contact that could write about the event and spread the word to an even wider audience? Most newspapers have an email address or phone number you can call to leave a tip.
If you can't get any journalists to confirm, don't get discouraged. Get some high quality photos of the event and write a short recap. Send it into the newspapers you contacted before and give them the opportunity to publish the snippet. Even if nothing comes of this, you have some great photos to post on Facebook and Twitter!
After the Event
Send out thank you emails to those who signed up for your mailing list (or "liked" your Facebook page). This is also a good opportunity to hint at a Google+ or Yelp review.
Besides posting photos on your own social media pages, look around for anyone else who may have shared photos or tagged your business in a post. Drop them a short message "Thanks for coming by!" to show them your appreciation and give more attention to your social media page.

More Ideas for Marketing & Promoting Your Grand Opening
GrandOpeningHelp recommends involving a local charity in your event. A fundraiser is not only a great way to rally the passion of your community, but through their cross-promotion, a charity can help bring a lot more people to your event.
The most important lesson is to get creative and make a plan that will work for your target audience. Remember that you don't have to appeal to everyone – just your future customers. (of course, it also helps to appease neighbors and other local businesses, as well)
Example 1: Krispy Kreme Doughnuts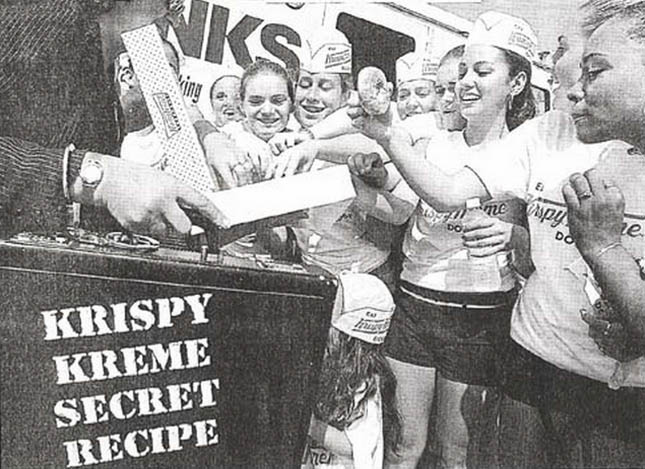 The Challenge: A new pastry shop in town is not always enough to attract local attention. This Krispe Kreme franchise in West Palm Beach, FL had the challenge of creating enough buzz for residents to put them on their radar. They wanted to attract a wide range of ages, although with an emphasis on youths and young adults.
The Solution: Stage a photo that is sure to spread through the local press. Hire a Brinks armored truck to show up and "deliver" the Krispy Kreme secret recipe. Build suspension as the truck shows up, and open opening the doors, start passing out free doughnuts.
Example 2: Wellness & Health Centers of America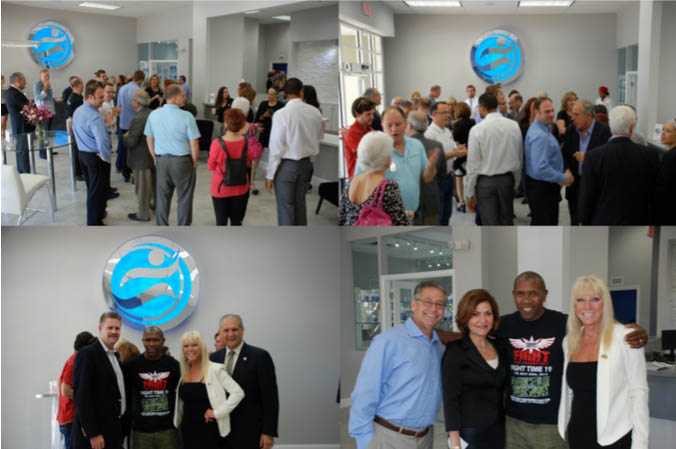 The Challenge: As a business focused on fitness, medical weight loss, and preventative medicine, the event needed to attract a wide range of ages: from young adults to the elderly. The event also needed to focus on health in a way that excited and inspired patrons to return for an appointment.
The Solution: Invite professional boxer Howard Davis Jr. to speak and meet with visitors. As an Olympic gold medalist and sports commentator, he appeals to a wide audience. His appearance and subsequent writeups in the press also helps spread a wave a health-consciousness through the community.
Example 3: Rock Hard Taco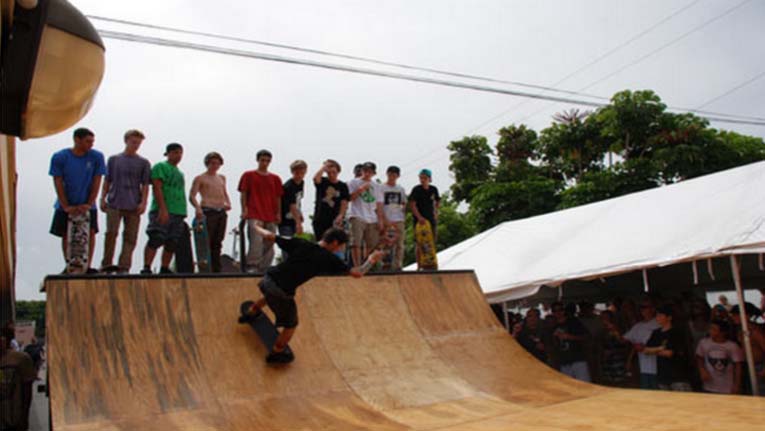 The Challenge: As a business located next to the beach, Rock Hard Taco had to reach a very specific audience: surfers, skaters & young beachgoers. The event had to be enticing enough to draw them in from the beach – an audience that is not easily impressed
The Solution: Rent a half pipe to throw a skateboarding competition. Hire a professional judge and give out food, coupons & t-shirts as prizes. Invite a DJ and the local alternative radio station Also, partner with an energy drink company (DNA) to give out free samples, which relieves some of the pressure on Rock Hard Taco's budget.
Examples of highly successful grand openings provided by TransMedia Group.
The Bottom Line
As you can see, there's a lot to do to run a successful grand opening. One thing you shouldn't have to worry about is having enough staff on hand without spending a fortune on extra payroll. Homebase makes it easy to build a schedule in minutes, calculate total scheduled hours and overtime, and export timesheets to your payroll, absolutely free.