Talkroute Review: Is It Right for Your Business?
This article is part of a larger series on VoIP.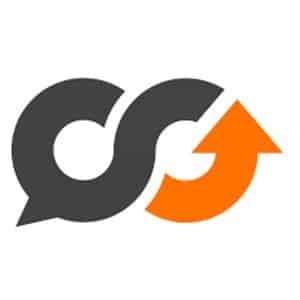 Talkroute Overview
Talkroute differs from standard voice-over-internet-protocol (VoIP) phone services because it serves as an add-on to your existing service and transmits calls through the PSTN. This lets you and your remote team manage calls from anywhere without relying on high-speed internet lines.
It recently added video conferencing and team messaging features, which turned Talkroute into a robust virtual phone system with unified communications as a service (UCaaS) features. However, it lags behind some of our top picks for business phone systems because it doesn't offer application programming interfaces (APIs) or international numbers.
PROS

CONS

Inclusive pricing that allows teams to share phone numbers and devices
Talkroute doesn't permit outbound international phone calls
Subscriptions include a dedicated toll-free or local phone number
Lacks faxing and overhead paging capabilities
Pro plans come with five professionally recorded audio clips
Can't purchase virtual or direct inward dial (DID) international phone numbers
Supports 24-hour video meetings with up to 100 people
Doesn't have open APIs or allow API access
Many customization options, from hold music to user permissions
What We Recommend Talkroute For
Talkroute is suitable for startups, solopreneurs, and small businesses because all plans include video conferencing, unlimited calling, and call stacking. It also offers inclusive pricing, making it less expensive per user than many other small business VoIP services. If you want to keep professional and personal calls separate without buying new hardware, Talkroute is an excellent solution.
When to Use Talkroute
Companies needing local, vanity, or toll-free numbers: Talkroute is among the best virtual phone number providers because subscriptions come with one to three local, vanity, or toll-free numbers. Unlike other solutions, Talkroute doesn't charge extra fees for toll-free minutes.
Small businesses looking for advanced routing tools for low-volume call centers: Although Talkroute's terms of service say it won't work for high-volume call centers, it still provides excellent features for small contact centers, such as a multilevel auto-attendant, call analytics, and call recording.
Solopreneurs wanting to eliminate busy signals: If you're a solo business owner who needs to manage calls from your current cell phone or landline, it could be cheaper to add a second line through Talkroute. Talkroute stacks calls, so no one hears a busy signal. In addition, you can add a login for a virtual assistant for only $5 more per month.
Organizations with employees in rural or remote areas: Finding the right platform for field staff working in remote areas is challenging. Since Talkroute uses the PSTN, call quality doesn't suffer if team members don't have a stable or high-speed internet connection.
When Talkroute Might Not Be a Good Fit
Talkroute Pricing
Talkroute subscriptions range from $19 to $59 per month for one to three numbers and one to 10 users. It also has a custom Enterprise plan with 10 phone numbers for 20 or more users. Unlike other small business VoIP services, you can add new users, additional voicemail boxes, or phone lines for only $5 each, making it an incredibly affordable way to share phone lines.
| Talkroute Plans | Basic | Plus | Pro | Enterprise |
| --- | --- | --- | --- | --- |
| Best For | Solopreneurs | Small teams | Small businesses | Mid-sized companies |
| Monthly Pricing | $19 per month | $39 per month | $59 per month | Custom per month |
| Account Users Included | 1 | 3 | 10 | 20 |
| Local & Toll-free Numbers Included | 1 | 2 | 3 | 5 |
| Text Messaging | 500 per month | Unlimited | Unlimited | Unlimited |
| Call Stacking | ✔ | ✔ | ✔ | ✔ |
| 24/7 Customer Service | ✔ | ✔ | ✔ | ✔ |
| Video Conferencing | ✔ | ✔ | ✔ | ✔ |
| Live Call Transfer | ✕ | ✔ | ✔ | ✔ |
| Auto-attendant | ✕ | ✔ | ✔ | ✔ |
| Company Directory | ✕ | ✕ | ✔ | ✔ |
| Service Level Agreement (SLA) | ✕ | ✕ | ✕ | ✔ |
Talkroute Features
Talkroute's flexibility gives you the stability of plain old telephone service (POTS) and access to popular VoIP business phone features. It works on Mac, Linux, and Windows devices, web browsers, and iOS and Android phones. Plus, you can view voicemail through email, a browser, or the apps.
However, it does lock several important tools behind the Plus and Pro plans, such as call analytics, call recording, and a company directory. Yet, the Talkroute Pro package is budget-friendly at $59 per month, allowing 10 users to log in, which comes out to the ultra-low-cost of only $5.90 per person.
General Features
Talkroute includes several tools that many VoIP services lock behind higher plan tiers, including call stacking, 24/7 customer service, and video conferencing. It also doesn't charge separate rates for toll-free numbers or minutes, making it a bargain for solopreneurs and small teams wanting to expand nationally.
All subscriptions have the following features:
Unlimited calling to U.S. and Canadian numbers
Unlimited toll-free minutes
Choice of vanity, local, or toll-free numbers
Call forwarding and routing
Video meetings with up to 100 participants
Custom greetings
Customizable outgoing caller identification (ID) name (CNAM)
In-meeting chat
Compliance with the Health Insurance Portability and Accountability Act (HIPAA)
Video Conferencing
With Talkroute, you don't need to pay for a second service for video meetings. All subscriptions include basic video conferences and in-meeting messaging for up to 100 participants and a 24-hour meeting duration.
These services are ideal for solopreneurs and small teams that share presentations with clients and host regular meetings for project progress updates. You'll need the Plus plan to access screen sharing, and only Pro users can use the whiteboard and file-sharing features.
---
User Extensions
You can provide 10 single-digit extensions, numbered zero through nine, on your menu to route callers to specific departments, voicemail boxes, or to play a custom message. Small teams may also use single-digit extensions for employee lines, giving each person a dedicated extension. This feature comes on all plans except the Basic version.
In addition, Pro and Enterprise users have the option to create an unlimited number of multidigit extensions. These are three or four digital direct-dial extensions to use for individual employees or departments, giving callers the option to use a company directory to reach an individual. Both extension types go to one or more users and devices and create custom announcements and routing options.
---
Call Analytics
Explore call metrics to learn how customers and employees use your phone lines. Call analytics are available for Pro and Enterprise users, and you can export them to a comma-separated value (CSV) file. Use the online control panel or Talkroute app to view and filter call logs.
Filter your reports by:
Call result
Virtual numbers
Voicemail box
Call length
Dates
Extension
Call direction
Menu option
Forwarding number
---
Call Handling & Management
Plus, Pro, and Enterprise packages provide call features, allowing small businesses to route calls to the correct department, set up custom announcements, and customize everything—from hold duration to your hours of operation. Configure different options for each phone number, extension, or user from your online dashboard.
Talkroute lets you choose how often to forward incoming calls to phones after the first attempt, giving the option to set it up to send calls in a certain order or ring all numbers and devices at once.
The call stacking feature is unique to Talkroute, allowing you to have an unlimited number of calls on hold. Callers won't receive a busy signal or be disconnected. The service also updates callers with the average hold time and their place in line. Basic users play custom hold music, whereas upper-tier plans let you upload audio files with personalized music selections or special messages.
---
Desktop & Mobile Apps
Talkroute's desktop and mobile apps enable users to manage business text messages, voice calls, and voicemail boxes. The apps are available for iOS, Android, Mac, and Windows devices. Make an outbound call through your mobile app and choose the Talkroute number to display on the recipient's caller ID. Plus, app permissions easily provide access to your contact list.
The mobile and desktop apps show your call logs, and you can view missed calls or listen to the voicemails without dialing your voicemail extension. Use the desktop app settings and preferences tab to pair microphones, headsets, and Bluetooth earbuds to the system. However, mobile and desktop apps aren't required. Also, forward calls to your cellphone, softphone, or landline and use Talkroute features from a web browser.
---
Ease of Use
Talkroute is very easy to navigate and use, and there are several features that make it a definitive competitor in the communications space. For example, this is one of the few virtual phone providers that delivers video conferencing for up to 100 participants. Its inherent simplicity also makes it quick to set up and use, and when you need help, the platform has multiple contact options for the support team.
Not only can you reach the team via phone, but email and online chat are also available if you're based in the U.S. and Canada. When it's time to set up, you can also take advantage of a 30- to 60-minute setup consultation you'll need to schedule in advance.
Talkroute Alternatives
Although Talkroute is an excellent solution for solopreneurs and small businesses, it lacks features for companies wanting to scale globally. It also has fewer collaboration tools than other unified communications (UC) platforms and doesn't include faxing on any of its plans. Talkroute alternatives may provide the functionality you need at a slighter higher price.
| | | |
| --- | --- | --- |
| Best for: Mid-sized organizations wanting international phone numbers | Best for: Solopreneurs and small businesses needing faxing and paging capabilities | Best for: U.S.-based teams looking for remote collaboration and task management tools |
| Starting price: $19.99 per user, per month | Starting price: Free with the purchase of an Ooma Telo device | Starting price: $17.95 per user, per month |
| | | |
Talkroute Reviews
Overwhelmingly, Talkroute users are satisfied with the service and support from Talkroute. They report that the system is easy to implement and takes about an hour. Likewise, several Talkroute reviews mention it's great for reducing spam calls through call blocking and routing features. Others say Talkroute was the perfect solution for employees familiar with traditional phone service, as the learning curve was minor.
A handful of Talkroute.com reviews request features the service lacks, such as faxing and standalone contact lists for cell phones. Otherwise, there are very few complaints about call quality, implementation, or billing.
Bottom Line
Talkroute allows you to configure schedules, extensions, and devices to suit your needs and co-workers' needs. Unlike many business phone systems, it's actually cheaper to add more users, as you'll pay only $5 more per user, whereas others charge a full user price upward of $15. Sign up for Talkroute's seven-day free trial to see if it'll work for your business.