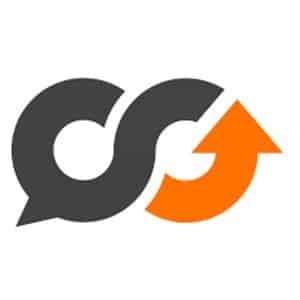 Talkroute is a virtual phone system that enables users to make and receive business phone calls through mobile devices, laptops, and desktops. The service allows you to purchase a dedicated business phone number and offers call management features like call forwarding and routing. It is built for small business owners who want to separate their personal and business communications on their devices.
What We Recommend Talkroute For
Talkroute is an excellent virtual business phone system service for companies that want to add basic voice-over-internet-protocol (VoIP) functionality to their business communications. It's a simple, easy-to-use platform that adds a layer of professionality with a second phone number, caller queues, hold music, extensions, auto-attendants, and custom greetings. It doesn't provide video conferencing and advanced call management features that unified communications as a service (UCaaS) tools do, but it delivers an exceptionally reliable and uncomplicated phone solution.
When to Use Talkroute
Businesses looking for a VoIP system with call center capabilities: Businesses with high call volume will appreciate Talkroute's multilevel auto-attendants, routing, and call stacking capabilities. These features help eliminate busy signals, long wait times, and aggravating rerouting.
Small businesses and growing organizations looking for an affordable virtual phone number provider: Talkroute offers affordable virtual phone numbers on all of its plans, including toll-free, vanity, local, and 800 numbers. It is also one of our top picks for the best virtual phone number providers.
Those who need to manage calls outside a traditional office setup: Talkroute empowers your team and agents to manage calls in the car or at home with easy-to-use and downloadable mobile and desktop apps.
When Talkroute Would Not Be a Good Fit
Large businesses needing a unified communications platform: Talkroute provides robust calling and texting features, but it doesn't offer extensive integrations, video conferencing, or team messaging. Businesses in need of a more complete communications platform will be better off with RingCentral or Nextiva.
Businesses looking to consolidate their internal communications: Without team messaging and file sharing capabilities, Talkroute isn't the best tool for team collaboration. Teams using Talkroute will likely still need an additional communications platform for efficient back-and-forth conversations with colleagues. Businesses looking to consolidate their technology will find Vonage or Ooma to be better options.
Small businesses that still need faxing functionality: While faxing might seem outdated, some businesses rely on it for business communications. Most VoIP solutions provide basic faxing features, but Talkroute does not. If your business needs faxing, consider using Grasshopper.
Talkroute Overview
PROS

CONS

Simple and easy to use
Lacks collaborative features like chat and file sharing
Budget-friendly pricing
No video conferencing or faxing
Great fundamental VoIP feature set: IVR, call recording, call stacking, and more
Doesn't provide robust call management features
Reliable uptimes
Poor customer service
Talkroute Pricing
Talkroute has four paid plans that start at $19 per month. Unlike most VoIP solutions, Talkroute doesn't base its tier pricing on a per-user basis—instead, each tier comes with a set number of included account users. You can purchase additional users on any plan for an extra $5 per user, per month. It doesn't offer a free plan, but it does provide a seven-day free trial.
Basic

Plus

Pro

Enterprise

Best For

Solopreneurs

Small teams

Scaling small businesses

Growing contact centers

Monthly Pricing
($/Month)




$19 per month

$39 per month

$59 per month

$99 per month

Account Users Included

1

3

10

20

Local and Toll-free Numbers Included

1

2

3

5

Incoming and Outgoing Domestic Calling

Unlimited

Unlimited

Unlimited

Unlimited

Call Stacking

✔

✔

✔

✔

Live Call Transfer

✕

✔

✔

✔

Auto-attendant

✕

✔

✔

✔

Multilevel Auto-attendant/IVR

✕

✕

✔

✔

Call Recording

✕

✕

✔

✔

Scheduled Call Forwarding

✕

✕

✔

✔

Account Management

✕

✕

✕

✔

Custom Integrations

✕

✕

✕

✔
Talkroute provides a few add-ons that you can purchase on top of any plan:
Additional users: $5 per user, per month
Additional phone numbers: $5 per month
Additional voice mailboxes: $5 per month
Hardware
Talkroute doesn't require any additional equipment or hardware—you just download the Talkroute app on your mobile device, desktop, or browser. The Talkroute desktop app supports all microphones, headsets, and Bluetooth earbuds. It'll work with most VoIP desk phones too.
Talkroute Features
General Features
Talkroute has a great set of fundamental business phone system features. However, keep in mind that most of the general features your company needs won't be available on the Basic or Plus plan—you'll likely need to upgrade to the Pro plan to get everything your business communications needs.
Here's a shortlist of some of Talkroute's most popular features:
Calling
Texting
Scheduled call forwarding
Multilevel auto-attendant and interactive voice response (IVR)
Voice mailbox
Desktop, mobile, and web apps
Call stacking
Custom greetings
Call recording
Call recording is a relatively new (by popular request) feature for Talkroute, and it empowers your business to record calls with unlimited storage and permission access settings.
Call Management
Talkroute's call management features are simple compared to popular VoIP platforms like Nextiva and RingCentral, but it provides a few basics that get the job done. You'll have the ability to forward calls, transfer live calls, and route calls to specific extensions.
Talkroute also enables your business to establish granular call menus with multilevel auto-attendants. However, its most powerful call management feature is call stacking.
Call stacking provides music on hold, incoming call queues, and custom greetings to eliminate the busy signal. The system will continue to ring multiple phones until the next available agent can pick up the call. This feature allows you to receive multiple calls simultaneously, letting you handle large amounts of call volume with a limited number of users.
---
Virtual Phone Numbers
There's no shortage of options when it comes to Talkroute's virtual phone numbers:
Toll-free numbers
Vanity numbers
1-800 numbers
Local numbers
Number porting
---
Desktop & Mobile Apps
Talkroute provides desktop and mobile apps to manage your business communications. The desktop app offers a clean user interface that gives you access to all Talkroute's functionality: inbound and outbound calling, texting, voicemail, and settings. The app is available on macOS, Windows, and Linux.
Talkroute's mobile app is sleek and intuitive but slightly less robust than the desktop version. It is compatible with iOS and Android operating systems. The mobile app provides all the on-the-go features you'll need, but you won't have the ability to change your settings or user preferences—you'll need the desktop or browser app for this.
---
Reporting
Talkroute's call reporting functionality provides basic data to inform business decisions, training, and call blocking. Call history gives you granular data on the date, time, duration, caller ID, and status of all your inbound and outbound calls. You can also track call paths from start to finish to see the extension routing and transfers a caller goes through before their call is completed.
---
Integrations
Talkroute provides a simple contact integration to sync your device's contacts with your Talkroute accounts. However, it doesn't offer more extensive customer relationship management (CRM), database, or calendar integrations than competitors like Phone.com and Grasshopper.
---
Ease of Use
Talkroute's simplicity makes it a relatively easy-to-use app, whether you're on desktop, mobile, or web browser. However, when you need help, the platform provides a suite of contact options for you to get in touch with the customer support team. Phone, email, and online chat support are available for subscribers based in the U.S. and Canada. It also provides 30- to 60-minute setup consultations that you can schedule in advance.
Talkroute Alternatives
| | | |
| --- | --- | --- |
| Best for: Mid-to-large-scale businesses that want a comprehensive cloud-based business phone system | Best for: Small businesses and solopreneurs who need a simple and affordable virtual phone number | Best for: Mid-to-large-scale businesses that require a scalable and unified communications platform |
| Starting price: $19.99 per user, per month | Starting price: $26 per month for 1 phone number, 3 extensions | Starting price: $21.95 per user, per month |
| | | |
What Users Think of Talkroute
Most Talkroute users only had good things to say about the platform. Reviews from previous years made requests for features like call recording, which Talkroute has since added to their services. Users still complain that the service doesn't offer faxing. However, Talkroute has reportedly said this feature will be coming soon.
| Users Like | Users Don't Like |
| --- | --- |
| Affordable pricing | No faxing functionality |
| Easy-to-use platform | Difficult to switch between multiple accounts |
| High-quality calls | Core features locked behind premium plans |
Bottom Line
Talkroute's business phone system is an affordable, easy-to-use solution for businesses looking to add a business phone number to their mobile and desktop devices. It provides just enough functionality to give small businesses a new level of professionality without overwhelming users with non-essential features. However, the platform doesn't offer team chat, file sharing, video conferencing, or other advanced features that a unified communications provider delivers—but you can't beat the price.