How to Develop an Effective Sales Report (+ Free Template)
Sales reports provide businesses with insights into sales activities and help them modify sales strategies and other growth initiatives based on performance. Developing a sales report entails knowing its purpose and identifying your audience first. Then, you have to determine the scope of data to include and use the right format to present it. The most common types of reports include revenue reports, sales forecasts, and won and lost deals.
Free Sales Report Template
Download our free template to create reports and dashboards manually. It consists of two tabs that let you track sales revenue and monitor the activities of your sales reps. Alternatively, you can pick from our top choices of systems to generate sales reports, often found in customer relationship management (CRM) tools.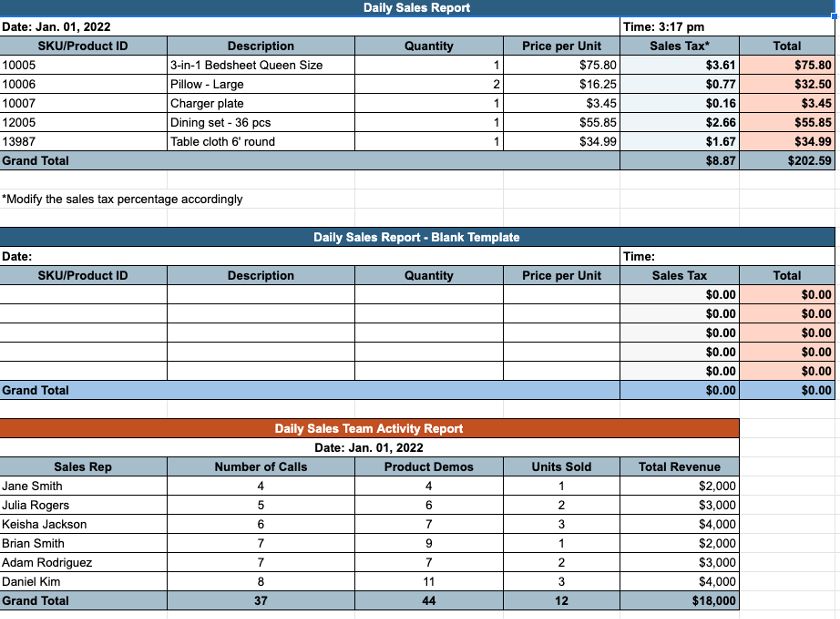 Thank you for downloading!
💡 Quick Tip:
While spreadsheets can be good tools for creating a sales reports, a customer relationship management (CRM) system can automate much of the work for you.
CRMs like Freshsales have sales reporting tools that quickly and easily allow sales managers to create sales reports and dashboards.
Visit Freshsales
To create effective reports, we've created a seven-step process you can easily follow. In developing your own, the goal is to develop actionable insights into how your business' overall and/or specific areas are performing.
1. Determine the Purpose of Your Sales Report
The first step in creating a report is knowing its purpose, i.e., why it is needed in the first place. It is important to understand why you're creating it and who will use it, as this will help you determine what sales metrics to include.
Some common purposes include:
Presenting business figures to the sales management team: One of the most common purposes of creating sales reports is to show the growth trend of the business to decision-makers, as they have a say on the approval of budgets and various activities, such as investing in marketing campaigns and hiring more people.
Identifying industry sales trends: Another reason for creating these reports is to understand the overall industry of your business and see how you can improve your products and services in relation to your competitors.
Understanding your team's activities: Some reports are created to understand the level of activities of your sales agents, such as phone calls made and proposals sent. Data from this could be used to support hiring requests or understanding your team's workload—and if there's a need to reassign accounts.
Sales rep leaderboards: You can also use sales reports to show your team how they're performing against other team members. Leaderboards are typically used when performance-based commission motivates them to hit their goals and perform better.
2. Identify the Audience of Your Sales Report
Once you've established the purpose, identify who will be using them. For instance, a sales manager focused on sales activities usually wants a call report showing the number of calls made and a pipeline report showing deals in the pipeline and the probability of closing.
On the other hand, a CEO trying to decide if the company should invest a portion of the marketing budget in a particular product may want a report showing quarterly sales by product to help with sales forecasting.
3. List the Sales Activities You Want to Measure
Since these types of reports are built on sales data, make sure this is set up early on. This is key because you won't be able to create any reports without tracking your sales data. For instance, if you're planning to include the number of daily cold calls sales reps make in your sales report, you must establish a way to track and record this number. You can ask them to log calls using a tracking sheet or extract the data from your CRM if you are using one.
The easiest way to track sales data is to use a CRM system. Full-featured CRMs, such as Freshsales, enable users to automatically track major sales activities, like phone call and email metrics, leads added, deals created, and sales closed.

---

---
4. Establish the Scope of Your Sales Report
After determining the sales activities you want to measure, the next step is to establish the metrics and items you will use in your reports. Look into the period your reports are covering, the product line, and the sales team members included. This information should support the purpose of the sales report you identified in step one and the audience in step two.
For instance, if you want to figure out a realistic growth target for the next two to three years, it is not enough to only look at your business performance in the past 12 months. Instead, pay attention to your year-over-year (YoY) growth in the last three to five years. If you'd like a realistic sales forecast for the next 12 months, take a look at the average revenue brought in by your sales reps in the past year, as well as seasonal trends like high- and off-peak seasons.

---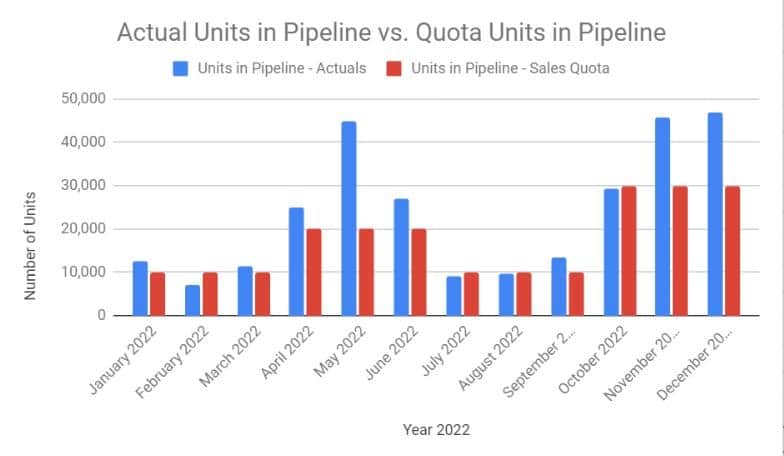 ---
5. Include Sales Plans & Quotas
Where it makes sense, include information from your sales plans and key performance indicators (KPIs), such as sales quotas, into your sales reports. You can do this by showing actual sales compared to sales goals. Many sales managers must explain to business owners or company executives why there is a significant variance from the quota. Including this information, along with an explanation, helps them make critical business decisions.
6. Choose an Appropriate Report Format
Once you understand your report's purpose, scope, and audience, decide how the information will be displayed. For instance, a leaderboard showing revenue and the number of deals closed could be best displayed with a horizontal bar chart for each salesperson. Meanwhile, a product mix report might be better organized using pie charts showing the percentage of sales with written explanations of comparisons between quarters.
If you are a sales manager creating a report for yourself to track daily calls, the number of quotes, or similar sales analytics, consider using a bar chart showing daily trends. If you're creating it for the CEO who's deciding if they should spend marketing dollars on a particular product, they may want to see a pie chart showing the percentage of sales by product. Remember, identifying who will use your reports informs how you create them.
Manually creating your own sales reports can be time-consuming, but the advantage is you have more control over the content, nature, and format of your reports. Using a template, such as the free template we've provided, makes it easier than starting from scratch.
7. Analyze & Interpret Your Sales Report
Lastly, examine the data in your reports by including an analysis and assessment of the findings. Keep in mind that while data doesn't lie, there may be contributing factors as to why it appears the way it is.
For example, if there's a major dip in sales performance for two months within the past 12 months, try to understand why that happened. Was it because there was a shortage in product stock during that time? Alternatively, if you saw a spike in sales in some months, analyze what you did differently during that period. Analyzing and interpreting your data gives your report more texture, making it insightful to those who read it.
Common Types of Sales Reports
Every sales process involves a broad range of data, such as the number of leads and sales targets. As a result, you can create a wide variety of sales reports, from lead source reports to revenue reports. The reports you choose to include in your dashboard depend on how you plan to use them and your role.
You can expand each section below to learn more about the common types of sales reports.
Revenue Performance Reports
Revenue performance reports provide an overview of your overall business performance, focusing on the profits your business generates. It shows clients and customers, their corresponding revenue contribution, and the total amount of revenue generated within a particular period.
Did you know?
The majority (95%) of email professionals found that their email marketing strategy was effective in meeting their business goals, which includes increasing engagement, conversions, and revenue. However, only 17% of brands track their revenue per subscriber.
Agile CRM lets users build growth reports that show detailed trends and figures based on the number of deals and amount of revenue generated by your team. Its revenue graph can be customized to show the time period you want to analyze, including quarterly and yearly.
---
Sales Forecast Reports
Sales forecast reports are projections of the revenue your business will generate in a set period of time. These reports are usually based on ongoing negotiations with your customers and leads, forecasting the amount of revenue they will potentially bring your business. Sales forecast reports are usually reconciled with revenue reports to see the difference between your projections versus actual earnings.
Copper's sales forecast report shows a clear breakdown of won and weighted revenues, giving business owners an idea of potential revenue that will come in based on their current pipeline. It displays a table that lists details of all deals and opportunities included in the forecast, including deal amount and project period.
---
Sales Rep Performance Reports
Sales rep performance reports are reports you can generate to evaluate and assess the productivity and profitability of each of your sales reps. These reports include the number of lead calls done and the number of new leads generated to opportunities closed and revenue brought in. Sales rep performance reports help you identify your top performers or spot those who need more sales training.
Bitrix24's sales rep performance reports give sales managers a granular view of each team member's performance. It offers detailed information on the standing of each sales rep, including the number of deals won and lost, the number of opportunities waiting to be converted, as well as total revenue brought in for a certain period.
---
Lead Conversion Reports
Lead conversion reports are generated using the data from your sales pipelines. You can see the average journey of a lead through the different stages of your sales pipelines, the total number of leads converted, as well as the number of leads your business lost.
Did you know?
Cold calls have a conversion rate of around 2%, while the conversion rate for cold emails is around 1%. Lead nurturing emails and calls, on the other hand, could increase your conversion rate by 70%.
Zoho CRM's lead conversion reports give users an overview of the overall status of their lead management activities. It shows the number of leads created and contacted, as well as the number of leads converted to sales and their corresponding conversion rate. It also shows the breakdown of leads assigned under each sales rep.
---
Competitive Analysis Reports
Competitive analysis reports allow users to identify key competitors and analyze their products, sales, and marketing strategies. It provides actionable insights into how users' products compare with their competitors. This type of report also finds ways to outperform competitors in areas like product development and improvements, as well as marketing strategies.
HubSpot CRM's competitive activity reports show details of a competitor's campaign and marketing activities, which helps you identify best practices competitors are using, as well as activities to avoid. In particular, its social competitive report offers a look into other brands' social activities, including the type of posts and engagement levels of each.
---
Tools for Creating Sales Reports
The primary tools used in creating manual sales reports for small businesses are Microsoft Excel and Google Sheets. Meanwhile, those who want to automate their reports can consider CRMs. If you are looking for CRM software that suits your business needs, check out our guide on the best CRMs for small businesses.
Did you know?
Surprisingly, 45% of small businesses still use spreadsheets and manual methods to manage their sales leads. The majority (63%) of them use a CRM system.
Microsoft Excel or Google Sheets
Microsoft Excel and Google Sheets both allow you to create reports based on the sales data you enter. The advantage of using either Excel or Google Sheets is that the cost is free or minimal, and they are easy to customize. The disadvantage of using either of these programs is that someone has to set up your sales reporting and data capture process, spreadsheets, and formulas from scratch and continuously maintain the reports.
Customer Relationship Management (CRM) Program
CRMs house all the data you'll need to create sales reports. Therefore, the advantage of using a CRM is being able to generate a report at the click of a button without having to create formulas or find historical sales data. The disadvantage is that customization options are not as fine-tuned as creating your own from scratch. This shouldn't be a concern if your CRM has the sales reports you need or can allow you to customize the types you want.
Here are a few of the best CRMs with sales reporting features:
Bottom Line
Sales reports are powerful tools to make sure you're on top of your business goals—whether they involve hitting sales targets and making accurate sales forecasts or exploring the productivity level of your sales reps. They can be created using spreadsheets, but a more efficient way to develop sales reports is by choosing a CRM, like an analytical CRM with robust sales reporting features.