A sales report is a summary of data displayed in a way that shows business owners how their teams and campaigns are performing. Common types of sales reports include sales activity, revenue, and leaderboards, which can help businesses target and measure the right goals and are created using spreadsheets or customer relationship management (CRM) software.
While spreadsheets can be good tools for creating a sales reports, a customer relationship management (CRM) system can automate much of the work for you. CRMs like Freshsales have sales reporting tools that quickly and easily allow sales managers to create sales reports and dashboards. To give sales report features a try, sign-up for a free trial.
Free Sales Report Template
Many full-featured CRMs come with sales reporting tools, but if your CRM doesn't, a spreadsheet can be used to create sales reports and dashboards manually. Although this method can be time-consuming, it enables businesses to create custom sales reports specific to their needs. To help you get started creating a sales report using spreadsheets, we have created a template you can use to speed up the process below.
Download The Free Sales Report Template
How Sales Reports & Reporting Works
Sales reporting works by taking data from product sales, pipeline activities, and sales campaigns, then aggregating it into reports showing a visual display of how your sales activities and campaigns are performing. With this data, you can create reports covering periods of time like daily, monthly, or quarterly. Also, you can create dashboards which are multiple reports with your most important sales information displayed graphically on one page.
Sales reports help business owners make important decisions by letting them know about trends and behaviors affecting sales. For instance, sales reports can track overall revenue or even show which salesperson makes the most calls, adds the most deals to the pipeline, and closes the largest deals. Ultimately, you can create a sales report for any sales metric or set of metrics you want to track. For more information on the potential types of reports to create, check out our section below.
However, having a formal plan and established quotas typically makes all sales reporting more meaningful because they allow you to compare activity data to established goals, which is why it is a key component in formal sales management strategies. As a result, it is important to integrate elements of your sales plan and sales quotas into your sales reports to help you measure overall sales targets.
Why Sales Reports Are Important
Sales reports are important because they quickly communicate to salespeople, sales managers, and business owners the state of sales performance. They provide critical sales statistics like how much revenue you're driving, how many deals you're closing, or which products you're selling over time. They also serve as an early indicator of sales opportunities or problems, keeping you informed so there are no surprises.
Also, because sales reports show how close you are to reaching sales quotas, they can serve as motivators and help you justify investments in sales incentives or compensation plans. Sales reports can let your sales team know who's on track to getting bonuses, incentives, or winning any competitions. Using sales reports in this way can foster friendly competition and can let salespeople know which deals they should focus on to hit their goal.
"Sales reporting enables me to track where everything is coming from ― which valuable leads can be attributed to which team members, which marketing messages are working and which of our services is selling better. Using this method, I can swiftly identify problem services or issues with particular team members and address them before they become systemic."

―CEO Ollie Smith, ExpertSure.com
How to Create a Sales Report in 6 Steps
To create sales reports, you must access and organize data so that it provides useful information and tells you a story about an aspect of your sales. The first and most important step in creating sales reports is knowing your purpose. Because you can create a wide variety of sales reports, it is important to understand why you're creating it and who's using it.
Here are six general steps you can use as a guideline for creating your own sales reports:
1. Determine the Purpose of Your Sales Reports
Before you start creating your sales report, it is important to ask yourself how you intend to use it. If you're not using it, you have to understand the person who will be using it and what they expect to see.
Here are a few questions you should ask yourself before creating sales reports:
Is the purpose of your sales report to identify high-level sales trends you need to address before they become major problems?
Is the purpose to focus on daily sales activities like the number of phone calls made, proposals sent, or demos conducted to hold sales teams accountable?
Do you want to create leaderboards that motivate your sales team?
Do you want sales executives or business owners to see which campaigns or products are most successful so they can better understand market share?
The answer to these questions will help identify your purpose for creating sales reports and will guide you as you create them. Not answering these questions could put you at risk for creating a sales report that is not useful to your audience.
2. Create Tracking Mechanisms for All Important Sales Data
Because sales reports are built on sales data, you must have a way to track sales activities and performance. This is important because without tracking mechanisms, you won't be able to capture data to create any reports. For instance, if you'd like to include the number of cold calls in your sales report, you must establish a way to track and record this number. You can manually write down the number of calls with a tracking sheet or with automation using a CRM.
The easiest way to track sales data is to use a CRM. With full-featured CRMs like Freshsales, most major sales activities like phone call and email metrics, leads added, deals created, and sales closed can be tracked.
3. Identify Who Will Use The Sales Reports
The nature of your sales reports will depend on who's using them. For instance, a sales manager focused on sales activities and deals in the pipeline will want a call report showing the number of calls and a pipeline report showing deals in the pipeline and probability to close. On the other hand, a CEO trying to decide if she should invest marketing dollars in a particular product may want a report showing quarterly sales by product, to aid with sales forecasting.
4. Determine the Scope of Your Sales Reports
Determine what you will or will not include in your sales reports, such as the period of time your reports are covering, the product line, or the sales team you are doing sales reporting for. This information should support the sales report purpose you identified in step one and the user you identified in step three.
There are risks to having a scope that is too wide or too narrow. For instance, if you want to understand sales performance over the last 12 months but you only include six months of data, you won't get the insights you're looking for over 12 months. Alternatively, if you include sales data for the last three years in your report, your report will be unfocused and not highlight what you're trying to measure, resulting in an inaccurate sales forecast.
5. Incorporate Sales Plans & Sales Quotas
Where it makes sense, incorporate information from your sales plans and KPIs like sales quotas into your sales reports. You do this by showing actual sales compared to sales goals. Many sales managers must explain to business owners or company executives why there is a significant variance from quota. Including this information in your sales report along with an explanation will help them make business decisions while saving everyone time.
For instance, in your sales report where you are recording the actual number of sales, include a section that shows the actual number of sales versus the number of sales in your sales quota. This will give you an idea of how close or far away you are to hitting your goals.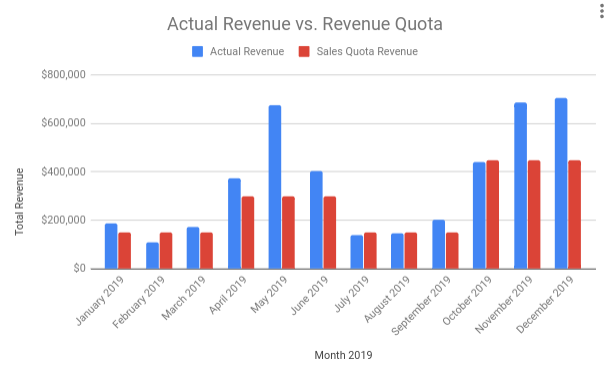 6. Layout Your Sales Report
Once you understand the purpose, scope, and audience of your sales report, you must decide on the layout or how the information will be displayed. For instance, a leaderboard showing revenue and number of deals closed may be best displayed with a horizontal bar chart for each salesperson. Or a product mix report may be better organized using pie charts showing percentage of sales with written explanations of comparisons between quarters.
If you're a sales manager creating a sales report for yourself to track daily calls or number of quotes, or similar sales analytic, you may want to use a bar chart showing daily trends. If you're creating it for the CEO who's deciding if she should spend marketing dollars on a particular product, she may want to see a pie chart showing percentage of sales by product. Identifying who's using your sales reports will inform how you create them.
Creating your own sales reports manually can be time-consuming, but the advantage is that you have more control over the content, nature, and layout of your reports. Using sales report templates like the free template we've provided makes it easier. The easiest way to create dynamic sales reports is using a CRM. Robust CRMs like Freshsales allow you to create sales reports with the click of a few buttons and even allow you to create custom reports.
Tools for Creating Sales Reports
If you're technologically savvy, you may choose to develop a computer program to track and create sales reports. However, the primary tools used in sales reporting for small businesses are Microsoft Excel, Google Sheets, or CRMs with sales reporting features with each offering their own distinct benefits and drawbacks.
Microsoft Excel or Google Sheets
Microsoft Excel or Google Sheets both allow you to create sales reports based on sales data entered. The advantage of using either Excel or Google Sheets is that the cost is minimal and they can be easy to customize. The disadvantage to using either of these programs is that you or someone in your company will have to set up your sales reporting and data capture process, spreadsheets, and formulas from scratch and manually maintain the reports continuously.
CRM
A CRM houses all of the data you'll need for creating sales reports. Therefore, the advantage of using a CRM is being able to generate a sales report at the click of a button without having to create formulas or find historical sales data. The disadvantage is that customization options are not as great as creating your own from scratch, which may be fine if your CRM has the sales reports you need or can allow you to customize the type of sales reports you want.
Full-featured CRMs like Freshsales offer a wide variety of sales reports that are already created or that you can customize. Because Freshsales houses and tracks everything from deal size to daily tasks, you can create a wide variety of reports ranging from sales activity reports to closed deals and revenue reports, giving you insights to sales performance throughout your sales lifecycle. Check-out Freshsales to try their robust reporting features.
Sales Reports to Include in Your Dashboard
Because there are so many sales data points, you're able to create a wide variety of sales reports from lead source reports revenue reports. Reports included in your dashboard depend on how you plan to use them and your role. If you're a salesperson, you'll be more interested in personal dashboards focused on sales goals and rankings. Business owners will want high-level dashboards focused on where sales are coming from and when they're being won and lost.
Sales data points typically found in sales reports include revenue, number of products sold, actual products sold, number of calls made, number and value of deals in the pipeline, and probability of deals to close. These performance metrics are the basic foundation for any reports you create. Without data points, you have no sales report.
Dashboards can be created manually using spreadsheets. Creating manual dashboards can be time-consuming, especially if you have to pull data and import or input it into your spreadsheets. If you have a CRM like Freshsales, creating dashboards are easy and can be done with a click of a few buttons. The advantage of using Freshsales is that everything is automated and there is no need to create or maintain a series of spreadsheets. Check out Freshsales to learn more.
Below are a few types of sales reports to consider adding to your dashboard:
Deals Won vs Deals Lost: Won or lost deals with their dollar value can help you identify common traits or pinpoint the number of deals needed to achieve your goals. It'll also tell you the percentage of deals you win so you build your pipeline accordingly.
Leads by Stage: With this report, you can see what stage your leads are in within your pipeline.
Sales Activities: A quick visual of sales activities such as the number of calls made or emails sent can help correlate these activities with sales made, letting you know what activities you need to increase.
Current Deals in the Pipeline: It's helpful to quickly see the deals in your current pipeline and how close they are to closing. This allows you to focus on the most important deals.
Leaderboards: Seeing where you stand compared to your team can motivate you to pick up the pace or if you're a sales manager, you can quickly see who needs attention.
The types of sales reports you should include on your dashboard should be the ones you find the most helpful. These are the reports you rely on daily or weekly to help you plan your sales activities so they have the most impact. Dashboards with monthly, quarterly, or yearly reports help you identify sales trends and set goals to improve your personal or organizational sales.
Creating your own sales report dashboards from scratch using spreadsheets can be time-consuming and challenging to keep up. Using a sales report template with a dashboard can make things a little easier. The easiest way to create and maintain useful dashboards is by using a CRM like Freshsales. Visit Freshsales to learn more about its sales reports and dashboards.
Frequently Asked Questions (FAQs)
What is a sales report?
Sales reporting is a summary and display of sales data that lets business owners and sales leaders know how their sales teams and campaigns are performing. It's useful in indicating any opportunities or issues early on so they can be addressed. They can also be created for sales reps who can use them to take focused action.
Why is sales reporting important?
Sales reporting is important because it quickly communicates to salespeople, sales managers, and business owners the state of sales performance. It also informs you of actions you need to take to reach goals or targets you've set.
What is a sales dashboard?
A sales dashboard is a page of sales reports graphically showing your most important reports with the goal of guiding your daily actions.
The Bottom Line
A sales report is a valuable tool that shows you where your strengths and weaknesses in your sales activities lie. They can be done using spreadsheets, but a better, more efficient way of doing a sales report is by choosing a CRM, like an analytical CRM that comes with sales reporting features. See our article on types of CRM where analytical CRMs are covered.
Freshsales is a CRM that comes with advanced reporting tools that include the ability to create sales activity and sales revenue and volume reports. With Freshsales, you can create reports that can be used by sales reps and CEOs. To try sales reporting from within Freshsales, sign-up for a free trial.