Business-to-business (B2B) leads require extensive nurturing before a prospect will convert into a client. To generate B2B leads for your sales funnel that are most likely to result in closed deals, you must also grow brand awareness in a way that builds trust. In this article, we explore 12 tactics to build a strong B2B sales lead generation strategy that provides a constant stream of buyers interested in the products or services your company offers.
Not sure where to get started? Before you dive into the lead generation techniques for B2B teams below, download our free template to help identify and organize your lead generation activities.
Thank you for downloading!
💡 Quick Tip:
Use a lead generation tool to acquire potential leads and their corresponding contact information.
Consider providers like UpLead that allow you to filter leads based on job titles, location, and industry.
Visit UpLead
1. Leverage Existing B2B Lead Databases
One common way to generate B2B sales leads is by purchasing them. Providers like UpLead allow you to pull leads lists and import them directly into your customer relationship management (CRM) system based on fields such as contact information, job position, industry, and company size.
However, the leads you purchase will be unqualified since you're just buying data—but they are still likely to be a good fit and ready to be nurtured. You'll distribute the new leads to your sales team and launch lead qualification and nurturing campaigns as part of your sales process.
Pro tip: Based on the leads and type of contact information you are looking for, find a provider that offers lead information within your budget. Check out our in-depth guide about the best places to buy business leads to learn more.
2. Generate Inbound B2B Leads From Your Website
Attracting inbound leads through your website produces marketing qualified leads (MQL), and even sales qualified leads (SQL). First, you have to gain traffic from your target audiences to landing pages on your website using search engine optimization (SEO) strategies, social media and Google Ads, email, or content marketing.
Once a site visitor arrives, the goal is to get them to respond to a call to action. This could be the site visitor submitting a web form, clicking on a phone number to call your business, chatting with a live bot for information, creating an account, or some other desired action.
Platforms like Unbounce empower you to quickly create professional landing pages and web forms using professionally designed premade templates. The platform also offers tools for developing web page copy, optimizing web traffic to your landing pages, and providing intelligence on landing page conversion rates.
Pro tip: Online reviews are a trusted source for leads to evaluate prior to exploring your website for more information. Develop a system for generating customer reviews and posting them on your website and Google My Business listing to give leads positive reasons to visit your website.
3. Create Lead Awareness With Introduction Emails
A more personal way to generate leads is by having sales reps send introductory emails to unqualified leads (known as cold emailing) to create awareness of your company. Email contacts can be purchased, found by searching online (including searching B2B social sites like LinkedIn). They can also be acquired from networking, such as business cards collected at an event, your email contacts, and your LinkedIn contacts.
An excellent way to determine if your introductory emails are effective is by using email tracking software. For example, HubSpot offers a free email tracking system that allows you to see when and if an email recipient has opened your message.
Pro tip: Use a call-to-action (CTA) button in your email signature to guide the recipient to your intended objective. Examples of a CTA in a signature include adding a link that says "Click Here to Schedule an Appointment" or "See How We Help Businesses Like Yours by Clicking Here."
4. Engage in Cold Calling Campaigns
Similar to sending introductory emails, cold calling campaigns offer a personalized way to generate qualified leads by calling them on the phone. Cold calling allows you to get a response right away (assuming the prospect answers your call), compared to cold emailing.
A power dialer is a great tool for managing cold calling campaigns. They allow you to line up all the calls you want to make and then dial the numbers for you in order, saving you time and helping you get prospects on the phone more quickly. Certain cloud-based phone software, such as Freshdesk Contact Center, offer this feature.
Pro tip: Ready to start your first cold calling campaign? Check out our article about how to write cold calling scripts, complete with free templates to get you started.
5. Use Content Marketing to Attract B2B Sales Leads
Content marketing refers to developing media content, such as articles for a blog, e-books, industry reports, videos, or podcasts, to promote your business. The purpose of using content is to educate potential customers about topics relative to your offerings. This leads to decision-makers wanting to learn more by reaching out or visiting your website and starts the sales process for long-term nurturing.
If you're struggling with developing content ideas, HubSpot is a robust resource, specifically for blog articles. They offer a free tool to help generate blog post ideas based on possible terms in your marketing strategy.
Pro tip: Whether the content is directly on your website or being posted on social media, always use a call to action associated with the content, such as a link to an online web form or an automated appointment scheduling tool like Calendly to help leads learn more by scheduling a meeting with your sales team.
6. Create Social Media Campaigns
Running social media campaigns to generate B2B sales leads involves posting content, running ads, or searching for specific types of leads on social media platforms such as LinkedIn, Facebook, and Twitter. When deploying a campaign, one option is to create a post and then pay to boost it on the platform so more people see and engage with the post through likes, clicks, or comments.
Another option is to use platform tools like Facebook Ads to help generate leads. Facebook Ads lets you run custom business ads that target Facebook users based on a wide range of demographics, including but not limited to geography, behaviors, and job titles.
Pro tip: Social media management software like Zoho Social allow you to schedule your content posts in advance so you don't have to worry about making posts on the day of publishing. Zoho Social also lets you monitor your upcoming posts on a calendar-style view so you know what's coming up.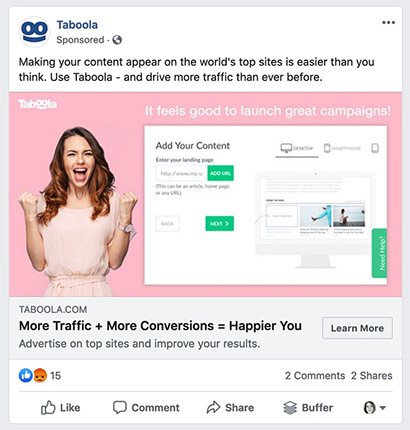 ---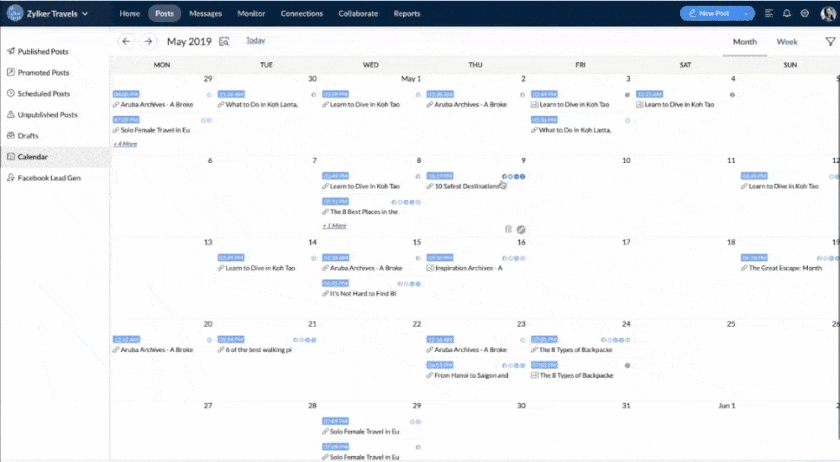 ---
Pro tip: Integrate your CRM with your social media so any leads acquired in a social media campaign are automatically added to your CRM database. You can extend this functionality further by creating an automated workflow in your CRM, so when a new lead is submitted, they are automatically sent an email.
7. Host Educational Events for Prospecting
Hosting educational events, such as webinars, are especially appropriate when your brand's offerings require expertise or technical knowledge, or when your audience has shared educational interests. For example, a marketing agency might hold a webinar on social media advertising to find clients wanting to outsource social media posting and ads.
By hosting a free event in person or online that other business owners can learn from, you have the opportunity to provide valuable knowledge and intrigue attendees into wanting to learn more. Modern webinar software like Zoom and GoTo Webinar makes it easy to plan an event, collect the contact information of those who register for lead nurturing, and hold an event that can instantly generate B2B sales qualified leads.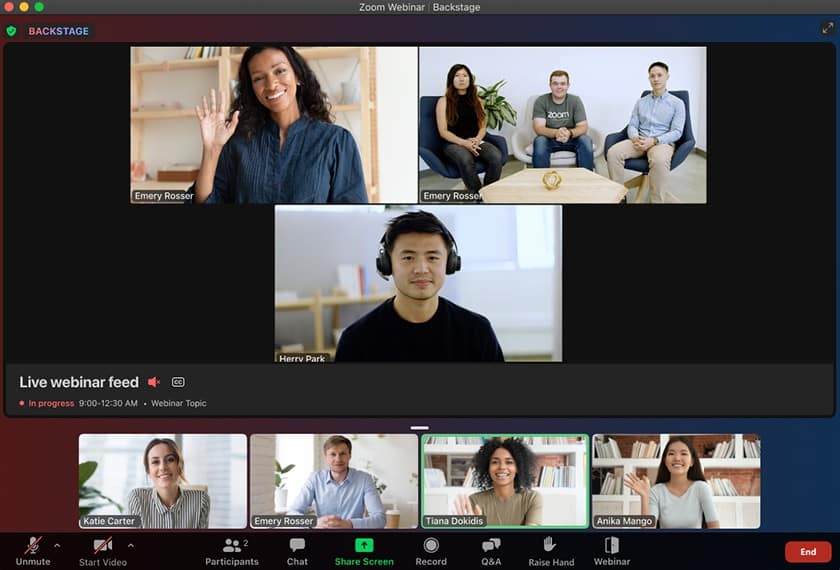 ---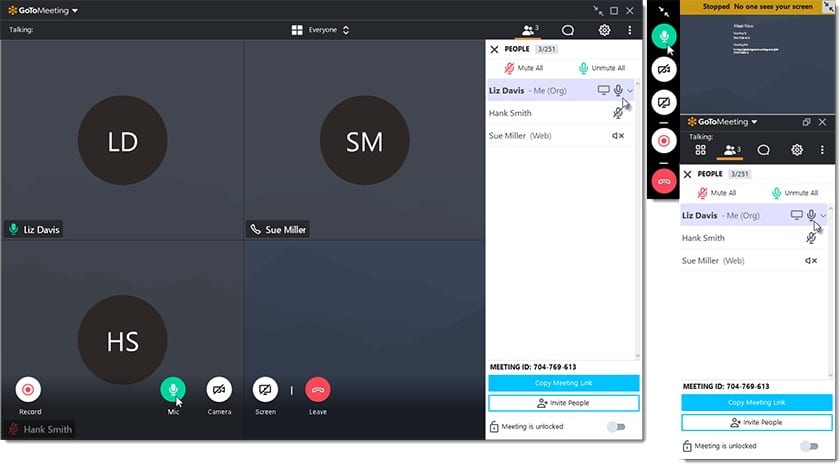 ---
8. Attend Trade Shows
Trade shows are events where companies showcase technology, products, or services, usually in a booth. Attendees of trade shows discover what businesses offer and sign up to learn more or exchange business cards with one another. B2B sales leads can be generated when attendees come to your booth and provide contact information or through business networking.
Select trade shows to attend based on your industry and target audience. Many booths feature video displays and the ability to interact with demos and prototypes. If you can create and add these types of elements, people are more likely to come to your booth, will stay longer, and be more interested in your offerings.
Pro tip: For in-person events like trade shows or networking events, use a business card scanner that syncs with your CRM. For example, HubSpot offers a free card scanner that automatically pulls in contact details and adds leads to your CRM database.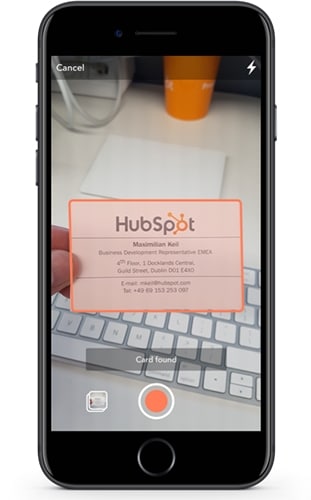 ---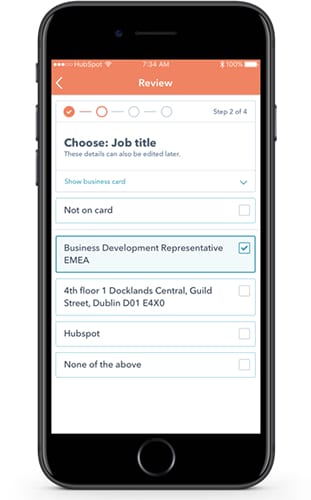 ---
9. Participate in B2B Networking Events
Similar to trade shows, sales management leaders should attend networking events as another B2B lead generation idea. Common networking events include Chamber of Commerce meetings, leadshare group meetings, and trade association social events. Have a brief elevator pitch ready to share as an introduction, a sales pitch ready for people who want more information, and exchange business cards with those you meet.
Ready to create your first sales pitch? Download our free sales pitch template deck to help tell your company's story and generate more leads.
Thank you for downloading!
💡 Quick Tip:
Use a meeting scheduling tool like Calendly to simplify booking sales pitches. You can create a custom scheduling link to share with prospects so they can choose a time and add meetings to both of your calendars automatically.
Visit Calendly
10. Deploy Email Marketing Campaigns
Email marketing campaigns are mass emails sent to leads whose contact information you've obtained from a trade show, networking event, webinar, or some type of directory. Alternatively, you may have purchased an email list from a lead purchasing database. Typically, these contacts represent unqualified leads (UQLs), and your goal is to convert them into marketing qualified leads (MQLs) or even sales qualified leads (SQLs).
Create a contact list by gathering contact information, including the contact's email address, from online sources, directories, business cards, or sign-up sheets, or by purchasing it. If you use a CRM, add the data to the CRM system; if not, upload it to an email marketing platform, like Mailchimp or Constant Contact.
Design email templates to use based on your objectives and target audience. Include a call to action within each template, such as signing up for a free trial or webinar. Then, draft and send your emails. This can be done for individual email campaigns, or a series of emails automated for periodic deployment or triggered when a recipient clicks a link or opens an email. Be sure to track your campaign's open rates, click rates, and responses.
Pro tip: Use software like HubSpot to automate email marketing. With the email design tools this platform offers, you can create and deploy mass email campaigns to all your contacts or select recipients based on your criteria. You can also use automation to send a series of emails on a preset schedule or based on behavioral triggers like opens and clicks.
11. Establish B2B Lead Referral Networks
Referral networks are partnerships, incentive programs, and relationships that generate leads for your business by recommending it (or you) to other people or B2B companies they know. These networks are often created among businesses with complementary products or services. For instance, cybersecurity consultants commonly establish referral partnerships with information technology management firms as each service goes well with the other.
You can also use incentive programs where compensation or rewards are provided to those who refer business to you. Additionally, existing customers make great referral partners since they have experience with your business. They often don't require incentives to recommend your business to others (though it never hurts to say "thank you" in some way).
12. Promote Special Offers That Attract B2B Sales Leads
Special offers—or sales promotions—provide a risk-free or less expensive way for a prospect to try your product or service. Using special offers like free trials and discounts is a proven way to generate sales leads, including marketing or sales qualified leads. Promoting special offers can be done through various channels, including email marketing, cold calling, SEO content and landing pages on your website, social media, and advertising.
Your offers could include things like a free trial, a new customer discount, or a free consultation. Promote the offer using tactics like mass emailing, cold calling, advertising, landing pages on your website, search-optimized content, or social media campaigns. Then, follow up with leads who express interest in or who sign up (such as signing up for a free trial) with lead nurturing and business closing campaigns.
B2B Lead Generation Statistics
The majority of small business leaders agree generating leads is an essential part of sales success. Here are a few stats to back up the importance of creating a robust lead generation strategy:
61% of marketers say generating leads is their biggest business challenge.
66% of sales leaders say they generate leads from social media by investing as little as six hours per week in social marketing.
84% of marketers deploy online web forms with gated content to generate sales leads.
14% of B2B sales professionals say referrals are their top channel for lead generation.
Sources:
Bottom Line
Your B2B sales strategies and tactics for lead generation vary depending on your industry, skill set, and comfort level for each method. Take an outbound approach by connecting personally through networking, email marketing, or cold calling, or adopt inbound B2B lead generation tactics like advertising, content marketing, and developing a referral system. These proven sales process tips will fill your pipeline with B2B sales leads and close deals.