B2B sales leads are potential future customers often referred to as a customer prospects. Sales leads enter at the start of the sales process and are crucial to maintaining a healthy sales pipeline. B2B sales leads can be generated in lots of different ways, including advertising, cold calling, and customer referral, to name a few.
Before you invest a lot of time (or money) finding sales leads, you should have a good system in place to track them. Pipedrive is a sales-focused CRM that lets you send, receive, and track emails, and get reminders, mobile notifications, and alerts to help you follow up with leads and close more sales. Click here for a free trial.
In this article, I will provide you with 25 different ways to get more B2B sales leads for your small business.
25 Ways to Get Sales Leads for Small Business
Let's take a look at some of the most effective ways to get more B2B sales leads for your small business. The following strategies are not listed in any particular order of priority.
---
1. Purchase Business Contact Lists
Prospective business contact lists are a key tool for kickstarting the process of generating new B2B sales leads, especially for cold emailing and cold calling. It's important to know that the contact data on your list is not only clean and up to date, but also filtered by the right attributes to ensure it is a close match for your target market customers.
When deciding where to purchase your business list, pay close attention to the attributes that more closely match your target customer profile. For instance; company size, industry, job title and geographic location.
UpLead is a lead generation platform that lets you create custom filters to get the depth of data you need. You can build out contact lists using over 50 criteria, including the type of technology your prospects use and their social media presence. With this information, your sales team can tailor their cold outreach to connect with the right contacts. Click here for a free 7-day trial.
---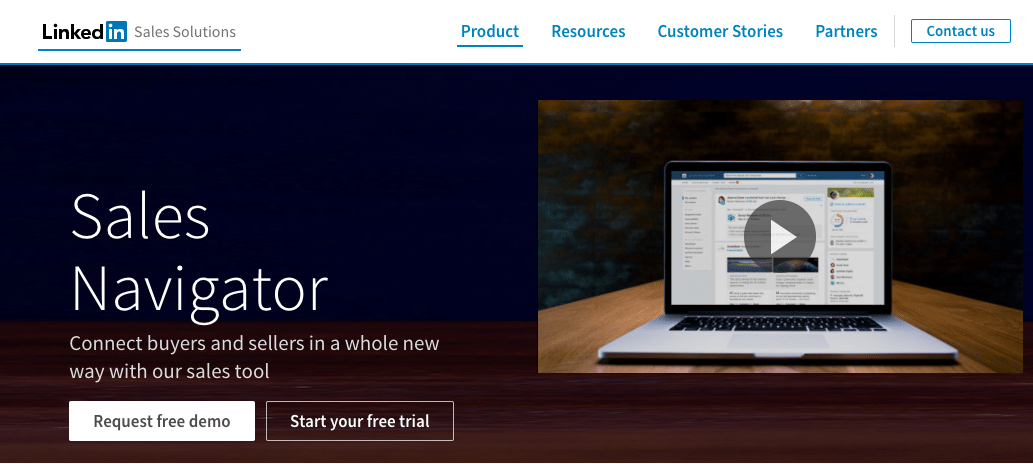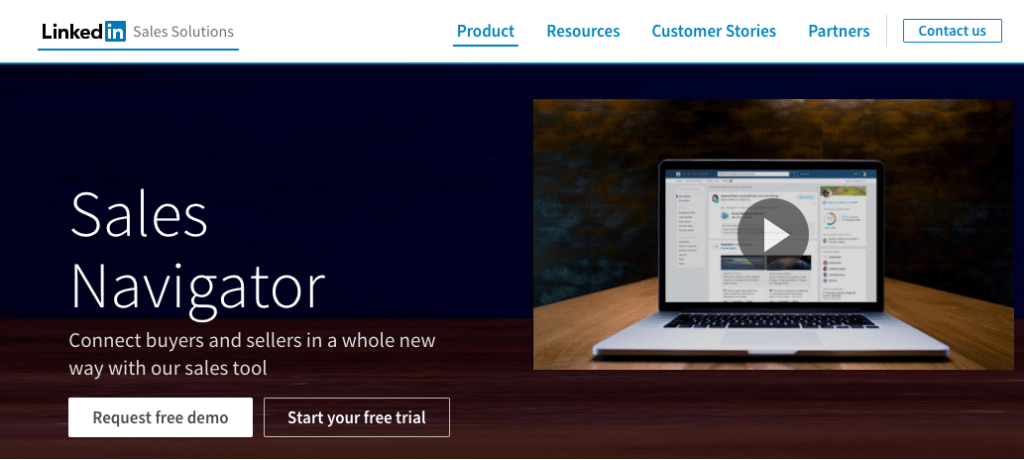 A basic LinkedIn account is free and allows you to connect with all of your business contacts and explore their connections too. More people you know will have at least 200-300 connections, which gives you huge potential to be introduced to the people you want to know by the people that you already know.
LinkedIn also has a separate tool specifically for sales lead intelligence and acquisition purposes called Sales Navigator. This allows you to easily find new B2B sales leads and gain useful insight into decision makers so that you can personalize your cold email (or InMail) communication to create more sales opportunities.
For $80/user/month, the Sales Navigator Professional package gives you all the main features you need. You can search for and filter individual sales lead searches via 31 different attributes like "Leads with recent job changes" and companies via 14 different attributes like "Company headcount growth."
---
3. Cold Emailing
Cold emails can range from being rigid templates that just change the salutation to "Dear John" at the start to totally personalized emails for each person you communicate with.
I recommend creating cold emails that tend towards the highly personalized end of the range. This is because the more personalized the cold email is, the more likely you will receive a response. As a general rule of thumb, you will only receive 1 or maybe 2 responses from a batch of 500 templated cold emails. But if you research each prospect and highly personalize each communication, you can increase this response rate to 1 in 5.
Unfortunately, when you cold email, you'll only know if someone is interested if they contact you back. Pipedrive CRM syncs with your existing email account and sends you instant notifications when your emails are read, and if contacts click on any links you can decide how and when to follow up. You also get customizable email templates with personalized signatures. Click here for a free trial.
---
4. Cold Calling
Cold calling refers to a phone call made to a prospective customer with whom you've had no previous contact. Though not always the most popular strategy, cold calling can be an extremely fast and efficient way to connect with new prospects.
Working from a good quality business contact list (see strategy 1 above) or using a sales intelligence tool like Sales Navigator (see strategy 2 above) will provide a good starting point from which to complete your research to gain insight into your customer before calling.
Cold calling gives you immediate feedback from customers and prospects as no other strategy can, regardless of industry. This is why many seasoned sales professionals don't just tolerate cold calling, but actually prefer it and enjoy it.
More and more sales professionals are using internet (VoIP) phone services for cold calling. RingCentral is a leading VoIP provider offering unlimited calls to anywhere in the U.S. and Canada, and can be up to 70% cheaper than traditional phone services. You can even keep any existing phone numbers. Click here to visit RingCentral's review page to learn more.
---
5. Hunt Down Your Competitor's Unhappy Customers
Harnessing the relationships that your competitors do not value, fully appreciate or manage can be a very good way to find new customers.
There are various ways in which you could do this including:
Search out higher price competitors and make arrangements to purchase from them cold prospects that they reject because they are not able to afford their price point. This may be as simple as taking the relevant sales manager out for lunch occasionally.
Look at direct competitor websites, analyze their customer case-studies and the customer logos that they display on their site and approach these companies to provide them with an alternative product or service to benchmark against.
---
6. Adopt a Low Price Starting Point & Upsell
If your business model is more biased towards making profits from repeat business than initial sales, then you need to make it easy for customers to hop on-board. For example, in the case of a car service business or stationery supplier, you can often afford to provide a discounted or even a free service to the decision maker.
The makes it a no-brainer for B2B sales leads to try out your product or service. While your first sale may be at breakeven or even for a small loss, you will benefit sooner from all their repeat business.
---
7. Customer Referrals
A referral is when one customer has a positive experience, which so delights them that they feel compelled to recommend your business to their friends and colleagues, who turn into B2B sales leads.
Numerous studies have proven that customer referrals are far more likely to result in new leads than any other lead generation strategy. After all, few things are more reassuring than a positive recommendation from someone you know and trust.
Fred Reichheld created the most effective referral system, when he was working as a partner for Bain Consulting out of their Boston office. To learn more about how to use this to create your own customer referral system, I recommend reading How to Get Referrals for Your Business in 5 Steps.
---
8. Network, Network, Network
Most people you meet have hundreds of contacts, which means that virtually anyone you might want to contact or meet is only four to five people away from you. This is why effective networking is potentially a great source of new sales leads.
Most people invest time in business networking with a goal in mind, whether this is to generate leads, referrals, exposure or new contacts. This said, you should also have a genuine interest in meeting other people and working out how you can be of help to them too. If you make it your goal to be open, friendly and honest and see how you can help other people first, you will be amazed by how generously most people respond to this.
---
9. Use Twitter
Twitter is a dream for generating leads. Use it to reach out to influencers in your industry and get into conversations with them. Their followers, who are probably some of your potential customers, will see your interactions and follow you or visit your site. You can also follow trending subjects relating to your business by using the # symbol.
---
10. Activate Partner Sales Channels
Nearly all businesses can find non-competing businesses who have a similar customer base.
For instance, if you are a lawyer, accountants and banks often meet your future customers just a little bit further upstream. Or if you are selling business stationery supplies, you could consider activating a sales partner channel with the suppliers of office furniture.
By establishing the right relationships with the right partners, you can reach sales leads before your competitors and at a lower relative cost than many of the other strategies I am sharing in this article.
---
11. Website and Keyword SEO
One of the simplest ways to get more sales leads is to search engine optimize (SEO) your website so you appear on the first page of Google Search page results for keywords that describe your business product or service. This will help drive traffic to your website and increase your inbound sales leads if you make sure to setup a landing page with a lead capture mechanism, (see strategy 13 below).
---
12. Google Adword Advertising
Google advertising is a very efficient and effective lead generation strategy for many small businesses. You can display a business ad to prospects who are searching for your products or services by identifying the keywords that they use to search and then bid to advertise on these pages.
You can also identify your key competitors and place a Google Adword on their search return pages. This is often called "Piggy Back" advertising. Another option is to consider using a third party professional resource such as Traffic Booster.
---
13. Web Landing Pages
A landing page is a web page that a visitor lands on for a distinct purpose. Often they are setup as places to receive prospective sales leads who are arriving at your website as a result of a specific keyword search (see strategy 11 above) or as a result of clicking on a Google ad you placed (see strategy 12 above).
The landing page helps to ensure that your sales leads receive the specific information that they were looking for. To make this effective as a lead generation strategy, your landing page will also need a call to action. A classic way to do this is to ask for a name, email address and phone number and provide free content like an e-book to incentivize visitors.
---
14. Embed Promotions In Your Email Signature 
This one is easy to forget and it's free. Make your email signature more effective by embedding a promotional link to relevant content like your new eBook. With the help of link integration, you will increase the flow of potential new sales leads to your web landing page, (see strategy 13 above).
---
15. Create e-Books
E-books are a create way to provide your sales leads and existing customers with value add useful and relevant content that will help them to appreciate your expertise and also hopefully bring them closer to purchasing your products or services.
For instance, if you sell sales metrics software or sales CRM, you could provide your prospects and customers with a free eBook about "How to use sales metrics to Measure and Manage Your Sales Team Towards Quota Busting Sales Performance."
---
16. Create an Advisory Board
An advisory board is a body that provides non-binding strategic advice and the benefit of their personal network to the management of business. These days, many tech startups put them in place on the advice of their investors. However, there is no reason why any small business should not benefit from having one.
The informal nature of an advisory board (when compared with a Company Board of Directors) makes it easy to create and decide upon a purpose like to help promote the growth objectives of the business.
For an advisory board to be truly effective, it's members need to be influential and well networked in your customer's marketplace. They may also need incentivizing with fees or share options to provide them with an incentive to open up their network and provide you with more sales leads.
---
17. Become a Recognized Expert
You can take a number of simple steps to rapidly establish yourself as a recognised expert in your field. These include:
Guest blogging (see strategy 22)
Writing blog articles (see strategy 23) and eBooks (see strategy 15)
Speaking at and attend events (see strategy 19)
Host webinars (see strategy 25)
Setup your own LinkedIn Group in your area of expertise (see strategy 2)
---
18. Get your Business Reviewed
Getting your business reviewed on third party review sites like Fit Small Business is a great way to spread the word about how well your business compares with the other competitive options available.
Of course you have to be confident that your business will review well as any good review site will review your business objectively without any outside influence so as to maintain its independence and credibility with its readers.
You can also sponsor educational content on review sites and in trusted expert communities as another method of advertising to generate qualified sales leads.
---
19. Speak At & Attend Events
Trade shows and events are a great way to meet new customers. Many very successful small businesses only budget for speaking, networking and exhibiting at their industries key shows, exhibitions, and events.
There is an art to maximizing your attendance at these kind of events to generate the best return on your investment. I recommend adopting the following principles:
Speaking at events where you exhibit: This will give you to opportunity to position yourself and your business as experts and provide a platform to network from effectively
Be sure to have an efficient method of capturing leads (or business cards) of the people you enter your display area.
Make time for networking with your existing customers at shows as they will find the time to introduce you to many of the new customers that you want to meet.
---
20. Card Deck Promotions
If you have a wide range of products or services to promote, a card deck offer is a great way to promote each difficult product or service on a different postcard. You can use the format of a standard deck of cards that you might otherwise use to play bridge or poker and have them printed with a different product offer on each card. It's a quick, inexpensive and an enjoyable way for sales leads to "shop" through a variety of products and services and if your competitors are not using them, this may also be a great way to stand out from the crowd.
These can also act as a great giveaway in exchange for a business card at events and trade shows (see strategy 19 above).
---
21. Participate In Online Forums
Forums are a great place to get to meet sales leads and to get to know existing customers more intimately. For instance, if you are website developer, attending forums to help answer questions relating to the problems people are having with their website is a great way to meet sales leads.
Be active on forums, share your views with the other members and answer their questions comprehensively to demonstrate your expertise and help to build trust. For instance, you can join Groups of LinkedIn, or event best start your own LinkedIn Group.
---
22. Guest Blog
Guest blogging is often a great way to connect with a new audience, demonstrate your expertise and generate new sales leads and visitors to your website.
Be sure to approach other players in your marketplace that are magnets to your target market customers and make sure that your guest blogging demonstrates expertise that will naturally draw people to seek you out to learn more about your views or your business.
---
23. Write a Newsletter & Blog Articles
If you want to be taken seriously as an expert in your field, creating a blog is one of the best ways to help you achieve this. It's also a great way to connect with sales leads and to stay in touch with existing customers too.
Make sure that your blog is about the topical issues and problems that are most top of mind for your existing and prospective customers. Be sure to optimize your blog to generate sales leads by having a sign-up section for your newsletter or e-book and by using the margins to promote your products and services.
---
24. Interview Decision-Makers & Influencers for Your Blog
A great way to connect with high-level and time poor decision-makers and influencers is to reach out them to interview them for your blog, guest post or e-book. Keep the interview as simple as possible by asking short/sharp questions and allowing them to share their expertise.
This will allow you a fresh angle to develop them as relationships in your network. It will also allow other sales leads to see the company that you keep when they read your content.
---
25. Host Webinars
Webinars are an inexpensive way to get your message to hundreds of potential sales leads. The same research and content that you use to develop an e-book can be used to create you webinar in a presentation format using a presentation tool like Slidebean.
There are many services that allow you to broadcast a webinar quickly and easily. One I recommend for small business is Zoom, which is easy to setup and use and allows you to setup a webinar with up to 100 interactive video participants starting from $19.99/month.
At the end of the webinar, be sure to ask the attendees to sign-up to download your eBook and convert themselves into more sales leads.
---
Bottom Line: Generating More Sales Leads
Constant lead generation is crucial for your small business. Without new sales leads, your ability to close sales will soon become limited and this could place your entire business at risk. The key, however, is to select the strategies best suited to your business then refine and test them over a meaningful period of time to see what return on investment you can achieve. Be careful not to expect immediate results, some of these strategies take 3-6 months before they really start to deliver new leads.
Of course, getting a ton of sales leads won't do you any good unless you have an efficient way to track and follow up with them. Pipedrive CRM makes it easy for you to follow your leads from first contact to purchase with a visual sales pipeline that shows you where to focus and what actions to take so you can close more sales. Click here for a free trial.