What Is a Kiosk? Types, Benefits & Examples
A kiosk is a digital display or small structure that businesses place in high-traffic areas to provide information or offer self-service options, often incorporating an interactive display screen. In today's fast-paced environment, kiosks offer a great opportunity to improve store functions and customer experience. Throughout this article, we will look at the different types of kiosks, how they can improve your business, and how real-life companies are implementing kiosks into their business operations.
Types of Kiosks
Back in the day, kiosks used to be limited to the digital directories you find in malls and big-box stores. Today, however, there are many more types of kiosks that you can choose from based on the utility you want them to bring to your business. They all offer something unique, and in general, there are two buckets that they fall into: interactive or non-interactive.
Interactive Kiosks
Interactive kiosks are ones that customers can engage with and are not static. Many business types use interactive kiosks, including retailers, restaurants, service businesses, and destinations like malls and airports. Interactive kiosks can help customers with wayfinding and navigation, self-service ordering or check-in, making purchases, or even providing internet access.
Wayfinding Kiosks
As we mentioned earlier, this type is often what comes to mind when people think of a kiosk. Wayfinding kiosks help customers find their way through your space and include directories, maps, and directional displays.
Whereas wayfinding kiosks used to be static, today you typically find ones with a touch-screen feature that shoppers can use to search or explore your map. Wayfinding kiosks are most often found in malls and big box stores where customers are at risk of getting lost, losing their orientation in your space, or not being able to find what they are searching for without assistance.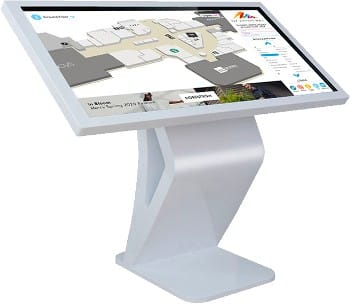 Self-service Kiosks
Another popular type of interactive kiosk is the self-service kiosk. Customers can use this to perform shopping activities themselves, without having to recruit or wait on the assistance of a store associate. This is increasingly preferable among customers as it cuts down on wait times and gives customers control over their shopping experience. It can even help to boost your sales.
In fact, according to a study from The Insight Partners, the revenue from self-service kiosks is growing quickly year over year and is projected to hit $14 billion in 2022, up from under $10 billion in 2017.
Self-service kiosks are found in a variety of industries, including restaurants, hotels, groceries, and convenience stores.
Restaurant ordering kiosks are digital touch screens that customers can use to create their orders and send them straight to the kitchen.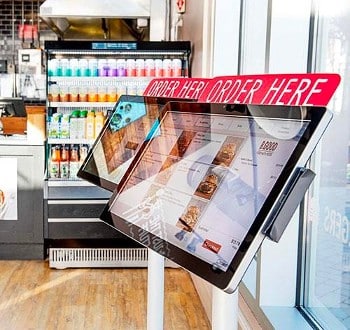 In recent years, restaurant ordering kiosks have become increasingly popular among customers. In fact, a much-reported study from Forbes found that 65% of customers said they would be more willing to visit a restaurant if a self-service ordering kiosk was available. To diners, when they can enter their own order specifications and send them directly to the kitchen, accuracy and speed of service are increased, improving their experience and satisfaction.
Self-service ordering kiosks, however, are not only great for customers; they are also great for you. On average, when using an ordering kiosk, diners are likely to spend 12–20% more per ticket, with some restaurants even reporting increased spending as high as 30%.
Another place you will frequently see self-service kiosks is for check-in services at hotels or other hospitality businesses. These kiosks offer a digital display where customers can check into their rooms, flights, events, or otherwise and help to accelerate the check-in process and cut down on lines.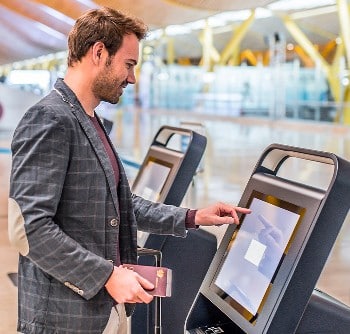 Another type of kiosk that you have likely run into is the checkout kiosk, most often found in grocery and convenience stores. This offers shoppers a digital display that walks them through the scanning, bagging, and payment process, allowing them to complete a purchase without having to wait in a checkout line or interact with a store associate. You will sometimes see checkout kiosks with item limits; however, this is not required and can be used to check out any size purchase.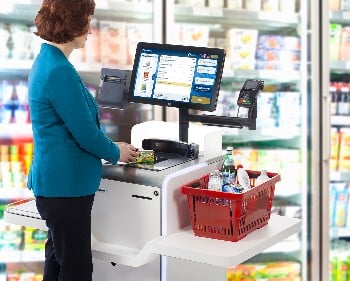 A photo kiosk is an interactive kiosk found in many drugstores, discount stores, art stores, and grocery stores. Photo kiosks have a number of different features, but most offer the convenience of submitting photos for printing, resizing, or enlarging. Customers often prefer to process photos this way, as it cuts down on time and gives them full control over the development process and finished product.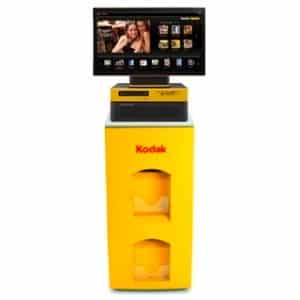 Shoppable Kiosks
The next type of interactive kiosk we will look at is shoppable kiosks or kiosks that customers can use to browse merchandise and make purchases. In general, there are two types of shoppable kiosks: vending and product catalog kiosks.
Vending kiosks are just as they sound—they are large vending machines filled with your store's products. Customers can use them to purchase items when they are outside of your store. You often find these in airports, large malls, and hotels, and they are typically stocked with smaller items like cosmetic products, accessories, tech items, and other knick-knacks. They are a great way to increase your reach, improve brand recognition, and inspire purchases outside of your storefront.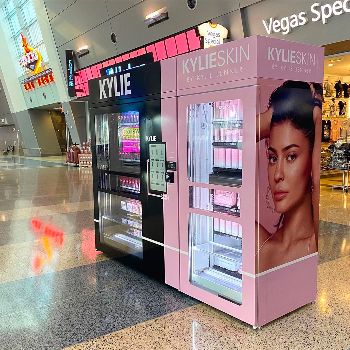 Another kind of shoppable kiosk is the product catalog kiosk, which provides a digital display where customers can view all your products and even place orders. These are especially popular in home goods, appliances, technology, and other retail stores with large products that cannot all be stored or displayed in-store or that have a lot of size or other variations.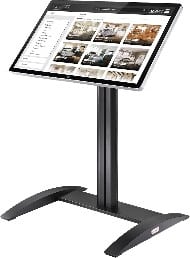 Internet Kiosks
Internet kiosks are digital displays that offer internet access to the public and are designed to improve customer experience, not drive sales. These interactive kiosks are typically found in airports, hotel lobbies, apartment offices, or other hospitality businesses. Aside from a monitor, mouse, and keyboard, internet kiosks will sometimes include credit card swipe and bill pay capabilities.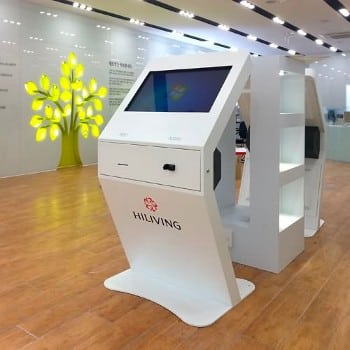 Non-interactive Kiosks
In addition to interactive kiosks, there are non-interactive kiosks that businesses use to convey information or advertise goods and services. They are a great way to see how the public might react to a product or idea and can also be used to keep important information easily accessible to improve shoppers' experiences.
Informational Kiosks
The first type of non-interactive kiosk is the informational kiosk. It is a free-standing digital display that businesses use to show important information about store operations or new products. While informational kiosks can be used as a merchandising element in stores, you can also place them in your surrounding neighborhood or beyond and are a great opportunity to increase your brand's reach.
Did you know?
Customers like to have complete information. A 2020 study from Salesforce found that 76% of customers expect consistent interactions across departments, yet 54% say it generally feels like sales, service, and marketing teams don't share information. Fill this gap with informational kiosks!
Informational kiosks are used across industries, from restaurants to retail to hospitality. There are truly no parameters to what information is appropriate for informational kiosks, making them adaptable to any business.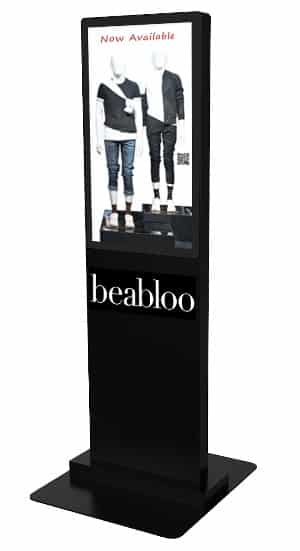 Product Kiosks
One of the most common types of non-interactive kiosks that you will come across is the product kiosk, which is specifically used to showcase a new product. These are great for creating hype around a new item, giving customers information, and gleaning customer reactions to your ideas.
Product kiosks are typically used in retail businesses; however, you will also see restaurants and hospitality businesses using them to advertise their new products and services.
Promotional Kiosks
The final kind of non-interactive kiosk we will look at is the promotional kiosk—which, as you might have guessed from its name, is used to display information about your promotions or events. Unlike product and information kiosks, promotional kiosks should be located either in your store or in the immediate vicinity. If it is able to draw people's attention and pique their interest in your sale, the last thing you want is to create too much inertia by placing too much distance between the event and the ad.
Benefits of Kiosks
Now that we have reviewed all the types of kiosks, it's time to answer the question of why you might use them in the first place. They are an investment, after all, whether you are buying the kiosk or just renting its ad space. So, let's take a look at why they are worth it.
Improve Store Operations
Kiosks can fill a number of roles in your store that will help improve its operation and make things easier for you. Whether they are speeding customers through the ordering process, sharing important information, or helping customers find their way through your space, kiosks offer an automated solution to improve store operations.
---
Cut Down on Customer Frustrations
With the modern customer placing more and more emphasis on convenience, incorporating kiosks into your store will help empower shoppers and improve their experience by
Giving them self-service options for things like ordering food, checking into their stay, or printing services so that they can do things on their own time and avoid waiting time
Keeping important information at their fingertips
Empowering them to find things in their store without having to search for assistance
Putting internet services at their disposal
---
Fill Staffing Holes
As we all know, staffing has become an increasingly daunting challenge for businesses in the post-COVID-19 world. In fact, according to an April 2021 survey by the National Restaurant Association, 84% of operators said their staffing was lower than the industry standard. Not only that, but the Square 2022 Future of Restaurants Report found that for restaurants reporting labor shortages, 21% of their positions are unfilled.
While you could continue down the traditional hiring path, incorporating kiosks into your business might actually be the wisest route. In 2021, 36% of restaurant businesses chose to upgrade their tech during the hiring desert, and 62% of restaurants said that automation would fill critical gaps in managing their establishments and helping customers.
---
Save Costs
Interactive kiosks can be used in place of staff. Since you don't have to pay a kiosk a salary, you'll save a good amount of money. Also, since kiosks can provide your customers with answers to many of their buying concerns, you can focus your labor costs on sales professionals to further increase your total sales volume. Moreover, opting for a kiosk instead of a traditional retail space will keep your rent and overhead costs down while you still benefit from increased visibility.
---
Increase Reach
Since kiosks are often placed at strategic locations beyond your physical storefront, you'll be able to reach more potential customers. This helps expand your customer base, which ultimately increases your company's ability to sell more products.
---
Kiosk Examples by Industry
Kiosks are growing in popularity across industries, demonstrating just how versatile and important they are to modern marketing. Here we will take a look at four examples of kiosk usage—in retail, restaurant, healthcare, and hospitality—to see how varying industries are implementing different kinds of kiosks into their operations.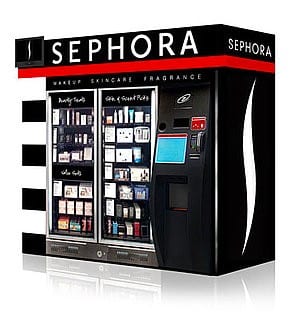 Sephora, the world leader in beauty, recently rolled out its vending kiosks where people can purchase some of its most popular products. Its vending machines have been very successful, and shoppers love them and the convenience they bring. This is mainly due to Sephora's ingenious vending kiosk placement.
The beauty and personal care retailer positioned vending machines across airports and hotels in the United States, providing the forgetful traveler a convenient place to pick up items they forgot and expanding the brand's reach.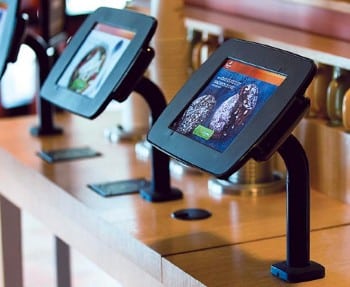 Panera, a fast casual cafe, uses self-service ordering kiosks to help improve its store operations and customer satisfaction. These kiosks let customers create custom orders that they can send straight to the kitchen for prep. This has helped Panera overcome staffing shortages and has cut down on lines and waiting times immensely, leaving both Panera business owners and their customers happy.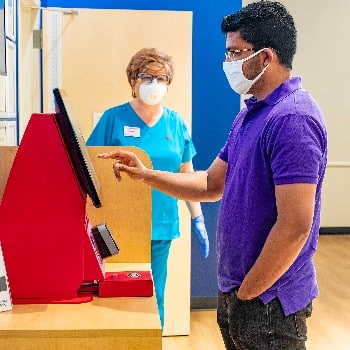 CVS Minute Clinics have rolled out checkout kiosks that allow patients to check in for their appointments, input their personal information, and view live wait times on its digital display. Rather than working with a receptionist to log all of your information and check you in, CVS opted to automate this process to save money on staffing.
Not only that, but CVS's check-in kiosks have also made it so doctors already have your information when you enter your appointment. This speeds operations up by saving doctors, as well as patients, time as they don't have to go over personal information during the session.
Marriott is rolling out contactless check-in kiosks at several of its US locations. With them, customers can check in and out of their stay, print new room keys, ask questions, and even make hospitality requests like room service or new towels.
The company aims to give its customers more autonomy in the check-in process and to inspire confidence in the hotel's commitment to cleanliness. Not only that, but there is potential to save on staffing over time if the launch yields positive customer reactions.
Bottom Line
Modern customers are increasingly demanding more interactive features and greater convenience from the shopping experiences. This is why more and more companies are incorporating kiosk technology into their operations. With all the different kinds of kiosks on the market, you are sure to find one that can enhance your business and keep you competitive in today's ever-evolving market.
You might also be interested in…
Our guide for starting a retail business