This article is part of a larger series on POS Systems.
A point-of-sale (POS) system is a tool that allows businesses to accept payments and manage business operations. There are many different types of POS devices, including smartphones, tablets, mobile POS, card and chip readers, touch screens, computers, self-service kiosks, and terminals. Other POS-related devices include barcode scanners, cash drawers, keyboards, and receipt printers.
Each type of POS has features catering to different business types. POS systems, which range in price from $0 to around $100 per month, also have varying compatible hardware and operating systems.
Here's a quick overview of the different types and when they're used:
Continue reading below for details on the different types of POS systems including pros and cons, pricing, and popular options.
POS Apps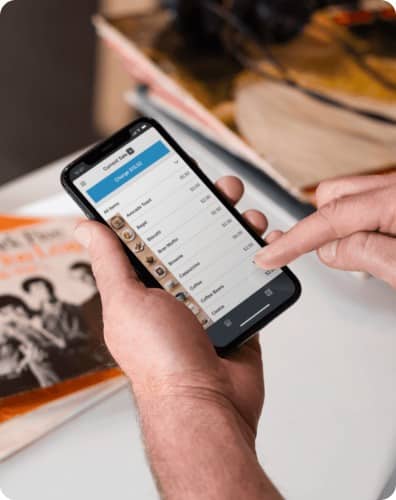 POS apps are cloud-based programs that you can download onto any compatible mobile device; you can access your POS information from any of these compatible devices. Some apps are available on multiple platforms, while others are specific to Android or iOS. There are also iPad-only POS apps.
They typically have slimmed-down features from a full-blown POS terminal, and additional features often come with extra fees. POS apps are still the most affordable type of POS overall—and they're also typically the easiest to use.
Since POS apps are generally a smaller investment than a full system, they're a great fit for new or small businesses with smaller budgets. They're also ideal for those that frequent event sales or lack a permanent location. Some POS apps include features like calendar and appointment-setting for professional service providers like tradespeople who work on the go.
Typically, POS apps are best for:
New businesses
Small-scale service providers
Mobile sellers
You can find POS apps with basic features for free, or paid versions ranging from about $30–$150 per month.
Popular POS apps include:
Mobile POS Systems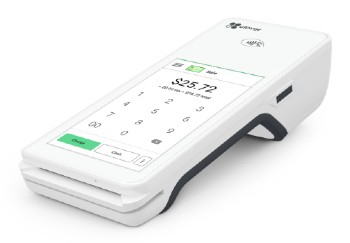 A mobile POS (or mPOS) system is best for retail merchants or restaurants that need a more full-featured system than an app but still want the flexibility to process transactions from anywhere. Vendors like food trucks, service providers, or traveling retailers, for example, are best suited for an mPOS system. These platforms are also a great solution for merchants who need to process both online and in-person transactions.
Mobile POS systems are cloud-based and helpful for retailers and restaurants that want to boost associate presence on the floor and make the checkout experience more convenient for customers. In restaurants, for example, an mPOS might allow for tableside ordering or even payment. In retail, this can help you drive more sales so that customers don't have to wait in line or seek out a register. Like POS apps, an mPOS can also come in handy for food trucks and event sales (such as markets, festivals, and similar off-site temporary retail opportunities).
mPOS systems are similar to POS apps in that they provide flexibility in terms of mobility. The difference here is that an mPOS encompasses both the hardware and software, whereas POS apps refer to just the software.
An mPOS also doesn't specifically limit the software to an app. While most mPOS systems use apps and hardware like iPads and the iOS operating system, some mPOS providers, such as Clover and Square, offer proprietary hardware.
Typically, mobile POS systems are best for:
Food trucks
Retailers needing to sell on the go, or on the sales floor
High-volume restaurants wanting to speed up service by giving servers handheld systems
Markets and temporary vendors
You can find a few mPOS systems with no software fees, but most cost around $60 per month. Popular mobile POS systems include:
Touch-Screen POS Systems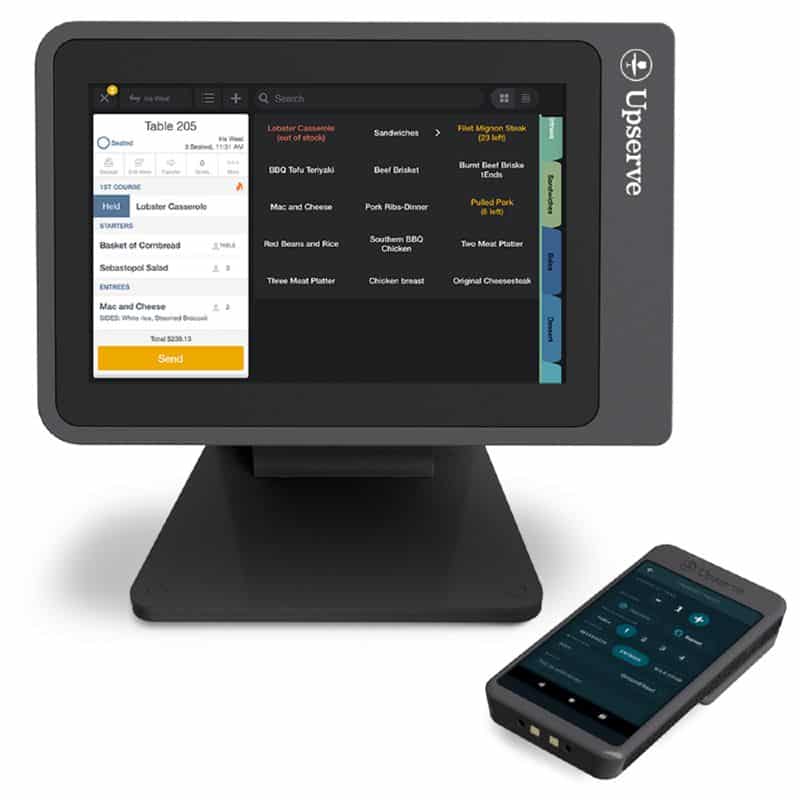 A touch-screen POS system works on different types of touch screens, including tablets, smartphones, and computers. Some touch-screen POS systems come with their own native touch-screen hardware in lieu of a third-party device.
A touch-screen POS allows restaurant employees to take tableside orders and ensure orders are correct. The intuitive design of touch-screen software makes it easy for both customers and employees to use.
A touch-screen POS is a great option for small businesses in the food industry, both in the context of allowing customers to place their own orders and having associates take their orders with the device. Touch screens are typically easy to use and intuitive, especially when you're dealing with a younger demographic that is used to using tablets and smartphones.
Typically, touch-screen POS systems are best for:
Fast-paced businesses like restaurants and high-volume retail stores
Any business needing a system that's easy to train employees on
While touch-screen POS hardware can range from a few hundred to a few thousand dollars, the software for each terminal is typically $50-$200 per month.
Popular touch-screen POS systems include:
Cloud POS Systems
Cloud-based software records transactions in real time, so you can access your data quickly from anywhere with an internet connection. This is great for multilocation businesses, like restaurants, hotels, and retailers.
Small businesses with multiple POS systems or even locations benefit from a cloud POS, as data will sync to a centralized database (like temporary retail, so you can send that information back to your data HQ), giving you a holistic view of your business. Many cloud-based POS systems also include real-time inventory updates, which is helpful for retail merchants with multiple stores to track product levels.
Cloud point-of-sale (POS) transactions happen in person, and payment processing happens in the cloud. These are wireless, online POS systems that connect to Wi-Fi, so it can sync data to the cloud, which is then accessible from any compatible device.
You can typically get a full feature set with a cloud POS. Though some features may require additional fees, it's a flexible type of online POS system for any growing business. Most modern POS systems are cloud-based, though there are some legacy or free open source POS systems that are locally stored or license-based, so the systems and data are only accessible from the single device or local network.
Typically, cloud POS systems are best for:
Businesses wanting to access inventory, sales, or reporting data from anywhere
Businesses wanting to save on hardware costs
Businesses wanting a flexible setup
Prices for cloud-based POS systems range from $0 upfront to a few hundred dollars per month.
Examples of popular cloud POS systems include:
Open Source POS Systems
While at first glance it may seem cost-effective, an open source POS requires resources to run that can add up. It also requires more maintenance and updates over time. This is why open source POS systems are ideal for larger enterprises or extremely tech-savvy small businesses.
Larger enterprises typically have more custom and unique needs, along with bigger budgets. For small businesses with technical and coding skills, open source POS systems can be an attractive option because they are often a free or low-cost investment.
An open source POS system is built on software that small businesses can modify and customize to their needs. These POS systems require technical and development resources. You might also hear the term "open API" when discussing open source POS systems. You can find some open source POS systems for free, while others come with costs typically lower than other types of POS.
Typically, open source POS systems are best for:
Businesses needing a highly customized solution
Enterprises or big businesses with a large tech budget and/or development staff
Examples of open source POS systems include:
Multichannel POS Systems
Retailers who make both online and in-person sales need a solution to integrate and manage business data from one place. Multichannel POS systems are helpful for those that have both an online store and some sort of in-person selling component, be it temporary retail, event selling, or a brick-and-mortar store.
They help product-based businesses avoid stockouts by syncing inventory levels across channels. This is especially important for maintaining accurate business data, especially as the lines between online and offline commerce continue to intertwine.
Multichannel POS systems can process transactions and integrate the data across multiple commerce channels. Advanced multichannel POS systems work with retail and ecommerce sales, as well as social selling, third-party marketplaces, click and collect, and other commerce channels.
Typically, multichannel POS systems are best for:
Retailers and storefronts that also sell online
Mobile vendors wanting to grow sales through social media or online sales
The price for a multichannel POS ranges from free (to get up and running) to $100 to $200 per month, depending on the features you need.
Popular multichannel POS systems include:
Self-Service Kiosk POS Systems
Casual restaurants and cafes with simple menu options are a good fit for self-service kiosk POS systems because they reduce lines and wait times. In the retail environment, they have popped up in the self-checkout you typically see in grocery stores. With this, shoppers can place direct orders, scan their own items, and pay for their entire order themselves—shortening the checkout period and giving customers more control over their experience. This is especially helpful for minimizing person-to-person contact.
Self-service kiosk POS systems are made so customers can place orders and pay for products and services themselves without the help of an employee. You typically see these as digital touch screens at restaurants and cafes, particularly fast food and fast casual businesses. Self-service kiosks help shorten lines and waiting time. Some even allow customers to process their own payments.
Typically, self-service kiosk POS systems are best for:
Quick service restaurants
Markets, grocers, and cafes selling made-to-order and ready-to-eat items
Hotels wanting to accept room charges as payment
Airport and other restaurants where patrons are on a time-crunch
High-volume restaurants wanting to speed up turnover times with tableside payments
Self-service kiosks are typically $50-$100 per month each.
Popular self-service kiosk POS systems for small businesses include:
Features in Different Types of POS Systems
Each POS system has different features depending on what business type or size the platform is made for. For example, retail POS systems will likely have inventory tracking with product variants, while restaurant POS systems will have tools to track customer seating. Sometimes the features are included in the main pricing; other times, you have to pay extra for more advanced or additional features.
Some of the main features of POS systems include:
Bottom Line
There are many different types of POS systems available for small businesses. In many cases, you'll use two or more of the types of POS systems (such as an mPOS and a touch- screen POS), depending on your business's needs. POS apps, mPOS, touch-screen POS, cloud POS, open source POS, multichannel POS, and self-service POS share many features. Each has a time and place, thanks to varying features, pricing, and use cases.