A point-of-sale (POS) terminal is a hardware system containing one or more devices and accessories, all with the main purpose of processing customers' payments.
To fulfill this purpose, the terminal should, at a minimum, include a desktop computer or mobile device (such as a tablet) with a card reader. With a good POS system, the desktop and mobile device versions will have the same (or nearly the same) level of functionality.
Key Takeaways:
A POS terminal is a device or kit that contains POS software and hardware accessories to process customer transactions.
POS terminals can be larger countertop kits or small mobile devices with all-in-one functionality.
A good POS terminal should be able to accept different forms of payment.
Consider your business size, desired mobility, and budget when choosing a POS terminal.
Here, we will look at POS terminals in more detail, including important features, how they work, and considerations when choosing one.
Important Features & Accessories for POS Terminals
Hardware for processing and accepting payments should be present in any POS terminal. This hardware usually takes the form of one or more of the following:
Cash drawer
Integrated or separate credit card reader
Reader for contactless payment processing (such as QR codes and digital wallets)
Barcode scanner for faster price-checking
The POS software installed in a terminal should contain checkout functions at the very least, though good POS systems also have advanced features for:
Inventory management
Multilocation syncing
Customer relationship management
Ecommerce and multichannel capability
Vendor management and purchase ordering
Reporting and analytics
…and more
Cash wrap vs POS terminal: What's the difference?
A cash wrap is the physical area in your store in which the POS system or cash register is located where customers pay for their purchases. A POS terminal refers to the system of combined hardware and software that includes the POS software, computer or tablet unit, and accessories needed to process transactions.
It's important to note that restaurant and retail businesses sometimes use different terminology when referring to POS equipment. For restaurants, "POS terminal" often means the entire register setup into which orders are entered and paid for. In retail establishments, "POS terminal" may refer to just an individual card reader device that is part of a larger system or kit, and "POS system" may refer to the entire register setup.
How Does a POS Terminal Work?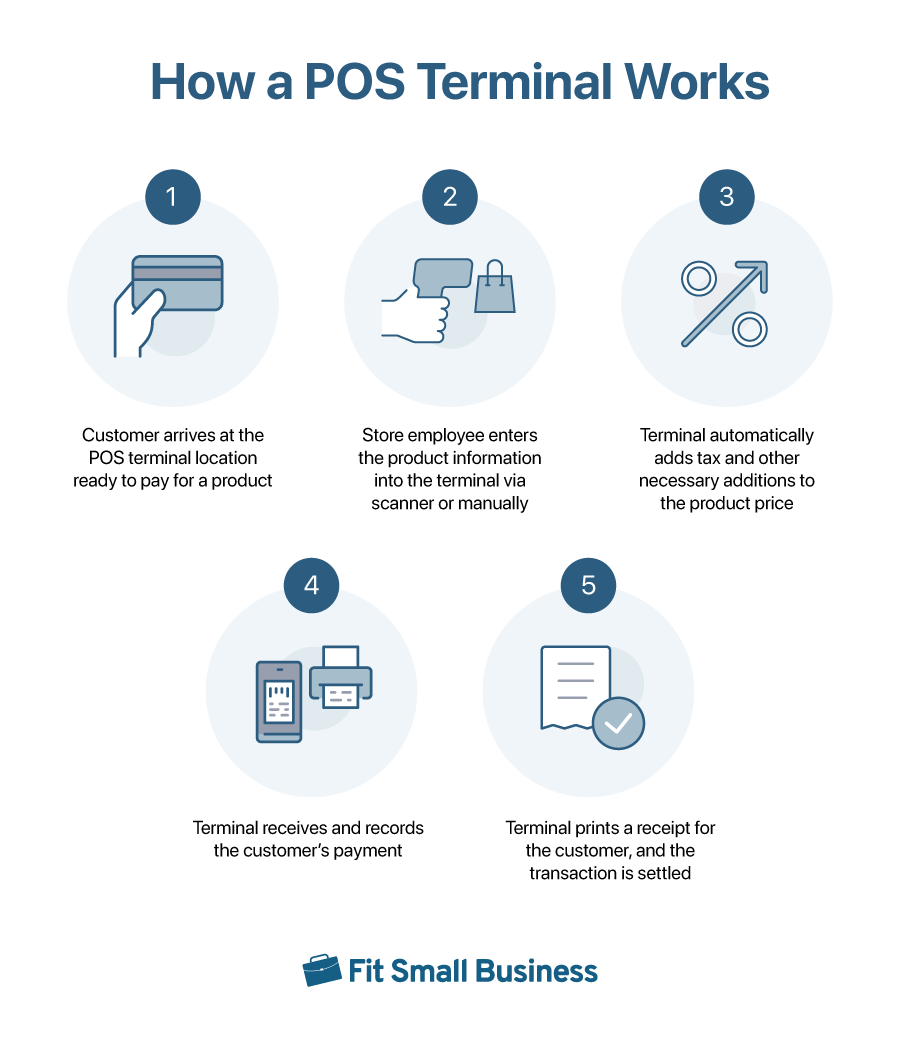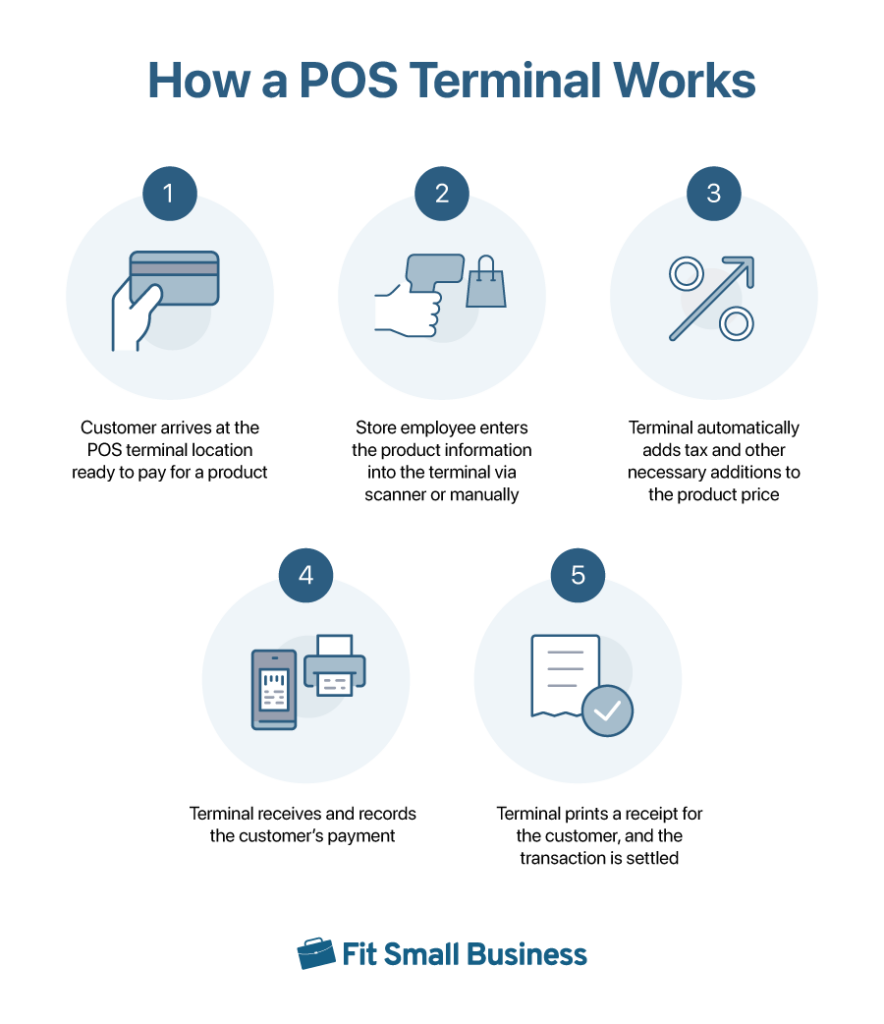 A point-of-sale terminal begins its work when a customer steps up to the payment area with the product they wish to purchase in hand. The store employee enters the product information and price into the POS software installed in the terminal; this is done either via manual entry or by using a device such as a barcode scanner, which helps the system recognize the product and call up its price more quickly. The staff member will perform this action for each item the customer intends to purchase.
The POS terminal machine then determines the total combined price of all items, plus any additional amounts to be paid, such as sales tax. Then, the customer pays—in cash, check, credit or debit card, or via contactless payment. A modern POS terminal with the appropriate hardware should be able to accept any of these payment methods.
Finally, the POS terminal prints a receipt for the customer (though receipts may also be sent electronically, such as via email). At this point, the transaction is settled, and the customer walks away happy with their shiny new item, and the store has gained that much more revenue.
What to Consider When Choosing a POS Terminal
Choosing the best POS terminal to support your business depends on a few factors:
Business Size & Expected Traffic
How many customers are you expecting to buy your products or services each day? A greater volume of traffic means you'll need more robust hardware; you'll probably want a desktop terminal due to its greater speed and ability to attach useful accessories like receipt printers (which can print more quickly than the printers built into mobile terminals).
Desired Mobility & Payment Methods
Is your business a traditional brick-and-mortar store with a space for customers to browse items and a cash wrap area near the exit? If you, you'll want to lean toward the larger, more traditional, cash-register-like POS terminals that you can set up on a counter.
If your business model would benefit from more sales flexibility—for example, if you're running a larger clothing store and want to give your customers the opportunity to check out from anywhere on the floor—then you may want to go with an all-in-one mobile terminal that lets you walk right up to eager buyers and swipe their credit cards on the spot. Note that mobile terminals don't include a cash drawer for keeping cash payments safe, so you'll need to be confident that most customers will pay with cards if you intend on using a mobile POS terminal.
Budget
Prices for POS terminals can vary widely: this will depend on whether you are planning to use a large desktop kit or just a mobile terminal; how many features (for software) and accessories (for hardware) you want to attach; and whether you are providing your own devices. For this last point, note that many POS software can be installed on your own computer, tablet, or smartphone, which can help you save costs on hardware. However, POS systems that require purchasing proprietary hardware do exist; be sure to thoroughly research your POS options so that you can predict your hardware expenses.
There are many different varieties of POS systems, giving you flexibility in both hardware and software according to your preferences and business needs. See our full guide to the different types of POS systems.
Frequently Asked Questions (FAQs)
Click through the sections below to learn more behind the most common questions we get about POS terminals.
A POS terminal is a combined hardware and software system that has POS software installed, plus hardware accessories like cash drawers and credit card readers to facilitate accepting payments.
---
A POS terminal's main purpose is to ring up customer transactions and process any one of their various payment methods. The terminal also houses the POS system software, which helps run many aspects of the business such as inventory management, reporting, purchase ordering, multichannel sales, and marketing.
---
Bottom Line
You really can't run your business without some type of POS terminal—you'll need it to (at the very least) record transactions and accept customer payments. Modern POS terminals give you lots of options in terms of cost, size, complexity, and level of functionality. They can range from free (for both software and hardware) all the way to thousands of dollars for complete kits that can run all aspects of your business in addition to processing transactions. View all your options, think about your particular needs, and choose the best terminal for your business.