A Brief History of POS Systems
This article is part of a larger series on POS Systems.
From their first incarnation, the original and primary purpose of point-of-sale (POS) systems was to record the products and services being sold to buyers, receive payment from customers, and keep cash secure. The history of POS systems began in the US as far back as the late 1800s with simple mechanical cash registers. As the decades went by, point of sale became more advanced. Looking through a brief history of POS systems will help us understand how—and why—this technology developed the way it did.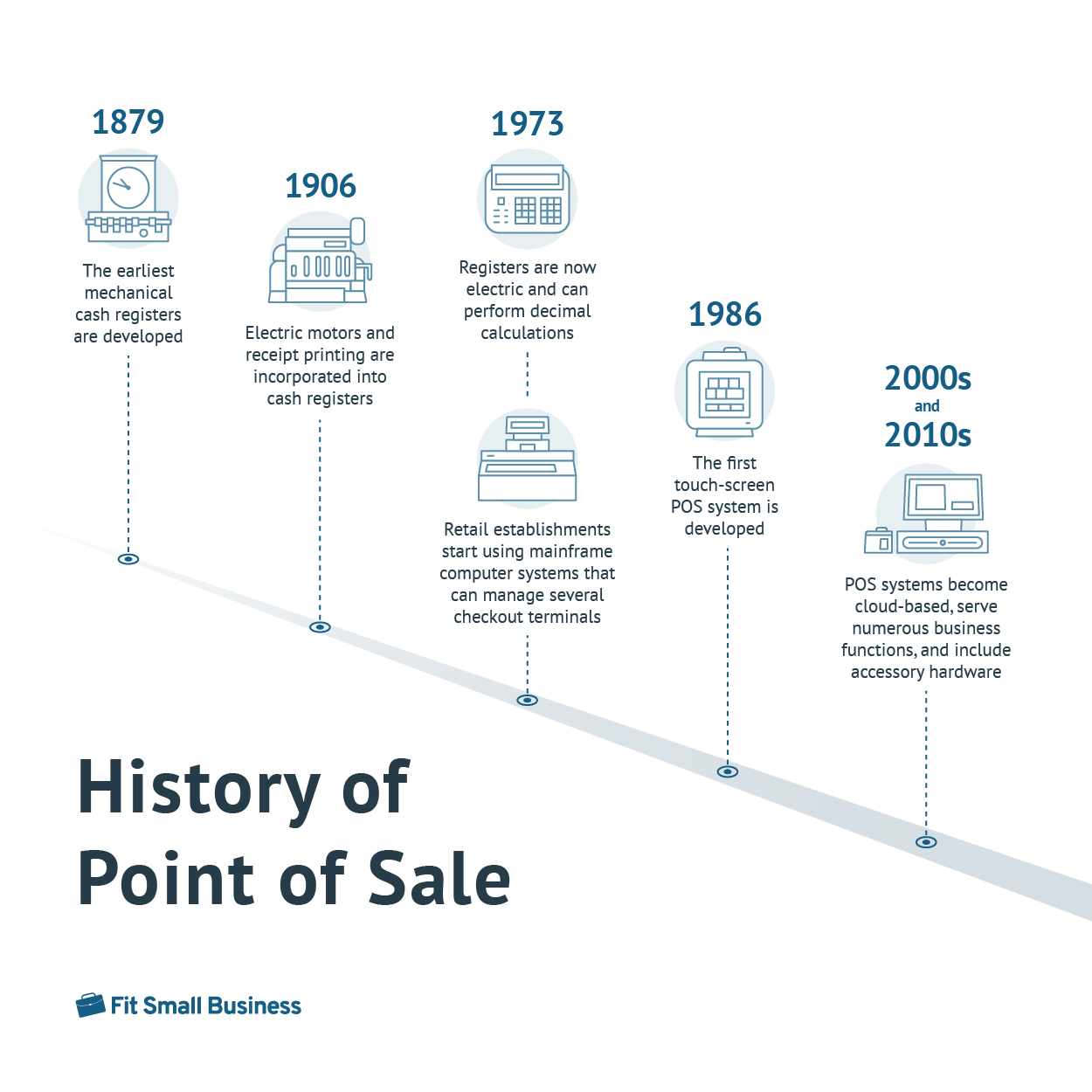 The 1800s: Mechanical Cash Registers
The first POS systems were simple mechanical registers that could only add up prices, calculate total payments, and store cash. The classic ringing bell that you might associate with cash registers today was developed for these early registers as well; the purpose of the bell was to announce that a sale was being made, and thus, prevent cashiers from stealing payments.
The earliest devices could not yet create receipts, though this would become possible around 1884 by adding paper rolls to the cash registers. The introduction of receipts was also useful for protecting against employee theft, by giving the business owner a record that proved customer payments matched the cash in the register drawer—essentially an early form of POS reconciliation.
The 1900s: The Shift to Connected & Graphical Systems
A new century meant advances in technology, travel, commerce, and globalization; simple cash registers would no longer be enough to meet the needs of this new era. From the 1950s, cash register company Gross Cash Registers Ltd. came out with new models that were particularly useful as the concept of currency itself evolved; their registers were able to process transactions in different currencies and with currency decimalization, for example.
Point-of-sale systems also began to add functionality and connect with each other. By the 1970s, IBM was releasing products that were not just individual devices, but mainframe computers that could control many POS registers from a centralized system. At the time, the concept of communication between different devices was still quite new, and the technology found use in large, multilocation businesses like restaurant chains and department stores.
In the 1980s, point-of-sale technology finally combined with graphics technology to produce a touch-screen interface for POS systems. This interface was visually intuitive and even allowed for the configuration of screen elements, making it much faster and easier for cashiers to process transactions. While nowhere near as advanced as the touch-screen systems we have today, this was still a milestone in POS system history, and touch-screen systems rapidly became more common after this development.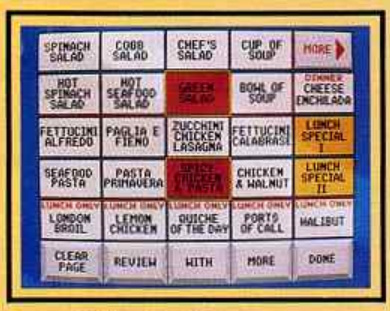 The 2000s & Beyond: Cloud-based & Mobile Point of Sale
Cloud computing as we know it today—with data storage, virtual services, and computing power available on-demand from any location—began to be applied to POS systems in the 2000s and 2010s. At this stage, the technology had gone far beyond simply recording sales and storing cash; it was now called electronic point of sale (EPOS) and included features that supported business in a broader sense, such as reporting, customer relationship management (CRM), and inventory management. These features, along with the internet connectivity inherent in cloud systems, have become so vital for modern businesses that the global cloud POS market is projected to reach over $13 billion in value by 2028.
With most or all businesses now connected to the internet, it became possible to store user data in a remote server rather than locally, making it easier to do things like install new systems, update and synchronize records, and manage multiple store locations. The most modern cloud-based POS systems even have an offline mode that lets the POS function to some degree, even if disconnected from the internet.
As smartphones became more commonplace and advanced for both business owners and customers, mobile point-of-sale (MPOS) systems were developed to make transactions more convenient than ever. This new development allowed merchants to process transactions and accept payments on mobile devices such as smartphones or tablets, without the need for large POS terminals. MPOS systems are attractive for small businesses because they are easy to install and set up, usually cost very little, and allow for very high sales mobility. They are also becoming more popular than ever; by 2027, the total transaction value of MPOS in the US is projected to exceed $1.2 trillion.
Modern Point-of-Sale Systems
Modern POS systems come in various types, each with its own advantages and disadvantages. All of these are characterized by internet connections, relatively high mobility and convenience of use, real-time updating and tracking of sales and inventory, and some degree of omnichannel capability. Various POS hardware make transactions and day-to-day business operations easier—barcode scanners, payment terminals, receipt printers, and more.
POS software has also evolved beyond exclusively local and exclusively online, and instead merged both types into hybrid systems. Hybrid POS systems give you the multilocation management and real-time updating features of cloud systems, but can process card transactions offline.
Specific POS systems have been developed for particular industries, such as retail, restaurants, hospitality, ecommerce, and professional services. For restaurants, in particular, the rise of tablet-based POS systems has been a game-changer. Tablet devices like iPads are better than smartphones for things like tableside ordering and digital menu display, and they greatly improve customer experience at restaurants and cafes. Tablets and other touch-screen devices can go even further and become self-service kiosks that free up time and energy for restaurant staff.
See our best picks for POS systems:
Check out industry-specific recommendations:
Payment via POS systems has also become more sophisticated with the development of digital wallets, multiple options for payment processors, and contactless payment methods. Contactless payments in particular became much more prevalent during the COVID-19 pandemic; consumers who had never tried it before started to try it, and those who had already been using contactless began using it more. Even with COVID restrictions easing up, this trend has endured to the present day.
Since the latest POS systems have a constant connection to the internet, process many types of payments, and contain comprehensive information about a business' operations and customers, POS security measures have become increasingly important in the modern era. These measures include data encryption, permissions for users, mandatory authentication for certain actions like voiding of sales, and compliance with industry security standards—all of which a good modern POS system should feature by default.
Ready to learn more about POS systems? Find resources here:
History of POS Systems Frequently Asked Questions (FAQs)
Expand the sections below for answers to some of your most common questions about the history of POS systems.
If you consider cash registers as the grandparents of the modern-day POS system, then you can trace the history of the POS back to the 1800s and the first mechanical cash register. If you are specifically talking about computer-based systems of POS stations that are networked and share information, that type of system first became available in the 1970s.
---
In the 1980s, the first touch-screen POS emerged. This changed the POS landscape and paved the way for the tablet-based POS systems that are so popular today.
---
POS is an acronym for "point of sale." In the everyday operation of a business, it is simply faster to say "POS" than "point of sale," so the acronym became popular.
---
Bottom Line
Point-of-sale technology has come a long way since the first mechanical cash registers were introduced in the 1800s, but its main purpose has remained largely the same—to be the point at which a customer pays for a product or service. Business owners will do well to keep the original purpose of the technology in mind, while also learning about and using key features such as cloud connection, multiple payment methods, and options that increase sales mobility. While the future of point of sale technology isn't easy to predict, investing in customer convenience and staying on top of emerging POS trends will go a long way toward keeping your business strong.