Zone Skipping: A Money-saving Shipping Strategy
Tired of shipping fees eating into your profit margins? Consider adopting zone skipping to save.
Package shipments are priced based on both weight and distance. Carriers like USPS and FedEx use zones as a way of calculating the distance a package is traveling. These zones are organized by ZIP code and are dynamic depending on where the shipment is originating.
Strategically grouping and shipping your packages by region with these zones in mind can provide cost savings and faster delivery, among other benefits. Let's take a closer look.
What Is Zone Skipping?
Zone skipping is a fulfillment and logistics strategy that reduces shipping costs by bringing groups of orders or packages closer to their final destination before mailing them out individually for last-mile delivery.
In zone skipping, many individual orders are combined into a truckload or less-than-truckload shipment, which is delivered to a regional sorting facility close to the packages' final destinations, from where they are then shipped.
So, the individual packages are shipped a shorter distance—fewer zones—than if they were mailed out individually from the retailers or warehouse.
Because zone-skipped packages are processed through fewer sorting centers, shipping costs are significantly lower.
What Are Shipping Zones?
Shipping zones vary slightly by carrier. Zones are also dependent upon where the package is originating. They span from Zone 1 to Zone 9, with Zone 1 being the ZIP code the package is originating from, Zone 8 being the farthest destination in the continental US, and Zone 9 typically referring to outlying territories.
For example, here is how ShipBob, a fulfillment company, summarizes the different zones: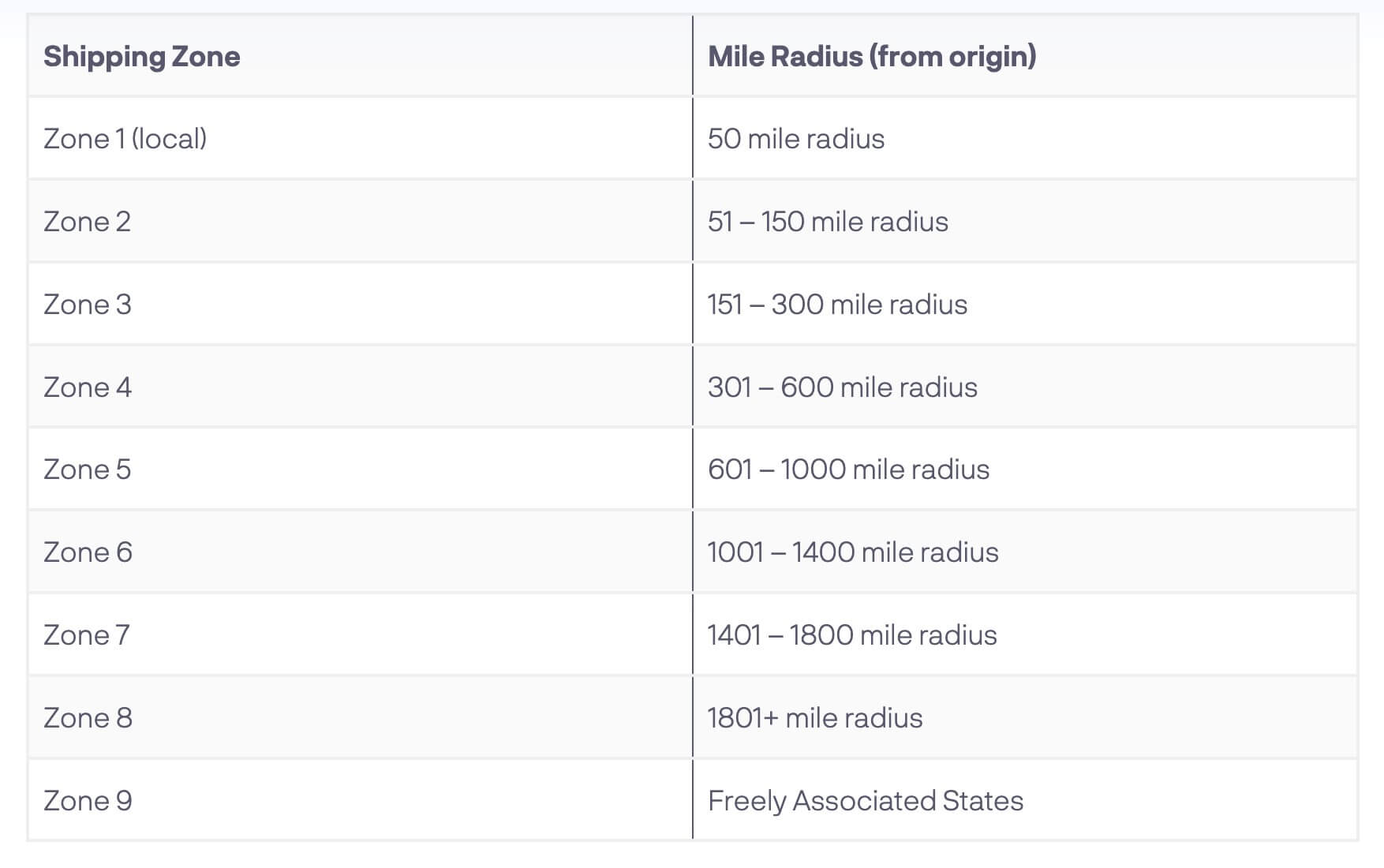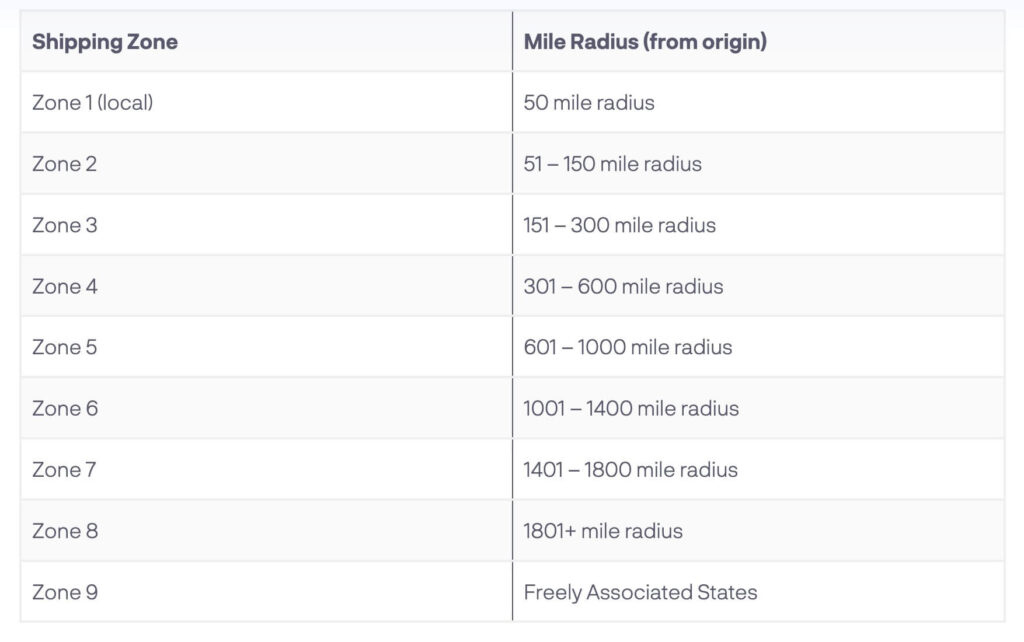 ShipBob's estimation of shipping zones. (Source: ShipBob)
To see what this looks like in practice, here is an example from Stamps.com of USPS shipping zones for a shipper based in Los Angeles: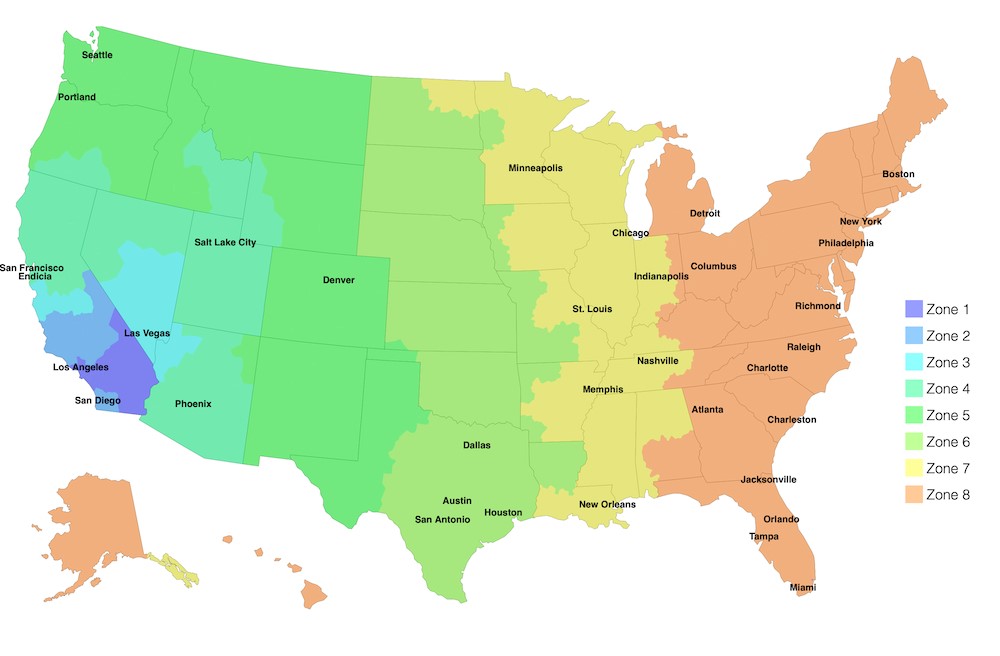 If you're shipping from Los Angeles, the East Cost will be your furthest destination in the US and Zone 8. (Source: Stamps.com)
Benefits of Zone Skipping
Some of the benefits of zone skipping include:
Cost savings. Shipping costs can cut into the bottom line, so this is one way to reduce those expenses. Zone skipping offers a more cost-effective way to ship packages. This is a major advantage, especially considering shipping costs are a top concern for 41% of retailers.
Faster delivery. Zone skipping requires fewer touchpoints. Packages are grouped, sent in a single parcel to the regional distribution center, and then make their way to their final destination. Fewer handoffs can speed up delivery times.
Fewer errors. Because regional distribution centers are responsible for last-mile delivery, they typically have better knowledge of the area. This means they're often more reliable and can get the package to its destination without hiccups.
More sales. Because zone skipping allows for lower shipping fees, you can pass these savings to your customers. This means reduced or even free shipping, which can make shoppers more likely to make a purchase.
Scalability. As you grow and expand into new markets, zone skipping allows you to efficiently manage increased shipping volumes, as it can accommodate larger shipments without compromising on delivery times. Plus, you don't need to worry about reaching customers in new locations.
Ecommerce shipping is important whether or not you have a physical retail store. As lines of commerce continue to blur, customers expect the same experience across all channels. And starting a retail business is more than just opening up a shop—having a website and shipping options are just as important.
How Does Zone Skipping Work?
Zone skipping is when a shipper consolidates multiple orders from different sellers into a single shipment for distribution. It all kicks off when a customer places an order and you process that order. So let's take a look at what happens after that, broken down into steps:
1. Order Aggregation
Once you've processed customers' orders, you'll aggregate them based on shipping destination. Orders that are to be sent to the same or similar regions are grouped together. You might do this yourself with your own order fulfillment platform, or you can choose to outsource this process to a third-party logistics (3PL) partner.
Outsourcing and leaving zone skipping to the pros is definitely the easier option. And, you'll benefit from your fulfillment partner's larger volume of shipments—or, more packages that can be batched together.
2. Sorting at a Regional Facility
Once you have enough orders grouped together, you'll prepare them as a single large shipment. This shipment is sent to a regional sorting facility. Here, the bulk shipment is processed and sorted based on each package's final destination. This facility specifically serves the region all of those packages are destined for, so sorting is very specific at this stage. Packages are sorted based on ZIP codes or delivery zones.
3. Packing & Distribution
After the orders have been organized and sorted depending on their respective destinations, the facility prepares them for the next leg of their journey. This involves any necessary picking and packing, and then handoff to the carrier. These shipments are smaller than the initial large, bulk shipment with all the orders.
4. Shipping & Delivery
This step is where the package goes on its last-mile delivery journey. Individual parcels and packages are handed to the corresponding local carriers. These carriers know the local area, traffic patterns, and delivery routes, enabling them to efficiently deliver packages in a timely manner. The carrier is responsible for ensuring the package is successfully delivered to its final destination.
You might use a standard carrier like USPS or FedEx, or dedicated last-mile delivery services like Uber or Postmates. You could also use a shipping platform like ShipBob, uShip, or Red Stag Fulfillment to aid in this process.
Examples of Zone Skipping
Let's go over a hypothetical scenario to explore what actually happens in the zone skipping process.
Your warehouse—from which you ship most orders—is located in zone 1, with a ZIP code of 27405, placing it in North Carolina. You have lots of customers based in New York City, which is located in zone 4. You also have a lot of customers in Philadelphia, which is also zone 4. New York City and Philadelphia are both a decent distance from North Carolina, but they're located in fairly close proximity to one another.
Rather than immediately sending out all your New York orders separately, and your Philadelphia orders separately as well, you instead choose to take advantage of zone skipping. So instead, you group all of your New York City and Philadelphia orders together at your warehouse in North Carolina, being careful to sort them so the NYC orders are together and the Philly orders are together. These are then sent via freight to two different regional sorting centers, one for each city.
Had you not put these orders together via freight, each parcel would visit several regional distribution centers along its journey. Sending them together via freight allows those packages to bypass these additional steps. From the regional hubs, the orders are organized and sorted so the individual packages reach their final destination.
Zone Skipping FAQs
A skip, or zone skip, in shipping is when you aggregate orders heading for a similar destination and ship them directly to regional sorting centers via freight, rather than sending each individual package separately.
---
There's no single most expensive shipping zone. However, shipping from zone 1 to zone 8 (and vice versa) could often yield the most expensive shipping rates.
---
Cost savings
Reliability
Scalability
Efficient deliveries
Faster deliveries
Reduced errors
More sales
---
Bottom Line
Zone skipping is a reliable and cost-effective shipping strategy for small businesses. By consolidating shipments and leveraging regional sorting facilities, you can offer faster deliveries and lower shipping costs, ultimately enhancing the customer experience and boosting your business's bottom line.