Best Shipping Software for Small Businesses in 2023
Small businesses can improve their shipping process by using shipping software to compare rates, generate labels, organize orders, and more.
The best shipping software integrates directly with your ecommerce platform and other necessary tools—like your inventory management software or point-of-sale (POS) system. It should also have robust order management features, generate helpful reports, and provide high-quality customer support.
Additionally, the best shipping solutions will provide discounts on standard shipping rates—making in-house fulfillment much more affordable—although this feature typically comes with a monthly fee.
Based on our evaluation of features, pricing, functionality, ease of use, and our own experience, the best shipping solutions are:
Best Shipping Software for Small Business Compared
Free Plan

Paid Plan Pricing

Mobile App

Inventory Management

Average User Rating*

Customer Support

✓

(25 shipments

/month)

$19.99–$159.99

✕

✓

(add-on)

4.72 / 5

M–F 8 a.m.–6 p.m. CST

✓

(unlimited shipments

/month)

$59–$149

✕

✓

(only available on Premium plan)

4.84 / 5

M–F 9 a.m.–6 p.m. CST

✓

(50 shipments

/month)

$29–$69 (custom pricing available)

✓

✕

(third-party integrations available)

4.08 / 5

24/7

✕

$9.99–$229.99

✓

✓

(included in all plans)

4.12 / 5

M–F 8 a.m.–8 p.m.
CST






✓

(50 shipments

/month)

$25–$180

✕

✕

(third-party integrations available)

4.79 / 5

Daily 7 a.m.–6 p.m. PST

✓ (best for 60 shipments

/month)

$10–$200 (custom pricing available)

✕

✕

(third-party integrations available)

4.52 / 5

M–F 6 a.m.–6 p.m.;

weekends 6 a.m.–2 p.m. PST

*Average user ratings are derived from a weighted average of user reviews on Capterra, G2, and the Shopify App Store.
ShippingEasy: Best Overall Shipping Software for Small Business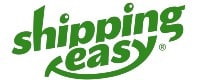 Pros
Affordable, competitive pricing
Easy-to-use, intuitive interface
Robust marketing tools
High-level reporting and analytics
Cons
No mobile app
Limited dropshipping functionality
Restricted customer support on 'Starter' plan
ShippingEasy Pricing
Free Starter Plan: 25 shipments, 1 user
Growth: $19.99/month, 200 shipments,
Basic: $29.99/month, 500 shipments,
Plus: $49.99/month, 1,500 shipments
Select: $69.99/month, 3,000 shipments
Premium: $99.99/month, 6,000 shipments
Enterprise: $159.99/month, 10,000 shipments
30-day free trial
Custom pricing available
ShippingEasy Overview
ShippingEasy earned a 4.2 out of 5 in our evaluation. It is a cloud-based application that offers the best combination of shipping discounts, integrations, features, and functionality of any small business shipping software on the market.
ShippingEasy offers an intuitive interface, a wide spread of shipping partners, and plans to fit all budgets and shipping needs. It also delivers an impressive set of additional features, helping you tackle your inventory management, customer relationship management, and marketing efforts. The software allows unlimited users and marketplaces on all plans.
ShippingEasy Features
Discounted Rates: Enjoy deep discounts on UPS and USPS Commercial Plus rates. You can also use your negotiated rates with ShippingEasy.
Exclusive Priority Mail Rates: 'Flat Rate Green' offers unique, cost-effective dimensional pricing for USPS Priority Mail packages up to 20 lbs.
Integrations: Sync with over 65 platforms such as Shopify, Amazon, WooCommerce, and others. Seamlessly integrate USPS, FedEx, UPS, or DHL accounts.
Automation: Streamline shipping tasks with rule-based automations for shipment selections, tracking, email confirmations, and more.
Order Management: Features include batch processing, CSV entry, custom groupings, editable orders, gift options, returns, packing slips, and barcode support.
Inventory: Get real-time tracking, product catalogs, customizable categories, and barcode compatibility.
Marketing Tools: Enhance email campaigns with customizable templates, campaign management, feedback, and metrics using ShippingEasy's marketing add-on.
Peripheral Hardware: Connect thermal/laser printers, scales, and barcode scanners with ConnectEasy.
Support: Access top-tier customer service via chat and email, plus phone from 8 a.m.–6 p.m. M-F Central time (Starter plan users are limited to forums).
Online Resources: Explore shipping guides, blogs, case studies, calculators, and forums in ShippingEasy's resource hub.
What ShippingEasy Is Missing
ShippingEasy isn't compatible with direct connections to dropshipping suppliers, making it a poor choice for sellers doing a high volume of dropshipped sales or starting a dropshipping business. The program does allow users to mark an order as "shipped" at any stage—which is a work-around used by occasional dropshippers—but Ordoro is a far better choice for sellers needing vendor connectivity.
If you ship both parcels and LTL truck freight, ShipStation readily integrates with a larger range of carriers than ShippingEasy. Plus, it offers a mobile app, while ShippingEasy doesn't.
The limitations on ShippingEasy's lowest-level plan is another area of compromise. Starter plan users don't have access to international shipping, FedEx integration, or customer support (except through a public forum).
Ordoro: Best Shipping Software for High-volume Sellers & Dropshippers

Pros
Robust dropshipping integration and functionality
Best inventory and order management features
Supplier and vendor management capabilities
Cons
No mobile app
Limited sales channel allowance on all plans
Many key features only available on Pro plan ($499/month)
Ordoro Pricing
Essentials: Free, 1 user, 1 sales channel
Advanced: $59/month, phone support, analytics, unlimited users and sales channels
Premium: $149/month, integration access, unlimited users and sales channels
15-day free trial
Unlimited orders on all plans
Custom pricing available
Ordoro Overview
Like our other picks, Ordoro offers great shipping and fulfillment functionality—but where this software really impresses is in advanced inventory management and automated purchasing features that seamlessly integrate with its shipping system. It also offers unlimited orders on all plans, making it great for high-volume sellers (including dropshippers).
These features earned it major points in our evaluation, along with its affordable pricing and generous free plan. However, the provider was docked for missing live shipping rates at checkout and its lack of integration capabilities in either of its basic plans. Ultimately, Ordoro earned a score of 4.10 out of 5.
Ordoro Features
Discounted Rates: Enjoy discounts on USPS Commercial Plus rates and shipping insurance across all plans.
Integrations: Ordoro supports eight major carriers like USPS and FedEx and integrates with 38 ecommerce platforms. Premium users can tap into an open API.
Automation: Optimize with Ordoro's advanced rule-based automations. Dropshippers can set up manual, semi-automatic, or fully automatic processes.
Supplier Management: Allocate suppliers to products, monitor costs, personalize workflows, and grant vendor portal access.
Order Management: Handle returns, restocking, RMAs, and consolidate orders from all channels. Plus, access built-in address validation and barcode scanning.
Inventory: Premium users get enhanced inventory features: multichannel sync, real-time tracking, stock alerts, and easy PO creation. Link listings to a central "master product" in Ordoro.
Branding: Personalize the shipping journey with branded labels, emails, packing slips, and tracking pages.
Peripheral Hardware: Ordoro seamlessly works with USB scales and ensures printer and scanner connectivity.
Support: Reach the Austin-based team by phone or email weekdays from 9 a.m.–6 p.m. Central time. Weekend support is via limited email.
Online Resources: Access Ordoro's resource hub featuring videos, guides, case studies, blogs, and an API forum.
Highly Rated: Though Ordoro has fewer reviews than competitors, it has a high average score of 4.84/5.
What Ordoro Is Missing
Ordoro's biggest drawback is its pricing model. Some of the most important features—such as inventory management capabilities, API access, and returns processing—are only available on the Premium plan, which may be unaffordable for many small businesses.
Additionally, the software is incompatible with scan-based return labels and can't display live shipping rates at checkout. Nor does it have a mobile app. For these features, we recommend ShipStation.
Easyship: Best Shipping Software for 24/7 Support & Managing Crowdfunding Campaigns
Pros
Cloud-based platform accessible from desktop or mobile app
Competitive, affordable pricing
Robust features for crowdfunding campaigns
24/7 customer support
Cons
Can't connect with peripheral hardware like scanners and scales
No option to add additional users
Moderate range of paid plans
Easyship Pricing
Free Starter Plan: 50 shipments, 1 user
Plus: $29/month, 500 shipments, 3 users
Premier: $69/month, 2,500 shipments, 5 users
Scale: Flexible from $99/month for 5,000 shipments to $199/month for 10,000 shipments
Enterprise: Custom pricing and features
14-day free trial
Unlimited store/channel allowance on all plans
Easyship Overview
Easyship delivers an easy-to-use shipping solution with affordable pricing, including special pricing for crowdfunding campaigns. If your crowdfunding project has been successfully funded, Easyship will waive its monthly fee until you've shipped all of your initial campaign. Through a suite of tools designed especially for crowdfunding, called Easyship Collect, it lets your backers upgrade shipping, prepay duty and tax, and add shipping insurance. It also offers connectivity with the leading marketplaces and ecommerce platforms.
While we like Easyship for its 24/7 support, international capabilities, and mobile app, it lost points for limited plans, incompatibility with peripheral hardware, and weaker order/inventory management, earning a 4.08/5 score in our evaluation.
Easyship Features
Discounted Rates: All plans get discounted USPS Commercial Plus rates as well as discounted UPS and DHL Express rates.
Integrations: Connect with 13 carriers like USPS and FedEx, plus 31 ecommerce platforms. Open API is also available.
Automation: Basic rule-based shipping automations are accessible on both free and paid plans.
Supplier Management: Manage suppliers, costs, and workflows. Enterprise users can integrate directly with suppliers and third-party warehouses.
Order Management: Control orders and returns via a feature-rich dashboard with advanced search and filtering.
Inventory: Manage shipping-centric product details, complementing your ecommerce platform's inventory features.
Branding: Customize the customer experience with branded packing slips, emails, and tracking pages.
Support: 24/7 live chat for paid plans, phone support for Premier and Enterprise users. Free plan users have email and Facebook messaging options.
Online Resources: Access extensive tutorials, shipping tools, case studies, and guides in Easyship's online resource hub.
What Easyship Is Missing
Easyship has a moderate range of plans, but still may leave some users paying for a plan with a significantly greater shipment allowance than they need. To ensure you only pay for what you actually use, we prefer Shippo's wide range of 11 plan options.
Additionally, Easyship users can't connect useful hardware like shipping scales or scanners, which could create an obstacle for businesses that rely on these devices in their shipping workflow. ShippingEasy is the better choice for peripheral connectivity.
We also found that the platform lacks functionality when it comes to inventory and order management and doesn't provide the option to modify user permissions (which can be a helpful feature for dropshippers). While Easyship can accomplish the basics, Ordoro is a more robust multifunctional tool.
ShipStation: Best Shipping Software for Scaling With Extensive Carrier Options

Pros
Works with 53 shipping carriers, plus 250+ other integrations
Mobile app for iOS and Android
Intuitive interface
Powerful returns management features
Cons
No free plan
Poorly reviewed by users
Inaccessible customer support
ShipStation Pricing
Starter: $9.99/mo, 50 shipments, 1 user
Bronze: $29.99/mo, 500 shipments, 1 user
Silver: $59.99/mo, 1,000 shipments, 2 users
Gold: $99.99/mo, 2,000 shipments, 3 users
Platinum: $149.99/mo, 5,000 shipments, 5 users
Enterprise: $229.99/mo, 7,500 shipments, 10 users
High Volume: Custom quoted, unlimited shipments, 15 users
30-day free trial
Unlimited store/channel allowance on all plans
ShipStation Overview
ShipStation beats our other recommendations in the number of carriers its shipping software supports. It offers far more plug-and-play integrations with fulfillment centers, freight companies, and international carriers. This means you can quickly scale to meet freight and international shipping demands as needed.
It also stands out from the competition in its robust returns management features and mobile app offering—which earned ShipStation significant points in our evaluation. However, the software was docked for its lack of a free plan, steep learning curve, limited monthly users and shipments, and bleak online reviews. Ultimately, it earned a score of 3.96 out 5.
ShipStation Features
Discounted Rates: All plans offer discounts on USPS, UPS, and DHL Express Worldwide rates, among others.
Integrations: Connect with 53 shipping carriers, including USPS, FedEx, UPS, and DHL, plus 70 of the top sales channels and 215+ other ecommerce platforms and solutions. Open API is also available.
Automation: Leverage product defaults, service mappings, and automation rules to streamline shipping.
Order Management: Standard features plus a branded returns platform and pick-and-pack error minimization included in all plans.
Inventory Management: Access basic inventory management via web or mobile app, featuring alerts and stock syncing.
Branding: Personalize labels, packing slips, emails, and tracking pages for a branded customer experience.
Peripheral Hardware: Use thermal/laser printers, scales, and barcode scanners through ShipStation Connect—the company's proprietary connectivity application.
Support: Weekday support from 8 a.m.–8 p.m. Central time. Phone for Enterprise, chat for Bronze and higher. Email may exceed one-day response.
Online Resources: Consult ShipStation's guides, FAQs, forums, YouTube tutorials, and webinars for help.
What ShipStation Is Missing
While its aggregate rating isn't bad, we found that a high number of reviews left for ShipStation in recent months were very negative. Users frequently report bugs and known issues persisting without attention from the development team, plus extremely poor customer service. Small businesses using basic integrations may not need attentive customer service from their shipping software, but if you value support, consider ShippingEasy instead.
ShipStation lacks a free plan and is pricier than alternatives, making it less ideal for low-volume shippers.
We also found that ShipStation isn't the most functional choice for dropshipping management. Through granular user permissions options, you can grant your suppliers a ShipStation user account that only has access to specific orders. This workaround makes dropshipping possible but tricky. If a portion of your sales come from dropship suppliers, we recommend Ordoro instead.
OrderCup: Best Shipping Software for Small-scale Sellers & Ecommerce Beginners

Pros
Free starter plan
Exceptional customer support 7 days/week
User favorite in reviews
Easy to get started
Cons
Limited scalability
Rudimentary features
Narrow reporting capabilities
OrderCup Pricing
Free: 50 shipments, 1 user
Short: $25/month, 500 shipments, 1 user
Tall: $45/month, 1,500 shipments, 2 users
Grande: $65/month, 3,000 shipments, 3 users
Venti: $95/month, 6,000 shipments, 5 users
Trenta: $180/month, 12,000 shipments, 12 users
30-day free trial
Unlimited store/channel allowance on all plans
OrderCup Overview
OrderCup earned a 3.89/5 in our review, excelling in cost-effective pricing and user-friendliness. The platform effectively handles basic ecommerce shipping tasks, offers strong customer service, and supports international shipping. However, it falls short in integration options and advanced inventory management.
While it lacks the accessories and extra features of many competitors, OrderCup is one of the most affordable options on our list. It's a great choice for small-scale sellers and those wishing to test how shipping software fits into their selling strategy, as well as ecommerce beginners who may need a user-friendly platform with high-quality support.
Plus, if you need extra support or additional user accounts, OrderCup allows the flexibility to add users for $5–$10/month and offers a Premium Support add-on at $50/month or $500 annually, featuring toll-free phone support and priority responses.
OrderCup Features
Discounted Rates: OrderCup offers discounted USPS rates and shipping insurance, along with support for negotiated rates.
Shipping Perks: Every account receives access to free pickups, free shipping supplies, and free global address verification.
Integrations: OrderCup has 36 direct integrations, including 19 popular ecommerce platforms and solutions like Shopify, Amazon, eBay, Etsy, BigCommerce, and PayPal, as well as major shipping carriers. No API is currently available.
Automation: Create automated defaults, predefined package types, and profiles for your shipping methods. Plus sophisticated filtering to categorize order and shipping rules as well as automated insurance rules.
Order Management: All plans come with basic order management features, like batch processing, CSV input, and returns handling.
Inventory Management: Supports multi-channel stock syncing and warehouse assignment.
Marketing: Send and automate branded outgoing emails, packing slips, and tracking notifications.
Peripheral Hardware: OrderCup has web-based printing of labels and forms to most printers, and offers plug-and-play scale and scanner support for PCs and Macs.
Support: Customer Service is available seven days a week from 7 a.m. to 6 p.m. Pacific time, with a Europe-based center for the same hours in GMT. A $50/month Premium Support add-on offers toll-free phone support and prioritized tickets.
Online Resources: Reference OrderCup's video library and blog.
Highly Rated: OrderCup doesn't have many reviews, but it boasts a 4.8/5 rating from the Shopify App Store (300 reviews) and 4.79/5 from BigCommerce App Store (19 reviews).
What OrderCup Is Missing
Many competing shipping solutions have functionality that could potentially replace other tools in your arsenal, whereas OrderCup is much more rudimentary. Furthermore, it lacks the ability to work for dropshippers. For advanced dropshipping and inventory management features, we recommend Ordoro.
OrderCup isn't as scalable as other options, either. The 12,000-shipment cap on its highest-level plan could mean needing to eventually migrate to another solution. Plus, its sparse integrations could pose a problem for high-volume sellers.
We found that OrderCup has the most limited reporting and analysis capabilities of the providers on our list. It does present helpful data on sales, shipments, orders, and costs, but ShippingEasy's customizable reporting options are more advanced.
Shippo: Best Shipping Software for International Shipping

Pros
Wide range of plan options
Extensive list of native integrations
Helpful features for managing international orders
Cons
Starter plan isn't really free; you have to pay 5 cents/label
Can't connect with peripheral hardware like scanners and scales
No mobile app, web app isn't mobile-friendly
Shippo Pricing
Starter: $0/month, 5 cents/label, 1 user
Professional: 9 paid plans ranging from $10/month for 60 shipments to $200/month for 10,000 shipments, 5 users.
Premier: custom pricing and features, 15 users
30-day free trial
Unlimited store/channel allowance on all plans
Shippo Overview
Overall, we gave Shippo a 3.59 out of 5 in our evaluation—it's one of the more expensive providers on our list, but it delivers features to support scalability and international shipping that set it apart.
For your international orders, Shippo offers free Paperless Trade options to send and manage customs documents electronically. It also supplies prefilled customs forms to expedite the label generation process.
These features helped boost the provider's score, but it was docked for lacking peripheral hardware connectivity, dropshipping tools, inventory management features, and useful reporting capabilities.
Shippo Features
Discounted Rates: All plans get discounted USPS Commercial Plus rates and discounted DHL express rates.
Integrations: Shippo integrates with 25 shipping carriers, including USPS, FedEx, UPS, and DHL, and 88 other ecommerce platforms and solutions. Open API is also available.
Automation: Paid plans offer web app-based automation to program package templates and shipping actions.
Order Management: Manage returns, receive and restock goods, and view/filter orders from your Shippo dashboard—plus built-in global address validation and partial fulfillment options to split an order into multiple shipments.
Inventory: Shippo's platform stores package and product data but lacks full inventory management. Users may want to connect a dedicated inventory management app.
Marketing Tools: Add branding and custom text to email notifications and tracking pages.
Peripheral Hardware: Shippo does not support connectivity with peripheral devices.
Customer Service: San Francisco-based team provides email and chat support weekdays 6 a.m.–6 p.m. Pacific time, weekends 6 a.m.–2 p.m. Pacific time.
Online Resources: Shippo provides tutorials, guides, case studies, e-books, webinars, podcasts, and a shipping encyclopedia.
What Shippo Is Missing
Shippo is one of the pricier providers on our list, and it doesn't offer a truly free starter plan. It also limits the majority of its paid plans to five user accounts, and additional users cannot be added. If you need to create accounts for your team but don't want to invest in an enterprise-level custom plan, Ordoro is a better choice.
It's also missing peripheral connectivity to work with devices like scanners and scales. If you frequently use shipping hardware, ShippingEasy may be a better fit.
Unlike Easyship and ShipStation, Shippo doesn't offer a mobile app, and many reviews state that its web app is not mobile-friendly. Plus, its inventory and order management capabilities are limited, leaving users to rely on other connected apps.
Methodology: How We Evaluated Shipping Software for Small Business
We examined a range of popular ecommerce shipping solutions, focusing on essential functions, user-friendly interface, responsive customer support, and additional features that extend beyond basic shipping needs.
To identify the best shipping software specifically for small businesses, we prioritized cost-effectiveness and ease of use. Our team of ecommerce experts also weighed in with their evaluations of each provider.
ShippingEasy came out on top with the highest overall score, earning a 4.2 out of 5. Its economic plan pricing, discounted shipping rates, robust features, and excellent ease of use make it the best choice for online sellers.
Click through the tabs below for our full evaluation criteria:
20% of Overall Score
We assessed pricing by looking at free starter plans and the range of paid options. Providers were also scored on the competitiveness of their pricing and the features available at each tier.
Points were deducted for limitations on lower-level plans. Our recommendations only include providers that support negotiated rates with major carriers and offer significant USPS discounts. Top providers also offer multi-carrier discounts.
20% of Overall Score
We looked at the availability of key functions that maximize efficiency and accessibility for businesses of all sizes. This includes features like batch capabilities, label printing, CSV entry, and peripheral hardware compatibility.
Providers were also evaluated on the number of prebuilt integrations offered, access to an open API, sales channel allowance, and automation capabilities.
20% of Overall Score
This score considered the standard features of each shipping solution—including reporting/analytics, returns management, outbound email notifications, and user management options—and assessed how well they work. Shipping software with robust, well-developed features was awarded the most points.
The best shipping tools are multi-taskers that save you time and money by handling functions outside of shipping management, so we also evaluated each provider on their dropshipping, order management, inventory management, and marketing features.
20% of Overall Score
We evaluated each company for its user interface by considering how intuitively it works, reported uptime, site speed, and the learning curve to start.
We also looked at the amount of learning resources available from each company—including webinars, demo videos, blogs, FAQs, case studies, libraries, guides, calculator tools, and forum activity.
Lastly, customer service accessibility was weighted heavily to provide the best recommendation. We considered hours of availability, contact methods, location of support staff, and quality of service.
20% of Overall Score
This score combined our ecommerce experts' final evaluations of value, ease of use, and stand-out features with scores from real-world users. We combed through thousands of reviews to identify consistent pain points and high-performing features of each tool.
*Percentages of overall score
How to Choose Shipping Software
Step 1: Assess Your Needs
Before diving into your shipping software options, try to get a clear understanding of what your business needs. Every business is unique, and so are its shipping requirements. Here's what to consider:
Business Model: Do you need a shipping solution geared toward standard ecommerce, or a nontraditional model like crowdfunding or dropshipping?
Carrier Selection: Which shipping carriers will you use and compare rates between? Do you ship domestically or internationally?
Peripheral Hardware: Will you need to print shipping labels frequently from your own hardware?
Order Management: How essential are features like batch processing, customizable orders, and returns?
Integrations: Which platforms and tools (such as your ecommerce platform, POS system, and/or inventory management software) will you need your shipping solution to integrate with?
Reports: What kind of reporting and analytics are critical for your business?
Customer Support: How important is it for you to have attentive customer service? Will chat and email support suffice?
Additional Features: Do you need any extra functionalities like marketing and branding tools, shipment tracking, or automation?
Step 2: Set a Budget
Shipping software can come with both one-time costs and recurring monthly fees, so it's crucial to determine how much you're willing to spend. Check your revenue, operational costs, and existing overheads to set a budget. Take into account that most shipping software providers offer significant discounts on standard shipping rates, which could offset the monthly fee.
Step 3: Research Your Options
When evaluating different shipping software providers, consider your budget and business needs as well as specific must-haves—like platform integrations, peripheral hardware compatibility, tracking options, and range of carriers.
Without the features that align with your unique shipping process, your shipping software could compromise your workflow and customer experience. Also be sure to scrutinize any contract terms, hidden fees, or obligations.
Step 5: Finalize Your Shipping Software Choice
After thorough comparison and consideration, make your final choice and initiate the setup process with the provider. This typically includes integrating your other tools, connecting peripheral hardware, transferring data from your previous order management system, and training employees on how to use it.
Small Business Shipping Software Frequently Asked Questions (FAQs)
At its core, shipping software is a solution that enables users to create and print shipping labels from their home, office, or warehouse. Most shipping solutions also include related features to compare rates, manage orders, and generate reports.
---
Shipping software allows ecommerce businesses to efficiently manage shipments by organizing orders, comparing up-to-date rates from multiple carriers, automating tasks, and providing insights.
Plus, you can skip the post office by purchasing and printing labels directly from your computer.
---
Like many ecommerce tools, shipping software is typically available as a SaaS subscription, billed on a monthly basis. The cost varies from free to hundreds of dollars per month, and it usually doesn't require a contract.
The monthly cost of shipping software usually depends on the number of shipping labels and user accounts you need.
---
Bottom Line
Comparing rates among multiple carriers is the only way to ensure you're getting the best shipping cost on every package you send. Using shipping software is the most efficient way to accomplish that—and also manage your shipments, organize orders, track inventory, and more.
Taking all details into account, ShippingEasy is our overall pick for the best shipping software for small business. Its affordable paid plans offer impressive functionality across a host of helpful features—delivering the shipping and order management tools that multichannel sellers need to grow at the best price.