ShipBob Review: Best 3PL & Fulfillment for Small Business
ShipBob is a tech-enabled third-party logistics (3PL) company that provides warehousing, order fulfillment, and shipping solutions for small and midsize businesses.
In our review of the best order fulfillment companies for small businesses, ShipBob topped the list with a score of 4.75 out of 5 based on our evaluation of 23 data points. Its robust software, large global warehouse network, affordable pricing structure, and useful special features make it the best choice for businesses of all sizes and order volume levels.
ShipBob

Overall Score:
4.75
OUT OF
5
RATING CRITERIA

Pricing
5.00
OUT OF
5
Quality/Functionality
5.00
OUT OF
5
Specialty Services
3.95
OUT OF
5
Ease of Use
4.80
OUT OF
5
Expert Score
4.69
OUT OF
5
What We Like
Excellent value: Free order management software, low-cost shipping, and no order minimums or pick and pack fees
Two-day discounted ground shipping anywhere within the continental US and options for same-day delivery
Wide fulfillment network: 23 US and seven international warehouse locations
What's Missing
High storage fees: Not ideal for slow-moving products or businesses with low sale-to-SKU ratios
Cannot fulfill Amazon SFP (Seller-Fulfilled Prime) orders
No refrigeration or frozen warehousing for cold chain compliance
When to Use ShipBob
Ecommerce retailers: ShipBob is our top solution for small business ecommerce fulfillment
Direct-to-consumer (DTC) brands: It has the infrastructure to optimize transit times, shipping costs, and global expansion
Crowdfunding ventures: ShipBob has affordable batch fulfillment programs
Health products, food and beverage, cosmetics, and medical goods: It offers FDA-certified storage and handling
When to Use an Alternative
High-value, heavy, fragile, or oversized products: Red Stag Fulfillment is more economical for special-handling needs
Slow-moving products or businesses with a low sale-to-SKU ratio: ShipMonk's pricing model offers lower shipping costs
Amazon-focused sellers: We recommend FBA or another Prime-eligible provider
ShipBob delivers efficient, affordable fulfillment services with the flexibility that many small businesses need—which is hard to find in a 3PL.
Unlike many competitors, ShipBob makes it possible for startups, crowdfunding ventures, and other nascent or nontraditional operations to access a well-established network of warehouses and logistics solutions. Plus, its platform is built to accommodate growth, so your services and discounts scale in tandem with your store. This makes ShipBob a valuable partner for fast-growing businesses.
The company charges significantly higher storage fees than most providers in its class—so if your store deals in a high SKU volume of slow-moving goods, ShipBob's pricing model isn't for you. ShipBob also can't fulfill Amazon Prime or Seller-Fulfilled Prime (SFP) orders, and it lacks services for products that require special handling (like ammunition or high-value jewelry).
ShipBob Deciding Factors

Supported Business Types

Small to midsize businesses, startups, ecommerce stores, retail stores, DTC sellers, B2B sellers,

crowdfunding ventures

, subscription-box services

Standout Features

Two-day discounted ground shipping anywhere within the continental US plus options for same-day delivery
Free, web-based fulfillment software with inventory management, order management, billing, and reporting/analytics features
99.95% accuracy rate
FDA-certified product storage and handling
Extensive integrations to connect all your other platforms and tools
End-to-end managed freight and inventory distribution program for importers

Minimum Order Requirements

None

Setup and Onboarding Fees

$0 for Growth Plan participants
$975 for standard users

Pricing

Receiving: $25/hour first two hours
Storage: $40 per pallet/month, $10 per shelf/month, or $5 per bin/month
Pick and Pack: $0 for the first 4 picks, 20 cents per additional item
Shipping: Discounted rates available

Contract Length

None

US Warehouse Locations

23

International Warehouse Locations

7

Shipping Partner Options

FedEx, UPS, USPS, DHL, OSM, CDL Last Mile, UDS, LSO, OnTrac, smaller regional carriers

Customer Support

Via chat 6 a.m. - 10 p.m. Central time, 7 days/week
Via phone 9 a.m. - 5 p.m. Central time, Monday–Friday
ShipBob Alternatives
| | | | |
| --- | --- | --- | --- |
| | | | |
| Best for: Oversized, heavy, high-value, or fragile items | Best for: On-demand services, labor, and space for scaling in-house fulfillment | Best for: Multichannel sellers seeking Seller-Fulfilled Prime (SFP) fulfillment | Best for: Amazon sellers |
| Monthly minimum: ≈200 orders | Monthly minimum: None | Monthly minimum: $250 in pick and pack fees | Monthly minimum: None |
| | | | |
Since many fulfillment companies offer pricing on a custom-quoted basis, we couldn't fairly compare the specific costs of each provider. So our evaluation of the top fulfillment companies considered pricing transparency, billing transparency, and billing predictability.
ShipBob excels in these three areas, earning the company a perfect score for the category. Clients' bills are assessed and updated daily, and all charges are visible in a fully itemized format from your dashboard. In the same tab, shipping details can be toggled to estimate variable order costs.
ShipBob charges a single fulfillment fee for each order, which includes pick and pack (up to four items), basic packaging materials, and shipping costs. This straightforward structure lends to high levels of billing predictability.
Service

Cost

What It Covers

Onboarding

$975 for standard service or

$0 on the Growth Plan

Onboarding, account setup, stock migration, and platform integration done by a dedicated 'Implementation Engineer' who stays with you for 30 days

Receiving

$25/hour first two hours, $40/hour following

Inbound stock receipt, unpack, and check-in

Inventory Storage

$40 per pallet/month, $10 per shelf/month, or $5 per bin/month

Climate-controlled storage, security, and inventory management

Fulfillment Fee

Calculated per-package based on weight and shipping distance

Pick and pack, packaging materials, and shipping

Pick and Pack

$0 for the first 4 picks,

20 cents per additional item

Picking items from inventory and packing them for shipment

Packaging Materials

$0

(Included in fulfillment fee)

Free standard boxes, polymailers, bubble mailers, bookfolds, and dunnage

Shipping

Discounted rates available with 5 carrier partners

(Included in fulfillment fee)

Shipping costs vary depending on the size, weight, and destination of your goods

Returns

$3 per order

(plus shipping cost)

Return processing, quality check, and restocking

Special Projects

$45/man hour

Versatile labor to handle open-ended additional needs, such as product labeling and supplier management
ShipBob maintains a focus on the overall quality of its services, achieving an accuracy rate of 99.95%. The company's functionality is also strong; it boasts well-built features that facilitate growth without compromising control, requiring oversight, or forcing users into workarounds.
Click below to expand on the features contributing to ShipBob's Quality & Functionality score.
Fulfillment Software
Every ShipBob account receives free cloud-based software to manage orders and inventory and handle other operations. The software provides visibility into your stock levels across warehouse locations, and reports expected depletions—ensuring sufficient stock to always meet demand. You can also see where each active order is within the facility as it is processed and follow shipment tracking.
Multichannel sellers can manage orders on a unified dashboard or refine reports by channel for further insight.
The billing tab allows you to toggle between shipping carriers and speeds to view different cost options. It also provides a detailed itemization of each cost on your fulfillment invoice—visible down to each item on each order—and is updated daily. This level of billing transparency is the highest in the industry.
---
Fulfillment Network
ShipBob's 23 warehouses positioned across the US allow for practical distribution. Many competing providers, like Red Stag and ShipMonk, have a very limited network of two or three fulfillment centers. ShipBob's wide network allows for generally faster shipping speeds at lower costs.
Clients can store their inventory across as many warehouses as makes logistical sense for their customer base, which gets orders delivered to shoppers as quickly as possible. This includes seven international warehouses for sellers with a global footprint.
ShipBob works with a wide scope of shipping providers—plus smaller regional carriers—to allow for a range of speed, cost, and route options for each order.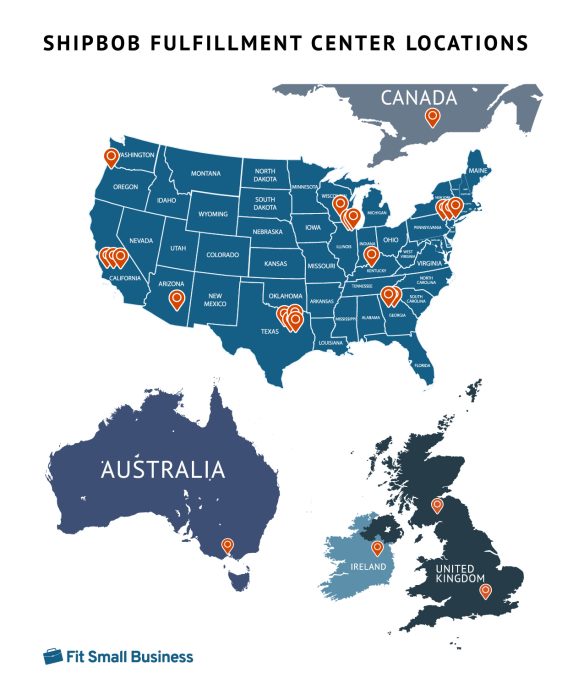 ---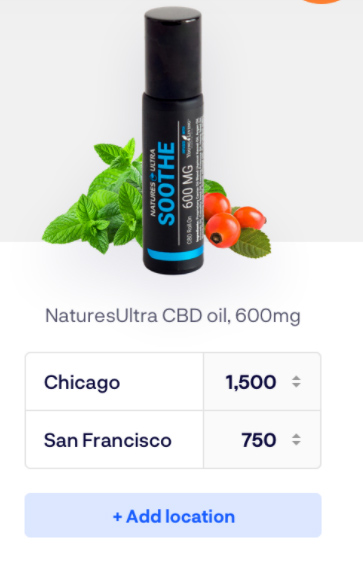 ---
---
Shipping Speed
ShipBob's 2-Day Express Shipping Program leverages ground shipping as an inexpensive alternative to expedited air shipping. When a customer enters their shipping delivery address, the system verifies the ZIP code and the inventory on-hand at the nearest fulfillment center to display the guaranteed "2-Day Express" option.
The company's impressive shipping offers work in tandem with its fast turnaround times. All orders placed before noon are processed and shipped out the same day; later orders are processed the following day. ShipBob also guarantees that inventory shipments will be fully received and processed within five business days of arrival.
---
Reporting & Analytics
ShipBob tracks key metrics and data for each account to offer advanced reporting within its software. This gives business owners insights to help make strategic decisions and promote growth.
Reports can be generated on peak fulfillment times, promotional impact, expense breakdowns, revenue of orders shipped by day, sales by channel, forecasted demand, sales and quantity of orders by zone, and much more.

---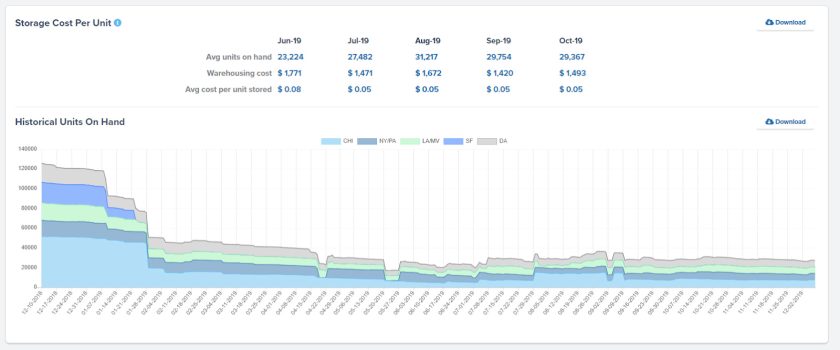 ---
---
Integrations
ShipBob offers some of the best connectivity in its class, delivering pre-built, turnkey integrations with over 85 partners. These direct integrations are free and take only 30 seconds to three minutes to connect, and most are two-way compatible.
The company also offers API capabilities for custom connectivity with platforms it hasn't yet developed turnkey integrations for. This process takes longer and incurs an additional cost.
Here's a current list of ShipBob's available integrations:
Ecommerce platforms and shopping carts: Shopify, Shopify Plus, BigCommerce, WooCommerce, Squarespace, Wix, Square
Online marketplaces: Amazon, Walmart, eBay
Freight and shipping solutions: DHL, FedEx, UPS, USPS, Pachama, ShipStation, Rush, AfterShip, Anvyl, Echo Global Logistics, FlavorCloud, Flexport, Freightos, Route, Shippo
Operations, inventory, and order management: Order Desk, Package Bee, Cin 7, Zentail, Skubana, Inventory Planner, CartRover, SPS Commerce, Brightpearl, Brij, Cogsy, Cimbio, Fulfil.io, Linnworks
Custom packaging and design solutions: Arka, Noissue, Packhelp, Packlane
Returns management: Happy Returns, Loop Returns, Returnly
Accounting, tax, and financing: Avalara, Canusa Logistics, Clearco, DSP Insurance Services, Firstbase.io, Kickfurther, KickPay, Mercury, SimplyVAT, TaxJar, ZonKeepers
Marketing and CRM: CartHook, Checkout Champ, Gorgias, Klaviyo, Octane AI, Okendo, Omnisend, Pagefly, Privy, Recharge, Rise.ai, Sezzle, Simplr, Skio, Smarter, TalentPop, Zaius, Zip
Crowdfunding: BackerKit, Crowd Ox, Wefunder
Branding and web development agencies: adQuadrant, BVAccel, eHouse Studio, Envoy, Eventige, Hawke Media, Priceless Consulting, MuteSix, ROI Revolution
---
Overall, ShipBob's special services and features are generally robust—but its incompatibility with Amazon Prime orders cost the company significantly in this category. Since ShipBob isn't eligible for Seller-Fulfilled Prime (SPF), its users who sell on Amazon must either:
Participate in the Fulfillment By Merchant (FMB) non-Prime program for their Amazon sales
Have ShipBob prep and send a portion of their inventory to FBA, where it can be fulfilled for Prime orders
Beyond this shortfall, ShipBob offers an impressive range of services for importers, startups, omnichannel sellers, and crowdfunding campaigns—plus hard-to-find special features that support traditional ecommerce businesses. ShipBob's specialty services include:
International Fulfillment
ShipBob supports both cross-border shipping and international fulfillment.
Sellers can store their products domestically and use Delivery Duty Paid (or DDP) services that display shipping, tax, and duty costs at checkout—eliminating unexpected fees upon delivery. ShipBob leverages strong partnerships to offer discounted cross-border shipping rates, allowing sellers to reach buyers in other countries.
Alternatively, businesses can opt for localized international fulfillment by storing a percentage of their inventory in any of ShipBob's seven warehouses around the world. This way, most orders don't have to go through cross-border customs or be subject to certain import taxes.
Localized fulfillment can help businesses successfully expand into new foreign markets with fast delivery and low shipping costs. Most small business-friendly 3PLs don't have a global warehouse network to accomplish this, which is why ShipBob is our top pick for international expansion.
---
Startup Growth Plan
Unlike most fulfillment companies, ShipBob is happy to work with businesses of all sizes. Its Growth Plan is designed for nascent operations fulfilling fewer than 400 orders per month, and there's no minimum requirement to enroll.
The self-service platform enables businesses to tailor the company's services to their needs and make adjustments as they scale. Straightforward and detailed resources are provided to help newcomers understand the fulfillment process and make the most of their investment.
ShipBob also offers fulfillment and subscription service programs to suit non-traditional business models.
---
Customization & Branding
ShipBob offers a Customization Suite to create a customer experience that stands out. Businesses can use the services to integrate branding at multiple touchpoints throughout the order and develop a memorable unboxing experience.
ShipBob clients can:
Use custom boxes, mailers, and other shipping supplies
Add marketing inserts to orders
Have customer gift notes printed during packing
Add a business name to shipping labels
Specify how kitted orders should be packed through video instruction
ShipBob can't design or create custom-printed packaging materials, but staff can help you find the right provider through its partner ecosystem. Additionally, users can integrate with third-party solutions like AfterShip to create branded tracking pages. ShipBob can automatically send tracking emails once each order has shipped.
---
Freight Management
ShipBob recently launched FreightBob—an end-to-end managed freight and inventory distribution program for importers, powered by Flexport. ShipBob users that import stock from China can use FreightBob to reduce time-in-transit, lower freight costs, and distribute inventory strategically across ShipBob fulfillment centers.
This program leverages faster ships with priority discharge in LA and Long Beach ports to shorten transit time to 15 to 30 days. Staff books your LCL (less than container-load) freight on 100% guaranteed weekly sailings at highly competitive rates, even for shipments as small as 1 cubic meter. These shipments are able to clear customs during transit as well as skip destination transload and container freight station (CFS) steps—making the journey even faster (and more predictable.)
---
Retail Dropshipping & Distribution
ShipBob delivers EDI compliance and unique programs to support omnichannel sellers through retail dropshipping and B2B distribution.
The company's dropshipping solution enables you to sell products directly on a partnered retailer's online store and have ShipBob fulfill those orders directly to the end customer. This feature can help traditional sellers increase their sales by expanding into stores that work through dropshippers. ShipBob is partnered with dozens of participating retailers, with more benign added each week.
ShipBob's retail distribution solution automates fulfillment of B2B orders coming from wholesale and retail partners. 70+ retailers are currently connected to ShipBob's B2B program, allowing your store to reach new channels.
---
FDA Certification
With climate-controlled facilities and trained handling, ShipBob has received FDA certification for most of its fulfillment centers.
This allows merchants dealing in FDA-regulated goods (like cosmetics, food and beverages, dietary supplements, or medical equipment) to maintain unbroken supply-chain compliance with state and local regulations. Temperature control also works to preserve all sorts of heat-sensitive goods and prevent damage during storage.
---
Warehouse Management Systems (WMS)
In addition to outsourced fulfillment, ShipBob can support in-house fulfillment through full-stack fulfillment and warehouse management software.
The software (called Merchant Plus) gives you ShipBob's proprietary WMS for superior control over your own in-house operation. This solution can replace multiple inventory-, order-, and shipping-management platforms to streamline in-house fulfillment and help businesses scale.
Merchant Plus comes with all of ShipBob's extensive turnkey integrations. It also allows you to leverage ShipBob's global fulfillment network when needed for flexible hybrid fulfillment.
---
ShipBob scored highly in our ease of use category, largely thanks to its user-friendly software and high operational transparency. Here's a summary of the factors we considered:
Support: When first onboarding with ShipBob, you're set up with an implementation team that helps you get everything dialed in—from configuring your shipping options to integrating your online stores. This same level of support is provided by the company throughout your partnership with them, ensuring maximum ease of use and minimal roadblocks.
Accuracy: ShipBob boasts a 99.95% accuracy rate in fulfilling orders, with 99.89% of orders shipping on time.
Error Policies: In the case of operational errors (including picking errors, packaging errors, order swaps, lost inventory, and fulfillment delays), ShipBob will gladly reconcile within 90 days of the issue. Its standard policy is to pay for any necessary shipping and reverse logistics to correct the mistake, or to provide credit up to $100 of the manufacturer's value per order.
Customer Service: Customer service is available by phone 9 a.m.–5 p.m. Monday to Friday, and via live chat from 6 a.m.–10 p.m. Central time seven days a week.
Transparency: ShipBob's software provides visibility into each of your orders by letting you track their progress through the facility. Billing transparency is also provided through detailed, itemized invoices updated daily.
Overall, we find that ShipBob offers an excellent value for small businesses seeking outsourced fulfillment. The company makes enterprise-level order fulfillment and logistics accessible to online stores of all sizes, including startups and nontraditional businesses.
Its robust fulfillment software, wide warehouse network, extensive special services, and high accuracy rates make ShipBob stand out among its competitors.
However, ShipBob's high storage costs take away from its affordability, which is something that must be considered for sellers dealing in large or slow-moving goods. We also factored ShipBob's negative reviews into our Expert Score.
The provider's lack of Amazon Prime-eligible services is another significant drawback. Considering there are roughly 200,000 Amazon sellers throughout the world—and an additional 200 million Prime subscribers—this incompatibility poses a major disadvantage for many potential clients.
What Users Think of ShipBob
Online reviews of ShipBob are mostly favorable—especially on mainstay sites like Trustpilot, where 75% of 500+ users rated their experience as "excellent."
Many reviewers cite their relationship with their account manager, often mentioning them by name and applauding their responsiveness and knowledgeability. Others speak to their experience with ShipBob's software, noting its usefulness in many aspects of their operation. Multiple users shared that the service's two-day express shipping option helped them decrease shopping cart abandonment rates and lower their overall shipping costs.
Reviewers who mention the Growth Plan describe it as somewhat difficult to set up, but worthwhile for its impact on their small businesses.
A very small percentage of ShipBob's Trustpilot reviews are negative, although that number is much higher on certain other sites. Currently on G2, 19 out of 43 reviews give a 1-star rating, citing lost inventory, billing disputes, and use of unreliable couriers.
There has been an uptick of negative ShipBob reviews in recent months, with users reporting excessive fees and unmet service level agreements (SLAs) regarding issue resolution. A large portion of these complaints came from clients in Australia and Europe.
Trustpilot: 4.3-star rating from 500+ reviews
Shopify App Store: 4.3-star rating from about 100 reviews
G2: 2.6-star rating from about 40 reviews
PROS

CONS

Responsive support from dedicated account representative
Inventory losses
Ease of use and simple onboarding
Customer support issues
Software functionality and interface
Billing discrepancies
Low shipping costs
Excessive fees
Methodology: How We Evaluated ShipBob
To evaluate ShipBob and all 3PLs, we considered the factors that matter most to small retail and ecommerce businesses. We started by researching the provider through third-party reviews, user ratings, relevant articles, and the company's own content.
For information we can't find online, we reached out to the company as potential customers rather than reporters. We also personally assessed ShipBob's fulfillment software, client support services, and overall ease of use.
We then evaluated ShipBob on a 23-point scale shaped by industry experience, reader surveys, and competing providers' attributes. Our criteria weighs functionality, scalability, and transparency throughout a range of processes.
30% of Overall Score
We evaluated the quality of service and functionality of each company by weighing critical details like order turnaround time, shipping partner options, size of fulfillment center network, and accuracy rate. We also considered how each service integrates with ecommerce shopping carts, marketplaces, operational tools, and solution providers that your online store may use.
ShipBob earned perfect marks in this category, scoring points for its wide fulfillment network, extensive integrations, and overall speed.
20% of Overall Score
Many fulfillment companies offer pricing on a custom-quoted basis. We assert that it's better to openly publish pricing. This eliminates the need for potential clients to contact each company for a quote—potentially wasting both parties' time—and promotes general transparency.
Since we can't fairly compare the specific costs of each provider, this category examines the providers' pricing transparency, billing transparency, and billing predictability.
ShipBob has a predictable pricing structure, and the company is highly transparent with its pricing and billing, which earned it a perfect score here.
15% of Overall Score
This score considered customer service accessibility—prioritizing companies that provide a dedicated service rep for each client and weighing their support center's hours of availability.
Each service was also evaluated for software usability and operational transparency. Companies were awarded points for having highly functional software that allows users to see where each order is within the fulfillment process and warehouse space.
Lastly, order minimums and service scalability were weighted heavily to provide the best recommendation for small businesses that need a fulfillment partner that can grow with them.
ShipBob earned points for its extended customer service hours, but providers with 24/7 service scored higher. We also awarded points for ShipBob's accessibility to startups, robust fulfillment platform, and ability to support growth.
15% of Overall Score
We awarded points for the availability of special services like climate control, international shipping, custom packaging elements, and different types of assembly. Being crucial to ecommerce operations, return handling and reporting/analytics were prioritized. Lastly, we assessed whether each company was eligible to fulfill Amazon Prime or SFP (Seller-Fulfilled Prime) orders.
ShipBob was docked for its incompatibility with SFP orders, but earned points for its wide range of other specialty services.
20% of Overall Score
This score combined our retail and ecommerce experts' final evaluation of value, ease of use, and standout features with scores from real-world users on trusted third-party review sites
ShipBob has its fair share of negative reviews, which cost the provider points in this category. We gave it high marks for its overall value, ease of use, and impressive specialty services.
*Percentages of overall score
ShipBob Frequently Asked Questions (FAQ)
Who Should Use ShipBob?
ShipBob is designed for small to midsize businesses that sell physical products. You may be a good candidate for ShipBob if your store processes more orders than you can—or want to—fulfill on your own. It's also a good fit for businesses that want to expand internationally or offer affordable, fast shipping options.
The company specializes in DTC ecommerce sales, but works with brick-and-mortar retailers and B2B sellers as well. Non-traditional businesses—like crowdfunding ventures and dropshipping suppliers—can also use ShipBob's services.
---
When Should I Use a ShipBob Alternative?
ShipBob is not well-suited for Amazon sellers who rely on the Prime badge to stay competitive. Since the company isn't Seller-Fulfilled Prime (SFP) -eligible, you would need to either lose your Prime designation or use FBA in tandem with ShipBob. Ultimately, an alternative like ShipMonk or FBA is a better option if you need Amazon Prime eligibility.
Sellers dealing in products that require special handling should also seek an alternative fulfillment solution. ShipBob doesn't offer liability insurance, services for goods like ammunition, or economical storage for oversized goods. We recommend Red Stag Fulfillment for these needs.
---
Bottom Line
Simple pricing, useful special services, and a large global footprint make ShipBob a good choice for most small businesses. It provides tools to promote growth while efficiently serving existing customers.
We recommend evaluating multiple options to ensure a good match between you and your fulfillment provider.
If you're still unsure whether ShipBob is right for you, broker sites, such as WarehousingAndFulfillment.com, compare your specific needs to 500+ pre-screened companies to find the best fit for your business. Plus, the service is completely free to use.
Visit WarehousingAndFulfillment.com
You May Also Like…