ShipBob Review 2023: Best Order Fulfillment for SMBs
ShipBob is a tech-enabled third-party logistics (3PL) company that provides warehousing, order fulfillment, and shipping solutions for small and midsize businesses (SMBs).
In our review of the best order fulfillment companies for small businesses, ShipBob topped the list with a score of 4.47 out of 5 based on our evaluation of 23 data points. Its robust software, large global warehouse network, affordable pricing structure, and useful special features make it the best choice for businesses of all sizes and order volume levels.

Pros
Wide, global fulfillment network
Special services for startups, importers, dropshippers, and 3PLs
Robust customization and branding options
Cons
High storage fees
Cannot fulfill Amazon Seller Fulfilled Prime (SFP) orders
Minimum usage fee requirements
Supported Business Types

Ecommerce sellers, retail stores, small to midsize businesses, startups, DTC sellers, B2B sellers, dropshippers, subscription box services, and 3PL companies

Standout Features

Two-day discounted ground shipping anywhere within the continental US plus options for same-day delivery
Free, web-based order fulfillment and shipping software with inventory management, order management, billing, and reporting/analytics features
99.95% accuracy rate
Extensive integrations to connect all your other platforms and tools
End-to-end managed freight and inventory distribution program for importers
Retail dropshipping program to reach new customer bases
Extensive customization and branding options

Minimum Requirements

$250 monthly usage

Setup and Onboarding Fees

$0 on the Growth Plan for self-onboarding (with option to pay for premium onboarding)
$975 for full implementation package

ShipBob Pricing

Receiving: $35 per hour for first two hours and $45 per hour following
Storage: $40 per pallet, per month; $10 per shelf, per month; or $5 per bin, per month
Pick and Pack: $0 for the first 4 picks, 25 cents per additional pick
Shipping: Discounted rates available

Contract Length

None

US Warehouse Locations

35+

International Warehouse Locations

8

Shipping Partner Options

FedEx, UPS, US Postal Service (USPS), DHL, OSM, CDL Last Mile, UDS, LSO, OnTrac, and smaller regional carriers

Customer Support

Via chat 6 a.m. to 10 p.m. Central time, 7 days per week
Via phone 9 a.m. to 5 p.m. CT, Monday to Friday
Best For

Minimum Monthly Requirement

US Warehouse Locations

Error Rate

Read Full Review

Oversized, heavy, hazardous, high-value, or fragile items

~200 orders

2

0.02%

On-demand services, labor, and space for scaling in-house fulfillment

None

9

<1%

Amazon fulfillment for small and manageable goods

None

110

Undisclosed (reportedly 1% to 1.25%)

Crowdfunding fulfillment and subscription box management

$250 monthly spend

8

1%

Selling on competitive marketplace such as Walmart, Amazon and Wish

None

40+

Undisclosed

N/A
When to Use ShipBob
Ecommerce retailers: ShipBob is our top solution for small business ecommerce fulfillment.
Direct-to-consumer (DTC) brands: It has the infrastructure to optimize transit times, shipping costs, and global expansion.
Business-to-business (B2B) sellers: ShipBob's B2B program offers a simplified pricing structure and electronic data interchange (EDI)-compliant integrations with a wide range of retailers.
Startups and growing businesses: The company's "Growth Plan" is available with no minimum order volume requirements and useful tools for scaling.
When to Use a ShipBob Alternative
High-value, heavy, fragile, or oversized products: Red Stag Fulfillment is more economical for special-handling needs.
Slow-moving products or businesses with a low sale-to-stock keeping unit (SKU) ratio: ShipMonk's pricing model offers lower storage costs.
Amazon-focused sellers: We recommend FBA over ShipBob—or another Prime-eligible provider, such as ShipMonk.
Since many fulfillment companies use custom quotes, we evaluated them based on pricing and billing transparency, as well as billing predictability. ShipBob pricing excels in billing transparency with daily, itemized updates on client dashboards. Its straightforward fulfillment costs and shipping tools also enhance billing predictability. However, it lost points for recent reports of overcharges and hidden fees.
ShipBob Pricing Itemized
Service

Cost

What It Covers

Onboarding

$975 for full implementation package or

$0 on the Growth Plan for self-onboarding

Onboarding, account setup, stock migration, and platform integration done by a dedicated implementation specialist who stays with you for 30 days

Receiving

$35 per hour first two hours and $50 per hour following

Inbound stock receipt, unpack, and check-in

Inventory Storage

$40 per pallet, per month; $10 per shelf, per month; or $5 per bin, per month

Storage, security, space optimization, and inventory management

Fulfillment Fee

Calculated per package based on weight and shipping distance

Pick and pack, packaging materials, and shipping

Pick and Pack

$0 for the first 4 picks,

50 cents per additional pick

Picking items from inventory and packing them for shipment

Packaging Materials

$0

(Included in fulfillment fee)

Free standard boxes, poly mailers, bubble mailers, book folds, and dunnage

Shipping

Discounted rates available with 5 carrier partners

(included in fulfillment fee)

Shipping costs vary depending on the size, weight, and destination of your goods

Returns

$3 per order

(plus shipping cost)

Return processing, quality check, and restocking

Special Projects

$45 per man hour

Versatile labor to handle open-ended additional needs, such as product labeling and supplier management
ShipBob provides high-quality services with an impressive accuracy rate of 99.95%—translating to roughly one error in every 2,000 orders. The company's functionality is also strong; it boasts well-built features that facilitate growth without compromising control, requiring oversight, or forcing users into workarounds.
Click below to expand on the features contributing to ShipBob's Quality & Functionality score.
Every ShipBob account comes with free cloud-based software for managing orders, inventory, and other operations. The software gives you real-time stock levels across warehouses and forecasts depletions. You can track each active order's status and shipment.
The billing tab lets you compare shipping costs and provides daily-updated, detailed invoices, and a unified dashboard offers comprehensive reports by channel for multichannel sellers.
ShipBob's software simplifies managing returns and refunds and integrates with top ecommerce returns platforms like Happy Returns and Returnly.
---
ShipBob has 35+ warehouses positioned across the US, and its network is still growing. Many competing providers, such as Red Stag and ShipHero, have a limited network of five or fewer fulfillment centers. ShipBob's wide network allows for practical inventory distribution, which gives you faster shipping speeds at lower costs.
Clients can store their inventory across as many warehouses as makes logistical sense for their customer base, which gets orders delivered to shoppers as quickly as possible. This includes eight international warehouses for sellers with a global footprint.
ShipBob works with a wide scope of shipping providers—plus smaller regional carriers—to allow for a range of speed, cost, and route options for each order.
---
ShipBob's 2-Day Express Shipping Program relies on a proprietary algorithm that uses a combination of ground, air, and regional carriers to provide high on-time delivery rates for two-day orders, while still being a cost-effective solution.
The company's impressive shipping offers work in tandem with its fast turnaround times. All orders placed before noon are processed and shipped out the same day; later orders are processed the following day. ShipBob also guarantees that inventory shipments will be fully received and processed within five business days of arrival.
ShipBob measures and publishes data on its shipping speeds on the ShipBob Status page, where you can see weekly insights on carrier performance, receiving times, and more.
---
ShipBob tracks key metrics and data for each account to offer advanced reporting within its software. This gives business owners insights to help make strategic decisions and promote growth.
Reports can be generated on peak fulfillment times, promotional impact, expense breakdowns, revenue of orders shipped by day, sales by channel, forecasted demand, sales and quantity of orders by zone, and much more.

---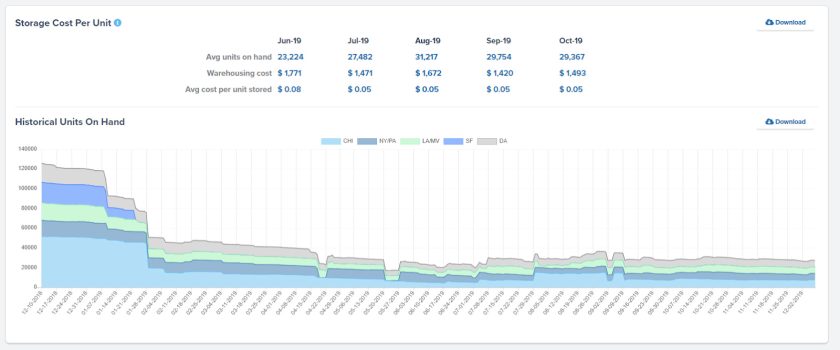 ---
---
ShipBob offers some of the best connectivity in its class, delivering prebuilt, turnkey integrations with over 75 partners. These direct integrations are free and take only 30 seconds to three minutes to connect, and most are two-way compatible.
The company also offers application programming interface (API) capabilities for custom connectivity with platforms it hasn't yet developed turnkey integrations for. This process takes longer and incurs an additional cost.
Here's a current list of ShipBob's available integrations:
Ecommerce platforms and marketplaces: Shopify, Shopify Plus, Amazon, BigCommerce, eBay, Magento, Squarespace, Square, Walmart, Wix, WooCommerce, and NetSuite
Operations, inventory, and order management: Brightpearl, Brij, ChannelApe, Cin7, Cogsy, Cymbio, Fulfil.io, Inventory Planner, Linnworks, Logicbroker, Order Desk, PackageBee, Shypyard, Skubana, SPS Commerce, and Zentail
Returns management platforms: Happy Returns, Loop Returns, Returnly
Freight and shipping solutions: DHL, FedEx, UPS, USPS, AfterShip, Anvyl, Echo Global Logistics, EasyPost, FlavorCloud, Flexport, Freightos, Route, Rush, Shippo, and ShipStation
Ecommerce marketing, customer relationship management (CRM), and customer support: CartHook, CheckoutChamp, EcoCart, Gorgias, Klaviyo, OctaneAI, Okendo, Omnisend, Ordergroove, PageFly, Privy, Quartile, Recharge, Rise.ai, Sezzle, Shop Circle, Simplr, Skio, Smartrr, TalentPop, Tydo, Zaius, and Zip
Custom packaging and design solutions: Arka, Noissue, Packhelp, and Packlane
Branding, marketing, and web development agencies: adQuadrant, Blanka, BVACCEL, eHouse Studio, Envoy, Eventige, Hawke Media, Priceless Consulting, The Stable, MuteSix, ROI Revolution, and SeaMonster Studios
Accounting, tax, and financing: Avalara, Avask, Bookkeeper360, Canusa Logistics, Clearco, DSP Insurance Services, Firstbase.io, Go Global Ecommerce, Kickfurther, Mercury, OFX, Rho, SimplyVAT, TaxJar, and ZonKeepers
---
Overall, ShipBob offers a robust range of special services and features, but its inability to handle Amazon Prime orders is a significant drawback. If you're a ShipBob user who also sells on Amazon, you have two options: either enroll in Amazon's Fulfillment By Merchant (FMB) non-Prime program or use ShipBob to prep and send some of your inventory to Amazon's Fulfillment By Amazon (FBA) for Prime orders.
Beyond this shortfall, ShipBob offers an impressive range of services for importers, startups, omnichannel sellers, and dropshippers—plus hard-to-find special features that support traditional ecommerce businesses. ShipBob's specialty services include:
ShipBob supports both cross-border shipping and international fulfillment.
Sellers can use Delivery Duty Paid (DDP) services to show all costs at checkout, avoiding unexpected fees for customers. Plus, ShipBob's partnerships offer discounted cross-border rates for international reach.
Businesses can also choose localized fulfillment by storing inventory in ShipBob's eight non-US warehouses, bypassing customs and import taxes. This allows for quick, cost-effective expansion into foreign markets—a feature most small business-friendly 3PLs lack, making ShipBob our top choice for international growth.
---
Unlike most fulfillment companies, ShipBob is happy to work with businesses of all sizes. Its Growth Plan is designed for young or small-scale operations fulfilling fewer than 400 orders per month, and there's no order volume requirement to enroll.
The Growth Plan is a self-service platform that enables businesses to tailor ShipBob's services to their needs and make adjustments as they scale. Straightforward and detailed resources are provided to help newcomers understand the fulfillment process and make the most of their investment.
---
ShipBob offers a Customization Suite to create a customer experience that stands out. Businesses can use the services to integrate branding at multiple touchpoints throughout the order and develop a memorable unboxing experience.
ShipBob clients can:
Use custom boxes, mailers, and other shipping supplies
Add marketing inserts to orders
Have customer gift notes printed during packing
Add a business name to shipping labels
Specify how kitted orders should be packed through video instruction
ShipBob can't design or create custom-printed packaging materials, but staff can help you find the right provider through its partner ecosystem. Additionally, users can integrate with third-party solutions like AfterShip to create branded tracking pages. ShipBob can automatically send tracking emails once each order has shipped.
---
ShipBob also offers FreightBob—an end-to-end managed freight and inventory distribution program for importers, powered by Flexport. ShipBob users that import stock from China can use FreightBob to reduce time-in-transit, lower freight costs, and distribute inventory strategically across ShipBob fulfillment centers.
This program leverages faster ships with priority discharge in Los Angeles and Long Beach, California, ports to shorten transit time to 15 to 30 days. Staff books your less than container-load (LCL) freight on 100% guaranteed weekly sailings at highly competitive rates, even for shipments as small as 1 cubic meter. These shipments can clear customs during transit as well as skip destination transload and container freight station (CFS) steps—making the journey even faster (and more predictable).
---
ShipBob delivers EDI compliance and unique programs to support omnichannel sellers through retail dropshipping and B2B distribution.
The company's dropshipping solution enables you to sell products directly on a partnered retailer's online store and have ShipBob fulfill those orders directly to the end customer. This feature can help traditional sellers increase their sales by expanding into stores that work through dropshippers. ShipBob is partnered with dozens of participating retailers, with more being added each week.
ShipBob's retail distribution solution automates fulfillment of B2B orders coming from wholesale and retail partners. 70-plus retailers are currently connected to ShipBob's B2B program, allowing your store to reach new channels.
---
In addition to outsourced fulfillment, ShipBob can support in-house fulfillment through full-stack fulfillment and warehouse management software.
The software (called Merchant Plus) gives you ShipBob's proprietary WMS for superior control over your own in-house operation. This solution can replace multiple inventory-, order-, and shipping-management platforms to streamline in-house fulfillment and help businesses scale.
Here's an overview of the key features of ShipBob's Merchant Plus WMS:
Unified Platform: ShipBob's cloud-based WMS handles operations at one or multiple warehouses for efficient multi-location fulfillment.
Inventory, Orders, and Transportation: Improve inventory accuracy with features like image uploads and location-specific visibility. You can also monitor fulfillment metrics and optimize transportation routes and carrier selection for cost-effective shipping.
Efficient Pick and Pack: ShipBob WMS includes the ToolBob app for mobile picking, offering flexible batch, auto-cluster, custom cluster, and single-order picking options, plus cycle counting features and simplified training for new employees.
Seamless Integrations: Connect with major ecommerce platforms and marketplaces, B2B, EDI integrations, and custom solutions through the developer API.
Onboarding and Support: ShipBob's smooth onboarding process includes virtual or on-site implementation, warehouse efficiency consultations, dedicated account managers, and ongoing support.
Optimize Your Footprint: ShipBob's WMS provides a blended fulfillment option to maximize efficiency as you scale. Access additional capacity across 40+ warehouses in the US, Europe, Australia, and Canada to test new global markets, avoid stockouts, and reduce shipping costs.
Real-time Inventory Management: Easily find any order, make post-purchase changes, and automatically share tracking information with your customers with the WMS.
Reporting and Analytics: Built-in reporting and advanced analytics, such as fulfillment performance, transit times, and billing breakdowns, help gain insight into your operation.
---
ShipBob scored highly in our ease of use category, largely thanks to its user-friendly software and high operational transparency. Here's a summary of the factors we considered:
Onboarding: When onboarding with ShipBob, you're set up with an implementation team that helps you get everything dialed in—from configuring your shipping options to integrating your online stores.
Accuracy: ShipBob boasts a 99.95% accuracy rate in fulfilling orders, with 99.89% of orders shipping on time.
Error policies: In the case of operational errors, including picking errors, packaging errors, order swaps, lost inventory, and fulfillment delays, ShipBob will reconcile within 90 days of the issue. Its standard policy is to pay for any necessary shipping and reverse logistics to correct the mistake or to provide credit up to $100 of the manufacturer's value per order.
Customer service: Customer service is available by phone from 9 a.m. to 5 p.m. Central time Monday to Friday, and via live chat from 6 a.m. to 10 p.m. CT, seven days a week.
Transparency: ShipBob's software provides visibility into each of your orders by letting you track their progress through the facility. Billing transparency is also provided through detailed, itemized invoices updated daily.
Overall, we find that ShipBob offers good value for small businesses seeking outsourced fulfillment. The company makes enterprise-level order fulfillment and logistics accessible to online stores of all sizes, including startups and nontraditional businesses.
Its robust fulfillment software, wide warehouse network, unique special services, and high accuracy rates make ShipBob stand out among its competitors.
However, ShipBob's high storage costs take away from its affordability, which is something that must be considered for sellers dealing in large or slow-moving goods. We also factored in negative ShipBob reviews, which have increased in recent months.
What Users Say in ShipBob Reviews
ShipBob reviews are notably polarized, featuring both glowing 5-star testimonials and critical 1-star ratings.
Positive feedback often highlights excellent customer service, with many reviewers praising specific employees for their responsiveness and expertise. Users also appreciate the utility of ShipBob's software for their operations and commend its two-day express shipping for reducing cart abandonment and overall shipping costs. Some find the Growth Plan challenging to set up but ultimately beneficial for their small businesses.
Conversely, negative ShipBob reviews frequently cite operational issues such as delayed orders, mislabeled shipments, and mishandled products. Some reviewers complain about ShipBob employees using oversized packaging, leading to excessive shipping fees, while others mention overcharges and hidden costs. Poor customer service is also a recurring theme in the less favorable reviews.
ShipBob has also recently faced backlash on social media amid accusations that the company—and other venture capital-backed 3PLs—is responsible for severe overcharges, frequent mistakes, and holding inventory "hostage."
Trustpilot: 3.8-star rating from 600-plus reviews
Shopify App Store: 3.9-star rating from about 175 reviews
G2: 3.6-star rating from about 100 reviews
ShipBob Users Like

ShipBob Users Don't Like

Responsive support from dedicated account representative
Inventory losses
Ease of use and simple onboarding
Customer support issues
Software functionality and interface
Billing discrepancies
Low shipping costs
Unmet service-level agreements (SLAs)
Methodology: How We Evaluated ShipBob
To evaluate ShipBob and other fulfillment services, we consider the factors that matter most to small retail and ecommerce businesses.
We evaluate each provider on a 23-point scale shaped by industry experience, reader surveys, and competing providers' attributes. Our criteria weighs functionality, scalability, and transparency throughout a range of processes.
30%
Quality/Functionality
20% of Overall Score
This category examines the providers' pricing transparency, billing transparency, and billing predictability.
ShipBob pricing has a straightforward structure and an easy-to-use billing portal that provides high levels of transparency. However, customer reports of hidden fees and overcharges brought its score for this category down to 4.88 out of 5.
30% of Overall Score
We assessed each company's service quality and functionality, focusing on order speed, shipping options, network size, and accuracy. We also looked at integration with ecommerce tools and platforms.
ShipBob excelled in this category, earning a 5 out of 5 score for its broad network, numerous integrations, and speed.
15% of Overall Score
This score considered customer service accessibility, software usability, and operational transparency. Special emphasis was placed on order minimums and scalability to best serve growing small businesses.
ShipBob gained points for extended customer service hours but lagged behind 24/7 providers. It also scored for startup accessibility, platform robustness, and growth support, but lost points for minimum usage requirements, finishing with a score of 4.23 out of 5.
15% of Overall Score
We awarded points here for perks like climate control, global shipping, and custom packaging, as well as different types of assembly and reporting/analytics. We also assessed returns handling and Amazon Prime eligibility.
ShipBob was docked for its incompatibility with SFP orders and lack of climate control, but earned points for its wide range of other specialty services, earning a final score of 3.25 out of 5.
20% of Overall Score
This score combined our retail and ecommerce experts' final evaluation of value, ease of use, and standout features with scores from real-world users on trusted third-party review sites
There are a decent number of negative ShipBob reviews, which cost the provider points in this category. We gave it high marks for its overall value, ease of use, and impressive specialty services, totaling 4.38 out of 5 points.
*Percentages of overall score
ShipBob Review Frequently Asked Questions (FAQs)
ShipBob provides third-party distribution and order fulfillment services for retail businesses, including ecommerce brands, B2B sellers, subscription box companies, and dropshippers.
When businesses have too many orders to fulfill themselves, they can hire ShipBob to handle their inventory storage, order processing, packaging, and delivery. ShipBob also provides freight management services for importers as well as WMS software for other 3PLs.
---
ShipBob's biggest competitors are Amazon FBA and ShipMonk. These companies are frequently compared to ShipBob because they use a similar infrastructure and offer similar order fulfillment services geared toward ecommerce sellers. Other competitors include Red Stag Fulfillment, ShipHero, and Deliverr.
---
ShipBob charges an all-inclusive fulfillment fee that includes pick & pack, packaging materials, and shipping. Other services are charged additionally. Storage starts at $5 per bin/month, and receiving costs $35 per hour. You may also incur charges for onboarding, returns management, and special projects.
Overall, ShipBob is an affordable 3PL for most small businesses, but it charges higher storage rates than many competitors. For this reason, it may be more expensive for large or slow-moving goods.
---
ShipBob is designed for SMBs that sell physical products. You may be a good candidate for ShipBob if your store processes more orders than you can—or want to—fulfill on your own. It's also a good fit for businesses that want to expand internationally or offer affordable, fast shipping options.
The company specializes in DTC ecommerce sales but works with brick-and-mortar retailers and B2B sellers as well.
---
ShipBob may not be the best fit for Amazon sellers who depend on the Prime badge for competitiveness. Because it's not eligible for Amazon's Seller-Fulfilled Prime, you'd have to forgo your Prime status or use Amazon's Fulfillment By Amazon alongside ShipBob. In such cases, alternatives like ShipMonk or FBA are more advisable.Additionally, if you sell products that need special handling, ShipBob isn't ideal as it lacks liability insurance and specific services for items like ammunition or oversized goods. For those specialized needs, we recommend Red Stag Fulfillment.
---
Bottom Line
Simple pricing, useful special services, and a large global footprint make ShipBob a good choice for most small businesses. It provides tools to promote growth while efficiently serving existing customers.
We recommend evaluating multiple options to ensure a good match between you and your fulfillment provider.
If you're still unsure whether ShipBob is right for you, broker sites, such as WarehousingAndFulfillment.com, compare your specific needs to 500-plus prescreened companies to find the best fit for your business. Plus, the service is completely free to use.