Fulfillment companies handle inventory, order processing, and shipping functions for other businesses. Handing these daily tasks over to a fulfillment partner lets you focus on marketing, product development, and other growth drivers. This solution is popular with ecommerce sellers, as well as wholesalers, manufacturers, and more. Here's how fulfillment companies work and what they can do for you.
What Order Fulfillment Companies Do: A 5-Step Overview
As a core service, fulfillment companies receive your stock, organize and store it, then pack and ship your orders for you. It's one step in the four elements of logistics management. Of course, there's a bit more to the whole process of order fulfillment, but that's it in a nutshell. Here's a 5-step overview of how most fulfillment companies work, and what you get for your fulfillment fees.
1. Inventory is Delivered to Your Fulfillment Company
The first step in working with a fulfillment company is getting your inventory to them. How this happens depends on where your stock originates. For example, if you don't have inventory of your own to fulfill, that's one of the differences between drop shipping vs order fulfillment, so you won't need an order fulfillment company.
If you purchase good for resale, then you simply have your supplier or manufacturer ship all inventory orders to your fulfillment center. When a stock shipment is en route, you'll forward the details of the shipment to your fulfillment company, such as goods in the shipment, quantities, whether they're new products or restock items, and so on. Often, your purchase order or your supplier's order confirmation is all the fulfillment center needs to properly receive the shipment.
If you manufacture goods in your own facility, you'll ship stock to your fulfillment company yourself, via truck freight or parcel shippers like UPS or FedEx, but the process is the same. You notify your fulfillment company of the inbound shipment, give them the shipment details, and they take it from there when the stock arrives.
Once the fulfillment company receives your goods, the real magic begins.
2. Your Fulfillment Company Receives, Sorts & Stores Your Stock
Fulfillment companies receive your inventory shipments in much the same way any ecommerce warehouse or retail store receives inventory.
Using the shipment detailed you provided them, your fulfillment company will sort and check in your stock, then tag or label it to work within their inventory tracking system. If they discover missing or damaged inventory upon check-in, they document the shortage or damage and notify you immediately. From there, you'll need to work with your supplier or shipping company to remedy the problem and be credited or refunded for damaged or lost goods.
Most fulfillment companies use an internal SKU number system with barcode labels and scanners to track the location and quantities of goods in their warehouse. Some fulfillment companies will generate their own SKUs and relabel your goods. Others will use your existing numbering system. This is something you work out with them when you come on board as a new client.
After check-in and needed labeling, your goods move to storage. Most fulfillment companies store a portion of your products near their packing area for quick picking for orders. The rest of your goods are held in bulk storage deeper in the warehouse.
Your fulfillment company will track your sales volumes over time and judge how much of each product needs to be stored in each area. They'll even use this data to help you better forecast your inventory purchases. Remember, your fulfillment company is your partner, not just a service vendor. They have an interest in seeing you succeed and grow and will provide any sales or inventory data you need to make sound purchasing decisions.
3. Customer Orders Route to Your Fulfillment Company
Once your inventory is safely delivered to, received by, and stored with your fulfillment company, they're now ready to process your customers' orders.
Most fulfillment companies are adept at connecting their internal system to your ecommerce store, retail point-of-sale (POS), or other order management system, which is part of the reason so many businesses manage ecommerce orders with fulfillment companies. If you don't have an order receiving system in place, they can provide an online portal for manual order entry by you or your staff. Some fulfillment partners will even take care of this task for you or will accept your orders via phone or email.
Here's a closer look at how most fulfillment companies receive your customer orders for shipping.
Complete Integration
Complete integration with your POS system, ecommerce platform, or order management software is the best way for your business to relay orders to a fulfillment company. This level of integration automatically routes orders for fulfillment into your the fulfillment company's system. This ensures they receive the information needed to fill and ship each order, including:
Customer name
Customer mailing information
Product(s) ordered, quantities, and other variables (like Size or Color)
Special Instructions (delivery instructions, gift wrap, etc.)
Shipping method
Using complete integration, your fulfillment company can receive the order as soon as it's placed by your customer. Orders don't have to be delayed waiting for you or your staff to receive, review, and forward orders for to your fulfillment company for shipping. Complete integration is quick, tidy, and completely seamless. Best of all, many fulfillment companies provide this level of connectivity for free since it makes every aspect run better.
For businesses that use a fulfillment company to ship certain products but not others, these specifications can be automated as well. So orders can easily be split, with one product shipping by your fulfillment company and the other from your warehouse.
Complete integration is common between most fulfillment companies and top ecommerce platforms like Shopify, POS systems like Lightspeed, and order management systems like Ordoro. Since integration is a big part of an efficient operation, most fulfillment companies heavily promote this capability. When shopping for a fulfillment partner, it's easy to see if certain fulfillment companies integrate with top systems
For example, Red Stag Fulfillment, a company that specializes in shipping large, heavy, and valuable items, directly integrates with quite a few top ecommerce and order management platforms: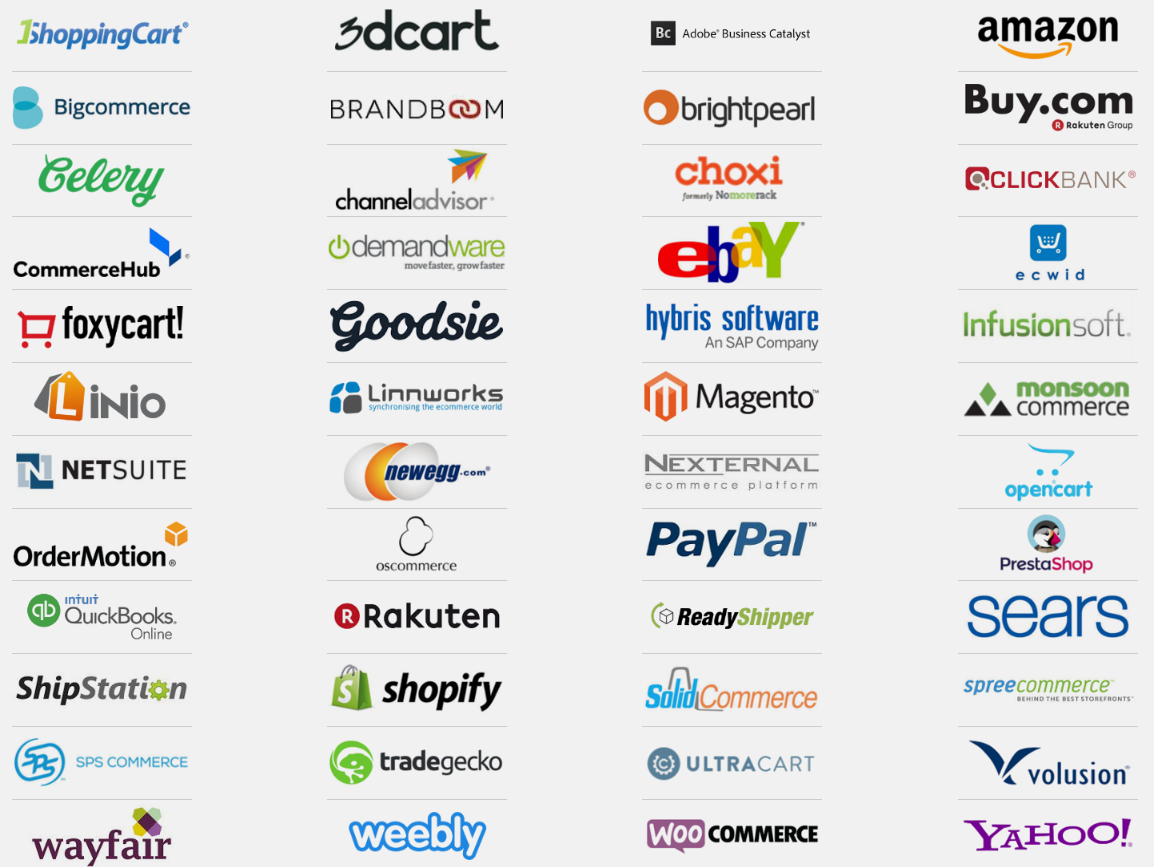 Since ecommerce shoppers expect fast deliveries (thank you, Amazon), integrating your sales channels to your fulfillment company is a real plus that keeps your orders shipping out like clockwork.
Bulk Orders Via CSV
If your fulfillment company doesn't fully integrate with the system you use, you can send orders to your fulfillment company using a CSV file. CSV stands for comma-separated values which is a universal data format that most systems recognize. Virtually every spreadsheet program, POS system, ecommerce platform, and order management tool allows you to save your order data in a CSV file.
Most fulfillment companies have either a client portal to upload your CSV file or an account representative who can take care of CSV entry for you. Depending on your sales volume, you may need to upload orders daily, multiple times per day, or even just a few times each week. The CSV file method takes more staff time and attention than the complete integration option discussed above. But once the process is set up, it's not hard to add it to your daily workflow.
Manual Order Entry
Most fulfillment company client portals also have a screen for manual order input. This is the least efficient way to enter orders and is very prone to mistakes since you're either typing or copying-pasting information into the screen. The manual order entry option is good for companies that don't rely on technology to run their business. It's also handy for entering phone orders, shipping sample requests, or handling other special order needs that don't originate from your website, POS, or other systems.
4. Pick, Pack & Ship
Once your fulfillment company receives customer orders, they'll process the orders for shipment and get them on their way to your customers. This process is commonly called pick, pack, and ship. Here's how each step works in detail.
Picking Products
During the picking step, fulfillment company staff picks ordered items from inventory. As mentioned above, ordered items are usually picked from bins or storage areas near the packing station for efficiency. Once picked, staff scans or checks the products against the order for accuracy then moves picked items to the packing areas to prepare shipments.
Packing Orders
In packing, staff again compare the picked items to the order to ensure accuracy, then pack products as required. Fulfillment companies usually designate specific shipping boxes, mailers, and packing materials to ensure safe delivery of your items. They can even help you develop customized packaging for a branded unboxing experience or assemble several products into a packaged group, which is called kitting.
However your products are to be packaged for shipping, that all happens in this step. Then packing staff completes this step by inserting any order receipts, gift receipts, return labels, and/or inserts needed.
Shipping Parcels
Once packed, fulfillment company staff seals boxes, weighs orders, and labels them for shipment. If your customer picked a specific shipping method or carrier, that is how the order will be shipped. If not, fulfillment companies will rate-shop to find the lowest rate and reasonable delivery time for each order. That helps cut your shipping costs while keeping customers happy with quick deliveries. Remember, fulfillment companies usually ship in great volume with all carriers, so you'll enjoy far lower shipping rates than you'd get shipping on your own.
Once shipped, your fulfillment company will update the order status to your ecommerce platform, POS, or order management system. You can even set up an automatic email notification that sends shipping information to your customer so they can track the status of their delivery.
Upon arrival of your product, the process is complete. Unless, of course, your customer wants to return the products they purchased from you. Here again, your fulfillment company makes this process a breeze.
5. Process Customer Returns
Returns are just part of the game if you sell products. Fortunately, most fulfillment companies receive and process returns as part of your basic fulfillment service. However, some fulfillment companies charge extra for handling returns. So if you sell items with a high return rate, say fashion apparel or shoes, you need to know that returns processing or restock fees can add up. Be sure to cover this when you are shopping for a fulfillment company to work with.
The return process is pretty simple. You list your fulfillment company's address on any return information you publish on your website or on order paperwork. Customers return items to that address and your fulfillment company unpacks and examines returned goods to see if they're in returnable condition per the policies that you outline.
How returned products are handled from there is up to you. Unused, resellable goods can be added back into inventory, discontinued items can be inventoried for a clearance sale or donated, and damaged goods can be discarded. After those decisions are made, you handle the money side of the process and refund or credit your customer accordingly.
Why Businesses Use a Fulfillment Company
Now that you know how a fulfillment company works and a bit more about the process, you need to decide if outsourcing or in-house fulfillment is best for your business. There are pros and cons to each, but here are the top reasons why businesses go with a fulfillment company rather than do it all themselves.
Time & Priorities
One great benefit of turning time-consuming order fulfillment tasks over to a fulfillment company is that your time is usually better spent on marketing, product sourcing or development, and other growth-driving activities. It's common for crowdfunders to use fulfillment companies to ensure orders are delivered on time, and allows them to continue working on other efforts. If your daily priority is getting orders packed and out the door, important tasks that actually help to grow your business often take a back seat.
"As a savvy business owner, you understand the value your business brings to customers. Whether that's sourcing the finest ingredients, crafting the best products, or creating an unparalleled user experience – that value is what successful business owners focus on. Is receiving, packing, and shipping really where you want to devote your time and resources? Probably not. You can find a great fulfillment company to handle all of that for you."

— Jake Rheude, Director of Business Development & Marketing, Red Stag Fulfillment
Using a fulfillment company saves you time and provides you with peace of mind, knowing professionals are fulfilling your customers' orders. With Red Stag Fulfillment's nationwide fulfillment network, you can rest assured your packages will be delivered to your customers quickly, while you focus on running and growing your business. To see if Red Stag is right for you, it offers a 30 day risk free trial. Click here to get started.
Flexibility & Scaling
Fulfillment companies can quickly scale services based on order volume, which is another major benefit to outsourcing this function. Since they allocate space and staff resources across many accounts, you only pay for what your business actually uses. But if you need more capacity on occasion or as you grow, flexible fulfillment companies can quickly allocate more space or staff to meet your needs.
"Promotional activities like a Kickstarter campaign, a new product roll-out, or unexpected attention from TV coverage or viral social media posts all lead to sudden spikes in order volume. Handling a surprise influx of orders efficiently is critical to gaining new customers and sustaining growth. You need a fulfillment company that can seamlessly scale to meet any changes in order volume without a hitch."

— Anthony Watson, Head of Business Development, ShipBob
For example, if you expand your inventory or have a sudden sales spike, fulfillment companies easily handle increased volume by assigning extra storage space and staffers to your account. Unlike an in-house operation, you don't have to deal with a too-small space or too few staffers when things get busy. And, you're not stuck with too much of either when things slow down.
Best of all, outsourcing fulfillment eliminates the need for long-term warehouse leases, overhead expenses, costly permits and payroll, and the day-to-day headaches of managing a facility and staff.
Savings on Shipping Rates & Packing Supplies
Since fulfillment companies purchase packing supplies and shipping services in great volumes, they can negotiate far better deals than any small business could hope to get. Most fulfillment companies pass these savings on to their clients to gain their business. When you run the numbers, the savings on shipping and packing materials alone often covers a large chunk of your overall fulfillment costs.
Beyond the Basics: Other Fulfillment Services
The basic fulfillment services that we covered earlier just scratches the surface of what fulfillment companies can do for growing businesses. Some top fulfillment companies focus on select services, such as climate-controlled fulfillment for perishables like candy and other foods. Others provide video-secured operations suited to storing and shipping high-value goods.
In fact, there are many specialty services that fulfillment companies offer. Some come with added costs, but that's often worth the value they bring if your goods require special handling.
Here's a look at some of the unique services that fulfillment companies offer:
Custom Shipping Labels – your logo or other images that evoke your brand
Custom Inserts – special offers, personal notes, etc.
Kitting – shipping multiple products as a set rather than individually
Batch Orders – receiving goods, packing, and shipping in a batch without storage, good for crowdfunding campaigns and product rollouts
Light Labor – some assembly, minor product customization, etc.
Sourcing Packaging – ordering cheaper, better, or custom packaging
Customer Service – phone and email support for your orders
Climate-controlled – temperature-controlled storage and insulated shipping
Special Handling – secured storage and video-tracked packing for high-value goods
With so many different fulfillment service options available, it can be hard to find the perfect partner for your unique needs. But if you start your search with the free fulfillment matchmakers at FulfillmentCompanies.net, you're ahead of the game. They match your needs to more than 500 prescreened potential partners, all for free.
The Bottom Line
Using a fulfillment company to handle the logistics of storing inventory, and packing and shipping your orders allows you to focus your resources on activities that help to grow your business.
Finding the right fulfillment company to partner with is crucial. Many are highly specialized and one that might provide tremendous value for one business could be a bad match for another. As you start down this road, it's important to understand the entire fulfillment process and know what you're paying for when you use a fulfillment company.
Do you use a fulfillment company to handle your orders? How did you find the right match for your needs? What do they do well, and what could they do better? We'd love to hear your insights in the comments below.