Line sheets are industry-standard product sales tools retailers, manufacturers, and wholesalers use to display complete product information to potential buyers and retail partners.
Unlike product catalogs and lookbooks, line sheets are simple visual documents often used in business-to-business (B2B) transactions that give potential buyers all the information they need to place their orders. They are used when a buyer is ready to buy—nothing more—while lookbooks are meant to attract customers into buying.
This article covers what a line sheet is, which information to include in a line sheet, and how to make one. It also features examples of line sheets from different retail industries.
Use our free wholesale line sheet template to create your line sheet today.
What to Include in a Wholesale Line Sheet
There's no formula for creating line sheets as they can be in different formats, but certain elements are essential to help buyers order more products. A wholesale line sheet typically includes the following features.
Cover Page
Your cover page should display your logo or brand name, product line title, date range (e.g., Brand Name Spring/Summer 2023-24 Wholesale Line Sheet), and complete contact information. You can include a compelling picture or two. This is your buyer's first impression of your product line, so ensure the overall look represents your brand well.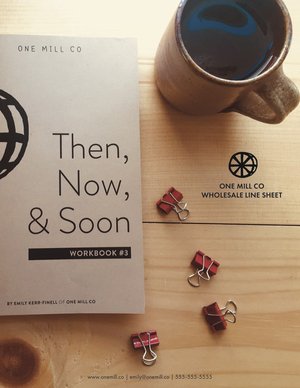 Don't have a logo yet? Read our recommendations for best sites for logo design.
About Page
Include a page that introduces your brand to a potential buyer. We recommend you keep this to a one-pager. Make it simple, short, and to the point. Use an image (or a picture of yourself or your team) that represents your brand or captures the mood of the collection you're selling. Your brand logo would also work. Below it, write a short paragraph about your brand and your wholesale collection.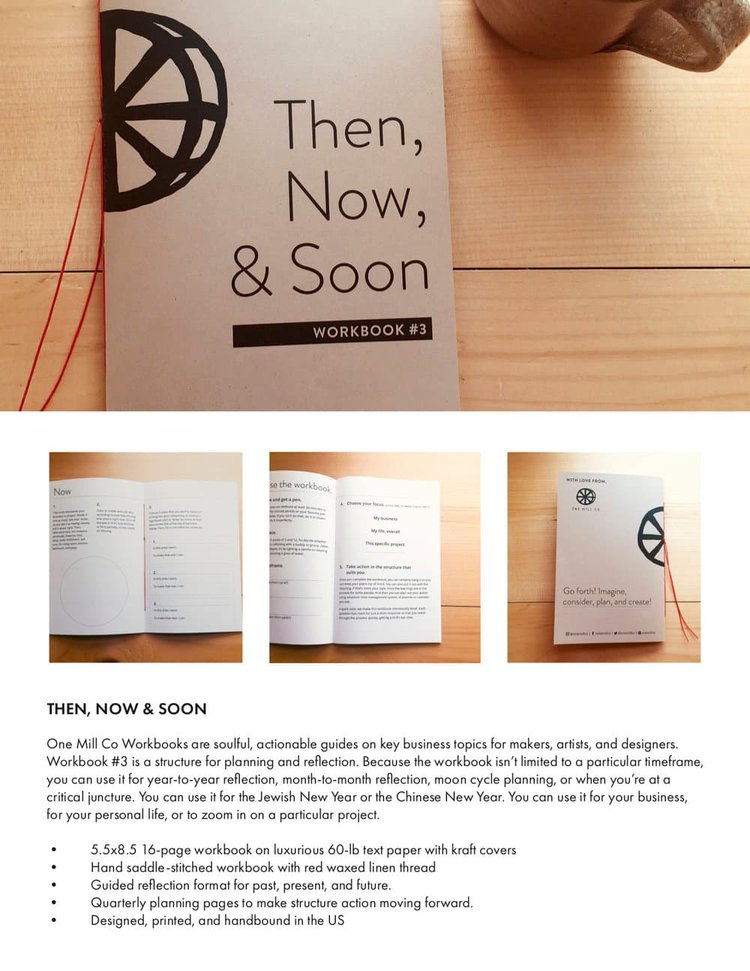 Product Pages
Your product pages should have high-quality product images and complete product information, typically shown in a simple, no-fuss layout that's easy to read.
Most products have the following information:
Style number
Style or product name
Brief item description—include essential information such as fiber content/origin, sustainability, and more
Available sizes
Available colors or variations and their corresponding codes (for ordering)
Wholesale pricing
Suggested retail pricing (optional)
Minimum order quantity or pre-pack quantities
Sales terms, including general ordering and delivery information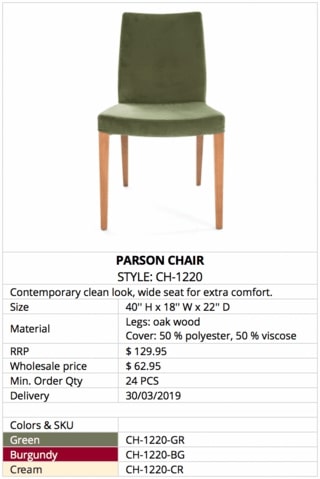 Use high-quality images. Make it as clear and distraction-free as possible, as product page layouts typically include many products. Having photos with the products in a clear background is recommended. Learn how to take quality photos at home.
Wholesale Terms
After your product page, include a page that outlines your ordering instructions, policies, and terms. Include your contact information—ideally, this is displayed as a footer on all your line sheet pages. Cover the following information:
Order methods: Provide instructions on how you accept orders, such as via email, phone, or a password-protected online store (give the password).
Payment methods and terms: List what forms of payment you accept and any payment terms you offer (extended or net terms, proforma, etc.)
Minimums: Make sure to set MOQs (minimum order quantities). You can also set different MOQs for the first and subsequent orders.
Shipping and insurance: Outline who pays for shipping, how things are shipped, who pays for insurance, if any, and more.
Fulfillment or turnaround time: Set expectations for when orders are shipped.
Sizing guides or charts: If you sell in sizes, you should have a sizing guide in different formats for references (US, UK, EU, or cm, inches, and feet).
You can include an order form and back cover that includes your contact information. Other sellers include the URL where they can place their orders.
When deciding which information to include in your line sheets, the rule of thumb is to create them from a buyer's perspective. Create your line sheets as if your buyers haven't seen your products in person so you can decide which features to include and highlight to help buyers decide what they need.
How to Make a Line Sheet for Retail
Now that you know what a line sheet for retail is and what types of information to include, the next step is knowing how to make one. There are different ways to create a line sheet—using free layout programs or paid design software, buying premade wholesale line sheet templates, or hiring an expert to design one for you.
Use Design Layout Programs
You can use free design layout programs to create line sheets yourself or buy premade wholesale line sheet templates (from Etsy, for example). You can also hire a graphic designer to make one for you.
Software

Pros

Cons

Premade and professional-looking layouts
Intuitive

Limited layout flexibility
Not that easy to change or update

Free
Easy to learn and use

Very limited layout flexibility
Less professional-looking

Free for some users
Easy to update

Limited layout flexibility
Limited to landscape layout orientation

Limitless layout design options
Professional-looking

Paid, monthly fees
Learning curve
Use InDesign if you are tech-savvy, already know the software, and don't mind paying for a subscription. If you're averse to design and tech, use Keynote or Powerpoint. If you are somewhere in between and want to use a free tool, use Canva.
Use Line Sheet Design Software
Alternatively, you can use line sheet design software—paid programs that have monthly fees but also give you better features. With this software you may be able to integrate your line sheet with your ecommerce store so buyers can buy directly from the line sheet, create videos, and present your line sheets in different formats so that you can easily share it.
| | | |
| --- | --- | --- |
| Best for businesses that need an all-in-one virtual showroom for their wholesale products | Best for businesses that need online catalogs, online stores, or inventory management systems | Best for branded manufacturers with large wholesale channels (mix of specialty and big box retail customers) |
| Free, paid subs start at $66/month (annual billing) | Starts at $19/month | Starts at $7,000/year |
| | | |
Retail or Wholesale Line Sheet Tips & Examples
When creating your line sheets, here are some best practices to keep in mind to help ensure they are effective and well-designed.
Use a simple, consistent, and easy-to-navigate layout. As a rule, the darker and larger you make things, the more attention they will bring. Try to keep the most important things most attention-grabbing. Learn more about visual hierarchy.
Stick to your branding. Don't use too many fonts or colors, as your products should be the focus of your line sheet layout.
Have high-quality product photos—non-distracting background with a focus on products that are visible even when seen as thumbnails.
Have organized product categories. You can categorize by product type (tops, jeans, swimwear, etc.) or by design.
Display contact information prominently across all pages.
Proofread your line sheets before sending them for printing or to buyers.
Compress your files. Make it easy to attach line sheets via email, ideally less than 5MB in total size. Alternatively, you can host your files on Google Drive, Issue, or your website.
Make it easy for retailers to order. If possible, have your line sheet link directly to your online marketplace or wholesale website so they can easily order online without needing to fill up order forms or call you.
What Is a Line Sheet Frequently Asked Questions (FAQs)
While these marketing and sales tools might seem similar, a line sheet and catalog differ. You use them at different stages in a buyer's purchase journey or your sales funnel.
If you promote your brand and want to attract customers, use a catalog. A catalog should have eye-catching visuals, a slick design, and persuasive copy about your brand and products. If a buyer is already familiar with your offer and it's time to make sales, use a line sheet.
Line sheets are also more commonly used in B2B transactions.
---
Line sheets contain photos and detailed product information to help retailers place their orders, usually in bulk. A lookbook is photo-heavy with an emphasis on visual storytelling to demonstrate how a product can be used. A line sheet is a tool for sales, while lookbooks are best for marketing and promotion.
---
Manufacturers, wholesalers, and merchants use a line sheet to display essential product information for potential B2B buyers and retail partners.
---
A line sheet should include a cover page, an about page, product pages, and wholesale terms or information on how to order. Product pages in a line sheet should include the product name, a brief item description, available sizes and colors, wholesale pricing, minimum order quantity requirements, and sales terms.
---
Bottom Line
While selling wholesale to retailers online is increasingly common, a line sheet is still crucial and recommended for selling wholesale products. Presenting your products and ordering information in an organized manner through line sheets help win buyers and close more sales, making it a great retail marketing strategy for your retail business.
You can create a line sheet with the help of free layout design programs and paid line sheet design software. Remember the best practices outlined in our article in creating well-designed and effective line sheets and see the difference they can make in your business.