Some businesses operate exclusively as wholesalers, while in other wholesaling models, existing retailers expand by selling their goods wholesale to other retailers. Here, we will go through a series of seven steps that will get your wholesale business started in the right direction.
1. Create a Pricing Strategy
Defining a pricing strategy can make or break your business. Overprice your items, and they won't sell. But, if you underprice, your business will lose profits and might not have the margins to stay afloat.
Luckily, when it comes to wholesaling, there is a relatively set-in-stone rule for pricing. In general, you should offer retailers a 50% discount on the retail price. For example, if the MSRP is $50, then the wholesale price would be $25.
Tip: If there is no set MSRP price, you will have to do market research to determine the value of your product.
Typically, wholesalers set a profit margin at or above 50% in order to be profitable and competitive. Your profit margin is the amount of money you have left once you remove all the associated costs. So say the unit cost of an item is $15, you would then set the wholesale price at or above $30 to yield a 50% margin. The item would then be sold to customers at $60.
2. Set Up a Password-Protected Storefront
Once you set your pricing strategy, you should then set up a password-protected storefront where retailers can see your products and place orders. Unlike a regular online storefront that is available to all shoppers, a password-protected shop will ensure that only legitimate business owners are shopping your discounted goods, and will protect your business from unaccredited orders.
You can easily set up a password-protected shop with Shopify's MagicPass or, if you have a larger operation, you can use Faire, a wholesale marketplace, where you can upload images and your product pages will be built for you; payments are integrated into the platform.
Tip: If you are an existing brand with a Shopify website, you can easily convert or expand your existing online shop to password-protected with Shopify Plus.
3. Source Your Products
As a wholesaler, you will be working directly with manufacturers to acquire your goods. This can either mean that you are buying goods that manufacturers produce already, or you are working with a manufacturer to create a custom product that you design.
If you are designing your own product, say a leash with a bungee attachment for running with your dog, you will want to reach out to a manufacturer with your design ideas. Then the manufacturer will send you a prototype that you can return with edits and adjustments. This process will continue until you get the product you want, at which point you will buy it in bulk to sell to retailers.
Creating a new product is a strategy often used by independent brands or for innovative designs, as it ensures that your product will be unique and exactly to your specifications. Creating your own product also makes it easier both legally and logistically to add your unique branding to a product.
It should be noted, however, that this process of creating and adjusting a new product can take months, and there are often fees associated with every step. Be sure you are ready to make the time and investment it takes to make your own product.
For faster turnaround, you can work with a manufacturer to buy and sell a product that they already produce. This is a favorite strategy for Amazon retailers and businesses on public marketplaces. In this case, you identify a product or area with high demand, and then source already available products to fill that demand.
When sourcing your products there are a few things that you should keep in mind—and it's not just unit cost. Remember, you should always be looking for more efficient and cost-effective suppliers, and these benchmarks will help you determined your best options:
Shipping: Talk with your manufacturer to determine shipping times and costs. You can also check to see if there are free shipping offers or minimum order requirements.
Turnaround Times: Ask your manufacturer how long it will take to get your initial order, as well as restock orders in the future. This will help you create an effective inventory management system and keep your products in stock.
Manufacturing Times: Know how long it takes your supplier to make your goods, and always be on the lookout for more efficient ways to get your items.
Hidden Fees: Ask your manufacturer up front if there are going to be any fees outside of manufacturing and shipping.
4. Write Your Policies
Unlike in a regular retail situation, wholesalers do not let people buy their products individually or in other random quantities. Also unlike retail, it's common for wholesalers to get paid well after the initial product order is placed. So, wholesalers need to set policies for purchasing, payments, and timelines that both they and the businesses buying their goods are to follow.
Set Minimum Order Quantities
One of the biggest reasons that wholesaling is such a lucrative business model is because you sell at scale. Setting minimum order quantities requires retailers to buy your products at certain minimum amounts to be eligible to purchase. This ensures that wholesalers are able to make a profit and turn over their goods when buying in bulk. Minimum order quantities can also further deter consumers from purchasing wholesale.
In general, if you have a more expensive product that requires a lot of labor, you should set your order minimums higher. And, if you have a less expensive product that is easy to make, you should set your order minimum lower.
Tip: It's common for wholesalers to offer special sample or test products so retailers can see the products in person before committing to a large wholesale order. If it's a custom or labor-intensive product, it's customary to sell these samples at cost. If it's not a custom or labor-intensive product, it's common to offer samples for free and charge retailers shipping.
Some wholesalers will scale their prices with their order quantities to incentivize larger purchases while still maintaining their margins. For example, you could offer 100 umbrellas for $8 each or 500 for $6 each.
Another policy you sometimes see is a minimum order price. In this case, quantity requirements may or may not apply. For example, a retailer could buy one of several different items to meet the dollar minimum or still be required to meet minimum quantity requirements as well as minimum order price.
Minimum Order Price: When there is a certain dollar amount that the retailer has to spend to be eligible to make a purchase.
Write Your Payment Terms
To protect yourself against losses, you should set payment terms for your retail customers to follow.
Extended or Net Terms: This tells retailers how long they have to pay you for your goods. The time frame can either be based on when the retailers receive your products or when you ship them out. Extended terms are expressed as "Net" + the number of days until payment is due. For example, the most common extended terms are expressed as Net 30, Net 60, and Net 90.
Extended Terms With Prompt Payment Discount: This offers customers a discount if they pay for your goods in a certain amount of time before the extended terms are over. This policy is expressed as X/A Net D, with X being the discount amount, A being the days to qualify, and Net D being your extended terms. So, 2/10 Net 60 means you give a 2% discount if the retailer pays for the items in 10 days under the 60 days extended terms.
Proforma: Another payment option, this is where you ship your products out immediately upon receiving payment.
Advanced Deposit: This is when customers have to pay off a portion of their purchase upon ordering and the rest when it is due.
Sale or Return (SOR): This policy says that retailers only have to pay for what they sell and can return the units that are not sold.
Determine Your Shipping Costs
You need to determine who is going to be taking on the cost of shipping. If it is the customer, you may want to allow them to choose the vendor. However, if your goods are fragile or you operate at a large scale, you might want to restrict their options or even require a certain shipper.
If you are taking on the shipping cost yourself and offering discounted or free shipping, you should seek out a contract with a shipping company that is both reliable and affordable. Additionally, you should be sure that they can provide a pickup schedule that will work with your production timelines and quantities.
As a wholesaler, you'll be shipping larger quantities than a traditional retail business. Learn how to get a freight quote and find the right third-party logistics company for your needs.
Create Your Payment Collection Terms
If you decide to allow retailers to pay for items after they place their order, you will need to determine how you are going to collect those payments. You can do this through an invoice system where you send buyers a tab that they have to pay by the time payment is due.
Alternatively, you can use a delayed payment app like Afterpay that will send invoices and automatically charge buyers on the set payment dates.
5. Photograph Your Products
The next thing that you will want to do is photograph your products for your website. For this, you will want to get a nice camera, create a clean backdrop where your products will stand out, and take photos of all the important product angles. The biggest things that you want from your photos are that they give retailers all the information they could want about your products and that they present your merchandise in the best light.
If you are using Faire as your wholesale marketplace, this is your last step—Faire will create your product pages for you after you submit your photos and line sheet. Otherwise, you will upload your photos to your marketplace shop page and create product pages from there.
6. Create Your Line Sheet or Inventory Catalogue
A line sheet is the catalog that buyers will use to place an order on your products; it displays all your product images and their descriptions, wholesale prices, IDs or names, and any other important information. Line sheets are supposed to give buyers an overview of everything you have to offer, so keep your formatting simple and clean for easy reading.
While keeping things orderly will help with readability, you also want to be sure that your line sheet includes some branding. This will help retailers determine if your products are a good fit for their business, and will give you a chance to present your brand when buying decisions are being made.
To make a line sheet, you will need to gather all the product images that you took in the step prior, determine the pertinent information that you want your line sheet to display, and then create a catalog either manually in Photoshop, through a graphic designer, or via a platform like NuOrder that will create and update your line sheet for you.
Take a look through the examples below to see what a clean, well-branded, and informational line sheet should look like: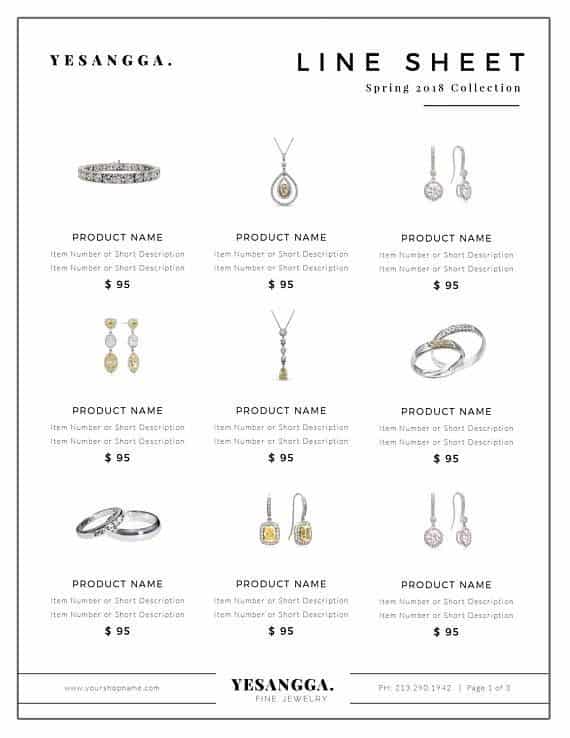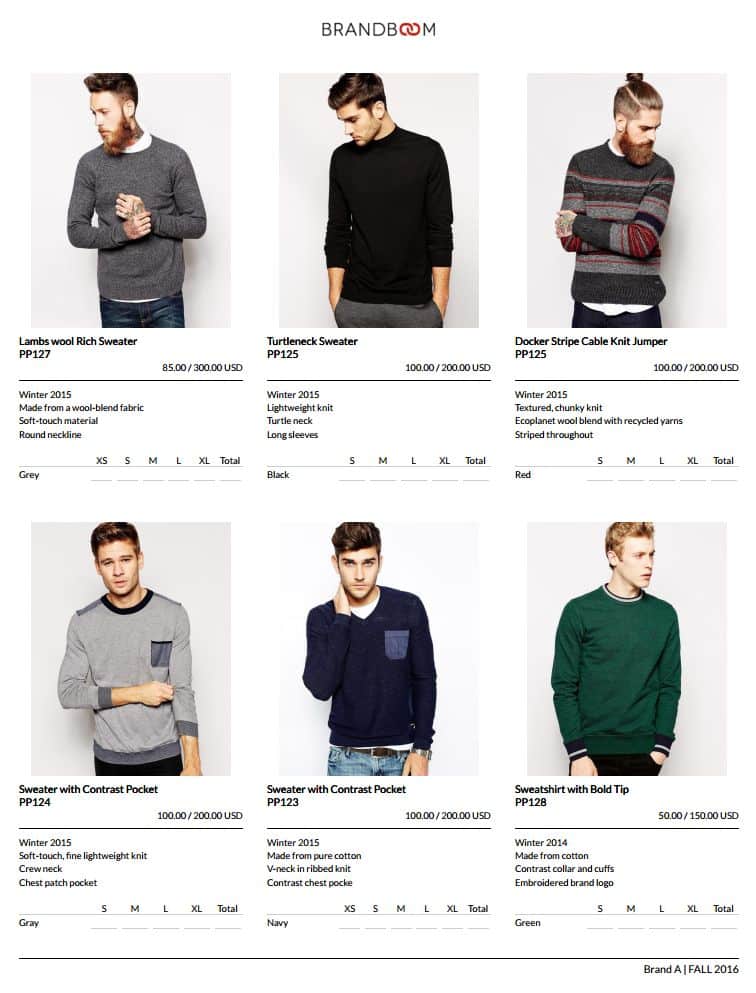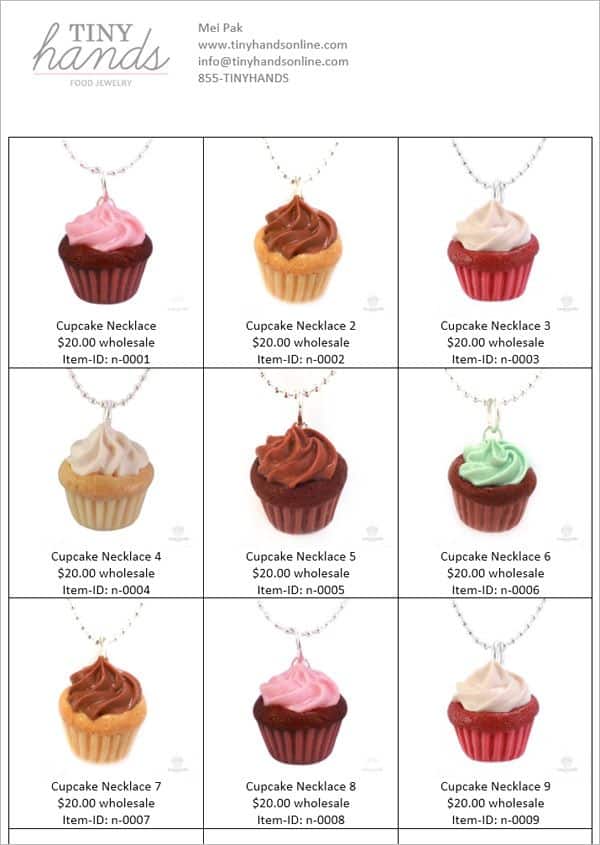 7. Find Your Customers
Once your line sheet is complete, you are ready to start the fun part: selling. Depending on your product market and the customer base that you want to reach, you will likely adopt different strategies for getting your brand in front of buyers.
The first thing you need to ask yourself is what kinds of retailers or customers you think your products would appeal to. For example, if I were selling wholesale candles I might look for home goods stores, boutiques, and gift shops. After you determine your target market, you will want to figure out how to get your products in front of those customers.
Tip: Don't forget to look beyond your current industry. If you are expanding your existing brand, consider what areas of retail you can expand your products into. Say you sell jewelry, look beyond jewelers to gift stores, museums, and boutiques.
Below, we will look at four options for getting your products in front of retailers so you can ultimately make sales.
Use Your Website
Drive traffic to your website by running ads on Google and using good search engine optimization (SEO) techniques. Smart advertising algorithms will help your website end up in front of your target market, and good SEO will make it easy for people to find your website online. You can also hire marketing professionals to help set your website up for success.
If you are an established brand, you can also use your existing website as another channel to drive wholesale traffic. Simply leave a link for wholesale inquiries on your existing website, and let your normal traffic bring in wholesale buyers.
Unless you are a large brand, I would not use your existing website traffic as your only strategy to bring people to your wholesale channel. The customers that your existing website attracts are regular shoppers, not wholesale buyers, so you will still need to push your wholesale website separately to bring in enough of the right people.
Complementary
Another option for reaching customers and acquiring sales is to pick up the phone, send out some emails, or get out on the town to pitch your products to complementary businesses.
For written pitches, you want to keep your verbiage under 10 sentences, tell buyers why you would be a good fit, and include some information about your products. Keep following up and pursuing a green light until you get someone's attention, and don't walk away until you hear a "no."
Alternatively, you can get business cards made, and get out to talk to business owners in person. In-person interactions are especially useful if you can bring product samples with you, or if your merchandise requires a demonstration, and it is probably the best way to ensure that your pitch is heard. If you do not have close access to businesses that will sell your goods, however, you can also try calling businesses on the phone to tell them about your goods.
At the end of the day, when it comes to pitching your products, it's a numbers game. The more people you are able to reach, the higher the likelihood that you acquire a sale. Be persistent, and contact as many businesses as you can.
Attend Trade Shows
One of the more traditional wholesale selling methods is to attend trade shows. Trade shows are buying events for retailers where a collection of wholesale brands gather so retailers can view their merchandise and make large purchases, often for a season or a quarter. For example, at my boutique, we attended two trade shows annually where we would browse all the latest products from wholesalers and do the bulk of our winter or summer shopping.
Use a wholesale directory to find a show that suits your brand. You want to be sure that you are joining a show that caters to your target market, so look for similar or complementary brands when selecting the show that is right for you. From there, you will need to acquire a tent or other structure to create a quasi-storefront for the showroom.
Use visual merchandising techniques, signage, and strong marketing strategies to make your "storefront" appealing and draw people in. Remember, you are going to be in a space chock-full of competing brands—be sure that you do all that you can to make your business stand out.
Popular trade shows include:
Join a Marketplace
As we covered earlier, wholesale marketplaces are a great place to get your products noticed and streamline your operation. Retailers use wholesale marketplaces because they allow buyers to shop lots of different shops all in one place, creating a kind of virtual trade show experience.
There are a lot of different marketplaces to choose from, and just like tradeshows, you should be sure that you are choosing one that will attract your target market. Look for similar brands or complementary products when choosing a marketplace to ensure you are attracting the customers you want and the shopping experience is streamlined for your buyers.
Popular wholesale marketplaces include:
Alternatively, you can reach retailers by applying to join community groups such as The Boutique Hub.
Bottom Line
Selling wholesale is an extremely lucrative business model that focuses primarily on brand development and product enhancements rather than direct customer sales (unless of course, you are both the wholesaler and the retailer). Creating a wholesale business looks different from starting a retail business and this guide will help you understand how you can get your wholesale business off the ground and start making sales.