Yelp for Business Owners: The Ultimate Guide
Yelp is one of the largest user-generated review sites. Its content helps other consumers find local businesses across a variety of categories, such as restaurants, bars, shopping, entertainment, contractors, and just about any other local service. To use Yelp for business for maximum results, build your free Yelp business profile, respond to all reviews and inquiries, and use enhanced features and ads to attract customers and grow sales.
What Type of Companies Should Use Yelp for Business
Yelp is one of the most-trusted online business directories when it comes to reviews. With more than 130 million monthly users, using Yelp for business can be a very powerful―and even free―tool for local businesses that want to get found online. Every day, people publicly share thousands of opinions and ratings of local businesses, from restaurants and comedy clubs to pet grooming, contractors, and home cleaning services.
Here are nine main business types Yelp is right for:
Restaurants and foodservice
Local retailers
Nightlife like bars and clubs
Entertainment
Home services, such as contractors, electricians, plumbers, home cleaners, and movers
Auto services, such as auto repair, detailing, dealers, and towing
Health & fitness
Beauty services
Professional services, such as accountants, consultants, legal services, and caterers
General services like computer repair and pet grooming
If you don't see a main category that seems to fit your business, try searching Yelp for business services your company offers. To do this, visit Yelp.com and type keywords related to your business in the search bar. Then, check the categories of the businesses that appear in the search results.
Why Use Yelp for Business
Companies often use Yelp to increase their business's online visibility, build brand awareness, and in return, increase sales. Yelp has high domain authority, so listings can rank highly on Google for search queries a small business might struggle to rank for. Millions of people visit Yelp from Google searches or directly, giving businesses a way to get found online without making a large investment in other local search engine optimization (SEO) services.
Taking it a step further, businesses that use Yelp can take advantage of the platform's marketing and advertising features. From pay-per-click (PPC) advertising that puts a business's listing at the top of Yelp's results to a call-to-action button that makes it easy for consumers to request a quote or make a purchase, these audience-engaging features generate more sales for businesses using Yelp.
How Much It Costs to Use Yelp for Business
It's free to set up and manage a business profile on Yelp, making it an obvious choice for many small businesses. However, to get the most from your company's Yelp profile, you should invest in additional features and consider advertising your business on Yelp.
For example, for $1 per day, your business can add a call-to-action button or remove competitors' ads from displaying on your page. In addition to paid page upgrades, Yelp also offers PPC advising similar to Google Ads. It will rank your page higher, but cost-per-click (CPC) ranges from about $5 to $10, so its CPC may be more expensive for your business' keywords than PPC platforms like Google Ads.
Yelp Costs by Feature
| Advertising Type | Cost |
| --- | --- |
| Create and Manage a Business Page | Free |
| Call-to-Action (CTA) Button | $1/day |
| Remove Competitor Ads From Page | $1/day |
| Use Enhanced Slideshow | $1/day |
| Paid Ads - CPC | Varies; $5 to $10+ per click |
| Paid Ads - Cost per 1,000 Impressions (CPM) | Varies; averages $600 |
| Yelp Deals and Gift Certificates | Commission on sales at 30% for deals, 10% for gift certificates |
How To Use Yelp for Your Business in 6 Steps
The process of how to use Yelp for Business is easy and it's free unless you choose to add paid options or advertising to extend your reach on the platform. From setting up and optimizing your business profile on Yelp to managing your profile, here are six steps outlining how to use Yelp for business to maximize your return on investment.
1. Claim or Register Your Yelp Business Profile
Check that your business isn't already on Yelp before creating a new profile. To do this, start by searching for your business on Yelp using the search bar. If a profile exists, claim it. If not, create a new profile by navigating to the footer and clicking the "Claim your Business Page" options and following the steps to create your business page: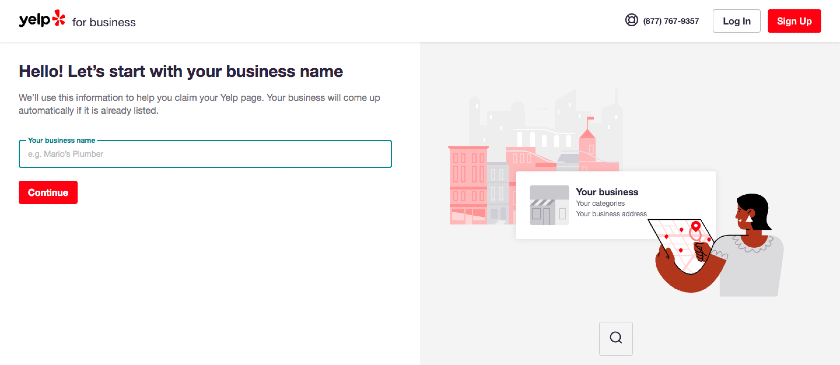 How To Claim an Existing Yelp Business Profile
Navigate to Yelp.com and search for your business name in the top search bar. If your business comes up in the search results, click the listing to open the profile. On your profile, you should see the option to "Claim this listing" to the right of your business name. Click this button and complete the steps to claim the listing and gain ownership of the profile: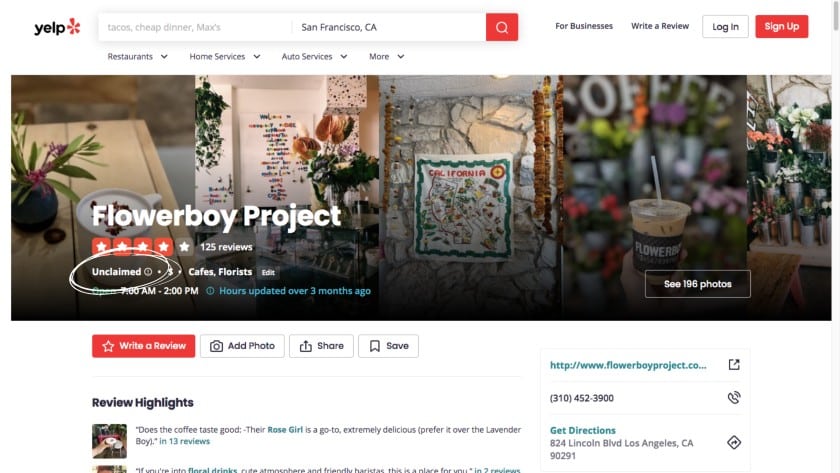 Create a New Yelp Profile
If your business doesn't have an existing profile on Yelp, create a new one. To do this, scroll down to the footer. Click "Claim your Business Page" in the menu options. Then, follow the steps to register your new account, such as inputting your business' name, address, hours, and contact information: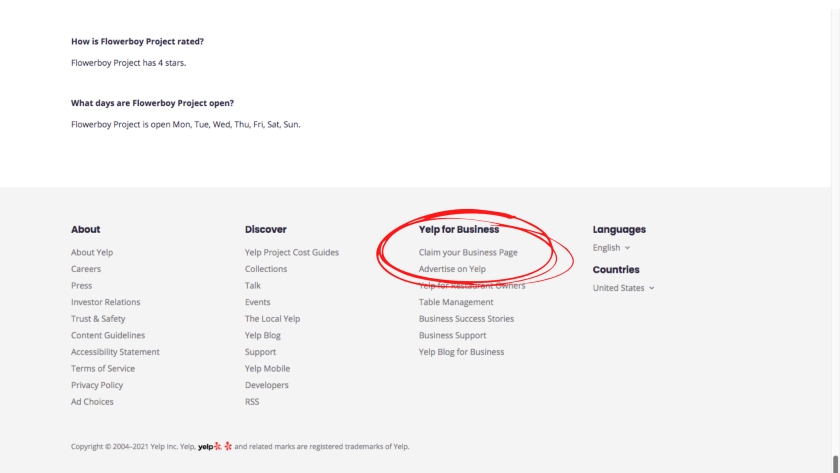 2. Add Business Information
After creating a business profile, complete it by providing as much information as possible about your company to optimize the chance of someone finding your business profile on Yelp. This includes your company's physical address (if applicable), website URL, hours of operation, contact information, and a detailed description. Then, add at least five photos representative of your business.
Here are the nine sections to complete in your Yelp business profile:
Business name: If you just created your business profile, this section will be all set. However, if your business had a preexisting profile, check to be sure your business name was input accurately after claiming it.
Categories: Every Yelp business profile must be linked to specific major categories with a maximum of three categories allowed per business. Be sure your profile is linked to the most appropriate categories so users can find your listing when they browse Yelp.
Location: Input your company's physical address if it's a business customers normally visit in person, such as a restaurant, retail store, or coffee shop. This is key as Yelp shows a map pinpointing its location on your profile and also gives users the option to get directions to this address.
Hours: Ensure that the hours listed reflect your actual hours of operation. Be sure to also update any holidays hours as some users may be looking to see if your business is open at these times.
Contact information: Give visitors a way to contact your business should they have questions, want to book a service, or make a reservation. Include a phone number and an email, as well as any other contact methods routinely used.
Your website address: Make sure your website URL is accurate.
More business info section: This section includes a breadth of additional information relevant to your category or categories. For example, a restaurant could input whether they accept credit cards, allow dogs, have Wi-Fi, offer takeout, parking, and more. Add all pertinent information for your category type.
Business description: Add a summary description of your business up to 1,500 characters. This can include information about your company's specialties or strengths, business history, staff, and any other information that would make someone want to do business with your organization.
Photo gallery: Photos are very important. They visually illustrate what your business is (or can do) and give visitors a sense of what to expect when they visit, hire, or purchase from your company. Upload anywhere from five to 10 quality images representative of your business, such as its physical store (interior and exterior), products, services, before and after photos, and so on.
Below is an example of an effective business profile on Yelp, called Menotti's Coffee Shop. It has basic business information and important details about key offerings like bike parking, the ability to accept Apple Pay, and a dog-friendly environment. It also has a large gallery of high-quality photos, a link to its menu, a price level, a call to action ("request an appointment"), and a five-star rating based on dozens of reviews: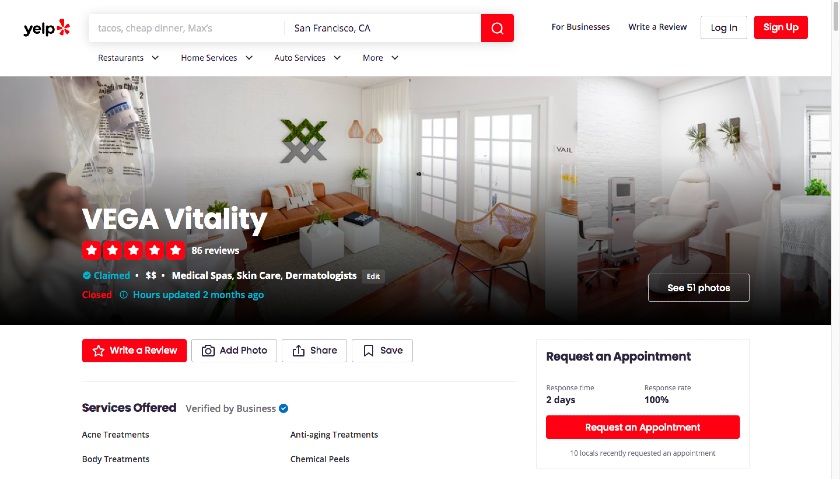 3. Get Reviews From Existing Customers
The main reason people use Yelp is to research business ratings and reviews as part of their decision-making process. Therefore, it's critical for your business to secure high-quality reviews from its customers. Get your new profile off the ground with reviews from existing customers, friends, and family, and invite new customers to leave reviews or encourage them to do so by offering incentives.
Ask for Reviews From Your Network
The fastest way to get positive reviews is to ask customers, family, friends, and staff to leave a review of your business on Yelp. Be sure reviews are genuine and left by real Yelp users as Yelp filters out any reviews it deems to be inauthentic or "rigged." To solicit reviews from your network, ask them personally or post a link to request reviews on your website, on social media, in emails or newsletters, on receipts, or via text messages.
Here are nine ways to ask for reviews from your network:
Personal requests: Ask friends, family, and staff members to leave a review on your company's Yelp profile. Also, keep your ears open for customers who openly speak about how much they like your business, product, or service and invite them to share a review on Yelp.
On your website: Encourage website visitors to go to your Yelp profile by adding a Yelp badge on your site. Learn more about what a Yelp badge is and how to get one.
Social media: Create a post on your business's Facebook, Instagram, and Twitter accounts asking for genuine reviews or leave a link to your Yelp reviews in your company description or bio section.
Email: Send a mass email to your customers sharing the news that your business has a new listing on Yelp and you would appreciate their reviews.
Email signature: Add a "Find us on Yelp" link or Yelp badge to your email signature, increasing the chances that someone you communicate with via email will leave a review.
Newsletters: Periodically reference your Yelp business account in weekly or monthly newsletters, reminding and encouraging satisfied customers to leave a review. Add your Yelp badge to the footer area of your email newsletters.
Countertop display: Set up a countertop display beside a register or checkout area asking for happy customers to review your business on Yelp.
Via your receipts: Some point-of-sale (POS) systems allow businesses to add custom messages to the bottom of receipts. If you have this option, add a message inviting customers to leave a review on your Yelp profile.
Follow-up texts: Businesses that offer reservation-based services, such as salons, dentists, or chiropractors, often use text notifications to remind clients of upcoming appointments. Leverage this tool after the sale as a customer service follow-up requesting a Yelp review.
Incentivize Customers to Leave Reviews
If you're struggling to get the volume of positive reviews you need, try offering an incentive and applying it to nearly any of the methods above. For example, you can email a coupon or gift card to those who leave a review. Use an incentive likely to be attractive to your customers and the best method (or multiple methods) to reach them with this offer. For more ideas and insights, check out the complete breakdown on how to get more reviews.
4. Monitor Your Account & Respond to Reviews
Your Yelp profile isn't a set-it-and-forget-it type of business listing. After building out your profile and implementing strategies to get reviews, start monitoring your account.
Check your Yelp account daily for new reviews—good or bad—and reply to them right away. Make sure you leave a public response to each review by going to the reviews section of your business account, finding the relevant review, and clicking "Add Public Comment." Enter your response, click "Preview," then "Post Comment."
Respond to Good Reviews
When responding to positive reviews, show your appreciation by thanking the reviewer for their patronage and feedback. This can be done with a short public reply but be sure to vary your replies to avoid your response looking canned or automated.
Respond to Bad Reviews
It's crucial to reply to bad reviews as fast as possible as they are an opportunity to correct an issue or explain a situation. Plus, many consumers won't be put off by a bad review if they see that your business was responsive and tried to remedy the situation. Start by apologizing for the experience or issue the reviewer had, offer objective clarifying information, invite them to contact you directly to come to a resolution, and don't get defensive.
Review & Analyze Yelp Metrics
Your Yelp for Business Owners dashboard provides data about those who visit your profile. Review and analyze these metrics to gain insight into when users are the most active, common issues or comments, or if they're posting certain types of photos. For example, a restaurant might find that people visit its profile on weekdays before dinner and then use that when timing future advertising and marketing campaigns: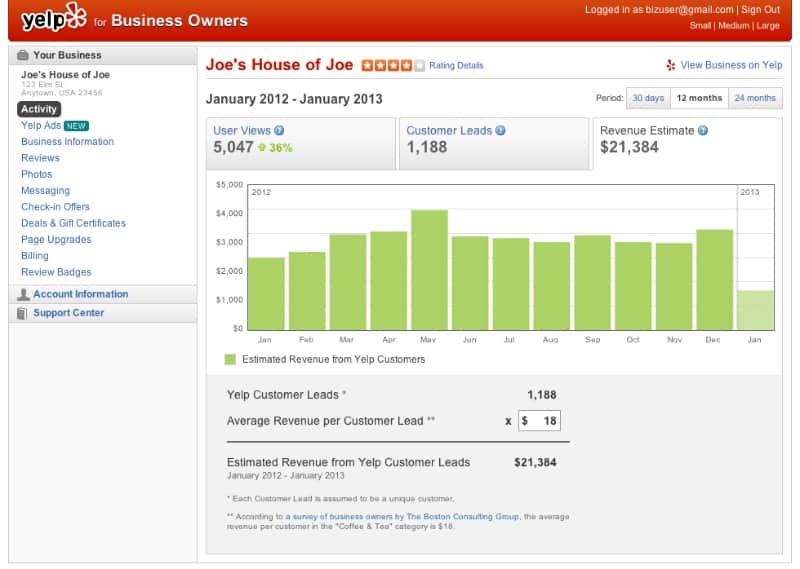 5. Use Enhanced Business Profile Features
You can upgrade your Yelp business profile with enhanced, premium page features and Yelp Deals. Yelp's enhanced features include the addition of a call-to-action button, the inclusions of an enhanced photo gallery, and the removal of profile ads. Additionally, Yelp Deals allows you to offer exclusive deals on your profile, such as a discount or gift certificates, to monetize your account.
Enhanced business page features include the ability to add a CTA button, remove competitor ads from your profile page, and use an enhanced image gallery. Each individual enhanced feature currently costs $1 per month, and Yelp also receives a commission for deals and gift certificates sold. To add enhanced business profile features, contact a Yelp Ad Representative via phone at (877) 767-9357.
Add a CTA Button
A call-to-action button gives visitors a way to immediately interact with your business by performing a certain action. For example, a restaurant could include a call-to-action like "Make a reservation" or "Place an order," whereas a salon might use a call to action, such as "Book an appointment." The CTA button appears on the right-hand side of your business page.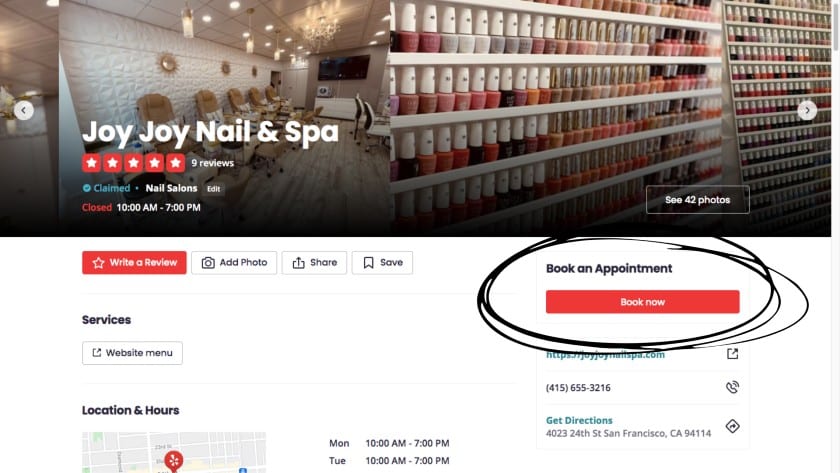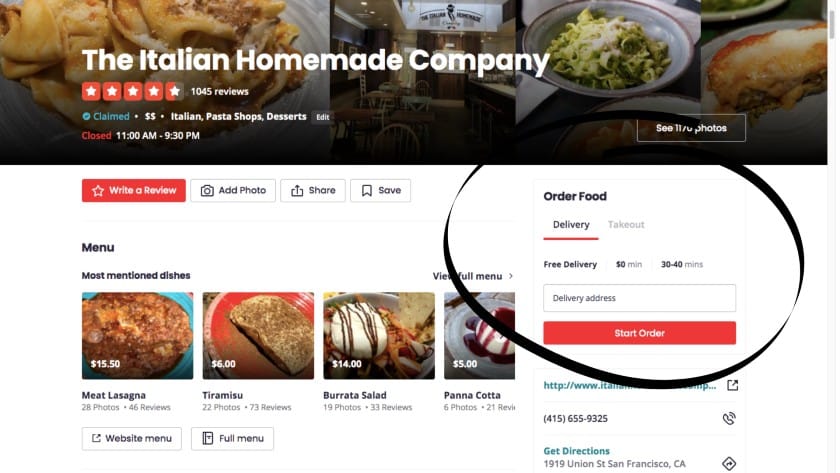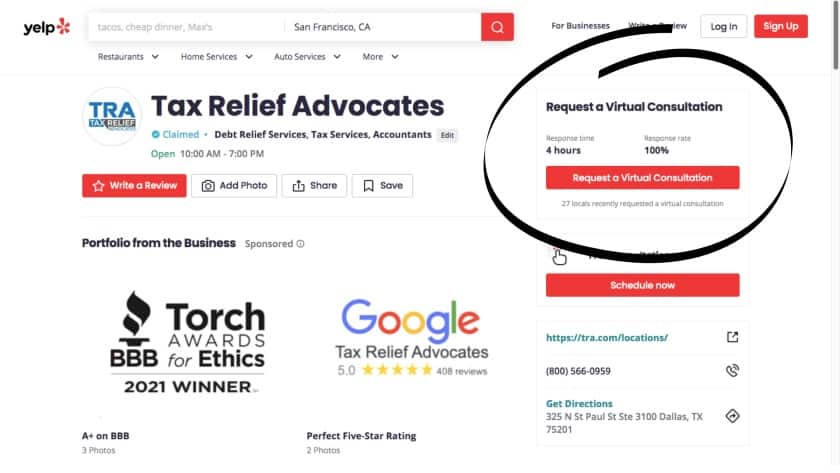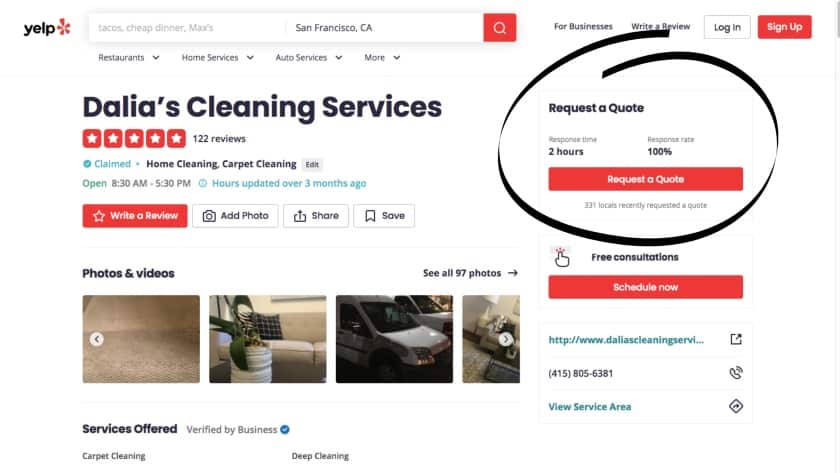 Remove Competitor Ads from Your Business Page
Yelp displays competitor's ads automatically toward the bottom of your business page to give page visitors alternatives within your business category. This can be good for a visitor, but it's not so good for your business. To keep the focus on your organization, you can pay to remove competitor ads from your page: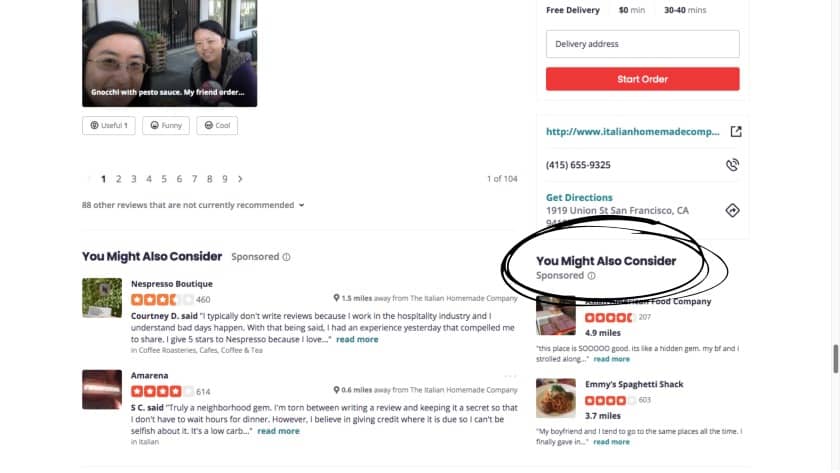 Enhanced Photo Gallery
The enhanced photo gallery option allows you to select the order in which photos are displayed in the photo gallery. This enables you to control what visitors see when they visit your business page. For example, your company may use this feature to showcase professional photos rather than user-generated or other photos added more recently, which may be lower-quality and less flattering: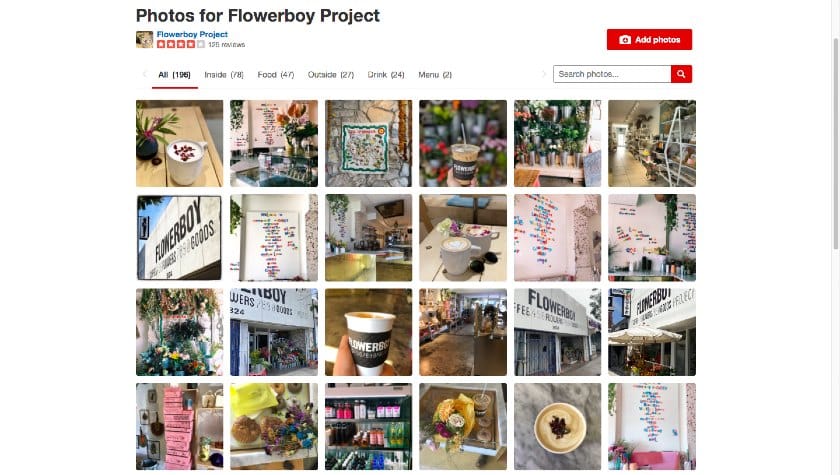 Yelp Deals & Reservations
Yelp Deals are prepaid vouchers and gift certificates you can use to monetize your business profile. They're sold via a CTA button on the profile page in the right-hand sidebar. Yelp Deals cost nothing upfront to use; however, Yelp charges a 30% commission for deals and 10% for gift certificates.
6. Advertise Your Business on Yelp
Yelp advertising increases traffic to your business' profile, thereby attracting new customers. It achieves this through PPC ads that position your company's profile at the top of search results.
The cost of these ads varies, but most businesses using Yelp ads spend anywhere from $300-$1,000 per month with a three-month commitment. For more information, contact a Yelp Ad Specialist. Learn more about using online ads as part of your organization's search engine marketing strategy: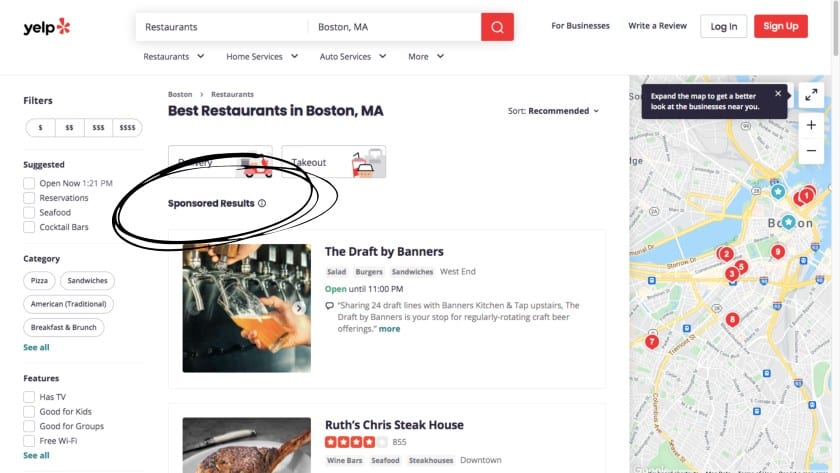 Pros & Cons of Yelp for Business
Businesses tend to have a love-hate relationship with Yelp. While some love the free exposure and social proof it provides, others dislike the negative impact bad reviews can have on their company and complain that Yelp ads are costly.
The Pros of Yelp for Business
When considering whether your business should use Yelp, there are some very strong pros. The top advantages of using Yelp for business include increased exposure, social proof, and that it's free to create and manage a profile. These all make Yelp an affordable and effective way to market your business.
Here are the top three pros of Yelp for business:
Increased exposure: With more than 130 million active monthly users, your business is likely to gain a lot of exposure if it has a quality business page with many good reviews.
Social proof: People use reviews when making purchasing decisions. Good reviews provide social proof, which gives those new to your business the confidence to try it or to choose it over that of a competitor.
Free: While you can pay for enhanced business page features or Yelp ads, it's free to create and manage a business page on Yelp.
The Cons of Yelp for Business
The cons of using Yelp are light compared to its pros; however, it's worth acknowledging the downsides of Yelp for business. These mainly include the impact of negative reviews, the time it takes to manage another platform, and the cost to advertise on Yelp.
Here are the top three cons of Yelp for business:
Negative effect of bad reviews: People tend to only leave reviews when they're either extremely happy or extremely dissatisfied, and negative reviews can hurt your business. However, you may face this problem regardless of whether you use Yelp for business since poor reviews can also be left elsewhere, such as your Facebook business page or Google My Business listing.
Another platform to manage: Time is a limited resource and Yelp is another platform to manage. While many think they can "set it and forget it" when it comes to business directory listings, you don't want to do this on Yelp. Instead, you'll need to invest time maintaining your profile, responding to reviews and inquiries, and keeping it up to date.
It can get expensive: While paid advertising is optional, Yelp's PPC platform generally has a higher average cost-per-acquisition compared to other PPC advertising platforms like Google Ads or Facebook Ads.
Despite Yelp's potential cons, it proves an effective marketing platform for businesses when used strategically. Some cons, such as bad reviews, can even serve as an opportunity to get customer feedback that can be used for making business improvements. Most importantly for small businesses, Yelp can be used for free as a way to draw in new customers.
Frequently Asked Questions (FAQs)
How can I acquire and manage Yelp reviews?
The easiest and fastest way to get reviews is usually by asking for them from your existing network, such as current customers, friends, and family. Whether they're positive or negative, respond to every review. This shows that your business is proactive and cares about its customers' experience and satisfaction. If you don't have time to manage all your business' reviews, opt for an online reputation management service, such as BrightLocal.
What are the best local SEO tools?
The best local SEO tools not only help you rank higher in online search results, but they're also affordable, easy to use, and effective in helping your business reach its SEO goals. These include everything from Ubersuggest for free keyword research and website insights, Google Analytics for performance data and optimizations, and BrightLocal or Moz Local for online reputation management.
How do I use keywords to optimize my Yelp page?
Keywords are words and search terms people use to find businesses like yours in online searches. For example, Nonna's Trattoria is an Italian restaurant so its primary keyword would be "Italian restaurant" as well as the city name where the user wants to find one. Discover top keywords people use to find your type of business with a free keyword research tool like Ubersuggest and use them in your Yelp business info and description.
Bottom Line
To use Yelp for business effectively, create a comprehensive, search-optimized business profile, pay a small monthly fee for Yelp's enhanced features, and engage with customers by responding to all reviews quickly. Doing so increases your visibility, in turn growing your customer base and leading to more sales.
Even if you have a complete profile and manage all reviews, it can still be hard for your business to show up in Yelp search results. Try Yelp ads to give your business the boost it needs to gain visibility and to attract new customers. Get a free $300 Yelp advertising coupon by signing up today.
You Might Also Like…