ZipBooks: Review & Pricing for 2022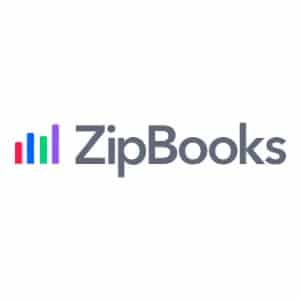 What We Recommend ZipBooks For
We strongly recommend ZipBooks for small businesses that need an extremely simple and affordable accounting solution for automating their bookkeeping tasks, sending unlimited invoices, managing their vendors and clients, tracking projects and time, and generating insightful reports.
ZipBooks Is Especially Good For
Users looking for easy invoicing: ZipBooks includes readily available templates that you can download, customize, and send to your customers in a few seconds. If you want to explore other options, check out this article on the best invoicing software.
Businesses seeking free accounting software: Sign up for ZipBooks and send unlimited invoices, connect one bank account, process credit card payments, and view basic reports. Alternatively, you can check out our other best free accounting software options.
ZipBooks Is Not a Good Fit For
Ecommerce companies: ZipBooks lacks the features beneficial to ecommerce businesses, such as ecommerce platform integration and inventory management. To find a better option, read our guide to the best ecommerce accounting software.
Those looking for a mobile app: ZipBooks doesn't have a mobile app that can supplement its web-based application. Instead, we recommend Zoho Books because of its full-featured mobile app.
Merchandising: ZipBooks Sophisticated lacks the necessary inventory accounting features we want to see, such as recording the cost of goods sold (COGS) and computing ending inventories automatically. We recommend QuickBooks Online if you need to keep track of inventory stock levels and costs in one place.
Are you looking for something different? Read our guide to the best small business accounting software and check out our top picks.
ZipBooks Pros and Cons
PROS

CONS

Can handle unlimited transactions and clients for free
Important features are available only in the paid plans
Extremely easy to use
Does not support multi-entity accounting
Can switch between cash and accrual accounting
Cannot track inventory
Provides integrated time tracking
Lacks advanced features and integration options
Assisted bookkeeping options
ZipBooks Case Study
We used the case study method to evaluate the fitness of ZipBooks in small business accounting. We emphasized 11 key areas in accounting that are essential for small businesses. Here are the results of our ZipBooks case study as compared to its direct competitors, QuickBooks Online and Sage Business Cloud:
We compared ZipBooks Sophisticated with QuickBooks Online Essentials (a more basic plan than QuickBooks Online Plus) and Sage Business Cloud Accounting (Sage Business Cloud's highest plan). ZipBooks' strongest point is reporting and accounts receivable (A/R). Overall, we see ZipBooks' highest plan lagging behind the comparably priced QuickBooks Online Essentials, especially in Banking, A/P, and A/R. However, while QuickBooks Online Essentials is limited to three users, ZipBooks Sophisticated allows unlimited users.
ZipBooks Pricing
ZipBooks has three plans for business use and one plan for accountants. The Accountant plan has everything in the Sophisticated plan but is intended for accountants who handle many clients.
| Pricing & Features | Starter | Smarter | Sophisticated | Accountant |
| --- | --- | --- | --- | --- |
| | Free | $15 | $35 | Custom priced |
| Users | 1 | 5 | Unlimited | Unlimited |
| Connected Bank Accounts | 1 | Multiple | Multiple | Multiple |
| Recurring Invoices | N/A | ✔ | ✔ | ✔ |
| Time Tracking | N/A | ✔ | ✔ | ✔ |
| Customized Chart of Accounts (COA) | N/A | N/A | ✔ | ✔ |
| Cobranding | N/A | N/A | N/A | ✔ |
ZipBooks Features
ZipBooks offers competitive features that can also be seen in other accounting software products today. In this review, we'll examine ZipBooks Sophisticated's features to see if it's a good fit for your business.
ZipBooks offers a fresh and clean look right out of the box. The dashboard is clean and informative. On the right side, you can see a quick access menu. If you want to see the complete list of actions, you can click "More" on the top right portion of the dashboard beside the bell icon: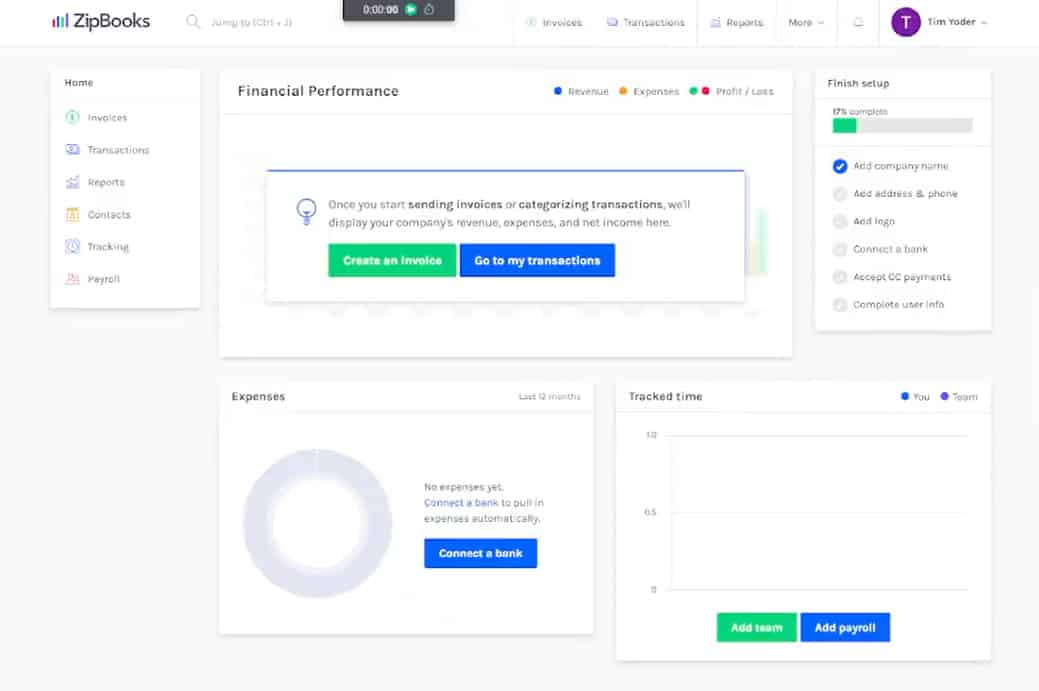 Setting up your company in ZipBooks is easy as well. The settings aren't too technical, and you can adjust your company name, details, and other information in the Company settings module. In the Accounting Preferences section, you set crucial accounting settings, such as accounting basis and closing date of the books. What's missing in the company setup process is recording a fiscal year-end, setting an entity type, and importing beginning account balances. The only way to record a beginning balance in an account is with journal entries:
ZipBooks has a default COA already set up once you purchase the software. However, users of the Sophisticated plan can add more accounts, like valuation accounts for depreciation, amortization, or bad debts. We found out that the COA lacks an Accumulated Depreciation account, so we created an account for it with Fixed Assets as its parent account:
ZipBooks General Features Video
The accounts payable (A/P) module is under the Transaction tab. Creating vendors in ZipBooks is straightforward. There's also an option where you can designate the vendor as a 1099 Contractor. When creating bills, you can include items and assign which expense account is debited. However, we find it inefficient that we can't tag bills during bill creation. It would be a time saver if we could tag departments or projects all together while creating a bill. Instead, you can only tag bills in the Expense tab:
In the image above, we created a bill for the purchase of widgets. Ideally, the software should ask us to input the quantity of the goods purchased. But in the case of ZipBooks, it only asks for the total cost of the widgets. This process creates a problem in determining inventory units and costs on hand.
ZipBooks Accounts Payable Video
---
Creating an invoice in ZipBooks is limited. There are no templates available to choose from and there's no way to change invoice colors. However, you can add your logo and create a personalized message below the invoice:
What we like about ZipBooks is that users can add unbilled expenses to customer invoices, which is a feature usually reserved for higher-priced plans like QuickBooks Online Plus. But in ZipBooks Sophisticated, priced at $35 per month, this feature is a competitive advantage over similarly priced software.
Partial payment of invoices is allowed in ZipBooks. When a customer partially pays an invoice, ZipBooks will mark the invoice as "Partial" and it'll show the amount paid side-by-side with the total invoice amount on the invoice screen. Unfortunately, ZipBooks can't record credit memos to customers.
ZipBooks Accounts Receivable Video
---
Reconciling your checking account in ZipBooks is also easy—just don't forget to turn on "Reconciliation" in the account settings. The way ZipBooks presents bank reconciliation is different from what we usually see in other accounting software products.
In ZipBooks, the software doesn't show the typical line items in bank reconciliation like deposits in transit and outstanding checks. Instead, it'll only show the difference between the book and the bank balance. To reconcile the balances, just uncheck the items presented by ZipBooks or create an adjustment entry for charges found in the bank statement that haven't yet made their way to the books.
The downsides to ZipBooks' banking features are that they cannot produce a reconciliation report or print checks. If you issue checks regularly for vendor payments, we don't recommend ZipBooks, as it would be inefficient to manually write checks. Instead, we recommend QuickBooks Online for check printing and outstanding bank reconciliation features.
ZipBooks Banking and Cash Management Video
---
ZipBooks doesn't have fixed asset management features like viewing lists of fixed assets, assigning ID numbers, or computing depreciation. Instead, you can only classify assets in the balance sheet as fixed assets.
Project accounting in ZipBooks is commendable and convenient because it has a built-in time tracker. You can create projects, assign a contractor for the project, and tag income and expenses to the project. Billable expenses can be converted into invoices during invoice creation. If your clients need estimates, you can create estimates in the Invoice tab, and the interface of the estimates form is similar to invoicing.
Unfortunately, you can't compare estimates to actual project costs in ZipBooks. Xero is our best alternative if you need project accounting features that include comparison of estimated and actual project costs.
---
You can create a sales tax item to track sales taxes collected by jurisdiction. However, the program doesn't provide a very detailed report of your sales tax liability. ZipBooks is also missing any features to help pay your sales tax or file your sales tax return. There will be no separate video for this area since it was already discussed in the A/R and A/P video.
Unfortunately, ZipBooks doesn't have inventory tracking features. There's no way to keep track of inventory units ordered and sold, and the software doesn't record COGS and determine the cost of ending inventory automatically. We recommend choosing QuickBooks Online for its outstanding inventory stock and cost tracking features. There will be no separate video for this area since it was already discussed in the A/R and A/P video.
Reporting is one of ZipBooks' strong points. It can generate the reports that we think should be available in small business accounting software. Here's the summary of reports:
| | |
| --- | --- |
| Balance Sheet | |
| Profit and Loss (P&L) Statement | ✓ |
| Statement of Cash Flows | ✓ |
| A/R Aging | ✕ |
| A/P Aging | ✓ |
| Income/Loss by Month | ✓ |
| Income/Loss by Customer | ✓ |
| Income/Loss by Class | ✓ |
| Income/Loss by Location | ✓ |
| Income/Loss by Project | ✓ |
| Unbilled Charges | ✓ |
| Unbilled Time | ✓ |
| Transaction List by Customer | ✕ |
| Expenses by Vendor | ✓ |
| General Ledger | ✓ |
| Trial Balance | ✓ |
ZipBooks' customer service isn't as accessible as that of other accounting software products. They don't offer customer service through phone calls. Instead, you can use the chatbot or chat with a live representative. The live chat feature can be found at the bottom right corner of the screen, and ZipBooks provides an estimate of how long it'll take to accommodate your inquiries. While waiting for a reply, you can browse through ZipBooks' Help Center to look for a quick fix for your problem.
ZipBooks doesn't have a mobile app. If you need a mobile app feature, we recommend Zoho Books because it has an outstanding and full-featured mobile app that can send invoices, receive payments, assign expenses, enter bill payments, categorize bank expenses, record time, and view reports.
Assisted Bookkeeping Options
ZipBooks offers bookkeeping and tax support services. If you have complex bookkeeping needs, ZipBooks can build a custom plan for you.
Simple Bookkeeping: For $125 per month, you get:

A personal bookkeeper
A ZipBooks plan
Monthly bookkeeping assistance and financial statements
Up to five bank or credit accounts
Expert bookkeeping advice
Online bookkeeping support

Multi-classifications Bookkeeping: For $145 per month, you get:

All services in Simple Bookkeeping
Tagging and tracking multiple locations, business units, or classes
Individual and consolidated financial statements
Comparison financial statements across all classes

Vendor and 1099 Preparation: For $175 per month, you get:

All services in Simple Bookkeeping
Tagging or tracking of vendor payments
1099 reporting and preparation
Integrations
ZipBooks can integrate with Slack, the Google Suite, Square, Zapier, Pepperi, Zoho Flow, Gusto, and PayPal. ZipBooks doesn't have many integration opportunities with third-party apps unless you subscribe to Zapier.
ZipBooks Alternatives
| | | |
| --- | --- | --- |
| Best for: Ecommerce companies looking for cloud-based accounting software | Best for: Inventory tracking and outstanding mobile app functionality | Best for: Businesses looking for a free software with online bookkeeping assistance |
| Software from: $25 | Software from: $10 | Software from: $12 |
Bottom Line
ZipBooks offers the basic accounting functions you need for your business, as long as you don't have significant inventory. The software is easy to use even for do-it-yourself (DIY) accounting. However, ZipBooks lacks some advanced features even with its highest plan. We wished we could've seen more advanced functions like inventory tracking, purchase orders (POs), and vendor credits, so we recommend ZipBooks for the simple accounting needs of service-based businesses.