800.com Review: Is It Right for Your Business?
This article is part of a larger series on VoIP.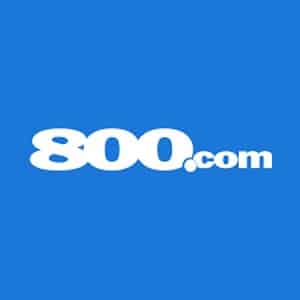 800.com Overview
800.com is one of the best virtual business phone number solutions for solopreneurs and small to midsize businesses (SMBs) wanting one or more toll-free numbers. You can choose the Personal unlimited or metered plan for one user and forward calls to multiple devices. Upgrade to the Unlimited plan to unlock unlimited calling minutes or select the Pro version to add up to 1,000 extensions, five toll-free numbers, and 5,000 minutes shared by your team.
PROS

CONS

Doesn't lock features behind higher-tier plans or require a bunch of add-ons
Doesn't offer international phone numbers
800-number generator tool is easy to use and has a huge selection
There may be a $100 fee if you want to port out numbers to a different provider
Supports bulk text messaging campaigns
Potentially more expensive than dedicated call tracking software
Sequential or simultaneous call forwarding to extensions
800.com may charge an activation fee for extra numbers beyond your plan limits
Extra 800 numbers on the Pro plan only cost 50 cents each
No video or audio conferencing capabilities or collaboration tools like team chat
Set up campaign attribution for call tracking
International per-minute rates apply if you forward calls to numbers outside of the U.S. and Canada
Ability to enable automatic text replies based on keywords
Requires a $100 deposit for international call forwarding
Automatically archives call data so you can see calling volume per toll-free number
All plans include call recording, which is typically locked behind higher tiers
What We Recommend 800.com For
During our review of 800.com, we found the service is best for solopreneurs and small to mid-sized businesses looking to establish a national presence with a toll-free number. You can forward calls to your personal cell phone or give employees an extension with customized call forwarding rules. However, you have to forward calls to an existing landline or mobile number, so it can't completely replace your phone system.
When to Use 800.com
Nonprofits wanting a fundraising number: If you need an 800-number for an occasional campaign but don't necessarily need a permanent voice-over-internet-protocol (VoIP) system, 800.com is an affordable, straightforward solution that can be set up quickly. This is one reason it made our list of the best virtual phone number providers.
Small businesses with low call volumes: Unlike other small business VoIP services, 800.com doesn't charge per user. If your company uses 5,000 or fewer minutes and you want to connect multiple employees, your total costs may be cheaper than 800.com competitors.
If you want to answer basic frequently asked questions (FAQ) via text: You can set up keywords on 800.com, such as "business hours" or a specific campaign term. 800.com will instantly respond with your prewritten message when an incoming text message has these keywords.
Solopreneurs needing a second phone number: If you want to use your personal cell phone to answer calls, 800.com provides a local business phone number, fax line, and toll-free number with unlimited and metered plans.
Businesses wanting to track numbers for marketing campaigns: Discover how many callers originated from advertising and marketing campaigns on your website by inserting a snippet of code and configuring your tracking numbers.
When you want to run bulk text messaging campaigns: Connect with customers or leads by sending an automated short message service (SMS) text to 50, 2,500, or 10,000 people, depending on your plan.
Organizations looking for cheap 800 numbers: If you use multiple 800 numbers for marketing campaigns or call tracking purposes, 800.com's Pro plan comes with five numbers, and extra ones cost less than a dollar each.
Entrepreneurs with multiple businesses: The 800.com mobile application lets you choose one company to use as a default number, and you can easily switch between numbers from one screen.
When 800.com Might Not Be a Good Fit
If you handle protected health information (PHI): 800.com services aren't compliant with the Health Insurance Portability and Accountability Act (HIPAA) and can't enter into a business associate agreement (BAA). Phone.com is another low-cost option for toll-free business numbers and HIPAA compliance can be accessed in its second-tier plan.
Customer support call centers: 800.com's terms of service (TOS) say that you can't use 800.com for bulk call-in lines, such as customer support contact centers or hotlines. In this case, a contact center as a service (CCaaS) solution like Five9 would be a better option.
Companies needing out-of-the-box integrations: Although 800.com offers application programming interfaces (APIs) and webhooks, it lacks integrations with third-party tools such as customer relationship management (CRM) platforms and help desk software. For integrated services, consider a VoIP business phone system like RingCentral, which has nearly 300 available integrations and the ability to create more through Zapier.
Businesses with government contracts: 800.com doesn't meet Federal Information Security Management Act (FISMA) guidelines, which may be required if you provide services to the government.
Sales teams looking for an auto-dialer: 800.com doesn't come with a predictive or progressive auto-dialer feature like 8×8 or Five9 offers. Your dedicated sales teams need one of the best auto-dialer software providers with skills-based routing features.
Companies wanting a unified communications platform: 800.com doesn't centralize conversations from multiple channels like phone systems with unified communications features. RingCentral is a top unified communication as a service (UCaaS) provider and tops our list of the best 800.com alternatives. But if cost is a top concern, check out the best free and low-cost UCaaS providers.
Organizations with high call volumes: 800.com's Pro plan includes 5,000 minutes, and additional minutes cost 4 cents each to a toll-free number and .8 cents to a local number. Some other vendors supply vanity phone numbers for team use without usage limitations. For example, MightyCall includes 800 numbers with all of its plans and minutes are unlimited beginning at the second plan tier.
If you call international numbers frequently: Unlike 8×8 and GoTo Connect, 800.com doesn't provide unlimited international calling to any country.
800.com Pricing
800.com provides three virtual phone number service subscriptions. Two versions are for personal use only, and calls can't be forwarded to multiple recipients. The third option comes with unlimited extensions, allowing you to connect your whole team to your phone system. All plans have nearly the same features but have different limits for text messages, minutes, and bulk messaging.
800.com Plans

Personal

Unlimited

Pro

Best For

Solopreneurs with low call volumes wanting a toll-free business number

Solopreneurs with higher call volumes or who want call tracking features

Small companies wanting several 800 numbers for campaigns

Monthly Pricing

($/User/Month)

$23

$59

$239

Annual Pricing

($/User/Month)

$19

$49

$199

Included Minutes

1,000

Unlimited

5,000

Per-minute and Per-text Rate for Overage

6 cents

6 cents

4 cents for toll-free or .8 cents for local

Toll-free Numbers

1

1

5

Additional 800 Number Cost

$9

$15

50 cents

Local Number Included

✓

✓

✓

Inbound and Outbound Fax

✓

✓

✓

Text Messages

120

2,500

10,000

Number of Bulk Text Credits

50

500

1,000

Additional Bulk Text Credits

4 cents

4 cents

4 cents

Auto-attendant

✓

✓

✓

Call Recording

✓

✓

✓

Voicemail

✓

✓

✓

Voicemail Transcription

✕

✕

✓
800.com Features
Outside of voicemail transcription, all 800.com plans have the same VoIP phone system features, including the basic tools most small business owners need for voice calls. You can access these features on your mobile app or when using a browser on your desktop. You can also forward calls to your landline and use your office phone to chat with clients.
General Features
Keep your business or fundraising number separate from your personal calls with the second phone number and voicemail box you get with an 800.com plan. Screen calls using a softphone app or send a fax by attaching a document (DOC or DOCX) or portable document format (PDF).
All 800.com accounts include:
Voicemail
Canada and U.S.-based toll-free numbers
Call recording
Local and toll-free vanity phone numbers
Call notifications to email or text
Voicemail-to-email audio files
Caller ID
Call blocking
Virtual fax
---
Campaign Attribution
Set up a dynamic phone number for your website and digital ads to track performance across multiple platforms. Configure one campaign for each toll-free number and then track users or individual events. 800.com adds up all phone number clicks related to a specific channel, such as a Facebook ad.
You can also track users and details about what actions users took on your website before clicking your phone number. Use call analytics to determine which advertisements, landing pages, or social posts drive the highest call volumes for your sales or fundraising efforts.
---
Call Routing
800.com provides call routing options for solo users and teams. You can configure each phone number and extension to forward calls according to a schedule or preset list of numbers. Plus, 800.com supports call weighting distribution, which lets you give certain employees a higher call volume over others.
The call routing options are:
Standard: Forward all incoming calls to one phone number
Simultaneous: Send calls to several numbers at once
Sequential: Route calls to each number on a list until there's an answer
Business hours: Set specific forwarding hours for each phone number
Voicemail: Direct calls straight to voicemail
---
Custom Auto-replies
If you miss a text during or after business hours, you can send an automatic text message to the caller. This is similar to the instant response feature offered by Grasshopper, which is a top virtual phone number provider along with 800.com.
Your custom 600 character messages are office hours auto-replies or general auto-replies. Office hour responses go out when you miss a call during regular hours, whereas general auto-replies are used after your business is closed, for holidays, or weekends.
---
Mass Texting Campaigns
Companies use SMS text campaigns to get a message to multiple people out quickly, and you may use it for marketing or informational purposes. All 800.com plans come with credits for bulk texting campaigns: 50 for Personal, 500 for Unlimited, and 1,000 for Pro. Recipients also receive instructions for opting out of your text campaign after sending the initial text.
Send personalized text messages to your contacts by pulling first or last names from your contact list. Each text uses one credit, but a text with an image (a multimedia message, or MMS text) takes two. Bulk text messages can be 600 characters and contain emojis. 800.com charges 4 cents for additional credits beyond your plan's limit.
---
Call Analytics
Use your online portal to access information about your 800.com phone numbers, including campaign-specific tracking numbers, your business line, and numbers you forward calls to. The charts and associated data are easy to read and exportable to Google Sheets or Microsoft Excel via a comma-separated values (CSV) file.
The report and dashboard options include:
Tracking number: Check out your total calls, unique callers, and average and total call durations for each tracking phone number.
Forwarding number: Break down the total calls, including answered, missed, and voicemail, and average call duration a forwarding number receives. It also highlights the number of first-time callers per line.
Day and time: Get a quick look at your daily first-time and repeat callers broken down by the hour.
Geo (geographical location): See the total number of calls, unique callers, and average time spent on the call categorized by the caller's U.S. state location.
Duration: View tallies for the length of calls to your tracking number under 30-second, 90-second, two-minute, or five-minute durations.
Unique callers: Find out how many new callers contact your company and how your team handled those calls.
Missed calls: View how many calls you miss each day of the week and learn which hours experience the highest volume of missed calls.
---
Keyword Spotting
Create automatic 600-character text responses when a customer sends a message containing a keyword. You can use this feature for informational purposes, such as replying with your business or technical support hours. Use keyword spotting in your marketing materials, such as by telling your audience to text SPRING PROMO to your number and sending an automatic instant reply with the discount code.
---
800.com Alternatives
Although 800.com reviews show it ranks high for ease of use and customer support, other options may be a better fit for your business. Providers like RingCentral offer international phone numbers and a unified communications platform, whereas Grasshopper provides an instant reply feature similar to 800.com. On the other hand, solopreneurs may prefer the free Google Voice or a comparable Google Voice alternative.
| | | |
| --- | --- | --- |
| | | |
| Best for: Small teams wanting to save by paying a flat fee for a virtual business number instead of per-user pricing for unlimited domestic calling and texting | Best for: Solopreneurs wanting free VoIP calling or small businesses looking for affordable phone plans that integrate with the other Google Workspace apps they use | Best for: Small, midsize, or enterprise-level businesses wanting a single platform for video, instant messaging, text, and voice communication |
| Starting price: $29 per month for one phone number | Starting price: $10 per user, per month | Starting price: $29.99 per user, per month |
| | | |
Looking for more options? Find out which providers made our list of the best 800.com alternatives.
What Users Think
Users rate 800.com highly across all channels, and the company frequently responds to 800.com reviews left by users. 800.com reviews show that customers appreciate the responsive customer support from the provider's agents and its simple online user interface. When 800.com clients had technical difficulties, they said an agent helped them right away.
Here are a few ratings from popular review sites:
Overall, 800.com reviews indicate the VoIP virtual phone number service is reliable. However, the mobile app is a recent addition and only has eight reviews across Google Play and the App Store. It offers fewer features and less functionality than 800.com users have when using the platform from a web browser.
Bottom Line
800.com is an affordable solution for solopreneurs, small businesses, and nonprofit organizations wanting one or more toll-free numbers. While it doesn't offer a full suite of UCaaS features, it's a reliable option to forward business calls to your desktop or smartphone and supports bulk messaging campaigns.
If you're going to monitor and improve your outreach campaigns, 800.com provides features to analyze each tracking number, including how many people are first-time callers. Overall, 800.com users are satisfied with the flexibility the phone service offers.