GoTo Meeting is a leading online meeting software with high-definition video and robust security features. While it offers screen sharing, unlimited meeting duration, and breakout rooms, GoTo is set to discontinue support for the product. For those interested to learn more about which GoTo Meeting alternative has high-quality audio and affordable plans, we outline the top competitors and their best features to help you find a provider for your needs.
GoTo Meeting & Best Alternatives at a Glance
GoTo Meeting Alternative & Competitors

Monthly Starting Price

Key Features

Base Meeting Capacity

FSB Rating

$12

High-definition (HD) audio and video
Smart assistant
Unlimited meeting and time durations

150 participants

4.36 out of 5

$4*

Attendee registration and reporting tools
Live meeting captions
Unlimited chat

100 participants

4.58 out of 5

$14.99*

Team chat
Enterprise-grade security
Co-host and alternate host

100 participants

4.5 out of 5

$30

Business phone
Team messaging, video meetings, and audio conferences
200 meeting attendees

100 participants

4.41 out of 5

$9.99

Meeting recording
Collaboration board

25 participants

4.38 out of 5

$6*

24-hour meeting length
U.S. or international dial-in phone numbers
Noise cancellation

100 participants

4.22 out of 5

$28

Advanced moderator controls
YouTube livestreaming of meetings
Team messaging with document sharing

500 participants

3.77 out of 5
*Providers offer free versions for home or personal use.
Do you want more information about GoTo Meeting? Check out our in-depth GoTo Meeting review to find out what it offers and how it stacks up against these GoTo Meeting competitors.
Microsoft Teams: Best Overall GoTo Meeting Alternative

What We Like
Allows participants to join meetings without an account
Select plans have a 99.9% uptime guarantee
Store and share up to 1TB per user of personal files using OneDrive
Where It Falls Behind
Only offers a maximum of 30 video meeting hours
No unlimited cloud storage
Provider only has annual subscriptions
How It Compares to GoTo Meeting
MS Teams' maximum meeting capacity is higher at 300 participants; GoTo meeting only offers up to 250 attendees
Both providers include webinar hosting in their most expensive plan
Both offer robust meeting tools, such as screen sharing, file sharing, and polling
Microsoft Teams is our top GoTo Meeting alternative offering comprehensive video conferencing and collaboration features thanks to its seamless integration with the Microsoft (MS) ecosystem. As an MS product, Teams works well with other Microsoft 365 and Office 365 suites applications, including OneDrive, Excel, PowerPoint, and Word. This makes it easier for your team to access and move between applications, improving productivity while saving time.
In addition to extensive Microsoft and third-party integrations, Teams emerged as the best overall app, given its unified communications (UC) capabilities like unlimited chat and file sharing. Host unlimited group meetings for up to 30 on the base plan with collaboration features like breakout rooms, whiteboards, and screen sharing. Its live captioning includes speaker attribution and supports up to 28 languages by default.
Microsoft Teams' free plan includes essential features like custom backgrounds, scheduled meetings, noise suppression, and English captions. However, customer feedback indicates its features and interface are not that intuitive. Zoom is a better option if you're looking for an easy-to-use video conferencing platform. It's a popular virtual meeting solution that's intuitive and widely used.
Microsoft Teams Monthly Pricing at a Glance*
Free: 100 video attendees, 60-minute group meeting duration, screen sharing, custom backgrounds, and unlimited team chat
Essentials: $4 for 300 video attendees, 30-hour meeting duration, and 10GB storage
Microsoft 365 Business Basic: $6 for 1TB storage, app integrations, meeting recordings, breakout rooms, and 30 languages for live captions
Microsoft 365 Personal: $6.99** for calling for up to 30 hours and 300 participants, live meeting caption (English), ad-free email, calendar, and contacts, and premium MS applications
Microsoft 365 Business: $12.50 for attendee registration and reporting tools, webinar hosting, and desktop versions of Microsoft 365 apps
*Pricing is per user. All versions require an annual commitment.
** Plan's use is limited to one person.
Microsoft Teams Features
Extensive integrations: Connect Microsoft Teams with over 1,800 apps available in Microsoft Teams or create your own. Integrate platforms in one place to reduce time-consuming app switching and boost productivity and efficiency.
Webinar hosting: Host webinars if you want a more controlled interaction with clearly defined roles for presenters and participants. Multiple presenters can share content, video, and audio, and hosts determine whether participants can view content or view and engage. Teams' instant messaging platform includes instant polls.
Instant chat: Teams has an instant messaging platform with features such as emojis, GIFs, rich-text editing, file sharing, and threaded conversations. This is a flexible alternative to email, an asynchronous form of communication.
Zoom: Most User-friendly GoTo Meeting Alternative

What We Like
Offers unlimited cloud storage
Advanced background noise suppression
Dial-in numbers available for more than 90 countries
Where It Falls Behind
Only 1GB recording storage on paid plans
No dial-in numbers with the free plan
Mobile version has less functionality than desktop version
How It Compares to GoTo Meeting
Unlike Zoom, GoTo meeting does not have a free plan
Zoom has a 30-hour meeting cap, while GoTo Meeting doesn't have meeting time limits
GoTo Meeting only offers annual billing; Zoom offers monthly and annual payment options
Zoom is easy for anyone to set up and host or participate in a face-to-face meeting. It's great for internal and external collaboration, especially for those new to remote conferencing. Participants do not need a Zoom account to attend a meeting but must download the Zoom application to a desktop or mobile device. For those who sign up, once your account is live, you can immediately schedule and invite others to join meetings.
Zoom is one of our best video conferencing software, thanks to its base plan inclusions such as conferencing for up to 100 attendees, three whiteboards, team chat, and automated captions. However, Zoom has a 40-minute time limit for each session. If you are in the market for a video conferencing solution with unlimited meeting durations, consider RingCentral. Although its base plan only allows up to 100 video participants, no time limits are imposed.
Zoom Monthly Pricing at a Glance*
Basic: Free for 40-minute meetings with 100 participants, private and group chat, self-help support, screen sharing, breakout rooms, and filters
Pro: $14.99 for up to nine users, 30-hour meetings with 100 attendees, 5GB cloud storage, toll-based telephone dial-in, pooling, co-host, and alternate host options, and custom mail domain
Business: $19.99 for unlimited whiteboards, 300-participant capacity, up to 99 users, branding, recording transcripts, language interpretations, and custom mail domain
Business Plus: $25 for 10GB of cloud recording, automated and translated captions, Zoom phone with regional calling and messaging
Enterprise: Custom pricing for the hosting of up to 1,000 participants, single sign-on, Zoom phone with metered outbound calls and interactive voice response (IVR), workspace reservations
*Prices are per user with monthly billing. Save up to 16% with annual billing.
Zoom Features
Whiteboarding: Work with your team using digital highlights, spotlights, or arrows for greater interactive collaboration. Users can take photos of the whiteboard and share them with others via email.
Multi-share: This feature allows multiple users to share screens simultaneously. Share screens simultaneously during a meeting. Use it during team meetings or webinars when participants want to compare files or materials side-by-side.
Virtual backgrounds: Use this to highlight company branding by preloading backgrounds with your logo. Other virtual appearance features include lighting adjustment and automatic appearance touch-up.
Need a breakdown of what Zoom offers? Refer to our Zoom review to learn more about its features, pricing, and best use cases.
RingCentral: Best for Its Enterprise-grade Security Protocols

What We Like
Paid plan supports up to 200 meeting participants
Easy call switching from one device to another
Volume discounts for 50-plus users
Where It Falls Behind
Only Ultra plan allows up to 200 video participants
Trial is limited to a maximum of five users and two desktop phones
Lacks unlimited SMS
How It Compares to GoTo Meeting
GoTo Meeting and RingCentral offer unlimited meeting durations
Unlike GoTo Meeting, RingCentral offers transcription on its base plan
Both providers are Health Insurance Portability and Accountability (HIPAA)-compliant
RingCentral is one of the best business phone systems with seven layers of enterprise-grade security, including Messaging Layer Security (MLS)-based end-to-end encryption (E2EE) video. Users can store recordings and chat text through desktop download or in the RingCentral cloud. It's Health Information Trust Alliance (HITRUST) and HIPAA-certified and business associate agreement (BAA)-compliant, indicating that RingCentral meets industry security standards.
RingCentral is a cloud-based UC platform offering advanced solutions like real-time analytics and over 200 third-party integrations. As a top call management platform, RingCentral offers team messaging, document sharing, and unlimited calling within the U.S. and Canada. With all these options, some businesses may find RingCentral's offering overwhelming. For a straightforward, simple video conferencing solution, Zoom is better suited for your needs.
RingCentral Monthly Pricing at a Glance*
Core: $30 for one local/toll-free number, unlimited domestic calls, 100 toll-free minutes, 25 short message service (SMS), multi-level IVR, team chat, and 100 video attendees
Advanced: $35 for 1,000 toll-free minutes, 100 SMS, automatic call recording, advanced call monitoring, hotdesking, and unlimited internet fax
Ultra: $45 for 10,000 toll-free minutes, 200 SMS, 200 video attendees, unlimited team messaging and file sharing, E2EE for video and messaging, and 100 hours of recording
*Pricing is per user. Discounts apply for annual billing and volume of 50 users or more.
RingCentral Features
Breakout rooms: Create smaller sessions using breakout rooms during your video conference. Breakout room participants can chat and share whiteboards and screens.
Team messaging: Easily communicate using the RingCentral platform. In-meeting chat is also available and is part of the meeting recording. The message data export tool customizes search parameters, and you can create folders to organize conversations.
Admin controls: Have total control over how the meeting is conducted with lock meeting features. Participants have mute or unmute options and can enable or block screen sharing.
BlueJeans: Best GoTo Meeting Alternative for Its Meeting Analytics

What We Like
Free plan with unlimited minutes for 25 people
Unlimited meeting recordings
Offers brand customization
Where It Falls Behind
Remote desktop control is unavailable in the free plan
Only paid plans have 24/7 support via phone and chat
File sharing capabilities are not available
How It Compares to GoTo Meeting
GoTo Meeting's base plan offers a higher participant capacity than BlueJeans
BlueJeans only offers 24/7 customer service to higher tiers, while GoTo Meeting offers it to all users
Both providers are HIPAA-compliant
BlueJeans is the best GoTo Meeting alternative for businesses that want live intelligence on meeting performance and network conditions. Its centralized command center comes with real-time alerts that give administrators insights on participation and usage and better troubleshooting of problems. This is great for industries like events management as it shows the number of positive meetings you've conducted and comments or feedback received.
This real-time system also gives room-specific dashboards offering an overview of room availability and active participants. BlueJeans offers crystal-clear Dolby Vision sound and HD video for efficient and seamless meetings. However, while it offers whiteboard, screen sharing, and virtual backgrounds—essential virtual conferencing features—it lacks file sharing. Google Meet is your best option if you're a Google user looking for extensive collaboration functionality.
BlueJeans Monthly Pricing at a Glance*
Basic: Free for unlimited meeting durations for up to 25 participants
BlueJeans Pro: $9.99 for up to 150 participants, 25 hours of recordings, and infinite collaboration boards
BlueJeans Enterprise: $13.99 for up to 300 participants, unlimited recording, and live transcription and captioning
*Pricing is per user. Save up to 20% with annual prepayment.
BlueJeans Features
Virtual backgrounds: Spruce up your appearance with fun virtual backgrounds or upload a photo bearing your company logo for branding. Users who want to minimize attention to their environment can use BlueJeans' blur feature to eliminate distractions.
One-click scheduling: Participants can easily join your video conference with a Google or Microsoft Outlook integration. By adding meetings to these calendars, participants can simply click the event and join without a pin code, conference ID, or password.
Secure meetings: BlueJeans offers essential security features like randomized nine-digit meeting IDs, participant passcodes, and lock meetings to prevent unwanted meeting entries. During a meeting, hosts also have the option to expel participants with a click of a button.
In our BlueJeans review, we detail the provider's best features, customer feedback, pricing, and use cases to help you make an informed decision as to whether this is the platform for you.
Google Meet: Best Option for Google Users Needing Quick Setup

What We Like
Offers breakout rooms
Includes attendance tracking
Digital whiteboard available in base plan
Where It Falls Behind
Noise cancellation is not included in the base plan
Only the most expensive plan has in-domain livestreaming
Meeting recording accessible through higher paid plans
How It Compares to GoTo Meeting
Both Google Meet and GoTo Meeting offer dial-in phone numbers in all plans
Like GoTo Meeting, Google Meet has breakout rooms and hand-raising features
GoTo Meeting has built-in business messaging, which Google Meet offers through Google Workspace apps
If you're a Google user looking for a high-definition platform with quick installation, begin using Google Meet in a matter of minutes. To use Google Meet's free version, go to the Google Meet page, enter your name, email address, and location, choose personal as your primary use, agree to the terms of service, and submit. Once you've signed up, you can begin scheduling and hosting meetings.
Google Meet offers advanced security, and users with high-risk accounts can join the advanced protection program to avail of the strongest protection features to combat phishing and account hijacking. While it has robust video conferencing capabilities, Google Meet lacks extensive built-in UC features, which RingCentral offers. RingCentral's comprehensive platform includes phone calls, team messaging, SMS, fax, and video conferencing.
Google Meet Monthly Pricing at a Glance*
Free: 100 video attendees, 60-minute meeting duration, screen sharing, and whiteboarding
Business Starter: $6 for 100 video attendees, 24-hour meeting duration, and whiteboarding
Business Standard: $12 for 150 video attendees, noise cancellation, meeting recording, polling, and Q&A
Business Plus: $21 for 500 video attendees and attendance tracking
Enterprise: Contact sales for pricing and livestreaming
*Rates are based on monthly per-user pricing.
Google Meet Features
Breakout rooms: Divide participants into smaller groups for more nuanced conversations during a meeting. For example, separate individuals during a company planning meeting either at random or predetermined participants by, for example, a department.
Jamboard: Enhance your meeting experience with Jamboards, Google's digital dry-erase board for collaboration. Start a Jamboard during a meeting or link it to a calendar resource to jump to a meeting directly from board work.
Multiple pins: Highlight your keynote speaker and host simultaneously during a meeting with this multiple-pin feature. Google Meet's multi-pins let you pin up to three participants or presentations simultaneously.
Familiarize yourself with Google Workspace's video conferencing platform in our comprehensive Google Meet review.
8×8: Best GoTo Meeting Alternative for Large Meeting Audiences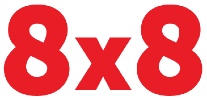 What We Like
Robust interactive meetings with polls, hand-raising, and breakouts
Offers call activity analytics
8x8 Voice for Microsoft Teams integration add-on
Where It Falls Behind
No volume-based discounts
Barge, monitor, and whisper only available in higher plan
Lacking advanced team collaboration features like task management
How It Compares to GoTo Meeting
8×8 has a much larger participant capacity of 500 attendees, compared to GoTo Meeting's 150 participants
Both providers offer mobile screen sharing
GoTo Meeting has more advanced artificial intelligence (AI) features than 8×8
GoTo Meeting and 8×8 offer toll-free numbers
Among the top GoTo Meeting competitors, 8×8 tops the list as the provider offering the largest participant capacity with 500 attendees. As one of the best VoIP services for small businesses, in addition to a high-meeting capacity, 8×8's meetings use HD video and audio conferencing on all compatible devices, and it has no meeting or minute restrictions. It also comes with rich collaboration tools, such as virtual backgrounds and mobile browser support.
Meetings are secure with 8×8's optional E2EE for meetings and extensive compliance certifications that include HIPAA, the Federal Information Security Management Act (FISMA), and ISO 27001: 2013. However, even with its toll-free number offering, it does not offer a toll-free minute allowance. If you want a platform that lets you save on toll-free communication costs, consider RingCentral.
8×8 Monthly Pricing at a Glance*
X2: $28 per user for all-in-one voice, video, and chat for larger teams
X4: $57 per user for advanced call handling and analytics
*Users are allowed to mix and match plans; save up to 25% with annual billing.
8×8 Features
Advanced moderation controls: This feature includes meeting lock, participant permissions, and participant lobby, allowing hosts to control participation and meeting flow.
Virtual backgrounds: Customize your meeting appearance and participation using background modifications like background blur and image upload. This is a great way to "level up" your online presence, regardless of what is around you.
Cloud recordings: 8×8 allows you to record audio, video, and desktop from a meeting. This will be saved in the cloud for future reference or for sharing with guests who could not attend.
How We Evaluated the Best GoTo Meeting Alternatives
To assess which is the best alternative to GoTo Meeting, we considered pricing, general and advanced features, ease of use, and customer support. The evaluation also incorporates our expert opinion on its value for money and popularity.
Learn how we evaluated the best GoTo Meeting competitors by clicking on the tabs below:
15% of Overall Score
To determine the platform's affordability, we looked at the price of the provider's base-level and second-tier plans and gave more points to those offering annual and volume discounts. We also considered the availability of a free plan and free trials, which smaller businesses greatly benefit from.
25% of Overall Score
The general features we looked at were whether conferencing was available in the free plans. We also examined whether the provider has an uptime guarantee and mobile and desktop screen sharing.
20% of Overall Score
The specialized features we checked were meeting recording, integrations, and simultaneous screen sharing. Higher points were given to providers with virtual background capabilities.
10% of Overall Score
We evaluated ease of use by determining the expertise required to set up and operate the phone system. We also assessed if providers have an intuitive interface.
10% of Overall Score
The variety of customer communication channels was part of our evaluation. Providers were given more points if they offered email, phone, and live chat support. We considered the hours these channels are active and operational.
20% of Overall Score
This includes evaluating the provider's standout features, value for money, and ease of use. We checked user ratings in third-party review sites to gauge the platform's popularity.
*Percentages of overall score
Bottom Line
Video conferencing is crucial in today's business operations, especially for companies with multiple locations or remote teams. GoTo Meeting is excellent for small businesses looking for feature-filled base plans with unlimited meeting duration. However, it lacks file sharing and limited integrations, and for those using the product or looking for extensive long-term support, GoTo is discontinuing explicit support for GoTo Meeting.
Among the alternatives we evaluated, Microsoft Teams was the best overall because of its free plan and affordable paid packages. It comes with an uptime guarantee, data encryption, and unlimited, all essential features in video conferencing. Head over to MS Teams and sign up for this GoTo Meeting competitor's free plan today.