GoToMeeting is one of the most popular conference calling services, but it can be unaffordable for some. It also has restrictive participant and cloud storage limits, as well as a clunky interface. We reviewed several competitors and evaluated them based on price, features, and customer support to learn which stood out as the best overall alternative.
Top 6 GoToMeeting Alternatives & Competitors for 2020
| GoToMeeting Alternatives | Best For |
| --- | --- |
| | (Best overall) Companies wanting an affordable conferencing solution with the best combination of features |
| | Organizations that want a complete VoIP business phone system with built-in conference calling |
| | Small teams of 10 or fewer that are on a budget |
| | Businesses that want to livestream meetings on YouTube to reach a wider audience |
| | Sales teams that need free integration with Salesforce and other business apps |
| | Large companies wanting to host calls and webinars without worrying about participant limits |
| Last updated on 04/08/20 | |
Which Alternative Is Right for You?
How We Evaluated GoToMeeting Alternatives
GoToMeeting offers a number of tools to help businesses manage virtual meetings and team collaboration, but these features come at a cost and may be more robust than needed. Therefore, to determine the best GoToMeeting alternatives, we considered a number of use cases while also looking for quality options that were affordable and that could support a range of meeting sizes.
The factors we considered as part of our evaluation included:
Price
Video and audio quality
Meeting security
Accessibility and attendance limits
Customer satisfaction and support
Based on these criteria, we recommend Zoom as the best overall GoToMeeting alternative for small business because of its combination of features, affordability, call quality, and value for the money. It also offers generous cloud storage and dedicated phone support.
Zoom: Best Overall GoToMeeting Alternative for Small Businesses

Zoom is a conference calling provider and GoToMeeting competitor featuring unlimited meetings for paid plans, on-screen collaboration, and call controls for free. Paid tiers start at $14.99 per user, per month and include 1GB of cloud storage, user management tools, and dedicated phone support. Zoom is the best choice for small businesses that want a more modern GoToMeeting alternative with the best combination of features at an affordable price.

| Zoom Strengths | Zoom Weaknesses |
| --- | --- |
| Full-featured free plan | Limited free cloud storage |
| Dedicated phone support | No toll-free U.S. or U.K. phone numbers |
| Recording transcription | Screen sharing sometimes lags |
Zoom Pricing
Free Basic plan: Supports up to 100 participants with a 40-minute time limit on calls.
Subscription pricing plans: Prices start at $14.99 per user, per month and support 100 to 500 participants with unlimited meetings.
Special pricing: 20% discount on the Pro plan with annual commitment.
Zoom Features
Host controls: All plans include settings to control participants' audio, video, and screen sharing options.
Accessibility: Screen reader support, keyboard shortcuts, and integration for closed captioning available with all plans.
Vanity URL: Available on the Business plan for creating custom-branded URLs.
Check out our Zoom user reviews page to learn more about Zoom.
RingCentral: Best GoToMeeting Alternative With VoIP Functionality

RingCentral offers conference calling software as part of its complete business voice-over-internet-protocol (VoIP) phone system. All service plans include unlimited audio and video meetings and unlimited phone calls starting at $29.99 per month. RingCentral is right for companies wanting a GoToMeeting alternative for conference calling built into a complete phone system.

| RingCentral Strengths | RingCentral Weaknesses |
| --- | --- |
| Built-in business phone system | No free plan |
| Auto-attendant to route calls during meetings | May be more feature-rich than small businesses need |
| Superior call quality | More expensive than other options |
RingCentral Pricing
Subscription pricing plans: Prices range from $19.99 to $49.99 per user, per month for two to 19 users on an annual basis.
Special pricing: Volume discounts are available as you add more users. In addition, RingCentral is offering those in K-12, healthcare, or nonprofit industries free service for three months.
RingCentral Features
Robust meeting collaboration tools: Videoconferencing tools include screen sharing, drawing tools, and speaker spotlight.
Built-in phone: Includes complete VoIP business phone system from our top pick of VoIP phone service providers.
HD calling: Features high-definition (HD) call quality.
To learn more about this service, visit the RingCentral reviews page.
UberConference: Best No-frills GoToMeeting Alternative for Small Teams

UberConference is a budget-friendly conference calling service with unlimited meetings, custom call-in numbers, and international access to over 50 countries. It's also incredibly user-friendly. The provider's free plan limits the number of meeting participants to 10, making this the best fit for small teams on a budget needing a GoToMeeting alternative for holding conference calls.

| UberConference Strengths | UberConference Weaknesses |
| --- | --- |
| Very easy to use | 10-person limit on free plan |
| Broad international calling | Limited call controls |
| Custom dial-in numbers | Calendar integration is difficult |
UberConference Pricing
Free plan: Unlimited meetings for up to 10 participants.
Subscription pricing plans: Unlimited meetings for up to 100 participants for $15 per user, per month.
Special offer: For a limited time, the Free plan allows up to 50 participants.
UberConference Features
Extra security layer: Personal identification numbers (PINs) are required for participants to enter and attend meetings at the Free level and optional with the Business level.
Call recording: Both UberConference plans offer call recording without storage or time limits.
International access: UberConference's Business plan includes international calling access to over 50 countries.
For user reviews and more, visit our UberConference reviews page.
FreeConference.com: Best Alternative for Live Streaming Calls

FreeConference.com is a conference call provider that features unlimited meetings, video conferencing, call control tools, and the ability to live stream conference calls on YouTube. You can start using it for free, but prices go up to $34.99 per month, making it expensive for a platform of this kind. However, FreeConference.com is a good choice for businesses that use their YouTube channel to reach the widest range of customers and clients.

| FreeConference.com Strengths | FreeConference.com Weaknesses |
| --- | --- |
| Live stream meetings to YouTube | Free tier lacks call controls |
| Meeting lock to prevent unauthorized visitors | Free plan only supports five web participants |
| Reliable customer support | No cloud storage with free plan |
FreeConference.com Pricing
Free plan: Supports up to five web participants and 1,000 audio callers.
Subscription pricing plans: Prices range from $9.99 to $34.99 per month with support for up to 100 web participants and 1,000 audio callers.
FreeConference.com Features
Web controls: Web-based host controls include meeting lock, lecture mode, question and answer (Q&A) management, and more.
Breakout rooms: Participants can leave the main meeting room to join breakout sessions for smaller group discussions.
Drawing tools: Presenters can annotate, mark up, and draw on shared on-screen documents.
For more information on FreeConference.com, visit our FreeConference.com reviews page.
join.me: Best GoToMeeting Alternative for CRM Integrations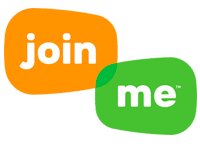 join.me is a conference calling solution that features unlimited audio and video conferencing, call controls, and cloud storage with plans starting at $10 per month. It also offers a greater number of customer relationship management (CRM) and other business app integrations than its competitors. join.me is right for sales teams that want to integrate their call details with their existing CRMs.

| join.me Strengths | join.me Weaknesses |
| --- | --- |
| CRM integration | No audio transcription |
| Individual participant mute | No dedicated phone support |
| Up to 1TB of cloud storage | No alerts when participants join |
join.me Pricing
Lite: Five participants can join meetings for $10 per month when billed annually.
Pro: Hosts can hold meetings with up to 250 participants for $20 per month with an annual agreement.
Business: Businesses can host meetings with enterprise-level permissions and authentications for $30 per month.
join.me Features
Salesforce integration: Allows customers to host join.me video meetings directly from Salesforce.
Business app integration: Connects with a variety of popular business applications to boost host and meeting productivity.
Toll-free dial-in number: An optional toll-free number with per-minute rates starting from eight cents is available to help your business offset participant costs.
For details about this solution, visit our join.me reviews page.
FreeConferenceCall.com: Best Free GoToMeeting Alternative for Large Webinars

FreeConferenceCall.com is a conference call provider that offers free, unlimited audio and video conferencing for up to 1,000 people. It also offers screen sharing, recording, and call reports. While teams that don't expect to have huge numbers on their calls may be better off with UberConference, FreeConferenceCall.com is the best choice for businesses hosting webinars needing an inexpensive way to manage a large number of meeting participants.

| FreeConferenceCall.com Strengths | FreeConferenceCall.com Weaknesses |
| --- | --- |
| Ideal for large meetings | Limited business app integration |
| Optional toll-free number | Optional upgrades could get costly |
| Meeting recording and sharing | Confusing Terms of Service |
FreeConferenceCall.com Pricing
Free plan: Supports unlimited meetings of up to 1,000 participants.
Optional upgrades: No-PIN-required phone numbers for $3.95 per month and extra storage from $3 per month.
FreeConferenceCall.com Features
Call controls: FreeConferenceCall.com's call controls include drawing tools, switch presenter, remote control, mute caller, and conference lock.
Screen sharing: Hosts can show their desktop during a call and allow other participants to share their screen, remotely control a participant's screen, and record the screen sharing session for later playback.
Meeting recording: Customers can record audio, screen sharing, and video conferencing to store, download, and share with others.
Learn more by visiting our FreeConferenceCall.com reviews page.
Bottom Line: GoToMeeting Competitors & Alternatives
GoToMeeting alternative conference call providers allow businesses to host calls with multiple participants over the internet. Features include unlimited meetings and participants, call controls for scheduling calls and managing participants, and collaboration tools for screen sharing and file sharing.
Small businesses that want a GoToMeeting alternative with the best combination of features at an affordable price that's also backed by excellent customer service should try Zoom. The company offers a permanently free plan and free demo of its paid plans. Visit Zoom's website for details.