A softphone is software provided by your voice-over-internet-protocol (VoIP) provider, which allows you to make phone calls with no hardware but your computer, tablet, or similar device via a desktop app. We chose the six top softphone providers for businesses based on factors like ease of use, best features, and overall price.
Top 6 Softphone Providers 2020
Softphone
Best For

(Best Overall) Teams wanting to manage business and personal lines on the same device

Budget-conscious businesses looking to save money on basic telephone features

Distributed teams looking to optimize internal communication with status updates and locations

Larger companies looking to communicate and collaborate with customers in many different ways

Businesses in need of a softphone and live receptionist services

Professionals looking for customizable plans tailored to those with low call volume

Last updated on 04/15/20
How We Evaluated Softphones
Since you depend on a business phone service to make and receive all of your calls, it's important that your softphone provider is reliable and intuitive. Our criteria included looking at different methods of communication beyond smartphone capability only. Communication takes many different forms, and we looked at other services within each app like short message services (SMS) and video chat.
The criteria we used to evaluate the best softphone app providers include:
Price
Ease of use
Customer support
Customer satisfaction
Communication channels
Additional features
Grasshopper is the brand that we felt best serves clients in a business setting, earning our top spot as the best overall softphone provider. Offering such valuable VoIP phone features as call transferring, toll-free numbers, and conference calls, Grasshopper is a well-rounded service that most clients are happy with. It is affordable and easy to learn for everyday users.
What Provider is Best For You?
Answer a few questions about your business and we'll give you personalized product match
Grasshopper: The Best Overall Softphone Provider
What it costs: There are three tiers of service, and you can choose to be billed monthly or annually. Annual plans start at $26 per month and are 10% cheaper than monthly plans, which range from $29 to $89 per month.
What it does: Grasshopper offers toll free, vanity, and local phone numbers, giving you options in how you would like your small business represented over the phone.
| Grasshopper Strengths | Grasshopper Weaknesses |
| --- | --- |
| Gives you the option of choosing a new number or porting an existing one | No tools like call recording to improve customer service |
| Call handling options like transferring and forwarding as well as voicemail transcription | No video chat features |
| Toll-free, local, and vanity numbers are available | Setup for extensions can be confusing for users at first |
Telephone calls are the main draw of Grasshopper, and other communication methods are limited. You can send SMS messages with your Grasshopper plan, but it is strictly a phone service and does not support video chat at this time.
Certain features like Grasshopper's built-in automated attendant service make up for its shortcomings in video conferencing. The auto-attendant is a handy widget that will answer your calls and forward them however you program it to. If you've set up the dial-by-name feature, callers can quickly reach their desired department or extension.
Visit our Grasshopper reviews page if you'd like a more in-depth view on features and pricing.
Google Voice: Best Free Softphone Service
What it costs: Nothing. It's free to use Google Voice.
What it does: Google Voice offers a free telephone number to users while providing additional services like video chat and SMS messaging.
| Google Voice Strengths | Google Voice Weaknesses |
| --- | --- |
| Costs nothing to use | No toll-free numbers |
| Syncs with your other Google apps to quickly schedule meetings and communicate with others | You cannot customize your phone number and are limited to available numbers |
| User-friendly | Limited customer support |
Google Voice offers many different ways to reach out to clients and colleagues, from SMS text messaging options to live video chatting via Google Hangouts. There are also features like call forwarding and routing to give your business a more professional presence, plus Google Voice offers the ability to receive calls from multiple numbers on one device. It's free to set up and use while giving you many of the features that paid services offer.
Check out our Google Voice reviews page to learn more.
Nextiva: Best Softphone Provider for Team Communications
What it costs: Nextiva provides four different tiers of service. Pricing ranges from $21.95 to $65.95 per user, per month for five to 19 users with a 36-month prepaid agreement. Volume discounts are available as you add more users.
What it does: Nextiva is a full business package instead of a simple softphone app. It offers free local and toll-free numbers as well as SMS services and video conferencing.
| Nextiva Strengths | Nextiva Weaknesses |
| --- | --- |
| Unlimited audio conference calls are included with every package | Audio conference calls are limited to only four participants at once with the most basic package |
| Includes a location indicator and status bar | The process can seem bulky and confusing to novice users |
| Offers individual and group chat | The mobile app is only available in premium plans |
Nextiva is a voice-over internet-protocol service, which means that it does require you to have an existing phone number or business line. It features the ability to set location and a team member's availability, which make it a great choice for distributed teams that want to know at a glance who is free to take a call. However, its mobile softphone and full suite of customer service capabilities are only offered in the higher-tiered plans.
For a full review of the best and worst parts of Nextiva, check out our reviews page.
RingCentral: Best Softphone for Advanced Group Collaboration
What it costs: RingCentral's monthly plans start at $29.99 up to $59.99 per user, per month, but annual plans are 33% cheaper. There are four different tiers of service with RingCentral's plans.
What it does: Connecting people through features like audio, video, and text messaging, RingCentral is a full VoIP system that offers more than softphone services.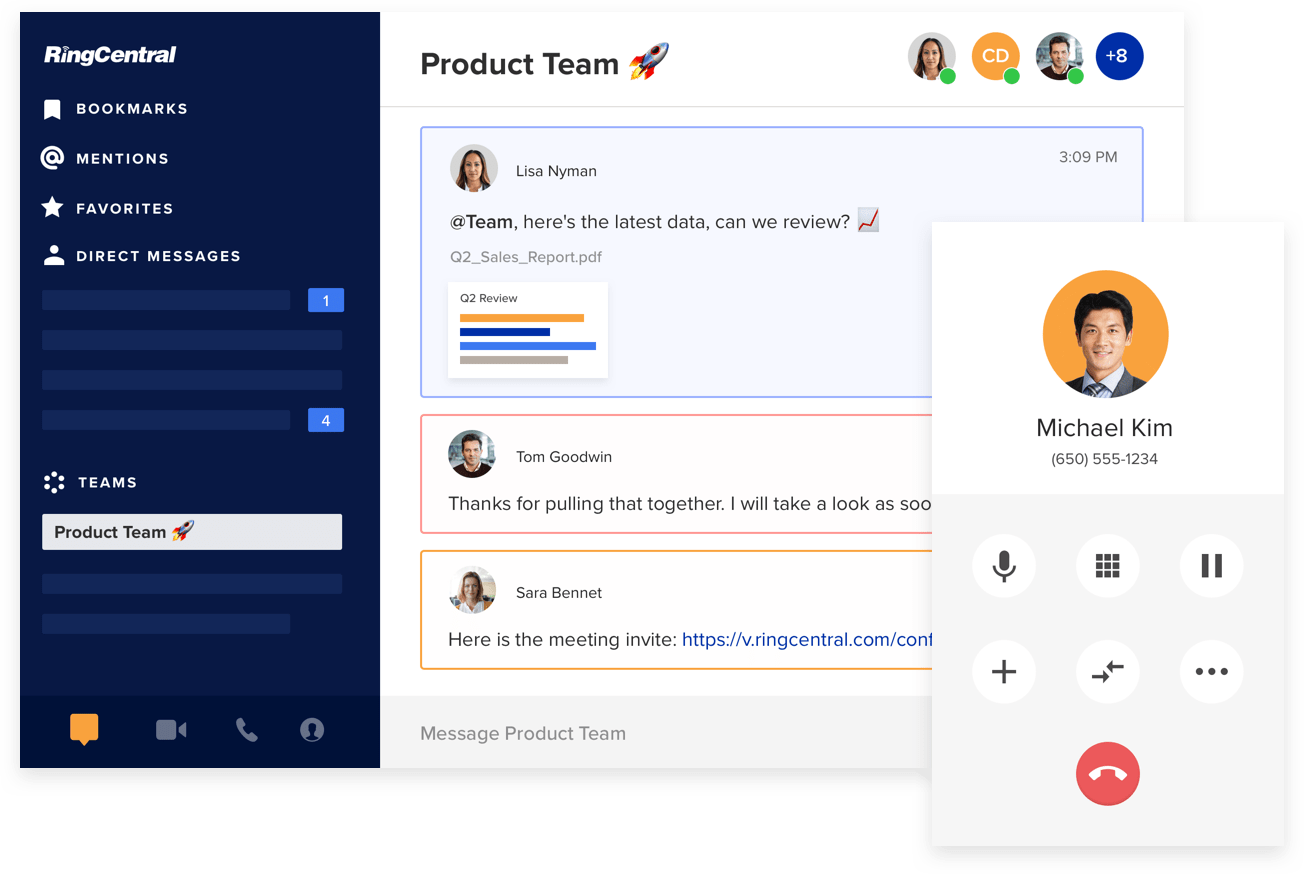 | RingCentral Strengths | RingCentral Weaknesses |
| --- | --- |
| Allows you to group teams by projects and departments | 24/7 customer support is not offered on all plans |
| Offers toll-free minutes for all plans and supports calling to 100 countries | Not all tiers have customer service features like call recording and voicemail-to-text transcription |
| Integrates with several third-party tools and Chrome and IE browsers | Clients report that customer service can be slow to respond at times |
RingCentral is a cloud-based phone service that offers softphone calling along with team messaging, file sharing, and video conferencing. Teams can be grouped by department, project, or even topic to optimize workflow, and RingCentral features voicemail-to-text services that allow you to read and download your voicemails to refer back to later for improved customer service.
If you're interested in learning more, visit our RingCentral reviews page to see what else RingCentral can offer your business.
eVoice: Best Softphone With Receptionist Services
What it costs: eVoice is the lowest priced yet on this list, starting at monthly services for $7.50 per user, per month and topping at $19.50 for the most expensive plan.
What it does: Rather than send callers to a phone tree and wait to speak to a live human, eVoice's softphone services are unique in that it connects you with a live receptionist to manage calls.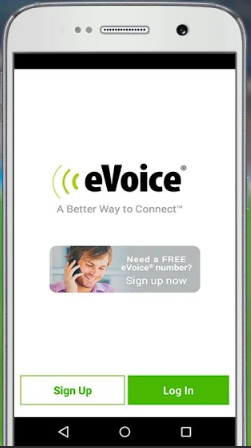 | eVoice Strengths | eVoice Weaknesses |
| --- | --- |
| Optional live receptionist services | Fees for standard services like voicemail transcription |
| Automated attendant services | Not as user-friendly as other options |
| Choose from local or toll-free numbers | Slow customer service |
eVoice is a phone service provider that features things like call forwarding. However, it differs from other softphone providers by offering live receptionist services. This outsourced service gives your customers the ability to connect with a human voice without the need for you to hire a full-time receptionist, and spares clients the frustration of listening to a robotic menu. eVoice also offers voicemail transcription for a fee of at least $1.95 per month for transcription services.
Phone.com: Best Softphone Provider for Low Call Volumes
What it costs: You have two different options with Phone.com: pay-per-minute service or unlimited calling. There are three tiers of service for each. Pay-per-minute services are significantly cheaper than the alternative, starting as low as $12.99 per month, while unlimited services start at $29.99 per month with added fees as you build your plan.
What it does: Phone.com provides basic softphone services for a growing business. You can make virtual calls via your computer or existing phone and upgrade services anytime you wish.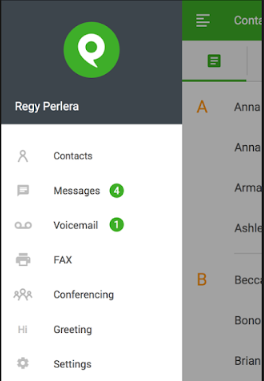 | Phone.com Strengths | Phone.com Weaknesses |
| --- | --- |
| Offers local, toll-free, or vanity numbers or lets you port an existing number | Small fees can add up over time, making for a more expensive plan than you intended |
| Modern hold music | Outdated user interface |
| Gives you the ability to only pay for the minutes you use | Requires training for most users |
If you're looking for a softphone plan that lets you pick and choose what features you want, Phone.com is the solution for you. Some of its most exciting features include modern hold music that customers actually enjoy and mobile and desktop apps to help you manage calls. It also includes SMS and video messaging—but not all of these features are standard. Read carefully what is included in each package so that you aren't surprised by any fees that you might see later.
Bottom Line
Using a softphone provider frees you from needing excess hardware and allows you to make and receive calls from one screen without needing to leave your computer. Perhaps the best feature of all is that softphones will sync with most smartphones, computers, and tablets without needing excess hardware.
We find that Grasshopper is the best softphone provider in a business setting. Its multitude of features, paired with the capability to choose your own number, help add a layer of professionalism to your business. Mobile and desktop apps give you the freedom to make and manage calls no matter where you are working. Check out Grasshopper's free seven-day trial to get started, and take advantage of savings right now of up to $50 off plans.