Softphones are desktop or mobile apps that let you make calls using voice-over-internet protocol (VoIP) technology. This means you only need a device with an internet connection to make or receive calls, but the best offer even more benefits to business users. We dug into the market to find the top six softphone providers for businesses based on price, ease of use, and available features.
The best softphone providers are the following:
How We Evaluated the Best Softphone Providers
Most of today's leading cloud-based business phone systems include softphone apps for mobile and desktop, but some work just as well, if not better, using a traditional deskphone. Others provide more functionality a business might need but require additional system integrations or component installations. Therefore, to determine the best softphone providers, we considered a number of business use cases.
After looking at pricing, ease of use, features, and our own feedback, we found Grasshopper to be the most straightforward and versatile softphone provider. It provides the essential solutions most businesses need without cluttering their apps with complex features.
Here's how we evaluated the best softphone providers:
30% of Overall Score
Softphone providers ditch the hardware requirement, making them a cheaper alternative to more robust full-featured phone systems. We looked at the various pricing plans provided by each platform to see which has the lowest entry-level costs and affordable scalability.
30% of Overall Score
Users will be relying entirely on the softphone providers' desktop and mobile apps to do their job, so it needs to be intuitive and straightforward. We looked at the apps' interfaces and reviewed user feedback to ensure the solutions were clear and easy to learn.
30% of Overall Score
Softphone providers must walk a fine line between providing the right features without overcomplicating interfaces for users. We looked at the softphone providers' primary communication channels and advanced features to see which provided the core fundamentals while maintaining ease of use.
10% of Overall Score
We gave the products a try for ourselves and then dove deep into the user feedback to learn about real user likes, dislikes, and experiences.
*Percentages of overall score
Grasshopper: Best Overall Softphone Provider for Small Businesses
Grasshopper

What We Like
Easy-to-use app interface and call handling features
Affordable pricing tiers for small businesses
Offers toll-free, vanity, and local numbers available
What's Missing
No video conferencing
No call recording
Needs integration for auto-attendant
Grasshopper Pricing
Offers three tiers of service with annual or monthly plans
Annual plans start at $26 per month and are 10% cheaper than monthly plans, ranging from $29 to $89 per month
Each plan includes all features, but you'll pay more for additional phone numbers and extensions
Small businesses that just want to add business calling and texting to their personal devices will love Grasshopper's simplicity and affordability. Just download the desktop or mobile app, port your existing number or purchase a new one, and you'll be ready to go. Grasshopper provides a few business phone system features that make it easier to run your communications, like auto-attendant, instant response, custom greetings, call transfers, and incoming call control. However, it doesn't offer video conferencing or call recording functionality.
Grasshopper Notable Features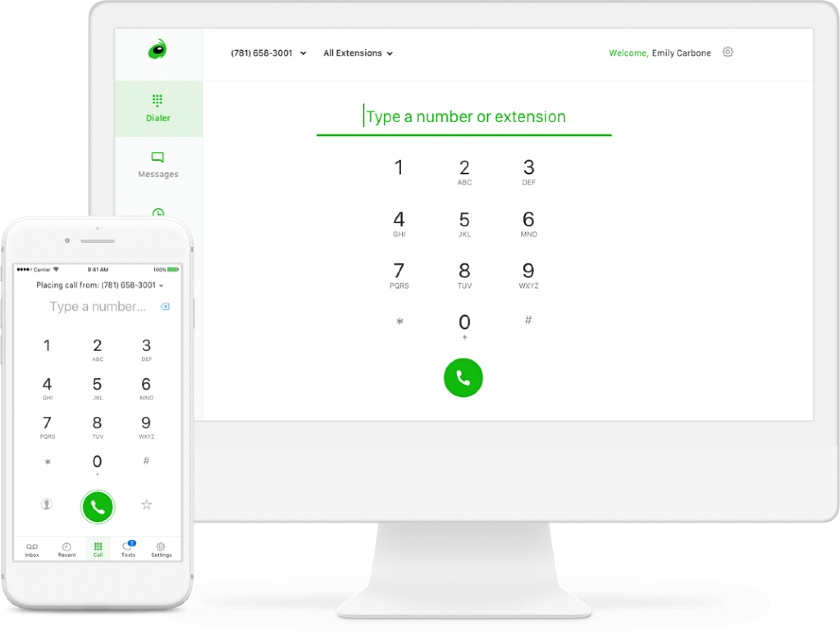 Includes call and text history
Offers voicemail transcription
Supports multiple extensions with a single line
Visit our Grasshopper review page if you'd like a more in-depth view of features and pricing.
3CX: Best Softphone Provider for Omnichannel Communications
3CX

What We Like
Full range of communication channels
Does not require a desk phone
Free plan has a lot to offer
What's Missing
Does not include text messages in entry-level plan
Support tickets cost $75
Non-intuitive interface
3CX Pricing
First year is free
Provides competitive pricing with three tiers ranging from free to just $5.05 per user, per month on the Enterprise plan when you have five users
Significant discounts apply for additional users
3CX is a communications system that provides many of the features found in more robust business phone systems, but it does so at a fraction of the cost for teams. In addition to allowing users to make business calls using its softphone app, the service also works with your website, giving you the ability to engage in chat messages. It also lets you send texts or answer Facebook page messages, making it a good option for teams that want to be able to tailor how they communicate to the individual customer's preference.
However, despite its budget-friendly tiers (and free plan) for rapidly scaling teams, 3CX's mobile and browser-based apps lack polish. They're unintuitive and somewhat tricky to navigate, on top of appearing outdated.
3CX Notable Features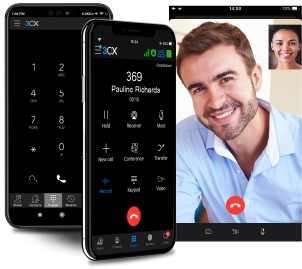 Includes live chat tools for your website
Works with Facebook messaging
Offers remote assistance for web conferencing
Includes an auto-attendant
Bria: Best Add-on Softphone Provider
Bria

What We Like
Clean, easy-to-use interface desktop and mobile apps
Adds calling and messaging between team members
Integrates with all the leading VoIP services
What's Missing
Must be used with another VoIP service provider
No phone support and lack of online education
Software can be glitchy at times
Bria Pricing
Offers a free plan for single users and a Teams version that starts at $4.95 per user, per month
Unlike the other softphone providers on this list, Bria by CounterPath works primarily as a supplemental add-on application for your existing VoIP service rather than acting as a standalone calling solution. That said, even without a VoIP service integration, Bria enables team messaging and calling with support on up to four separate devices for each individual user.
Bria also provides a polished, easy-to-navigate interface that makes your communications processes smoother and more straightforward. That means you can use your VoIP solution on your desktop or with you on the go on your personal laptop, tablet, or mobile phone, making it a good option for people who want to give their team an improved softphone experience but are otherwise satisfied with their existing business phone service.
Bria Notable Features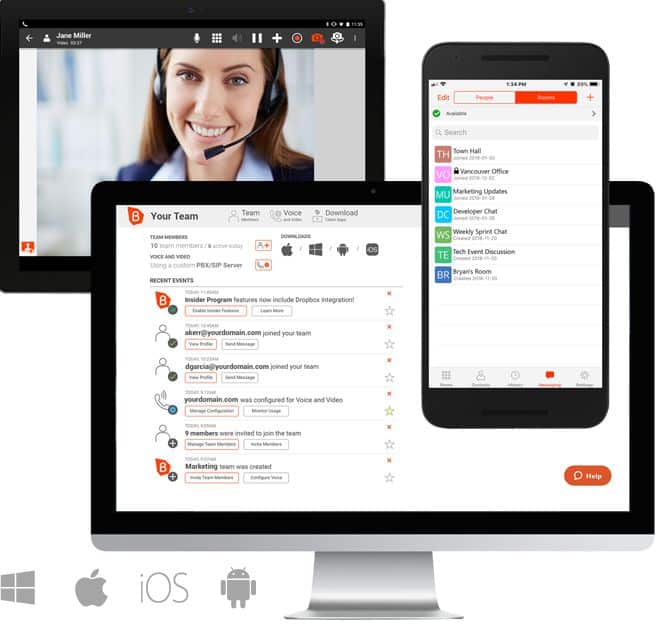 Includes HD voice and video chat
Offers team chat with tap to call functionality
Integrates with major VoIP providers
Provides developers with an API to add softphone functionality to custom-built tools
Google Voice: Best Softphone Provider for Google Workspace Integrations
Google Voice

What We Like
Google integrations and Google-like look and feel
Affordable business phone system
Desktop and mobile apps (Android and iOS)
What's Missing
Lacks 24/7 support channels
Some important features locked behind premium tiers
No toll-free numbers
Google Voice Pricing
One of the most affordable business phone systems for small businesses and teams
Free for a single user
Pricing for professional plans starts at just $10 per user, per month on the basic plan and scales to as much as $30 per user, per month on the Premier plan
Google Voice is a great softphone provider for solopreneurs, freelancers, and small teams. It provides a user-friendly interface that's reminiscent of the simplicity most Google apps feature. You'll also get powerful integrations with other Google Workspace apps like Google Calendar and Google Meet.
If you are a single user who wants to separate business calls from personal calls on your mobile phone or if your business already uses Google applications, then Google Voice is a natural extension. However, it's not the most robust business phone system, and other softphone providers can provide similar functionality at a lower cost.
Google Voice Notable Features
Offers unlimited calling and SMS in the U.S. (and unlimited international location on the Premier plan)
Integrates smoothly with Google Workspace applications like Google Calendar, Google Meet, and Google Fi
Check out our Google Voice review for more information on how this software can help your business grow.
Nextiva: Best Softphone Provider for Robust Calling Features
Nextiva

What We Like
Includes a location indicator and status bar
Affordable for a full-business phone system
Enables video conferencing for up to 250 participants
What's Missing
Video conferencing and SMS are locked behind premium tiers
Nextiva apps have a slow learning curve
Overkill features for most small businesses
Nextiva Pricing
Provides four different tiers of service
Annual plan pricing ranges from $21.95 to $65.95 per user, per month for five to 19 users; monthly pricing is available too
Volume discounts are available as you add more users
Nextiva provides a unified communications solution with business features like call, text, video conference, team chat, file sharing, and faxing. It's an excellent choice for medium-to-large businesses and distributed teams that need remote-enabling solutions on top of their VoIP platform. However, its mobile softphone and full suite of customer service capabilities are only offered in the higher-tiered plans.
Nextiva Notable Features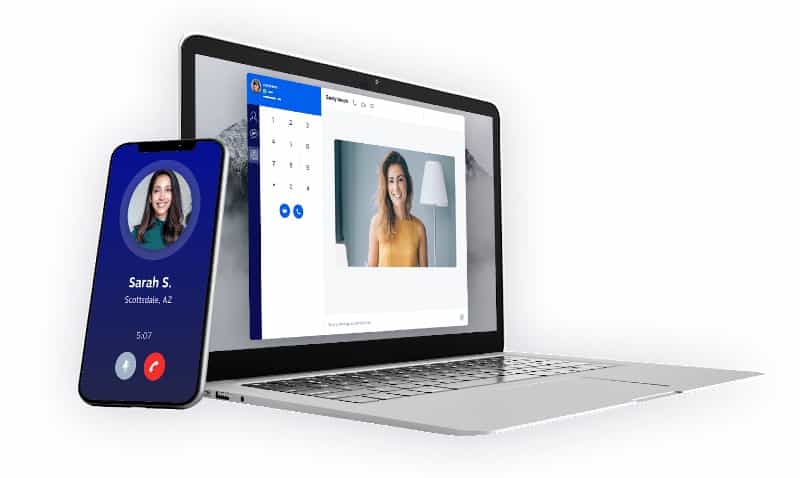 Includes voicemail-to-text
Offers caller ID and call screening
Lets you switch between desktop and mobile devices without interrupting a call
Gives you the ability to set different ringtones based on contact or call information
For a full review of the best and worst parts of Nextiva, check out our Nextiva review.
Bitrix24: Best Softphone & CRM Provider Combined
Bitrix24

What We Like
Complete all-around software solution
Great collaboration tools
Versatile and flexible features
What's Missing
Difficult-to-learn back-end
Dated user interface
Mobile app is limited
Bitrix24 Pricing
Plans start at $19 per month for two users and scale as high as $159 per month for an unlimited number of users
Bitrix24 is an all-in-one business solution. Its powerful VoIP features are just one aspect of the platform as it also provides a contact center, CRM, and project management tools. While it might be a bit overkill for small businesses that just need a phone solution and don't need more advanced functionality like website integration or a tool that can help you create mind maps, Bitrix24 is great for scaling organizations that want to consolidate all their business tools.
Bitrix24 Notable Features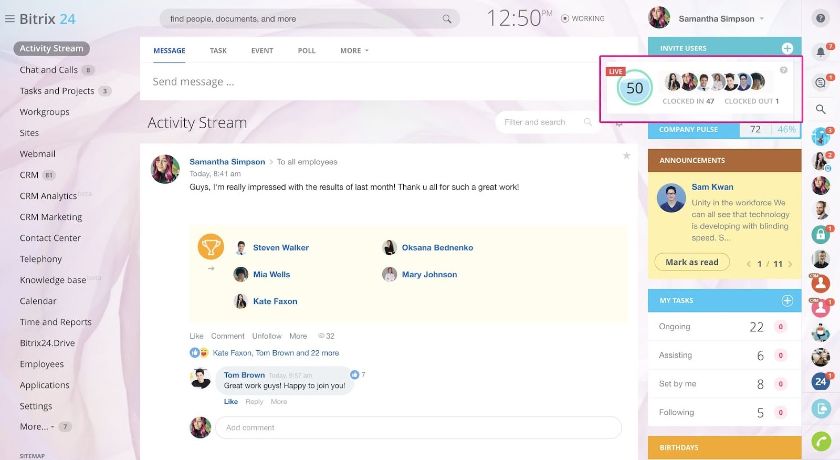 Offers appointment scheduling and resource booking for more efficient calling
Includes expense tracking in addition to call logs
Gives you the ability to log follow-up tasks without leaving the mobile calling app
Captures leads from Facebook ads and adds them to your contact center
Lets you create a web store for online selling