A softphone is a software program or mobile app that can be used to make calls over a voice-over-internet-protocol (VoIP) or virtual phone system. We evaluated 20 different phone services providers with a softphone to find the top six, comparing their softphone functionality, pricing, and additional features to find the best overall.
Top 6 Softphone Providers 2019
| Softphone | Best For |
| --- | --- |
| | (Best Overall) Best for teams that want a business softphone on their mobile device |
| | Entrepreneurs looking for a free softphone option with basic phone functionality |
| | Businesses that want a softphone powered by a complete VoIP business phone system |
| | Larger organizations that can take advantage of volume discounts and conference calling features |
| | Those who want a live receptionist to answer calls on their virtual phone system |
| | Businesses that want a low starting price and the flexibility to change features. |
How We Evaluated the Best Softphone Providers
A softphone is typically a VoIP or virtual phone system that allows you to take and receive calls over the internet. When considering which softphone providers were best for small business, we evaluated both VoIP and virtual phone providers that offer a softphone along with a range of features like an auto attendant and short message service (SMS) functionality.
We, therefore, evaluated the best softphone providers on the following:
Call management: Softphones should have enough call management options to meet the needs of small business users.
Ease of use: We evaluated how easy each service is to set up and use.
Extensions: Options available for routing calls via phone number extensions were compared.
Pricing & service plans: We examined the monthly costs associated with using a softphone provider.
Call management: We evaluated the types of call management features each provider offers, including voicemail call screening, call forwarding and call block capability.
Auto attendant: The best providers offered extra features like an automated attendant for greeting and routing callers.
Call quality: We looked at online customer reviews of each virtual number provider's call sound and quality.
Based on the criteria above, we recommend Grasshopper as the best softphone for business. It's a great way to establish a business number and easily switch between that and your personal number on your mobile phone. It provides unlimited calling and many core features that you'll find in larger, more complex business phone systems for less than the overall price of most competitors.
"Mobile phones and tablets offer better quality than most desk phones. When you replace your desk phone or traditional phone with a mobile app, you're moving to a better device with a better calling experience. So, you don't necessarily need to provide users with a physical phone. They already have a better device in their smartphones, and you just have to supply a good piece of software."
― Andy Abramson, CEO, Comunicano, Inc.
Best Overall Softphone Provider for Small Business: Grasshopper

Grasshopper, which starts at $29 per month, is a feature-rich virtual phone number provider and also our best virtual phone system. It offers three affordable pricing tiers, which include access to all of Grasshopper's features on top of excellent 24/7 customer support. In addition to the high level of customization allowed, the ease with which you can switch between business and personal lines is what makes this option best for entrepreneurs or small teams on the go.
Grasshopper Pricing
Grasshopper provides three plans: Solo, Partner, and Small Business. All include unlimited calling, custom greetings, call forwarding and more with prices ranging from $29 for the Solo to $89 per month for the Small Business. There are no fees for additional users and the number of available extensions is based on the plan you select.
The details about each of Grasshopper's plans include:
Solo: $29 per month for one number and three forwarding extensions
Partner: $49 per month for three numbers and six forwarding extensions
Small Business: $89 per month for five numbers and unlimited forwarding extensions.
Grasshopper Features
One of the reasons why Grasshopper is the strongest is because regardless of the plan you select, you gain access to all the features and offerings of the system. Voicemail transcription, custom greetings, a vanity phone number, an auto attendant to answer and route calls, and inbound faxing accessible to all Grasshopper customers
Automated Attendant
Grasshopper has an easy to use automated attendant that answers all calls your receive and forwards them to the employee or department the caller is trying to reach. You can set up individual employees or departments as extensions and even provide your callers with a dial-by-name directory so that they can search for your remote employees by name.
Voicemail-to-Email/Voicemail-to-Text
When callers leave you a voice message, those messages can be sent to you as an audio file with email notification. Those messages can be transcribed and provided as a readable message with the softphone app. Transcriptions are also sent through email, but having readable voice messages on your mobile device makes it much easier to prioritize messages and calls.
Call Forwarding & Routing
Grasshopper gives you complete control over how calls are routed. You can create extensions and add the number you'd like to have calls forwarded to. You can also define the time of day for call forwarding; either during your business hours, 24/7 or only on the weekends.
Additional Features
Grasshopper also offers caller ID customization. With this feature, you can customize how your caller ID is displayed to your callers so they would never know you were calling from a mobile phone. You can also send and receive SMS messages with the softphone app and retrieve faxes as PDF documents. This about matches the functionality of other softphone systems we looked at.
Grasshopper Setup & Ease of Use
Grasshopper has a fantastic setup-and-go option that allows you to begin using your softphone as soon as your account is set up. You can download the mobile app from either the iOS App Store or Google Play store and manage all the features of the service from the palm of your hand with the app. This is one of the easiest virtual phone services to set up on the market today.
What Grasshopper Is Missing
Grasshopper misses the mark for businesses looking to add a physical office space with desktop phones because it's a virtual phone system that forwards calls to another number and doesn't provide an actual phone line. It also doesn't support call recording, nor does it have any customer relationship management (CRM) integrations, so if your business grows, you'll need to switch to a more complete system that supports physical phones and more advanced features like Nextiva or RingCentral.
What Users Think About Grasshopper
Users enjoy the easy setup with Grasshopper and how quickly they can begin using their phones after purchasing its plan. Businesses also enjoy the excellent 24/7 customer support and feel confident that if an issue arises, it'll be quickly taken care of. For a more in-depth summary of what users think, see our user reviews of Grasshopper.
Best Free No-frills Softphone Provider: Google Voice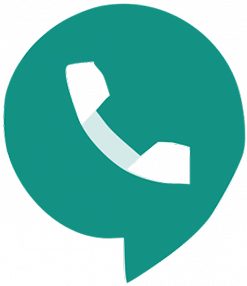 Google Voice is a virtual phone number provider that has an easy to use softphone app. What makes it unique is that the entire service is free, and the softphone app is compatible with any device, even your existing mobile phone. While it offers significantly fewer features than virtual alternatives like Grasshopper, it's a great option for the solopreneur who's just getting started and might not necessarily have the budget for one of the other providers.
Google Voice Pricing
Google Voice is free, which keeps it simple for the solopreneur looking for a no-fuss, easy to use system. The only other cost to Google Voice is for international calls for which it has competitive pricing that varies based on the country you'll be calling.
Google Voice Features
While Google Voice has the least number of features out of all the providers, it still offers voicemail transcription, call recording, business SMS, conference calling, and more. You'll also get the same call routing and forwarding options as the other providers, and the softphone app makes managing your calls painless.
Automated Attendant
Google Voice does not have an auto attendant, which means that you won't be able to provide your callers with a voice menu of options. This puts it behind paid systems like Grasshopper and RingCentral, which do provide such functionality. Google Voice is best for users who are fine with simple call screening features.
Voicemail-to-Email/Voicemail-to-Text
Google Voice automatically transcribes every voice message that you receive. Through the softphone app, you can read the text version of the message or replay the voicemail directly to hear the original message. Google also appears to store your messages and transcriptions indefinitely as, in our experience, we can still access messages recorded more than three years ago through the mobile app.
Call Forwarding & Routing
Google Voice gives you a variety of options for managing your calls. You can define what times you want to have the calls routed to your added numbers and define different welcome messages for your callers. With that said, it cannot greet and route callers automatically with an auto attendant like Grasshopper and other systems can.
Additional Features
Some other features provided by Google Voice include call blocking, where you can choose to automatically reject calls from certain numbers. Google Voice also features an integrated spam filtering, which sends calls automatically from known telemarketing numbers directly to the junk folder so that your phone never rings when they call. This is impressive as it is not found even in paid systems like Nextiva.
Google Voice Setup & Ease of Use
The setup process for Google Voice is perhaps one of the easiest. All you need is a Google account, and you can start using the service right away from the Google Voice website. The experience is natural, and there is no difference between using the calling and SMS features on Google Voice versus using your phone's default features.
What Google Voice Is Missing
Outbound caller ID can be important to your business' image, and Google Voice doesn't offer the ability to customize your outgoing number like Grasshopper. It doesn't offer an auto attendant to answer and route calls, nor does it offer extensions. Also, porting your existing number onto the Google Voice platform will prove to be challenging if you have a landline number.
What Users Think About Google Voice
Customers enjoy the low cost and easy setup of Google Voice and feel that they're getting a valuable service from a free softphone provider. While this may be expected from a large company offering a free service, users are frustrated by the lack of customer support.
Best Softphone & Complete VoIP System Provider: Nextiva

Nextiva, which starts at $34.95 per user, per month for small teams, is our top recommended VoIP provider and offers a full business phone solution to go along with its softphone. However, business phone features like an auto attendant and voicemail transcription are standard with every plan, making this provider the best option for businesses that want a softphone and complete phone system at a reasonable price.
Nextiva Pricing
Nextiva offers three tiers of pricing: Office Pro, Office Pro Plus and Office Enterprise. Plans for small teams range from $34.95 to $44.95 per user for each month and includes advanced call management and voicemail transcription with additional price breaks for bulk users. Fees are reduced further with an annual payment option.
Nextiva Tiered Features
| | | | |
| --- | --- | --- | --- |
| Pricing | $34.95/user, per month | $37.95/user, per month | $44.95/user, per month |
| Professionally Recorded Auto Attendant Greetings | N/A | 1 | 3 |
| Auto Attendant | ✔ | ✔ | ✔ |
| Unlimited Calls & SMS | ✔ | ✔ | ✔ |
| On-hold Music | ✔ | ✔ | ✔ |
| Voicemail Transcription | ✔ | ✔ | ✔ |
| Conference Bridge | | ✔ | ✔ |
| Softphone Mobile App | | ✔ | ✔ |
| Call Recording | | | ✔ |
| Nextiva Anywhere | | | ✔ |
Office Pro
The Office Pro is the basic plan offered by Nextiva. On a month-to-month payment, the plan starts at $34.95 for one to four users and can be reduced to $20 per month, per user for 100-plus users. This plan includes unlimited minutes, advanced call management, voicemail transcription, virtual faxing. Unlike the other two plans or starter plans from other providers, the softphone app isn't available with the Office Pro.
As a complete VoIP platform, Nextiva offers more functionality than simple virtual number providers like Google Voice. This tier is one of the most expensive entry-level packages on the market. The fact that it does not come with a mobile softphone app is disappointing. Nextiva Office Pro is best suited for organizations that do not see themselves using their work number on mobile devices.
Office Pro Plus
The Office Pro Plus is structured in the same way as the Office Pro plan, with pricing starting at $37.95 per month, per user for one to four users and further reductions up to $25 per month, per user for 100-plus users. This option includes all the features from the previous tier, plus access to the mobile app, peer-to-peer communication tools, individual conference bridges for users and one professionally recorded greeting.
This plan is a good choice for small to medium-sized businesses that are looking for one central system to connect either a local or remote workforce with physical office spaces. While this plan does include access to the app, it's still a relatively expensive option for entrepreneurs and startups looking for a softphone system.
Office Enterprise
The most feature-rich plan is the Office Enterprise which is priced on a monthly basis at $44.95 per month, per user for one to four users and $30 per month if a business has more than 100 users. This plan boasts more than 70 advanced features including everything from the previous plans as well as call recording, call analytics tools, and complete CRM functionality with a built-in database for caller and contact information.
This plan would be best for a large business looking to manage not only calls but also their contact database and team communications from the same tool. The Office Enterprise would not be suited for a small business looking for a simple softphone solution as the wide array of advanced features provided with this plan could be overwhelming.
Nextiva Setup & Ease of Use
Nextiva's current setup process isn't as straightforward as the other providers. Through its website, you can request a quote to be contacted by its sales team. This is a big difference from other providers that allow you to create your account and begin using the service instantly. However, once set up, the user experience is quite pleasant. The softphone app is easy to use, and all functions are accessible with ease.
What Nextiva Is Missing
Nextiva's pricing structure is complicated and not well defined. The provider would stand to benefit from a more straightforward approach to how the pricing is advertised. It would also do well to include more mobile compatible options for all plans. If you need more straightforward pricing, and just need a softphone without the advanced features provided by the Office ProPlus plan, Grasshopper might be a better choice.
What Users Think About Nextiva
Users were happy with Nextiva's customer support and communications. Overall, the most common complaints tout that the service is over complicated with features, which is to be expected as Nextiva is a more complete business phone system. For a more detailed review of users' experiences with Nextiva, check out our Nextiva user reviews.
Best Softphone Provider for Conference Calling: RingCentral

RingCentral is a comprehensive VoIP phone solution that boasts robust features such as a softphone service. It stands apart with its integrated audio and video conferencing solution that supports up to 200 users. At the starting price of $29.99 per user, per month, this provider is a great option for businesses with a larger remote team that needs conference calling features to connect with team members on their softphones as well as with customers.
RingCentral Pricing
RingCentral offers four pricing plans priced per user, per month with the ability to try any tier on a free trial. The Essentials plan starts at $29.99, the Standard plan starts at $34.99, and the Premium costs $44.99 per user, per month. RingCentral is one of the more expensive options available.
RingCentral Tiered Features
| | Essentials | Standard | Premium |
| --- | --- | --- | --- |
| BusPricing | $29.99 /user, per month | $34.99 /user, per month | $44.99 /user, per month |
| Toll-free Minutes | 100 | 1,000 | 2,500 |
| Unlimited Calls | ✔ | ✔ | ✔ |
| Unlimited SMS | ✔ | ✔ | ✔ |
| Mobile Apps | ✔ | ✔ | ✔ |
| Multilevel Auto Attendant | | ✔ | ✔ |
| Internet Fax | | ✔ | ✔ |
| Call Logs & Reports | | ✔ | ✔ |
| Automatic Call Recording | | | ✔ |
| Integration With Salesforce.com | | | ✔ |
| Voicemail-to-Text Transcription | | | ✔ |
Essentials
The Essentials plan, which starts at $29.99 per user, per month, is RingCentral's starter package. This plan includes use of the softphone app for unlimited calling within the United States and Canada and SMS, supports up to four people in an audio or video conference call and 100 toll-free minutes. A small amount when compared to the other plans.
This plan also includes integrations with Microsoft, Google, and Dropbox cloud storage services, which isn't always common with a bottom tier plan. However, this plan doesn't offer some features that we see in similar tiers of other providers such as call recording and voicemail transcription. This is best suited for companies who want mobile functionality, but not much more.
Standard
The Standard platform offers a volume discount that isn't available with the Essentials. As your team gets larger, the prices get lower. Pricing for the Standard plan starts at $34.99 per user, per month and adds features like a multilevel auto attendant and faxing.
This plan lacks the automatic call recording of the Premium tier. It doesn't include Salesforce integration, either. Therefore, this plan is best suited for a small to medium-sized businesses (SMBs) looking for a cost-effective solution to support a growing team.
Premium
The Premium plan is priced in the same structure as the Standard with one user paying $49.99 per month and teams with 1,000 or more users getting a discounted rate of $34.99 per month, per user. It contains all of the features of the Standard as well as automatic call recording, voicemail transcription, inbound caller ID and integrations with business tools like Salesforce and Zendesk.
The Premium plan is the most comprehensive package for the lowest price that RingCentral offers and, therefore, is the best for a medium to large sized businesses that can take advantage of all the advanced features. This plan also supports up to 100 people in audio or video conference calls, which will be useful in supporting a larger remote workforce.
RingCentral Setup & Ease of Use
Getting started with RingCentral is straightforward, and the process takes only a few minutes. It does have one of the most robust online portals of any virtual or VoIP phone provider, so using the system can be a bit challenging at times. However, larger businesses with more complicated needs will be able to leverage all the features. The softphone app is a pleasure to use, and you can manage your entire account and change settings with the mobile app.
What RingCentral Is Missing
The lower priced tiers, Essentials and Standard, are both missing call recording and voicemail-to-text transcription. Especially voicemail-to-text transcription, this is a key feature offered by other softphone providers at either their lowest tier or free. If this is a deal breaker, and voicemail transcription is a feature you need to have with your softphone, then give Grasshopper or Google Voice a try.
What Users Think About RingCentral
Users are pleased with the range of features that RingCentral offers and the overall functionality of the service. They were disappointed with the long customer support phone queues and lack of response via email for support as well. For a more detailed summary of user's experiences with RingCentral, check out our user reviews of RingCentral.
Best Softphone Provider With a Live Receptionist: eVoice

eVoice, which starts at $12.99 per month, is a cloud-based VoIP provider that offers an easy to use softphone solution. What makes it unique is its offering of a live receptionist to answer all calls you receive on your number. With standard features like voicemail transcription, eVoice is a great solution for any business that wants to greet their callers with a live receptionist before forwarding calls to their softphone.
eVoice Pricing
eVoice's pricing is set up in four different plans. The prices range from $12.99 to $79.99 per user, per month, and all plans include the softphone mobile app. Each plan provides a certain number of calling minutes and phone numbers, which can be used for your employees or departments.
The specific details of each of the pricing plans include:
eVoice Lite: $12.99 per month for six numbers and 300 calling minutes.
eVoice Tier 1: $29.99 per month for 15 numbers and 1,000 calling minutes
eVoice Tier 2: $49.99 per month for 30 numbers and 2,000 calling minutes
eVoice Tier 3: $79.99 per month for 45 numbers and 4,000 calling minutes
eVoice Features
Each of eVoice's four plans includes functionalities such as call queuing, caller-ID, professional greetings, an auto attendant, conference calling and more that can all be managed through the softphone app. Premium features such as call recording and video conferencing can be added to any plan for an additional monthly cost for each add-on.
Automated Attendant
eVoice's auto attendant greets your callers professionally, routes them to the right extension easily and eliminates the cost of a full-time receptionist. You can set up different extensions for users, departments and a dial-by-name directory which can all direct callers to other numbers or directly to voicemail. This about matches the functionality found in competing phone systems.
Voicemail-to-Email/Voicemail-to-Text
eVoice can convert every voicemail message you receive into readable text. You can choose to have your converted message sent to you through the softphone app or delivered as an email. A limited number of transcriptions are included for the admin user on accounts, and this feature can be added to all users at a low additional rate per month. Systems like Google Voice, on the other hand, can transcribe messages for free.
Call Forwarding & Routing
With eVoice's call routing feature, you can create answering rules to forward important calls to different numbers such as home, office, and mobile. From the online portal, you can create detailed instructions to route important callers and define which calls will always get sent to voicemail.
Additional Features
There are plenty of available features for managing your calls such as call blocking, screening, recording, and on-hold music. There are some specific phone features that can also be configured, such as direct-dial numbers, call scheduling and sequential or simultaneous ringing. It also comes with inbound faxing, which makes it ideal for companies that still use fax.
eVoice Setup & Ease of Use
Like other providers, getting set up with eVoice is pretty straightforward. The softphone app can be downloaded from the app stores, and once your account is set up, you can begin using the app to manage your calls and calling system. The softphone app is intuitive, and the design makes it easy to find what you need with one or two clicks.
What eVoice Is Missing
The most obvious gap with eVoice is the limitations on calling minutes while most of the other providers give you unlimited. It's also disappointing that transcription features do not come standard. This is especially true when compared with options like Grasshopper and Google Voice.
What Users Think About eVoice
Business owners that use eVoice are happy with call quality compared and how easy it is to use the softphone app once installed. Those who were unhappy with the service didn't like the limited number of minutes available with each plan and others had difficulties communicating with customer service. For a more in-depth summary of users' feedback, check out our user reviews of eVoice.
Best Softphone Provider for Customized Plans: Phone.com

Phone.com is an affordable easy to use softphone solution with an extensive offering of standard and premium features, starting at $12.99 per month. As our best vanity phone number provider, it provides three flexible pricing plans with the option to add/remove features each month. It would be the best option for businesses looking to customize their softphone plan and don't mind paying extra to add-on capabilities such as call recording and video conferencing.
Phone.com Pricing
Phone.com has three pricing tiers that can be chosen on a pay-per-minute or unlimited minute basis for outbound calls. Prices range from $22.99 to $27.99 per month for unlimited and $12.99 to $39.99 per month for the pay-per-minute option with a limited amount of calling minutes on each plan.
Phone.com's specific pricing details include:
Base: $12.99 per month for 300 calling minutes, $22.99 for unlimited
Plus: $19.99 per month for 500 calling minutes, $24.99 for unlimited
Pro: $39.99 per month for 1,000 calling minutes, $27.99 for unlimited
Phone.com Features
With Phone.com's softphone, a solopreneur or small business will have access to the same tools that many traditional business phone systems provide. The softphone app can be installed either on your desktop or mobile app and allows you to manage calls and configure all call forwarding options. Phone.com's customizable structure means that you can proceed with just the softphone and the service or add these additional features for a small fee.
Automated Attendant
The auto attendant provided by Phone.com provides your callers with a professional greeting and an automated menu of options that route their calls to extensions or departments within your business. You can customize the menu with your own messages, music and even record the names for the dial-by-name directory that's also available to callers. However, the system's menu builder is not as robust as RingCentral, Nextiva, and other complete VoIP systems.
Voicemail to Email/Voicemail-to-Text
Phone.com offers voicemail-to-email transcription with every new account in the Plus and Pro plans. This means that you can see your voicemail messages visualized in your email inbox. It can also be added to the lower-level Base option for an additional fee.
Extensions & Call Routing
You can use either the mobile app, the desktop app or the web portal to manage your extensions. Regardless of the plan you select, you'll get unlimited extensions for call forwarding and can easily customize the rules for routing calls to either an extension or voicemail.
Additional Features
A customizable auto attendant, on-hold music, voicemail-to-email transcription, faxing and texting are among the many features offered. While many of these features are only available with an additional monthly fee, Phone.com's structure allows you to add or remove any of these features at any time with just a few clicks.
Phone.com Setup & Ease of Use
Phone.com takes pride in having a self-service platform. Unlike some providers that require you to request a quote before you get started, you can create your account, download the app and get started using the service in just a few moments. Features such as call routing can be managed with a few clicks. If your business grows beyond a softphone device, you can purchase adapters to work with desktop phones easily.
What Phone.com Is Missing
It's unfortunate that voicemail transcription isn't standard with the basic plan. If you are on a tight budget and want to enjoy visualized voicemail at no cost, then Google Voice might be a better option for you.
What Users Think About Phone.com
Users happy with Phone.com have enjoyed the ability to customize their plans and have given many positive comments about how easy the system is to use. Some of those who were unhappy were disappointed with the lack of 24/7 customer support. For a more detailed summary of what users think of Phone.com, check out our Phone.com user reviews page.
Bottom Line
A softphone is an excellent communication tool for solopreneurs and small businesses alike. It allows them to have the functionality of a large business all for an affordable price. Softphones are usually compatible with a wide range of devices and can support everyone from the solopreneur on the go to large remote workforces. There is a range of reliable providers to choose from, and the best option will depend largely on a business' size and individual needs.
Our recommendation for the best overall softphone provider is Grasshopper. It offers a large assortment of features at a low price and also provides an easy to use system with excellent support. There are no contracts with Grasshopper, and it has a 30-day, money-back guarantee for anyone looking to give its solution a try.