Professional voicemail greetings are personalized messages that invite callers to leave a message. An effective voicemail greeting can help your small business stand out from competitors while ensuring customers get the information they need. They can also serve to make your company look more established and respectable. We examined the best choices on the market and evaluated them based on cost and functionality.
Our picks for the best professional voicemail greeting providers for 2021 are:
How We Evaluated Professional Voicemail Greeting Providers
You have the option to choose standalone services using voice actors to record your greetings and then upload the audio file to your voicemail system. Many business phone systems also offer professional voicemail greeting services as part of their plans or as an add-on feature. We compared various services to find the best solutions for your small business.
With a score of 4.36 out of 5, Snap Recordings is our top pick for professional voicemail greetings. It provides a variety of voice artists, including bilingual talent. Additionally, the platform offers transparent pricing and a user-friendly application for uploading your script.
Learn how we evaluated the best professional voicemail greeting providers by clicking on the tabs below:
20% of Overall Score
We assessed each solution based on the availability of free recordings and concierge services. Moreover, we looked at the turnaround time for recordings and any additional costs associated with faster services.
30% of Overall Score
We considered several basic features that providers offer customers, such as sample and custom scripts, voicemail greetings, on-hold messages, and auto-attendant voiceover work. Plus, we reviewed search options for voice talent.
30% of Overall Score
We examined advanced features that help set your business apart from the competition, such as on-hold music and multilanguage support. To narrow our selections, we looked at the guaranteed turnover time and greeting manager tools.
20% of Overall Score
To generate our expert score, we appraised all features for ease of use while comparing the feature set against the price to determine the overall value. Furthermore, we considered customer reviews and the popularity of various services.
*Percentages of overall score

Best Overall Voicemail Greeting Provider

PROS
Intuitive online wizard tool
Large selection of professional voice actors
Offers bilingual voice artists

CONS
No custom scripting options
Add-on fees can get pricey
No script translation service
RATING CRITERIA

Pricing
2.55
OUT OF
5
General Features
5.00
OUT OF
5
Advanced Features
5.00
OUT OF
5
Expert Score
4.25
OUT OF
5
Snap Recordings is perfect for business owners wanting to purchase professional greetings to upload to their phone system. It offers high-quality audio files recorded by experienced voice artists. You can create personalized voicemail greetings, announcements, voice prompts, or on-hold messages. Since prices start at $50 for 75 words, roughly 30 seconds, the service is affordable. Plus, the production turnaround time is three to four days, making Snap Recordings an excellent choice when you want to get your recording quickly.
Snap Recordings Pricing
Greetings, announcements, and voice prompts: Starts at $50 per 75 words
Messages on-hold: Starts at $99 for 100 words and one background music track and $40 for an additional 100 words
Background music: $25 per music track, per message
Rush delivery: $50 for the first 75 words and $25 per additional 75 words
Proofreading: $12 per 75 words
Message on-hold plans: $49 to $99 per month for four to 12 messages per year, up to 400 words per message plus one music track per message
Snap Recordings Features
Professional voice artists: Choose from over 100 voice talents with American, French, British, Australian, and Spanish capabilities. Or select a bilingual voice artist to create your message in your desired dialect and language.
Fast turnaround: All interactive voice response (IVR) recordings are available within three to four business days. Or you can get your message within one to two days by selecting the rush delivery add-on option.
Message creation tools: Snap Recordings offers a library of script examples and an easy tool to write your message or paste an existing one from another program.
Audio formats: You can download your audio file in eight different formats, use their free audio file format converter, or, if you use RingCentral, you can upload it directly to your VoIP phone system using the Snap Recordings for RingCentral application.
When comparing voicemail greeting providers, the first thing that comes to mind is probably a dedicated service that strictly offers voice recordings. However, it is worth pointing out that those in the market for a new phone service can save a great deal of money with VoIP services, which bundle their premium packages with a free professionally recorded voice greeting, scripting tools, and background music. As such, we think it's worth considering for any small business that needs a greeting.

Best VoIP & Unified Communications Plans With Voicemail Greetings

PROS
Audio file is uploaded directly to your VoIP system
No extra fees for voicemail usage rights
Reliable and user-friendly VoIP services

CONS
No revisions included with the greeting purchase
Limited voice artist options
Upgrades add to your costs
RATING CRITERIA

Pricing
4.05
OUT OF
5
General Features
5.00
OUT OF
5
Advanced Features
4.38
OUT OF
5
Expert Score
3.38
OUT OF
5
Nextiva provides an enterprise-level VoIP service with unified communications. All VoIP plans come with an auto-attendant, unlimited voice and video calling, and voicemail-to-email notifications. Plus, upper-tier plans include one to three professional voicemail greetings, making Nextiva an excellent VoIP solution with audio recordings. VoIP plans start with the Essential package that costs $23.95 for one user, per month when paid annually. You'll pay an extra $50 per voice recording of 50 words or less with the Essential plan.
Nextiva Pricing
VoIP plans: $21.95 to $65.95 per month for five to 19 users on an annual plan for business phone systems. Nextiva offers volume discounts for adding more users, and packages feature unlimited calling and internet faxing, a mobile and desktop application, and a toll-free phone number.
Professional voicemail greetings: With the Nextiva Professional plan, you get one free recording, whereas the Nextiva Enterprise account comes with three free greetings. On other packages, you'll pay $50 per 50 words. You can add background music, expedited delivery, or an audio revision for $50 per upgrade. Commercial rights cost $100, and broadcast rights are $200.
Nextiva Features
Audio files: Unlike other voicemail greeting providers, Nextiva will upload your voice recording to your Nextiva VoIP account. This is an easy solution for people who don't want to fuss about this extra step. Plus, you'll receive your audio file via email.
VoIP services: As a full-featured VoIP provider, Nextiva is an excellent option for companies wanting a business phone number, virtual receptionist, and text messaging. Some plans also include a multilevel attendant, video conferencing for up to 250 participants, and call pop. The service also comes standard with visual voicemail and voicemail drop capabilities, which is helpful for call center environments.
Upgrade features: Choose from thousands of background music tracks, get your voice recording in 24 hours, or request a revision for $50 per service.
Learn more about Nextiva by visiting our Nextiva review page.

Best Option for a One-day Turnaround

PROS
Fast, no-frills ordering process
Access to male and female bilingual voice talent
Background music available

CONS
Limited dialects and languages
Minimal self-help resources
No additional services, like proofreading or translation
RATING CRITERIA

Pricing
2.55
OUT OF
5
General Features
5.00
OUT OF
5
Advanced Features
5.00
OUT OF
5
Expert Score
3.69
OUT OF
5
VoiceStudio Pro works with 10 long-term talent artists to create professional voicemail greetings or on-hold messages. You pay a flat fee of $99 to record up to 250 words, so you can also use the service to develop promotional messages or sales announcements. The standard delivery time is three to five days. But, if you need your audio file soon, it only costs $15 for a 24-hour turnaround time, making VoiceStudio Pro an excellent choice for fast audio delivery.
VoiceStudio Pro Pricing
VoiceStudio Pro offers a flat rate of $99 per script, which can be up to 250 words. For a 24-hour turnaround time, the charge is $15 per script. Plus, you can choose from eight styles of background music for your recording for an extra $49.
VoiceStudio Pro Features
Voice talent: You can choose from 10 voice artists, including bilingual voice talent for English and French. You can also select your recording speed (normal, slower, or faster) and recording tone (normal, happier, monotone).
Inexpensive turnaround: Other services charge nearly double for expedited services, but VoiceStudio Pro delivers your audio file in 24 hours for an extra $15 per script.
Sample scripts: VoiceStudio Pro provides script examples for real estate, transportation, beauty, spa, or limousine businesses. You can also read examples of on-hold messages or listen to the various voice talent read the samples.

Best for a Large Selection of Business Services

PROS
Inexpensive professional voicemail greetings
Over two dozen accents and languages
Some artists include a revision with orders

CONS
Upgrade options can add to the price
Requires research to vet voice talent
Audio quality varies among artists
RATING CRITERIA

Pricing
3.20
OUT OF
5
General Features
4.20
OUT OF
5
Advanced Features
4.38
OUT OF
5
Expert Score
3.75
OUT OF
5
Fiverr is a freelance marketplace offering a massive range of services, including professional voicemail greetings and scriptwriting services. Choose from over 200 voice artists with a variety of languages, accents, and tones. Pricing starts at $5 per 75 words, and turnaround ranges from 24 hours to seven days. Fiverr doesn't vet the voice talent, so it's essential to listen to the audio files and read reviews carefully. For custom services on a budget, Fiverr is an excellent choice.
Fiverr Pricing
Costs vary according to which artist you select, with prices ranging from $5 to $165 for 75 words. Along with a standard voicemail greeting, many voice freelancers offer upgrade options. Upgrade pricing starts at $5, and you can choose features, such as:
One-day turnaround time
Commercial rights for businesses
Script proofreading
Background music
Scriptwriting
Direct recording to your phone service
Multiple file types
Fiverr Features
Add-on services: Many top-sellers on the Fiverr marketplace offer scriptwriting and proofreading services for an additional fee. For example, you can pay $30 and receive a script with up to 100 words, including two rounds of revisions.
Artist selection: The filter function on Fiverr makes it easy to search for artists by your needs. Choose from 12 languages, 16 accents, 14 distinct tones, and three age ranges. You also can choose a voicemail greeting generator service, which uses artificial intelligence to create messages.
Commercial rights: Several voice artists charge a separate fee for commercial rights, which allows you to use your recording in any way you want. Other freelancers include commercial rights in your package cost.

Best for Multiple Voice Scripts & VoIP Service

PROS
Multiple scripts keep your auto-attendant recordings consistent
British, French, and Spanish voice actors available
User-friendly mobile VoIP application

CONS
Limited voice talent selection
Takes up to seven business days to receive an audio file
No scriptwriting or translation services
RATING CRITERIA

Pricing
3.20
OUT OF
5
General Features
4.20
OUT OF
5
Advanced Features
3.75
OUT OF
5
Expert Score
3.19
OUT OF
5
Grasshopper is a virtual number VoIP provider offering phone services for small teams. Phone packages come with one or more business phone numbers, multiple extensions, and plenty of VoIP features. Since you don't pay by user, Grasshopper can be an affordable option for freelancers or small companies. The Grasshopper Voice Studio provides everything you need to set up your auto-attendant for one price. Prices start at $75 and can include multiple scripts, such as the main recording, voicemail greeting, and transfer message.
Grasshopper Pricing
VoIP plans: $26 to $80 per month, when paid annually for one to five phone numbers, three to unlimited extensions, and a virtual receptionist. All packages include unlimited domestic calling and texting, voicemail transcription, and incoming call control.
Voice Studio: Pricing starts at $75 per service for professionally recorded messages from one of six voice actors and is delivered in an estimated seven business days.
Grasshopper Features
Multiple scripts: Each Voice Studio service can include multiple scripts for one price, making it easy to provide callers with a consistent voice presence. Add scripts for your main greeting, voicemail message, call transfer recording, and recorded names for each extension.
Voice talent: Preview audio files from six voice actors, including three females and three males, to find the right voice for your business. The artists speak in English, British, French, or Spanish.
Affordable VoIP services: Pay one monthly fee for VoIP plans, and depending on your package, you get three, six, or unlimited extensions. You can route extensions to other employees, external phone numbers, or departments.
Find out if Grasshopper is right for your company by reading our Grasshopper review.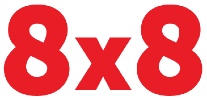 Best for International VoIP Plans & Professional Audio Messages

PROS
Script translation services available
All orders are reviewed for grammar
Inexpensive background music available

CONS
More expensive than other professional recordings
Third-party audio services program is not intuitive
Limited voice talent selection
RATING CRITERIA

Pricing
1.60
OUT OF
5
General Features
5.00
OUT OF
5
Advanced Features
3.75
OUT OF
5
Expert Score
2.13
OUT OF
5
8×8 is a VoIP service provider offering low-cost plans with international calling features. All business phone packages come with intelligent call routing, music-on-hold, and an auto-attendant. X-series plans let you call up to 47 countries with no extra charges. You can select professional voicemail greeting services as an add-on service. Prices start at $79 for up to 100 words and a three-day turnaround time.
8x8 Pricing
VoIP plans: Monthly plans range from $12 to $47 per user, per month and include unlimited domestic calling, texting, and video conferencing. Upper-tier packages offer international calling to 14 or 47 countries.
Audio production: Holdcom provides professional voicemail greetings, prompts, and on-hold messages. Voicemail recordings start at $79 for up to 100 words and three-day delivery. It costs $18 to add background music and $40 for a two-day turnaround.
8x8 Features
Extra voice services: Along with professional voicemail greetings, you also can buy website audio, virtual tour recordings, e-greeting card audio, on-hold messages, and audio for video or PowerPoint presentations.
Script consultants: All scripts are reviewed for free to check for grammar or syntax errors. But, you can request help with script writing, script translation, or voicemail templates by speaking with the audio production company.
Background music: Add background music to any audio package for $18. You can choose from eight options, including easy listening, big band, contemporary, rock, new age, country, and holiday.
Bottom Line
Your business customers appreciate personal yet professional voicemail greetings. Although you can record your own messages, it can be tough to reduce background or breathing noises from your audio file. Professional services use audio equipment to eliminate the small sounds that make your voice file less clear. Plus, you can hire voice talent to create your main message, read your auto-attendant prompts, and provide a message before transferring callers.
For standalone voicemail greeting providers, our top pick is Snap Recordings. It offers a user-friendly application, script templates, and bilingual voice artists. If your company wants to add updated promotional messages, subscription plans are available. Visit the Snap Recordings website to learn about your options for professional voicemail greetings.