Professional voicemail greetings add a layer of professionalism to your business while directing callers to their desired department or extension. Voicemail services for businesses are an essential part of how customer relationships are built and maintained, and the proper greeting sets the tone for your company. We evaluated a dozen of the top voicemail greeting services and ranked the top six for price and features.
Top 6 Professional Voicemail Greeting Providers 2020
Professional Voicemail Greeting Providers
Best For

(Best overall) Businesses looking for experienced voice actors to provide clear audio recordings

Organizations looking for flexibility in price and talent worldwide

Companies that need a full VoIP plan with professional recording services as a feature

Companies doing a lot of business overseas that need an international calling plan

Businesses that want to make use of personal devices in a business setting

Organizations needing phone system-ready professional audio files within 24 hours

Last updated on 04/29/20
How We Evaluated Professional Voicemail Greetings
Professionalism, quality audio, and fantastic voice acting in recordings are some of the most important factors when choosing voicemail greetings. It's also important that customer service and support are readily available while using these services in case you are unhappy with the end result.
The criteria we used to evaluate the best professional voicemail greetings include:
Overall cost
Selection and vocal variety
Scriptwriting services
Ease of use
Quality of recording
Customer support
Customer satisfaction
We chose Snap Recordings as the overall best professional voicemail greeting service. The company's focus on business telephone systems shows in its variety of voice actors, accents, dialects, and languages, making it easy to choose the right voice for your brand. With reasonable pricing options and an easy sign-up process, you can get started quickly.
Snap Recordings: Best Overall Voicemail Greeting Provider

If you're looking for nothing more than a professional voicemail greeting provider, Snap Recordings is the ideal choice. It's easy to navigate through the website, and recordings by its experienced, vetted artists are clear and professional-sounding. Basic services cost $50 for simple scripts, making this a competitive and quality solution for most business voicemail needs.

| Snap Recording Strengths | Snap Recording Weaknesses |
| --- | --- |
| Employees professional actors with real experience | No scriptwriting services |
| Scriptwriting tools are available if you're having a difficult time with yours | Other features like background music and proofreading are an additional fee |
| Choose from different accents, voices, and languages | Pricing is not upfront; packages require a consultation |
Snap Recordings Pricing
Greetings and prompts: Starts at $50 for 75 words.
On-hold messages: Range between $99 and $370, depending on length and word count.
Subscription plans: Snap Recordings gives you the option to buy credits for words for an added savings either as a one-time purchase or as a yearly subscription. One-time word credit bundles start at $900 for 1,500 words. Subscription pricing ranges between $49 and $99 per month.
Order add-ons: Rush delivery, proofreading, and license to use the recording in additional locations cost extra.
Snap Recordings Features
Vocal variety: Snap Recordings offers different actors in varying accents and languages (French and Spanish), so you can appeal to clients who are not native English speakers.
Rapid turnaround options: Standard deliveries take three to four business days and rush deliveries (which cost $50 for the first 75 words and then $25 for every additional 75 words) take only one to two.
Sample scripts: Although there are no professional scriptwriting services at this time, there are free resources on the website that give examples of sample scripts. You can also pay a $12 fee to have your script proofread.
System integration: Snap Recordings can be integrated with voice-over-internet-protocol (VoIP) business phone systems, which can make use of the answering service even more convenient. For example, if you are already a RingCentral customer, you can download Snap Recordings for RingCentral from the RingCentral app gallery to combine the two services.
Fiverr: Best Voicemail Greeting Provider for Service Selection


If you're looking for a variety of services related to professional voicemail greetings needs, Fiverr is a great place to start. It specializes in more than voice acting services, which can be handy if you're also looking for a scriptwriter to help you, and because it is a marketplace of independent contractors, the service is budget-friendly. This makes Fiverr an affordable option for businesses that have truly custom needs.

| Fiverr Strengths | Fiverr Weaknesses |
| --- | --- |
| Extremely affordable | Simply a freelancing service; is not a full-scale VoIP phone company |
| A wide variety of actors, dialects, and accents | Artist quality can be inconsistent |
| Scriptwriting services available for an additional cost | You might need to take some extra time reading reviews from previous clients to weed out fake reviews |
Fiverr Pricing
Typical services for Fiverr start as low as $5 and range upwards. Ultimately, how much you spend will depend on the services requested and the contractor you hire.
Fiverr Features
Wide range of available services: You can search by the artist's rating, your budget, category, and more. However, some vetting is needed to ensure that you're hiring someone who is truly a professional. There is no set standard that Fiverr's freelancers must follow, so quality will vary greatly among artists.
Custom scripting: You can choose to hire a freelancer to read and record a script you provide or hire a professional to write the script for you.
Audio file ownership: Unlike other services that are only licensing you to use an audio file and may require additional fees to use the same voicemail in multiple locations, you can request full ownership rights of professionally recording voicemail greetings.
Unfortunately, Fiverr is not a full VoIP phone system, nor does it include a built-in integration with one. For this reason, Fiverr may not be the best choice for business owners who are not comfortable modifying their phone service's initial settings. That said, it offers the greatest range of services to help your professional greetings, or other business audio recording needs stand out.
Nextiva: Best Combined Voicemail Greeting & VoIP Service Provider


Nextiva is a full VoIP business phone system that comes with professional voicemail recording as one of its feature add-ons. Basic plans for its quality and reliable phone service start at $21.95 per user, per month for five to 19 users with a 36-month prepaid agreement. Other Nextiva benefits include unlimited calling within the U.S. and Canada and 24/7 customer service, making it a good option for businesses that want professionally recorded voicemails built in to their phone plan.

| Nextiva Strengths | Nextiva Weaknesses |
| --- | --- |
| Offers a VoIP full service plan | Might be too much for users not in need of VoIP services |
| Voicemail greetings are only one of many features | Limited number of actors to record for you |
| "Fill in the blank" scriptwriting services available | Revisions, background music, and other extras are an added fee |
Nextiva Pricing
Nextiva offers several tiered service plans that start at $21.95 per user, per month with a prepaid 36-month agreement for five to 19 users.
Professional voicemail greetings are a $50 add-on for customers who have a Nextiva VoIP plan.
Nextiva Features
Language and accent options: Nextiva allows you to specify whether you want your voicemail to feature a man's or a woman's voice. You can also choose among British, American, Spanish, or Latin American languages and accents.
Ease of setup: Because professional voicemail greetings are one of the many VoIP features of Nextiva, there is no need to integrate the phone system with third-party software to address voicemail needs.
Voicemail templates: Nextiva provides "fill in the blank" templates that take the guesswork out of scriptwriting.
8×8: Best Option for Outgoing Professionally Recorded Greetings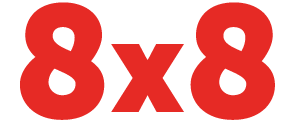 8×8 is primarily a full business VoIP service, but also offers an audio production store that produces professionally recorded greetings and messages. While businesses with a global presence can take advantage of 8×8's unlimited calling to select countries, 8×8's audio production stands out by offering professional recording services for outgoing sales messages in addition to voicemail greetings.

| 8x8 Strengths | 8x8 Weaknesses |
| --- | --- |
| Includes post-production removal of pops, breaths, and other distractions | The audio production store is clunky |
| International calling is included with all packages | You are limited on recording features (languages, voices, and so forth) |
| Offers recording services for virtual tours, e-greeting cards, and overhead announcements | Prices for recording services are higher than competitors' prices |
8×8 Pricing
Phone service: 8×8 offers tiered pricing plans for business phone service that start at $25 per user, per month, but come with international calling.
Audio production store: Recordings start at $79 with a three-day turnaround time, and 8×8 customers receive discounted rates.
Custom plans: Customized plans are available with pricing tailored to specific needs.
8×8 Features
Multiple voice services: 8×8 provides services to professionally record auto-attendant instructions, interactive voice response prompts, company and department-specific greetings, and presentation audio that can be used on your website.
Outgoing messages: In addition to voicemail, businesses using 8×8 can also use the service to professionally record outgoing introductory sales messages for voicemail drops, overhead announcements, and audio for e-learning material and virtual tours.
On-hold music: 8×8 customers can choose everything from big band hold music to up-tempo contemporary.
Grasshopper: Professional Greeting Provider for Your Personal Device

Grasshopper is a very convenient virtual phone service for people who want to use their personal mobile devices for business calls. However, a desktop softphone app is also available, allowing you to sync your calls across all your devices to make and receive both personal and business calls wherever you want.

| Grasshopper Strengths | Grasshopper Weaknesses |
| --- | --- |
| No need for excess equipment | On the pricier side |
| Toll-free, local, and vanity numbers available | No voicemail greeting included in any of the packages |
| Transcription services available | Customer service has mixed reviews |
Grasshopper Pricing
Virtual phone service plans range from $29 per month to $89 per month, while annual plans cost $26 to $80.
Professional voicemail greetings cost an additional $75 per order. However, a single order can contain multiple scripts.
Grasshopper Features
Multiple scripts: Grasshopper allows you to order a professionally recorded main greeting, transfer message script, and voicemail greetings for each of your extensions at the same time.
Easy-to-use greeting manager: The desktop and mobile app make it easy to manage your recorded voicemail greetings. You can change greetings or enable a temporary greeting for you or your teammates with the touch of a button.
Flexible phone service: Because Grasshopper is a virtual phone system, you can keep business and personal calls separate while using the same mobile device, allowing you to save money on equipment for yourself and the rest of your team. It also includes other helpful VoIP features like visual voicemail.
If you are interested in learning more, please visit our Grasshopper reviews page.
VoiceStudio Pro: Best Greeting Service for Next-day Delivery

VoiceStudio Pro is a professional voice recording service designed for business phone systems. The service allows you to select from highly vetted talent with three- to five-day turnover for $99 per 250 words, or take delivery of your recording within 24 hours for $15 extra. This makes the service a great option for businesses that find themselves in need of a rush recording to respond to an emergency affecting normal business operations.

| VoiceStudio Pro Strengths | VoiceStudio Pro Weaknesses |
| --- | --- |
| 24 hour turnaround service | Limited quality of voice talent |
| If you are unsatisfied with the recording, they will redo it for you | Expensive compared to other services |
| Works with Twilio programmable voice apps | Not all voice talents are available for rush orders |
VoiceStudio Pro Pricing
Voice recordings: VoiceStudio Pro charges $99 for voice-over service by the page, which is roughly 250 words.
Expedited delivery: Customers are charged an additional $15 for 24-hour turnaround service.
Music add-on: Background music costs $49.
Customer support: VoiceStudio Pro offers a $99 flat rate concierge service to help you integrate its professional voicemail recordings with your phone system.
VoiceStudio Pro Features
Multilanguage support: You can choose to record your greetings in English, French, or Spanish.
Custom scripts: Upload your own script to professionally record greetings for your VoIP system's voicemail or interactive menus.
Augmented audio recordings: VoiceStudio Pro uses a proprietary process to ensure that audio recordings suffer minimal sound quality degradations no matter what business phone system is used.
Bottom Line
A voicemail greeting service is an important part of giving your business a professional presence and making a good impression on customers. If you're trying to keep costs low, you can record your own for free, but it's worth the money to make the extra effort for professional services.
Snap Recordings is our choice for the top professional voicemail greeting provider of 2020. Creating recordings for business phone systems is all the company does, making it the best choice for organizations that don't want to risk their business' reputation with anyone but experienced professionals. In addition, its wide variety of voice talents and competitive pricing makes it an overall great value. Visit their website to learn more today.