A professional voicemail greeting is one of the easiest ways to improve your organization's business presence, making callers more likely to take your business seriously as you add it to your existing phone systems. We looked at a dozen leading provider options that cover a range of greeting options for small businesses and narrowed it down to the top six for cost and features.
Top 6 Professional Voicemail Greeting Providers 2019
| Professional Voicemail Greeting Providers | Best For |
| --- | --- |
| Fiverr | (Best Overall) Teams looking for one-off professional voicemail greetings at a low price. |
| Snap Recordings | Organizations that want to include background music in their one-off greetings. |
| Nextiva | Companies that want a professional voicemail recording bundled with best-in-class VoIP service. |
| 8x8 | Organizations that want professional voicemail greetings bundled with robust international calling. |
| Grasshopper | Business owners wanting a professional voicemail greeting on their personal device. |
| Phone.com | Teams with low call volumes wanting a VoIP service offering custom voicemail greetings. |
How We Evaluated Professional Voicemail Greeting Providers
People need a professional voicemail greeting to give their business a branded presence over the phone. When choosing a greeting provider, make sure that you look for a quality recording that sounds good and makes your organization sound professional. You also want a fast turnaround time and good customer service in case you aren't pleased with the recording.
The criteria we used to evaluate the best include:
Cost – The overall price of each service should be affordable enough for small businesses.
Ease of Use – How easy it is to request and receive a professional voicemail greeting recording.
Selection – The ability to choose between different voice-over artists for your voicemail greeting.
Scriptwriting – Whether or not businesses need to supply a script to voice-over artists.
Voice Quality – The overall quality of the voicemail message in regards to audio and how professional the recording sounds.
Customer Service – The help offered by the service in case there is a problem.
Added Extras – Most of the services we looked at are full telephony services that offer new business phone numbers, communication features, and more.
Based on the above criteria, we find that Fiverr is the best overall professional voicemail greeting generator for small businesses. Many VoIP and virtual phone services include professional greetings as part of their packages, but businesses that want just a voicemail greeting will love the low cost and wealth of choices from Fiverr's marketplace of freelancers.
Best Overall Professional Voicemail Greeting Provider for Small Businesses: Fiverr


Fiverr is a freelance marketplace that offers professionally-recorded voicemail greetings for as little as $5, making it the one of the most affordable services on the market. Small business owners or solopreneurs can choose between hundreds of voice actors active on the site and hire the best freelancer for their business. Fiverr is therefore the best choice for anyone who wants to hire a professional voice actor to record their voicemail greeting as a one-off service for a low price.
Fiverr Pricing
Individual sellers set their own price for services. However, we were easily able to find dozens of voice actors who were able to record a professional voicemail greeting in different languages and accents, and deliver the recording within three business days or less for as little as $5.
Fiverr Features
Fiverr's service is very straightforward. The platform connects buyers with sellers who offer small services for as little as $5. Freelancers run the gamut of nationality, age, and personality. You can also use the site to buy other services, such as web development, graphic design, and data entry.
Fiverr features include:
Voice-over Selection
One of the best things about Fiverr is that anyone is free to set up an account and offer their services to customers. When we entered a search for "professional voicemail greeting" and set the highest price parameter to a maximum of $5, there were over 150 different choices of voice actors. If you remove the price filter, the number grows to 317 choices.
This far exceeds the selection of voice-over artists offered by many competitors we looked at. Fiverr is a perfect option for companies that want to be choosy when it comes to the people who record their greetings.
Scriptwriting
Fiverr's professional greeting service consists of you sending them a script, which a freelancer will then record and send it back to you as an audio file. If you don't know what you want to say, however, Fiverr also offers scriptwriting services that can be just as cheap as ordering a voicemail recording.
Other systems, like Nextiva, offer some help in the form of generic greeting templates you can use, but no other platform offers full scriptwriting services quite like Fiverr. If you don't feel like writing a voicemail script, then Fiverr is the best choice for you.
Additional Phone Features
Once the recording is delivered, it will be up to you to upload the audio file from the freelancer into your phone system to use it as your voicemail greeting. Unlike most of the other offerings we looked at, Fiverr is a not a phone system and as such does not offer any telephony features. Therefore, Fiverr is better suited for companies that already have a business phone system in place.
What Fiverr Is Missing
Fiverr offers the best value if all you need is a professional voicemail greeting, but the other options below all offer professional recordings within larger service packages, such as VoIP phone service, virtual phone service, and vanity phone numbers. If you require any of these, then we also recommend you check out some of the other providers we compared.
What Users Think About Fiverr
Fiverr is very popular among all types of business users, particularly those who are looking for professional voicemail recordings. They find Fiverr to be very easy to navigate and the prices to be affordable for customers of all kinds. They also find the quality of the freelancers to be quite good.
Best Voicemail Greeting Provider for Background Music: Snap Recordings

Snap Recordings is a freelance marketplace for voice-over artists of all kinds, with many artists listing voicemail greetings as one of their specialties. In addition to voice talent, you can also choose from many different background music tracks for your greeting, which cost between $50 and $75. If you want your greeting to come from a company that specializes in voice talent and enhanced by background music, then Snap Recordings is a great option.
Snap Recordings Pricing
Snap Recording prices start at $50 for 75 words. Background music costs $25 per track, and two-day rush delivery is an additional $50. This is far more expensive than its direct competitor, Fiverr, but it's affordable when compared to voicemail greetings from the VoIP and virtual phone systems we looked at.
Snap Recordings Features
Snap Recordings offers a lot of control over how your voicemail greeting sounds compared to other options. It offers more than 100 different voice actors to choose from, background music, and even script proofreading services. However, everything besides the actual voice recording comes at an additional cost.
Voice-over Selection
When you place a new order through Snap Recordings, you are asked to select between American, Canadian, British, and Australian accents. You can choose voice actors who deliver greetings in Spanish or French; you can also choose bilingual greetings. Most of these options offer at least ten different actors, and it's very easy to click on different actors and hear voice samples.
This is a far more intuitive experience than Fiverr, which offers more voice actor options but requires you to apply filters on the search page in order to find the right talent. Snap Recordings is, therefore, best for teams that want to quickly and easily configure voice orders with a greater range of control than likely offered by their phone service provider.
Scriptwriting
Snap Recordings will proofread your script for an additional $12, but they will not write one for you. You could use a free template to get started, or just write your own from scratch. In contrast, Fiverr offers scriptwriting services for as little as $5.
Additional Phone Features
Snap Recordings offers a library of over 1,000 background music tracks to choose from. Use of these tracks costs $25 per recording. There are instrumental tracks that run the gamut of genres, from jazz to acoustic guitar to holiday music. Other services offer background music at an additional cost, but none offer a library that is so easy to navigate.
What Snap Recordings Is Missing
With a starting price of $50 per recording, Snap Recordings is much more expensive than most of the offerings on Fiverr. Therefore, if cost is of the utmost importance, we recommend that service, which also offers professional scriptwriting services as well as hundreds of other services.
What Users Think About Snap Recordings
Customers find Snap Recordings to be an exceptional service and say that the customer service and turnaround time of orders is excellent. They also remark that the quality of the greeting is quite good and the service is very easy to use.
Best Combined Professional Greeting Provider & Phone System: Nextiva


Nextiva is a VoIP phone service offering scripts and professional voicemail greeting recording as a $50 add-on feature in addition to an auto-attendant, conference calling, and voicemail-to-email transcription. The service comes in several different versions that come at different price points, starting at $19.95/user per month and best-in-class customer service. If you want a VoIP platform that also offers voicemail greetings, then Nextiva is your best bet.
Nextiva Pricing
Nextiva includes at least one professionally-recorded voicemail greeting with each of their VoIP phone service packages, except for the entry-level Office Pro tier. If you want a greeting included with the Office Pro version, you can buy an individual greeting for $50. This is much more expensive than going with a dedicated freelance service.
Nextiva Tiered Features
| | Office Pro | Office Pro Plus | Office Enterprise |
| --- | --- | --- | --- |
| Pricing | From $19.95/user per month | From $20.95/user per month | From $27.95/user per month |
| Voicemail Greeting Included | None | One Free Recording/file | Three Free Recording/file |
| Unlimited Calling | ✔ | ✔ | ✔ |
| Free Local Number | ✔ | ✔ | ✔ |
| Free Toll-free Number | ✔ | ✔ | ✔ |
| Voicemail-to-Email Transcription | ✔ | ✔ | ✔ |
| Unlimited Fax | ✔ | ✔ | ✔ |
| Conference Fax | | ✔ | ✔ |
| Mobile App | | ✔ | ✔ |
| Nextiva Anywhere | | | ✔ |
| Call Recording | | | ✔ |
Office Pro
Nextiva Office Pro does not include a free, professionally-recorded voice greeting as part of its highly rated phone service and best-in-class customer service. If you want one with this tier of service, you'll have to purchase it for $50. However, the Office Pro plan comes with unlimited domestic calling, a virtual auto-attendant, and conference bridge features. This is the best option for companies that do not need advanced features like faxing, and would rather pay a one-time fee for voicemail recordings.
Office Pro Plus
The Office Pro Plus edition includes one free recording of 50 words or less with delivery of the file in four business days. Additionally, Nextiva offers script templates for voicemail greetings, where you can fill in the blank with your business or relevant employee names. You can choose between three different voice actors who can provide greetings in English and Spanish.
However, Office Pro Plus only comes with one free recording, and extras like background music and revisions cost an additional $50 each. This is much more expensive than Fiverr, and it's best suited for teams who only need a basic voicemail greeting.
Office Enterprise
Office Enterprise triples the amount of free voicemail greetings you get. This is helpful because you can use your additional free recording credits on professional recordings of phone announcements or after-hours greetings.
If you need more than one voicemail recording for your business needs, then Nextiva is the best VoIP platform. Larger companies that might see fit to make messages for multiple voice mailboxes will love this aspect of the service.
What Nextiva Is Missing
Nextiva is a great VoIP platform, but if you don't need its many VoIP features, then it can also be very expensive. It also only offers three different voice actors for its greetings. Therefore, if choice and affordability are paramount to you, we'd recommend Fiverr instead.
What Users Think About Nextiva
Our readers are generally satisfied with Nextiva's cost and feature set. Many specifically mention the company's customer support as a highlight of the service. Users did find the service difficult to install, however. For more impressions, check out our Nextiva User Reviews page.
Best Professional Voicemail Recording Provider for International Calling: 8×8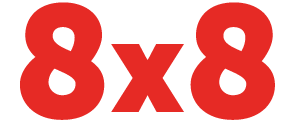 8×8 is a VoIP service that allows you to order professional voicemail greetings in a variety of accents for $79 per month. 8×8's packages, starting at $25/user per month, come with free unlimited calling to select countries as well as an auto-attendant, mobile, and call forwarding features. This makes 8×8 a great option for companies wanting a phone service offering unlimited international calling as well as a professional greeting.
8×8 Pricing
Unlike Nextiva, 8×8 does not offer a free voicemail greeting with any of its plans. Instead, the company offers professional voicemail recordings from their Audio Production Store for $79 in addition to any of their VoIP phone service plans.
8×8 Tiered Features
| | X2 | X5 | X8 |
| --- | --- | --- | --- |
| Pricing | $25/user per month | $35/user per month | $55/user per month |
| Unlimited Calling Zone | 14 countries | 32 countries | 47 countries |
| Professional Voicemail Greeting Recording | $79 | $79 | $79 |
| Media Storage | 1GB | 1GB | 1GB |
| Call Forwarding | ✔ | ✔ | ✔ |
| Call Blocking | ✔ | ✔ | ✔ |
| Call Waiting | ✔ | ✔ | ✔ |
| Hold Music | ✔ | ✔ | ✔ |
| Phone Number | ✔ | ✔ | ✔ |
| Voicemail | ✔ | ✔ | ✔ |
| Auto-Attendant | ✔ | ✔ | ✔ |
| Mobile App | ✔ | ✔ | ✔ |
| CRM Integration | ✔ | ✔ | ✔ |
| Call Recording | | ✔ | ✔ |
| Reports & Analytics | | | ✔ |
X2
You'll have to buy a professional voicemail greeting recording separately from any of its plans, but it offers a quick turnaround time; 8×8 says the average delivery time for a greeting recording file is three business days. Background music is available for an extra $18 per recording. 8×8 is a good fit for businesses that do not have the time to choose from a wide marketplace of freelancers for recordings.
That said, 8×8's entry-level X2 package, which costs $25/user per month, includes call routing, unlimited facing, and unlimited calling to 14 countries. It also offers CRM integration, but lacks call recording and the availability of a toll-free number. It also lacks unlimited calling to phone numbers in China, Israel, and other locales. All told, this is a great option for teams that want a strong set of core features and don't need to call to countries outside of X2's list.
X5
The intermediate X5 adds unlimited international calling to 32 countries and call recording, as well as 5GB of media storage for those calls; it costs $35/user per month. However, those are the only major differences from the X2 version, and you still have to pay the separate fee for a professionally-recorded greeting.
8×8 X5 does not offer a mobile app, so you won't be able to use your work phone on your personal smartphone. It's also more expensive than any of the other packages we looked at. With that said, the X5 plan with an additional professional greeting add-on is still a good option for companies that need international calling and want to record conversations.
X8
The X8 package offers 10GB of media storage and unlimited calling to 47 countries, including Japan, India, and the Dominican Republic, for $55/user per month. It also includes a reporting module that monitors calls and tracks call center performance.
This is a very expensive package even without the professional greeting add-on. However, it's still a great option for teams that want robust analytics on their phone system as well as the ability to make unlimited calls to a large number of countries.
What 8×8 Is Missing
Unfortunately, 8×8 does not offer free professional voicemail greetings as part of its packages. If you want a VoIP platform that comes with professional voicemail greetings, and you don't need unlimited international calling packages, we'd recommend looking at Nextiva, which offers recordings in its Office Pro Plus and Office Enterprise editions. Alternatively, you could even buy a voicemail greeting on Fiverr and import it into your phone system.
What Users Think About 8×8
Our readers have mixed opinions on 8×8, which they've given a three out of five-star rating. Users enjoy its business phone system features, but some complain about unreliable service when it comes to call quality and customer support. For more opinions, check out our reviews page.
Best Professional Voicemail Greeting Provider for Personal Devices: Grasshopper

Grasshopper is a virtual phone system that provides businesses with a professional phone number you can use on other devices (local or toll-free), multiple extensions, and voicemail at a low cost. It also can be used as a professional voicemail greeting generator for an extra $75 per message. Grasshopper is a great option for companies that want a professional greeting on a personal mobile phone.
Grasshopper Pricing
Grasshopper offers three different pricing packages. Solo ($29 per month) gives you one number and three extensions, Partner ($49 per month) offers three numbers and six extensions, and Small Business ($90 per month) provides five numbers and unlimited extensions. Voicemail recordings are available from the company's Voice Studio for $75 per voicemail recording.
Grasshopper Features
Grasshopper is a virtual phone service, so calls are made and received on the customer's personal mobile phone while appearing to come from and to the virtual number. Inbound calls are sent directly to your designated personal phone and outbound calls can appear to originate from your business number by dialing out from within the Grasshopper mobile app. Voicemail greetings cost $75 each
Voice-over Selection
Grasshopper offers ten different voice actors, with American, British, French, and Spanish accents. There are also voice actors who can read your voicemail greeting in Spanish. This voice-over selection pales in comparison to Fiverr's open marketplace and Snap Recordings, but it offers enough variety to make Grasshopper a great choice for companies that are looking for a virtual phone system and professional voicemail greetings.
Scriptwriting
Grasshopper does not offer professionally-written scripts, so you'll have to do that yourself. If you want to, you could just use the free templates provided by Nextiva, or hire a freelancer to write one on Fiverr. Grasshopper is best suited for companies that don't need their phone service to provide a complete script for them.
Additional Phone Features
Grasshopper allows you to route, block, and hold calls, just as you would with any other phone. With the Grasshopper mobile app, you can view and listen to your voicemail. One nice aspect of Grasshopper is that you can choose between a local phone number and a toll-free number. Both have their strengths and weaknesses, and it's appreciated that Grasshopper offers a choice. For more information, check out our guide to business phone numbers.
What Grasshopper Is Missing
Grasshopper does not include a professional voicemail greeting with any of its packages, and $75 for each recording is steep. Therefore, if you are looking for a less expensive alternative, and are comfortable uploading a pre-recorded call to your phone yourself, we'd suggest Fiverr, which offers professional voice-overs for as little as $5.
What Users Think About Grasshopper
Our readers give Grasshopper mixed reviews, giving it a three out of five-star rating. Many users are happy with the company's pricing and customer support. With that said, other customers reported having trouble getting their phone number back from the company once their account was canceled. For more reviews, check out our Grasshopper User Reviews page.
Best Professional Voicemail Recording Provider for Low-Volume Calling: Phone.com

Phone.com is a VoIP provider that offers bundled packages of minutes at a starting price of $12.99 per month, which is a lower cost than the unlimited packages offered by competitors. Phone.com works with a number of smaller third-party partners to provide voicemail recordings that are priced on an individual basis, making Phone.com right for solopreneurs with low call volumes who want flexible greetings bundled with a VoIP service.
Phone.com Pricing
Phone.com has three different pricing plans. Tiers range from $12.99 for 300 calling minutes and 5,000 texts every month and go all the way up to $39.99 for 1,000 minutes and 20,000 texts. For an additional cost, you can add unlimited calling to any plan.
Phone.com Tiered Features
| | Base | Plus | Pro |
| --- | --- | --- | --- |
| Pricing | From $12.99/month | From $19.99/month | From $39.99/month |
| Professional Voicemail Greetings | Call for Pricing | Call for Pricing | Optional |
| Phone Numbers | 1 local or toll-free | 2 local or toll-free | 3 local or toll-free |
| Included Minutes | 300 | 500 | 1,000 |
| SMS Messaging | 5,000 | 10,000 | 20,000 |
| Auto-Attendant | ✔ | ✔ | ✔ |
| Call Conferencing | ✔ | ✔ | ✔ |
| Voicemail-to-Email | ✔ | ✔ | ✔ |
| Voicemail-to-Text | | ✔ | ✔ |
| Premium Hold Music | | ✔ | ✔ |
| Call Analytics | | | ✔ |
| Call Recording | | | ✔ |
| Video Conferencing | | | ✔ |
Base
Phone.com subcontracts their professional voicemail greeting add-on through a third party; this option saves the business owner from spending the time and energy researching voice talent or greeting providers. In addition, this arrangement means Phone.com can provide a greeting tailored to your unique needs.
In addition, Phone.com's entry-level plan comes with one local or toll-free phone number, 300 calling minutes, and 5,000 SMS messages every month. You also get call conferencing, voicemail-to-email, and an automated attendant for $12.99. This makes Phone.com a low-cost option for freelancers and small teams who don't need a lot of calling minutes and who are looking to economically bundle a professional voicemail greeting with a complete phone service.
Plus
The Plus package includes two local or toll-free numbers for $19.99 per month. While professional voicemail is still an additional cost based on a business' custom requirements, the VoIP service comes with 500 minutes of calling time and 10,000 SMS messages. It also features bonuses like voicemail-to-text and hold music for your callers.
The Plus tier of services does not include video conferencing or call analytics, nor does it have call recording. It also does not come with a free, professionally-recorded greeting like Nextiva's mid-range option. The Plus plan is ideal for teams that do not need these more advanced features, but want a higher calling volume.
Pro
The most advanced version of Phone.com comes with three numbers, 1,000 minutes of calling, and 20,000 SMS messages for $39.99 per month. You also get access to call analytics features, call recording, and video conferences that support up to 25 people at once.
The Pro version still lacks, however, a free included professional voice greeting. In comparison, Nextiva offers three free greetings as part of its top-tier Office Enterprise package. Still, Phone.com's Pro tier is good for businesses that want call data and analytics at a low price.
What Phone.com Is Missing
It's unfortunate that Phone.com does not list prices for their professional voicemail greeting services publicly, as they used to offer recordings for $79 through their Pro Recording Studio portal. If you're looking for voicemail recordings bundled into a VoIP platform, take a look at Nextiva, which offers one free recording with its Office Pro Plus package and three with the Office Enterprise version.
What Users Think About Phone.com
Users give mixed reviews to Phone.com. On one hand, the service is inexpensive and allows customers a certain amount of flexibility with minutes and features. However, there are several complaints that Phone.com is unreliable and that they experience frequent downtime.
Bottom Line – Voicemail Greeting Generators & Providers
Professional voicemail greetings give your company a more professional telephone presence than just having one of your employees record a message. You can either buy a recording through your VoIP or virtual phone provider, or you can choose from a list of freelancers and simply buy a recording that you can use in any phone system.
Businesses that want to choose the right voicemail recording without spending a lot should consider Fiverr. You can choose from hundreds of different voice-over artists and buy a customized greeting for as little as $5. You can also upload this greeting into any of the phone systems we looked at in this guide. Get started with Fiverr today.